The busiest shopping days for retail and e-commerce businesses are just around the corner.
And it would be best if you immediately started preparing those Cyber Week marketing campaigns as these five days cover major shopping dates: US Thanksgiving Day, Black Friday, Small Business Saturday, Super Sunday, and Cyber Monday.
You might wonder if it's all worth it due to hyperinflation, but research suggests that deals will be better than last year. Just take a look at Amazon's Prime Day strategy. Some categories offered a 50% bigger discount than in 2021, while others saw an increase of at least 15%. This approach was just what they needed, as the online giant saw its average order value increase by at least 16% over the previous year.
To help you prepare better, we'll focus this article on social media marketing campaign ideas for Black Friday and Cyber Monday, as they are the crown jewels that could help you hit pre-set business objectives for 2023:
What is Black Friday
Black Friday is one of the biggest shopping days in the retail and e-commerce- calendar.
Originating as an American holiday in the 1950s, brick-and-mortar stores and e-commerce shops traditionally celebrate Black Friday by offering big discounts and promotions in-store and online.
The popularity of this shopping holiday has spread across the pond and beyond in recent years, and is now celebrated in an estimated 50-60% of countries worldwide.
For brands and businesses, Black Friday is a chance to kickstart Christmas sales and isn't an opportunity to be scoffed at.
And, with consumers pegged to spend significant amounts despite hyperinflation between Thanksgiving and Black Friday this year, it's definitely time for your brand to muscle in on those sales!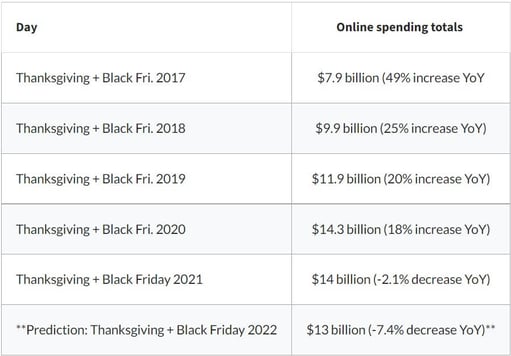 Source
What is Cyber Monday
Cyber Monday is an e-commerce term for the first Monday after US Thanksgiving Day.
Since it's a time-limited offer (24 hours) reserved strictly for online sales, this represents a golden opportunity not just for e-commerce businesses but retailers with an online presence.
Cyber Monday can be just an online-only extension of Black Friday deals. But, it can also be:
The culmination of Cyber Week discounts

Opportunity to kickstart Christmas deals

Chance to capture new leads

The perfect moment to give an extra push to customers that added items to the cart but haven't purchased them
When are Black Friday and Cyber Monday in 2023
With all of the fantastic sales opportunities that Black Friday brings for brands, it's helpful to know exactly when the event falls on the social media holiday calendar, so you can start planning your brand's Black Friday social media campaigns.
Black Friday falls every year on the Friday after US Thanksgiving and Cyber Monday the following Monday.
In 2023, Black Friday will be on the 24th of November, and Cyber Monday will fall on the 27th of November.
Black Friday and Cyber Monday social media campaign tips
Now that we know the power that Black Friday and Cyber Monday hold as consumer holidays, it's time to start making your brand's social media campaigns even better this year.
Here are our top Black Friday marketing tips:
1. Start your campaigns early
They say the early bird catches the worm; the same is true for social media marketers! The earlier you start your Black Friday promo on social media, the more potential customers will hear about them.
Build anticipation with your campaign by creating countdown posts, sneak peeks, and deal reveals for your followers to get excited about.
Notice how supermarket chain Walmart began their 2021 Black Friday campaign in early November, giving them plenty of time to drip-feed their followers with great deals before the big day.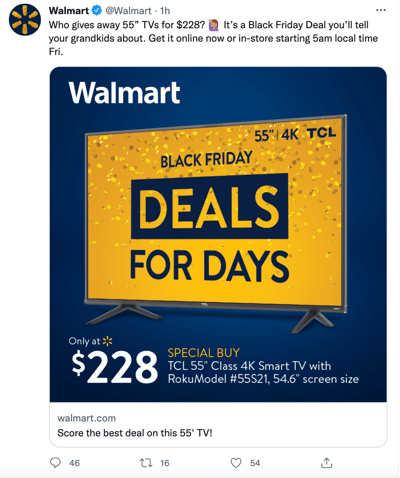 Source: @Walmart
The biggest bonus of starting your Black Friday social media promotion earlier is that you'll raise awareness before your competition - and this especially rings true for ads!
2. Build urgency around offers
To increase the chances of converting your followers into customers and generating sales, when writing your social media post captions for Black Friday weekend, make sure to include phrases like:
Limited availability

While stocks last

Available for a limited time only
This is precisely how makeup brand Glossier advertised its Black Friday sale on Instagram.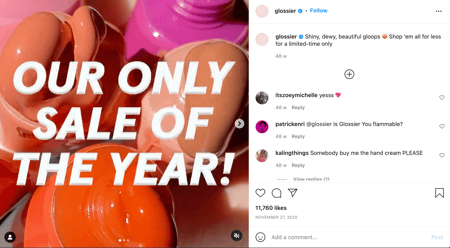 Source: @glossier
And since Cyber Monday already lasts 24 hours, you can create a few countdowns throughout the day with various time-limited offers. This is an incredible hack that will keep your audience engaged full-time.
3. Use hashtags to increase reach
Utilising hashtags has long been a way to increase reach on social media. And luckily for social media managers, they can be used effectively on Facebook, LinkedIn, Twitter, Instagram, and TikTok.
There are plenty of other reasons you should use hashtags in your brand's Black Friday social media campaigns. For example, hashtags can help increase your brand's visibility and attract new followers to your profiles.
In 2020, fashion brand ASOS included their very own hashtag in their Instagram promotions - #ASOSBlackFriday. This was a smart move because it will have increased the organic reach on the post and helped the brand to maintain a strong sense of identity amongst the frenzy of deals and offers happening on the day.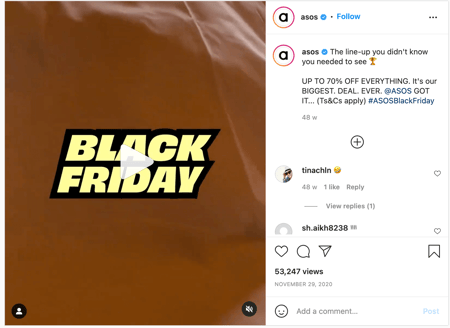 4. Plan your content and schedule it in advance
Organisation is a massive part of a social media manager's job, especially when promotional campaigns roll around.
Make sure to plan out your brand's content and promotions in a social media calendar beforehand so that you can keep on top of your priorities as Black Friday gets closer.
It's also worth investing in a social media scheduling tool like Sendible to save time and help take out the legwork of manually posting to each social media platform.
5. State when your promotions will begin and end
To avoid confusion for your customers, make sure to always add a note or disclaimer to your content or post caption letting them know when your promotions will begin and end.
Similarly, if your brand is planning to continue its promotions into Cyber Monday, make sure to let your customers know.
Notice how supermarket chain Target specify exactly when their Black Friday deals start and end, so customers have their expectations set from the outset of the promotion.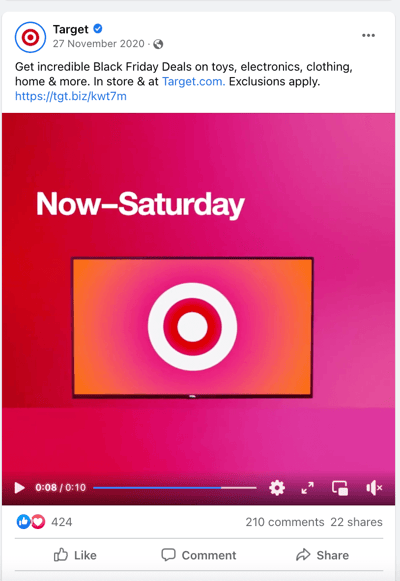 Source: @Target
6. Allocate resources to reply and engage with customers
Excellent social media customer service takes time and resources. So, before you release your brand's Black Friday social media campaign into the world, ensure you've got the capacity to answer any questions customers might have about taking advantage of your promotions.
If you're a one-person team, think about scaling back the number of social media posts you create to promote your offering and which channels you decide to post them on. After all, do you really have time to reply to comments on multiple posts as well as messages on Instagram, Facebook and Twitter?
Remember that bad customer service on social media can make a big, negative, real-life impression, so never take on more than you can handle.
7. Make use of unique platform features
Social media marketers can take advantage of so many unique features of each platform and make this year's Black Friday and Cyber Monday genuinely unforgettable.
Why not experiment with Instagram Video by creating your brand's promotions using Reels or Stories? Maybe you could take on TikTok to promote your deals, as you don't need any followers to reach millions of users. Or create a poll on Twitter to ask your followers what kind of deals they'd like to see from your brand.
Hulu's Black Friday social media promotions on Instagram consisted of a Carousel post that viewers had to scroll through to reach the deal on the final image - great for creating suspense and engagement!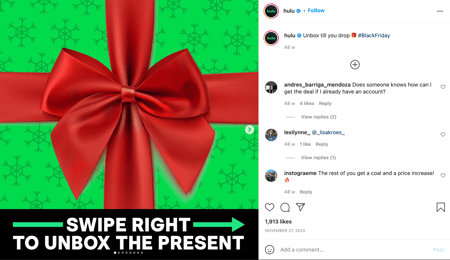 Source: @hulu
8. Focus on dynamic retargeting ads
It doesn't matter if you're tight on budget or ready to invest thousands - Cyber Monday is the day to focus on dynamic retargeting ads.
Kickstarting your Black Friday marketing earlier this year means your ads will have more time to reach their full potential and target audience before the competitors start promoting their offers. But Cyber Monday is the same for everybody - it lasts just one day. And yes, you can transform it into a weekend sale, but with all holidays before it, it's not likely your new ad campaign will have time to achieve anything meaningful.
This is why your Cyber Monday promotion should focus on retargeting people who have added items to their cart but haven't purchased them or those who have at least visited your online shop. It is the perfect time to give them that extra push and close the gap between "added to cart" and "purchased".
Wrapping up
These two shopping holidays present a massive opportunity for brands to generate sales and new customers. And while your social media should play the most significant part in your Black Friday marketing strategy, don't forget to incorporate other channels.
Email marketing is incredibly powerful when it comes to announcing special offers, giving incentives to complete the purchase, and rewarding loyal customers. And on the other hand, influencer marketing could help you build trust and attract new Black Friday shoppers.
Black Friday and Cyber Monday are incredible opportunities to reach yearly business goals. But don't stress out, as this is just the beginning of the holiday shopping season.
Just make sure to set measurable goals, track performance, and learn from it. After all, Christmas is just around the corner.