TikTok was launched in 2016 and has since then rapidly grown into one of the world's largest social media networks, with over 1 billion monthly active users. Nowadays, it has over 150 million active users in the U.S. alone and over 5 million businesses that use it to promote their products and services.
In that regard, this playful and fun social media platform has drastically changed how marketers generate and distribute content for businesses of all sizes.
It is particularly popular among younger generations, but today, most businesses and individuals have recognised it as an efficient tool for boosting brand awareness.
If you're looking to get more followers on TikTok and promote your products, we offer some simple yet effective tips:
Oh, and don't miss out on our free TikTok account management checklist! It will help you stay on top of your content pillars and marketing efforts. Grab it now before diving into the rest of this post.
Create original content
When you start using the TikTok app to promote your business, one of the first things you'll probably notice is the great amount of video material available on the platform. To stand out in this big flood of content and engage your audience, your videos must be captivating, unique, and fun to watch.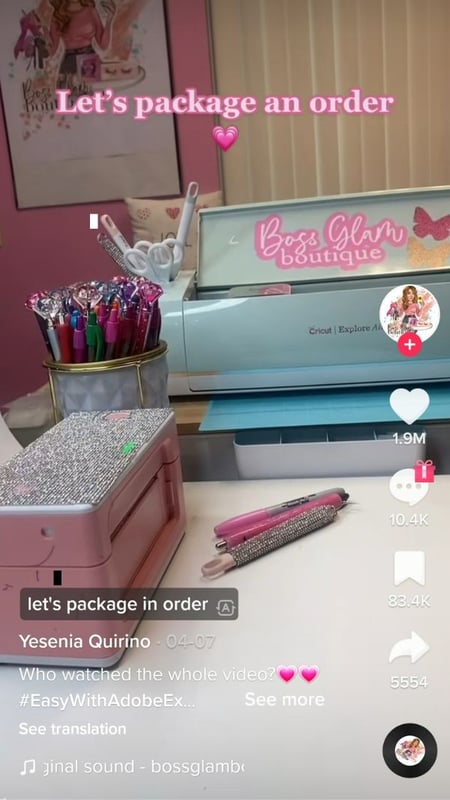 Source: @bossglamboutique
---
Bonus tip: The video above is an excellent example of how small e-commerce business owners can use TikTok to promote their products. Set the volume of the trending sound to 0% and the volume of the original ASMR sounds to 100%. ASMR sounds relax viewers, which is why they'll easily connect your product with something nice and calming. Filming "packaging" videos is a clever way to promote the products, as the focus is on showing the audience how much effort and great care you put into each one of your customers. TikTok's audience wants to see if brands really care about them, not just their money.
---
When creating video content to post on TikTok, you should be as authentic as possible. Show your brand's true personality so viewers can connect and relate to you to build trust and revenue.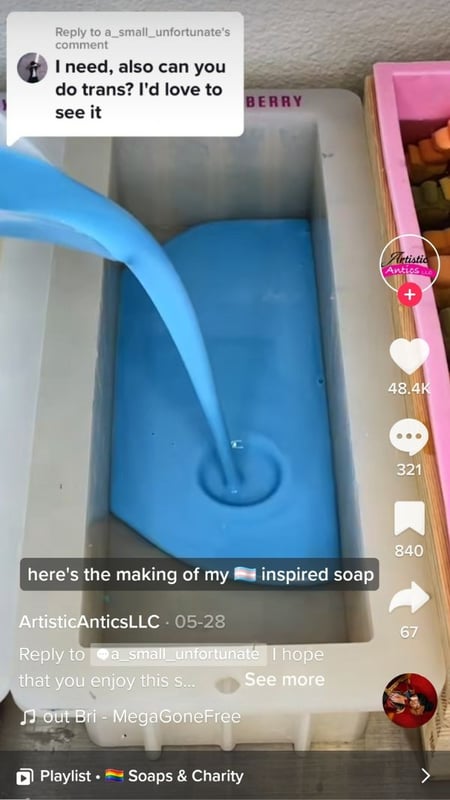 Source: @artisticanticsllc
---
Bonus tip: Artistic Antics LLC's TikTok videos are a combination of authenticity (voice-over explaining how the product is made), trust-building elements (taking into consideration her audience's requests), and cause marketing (today's audience cares a lot about brands standing behind important causes).
---
Don't make your videos seem too formal and rehearsed when creating them. Stay genuine, and don't overthink about having a high-end visual setup.
Viewers want to see a healthy dose of creativity in your videos, so make sure to use trendy hashtags, music, and challenges. One of the easiest ways to organically promote your product is by tagging the items in your videos. You can tag a product with a simple tap when using the TikTok Shop feature.
The TikTok Shop feature was introduced in mid-2021, with beauty brands being among the earliest adopters. For example, Kylie Jenner's Kylie Cosmetics was the first brand to start selling on the platform officially. If you visit their profile page, you can see the products for sale by tapping on the shopping bag icon. By choosing one of the product images, you begin the checkout process.
Learn more about social commerce experience on TikTok.
Not only will this keep your brand awareness strong, but you can also advertise your product easily. The videos you share can take any form, while the products you feature will still be tagged. This is an excellent way to promote your products to users who pride themselves on not falling for advertisements.
Additionally, when creating videos, make sure to add a sound to them before or after recording. You can access different editing features from the recording page and make the videos more engaging and appealing to your viewers.
Experiment with various content types
TikTok challenges
Just like with other social media platforms, this type of content is very popular on TikTok. There are different challenges seen on TikTok, but many are branded challenges created by companies to promote brand awareness. You can create a TikTok challenge if your goal is to promote your product and go viral.
One example of a fun and engaging TikTok challenge was Guess' #InMyDenim hashtag challenge. Using a TopView TikTok ad format, the company launched a 6-day campaign that meant every TikTok user in the US would be sent to Guess' #InMyDenim hashtag challenge when they opened the app.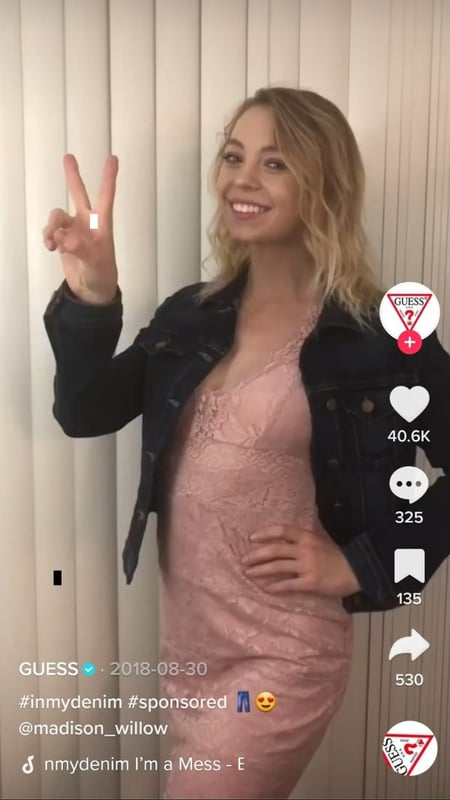 Source: @guess
Videos based on trending hashtags
TikTok has a Discover section where you can find trending videos and hashtags. This is a perfect place where you can see what is currently trending and start planning your content calendar.
---
Bonus tip: @leo.crafter has over 2 million followers, and his videos get millions of views. Who would have thought that the process of making various leather products could be so interesting? Leo uses a clever strategy of combining trending hashtags (#asmr has 399.8 billion views - note that the video does include ASMR sounds) and niched hashtags that explain precisely what's happening in the video (#leathertok #leathercraft).
---
When you post on TikTok, the best method is to choose a few viral hashtags and a few niched ones. It is a good tactic to get in on the trending hashtags as they can give you the potential to reach a huge audience but keep in mind that these hashtags must stay relevant to the actual content so that the algorithm understands what the video is about.
Learn how to use TikTok hashtags in different niches with our guide that includes a list of over 100 industry hashtags.
One trending hashtag is #summerofgaming. When you click on the hashtag, you'll find everything from the latest gaming information and announcements, allowing you to share your love for all things gaming. This type of hashtag will enable users to receive rewards from some of their favourite gaming brands, and in turn, brands can play around, experiment, and receive hype and engagement.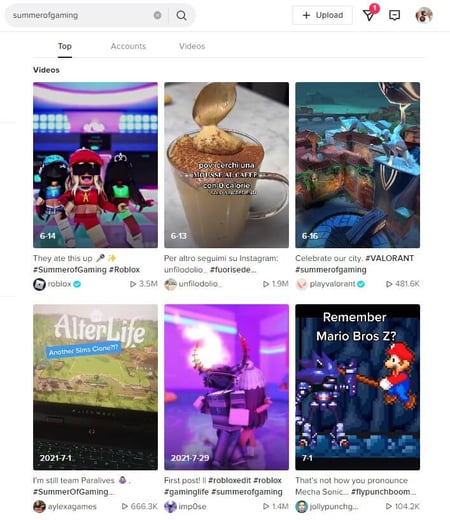 Tutorials
Regardless of the type of account you've set up on TikTok, we are sure there is some tutorial you can create and promote your products. Tutorials perform exceptionally well on the platform, and the tutorial hashtag has around 75.6 billion views on TikTok.
Everyone is looking to learn something new and exciting, and no matter what your brand is about, you can find a way to create an engaging tutorial. For instance, beauty tutorial videos are very popular, especially with makeup brands, as they can promote their latest beauty products and makeup essentials.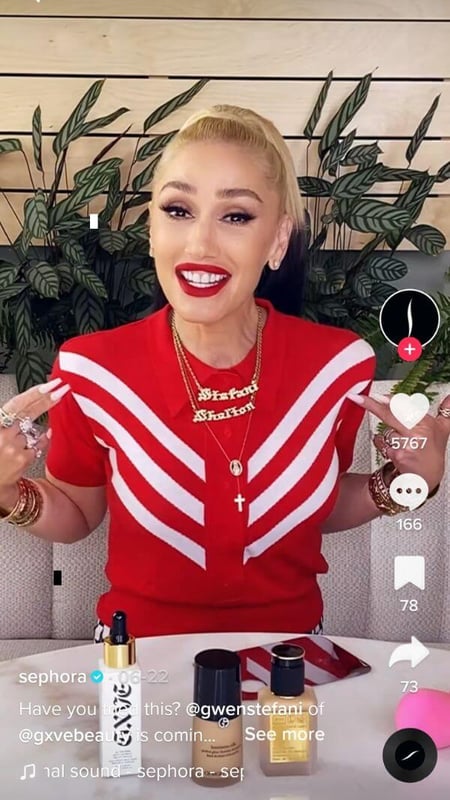 Source: @sephora
Collaborate with influencers
Collaborating with an influencer has long been a hot marketing strategy, even on TikTok. An influencer "knows" their followers and knows what inspires them to act, buy, or click further. So, it's a good idea to let an influencer create content to promote your product.
Research which creators on TikTok you want to partner with:
Is their target audience aligned with yours?
Do their values and interests match your brand?
Have they proven to deliver high-quality content with positive engagement?
Don't partner with a TikTok influencer based solely on the number of followers; do so based on genuine values to ensure they are a natural fit for your brand.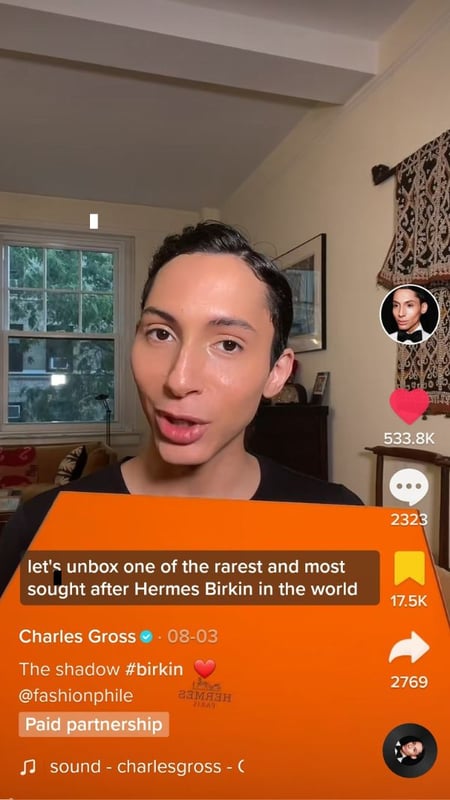 Source: @charlesgross
Since TikTok is still relatively new, it can be tempting for brands to want to take too much control over what gets posted. Try to refrain from giving too many creative directions and let influencers come up with their ideas. This will facilitate collaboration and make room for future collaborations.
Influencers are increasingly using the Stories feature to promote products on TikTok. Creating a Story works the same as creating and publishing a regular TikTok video, with the same tools and features. The sole difference is that Stories disappear after 24 hours.
Use TikTok Ads to increase the reach of your product promotion campaigns
TikTok allows users to run a range of advertisements, and although the platform doesn't prioritise monetisation, businesses can successfully use these ads and promote their products while ensuring that the advertising blends well with the rest of the content.
Let's go through what ads on TikTok look like and what options you can choose from. TikTok offers a variety of creative ad formats, and you have probably seen most of them if you're someone who tends to scroll endlessly on the platform.
In-Feed Ads. These are 1-minute long videos that look like regular posts in users' feeds. The ad appears after every fourth organic post and may appear to users as an organic post. Thanks to the ad, you can drive traffic directly to your landing page or your TikTok account. If you're, for instance, in the beauty business and looking to create an impactful In-Feed ad, a great example to follow is the German skincare brand Olay which used TikTok's In-Feed placement to communicate their Power of Duo products by repurposing an influencer testimonial post which helped provide authenticity to the ad.
Brand Takeovers. These appear immediately when users open the Tiktok app. It grabs users' attention and builds awareness of your brand and product, which in turn increases sales. This is one of TikTok's best options for increasing brand awareness and driving sales because you can place your ads directly in front of your target audience. But while these ads are very effective, they are also expensive, as TikTok only shows one Brand Takeover ad per user per day. PepsiMax used brand takeovers in combination with In-Feed ads when they were releasing their new flavours in Australia. This led to an excellent TikTok brand takeover example as the CTR for the campaign was 24% and reached 2.4 million users in only one day.
Branded Effects. With the Brand Effects ad format, you can create something that other users on Tiktok can share. For example, add a filter, stickers, or some type of effect while promoting a product. These can be spread organically, or companies can ask TikTokers to use their filter for a shout-out or something similar. A great example of a brand using the branded effect is Puma when promoting their Future Flash collection under the #FlashOfFuture tag. Ultimately, their campaign scored 587.5 million views.
Branded Hashtag Challenge. All companies can create a branded hashtag challenge without advertising, but it is not certain that your challenge will take off. You've probably seen hashtag challenges appearing on TikTok's discovery page, and these are usually visible because the company paid to be seen. Similar to regular hashtag trends and challenges on TikTok, the branded hashtag challenge offers both organic and sponsored opportunities to get your challenge featured on TikTok's Discover page and hopefully go viral.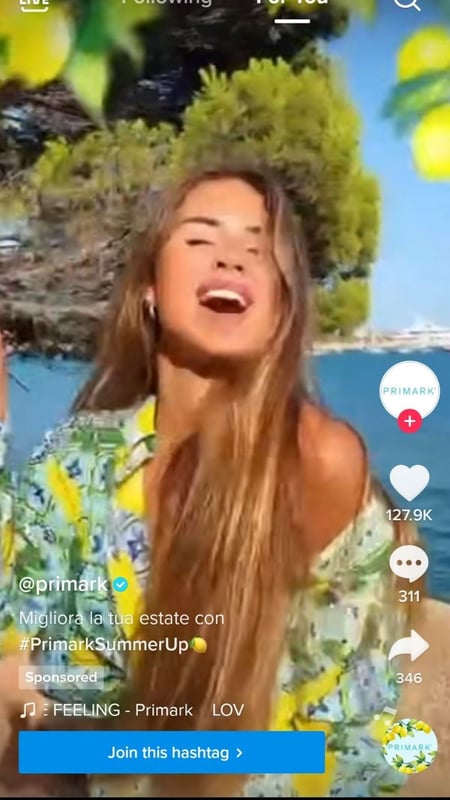 Conclusion
If you have a creative mind and vision, TikTok can be the perfect place for you to promote your product. Make sure to check and subscribe to our blog to follow our tips to help you spark more interest in what you're offering and make the most of your TikTok marketing strategy.
Dave Schneider
Dave is a serial entrepreneur who co-founded Shortlist in 2018, a marketing un-agency that serves as an outsourced dedicated marketing team. He also co-founded Less.churn, a churn reduction app, prior to selling it in 2018. Dave is also an avid traveller, having visited over 65 countries!