Thanks to its interactive nature, social media is one of the most popular channels for promoting B2C marketing campaigns. Your brand can promote its content, engage with customers and advertise its services, all in one place. When done well, social media marketing campaigns grab the attention of your followers and make it impossible not to interact, and if your goal is brand awareness (that translates into engagement rates), you have hit the jackpot.
Three campaign elements have gained popularity over the past few years - it's humor, social responsibility and photo contests. Campaigns with either of these three have seen success for brands big or small, and we've collected some examples that a) thought outside of the box and b) boosted the brand's visibility. Hope these get your creative juices flowing.
How to create awesome B2C social media marketing campaigns
1. Show the fun side of your brand
Your customers are tired of endless sales pitches and they need to know that your brand is not just about selling stuff. So give something away in a while and show that your team enjoys having fun (if your brand guidelines allow you to). One good example of a fun campaign would be Budweiser's 2014 HolidayBuds.
Budweiser's #HolidayBuds campaign
We're bringing back limited edition bottles from 1918, 1933, and 1969 for the holidays. Round up your #HolidayBuds. pic.twitter.com/GQzFJ7H2nD

— Budweiser (@Budweiser) November 3, 2014
To some, there is nothing better than hanging out with friends over good food, drinks and conversation. Budweiser knows this, so they frequently release new brand packaging for their beer bottles. In 2014, the brand released limited edition packaging matching that from 1918, 1933 and 1976, and launched a campaign to specifically appeal to Millennials. The idea was simple - share photos of their vintage-inspired cases and beer on social media using the hashtag #HolidayBuds. Simple, but effective.
HotelTonight's Thanksgiving Campaign: Visit, Don't Stay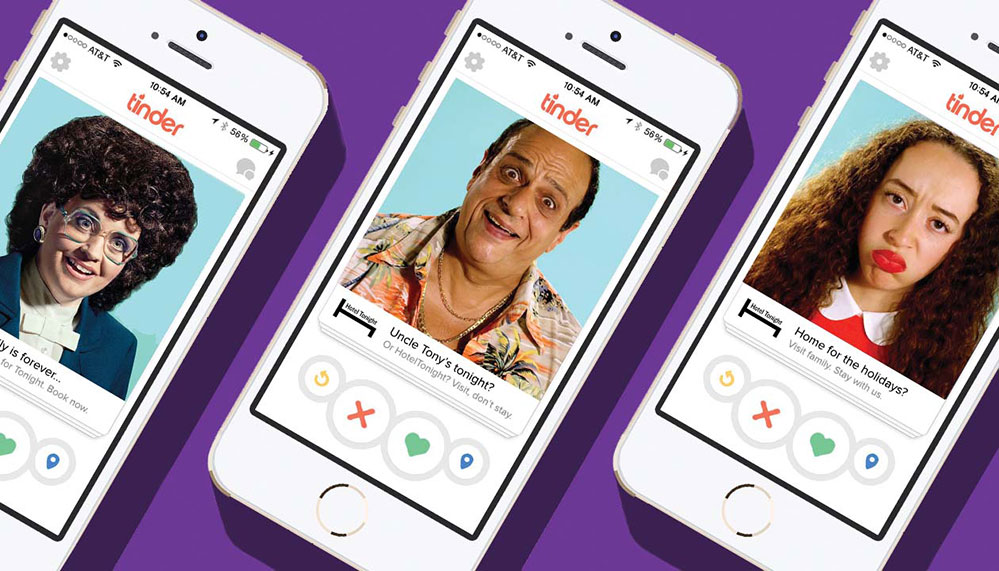 Image source: Odyssey Arms

HotelTonight is a mobile travel app that helps users find discounted hotel accommodation, up to seven days in advance. For its 2016 holiday campaign, the brand teamed up with digital agency, Odysseus Arms to create a fun social media marketing campaign - 'Visit, Don't Stay'. The campaign, although centered around an idea that instead of spending a night or two on your "Grandma's air mattress," one could use the app to look for affordable deals in the area. Because let's face it, even though we love our families, we don't necessarily enjoy staying the night.

Adorable Barpost campaign for Thanksgiving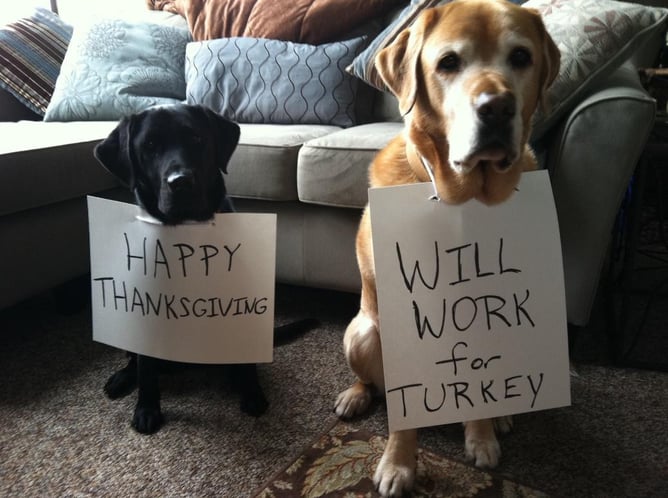 Image source: BarkPost Stories

Be fun, but don't forget about what platform you're promoting on. You should tailor social media messages to fit the best practices of each platform. Above is another good example of a social media campaign by a website dedicated to all things dog called BarkPost. Their team used Thanksgiving to run a campaign to spread awareness about poisonous foods dog owners feed their furry friends during the holiday. Pairing humor with fun, they educated their audience and hopefully, improved the health of many dogs. This campaign also shows the impact of adding humor and visuals to your content, as the list Barkpost used was originally posted on ASPCA.

Emirates: Show Don't Tell

Emirates Airline has released several great B2C marketing campaigns using the power of influencers. This time, their choice was a well-known actress, Jennifer Aniston. Her mission was to advertise the comfort and luxury of the new A380 airplane, and the new first-class ticket priced at $21,000.

For a company from the Middle East, entering and maintaining positions on the North American market is far from easy. Emirates realized they could not rely on telling potential customers how great their service was, they had to show it. The TV ad follows the story of a little boy, Cooper who discovers the plane with Jennifer. In less than two minutes, viewers can see all the entertainment, comfort and food features available on the plane, leaving anyone wanting to travel on it. It's curious that the video filmed by the world-famous vlogger, Casey Neistat got over 43 million views on YouTube - upgrading his seat was probably one of the best decisions Emirates Airline has made. So if you have brand advocates, it may be worth making them feel special.
2. Talk about what matters and emphasize social responsibility
You can also use social media to show the respect for social responsibility as a brand. Giving back to a community and the world is certainly a great thing, and it's worth going the extra mile and creating a marketing campaign focused around holidays like Mother's Day, Father's Day, Veteran's Day and similar.
Dove's Campaign for Father's Day
One of the best examples that I have came across recently was a Dove campaign for 2013 Father's Day. Here's what happened: the brand was looking for the story for its upcoming video and met with John Gallagher, a sergeant who was serving in Vietnam. He was feeling depressed because his wife gave a birth to their second child back in the U.S. a couple of months ago, and wished he could go home as soon as possible.
Dove sponsored a trip for his wife and kids, bringing them to him, thanks to a non-profit organization called Operation Homefront. As a result, Dove made a heart-warming that told the story of the Gallagher family and showed their reunion. The video received a great response on social media - simply follow the link and read comments: people were moved and thankful to the company for doing this for the Gallagher family. Campaigns like this one could be used by brands to demonstrate the respect for social responsibility and create a good reputation. Of course, conducting something like Dove did could be problematic, but y
Ford's "I Pledge to Drive Safe" Campaign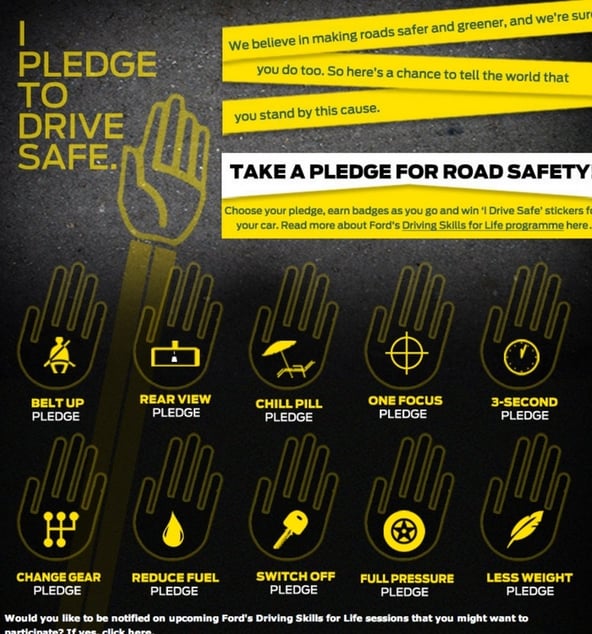 Image source: Car Blog India
Ford has been doing the homework when it comes to social responsibility as well. The "I Pledge to Drive Safe" Campaign was conducted on Facebook by one of the subsidiaries (Ford India). It's main focus was share the alarming statistics of irresponsible driving in the country to encourage car drivers to be safe on the roads.
According to the official statistics, 30,000 people died on India's roads in 2011, and the number has been steadily increasing every year. Clearly, preventive measures have to be developed to decrease the number of road accidents and reduce the death toll. To take part in this initiative, Ford India launched a campaign that used an application, allowing users to pledge and be safe. The company also created car stickers and other materials to raise awareness about road safety. For Internet users, the company developed interesting awards to promote engagement, such as "Top Pledgers of the Day" and "Most Popular Pledgers".
'Give Them Wings' Expedia Facebook Campaign
Yes, it's been a while since Expedia India created the 'Give Them Wings' campaign. However, it still stands as a great example of a brand doing good and making a difference in the lives of others. the campaign aimed to help "street and working" children from Delphi to fly to Mumbai for a three-day holiday. The children who participated in the campaign could not afford to travel, so a program like this could offer a short-term but lasting impact on them.
According to Expedia, the campaign drove amazing results. It helped raise awareness about the problems faced by working children in India and gathered enough funds to fly the children to Mumbai and give them a great opportunity to enjoy the holiday.
3. Engage customers in contests
Whether your brand is well-known or not, you can always promote participation on social media by hosting contests. One of the best examples is, of course, Starbucks and the Red Cup Season.
Starbucks' #RedCupContest
It's now a tradition for Starbucks to celebrate the Red Cup Season by using special red cups. What makes them special is that Starbucks customers can win prizes for using them! Participation is simple - coffee lovers need to take photos of red cups and publish them to Instagram with the correct hashtag.
The day after the announcement of the contest, the main photo on the post was shared every 14 seconds on Instagram. By the end of the campaign, more than 40,000 posts with the hashtag #RedCupContest were posted. The beauty of this social media marketing campaign hides in its simplicity. It was sort of an art contest, that anyone could participate in (as long as they had a camera and had access to a Starbucks coffee shop). Starbucks skillfully leveraged customer excitement for the holiday season and used it to increase engagement and promote the brand.
Honey Bunches of Oats and Millions of Smiles
Honey Bunches of Oats is a producer of cold cereal breakfasts that provide all the nutrition you need to nourish every smile. See what I did there? You might have already guessed what kind of contest the company organized.
The slogan for the campaign was "50 million Smiles and Counting". It encouraged participants to share testimonial images, quotes, and videos, in which they showed their beautiful smile nourished by Honey Bunches of Oats. The winner of the campaign, Jackie from Knoxville, TN received an all-expenses paid trip - not a bad prize for smiling and a little participation. The brand grew their follower base on both, Facebook and Instagram and boosted sales of their products as a result from this campaign.
Lucy Benton
Lucy Benton is a specialist in digital marketing and content writer who currently works at
College Paper
. She focuses mostly on the worlds of technology, gadgets, and the Internet. If you're interested in working with Lucy, you can find her on
Twitter
.