It's every brand's dream to go viral on TikTok, but nobody really knows the rules of the game just yet. It's only been in the last couple of years that brands have started using it to promote their business. And the latest e-commerce features and expanding ad options are a sign of a new direction.
So how can you increase your chances of getting seen on TikTok and going viral?
Both millennials and GenZ are using more and more social media platforms as search engines to find out more about products, reviews, and recommendations. And we all know how important SEO is for ranking in search engines, so why would it be any different on social media?
TikTok hashtags are one of the most impactful factors when it comes to social SEO. They act as keywords that help TikTok's algorithm show videos to your target audience, in addition to captions and copy. This is why it's so important to revamp your TikTok hashtag strategy and expose your account to new audiences.
Why use TikTok hashtags
When you start promoting your brand on TikTok, it can feel like you're throwing content into a void. Adding hashtags to your posts makes them more targeted since they help the algorithm understand who should see the video.
Here's what TikTok hashtags can do for your brand.
Increase your discoverability: Make it easy for your target audience to find you by adding popular hashtags to your posts.

Collect user-generated content:

Tap into your community to collect user-generated content you can use across other marketing materials.
Jump on trends: Stay up-to-date on the latest trends and show off your personality to potential customers.
Encourage engagement: You can add hashtags to ads, Stories, and feed videos alongside a call to action (CTA) that encourages users to get involved in the action–a.k.a. join the hashtag for added engagement.
Source: @primark
How to use hashtags on TikTok: 4 best practices
Before you start stuffing your TikTok posts full of hashtags, consider these tips that will help you make the most of the features and increase your chances of success.
Limit your hashtag use: The caption character limit on TikTok is 300, so be strategic when choosing what hashtags to include. The optimum number of hashtags is between 3 and 5. The last thing you want to do is overwhelm viewers (and the TikTok algorithm) with hundreds of hashtags that aren't relevant to your brand or your post.
Include your hashtags in the original post: Unfortunately, you can't go back and edit posts once they're live – if you forget to add hashtags, you have to swiftly delete and repost, which can affect the engagement you already had on a post.
Rely on your experience with other platforms: because TikTok's algorithm is unpredictable and there hasn't been a lot of research done on what works and what doesn't yet, you'll need to use your experience with hashtags on other platforms to inform your hashtag strategy. Look to your experience on Instagram, Facebook, Linkedin, or Twitter to see if there are any patterns.
Experiment and track results: See which hashtags get the most interaction with your audience and monitor their success. Make a note of the hashtags that perform well to inform your future strategy.
How to find the best TikTok hashtags
It's all well and good us telling you to sprinkle your TikTok posts with hashtags.
But what hashtags should you use?
How do you know which ones will work for you?
How do you discover relevant hashtags for your industry and audience?
Don't panic! Take a deep breath and follow these three steps:
1. Check out your competitors
Take a look at the hashtags your competitors are using. If your competitors aren't big on TikTok yet, see what hashtags the biggest brands in your industry are regularly injecting into their posts. Click through to each hashtag to see how many posts there are tagged with it to get a feel for how popular it might be.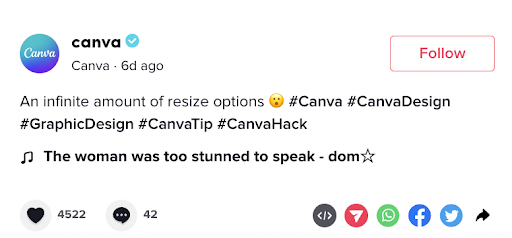 Source: @canva
Canva has its own branded hashtags but tends to mix in a number of high-volume non-branded hashtags too – follow its lead!
2. Use a hashtag tool
There is a wealth of hashtag tools out there that automatically scour TikTok for the best hashtags in your industry. For example, TikTok Hashtags and Rapid Tags just require you to enter a keyword or a start hashtag to then identify similar hashtags you can use.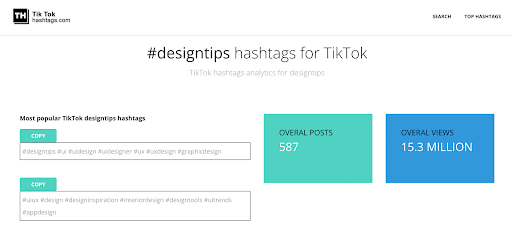 Source: TikTok Hashtags
3. Browse TikTok's Discover tab
The Discover tab on TikTok is organised by trending and popular hashtags, so it'll give you a quick insight into which hashtags are doing well at that particular moment. It's worth checking back every now and again because trends change. A hashtag that was popular last month might not get the same amount of views and engagement next month.
4. Use Sendible's smart search
One of the best ways to ensure that your TikTok hashtag strategy is effective is by using Sendible's smart search feature, which can help you identify, manage, and track relevant hashtags. By utilizing this tool, you can ensure that you're connecting with the right viewers and maximizing your reach on the platform. Additionally, Sendible's smart search can help you stay up-to-date on the latest trends and popular hashtags, which is essential for staying relevant and engaging with your audience.
118 TikTok hashtags for the most popular industries
TikTok isn't limited to one or two industries. There are brands from almost every single industry doing well on the platform, sharing insider videos and tips, and jumping onto trends. We've compiled a list of the top hashtags in some of the most popular industries to kick-start your TikTok hashtag journey:
1. Real estate
#RealEstateAgent
#RealEstateLife
#HouseForSale
#PropertyForSale
#JustListed
#HouseHunting
#NewListing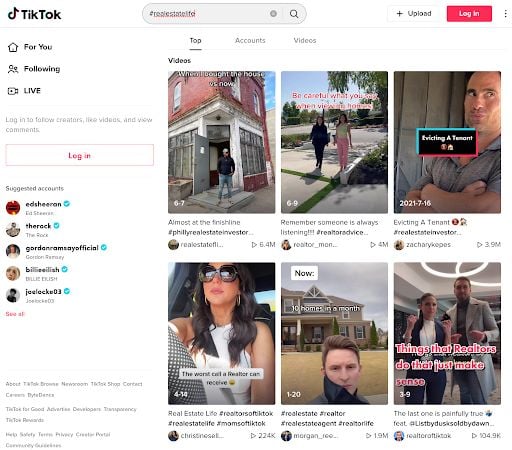 The #realestatelife hashtag includes a mixture of house tour videos, insider tips, and realtors jumping on trending topics.
Learn more about real estate social media marketing with our guide.
2. Social media and digital marketing agencies
#digitalmarketing
#marketing
#socialmediamarketing
#socialmedia
#seo
#onlinemarketing
#marketingdigital
#contentmarketing
#advertising
#digital
#marketingstrategy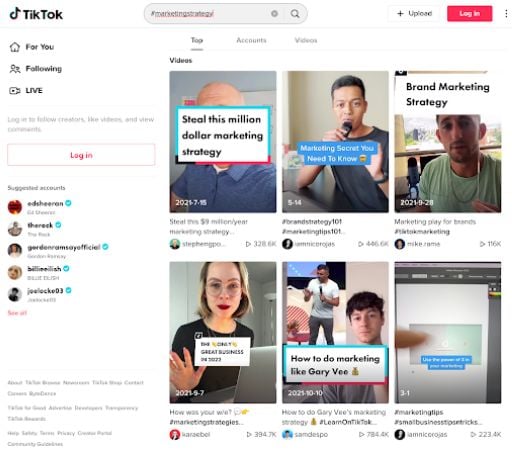 The #marketingstrategy hashtag has lots of tips about marketing, secrets, and tactics viewers can put into action.
3. Law firms
#lawyer
#law
#attorney
#lawfirm
#legal
#lawyerlife
#lawyers
#personalinjury
#attorneyatlaw
#attorneys
#attorneylife
#litigation
#familylaw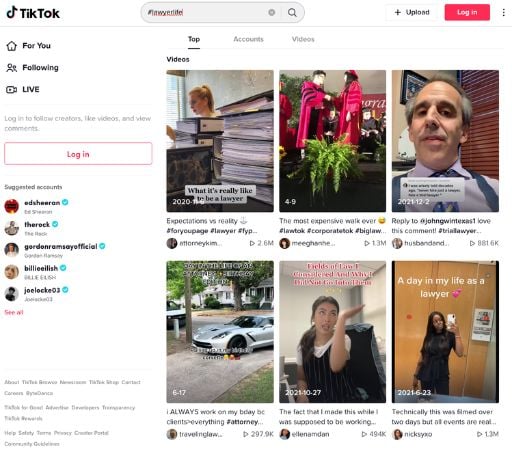 The #lawyerlife hashtag takes viewers behind the scenes and shows them what the life of a lawyer is really like. There are lots of "a day in the life" videos for good measure.
Learn more about social media marketing for law firms with our practical guide.
4. Fashion brands
#clothingbrand
#clothing
#fashion
#clothes
#streetwear
#style
#clothingline
#apparel
#brand
#tshirt
#fashionblogger
#onlineshopping
#streetstyle
#hoodie
The #clothingline hashtag features a healthy mix of big-name brands and smaller clothing lines sharing their products and style secrets.
Learn how you can reshape your social media strategy and use social commerce to boost your fashion brand's e-commerce sales.
5. SaaS
#saas
#marketing
#business
#software
#technology
#automation
#tipsandtricks
#onlinebusiness
#businesstiktok
#saarpreneur
#saasbiz
#saasstartups
#b2bsaas
#startuptips
#softwareasaservice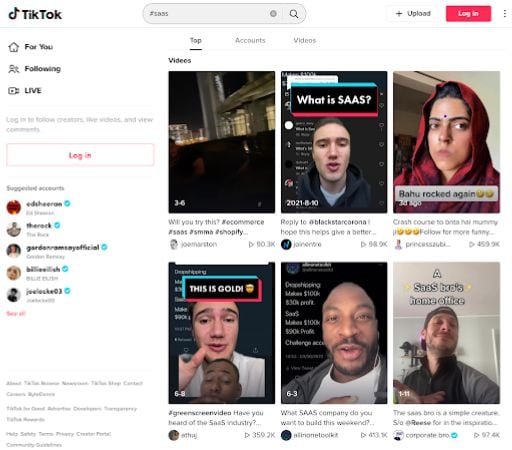 The #saas hashtag brings together videos about software as well as people in the SaaS industry. There are lots of industry tips, how-to videos, tutorials, and behind-the-scenes videos.
Learn from the best - Social Media for SaaS: What Asana, HubSpot and Grammarly Do Well.
6. Hospitality
#tourism
#luxury
#hotelier
#design
#events
#hospitalityindustry
#hotelmanagement
#restaurant
#food
#foodporn
#foodie
#bar
#dinner
#delicious
#cafe
#lunch
#yummy
#foodlover
#chef
#hotel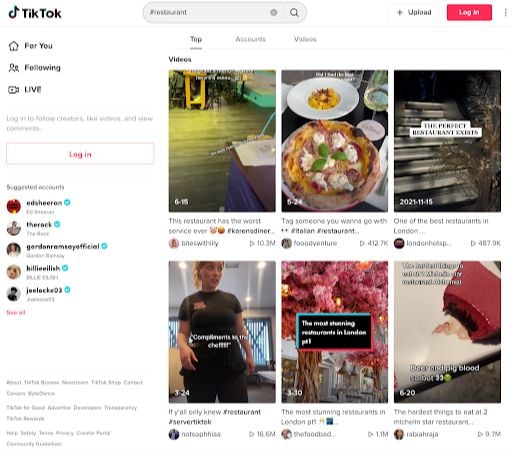 The #restaurant hashtag is full of food reviews, restaurant guides, and recipes.
Learn how to step up the social media marketing strategy for your restaurant with six tasty examples.
7. Beauty and hair
#beauty
#makeup
#skincare
#makeupartist
#mua
#makeuptutorial
#hair
#hairstyle
#hairstyles
#haircut
#hairstylist
#haircolor
#barber
#balayage
#hairdresser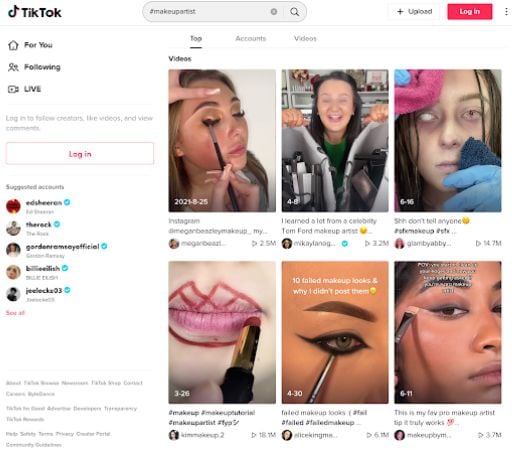 The #makeupartist hashtag is filled with tutorials, tips, and trending topics – exactly as you'd imagine.
8. Fitness
#fitness
#gym
#workout
#fit
#fitnessmotivation
#motivation
#bodybuilding
#training
#fitfam
#sport
#crossfit
#gymlife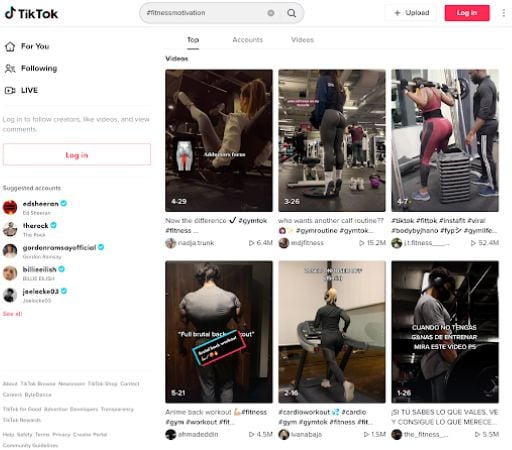 The #fitnessmotivation hashtag includes a lot of posts from fitness influencers, but it's a great place for fitness brands to reach people who are interested in working out.
9. Healthcare
#healthcare
#health
#medicine
#medical
#doctor
#hospital
#wellness
#nurse
#healthylifestyle
#healthy
#healthyliving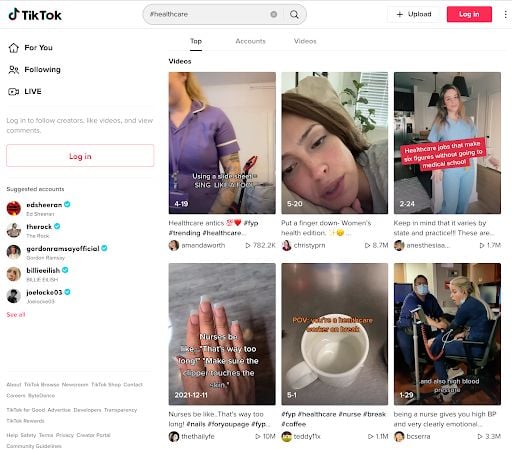 The #healthcare hashtag has a lot of content from people in the healthcare industry, but it also features some brands that are showing off their latest treatment, offering tips, or sharing client stories.
[Bonus] Free TikTok account management checklist
Going viral on TikTok (or, at least, increasing awareness of your account and brand) means getting in front of as many users as possible. Hashtags help you get discovered by the right people and promote your brand on the fastest-growing social media platform in the world.
But, to see success, you need to use the right hashtags. A combination that works well for one brand might not work well for another, even if those two brands are in the same industry. Experiment with different hashtags until you find the perfect combination of hashtags (and music, because that's an important part of TikTok too).
If you're feeling overwhelmed and need a little guidance with your TikTok strategy, don't worry - we've got you covered. Download our free TikTok account management checklist to keep yourself on the right track.