Are you utilising hashtags to get maximum exposure for your brand or client's Twitter account?
If you're not using hashtags, your content is going to sink into a sea of tweets. On the other hand, if you're using too many hashtags, your message is going to lose its value.
In this guide, you'll learn how to find and use the right hashtags on Twitter that are relevant to your client's audience.
A brief intro to Twitter hashtags and how we use them today
What is a hashtag?
Hashtags originated on Twitter in 2007, but nowadays they're used on other social media platforms, especially Instagram, as well as TV and Video campaigns.
A hashtag comprises two parts: the hash symbol - # - sometimes called the pound symbol in the US - immediately followed by a keyword or phrase. For example, putting the # symbol in front of the words 'World Cup' (without a space) makes it a hashtag: #WorldCup.
Why use hashtags?
Hashtags are a handy way of grouping and categorising tweets, and they help people follow topics in which they're interested. Anyone searching for a specific topic can find relevant tweets immediately rather than having to scroll through their Twitter feed.
Twitter's research found that tweets with hashtags increased engagement - clicks, retweets, favourites, and replies - for individuals and brands:
Tweets with hashtags can increase engagement by almost 100% (2x) for individuals and 50% (1.5x) for brands.
So you should use hashtags to help people discover and engage with your content.
When should I use hashtags on Twitter?
You can use a hashtag whenever you're referring to a specific topic. For instance, you could use hashtags for:
Events: #TrumpUKVisit, #Wimbledon, #CMIWorld
Places: #NYC, #London
Themes: #ThursdayThoughts
Things: #coffee, #computers, #cars
Verbs: #golfing, #cooking, #writing
Industry terms: #socialmedia, #photography, #tech
You'll also see hashtags used for Twitter Chats; for example, #QChat, #SEMRushChat.
When shouldn't I use hashtags on Twitter?
Don't use hashtags in your adverts if you're trying to drive traffic to your website. Twitter found that adverts without a #hashtag or @mention generate 23 percent more clicks. Unsurprisingly, their best practice states:
Avoid #hashtags or @mentions in your copy so that your audience does not click away from your ad.
How to use hashtags on Twitter
Here are three hashtag tips to follow:
You can use one or more hashtags anywhere in your tweet. Twitter recommends using no more than two hashtags per Tweet, but you're free to use as many as you wish.
Don't use spaces in a hashtag. For example, '#World Cup' would reference the topic of 'World' as opposed to '#WorldCup', which references the 'World Cup'.
Don't use punctuation in a hashtag. For example, #It'sComingHome won't work, although it's grammatically correct. Use #ItsComingHome instead.
Now you know the what, why, and when of hashtags, let's see how you can incorporate them in your posts.
How to find trending and popular Twitter hashtags
There's no point in using a hashtag if nobody is searching for it. To help you find trending and popular hashtags for your tweets, utilise these tools.
1. Twitter
The first place to check for trending hashtags is Twitter.
On the left-hand sidebar under your profile, you'll find a personalised list of the Top 10 Trends: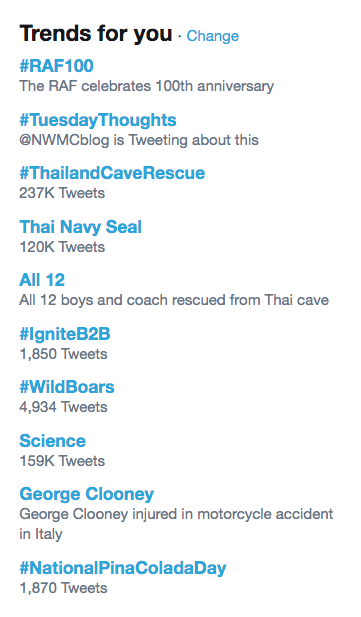 Note: some of these trends are topics rather than hashtags.
The trends are tailored to you based on your location and who you follow: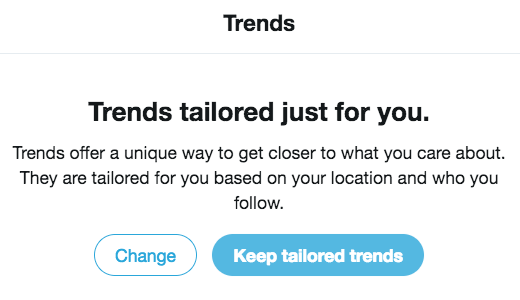 If you don't like what you see, you can click on 'Change' to select another location: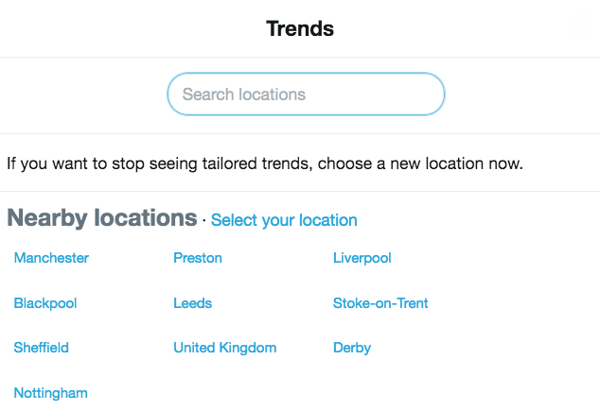 Pro Tip: The Twitter mobile app starts with the Top 5 Trends: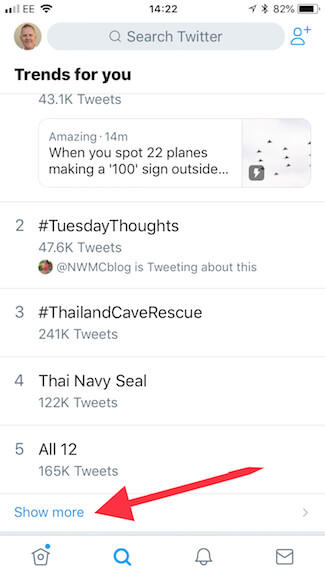 But you can tap on 'Show more' to reveal a list of the Top 20: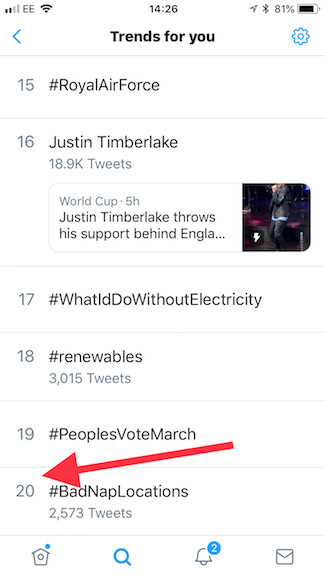 2. Hashtagify
Hashtagify is a brilliant tool for finding both trending and popular hashtags. It allows you to discover the best hashtags to reach your audience, gives you custom suggestions, and helps you find your influencers and competitors.
Enter a hashtag you're interested in using. For example, let's stick with the #WorldCup: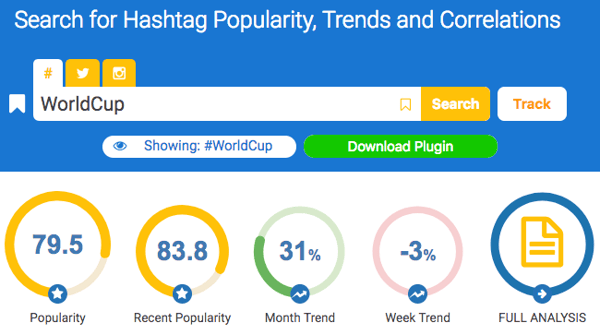 And you'll see results for:
Popularity = 79.5%
Recent Popularity = 83.8%
Month Trend = +31%
Week Trend = -3%
Underneath those results are suggestions for related hashtags: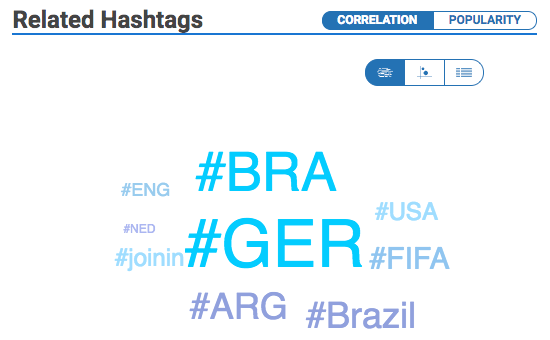 Followed by the popularity trend for the past few weeks: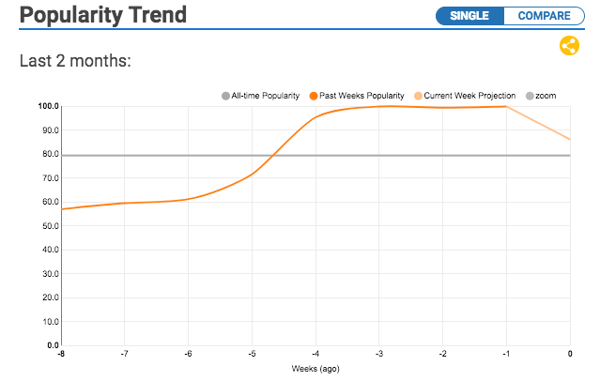 Hashtagify also informs you of the top influencers related to your hashtag: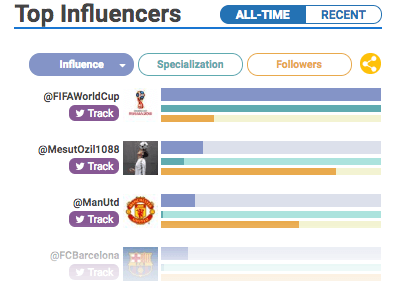 Other useful insights include the top countries and languages using the hashtag, to help with geo-specific messages. Plus, there's a Tweets Wall with a snapshot of current Tweets using the hashtag.
The premium plans offer more features and data including an extended list of the top influencers, hashtag suggestions for your posts, plus the option to bookmark your favourite hashtags.
3. Trendsmap
Trendsmap shows you the latest trends from Twitter, for anywhere in the world. Click on a word or a hashtag on the map, and you'll get results for that location.
For example, clicking on the word 'rescued' in Canada displays the trending Calgary results for the heroic Thailand cave rescue: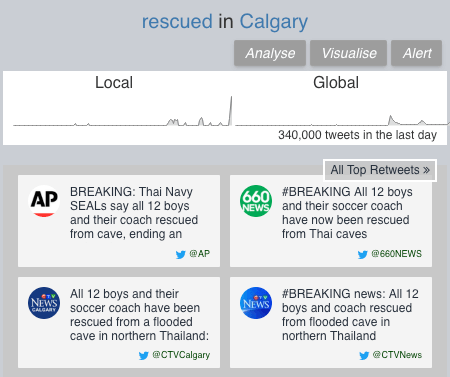 Move the map over to the UK and click on #WorldCup to see all the latest trending tweets on the football world cup taking place in Russia: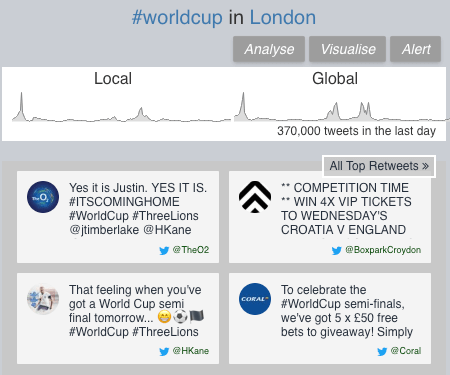 Using Trendsmap, you can see how different locations are reacting and discussing trending topics. Armed with that data, you can create messages that are more likely to get discovered by your target audience.
4. RiteTag
RiteTag is another excellent tool for checking both trending and popular hashtags. For instance, when you enter the term 'social media', RiteTag produces two lists.
For instant trending results, use the green-coloured hashtags to get seen now: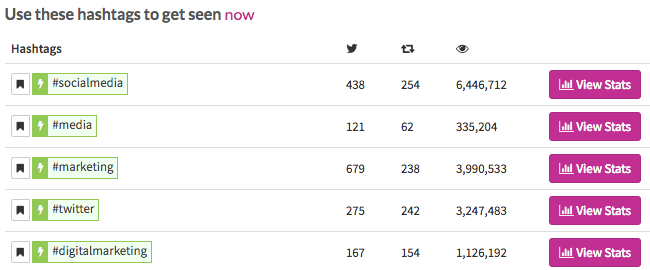 For long-term popular results, use the blue-coloured hashtags to get seen over time: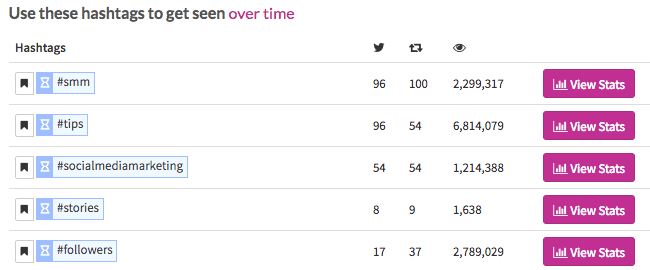 Also useful is the hashtags not to use:

And, if you like visuals, there's a word map of connections and stats about your selected hashtag: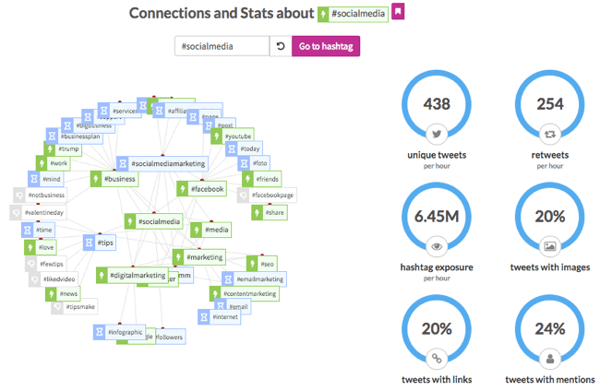 Using RiteTag, you get the complete picture for each hashtag.
Finding trending and popular hashtags is one thing, but that doesn't mean you have to use them.
What are the popular Twitter hashtags?
Studies have shown that tweets which include hashtags are 33% more likely to be retweeted than those without them. But which specific hashtags are most likely to help you gain traction on the platform?
According to research by Hubspot, the most used and popular hashtags tend to be very general and can be used by most brands. They include:
#competition
#influencer
#influencermarketing
#fridayfeeling
#MondayMotivation
#tbt
#wcw
#thursdaythoughts
#traveltuesday
#blessed
#goals
#vegan
#fitness
#science
#fintech

When deciding which hashtags to include in your posts, remember the rule of relevancy - will your audience appreciate a post based around the subject of this hashtag? This also applies to hashtags which are trending, or popular within your niche.
How to check the relevancy of your Twitter hashtags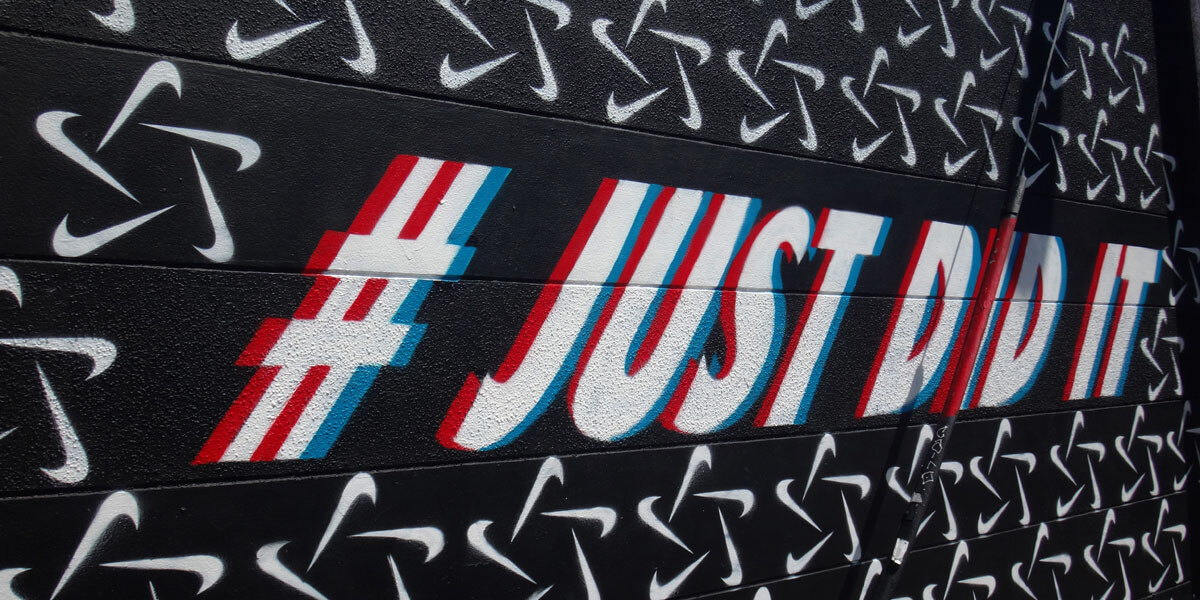 Forcing hashtags into your tweets to attract attention amounts to spam.
For example, if you choose to use a trending hashtag like #WorldCup, but your message and possible link have nothing to do with the FIFA World Cup, then you've gained the wrong attention and audience. Even worse, if enough people complain, Twitter might block your account. So don't go there!
In short, your hashtags need to be relevant to the content you're posting.
Here are three ways to make sure they pass the relevancy test:
1. Check the definition of existing hashtags
If you come across a hashtag, but you're not too sure what it means and whether it's relevant to your client's brand, then you could check the definition in TagDef.
For example, enter the hashtag #contentmarketing, and you'll see the definition below:

2. Check what hashtags influencers use
If one or more respected influencers in your industry or niche are using a hashtag, then there's a good chance it's relevant. But you can still make your own check.
Enter the hashtag in the Twitter search bar:

And see what content is being posted: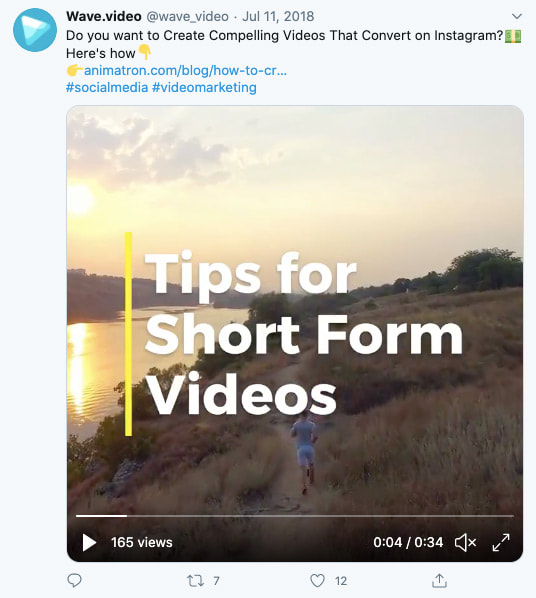 image source: Wave Video Twitter
Incidentally, the hashtag was used more than 400,000 times, garnering more than 2 trillion impressions on social media.
Creating a catchy hashtag is an excellent way to raise brand awareness, but remember to follow these three steps:
Check if it exists - Make a thorough search on Twitter to ensure your proposed new hashtag does not exist already or has not been used previously in a negative way.
Consider the length - A hashtag needs to be snappy and memorable. Creating a hashtag from a long phrase won't deliver the desired results and there's more chance of it getting mistyped. Three words or less should be enough to convey your message.
Use capital letters - Twitter hashtags are not case sensitive, but using capital letters makes your hashtag more readable. Compare #socialmediamarketing and #SocialMediaMarketing. Plus, it also helps hashtags from being misinterpreted.
Wrapping Up
Hashtags are here to stay. They are so useful for identifying topics that you can't afford to ignore them. Make sure you're using relevant hashtags on your client's tweets to reach new audiences and boost brand awareness.
Level-up your social media.
Subscribe to our blog to get valuable insights so you can maximise your results.