There are plenty of reasons why incorporating social media holidays into your content strategy is an absolute must in 2023.
And let me get this straight - I don't mean just those holiday season ones, like Thanksgiving Day and Christmas. There are so many wonderful holidays throughout the year that you can use as an occasion to support a cause, celebrate employees, share kindness, or simply give a big shoutout to your favourite food.
I know, it all sounds so exciting, so let me tell you what you'll find in this article:
What are social media holidays?
Social media holidays are events that offer marketers the opportunity to create engaging content around memorable calendar dates. They can be fun or charitable, local or global, but they must resonate with your or your client's target audience.
To give you an idea, here's how Chips Ahoy does it. They don't just celebrate the National Cookie Day but also a plethora of other micro-holidays, such as National Eat Ice Cream For Breakfast Day, or even Mercury Retrograde (which is not even a holiday, but it's a good excuse to get closer to your audience).
These micro-holidays often present an opportunity for marketers to get creative, whilst planning ahead and filling up their social media content calendars - so celebrating them is a win-win!
Why should social media marketers celebrate holidays?
Being able to keep on top of news and trends is what makes a great social media marketer. That's why it's so important to have a well thought out content process to save time and keep you afloat.
In such a fast-paced industry, people expect to see content that mirrors what's happening in the real world - so much so, that even NASA has to follow the trends and keep up with hashtag holidays:
Today is #NationalPuzzleDay ! One of the major puzzles in astrophysics is the expansion rate of the universe, also known as the Hubble constant. Completely understanding the universe's expansion might require new laws of physics:
But as a marketer, it's not just followers that you have to make an impression on. You are likely to have goals and KPIs to reach, and will need to be able to show ROI for your efforts.
So, how will filling your calendar with social media holidays help you achieve those results?
Celebrating social media holidays can help you increase brand awareness and reach
Simply adding relevant hashtags to your holiday-themed posts allows them to be seen by a much wider audience, as well as create a buzz around a brand.
Judging by the engagement on this video post, Jamie Oliver shows that you can't go wrong with cute Valentine'Day-themed content: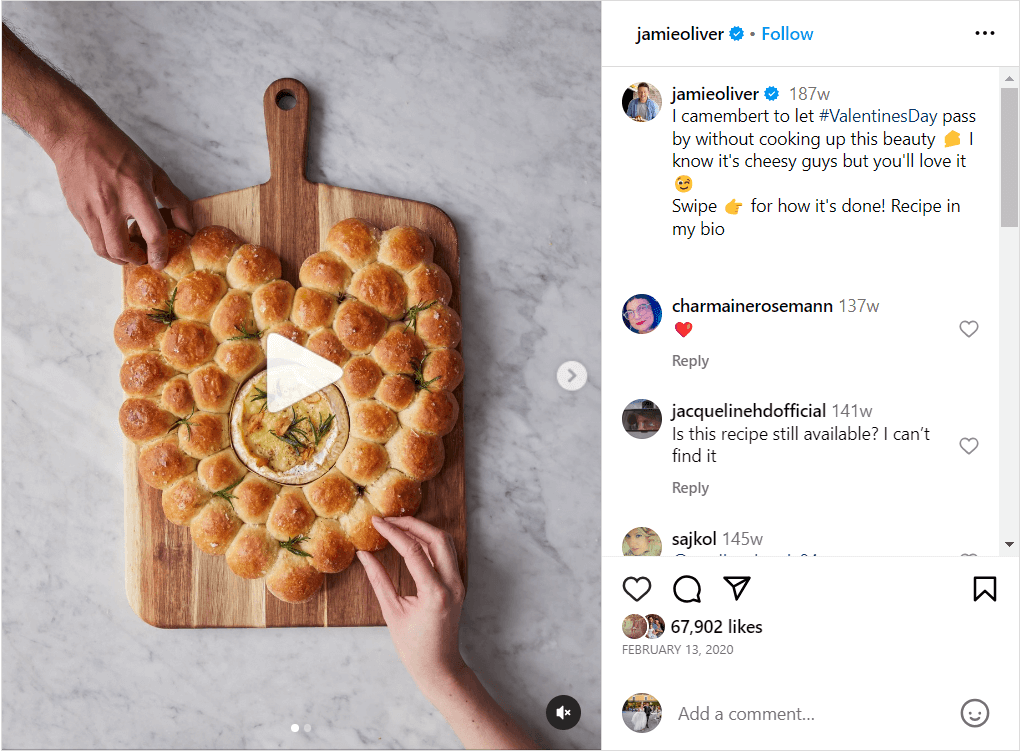 Source: @jamieoliver
Sharing hashtag holiday-themed content helps to engage your audience
If a brand isn't the easiest to market, then posts about social media holidays can offer an alternative angle to promote the product or service in a more engaging way.
Online electrical retail brand AO does a great job of this on their social media channels. While they might not sound like the most exciting company, they use social media holidays to make their appeal more universal and encourage engagement from their audience, and it pays off!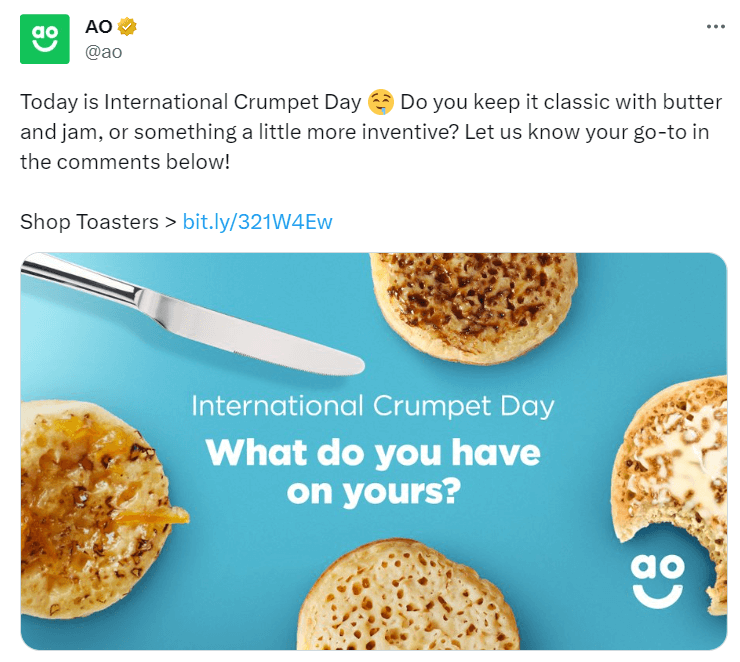 Source: @ao
Creating themed content around social media holidays allows your brand to show a sense of authenticity
Sharing content that is linked to charitable causes and events is just one of the ways how you can demonstrate that a brand is human and authentic - which is something that consumers find really important on social media. In fact, 86% of consumers say authenticity is important when deciding what brands they like and support.
Here, Condé Nast Traveller tackles the issue of anxiety in aid of World Mental Health Day, which shows them to be open and progressive: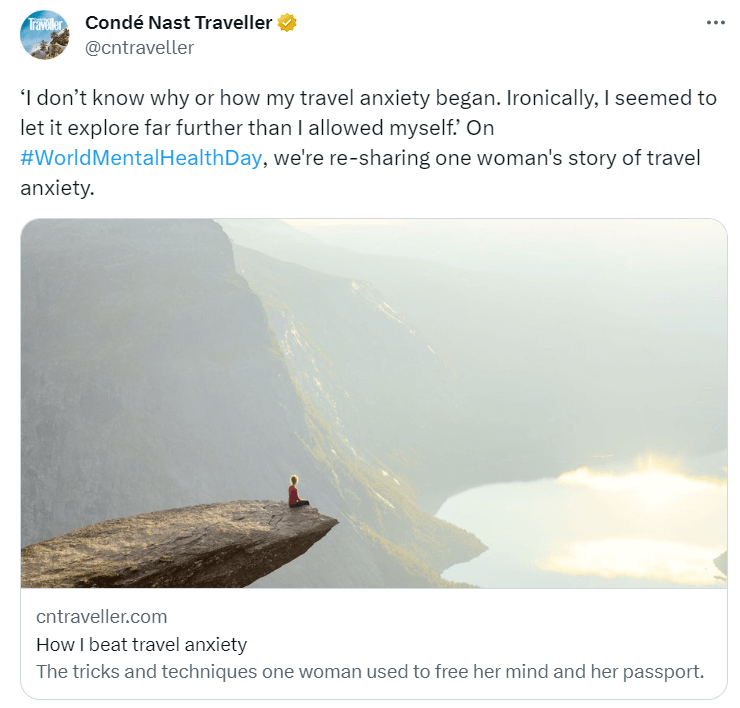 Source: @cntraveller
Celebrating social media holidays allow you to be part of the conversation
Social media is designed to facilitate conversations between people, so special holidays offer the perfect talking point to reach out to your audience. When important causes are being celebrated, brands can show support, which helps to highlight a positive image to followers.
Here, Patagonia throws support behind a social cause for Indigenous People's Day: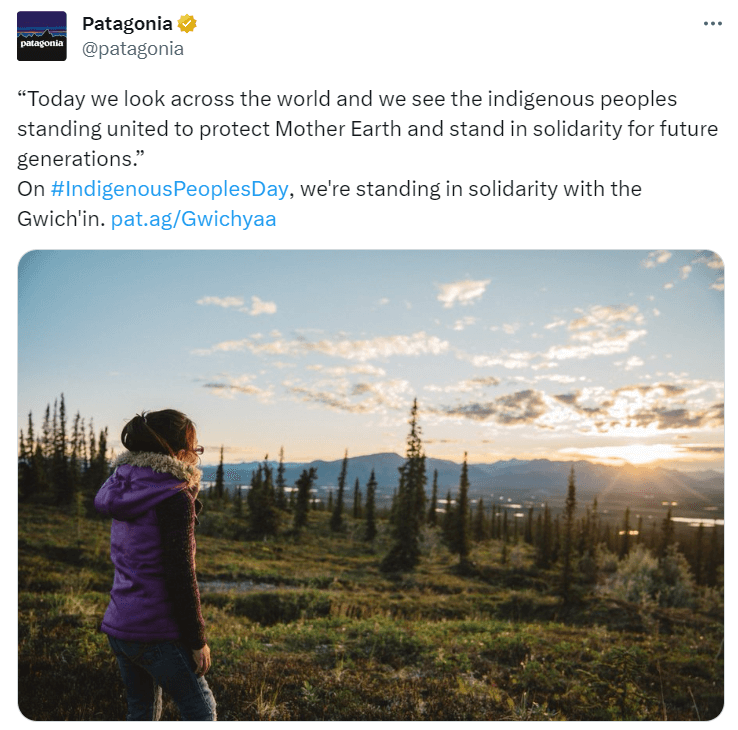 Source: @patagonia
5 actionable steps for creating awesome content and celebrating social media holidays
Now that we've established why celebrating social media holidays should be an integral part of any content marketing strategy, you might be in need of some quick pointers on how you can easily incorporate these types of posts into your or your client's social feeds.
Here are our five actionable tips for celebrating and creating content based on social media holidays.
1. Use a social media holidays calendar to help organise your campaigns and dates in one place
From national holidays to fun, food-related events, there are so many social media holidays for marketers to take advantage of. So much so that it can be a struggle to try to keep track of them all! That's why it's useful to have a social media calendar which contains all of the relevant dates that you intend to celebrate.
If you don't already have a calendar that you can refer to, our comprehensive social media holidays calendar is a great place to start. It comes in the form of a handy website page that's easy to use and share!
Since generating engagement and being authentic are huge priority for marketers, our calendar contains events that are not only widely celebrated, but also socially significant, like #LGBTMonth and #MentalHealthMonth. Plus, you'll never forget #NationalPeanutButterDay again!
2. Be visual with the content you create
When creating posts for social media, the more visual and eye-catching you can be, the better. In fact, Facebook posts that include images can garner up to 2.3 times more engagement than those without! The same goes for infographics, which can increase your web traffic by up to 12% .
In real terms, this means creating hashtag holiday-themed posts using varying content types, most likely a mixture of video, photo and graphics.
We love this example from Refinery29 , who have created a fun and colourful graphic for Instagram in aid of #MakeAFriendDay. It instructs their Millennial following on how they can make friends as adults. It's a simple but effective post, which has garnered over 250 comments!
3. Remember that original content is the best kind of content
It's no secret that social media can be a noisy place. Marketers can struggle to get their messages heard above the masses, which is why originality is the key to great social media holiday content.

...That means it's time to get creative - especially if you have a designer or photographer at your disposal!

You could try creating Instagram Stories with personalised stickers , making gifs or posting photos starring members of your team. We love how ZSL London Zoo celebrated Valentine's Day by showing off their animals and accompanying the posts with some very punny captions!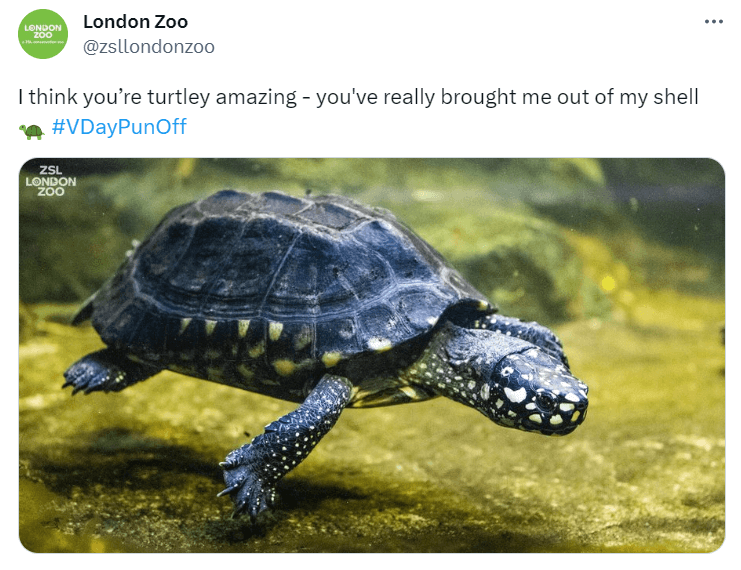 Source: @zsllondonzoo
In addition to generating extra engagement, social media holidays can be used to celebrate team members your place of work and really show who you are as a brand.
Remember that it's all about authenticity - content which features real faces is 32% more likely to receive comments on Instagram.
4. Involve the audience as much as you can
Whether it's tweeting out questions for them to answer or asking them to post a photo to Instagram via a holiday hashtag competition, meaningful engagements with followers and fans are exactly what a brand should aim to generate on social.
Social media marketing is all about making connections with other people. How do you do that? You interact with them, of course! Celebrating social media holidays is a great way to open up a dialogue between your brand and its followers.
Being specific and direct about what you want from your audience is important here - see how Sanrio instructs viewers of their post on exactly how they want them to respond:
Learning how to write great captions for Instagram posts is half of the battle, but if it makes it easier to ask the right questions, then it's worth it!
5. Use influence to attract attention to worthy causes
Every organisation has a voice, and it's important that they learn how to use it. After all, businesses should have social consciences, too.
There are now so many noteworthy social media holidays which draw attention to marginalised groups, and charity causes that it would be foolish not to show your true colours and get involved!
The most important thing to remember is to keep your celebrations relevant to your specific audience. Otherwise, your posts could appear as random, and you may alienate an audience instead of pulling them closer. Going back to the benefits we mentioned before, you can get creative and celebrate events that are not directly related to your brand, as the Natural History Museum did on LGBTQ+ History Month celebrated in February in the UK: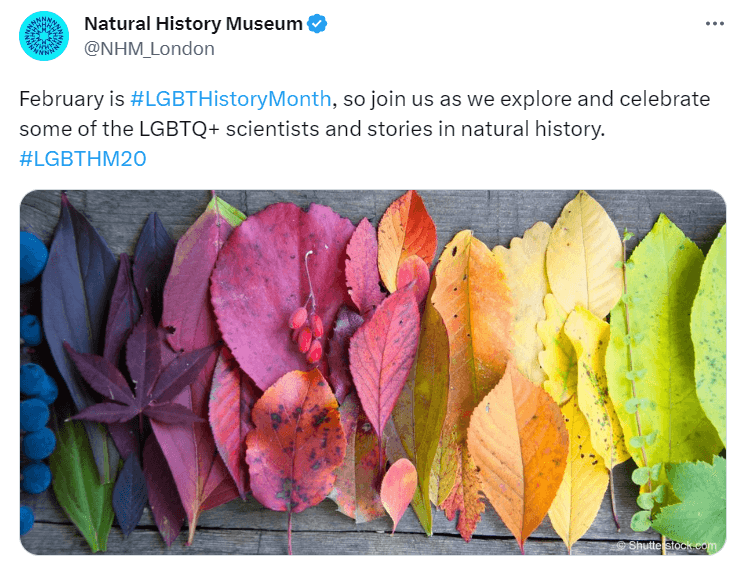 Source: @NHM_London
A list of 300+ social media holidays and a free calendar
And here you are, the reason you've graced us with your presence to peruse this delightful article. This marvellous list boasts over 300 holidays and an abundance of hashtags to merrily celebrate each and every one of them on your beloved social media platforms.
But, if you yearn for some extra tips on crafting engaging posts and captivating campaigns for these special occasions, do make it a point to peruse our complimentary holiday calendar.
Feel free to jump to the month you're interested in and keep in mind that we're constantly updating this list with fresh dates. So, it might be a smart move to save this article for later.
January Social Media Holidays 2024
How to use a social media tool Sendible to save time
There are a few ways you can use Sendible to level up your festive social media strategy. Here are our personal favourites:
1. Use a built-in holiday calendar
Indeed, the stunning calendar you laid your eyes on our webpage is now at your disposal in the form of expertly crafted, pre-scheduled posts. And yes, you got it right. Sendibe's calendar presents you with a delightful selection of over 300 pre-planned posts that you can schedule at your convenience.
2. Use queues to schedule repeating holiday posts
Forget about celebrating holidays just once a year! With social media holidays like Motivation Monday, Throwback Thursday, and Get to Know Your Customers Day, there's always something to celebrate on a weekly, monthly, or quarterly basis. And with Sendible's convenient Queues feature, you can easily schedule and organise your social media posts for these recurring holidays.
Say goodbye to inconsistency and hello to promoting evergreen content with ease.
3. Utilise Smart Compose Box to tailor holiday content to each social media platform
Why waste time jumping between Instagram, Facebook, LinkedIn, Twitter, and TikTok to celebrate a holiday? With Sendible, you can do it all from one convenient place.
Simply select your channels, keep an eye out for alerts (Sendible will let you know if anything is missing or if your media is the wrong size), choose the best hashtags and timing, and you're good to go!
4. Schedule and approve holiday posts in bulk
Creating a separate content pillar for holiday posts can be a game-changer, as it allows you to send the whole bunch for approval!
But instead of going through the hassle of using spreadsheets and manually uploading posts one by one, why not take advantage of Sendible's bulk feature? With this feature, you can upload all your posts at once and send them all for approval, all from a single platform. Talk about efficiency!
Wrapping up
So, why not jump on the bandwagon and celebrate these social media holidays? There are plenty of amazing reasons why marketers should get in on the action and support meaningful causes.
With the power of social media, it's easier than ever to connect directly with people and make a difference for your brand or your clients. Join the conversation, and let's bring some attention to what matters!
We're excited to hear about your experiences, so don't hesitate to share. And while you're at it, feel free to explore our resource library, where you can find useful audit templates, campaign planning checklists, hashtag lists, and so much more.