There are a plethora of ways to grow your business with Instagram marketing. Using paid ads, influencer marketing, video marketing, and publishing various formats and post types, all while trying to crack the secrets of the algorithm.
But what about hashtags?
Many wonder if having a hashtag strategy is important and if hashtags should be included in social media strategy.
I mean, they are just some words, right?
Wrong.
They play an essential part in reaching your target audience.
So, if you're not sure how to use them to your advantage, or you want to upgrade your Instagram hashtags strategy, this article is for you:
How do Instagram hashtags drive business results
If you're serious about growing your business with the help of social media marketing, Instagram hashtags should make the top of your list, as they are the secret sauce to success.
Searchability is possibly the most significant flaw in Instagram marketing, as you have limited chances of being found by a new audience. There are a few ways to get discovered by the target audience that is not among your followers:
Adding location to your posts

Using music from Instagram's library in your Stories and Reels

Running paid ads

Adding relevant hashtags



Instagram hashtag acts as a keyword. As such, it helps the algorithm understand better what your post is about, which increases the chance of getting discovered by your target audience.
On the other hand, an Instagram hashtag can help a user find a solution for their problem, a particular product, inspiration, reviews, user-generated content, and so much more.
To sum it up, Instagram hashtags can help you drive business results by:
Targeting the right audience

Increasing brand awareness

Expanding reach
But to do this, you have to be strategic about them and pay attention to a couple of rules.
How to use hashtags effectively in social media marketing
Let's go over some important factors that you need to count on when creating your Instagram hashtag strategy before we cover some of the most frequently asked questions.
1. Be creative, but don't overdo it. Obscure, creative hashtags can only get you so far. And if you're not a world-famous brand, you probably won't achieve much. The only time you should get "creative" and create unique hashtags is for a contest or to encourage your followers to provide you with user-generated content. So be extra cautious when choosing small business hashtags.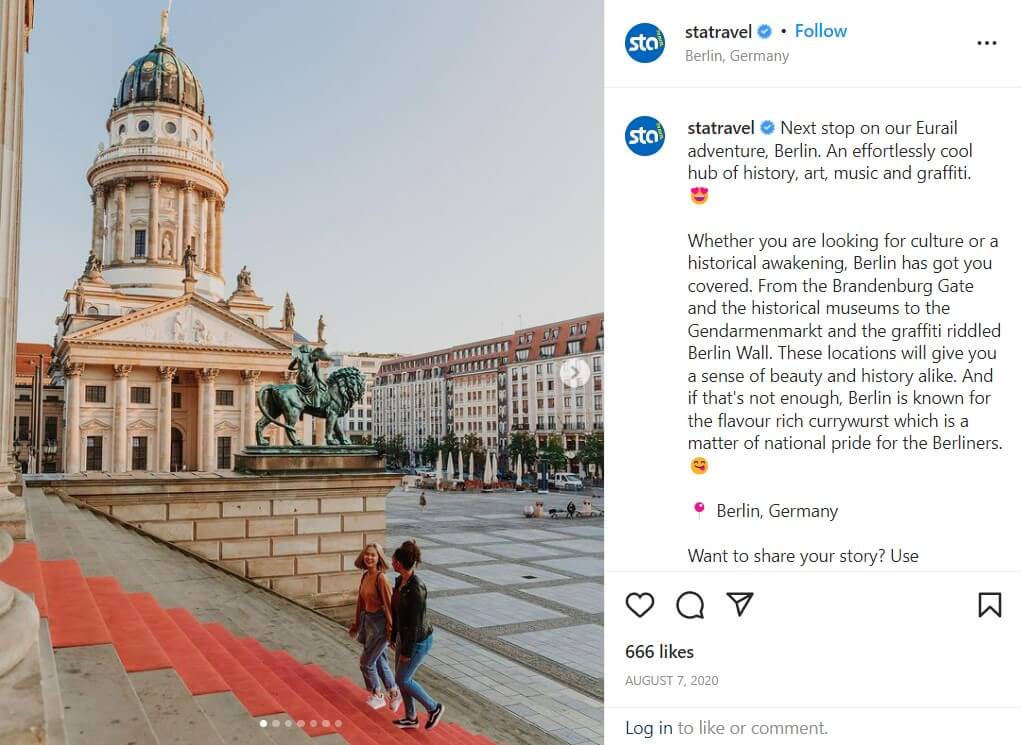 Source: @statravel
2. Keep in mind the goal of hashtags. There are a few hashtag categories, and each one has a different goal:
Branded hashtag - Use this hashtag to promote your brand and encourage users to tag you. It will help you establish a social media presence and create a library of user-generated content.
Niche hashtag - Do hashtag research to uncover specific hashtags that your target audience uses to find products or services similar to yours. These hashtags will help you reach potential new followers (and customers) and keep track of your competitors.
Industry hashtag - Another way to target a new audience is to add industry-related hashtags. These are usually more general and have greater coverage, so you should be mindful when adding them to your posts. Unlike niche ones, these hashtags will help other users discover your brand.
Location hashtag - Adding a location to your Instagram post will geo-target your audience, but a location hashtag will allow you to reach those who are currently exploring it. Instead of adding a general hashtag that consists only of the name of the city or location, try finding a hashtag that includes the name of the town and another word that better explains your brand, product or service.
Trending hashtag - Seasonal and campaign posts are perfect for spicing up your social media strategy and getting more reach by using trending hashtags. Even though they're not directly related to your brand, you can use them to promote your campaign, show a different side of your brand, support a cause, celebrate a holiday, and so much more.
Popular hashtag - Unlike trending hashtags, popular ones are there to stay all year round. These hashtags have millions of posts tagged with them. And this means that the possibility of getting discovered through them is relatively small, but with the proper engagement, you might end up pinned among "Top Posts" under that hashtag, which would make your reach explode in the best way possible.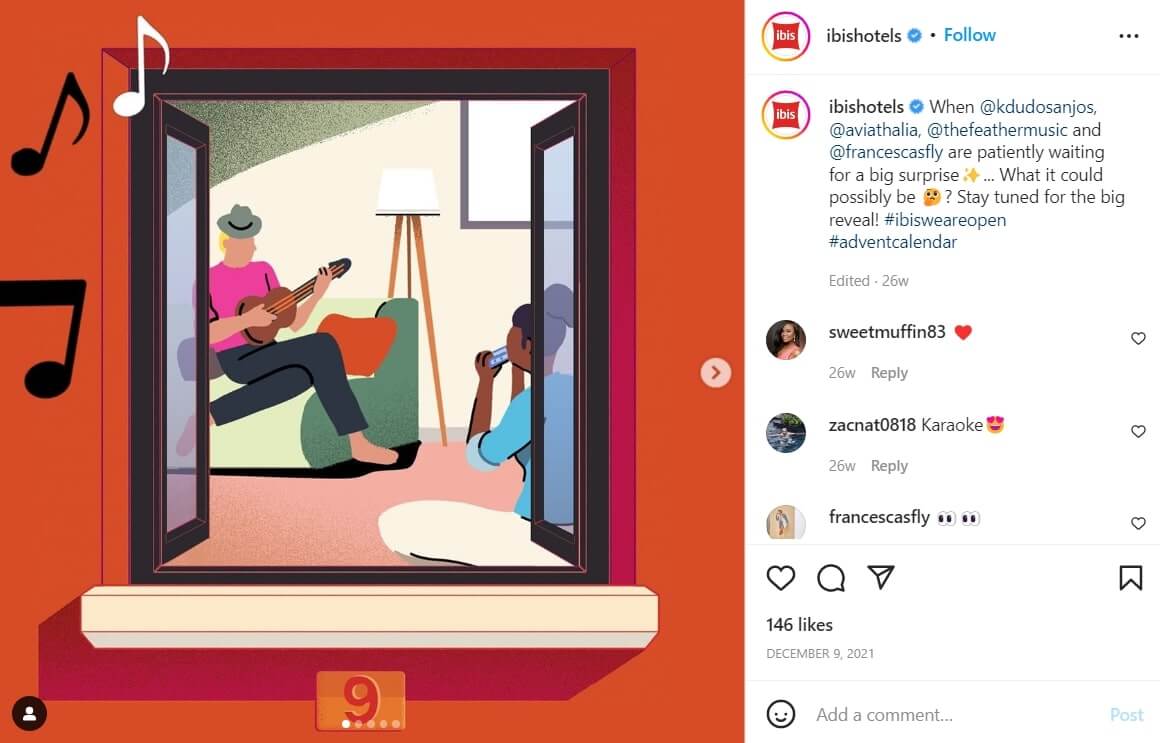 Source: @ibishotels
3. Keep your campaign hashtags short and sweet. When creating unique hashtags that encourage your audience to use them, ensure they are easy to implement. The longer the hashtag, the greater the chance of making a typo and losing valuable content.
4. Don't use the same hashtags for each post. We're sure your social media content tells a great story, and each post promotes a different part of your business. This is why creating social media content pillars and assigning specific hashtag lists are important. Strategically tagging your content groups will help you:
Be sure you're using relevant hashtags

Set measurable goals

Keep track of hashtag performance

Optimise your Instagram hashtag strategy
Learn more about content pillars with our deep dive webinar.
Now that you have a better idea of which hashtags to use on specific occasions and for different content groups, let's go over some quick hacks that will help you optimise your Instagram marketing strategy.
Where should you put your Instagram hashtags
It's entirely up to you to position your hashtags in captions or the first comment of your Feed post. But there are some benefits to including them in the comment:
Your captions will stay clutter-free

You'll immediately have one comment, and this visual trick might encourage others to engage with your post and leave another comment

If other marketers decide to embed your post in their articles as an example, they'll be able to include the entire post without taking too much space
And don't worry - social media management tools like Sendible allow you to publish that first comment automatically so that this hack won't require any additional effort from your side.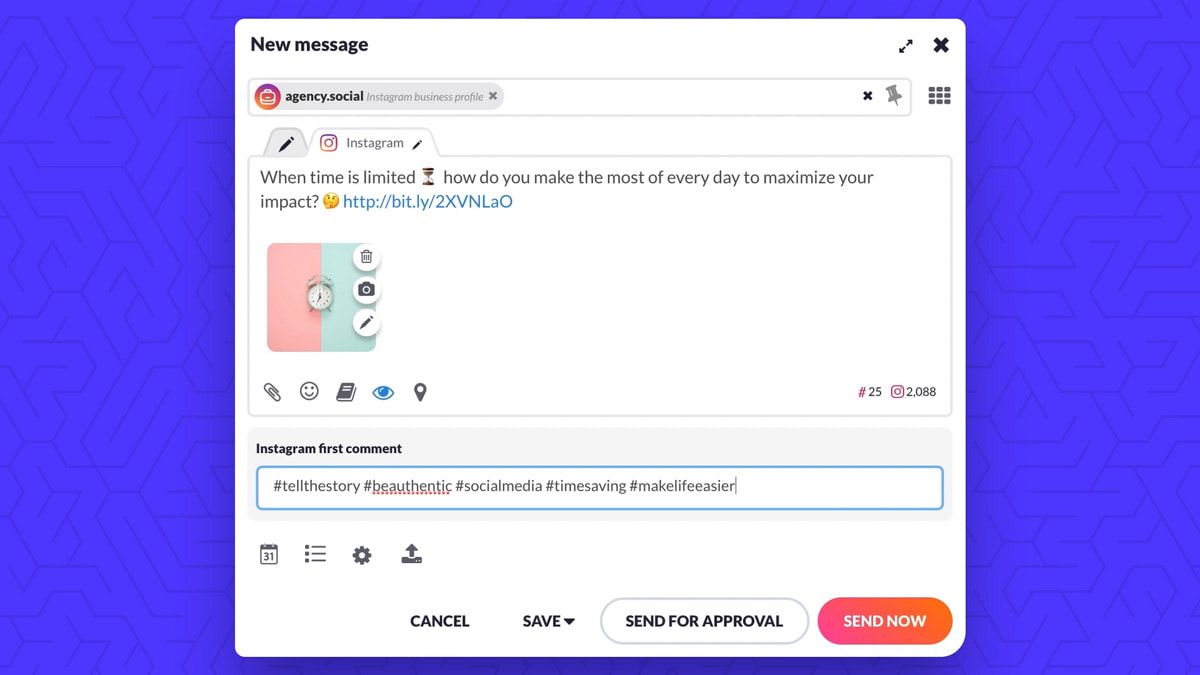 How many hashtags should you use on Instagram
You can add up to 30 hashtags under your Feed Posts and up to three to your Instagram Story.
But should you use all 30?
Not really.
It's not likely that a social media post can include 30 targeted keywords. Some articles don't have that much!
Instead, choose a maximum of 11 hashtags per content pillar! The best practice would be to have three to five permanent pillar hashtags and a few specific to the post you're publishing.
How do you find popular hashtags
There are three ways to find popular hashtags to improve the reach of your Instagram posts:
1. Manual hashtag research
Go to Instagram's Search and type in the keyword. Then go to tags and scroll down the list to see related hashtags. Pay attention to the volume, and once you've chosen the one you deem worthy of your posts, check out the top posts to see what format performs the best. This way, you'll be able to decide strategically which format to create (Instagram Carousel, Single Post, IGTV, Reel).
2. Hashtag tools
You can use a hashtag tool to find hashtags that describe your posts the best. Here are some you might want to try:
3. Social media management tool
When choosing your social media management tool for your business or agency, you must ensure it includes hashtag suggestions. Sendible, for example, has a Hashtag Selector feature that allows you to pick the right hashtags by search volume and automatically add them to the caption or first comment under the post. This is a great way to override manual research, additional tools, copy-pasting and do everything in one place.
How do you encourage people to use hashtags
Use your Instagram bio to encourage your followers and first-time visitors to tag you in their photos. Here's a template you can easily adjust:
Use #brandedhashtag to be featured on our channel
You can add that same sentence to the caption of each user-generated post you add to your Feed or Story.

Create a Highlight Story category with user-generated content. Make sure that the first story includes a brief description that invites users to use your branded hashtag to get featured on your channel.
How do you keep experimenting with hashtags
Finding the right hashtag can be challenging, and falling into the trap of using popular Instagram hashtags can be very easy.
But, dividing your Instagram hashtags per corresponding content pillars will help you adjust your hashtag strategy, as it will be easy to compare the performance.
Step 1: Check the average number of impressions you get from non-followers within one pillar group.
Step 2: Compare that average with the number of non-follower impressions per post to see if any content-specific hashtags have driven better results.
These two steps will help you optimise your hashtag lists by replacing those that underperform, adjusting the number of hashtags you use, and even tweaking your social media content strategy by updating your content pillars to fit your target audience's needs better.
[Examples] The best Instagram hashtags you can use to promote your business
Unfortunately, there is no secret formula or a combination of the best hashtags that will get you millions of impressions overnight. But if you stick to these rules, you might get to the point where you don't need to rely on hashtags to extend your reach:
Use up to 11 hashtags

Create a list of hashtags for each social media content pillar

Make sure your hashtag lists have a clear goal

Add only relevant hashtags that are relevant to your post and business

Create a mix of popular, niched, and branded hashtags

Experiment, measure the performance, optimise
To help you get started with your hashtag strategy for your Feed posts and Instagram Stories, we have created a couple of lists of popular hashtags divided by industries:
Real Estate niche hashtags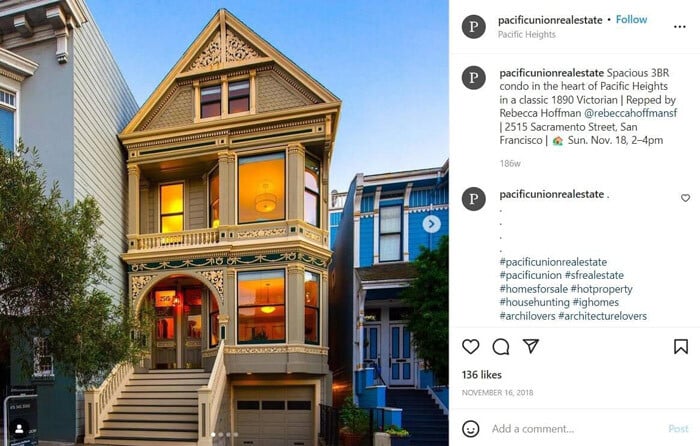 Source: @pacificunionrealestate
#JustListed - 4.4m

#DreamHome - 10.9m

#PropertyWatch - 4.6k

#HomeSweetHome - 58.3m

#ForSale - 30.3m

#JustSold - 1.3m

#HomeInspiration - 6.3m

#NoPlaceLikeHome - 1.3m

#HouseHunting - 7.1m
Did you know that social media marketing can help you get more enquires? Social media channels allow real estate agents to connect with the audience more personally. And in today's culture, this has become priceless!
Hotel niche hashtags
#hotellife - 2.6m

#hotelsoftheworld - 177k

#staycation - 8.3m

#hotelroomview - 122k

#hotelbreakfast - 125k

#hotelrestaurant - 128k

#hoteldeals - 350k

#hotelmanagement - 305k

#hotelgram - 141k
Pro tip: Make sure to add location hashtags and geotags to maximise the reach of your post.
Restaurant niche hashtags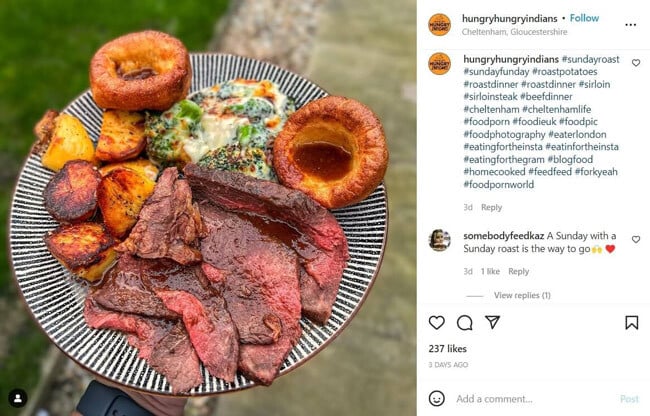 Source: @hungryhungryindians
#foodiesofinstagram
#foodieheaven
#eatingfortheinsta
#foodgasmic
#forkyeahfoodies
#foodloversofinstagram
#tastethisnext
#yummyformytummy
#restaurantowners
Did you know that GenZ and Millennials are 99% more likely to choose a restaurant based on social media and reviews? Our guide to restaurant social media marketing can help you spread brand awareness, attract potential customers (foodies), and increase the number of bookings.
Digital marketing agency niche hashtags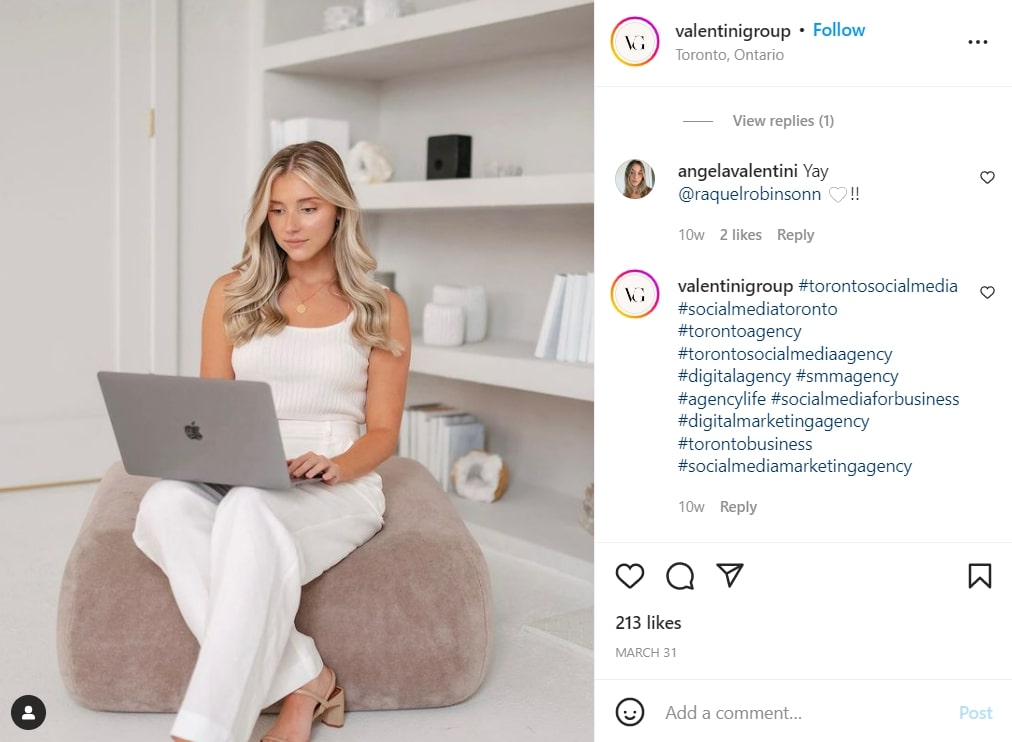 Source: @valentinigroup
#socialmediamarketingtips - 1m

#socialmediamarketingstrategy - 222k

#contentmarketingstrategy - 275k

#socialmediamarketingagency - 378k

#digitalmarketing101 - 110k

#contentmarketingtrends - 22.5k

#communitymanagement - 289k

#smmtips - 32k

#seoservices - 177k
More often than not, digital marketing agencies completely forget about taking care of their own social media presence. And since hashtags play only one role in the overall marketing strategy, we have written this guide packed with inspirational examples to help you promote your agency on social media platforms.
E-Commerce niche hashtags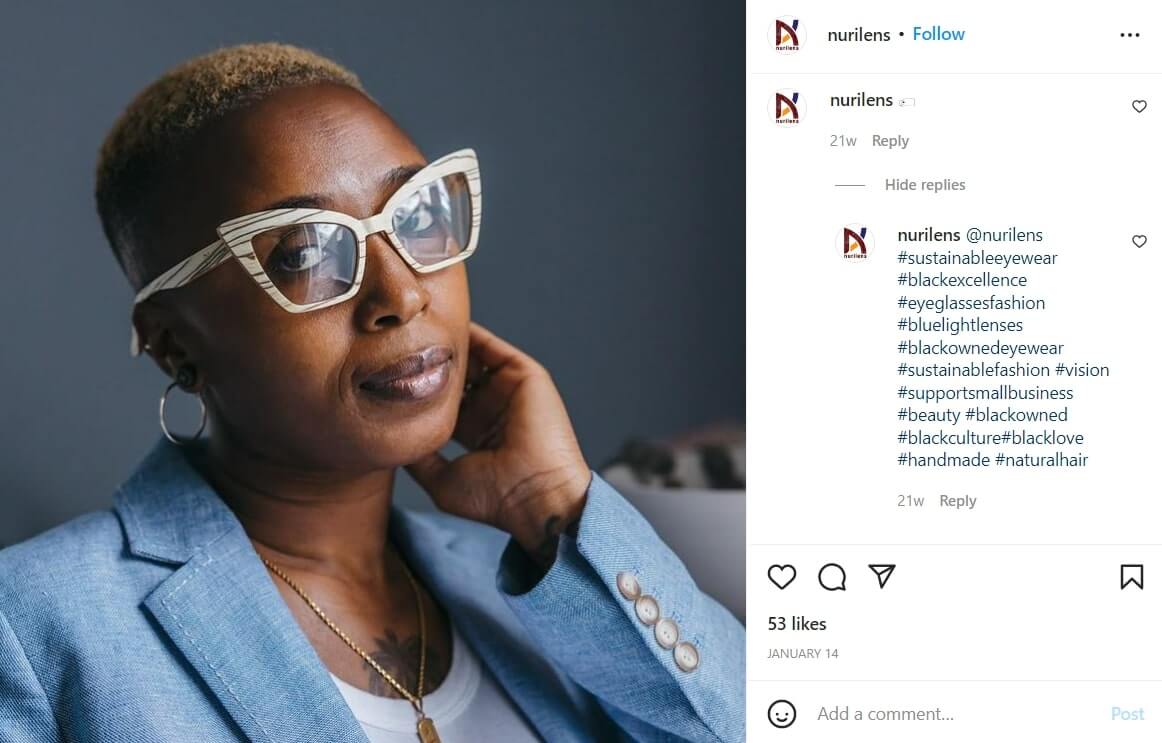 Source: @nurilens
#flashsale - 3m

#blackfridaysale - 2.2m

#discountoffers - 29.6k

#onlineshoppingcart - 13.4k

#supportlocalbrand - 737k

#discountcode - 1.4m

#clearencesale - 81k

#salealert - 247k

#supportsmallbusiness - 52.8m
Learn how social commerce can help you grow your e-Commerce business.
Fitness niche hashtags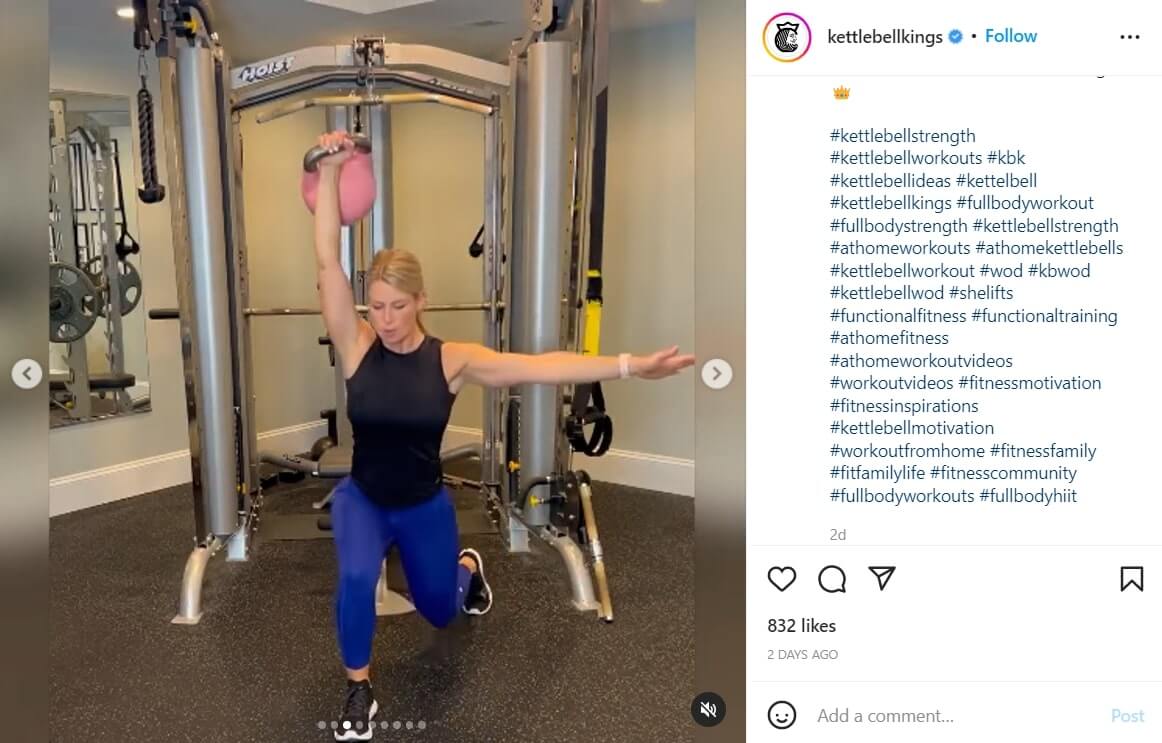 Source: @kettlebellkings
#kettlebellstrength - 17.3k

#shelifts - 1.6m

#workoutfromhome - 752k

#fitnesscommunity - 527k

#fitnessinspirations - 140k

#fullbodyworkout - 2.2m

#athomeworkoutvideos - 23.4k

#functionalfitness - 3m

#fintessfamily - 600k
Law firm niche hashtags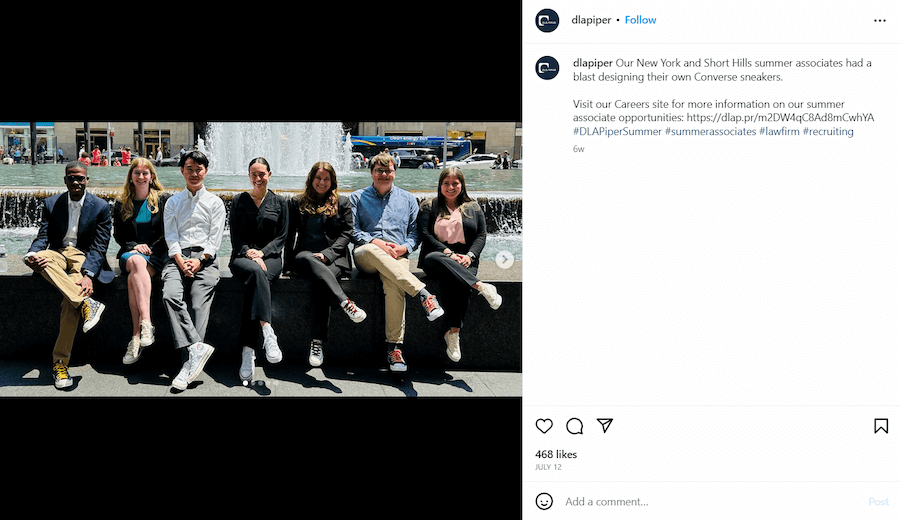 Source: @dlapiper
#legaltips

#lawyering

#corporatelawyer

#womeninlaw

#lawyerlife

#lawgram

#attorneylife

#lawupdates
Experiment with mixing some of these general hashtags with a topic-relevant hashtag, such as #onlinelegaltraining, #techlaw, #intellectualproperty, #disabilityrights, #divorcelawyer. Learn more about social media marketing for law firms with our practical guide.
Fashion brand niche hashtags
#fashiongram
#outfitinspo
#fashiongoals
#lookoftoday
#travelfashion
#clothingmanufacturing
#fashionista
#clothingbrands
#streetstyleinspo
#appreldesign
An additional tip for fashion brands: The new generation of consumers cares deeply about causes you support, so make sure to tag your holiday and cause campaign posts with adequate hashtags such as #supportlocal, #prideweek, #blackfriday. Learn how to run successful fashion marketing campaigns with our handy guide.
SaaS niche hashtags
#b2b

#b2bevents

#productrelease

#saas

#softwaredevelopment

#softwarecompany

#growthmindset

#growthhacks
An additional tip for SaaS businesses: Try combining these general hashtags with hashtags that are targeting your audience's pain points or interests. As long as they are relevant to the post, this tactic will help you reach the right people. Learn more about social media marketing for SaaS.
Healthcare niche hashtags
#healthawareness
#mentalhealthmatters
#doctorsofinstagram
#medicaladvice
#dentistas
#nutritioncoach
#nutritiontips
#pregnancydiet
#physicalactivity
An additional tip for healthcare brands: While you should use some of these hashtags in your posts, you need to keep in mind that a lot of other, non-healthcare brands use some of these hashtags to raise awareness. This is why you should include more precise hashtags to target the right audience. You could experiment with combining location and service hashtags along with the above-mentioned ones (e.g. #blooddonation, #teethwhitening, #dentalsurgery, #periodontist, #cancerprevention). Learn more about healthcare social media marketing with our in-depth guide.