You've heard the famous saying, "a picture says 1,000 words", right?
But what about video?
If a picture can do all that "talking", imagine how much a video is capable of saying.
Since its explosion onto the social media scene, Instagram has been known as the square grid photo, a pretty picture platform.
But, back in June 2021, the Head of Instagram, Adam Mosseri, announced that the social behemoth is "no longer a photo-sharing app or a square photo-sharing app."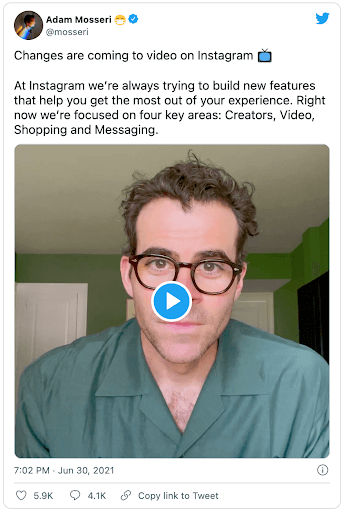 This filled a lot of people with panic as many thought that the comforting grid format we've come to know and love would be ripped out from underneath them. However, for many, it was a breath of fresh air and a move in the right direction.
As an increasing number of people leverage the video benefits of Instagram, let's take a look at the different video formats the platform offers and how you can make the most of them:
And before you continue reading the article, make sure to take a look at our video with Desiree Martinez on making the most of Instagram video for your clients:
Why Instagram Video is so important
While Instagram's filtered and curated grid photos give an aesthetic appeal to the platform, its video options allow a more raw, inside look into our favourite brands and influencers.
500 million people use Stories every day and 70% of Instagram users watch Stories every day. On top of this, there has been an 80% increase in time spent watching videos on Instagram since the feature became available in 2013.
The sheer amount of people watching, posting, and interacting with Instagram's various different video formats show it's an important part of the platform. But it's not just about the views - Instagram videos actually get two times more engagement than photos, making them a key way for brands to connect with their followers and create communities.
If you're uncertain about whether Instagram videos align with your or your client's brand, consider downloading our Instagram audit checklist. It can help pinpoint relevant data and existing results to support your decision-making process.
Instagram Video length
Before we jump to the deep dive into different types of Instagram Videos and the best practices, here's a quick breakdown of the latest length updates:
| | |
| --- | --- |
| | Length |
| Instagram Feed Video | Up to 60 minutes |
| Instagram Reel | Up to 90 seconds |
| Instagram Story | Up to 60 seconds |
| Instagram Live | Up to 4 hours |
The different types of Instagram video
1. Feed videos

Feed videos are the videos you see when you're scrolling through your feed (duh!). They're posted just like grid images and appear as part of your curated profile page.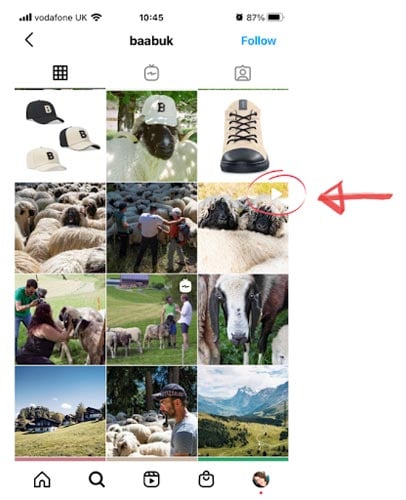 The little "play" icon in the top right corner indicates this is a feed video.
Back when the feature first came out (as Instagram's very first foray into video!), users were limited to 15 seconds. Today, brands can create longer videos that last up to one hour, capturing shots that have been filmed and edited straight from their smartphones.
Instagram feed video dimensions
Length: up to one hour
Dimensions: square, portrait, or landscape
Aspect ratio: minimum of 1.91:1 and a max of 4:5
How to use Instagram feed videos

Feed videos become a part of your profile page so, for the most part, they should reflect your branding or feed theme if you want to keep the aesthetic the same. Apart from that, feed videos can be powerful ways to:
Showcase new products
Explore the history of your brand
Share interviews with employees and manufacturers
Show off your company culture or unique things about your brand
Use Instagram's in-built features, like GIFs and filters to make your videos stand out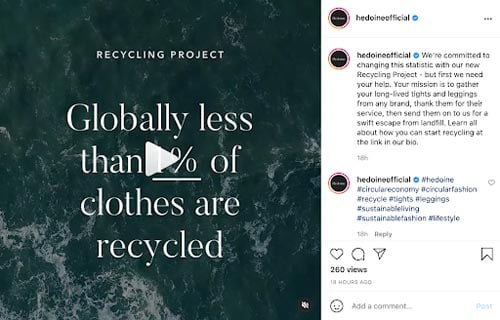 Hedoine shares the values and mission of their company through feed videos.
How to post a video to your Instagram feed
You can add a video to your feed the exact same way you would add a photo. Simply tap the "+" icon in the top corner and choose the video you want to upload. Instagram takes you through the steps of adding a filter, a caption, and any relevant hashtags.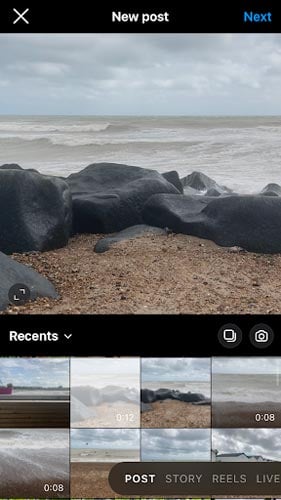 2. Instagram Reels
Reels mimic the fast-paced, consumable video style of TikTok. Users can create 90-second videos made up of multiple clips and edit them with trending music, effects, and a suite of creative tools. Reels now have their own special place on your Instagram profile, but they can also be shared to your feed for extra visibility.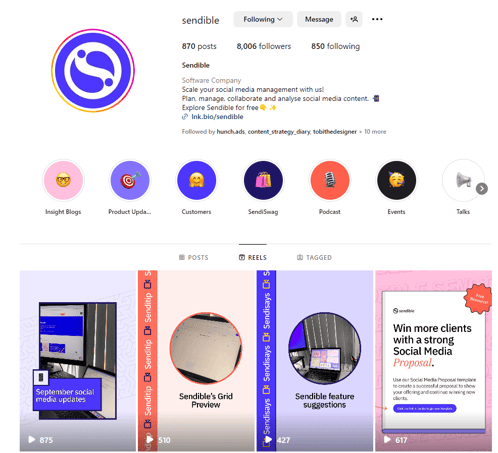 We at Sendible use our Reels to share social media management tips and hacks, news on time-saving product launches, and breaking social media news.
Instagram Reels dimensions
Instagram Reels length: up to 90 seconds
Dimensions: portrait
Aspect ratio: 9:16
Reels are created in-app, using Instagram's own editing tool and audio options.
How to use Reels on Instagram
Reels are incredibly versatile - browse through the "Explore" page on Instagram, and you'll see them being used in every way possible, from funny prank videos to product unboxing. Their short, snappy nature lends them perfectly to:
Educating viewers on your product or brand
Showcasing products in a fun way
Creating engaging, shoppable content
Tapping into social media trends to connect with followers
Showing behind-the-scenes footage of your brand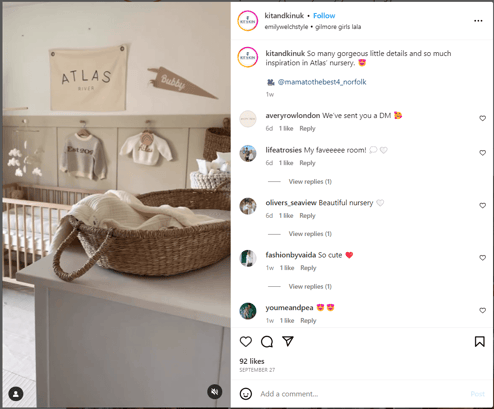 Source: @kitandkinuk
Kit & Kin's Reels provide useful insights to new parents, but they also use them to share user-generated content created by their fans and customers.
How to post an Instagram Reel
Click the "+" icon in the top corner and scroll along to the "Reels" part of Instagram's creator. Down the left-hand side, you'll be able to add clips, audio, and effects. Alternatively, record directly into the app.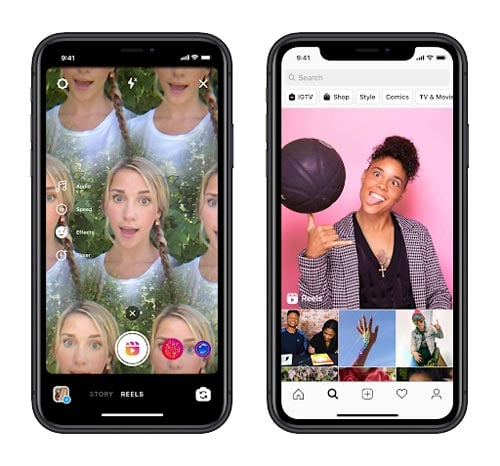 Once you're happy with your Reel, you can publish it to the Reels segment of your profile as well as your feed and the Explore page if you choose.
Alternatively, you can schedule Instagram Reels with a social media tool like Sendible, and save yourself hours of time.
3. Instagram Stories
Instagram Stories are short up to 60-second video instalments that disappear after 24 hours. They provide the perfect way to interact with customers, direct people to your website (something that's notoriously hard on Instagram), and generate engagement around your brand and products.
You can see who has viewed your Stories, create polls, and ask your followers questions for an added dose of interaction.
Monoware shares behind-the-scenes footage from photo shoots.
Instagram Stories dimensions
Instagram Stories length: up to 60 seconds (2023 update)
Instagram Stories dimensions: square, portrait, and landscape
Instagram Stories aspect ratio: minimum of 1.91:1 and a max of 9:16
How to use Instagram Stories
Instagram Stories don't have to be throw-away snippets of content. In fact, Instagram's addition of Story Highlights means you can save and pin your favourite Stories to the top of your profile. However, for best results, Stories should be in the moment and have a purpose, such as:
Sharing behind-the-scenes content from your brand
Showcasing real-time footage, like an event
Creating shoppable posts
Directing people to your website with the Swipe Up feature
Educating followers on your brand or products
Telling a story over a series of Story slides
Encouraging followers to engage with polls and Q&As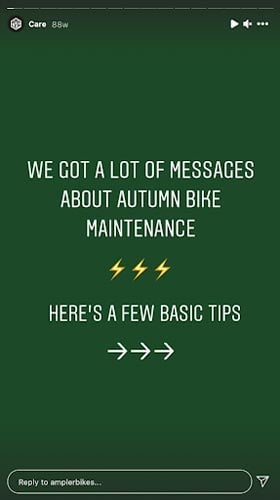 Ampler Bikes uses Stories to answer common questions their followers have.
How to post Instagram Stories
Again, like the "+" icon in the top corner and scroll to the Stories option. You can then select a video or image from your camera roll or take a photo or video live in the app. You'll then be able to edit your content with filters, GIFs, hand-drawn elements, and features like Swipe Up, polls, Instagram location, and Q&As. Use an Instagram Stories template to help you out if you don't know how to get started.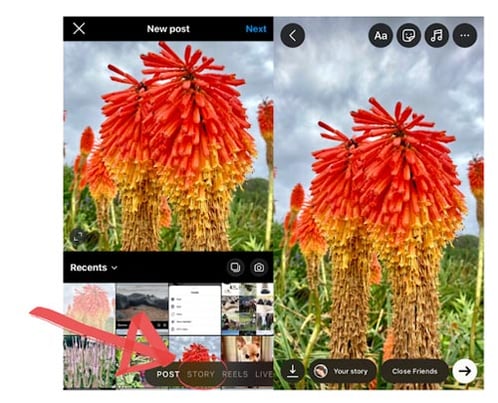 For those who are looking to streamline their Instagram strategy and maximise their efficiency, utilising Sendible's newest feature to schedule Instagram Stories is definitely worth considering. This can save a significant amount of time and effort while helping you reach your goals faster.
4. Instagram Live
Instagram Live videos are basically real-time broadcasts. They can only be carried out from a mobile device but can be a great way to connect with your followers in the moment. Lives are by far the longest video option on Instagram, letting brands wrack up 60 minutes of footage, and they can be saved for followers who weren't online at the time to watch at a later date.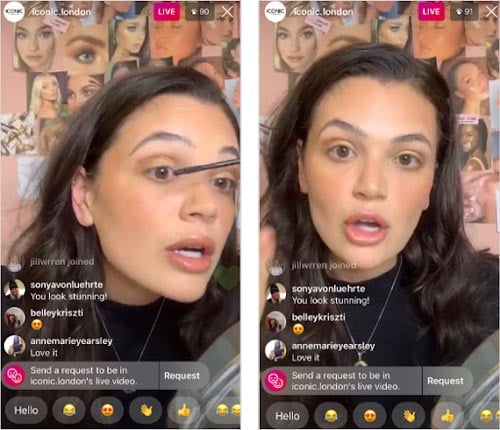 Iconic London hosts an Instagram Live about make up application.
Instagram Live dimensions
Length: up to 4 hours
Dimensions: vertical
Aspect ratio: 9:16
How to use Instagram Live
As one of the only "live" forms of video content on Instagram, Lives are ideal for interacting with your followers during key times in your business. This might include "going Live" to:
Interact with followers in real-time (say, to announce the winner of a contest, or just to say "hi")
Document events as they happen
Give a live showcase of your products
Answer questions from your followers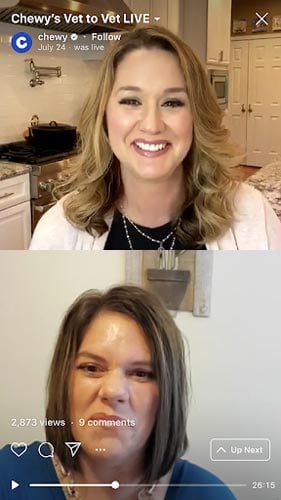 Chewy's hosts a live, educational chat between vets.
How to post a Live video on Instagram
Start by opening the Instagram Stories camera and swipe along until you get to the "Live" option. You'll be able to see how many of your followers are online at that time to determine how many will get a notification. Then, when you're ready, hit the play button to start your Live.
Throughout the Live, you'll be able to see questions from viewers, add backgrounds from your camera roll, and add filters.
Top Tips for Instagram Video Success
Make the most of your video efforts with these Instagram tips for businesses.
Plan it out: have a strategy in place to make sure you're posting regularly and providing a mixture of content for followers.
Promote your products: videos reap great engagement, so don't forget to mention your products in them (only if it feels organic, though!).
Build brand trust and credibility: put a face to the name and speak to your followers like you would a friend.
Get followers involved: show your followers you value them by re-sharing their stores and videos (this also saves you having to create your own).
Don't rely on sound: lots of people watch videos with the sound turned off, so either don't rely on sound or include subtitles.
Capture from the start: the first few seconds of a video are so important, so make sure each video has a great hook.


Track and measure:

dive into your analytics to see what kind of videos your followers prefer and what they want those videos to be about.
Get Started With Instagram Video
There's no time like the present to get started with Instagram Video. There are a lot of ways you can use this increasingly popular medium to engage with your followers and attract new customers.
Experiment with the different video formats to see what your followers like best, and make sure you incorporate videos into your overall social media strategy.