The fashion market is a crowded and competitive place. So many companies and brands are contending for championship that it seems almost impossible to impress your customers with something new. Yet, they always find new ways to engage and inspire them.
The trick is to keep the pace with your customer desires and technology that evolves continuously. This is what modern fashion marketing campaigns are all about.
Successful marketing techniques are defined by several major industry trends, including fashion technology and digital marketing. New brands and approaches appear every day which makes it so easy to get lost in between choices when you're about to launch a new product on the fashion market.
So to make sure that you won't get stressed out over this uncertainty, here are six creative fashion marketing campaign ideas for the next season or product you are launching. Some of these tips will only require some time, while others will work with a small budget or some help from a developer:
1. Focus on your signature staple piece
There are several basic staple pieces in the wardrobe of any man or woman, so when launching your new fashion collection or product, make sure that you focus on the unique, trademark features of your staple piece that people can relate to.
Need an example? In the 1920's Coco Chanel and Jean Patou created the infamous little black dress that would be affordable, neutral yet elegant and suitable for every occasion. And among other Coco Chanel's creations, this signature piece has survived the most challenging times and is still considered to be a must-have for all women.
When preparing your fashion marketing campaign, put your signature piece front and centre. In fact, you can even dedicate the whole campaign to a single piece, putting emphasis on how it will suit every person in your target audience.
Get your customers excited with a fresh angle, fun copy, beautiful images or proof that this truly is the piece they need to own. No matter what your signature staple piece is, it must have the potential to either become an essential or a fashion classic.
2. Collaborate with bloggers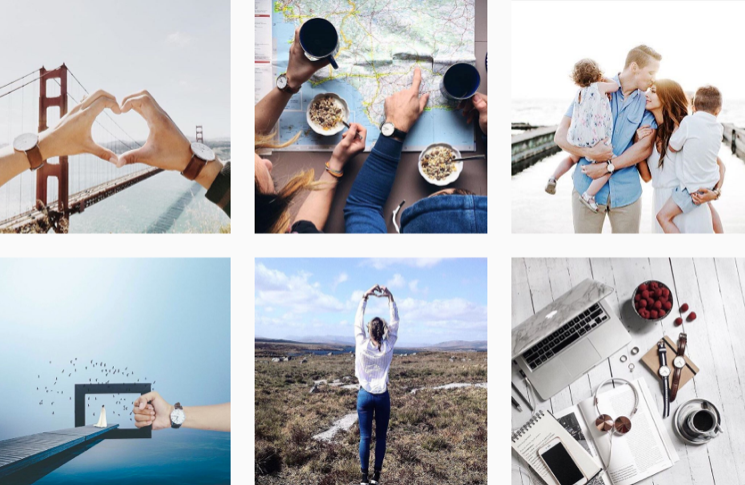 image source: mediakix.com
Some of the best spaces to promote your products are personal blogs, vloggers on YouTube and influencers on Instagram. Running your marketing campaign on these platforms will make your campaign more visual and interactive. Influencer marketing is gaining traction and fashion brands are already taking it seriously.
Adriana Gastelum, also known as @mrssharena, is a fashion blogger with over 6.7 million followers on Instagram. She is just one of the many bloggers who collaborate with Daniel Wellington, a well-known watchmaker brand. Thanks to this kind of collaboration with bloggers, this brand is considered to rule social media platforms like YouTube and Instagram (#danielwellington over 2.4 million hashtags on Instagram).
They understand the value of influential bloggers and how they can influence thousands of people without spending huge amounts of money on advertising campaigns. Bloggers who actively share their genuine thoughts and unique experiences with their large follower base can be considered influencers.
Take note, hiring an influencer who has nothing to do with your industry (especially to advertise your product) isn't a thing anymore. The new generation of genuine influencers has overtaken the fashion marketing throne. So keep up with this new trend and reach out to bloggers or local social media influencers as part of your fashion marketing campaign.
3. Make improvements to your website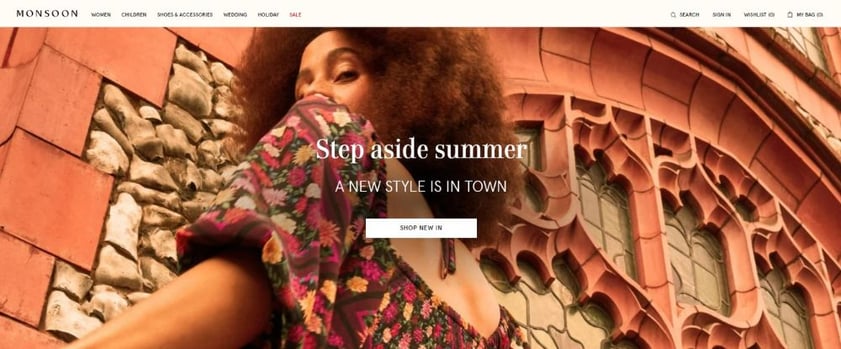 image credit: monsoon.com
Let's face it, you have to invest in a great website to promote your product successfully, especially if you are aiming to boost sales. All your current and future marketing campaigns can also be displayed here. The thing is, your website should be so interactive and personalised that your customers would willingly give up their time to browse through your interesting content and products.
But how can you promote your product on your website?
One sure way is to create an interactive fashion lookbook. Many fashion brands, like Monsoon and Matalan, have created interactive digital lookbooks that have become signature features of their new collections. Create your own and make it a central piece of your website's homepage.
Online fashion retailer, ASOS has been making waves in e-commerce by making significant improvements in the usability and navigation to their site, including a 'buy the look' and 'you will also love' sections, and now, a visual search tool for their mobile app.
With the increased usage of augmented reality apps, another idea for your fashion campaign would be to create an online fitting room. This way, customers can create outfits according to their own taste, using items from your new collections. It's also a great way to sell whole outfits, not single items.
4. Launch your fashion campaign on Facebook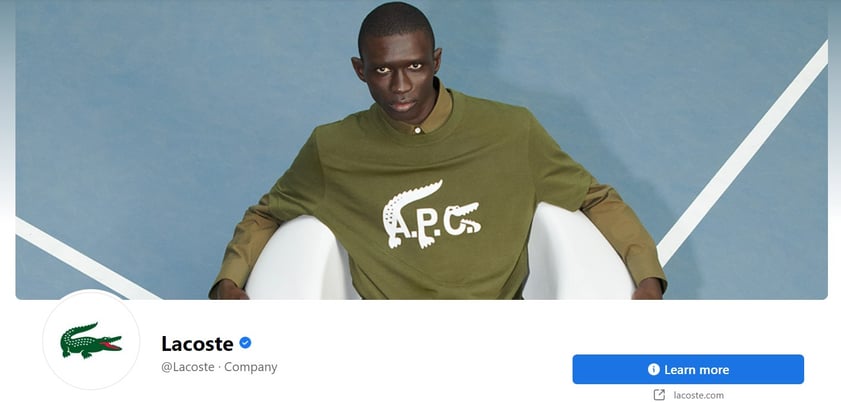 image source - Lacoste's Facebook Page
Facebook has become a powerful platform for fashion designers. It is the largest social media community, uniting over two billion people worldwide.
With such a big pool of users and precise ad-targeting options, Facebook presents a great opportunity to introduce your new product to the world. But it's all about using it right, you will need to create a content strategy for Facebook and make sure that your posts are perfectly branded.
Lacoste, one of the most famous brands worldwide, decided to use Facebook's capabilities years ago. In 2011, the brand worked with a digital agency Netrada to increase sales and traffic to their online stores in France, United Kingdom and Germany.
Over the course of two months, they ran a series of Marketplace Ads with approximately 100 variants and each directed people to one of the three target markets. The main criteria that shaped the target filtering were Location, Gender, Age, Likes and Interests. This Facebook marketing campaign led to a 500 percent increase in conversion rates, making it a huge success. Lacoste has remained very active on their Facebook Page, posting photos and videos almost every day.
It helps if you already have a Facebook Page with an engaged audience. If not, a new season can be used to launch your fashion brand on this network as well. Don't be afraid to spend money on targeted ads. After all, successful advertising is all about personalization.
You can also introduce a new hashtag that best describes your brand or product launch and use it on your Facebook posts as well as other social media channels like Twitter or Pinterest. This way new customers will know what to search for to find you.
5. Become active on TikTok
Today, it's not uncommon for brands to use TikTok to promote their business.
Once considered a dancing-challenge app for Gen Z, today it counts over 1 billion monthly active users, many of which are millennials.
Keep in mind that TikTok is all about being genuine, showing your potential customers you care about their needs and the causes they support, and showing them a different side of your brand.
To make your TikTok fashion marketing campaign extra special, invite bloggers and influencers to try your products, sit in the first row of your fashion shows or, better yet, show them how you made your new product. Dior is using this tactic very successfully, and their behind-the-scenes product creation TikTok videos gain millions of views and thousands of likes.
Creating quality videos and sharing them with the TikTok community will have an immediate effect and will be a great promotion for your brand.
6. Utilise Instagram Reels
Instagram Reels have become one of the dearest features that his social media platform has to offer. The best thing about them is that you can easily repurpose content you create for TikTok and re-publish it on Instagram!
Asos uses both their TikTok videos and Reels to share how-to guides, best finds, and fashion tips for special occasions. This is a great way to keep your audience engaged and share valuable information with them.
When using Instagram for business, be as creative as you can be. It's a flourishing social media network which makes it easy to share visual content, collaborate with others and it can serve as the best promotion for your product if you come up with a unique idea and angle for your profile.
Wrapping Up
There are many ways how you can promote your fashion brand or launch a new product, but no matter what you choose, you should always be creative. Your brand has unique signature features which everyone will recognize if you present them in the right way. Stay personal - after all, your brand is your child, appreciate its uniqueness.
It's fun how many bloggers start off as social media marketers or essay writers. If you ever need wonderful articles written about your product or brand, feel free to get in touch.