Are you using hashtags on LinkedIn?
Don't worry, it's not a trick question.
You've probably used hashtags on Twitter and Instagram because it's the 'done' thing. You may have started using them on Facebook? But you might be caught in two minds about using them on LinkedIn. Are they even allowed on the 'professional' network?
Well, the short answer is, "Yes, they are!"
And if you want to reach a wider audience with your content, then it makes sense to start using them.
But before you dive in, you need to know how to use them correctly so you can create the right impression.
In this guide, you'll learn how to use and optimize your hashtags on LinkedIn so you can get your content discovered by more people outside your immediate network.
But first, here's a brief history of hashtags on LinkedIn …
When did hashtags arrive on LinkedIn?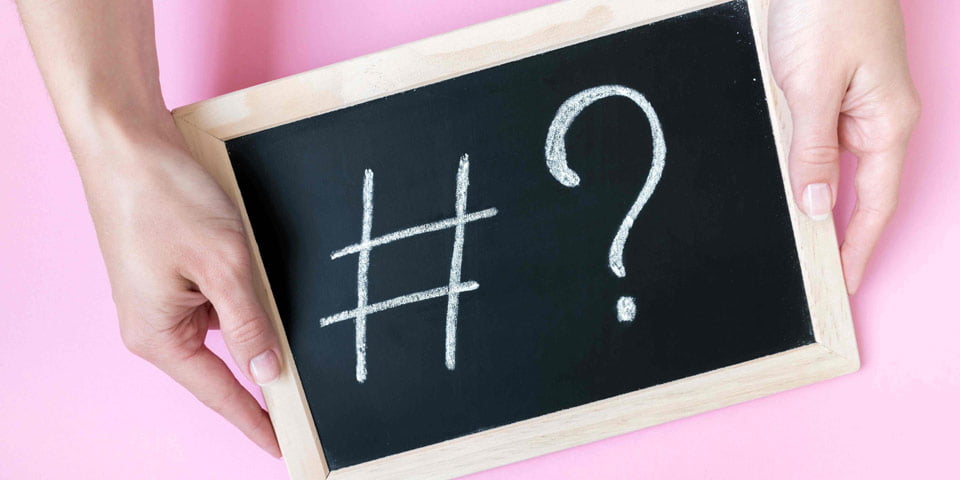 Hashtags have had a topsy-turvy ride on the LinkedIn platform. A few years back they were present but LinkedIn "rolled it back due to poor user response."
In 2016, they were available on the mobile app only: "Hashtags included in your posts (or others) are now tappable and lead to search results so that you can discover other posts with the same hashtag."
Then, in 2017, hashtags reappeared on the desktop platform as part of the new user interface. But still, nobody knew what they were supposed to do or how to use them.
By early 2018, reports surfaced of some users being 'forced' to insert hashtags into their posts:
@LinkedInHelp - why am I unable to post on LI w/o using a hashtag? Sidenote, I already looked in the help center and was unable to find a way to contact the support desk. So here I am, reaching out to LI via Twitter.

— Lexy Quad (@lexyquad) April 5, 2018
LinkedIn confirmed they were running a beta test "to better understand the value of using hashtags in posts to help members discover and join relevant conversations."
But now, it's safe to say that LinkedIn hashtags are back and working. So let's take a look at how you can make the most of them.
How do hashtags work on LinkedIn?
Hashtags on LinkedIn work in a similar way to Twitter and Instagram – to categorize content.
Hashtags help users find content on a specific topic. And, if you add hashtags to your content, they'll help you get discovered by other users, including those not connected to you.
From a marketing perspective, that's the winner – making your LinkedIn content available to a broader audience.
Do hashtags work on LinkedIn Profiles and Company Pages?
You can add hashtags to LinkedIn Profiles and Company Pages, but they don't behave in the same way. They're not searchable, and they don't highlight as a blue clickable link, which makes them a non-tagged keyword.
For example, when I search for #socialselling in 'People' (rather than the default 'Content') I see these results: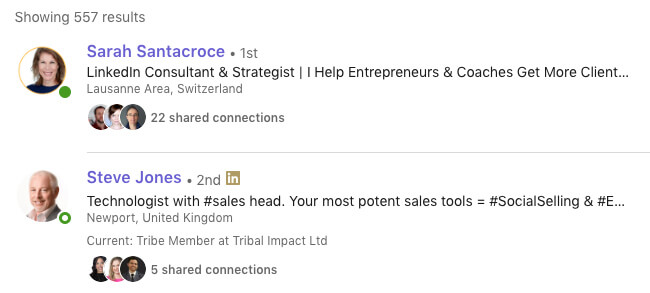 My first result shows Sarah Santacroce, who doesn't have the hashtag in her Profile Headline and Summary, although she does reference the term 'social selling' – without the hashtag – in the Experience section of her profile:

The second result shows Steve Jones, who does have the hashtag in his Headline and Summary:
The same happens if you search for hashtags in 'Companies'. For example, DigitalMarketer uses #socialselling (and other hashtags) in the 'About us' section of their company page: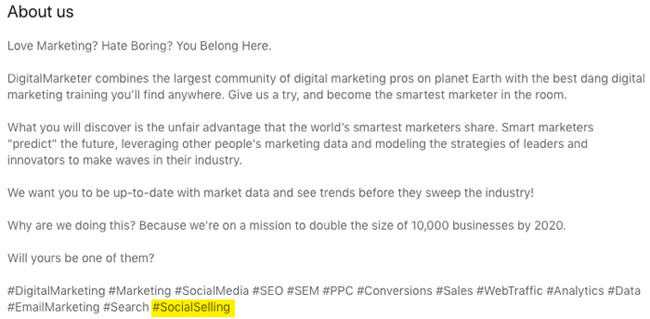 How to use hashtags on LinkedIn
There are two sides to using hashtags on LinkedIn:
Finding relevant hashtags to follow, so you can join a conversation.

Adding relevant hashtags to your content, so more people can discover you.
Let's take a look:
How to add hashtags to your LinkedIn posts (aka status updates)
At the top of the homepage, click into the 'Share an article, photo, video or idea' field to write your post content:

Add hashtags – using the # symbol – in the body of your post or at the end of the message: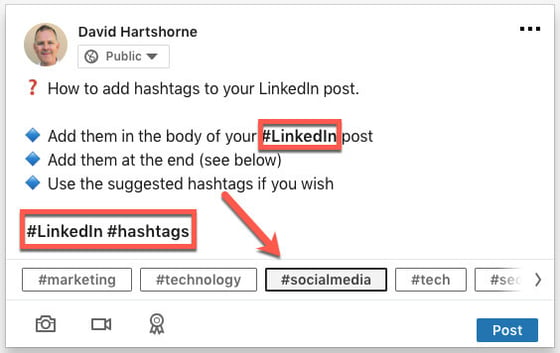 How to add hashtags to your LinkedIn articles (aka Pulse)
From the homepage, click 'Write an article' under the status update field. You can include hashtags in the body or at the end of your article, like the post update above.
When you've finished writing your article, click 'Publish' in the top right corner. A pop-up window will appear. In the 'Tell your network what your article is about' field, you can add a short intro about the article including relevant hashtags:

Note: You cannot edit or remove hashtags after you've published your article.
How to add hashtags to your LinkedIn comments
You can also add hashtags when you comment on a post or an article. It's another way of reinforcing your topic and makes it discoverable:

How to find new hashtags on LinkedIn
LinkedIn lets you find and follow hashtags on the topics you're interested in.
Start by entering the topic you'd like to find in the Search bar at the top of the page. For example, when you type #socialmedia you get a list of social media related hashtags: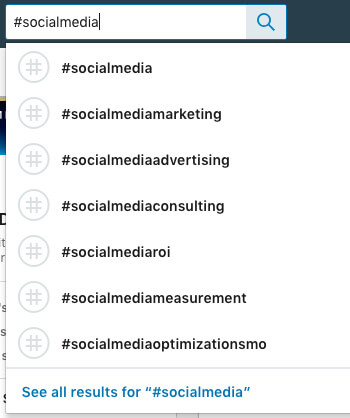 [IMAGE]Select a hashtag from the list of suggestions – e.g. #socialmediamarketing – to see content related to the hashtag topic in your feed.Click the 'Follow' button at the top of the page to add the hashtag topic to your list:

How to manage the hashtags you follow
You can manage the hashtags you follow from your LinkedIn homepage. On the lefthand side is a section called 'Your communities' that contains 'Pinned' (hashtags), 'Hashtags' (non-pinned), and 'Groups':

In the 'Pinned' and 'Hashtags' sections, LinkedIn displays up to three hashtags with options to see more:
Click 'Show more' to expand the list and display more of the hashtags you're following: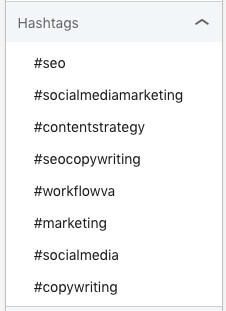 Click 'See all' to show the full list of hashtags you're currently following (in a popup window) and change what you want pinned and unpinned: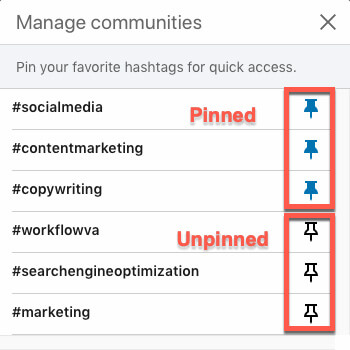 At the bottom of the 'Your communities' menu, click on the 'Discover more' link to reveal more hashtags that might be of interest: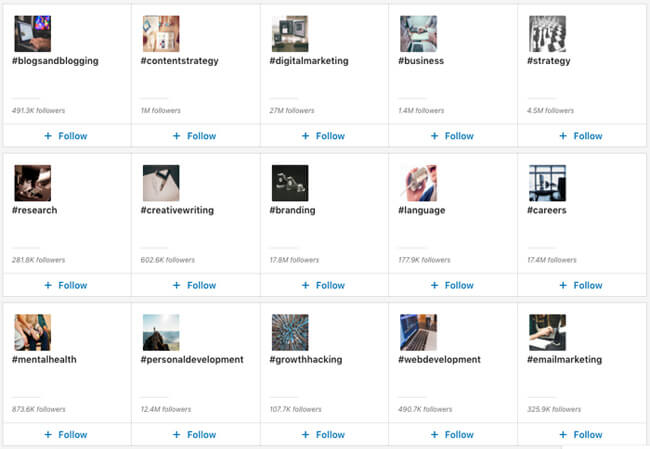 Click the '+ Follow' link to start following a new hashtag from the list:

Note: LinkedIn displays the number of followers so you can see how popular a hashtag is.
However, the best management view of your hashtags comes via this summary page: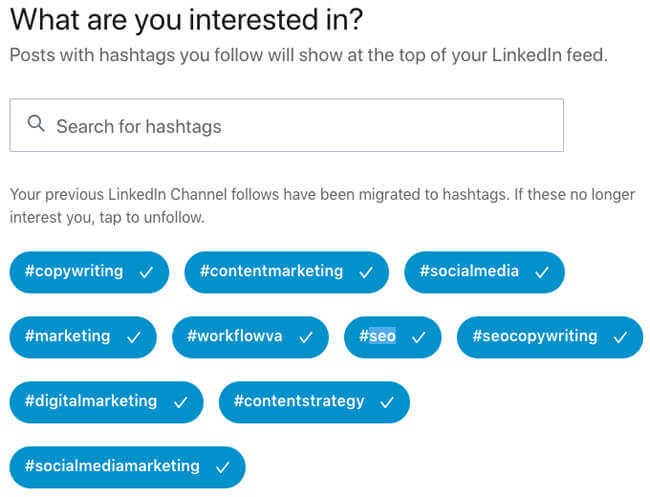 You can see what hashtags you're following, and choose to unfollow any if you wish.
Underneath are several sections of suggested hashtags you may wish to follow including:
Popular in your industry

Related to your interests

Based on your recent activity

People in your community are interested in

People in your community follow

Recommended for you
It's a hidden gem.
8 tips for optimizing hashtags on LinkedIn
Now you know how to manage your hashtags on LinkedIn, follow these tips to make the most of every post you publish.
#1 - Make sure your hashtags are visible
There's no point using a hashtag if you're operating in private mode on LinkedIn. Check your profile settings to make sure it's public to everyone, else your content (including hashtags) won't get discovered.
#2 - Don't use too many hashtags
There's no limit to how many hashtags you can add to your content. But if you use too many your post will look spammy. Best practice suggests that like Twitter, three hashtags is plenty.
Some people fall into the trap of cross-posting content from Instagram that includes multiple hashtags. And then their LinkedIn post looks awful: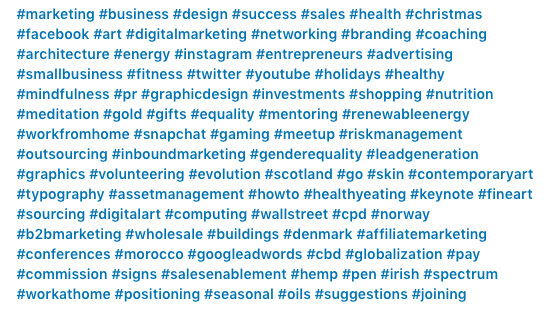 #3 - Format your hashtags
LinkedIn defaults to lowercase when it displays hashtags; e.g. #socialmediamarketing. But it's considered a good practice to use capitals at the start of each word, so it's easier for people to decipher; e.g. #SocialMediaMarketing.
Note: Abbreviated acronym hashtags are not standard on LinkedIn. For example, on Twitter the common acronym for #SocialMediaMarketing is #SMM, but LinkedIn prefers the full version.
#4 - Combine hashtags with your message
It's always best to add at least one sentence to your post rather than using only hashtags. Even when you post an image or video, add a short sentence along with your hashtags.
A splattering of hashtags with no context looks lazy and spammy. And LinkedIn's algorithm stops irrelevant, low-quality, and spammy content from reaching a user's feed.
#5 - Place hashtags sensibly
You can place hashtags in your message or at the end, but don't hashtag every word. As Nick Diakanastasis commented:
I see too many people #adding #hashtags #like #its #going #out #of #style.
Write your message first and then see if it makes sense to convert a word into a hashtag, or add a hashtag at the end.
Don't tag words that aren't important. Remember to use a hashtag to categorize your post.
#6 - Create your own hashtags
Creating a custom hashtag is an excellent way to build your brand across all social platforms, and it makes it easy for followers to identify and connect with you. Rebecca Whitlocke commented:
"I would suggest that for anyone using their own custom hashtag to keep it short and memorable - I've seen a few recently that are 7 words strung together."
But there's another advantage, too. Custom hashtags help you track shares of your LinkedIn posts. As John Espirian explains:
"Searching for my own hashtags means I can see when people share my posts. Shares aren't always easy to see, especially on LinkedIn desktop, so this is a good way to track them."
For more tips, check out John's article on how to create a branded hashtag for your business.
#7 - Don't use hashtags for mentions
If you want to reference an individual or a company then use the @mention functionality rather than a hashtag:

#8 - Test your hashtags
Don't test your hashtags like you would spaghetti – throwing a load of hashtags into a post and hoping one of them sticks is not good practice.
Instead, record what hashtags you've used on each post and see which ones bring the most engagement.
Wrapping up
Hashtags are alive and kicking on LinkedIn.
Use hashtags to make it easier for other users to discover your content, and help you find and connect with other users who share common interests.
Add relevant hashtags to your content as you write posts and add comments, (or use the LinkedIn suggestions if you're unsure), to make the most of every post you publish for your clients.

But remember to follow the tips above to ensure your hashtags are a success.