Since building a strong community is such a relevant social media trend, and we've been talking quite a bit about it, it's only fair to show you a different side of that coin.
That is how NOT to do it.
So what good will it do to highlight the bad?
We want to ensure that you never, ever get caught up in the kinds of horrible PR situations some of the companies have found themselves in.
And while following our advice for good social media customer service practices should keep you out of most hot water, nothing ever makes an impression like seeing the curious kid sticking the butter knife into the electrical outlet:
The importance of monitoring and quick replies
Monitoring social platforms, and the web in general, is an essential tool for your business or brand, as it will allow you to track:
Brand
Competitor
Key industry terms
But that's not all. Monitoring enables you to reply quickly to mentions and comments. And the faster you do so, the better the impression on your customers will be.
No matter how many times we write about these practices, nothing could prove the point better than the famous 2013 exchange on Twitter involving British Airways: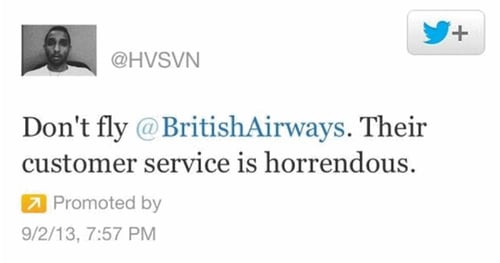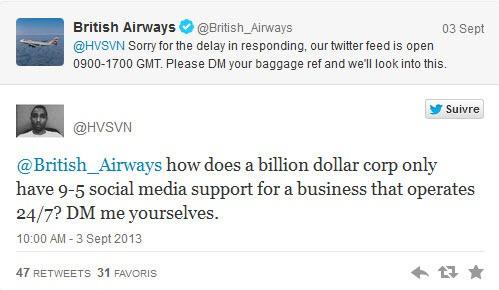 In the eight hours between the first tweet and the response from the airlines, the comment was seen by some 76,000 Twitter users. That is what we call viral.
Not every business can reply 24/7 to online complaints, of course, but it's expected when your company operates 24/7.
So if you wish to avoid becoming a symbol of bad social media customer service - make sure your social media management tool includes social monitoring feature.
One of the numerous tasks a community manager has is responding to comments promptly. Their priority task is to transform your followers into a strong community that will support, cheer, boost, and even defend your business.
Automation Done the Wrong Way
Automation in social media can be an excellent tool when used properly, but unfortunately, not everyone understands what that proper use is.
It's acceptable to have something like an automated reply for new followers thanking them for the follow, but setting up an automated message for any and every mention is counterintuitive to customer service.
Not only will it come off as lazy and useless, but it will also signal your followers that you do not care for them.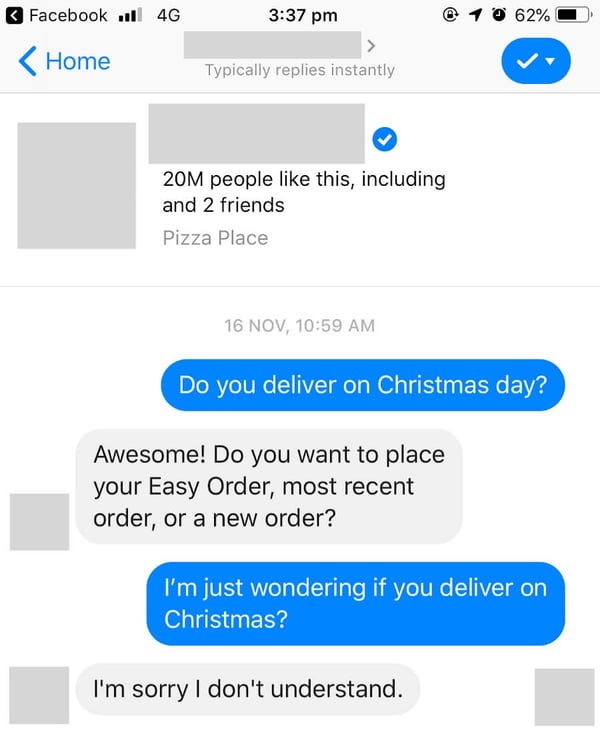 Bank of America ended up in "history books" of bad community management with an automated "salesy" message to all mentions.
This thread began with a tweeter discussing being chased off by police for drawing with chalk on the sidewalk outside a BoA branch in New York. Every comment on the thread received the same reply from @BoFA_Help: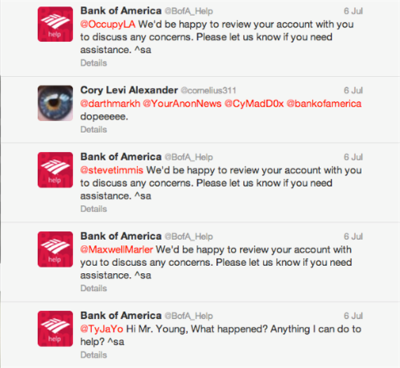 How to (not) insult your customers 101
You will likely have disgruntled customers who complain in an ugly way online at some point.
The first rule for dealing with these complaints is to take them offline as quickly as possible. The second rule is to never, never insult them.
Common sense?
One would think so, but someone forgot to tell the Pigalle Restaurant in Boston. And that's how we got this "historic" reminder of how not to respond to negative feedback.
One customer who paid $200 for a Thanksgiving meal was a little more than unhappy with what her money bought her, going so far as to say the food "tasted like vomit".
Ouch.
The chef didn't take the comment very well, responding to the post by telling the customer to "go f*** yourself".
Double ouch.
Sadly, the mistakes didn't stop there, with a follow-up post from the restaurant calling the customer an "uneducated, unintelligent, unpolished human being":
If you need to know exactly what not to say to an upset customer, just read that again.
But hey, this doesn't mean you must stay silent and go by the motto that the customer is always right. We live in a world of "Karens"! Etsy even has a plugin KarenCheck that allows you to see all the reviews a user has left and check whether they're a Karen or not.
So, what can you do if you get a rude Karen-like review or comment? Let's go over some good TikTok examples.
TikTok is a social media platform that fully supports openness and outing people who complain just for the sake of complaining.
@mrjohnnyross's account is almost entirely dedicated to recreating all the weird and disrespectful situations he has encountered while working at Sephora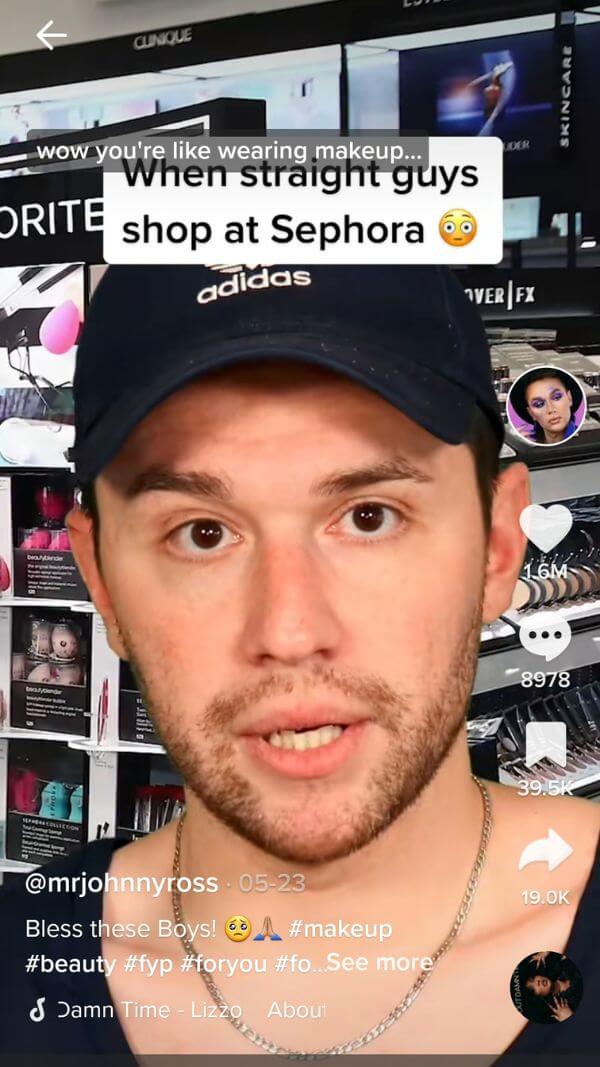 Source: @mrjohnnyross
Source: @ryanair
@joinparallel.io's account is all about going through awkward messages that customer service receives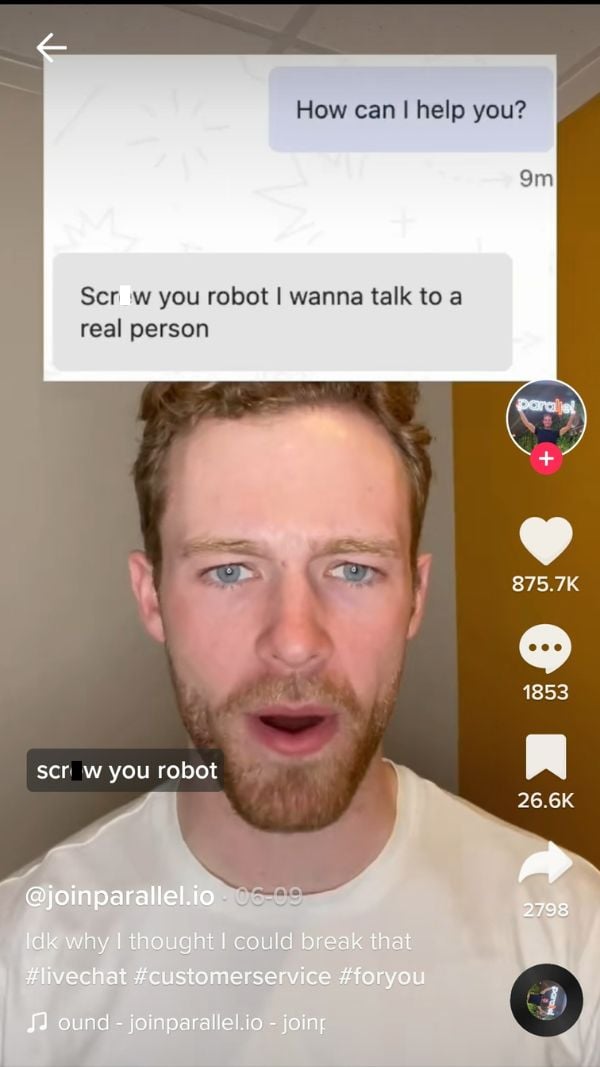 Source: @joinparallel.io
One thing they all have in common is that they never name or single out a bad customer. They are instead using these examples to:
Educate their target audience on how not to talk with their brand's representatives
Remind users that there are real people behind the chats and comments
TikTok has reshaped community management as we know it. It has paved the way for companies to be more human and sincere and share their pain. But this doesn't mean you can go around insulting your customers. There's a fine line between educating your audience, hopping on a group therapy session with them, and downright calling them names like Pigalle Boston's chef did.
How not to deal with bad reviews
You should monitor reviews for two reasons.
First, you want to find happy customers to thank, try to encourage the spread of their positive opinions, and cross-promote their feedback on your social media channels.
Second, you want to find unhappy customers and do your best to resolve their issues and learn from the experience to avoid future problems.
Before we touch on the most recent community management scandal, let's dive into the history a bit to learn more about how NOT to deal with bad reviews.
Oldie but goldie example: You'll pay a fine if you leave a negative review
You don't want to threaten your customers, especially before they've even spent their money with you. A New York hotel called the Union Street Guest House did exactly that until they were called out for it. This wasn't a post on social media but rather a policy they posted about customers leaving reviews on Yelp and other review sites:
"There will be a $500 fine that will be deducted from your deposit for every negative review of USGH place on any internet site by anyone in your party and/or attending your wedding even if you stay here to attend a wedding anywhere in the area and leave us a negative review on any internet site you agree to a $500 fine for each negative review."
When word got out about it, their Facebook page caught fire with angry comments, complaints about their business, and people ridiculing the obviously ridiculous policy.
After they removed the policy in humiliation, they tried to claim that it had been a joke. Unfortunately, that backfired when customers began to come forth, saying that the hotel had tried to enforce it with them. Let this be a lesson to any businesses going forth: when you fight with, insult, or threaten the public online and on social media, you will lose. Every time.
The Advent calendar community management crisis: Chanel
Threatening and insulting your customers is a big no, but so is staying silent and pretending nothing's happening.
On the 2nd of December, a TikTok user Elise Harmon published the unboxing video of Chanel's 800$ advent calendar. She admired the packaging and immediately noticed that the first four days were missing.

The calendar starts with No5, which is a bummer, but cool because of the symbolism.

She then proceeded to open number 9 because it looked very promising, only to find Chanel stickers in it.

And this immediately went viral! Within two days, this video got 12 million views and over 20 thousand shares!
A flipbook, plastic bracelet, keychain, envelope seal, paperweight, empty dust bag, miniature hand cream and the shabby mirror did not help. Needless to say – TikTok users got furious! They kept wondering if this was a joke.
And what was Chanel's team's response? They:
Blocked this TikTok user

Deleted their own TikTok account

Ignored all of the comments users left under their posts on other social media channels
Chanel's homage to one of the most iconic perfumes turned into an absolute social media scandal simply because they didn't have a community management crisis plan. And on the other hand, their direct competitors thrived on it by replying to mentions.
Moral of the story is? Don't be rude and silent. Create a community management crisis plan and monitor your social media networks.