Providing excellent customer service on social media is no longer a nice-to-have option, especially for B2C brands.
When you get it right, you will benefit from rave reviews and more customers. 😀
When you get it wrong, you will end up losing customers to your competitors. 😔
Word spreads like wildfire on social media, and you need a solid plan to come out on top.
In this article, you'll learn how to deliver exceptional social media customer service on social media so that you can appear more accessible and friendly than your competitors:
Customer service versus customer support
Customer service is different from customer support.
Let me explain.
Traditional brands use a vertical approach to separate business functions. Marketing teams attract leads. Sales executives close deals. And Support looks after customers. Straightforward.
But that model doesn't fit all brands, especially those that serve consumers directly. Those brands need to be on point throughout the whole buying cycle because consumers expect help before and after they've made a purchase. And that's where customer service comes in.
Customer service is a hybrid role that includes elements of marketing, sales, and support. To say it's an important function would be an understatement. Every interaction has to create the right impression and offer value in some way or another. And today's community managers are actually taking on the role of social media customer service.
Online retailer Zappos built their brand by providing the very best customer service.
But as an e-commerce startup, looking to be as lean and agile as possible, initially, they tried running their logistics, sales and customer service departments in various locations.
But as they grew and became more successful, they soon realized they needed to centralize their operations around customer service.
Writing in his book, Delivering Happiness, CEO and founder Tony Hsieh, explains why they relocated the Zappos headquarters from San Francisco to Las Vegas:
Customer service shouldn't just be a department; it should be the entire company.
For Zappos, customer service had to be, and still is, the cornerstone of their company.
Melanie Tamble, CEO of Adenion, says their marketing team is also responsible for their customer service and sales. Having one team means customer feedback shapes future marketing strategy and product development without getting lost in the system.
As you can see, customer service is at the core of successful B2C brands. A reliable customer service team keeps everything gelled together, serving existing customers and prospects as well as generating new leads.
That's why it's worthwhile investing time and resources in customer service.
---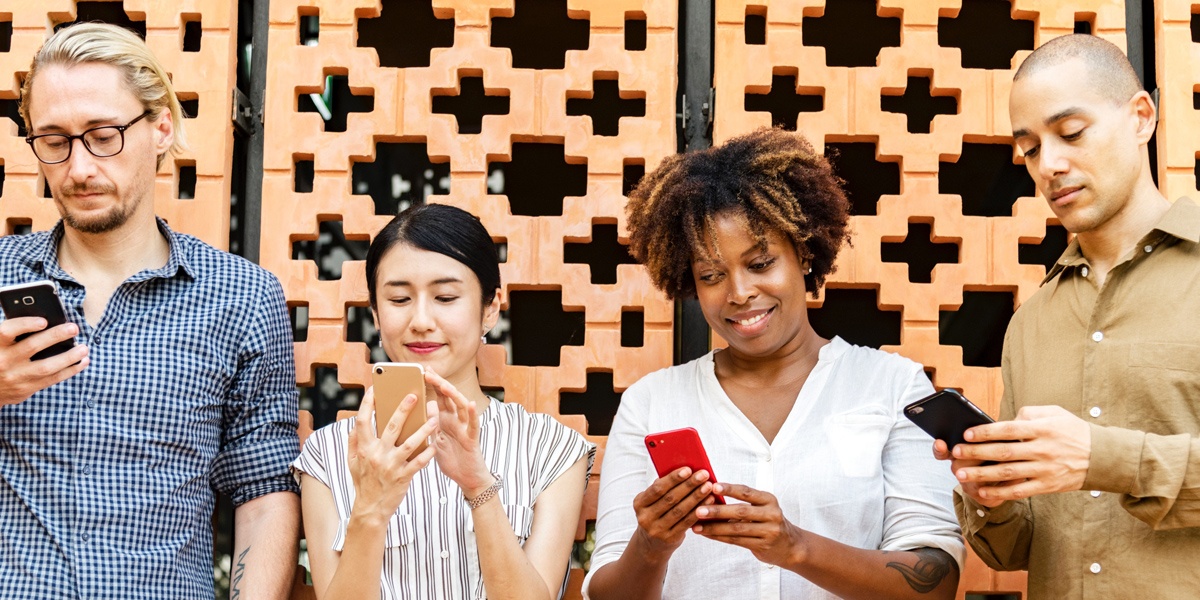 4 benefits of providing customer service on social media
Given that customer service is critical to the success of modern consumer brands, why would you choose to offer it via social media?
In short, speed.
Research by The Social Habit found that among those respondents who have ever attempted to contact a brand, product, or company through social media for customer support:
32% expect a response within 30 minutes
42% expect a response within 60 minutes
57% expect the same response time at night and on weekends as regular business hours.
People want rapid replies to their queries, and social media provides the ideal online platform for such interactions.
Here are four fantastic advantages of community managers dedicating themselves to delivering top-notch customer service on social media:
1. Engaging with people
Whether your business is present on social media, people are talking about you positively or negatively. So it makes sense to be there and participate in a two-way conversation. Connecting and interacting with users on a one-to-one basis gives them the attention they want.
2. Remaining transparent
When you resolve one person's problem via social media, other people take notice. It's a living testimony that you treat such situations seriously, and want to remain transparent. That said, some issues need to be resolved privately through direct messages, phone or email. (Read on for more on this below).
3. Listening proactively
Providing customer service on social media is not all about reacting. When you start to use social media monitoring, you can be proactive, too:
"Use your social listening skills to engage with people and provide a complete customer experience based on the sentiment of their feedback."
It might feel like a lot of work in the beginning - not only to publish social media posts but also to set up keyword searches and actively engage with your audience, but when you do it right, it can make all the difference.
4. Receiving recommendations
A satisfied customer will also be prepared to share their good news with friends. Research published in Harvard Business Review found that customers who received a response to their query on Twitter were more likely to spend more money with the brand in the future and recommend it to others.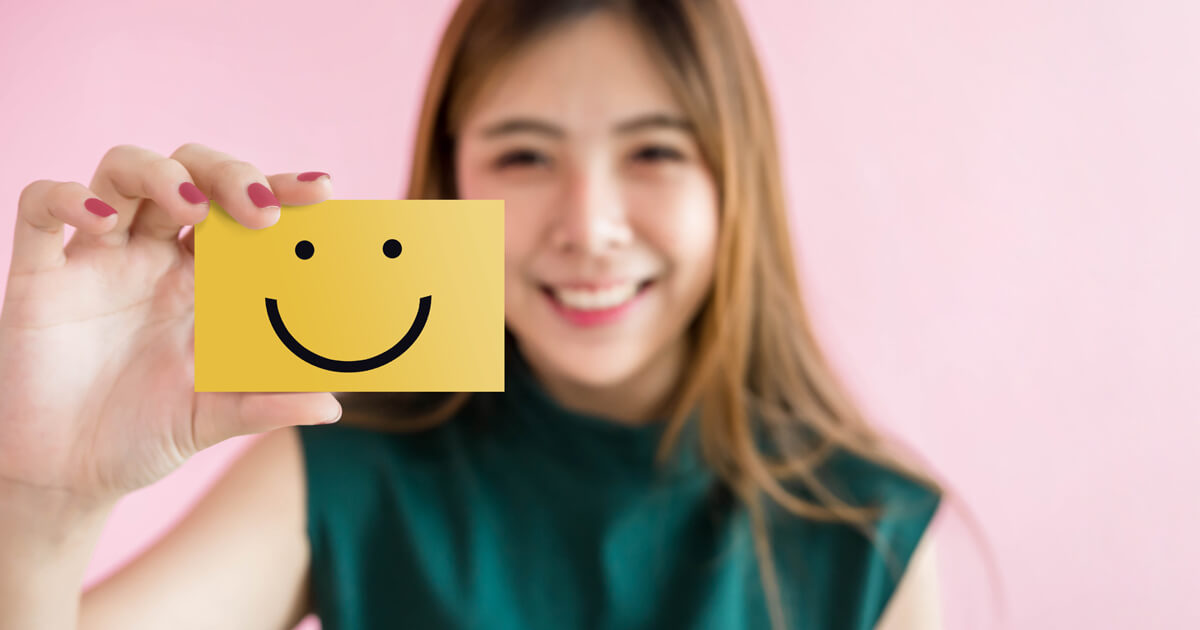 Guide: How to provide ace social media customer service
Follow these guidelines for implementing customer service on social media.
Define your goals and metrics
Before you can deliver an 'ace' service, you need to decide on your goals and how you'll you measure them. Here are some KPIs to consider:
1. Response time
Set a target response time to answer all customer inquiries. Responding quickly, especially for negative comments, can stop problems escalating into catastrophes and delight customers who aren't as satisfied. Remember, if you're using Facebook for customer service it indicates how responsive you are.
2. Update frequency
Responding quickly to queries is great, but it's worthless if you don't keep customers informed or resolve their issues. Decide how often you'll update a conversation, even if it's a case of, "We're still working on your issue."
3. New leads
Customer service is not just troubleshooting. How many new leads do you expect to generate by delighting your prospects and answering pre-sales questions?
4. Brand sentiment
You can measure your overall customer satisfaction with surveys and polls or by measuring positive and negative mentions in a social media monitoring tool.
Twitter has a built-in tool called Customer Feedback Cards that lets you ask survey questions immediately following a Direct Message conversation with a customer. There's a choice of a customer satisfaction question or a Net Promoter® question.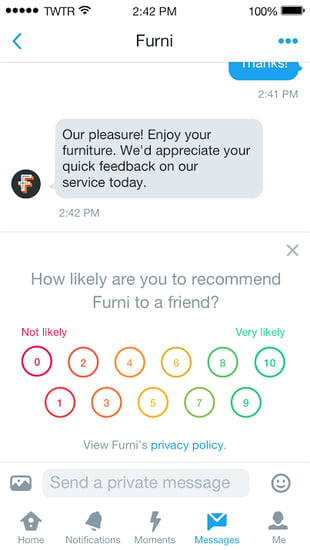 Decide which platforms to use
Just like you don't have to be present on every social media network for your marketing campaigns, neither do you have to use every platform for customer service. If you're not sure where to start, then run a social media audit to see where you're getting the most traction and focus on those first. You can also check which platforms your competitors are using.
Historically, Twitter has always been a popular platform for social media customer service, but Facebook and its Messenger service are also good options, and so is TikTok!
Consider creating separate accounts for customer service
Some of the top brands have separate social media accounts to handle customer service interactions. Having a dedicated channel for customer service helps keep your main channel focused on marketing campaigns.
For example, satellite TV broadcaster Sky's primary Twitter account directs users to their Sky Help Team account, and vice versa: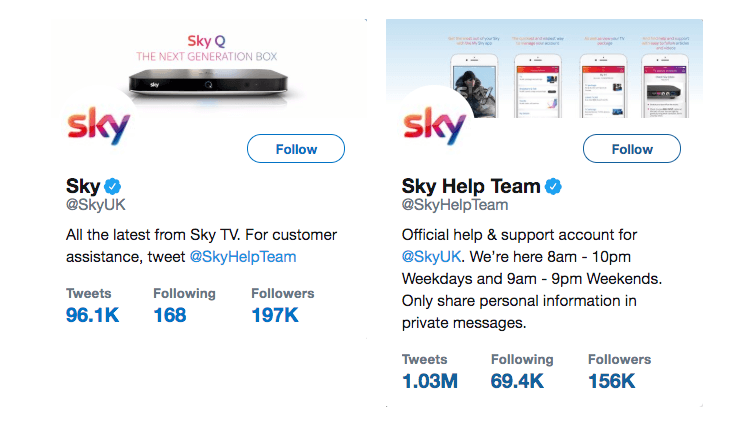 However, this may not work as well for a small or medium-sized business due to naturally lower number of messages coming through. We usually recommend to start providing support on your main Facebook or Twitter accounts and see how it goes. If you start getting a lot of support questions through, it may be worth creating a separate account.
Start monitoring and listening
Having chosen where you'll provide customer service, you need to start tracking each channel to find mentions of your brand.
We've written a complete guide on how to listen and engage with your customers and prospects on social media that includes tips on:
How to find your most relevant brand mentions
How to respond to brand mentions (negative and positive)
How to generate leads for your business
The key is to set up a system that (a) captures all your mentions and (b) tracks your replies and actions. Even if you have a small customer service team (or you are flying solo), you need to be able to manage or assign tasks to individuals to avoid duplicating replies or missing messages.
Will you have one person per network or one person per query type: support/marketing/sales?
Using a social media management tool like Sendible lets you find and respond to comments swiftly.
Respond in the right manner
Whenever you respond to customer inquiries on social media, always remember to stay positive and maintain your brand's voice. Here are three tools and methods to try.
1. Apply the human touch
You can't beat human interaction, as long as you handle inquiries empathetically.
I like the way Cornerstone handled the message below about a competitor being cheaper. They acknowledge they're not the cheapest, explain why, and then add some social proof that their members feel the difference. Plus, notice how another customer jumps into the conversation to support them: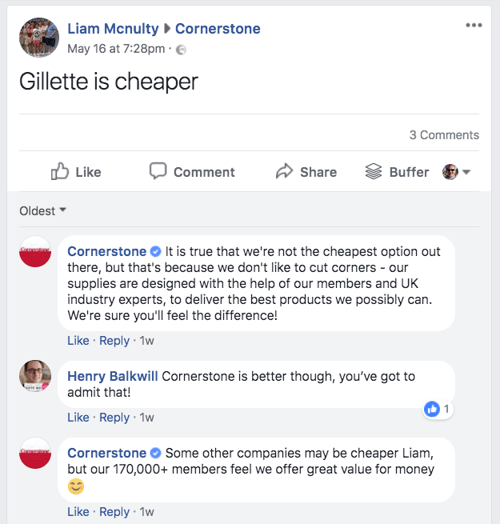 Most interactions will either be negative or positive. These examples are how online electrical goods retailer AO remain friendly and accessible when they handle negative and positive comments on their Facebook Page.
Negative - Rob's quick, personal reply (using the customer's name and his name) includes an apology first and a request to take the details in a private message. This ensures no personal data is shared publicly and the matter is resolved privately: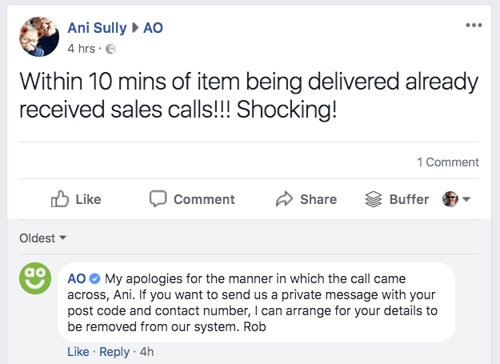 Positive - AO is proud of their delivery teams and encourage customers to give them a shoutout. Notice how customer service rep Rob thanks Natasha for her feedback and uses emojis to keep the conversation light: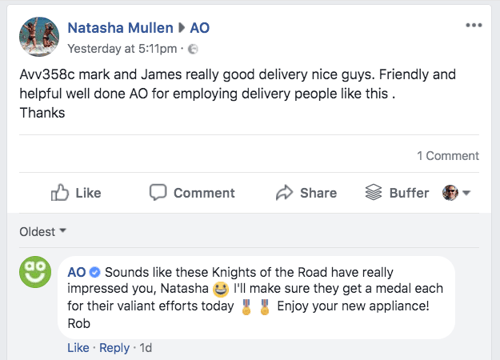 It's a good idea to get your team members to personalize each message by adding their name or initials.
If you go this route, it's also best practice to 'hand-over' any ongoing inquiry at the end of a shift to keep your customer informed. For example, "I'm signing off now, but my colleague Matt is up to speed on your inquiry and will look after you now." Or if you don't run 24/7 customer service, you might say, "We're finishing for the day now, but we aim to get you back on track tomorrow."
2. Turn on canned messages
Canned messages can help your customer service maintain a consistent response to standard queries. But if you overdo them, you'll lose your authenticity and the all-important human touch.
It's useful to have a few templates that you can modify accordingly. For example:
Thanks for the feedback - much appreciated!
Happy to hear you're using [insert brand]! Let us know your thoughts.
Glad you liked [insert brand]! Thanks for sharing your story.
We appreciate all your patience and support while we deal with this issue.
Accept our apologies for the inconvenience. We're doing everything we can to fix the issue.
3. Power up the chatbots
Chatbots are becoming more popular, but are they right for your brand? According to Facebook, there are now over 300,000 active bots on Messenger. And AR (Augmented Reality) usage is on the rise, too, as Facebook adds the ability for brands to incorporate it into their Messenger experiences.
It's important to decide how you'll use chatbots. For example, Staples' Facebook Messenger Bot can handle queries about stock and orders: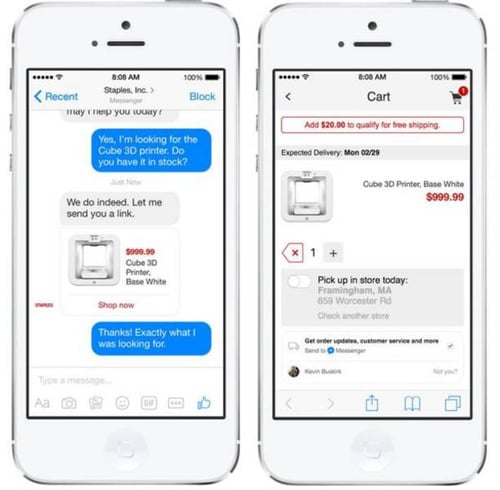 When you arrive on the Cornerstone Facebook Page, the Messenger window opens automatically with the message: "Please send us any questions you may have," along with four preconfigured questions: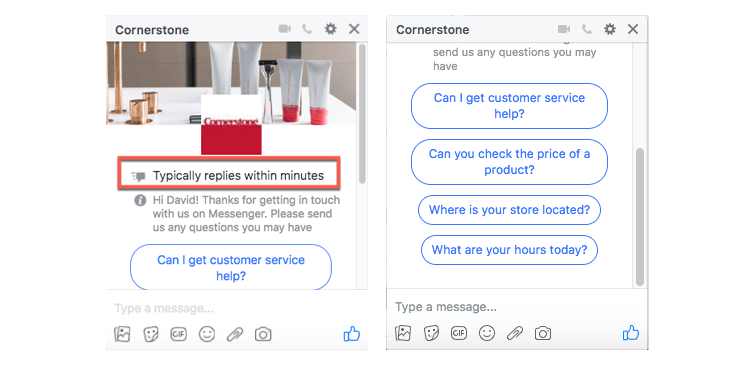 At the moment chatbots seem best-placed to answer standard questions, but they may become more human in the future. Use them to improve efficiency, but don't rely on them for everything.
Tip: Intrigued? Learn how to create Messenger chatbots and use them to strike up conversations with your social media followers.
Manage your customer service team
If you're a small organization, customer service might be a one-person show. But it's more likely that you'll have a group of customer service reps.
1. Appoint a customer service manager/team leader
Knowing how important customer service is, it makes sense to appoint a team leader. Your service reps will appreciate having someone they can bounce ideas off and use as a sounding board for tricky situations. Ideally, you'll need someone who is experienced and can keep a cool head when things get hot. And if there is no one person who can deal with customer queries on social media, this can be the responsibility of either Sales or Marketing.
2. Create a customer service handbook
It's essential that everyone on the team knows what procedures to follow so that your customer service remains consistent at all times, not only on social media. Having a handy reference guide or cheat sheet that highlights key points from your strategy document will prove invaluable. For example:
What tone of voice to use
When to take a conversation offline
When to escalate a complaint
When you're all singing from the same page, you'll provide a harmonious service and make your customers happier in the process.
Final thoughts
What people say about your brand on social media counts. That's why you need a solid plan to deliver the best customer service that reacts promptly, assists and delights, and remains positive and accessible.