If you're celebrating this great holiday with a single "Happy Thanksgiving" social media post, you need to know you're missing out on a huge marketing opportunity.
Not only does Thanksgiving Day mark the official beginning of the holiday season, but it's also a fantastic opportunity to spice things up before the most significant retail and e-commerce sales - Black Friday and Cyber Monday.
Having said this, please remember that this day shouldn't be about sales. At least, not in an obvious way.
Rather than giving discounts, try to focus your Thanksgiving marketing campaign on appreciating your loyal customers, rewarding them for their dedication, celebrating your fantastic team, being thankful for all your success - and laying the grounds for the upcoming time-limited offers.
Not sure how to get started? No worries, we got you:
7 ideas to celebrate Thanksgiving on social media
1. Give thanks to your customers
The success of your business depends upon your customers, especially those who have been loyal to you throughout.
Thanksgiving Day is the perfect time to thank them for their loyalty and reward them with something special if possible.
For example, you could consider offering them an exclusive promotion or complimentary gift with each purchase.
2. Show appreciation to your partners
Have you partnered with a brand and created a great project in the previous 365 days? Maybe you co-hosted a popular event with their help? Or maybe, you had a great response on social media thanks to that last photo shoot or blog collaboration.
Either way, this is a great opportunity to recycle your content like a pro and highlight your best partnerships. It's also a good time to strengthen your relationship with suppliers - give them some TLC. And if your partners have a discount you could offer to your customers, everybody can share in the Thanksgiving joy.
Etsy uses this opportunity to appreciate both their loyal customers and small business owners that use their platform:
3. Reach out to mentors and influencers
Thanksgiving quotes are a great way to boost engagement and shares. But pairing them with a mention of your influencers and mentors on social media to thank them for the advice they have given and the lessons you have learnt is a potent combination.
This is great for doing outreach on your social media accounts and securing collaboration in the upcoming period.
[Pro tip]
Influencer marketing is a powerful marketing tactic. But today's audience wants to see brands genuinely appreciating the people you work with, be they influencers or your team. And Thanksgiving is the perfect opportunity to do it publicly.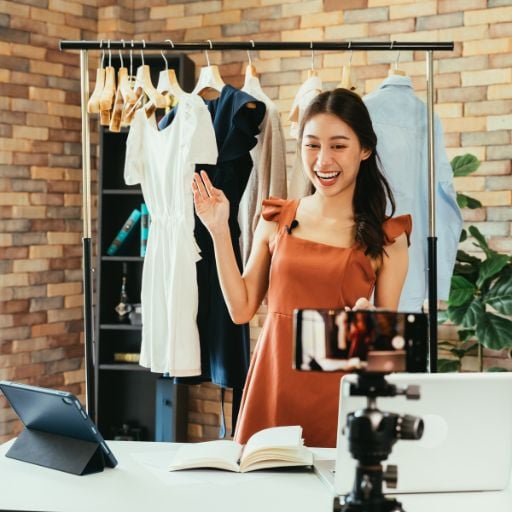 Micro-Influencers vs. Macro-Influencers vs. Celebrities – Understanding The Difference
4. Ask for reviews and referrals
Thanksgiving is not just about you giving thanks, it can also be a time for receiving some. This is why it's an ideal time to reach out to your satisfied customers to ask for some feedback. You could ask for an online review, testimonial or even a case study.
So why not show your thanks to those you contact by letting them know that their advocacy is both appreciated and rewarded?
We highlight our partners on the website, collect reviews on G2Crowd and have an affiliates programme.
5. Support a charitable cause
Another way of saying thanks is to support a cause you or your company believes in. If there is a way that you can help those in need, make sure to tie it in with your business and vision.
Among many other retailers, Costco respects its employees and their right to take a day off on Thanksgiving. After all, they are the ones who help in delivering the product and service to customers.
6. Celebrate it together with your colleagues on social media
Thanksgiving may be a family holiday, but you can still celebrate it with your colleagues while taking your audience behind the scenes.
Create a hashtag (e.g. #givingthanks) that all team members can use when they post their lavish Thanksgiving dinner tables with turkeys, pumpkin pies and casseroles.
Even a few photos will give you that extra engagement boost, and you can share your festive spirit later on your main account if your brand is personable. This will allow your audience to learn more about your team and, in return, create a more personal relationship with them.
On the other hand, you can approach the #thanksgivingday on TikTok a bit differently and spice it up with some entertaining elements:
7. Give contest winners exclusive access to pre-Black Friday and Cyber Monday deals
Use your Thanksgiving post wisely. Instead of going for a quick engagement boost, create a holiday marketing campaign that will help you:
Gather new leads

Get more brand exposure

Announce the upcoming sale
Organising a Thanksgiving giveaway or a photo contest is the best way to keep things fun while achieving your marketing goals. But, instead of opting to reward them with a free product, give the winners exclusive pre-sale access to Black Friday and Cyber Monday deals.
---
Need some help with finding perfect images for your Thanksgiving and Black Friday campaigns? You can now access millions of free images and GIFs directly from Sendible.
---
A list of 39 hashtags to boost your Thanksgiving social media posts on the most popular platforms
Thanksgiving marketing ideas aren't worth much if you're not using the right hashtag strategy. Creating a mix of viral hashtags (such as the ones in the lists below) and niched ones that target a specific audience and explain what the content is about will give your posts an extra boost.
[Bonus tip] If you want to use the power of meme posts, you might want to explore the #thanksgivingclapback hashtag on all social media platforms (especially on Twitter and TikTok).
Instagram hashtags
#thanksgivingdinner

#thanksgivingdecor

#thanksgivingday

#thanksgivingweekend

#thanksgivingservice

#feelinggrateful

#grateful

#gratefulheart

#givethanks
Mix these holiday hashtags with seasonal and niched hashtags depending on the topic of your Thanksgiving Instagram post. You can include a unique campaign hashtag, branded, and some popular ones, such as #fallvibes, #novembermood, #detailsoftheday, to explain your post. You can optimise your strategy with our guide: How to Use Instagram Hashtags to Grow Your Business
TikTok hashtags
#thanksgivingvibes

#thanksgivinglookbook

#thanksgivingfood

#thanksgivingleftovers

#thanksgivingweek

#thanksgivingseries

#happythanksgiving

#almostthanksgiving

#itsthanksgiving
Hashtags are one of the factors that have a significant impact on TikTok's algorithm, so make sure to mix these with other niched ones to target your audience. It would also be wise to use post-specific keywords in the description of your video. Learn more about best practices with our detailed guide to How to Use Hashtags on TikTok in Different Niches: 109 Industry Hashtags Included
LinkedIn hashtags
#thanksgiving

#gratitude

#appreciationpost

#gratitudeattitude

#compassion

#thankful

#thanksgivingday
Tailor your LinkedIn hashtag strategy to fit your and your audience's needs with our guide: How to Use Hashtags on LinkedIn to Grow Your Client Base: 85 Industry Hashtags Included. You will find an extensive list of niched hashtags that will help you target the audience that would benefit most from your Thanksgiving content.
Facebook hashtags
#thanksgiving2023

#thanksgivinggift

#thanksgivingday

#thanksgivingcelebration

#gratitude

#happythanksgiving

#givethanks

#thankful
Wondering if hashtags on Facebook work? Check out this handy guide: Should you use Hashtags on Facebook? Here's What you Need to Know.
Twitter hashtags
#thanksgiving

#thanksgivingday

#happythanksgiving

#thankfulfor

#grateful

#givethanks
Using Twitter for business can be overwhelming sometimes. Especially when creating holiday-themed Tweets. But this guide will help you get the most out of your hashtags: Twitter Hashtags: A Guide to Finding and Using the Right Ones.
[Bonus] Free social media campaign checklist
Thanksgiving is an excellent opportunity for you to connect (or reconnect) with your customers, partners, influencer, suppliers, and employees.
But, it's also a great intro to the period of gifting, discounts, and everything else that the holiday season has to offer.
Whether you decide to opt for a Thanksgiving promotion, photos of your audience's tables with pumpkin décor, short video recipes for delicious gravy that crowns the Thanksgiving meal, or a quote to express gratitude for having such a fantastic team - you need to think about your marketing goals, and how you'll use this boost in engagement, leads, sales to ensure the success of the upcoming Black Friday, Cyber Monday, and Christmas campaigns.
To help you hit those big KPIs, we have created this free campaign checklist to help you organise your Thanksgiving social media posts into a cohesive holiday season campaign. Check it out, and let us know in the comments if you need some more help.