Every year, the holiday season seems to come out of nowhere! Suddenly, you're met with a flurry of tempting shopping deals and Christmas advertisements left and right.
The time between Thanksgiving and Christmas is considered to be a time of joy and togetherness, but it's also one of the most significant periods for online and retail sales, and it keeps growing. In fact, despite the recession, 2023 online holiday sales are expected to reach $1.19 trillion globally — remaining essentially flat year over year.
Considering interesting data by Deloitte that 61% of consumers joined a loyalty program to receive discounts during the 2021 holiday season, and with all the new AI tools that will save you tons of time, you might want to rethink this year's holiday social media marketing campaign.
So if you're serious about separating your brand from the competition and capturing the festive spirit in your social media posts during the holidays, then you might want to continue reading:
Oh, but before you continue, make sure to take a look at our video with Desiree Martinez on unwrapping holiday social media marketing.
10 evergreen tips for every holiday social media marketing campaign
The holiday season refers to a period from Thanksgiving Day to Christmas. But what about all of the other major holidays before these, such as:
Or smaller, niched ones, such as:
National Compliment Day

National Book Lovers Day

World Oceans Day

National Selfie Day

Joke Day

National Relaxation Day

Parents Day

World Photo Day

World Chocolate Day

World Wildlife Day

World Health Day

World Cancer Day

National Donut Day

Kindness Day
Whilst each holiday has its unique traits, just like the marketing campaigns that precede them - there are some general principles you can follow for social media to get the most out of holiday marketing.
All businesses, including SMEs and corporates, can run a successful festive social media campaign. In addition to personalizing your brand, you can gain higher engagement and/or sales. In the long term, you can increase customer loyalty and brand recognition with the help of these ten effective, evergreen tips:
1. Create holiday-themed content
This is your chance to shine on social media and have some fun.
Create a content calendar and plan a set number of posts to celebrate the holiday, be it one day or a period of a few weeks. You can create some original graphics with the help of a designer or do it yourself with an online design suite, like Canva. And if you want to go a step further and make sure you engage more with your target audience, you can use an interactive content creation tool to add animated elements to your content. Once you come up with a design, you can optimise it for a number of networks.
2. Visualise the theme on your site, store, or app
Holiday campaigns are the perfect excuse to spruce up your website and social media channels with some festive cheer. Why not create a new header image for your social media networks in addition to the content you share?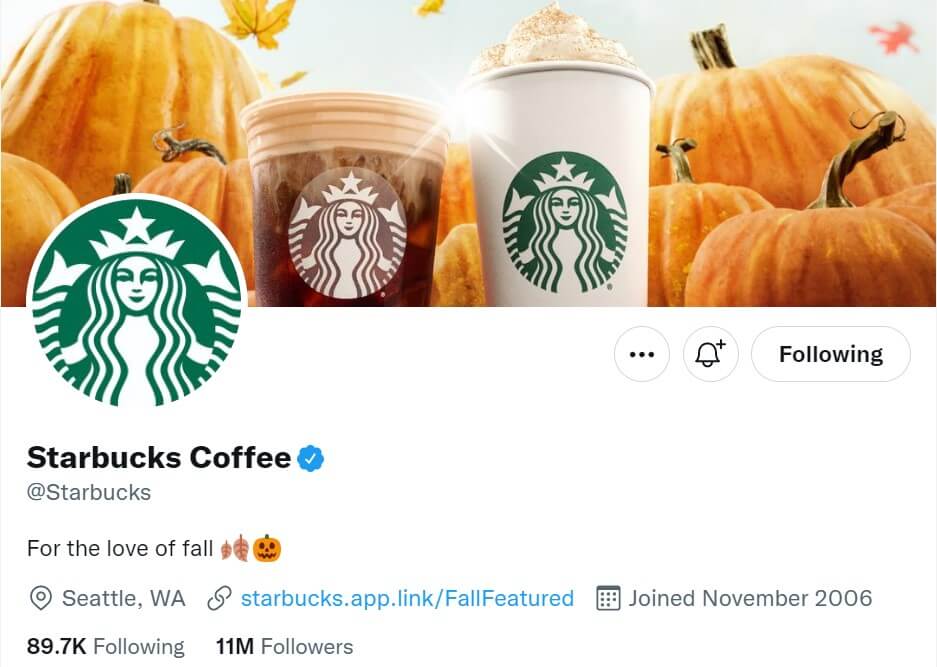 Source: @Starbucks
If you have a developer handy, add some festivity to your homepage or application as well. You have a few options - from adding a quirky illustration to the logo, sidebars or areas that are usually empty, downright to special messaging on the website that uncovers a special offer.
3. Run a price promo
Price promotions may seem mundane, but they work.
Update: they said if this tweet gets to 10k likes i could drop a promo code

— Dunkin' (@dunkindonuts) January 14, 2022
Your customers will appreciate the savings and remember that a small discount might be all that's needed to nudge them into buying. It's up to you to make the offer relevant and visually compelling for your holiday campaign. And it is a nice touch to relate the promotional amount or offer period to the theme itself - by running it for a certain amount of time (12 days of Christmas) or using numeric prompts like a 14% discount on Valentine's Day.
4. Offer something extra to social media audiences
Add a seasonal gift with each purchase, or create a bigger, more attractive offer for your social media followers.
It's worth dedicating some budget to paid social ads to avoid being overly promotional on your page profile and in the posts that your followers see. There are a variety of social media channels that offer advertising space, including Facebook, Twitter, Instagram, TikTok, and Pinterest.
So, take this as an opportunity to test if social advertising works for your business with the help of seasonal spikes in activity.
5. Organise a prize draw
Customers love incentives, especially if no purchase is necessary.
If your budget allows and it's appropriate for your business, run a prize draw. You can create lots of engagement with a hashtag contest on social networks like Twitter or Instagram. You can also encourage photo submissions or ask them to share your posts instead. Make sure that the dates and rules of the giveaway are clear and that you have someone in charge of the promotion as these usually require prompt responses.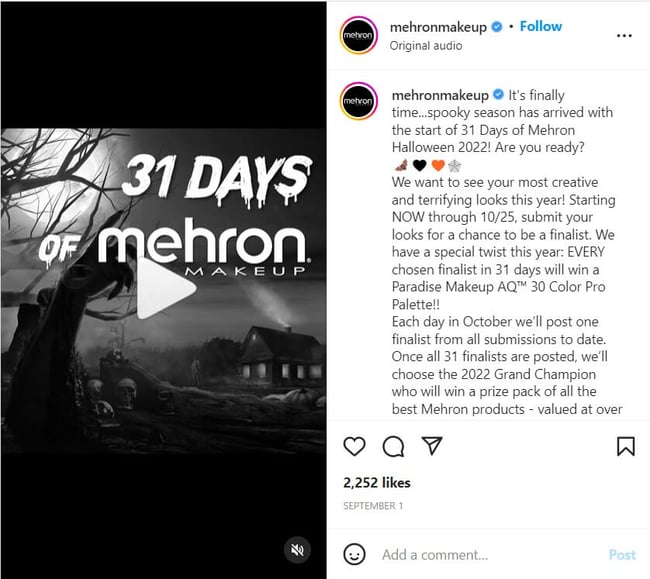 Source: @mehronmakeup
6. Schedule content and automation in advance
The longer and bigger the holiday, the more you should treat it as a fully-fledged social media campaign. Scheduling content in advance will free up lots of time and introduce some calm to your schedule. Besides, you would rather engage in conversations your content creates than stress about what to post and when. Write a few relevant articles and schedule the publication for over the holiday. Write the social media posts for all the different platforms and select their optimal post time. Fill your content calendar now, so you can benefit from it later.
You can also boost the effectiveness of your holiday campaign by setting up some social media automation. Start conversations with those who are already taking interest in your product or service. Automatically retweet the mentions of your campaign hashtag or find new profiles to follow - automation helps.
7. Get involved with your community
Participate in a charity event, support a charitable cause or your local community.
This can be virtually anything - from raising money for charity or spreading awareness by blogging or posting on social media. You can also take the time to thank your partners and project collaborators or opt for ordering from local vendors.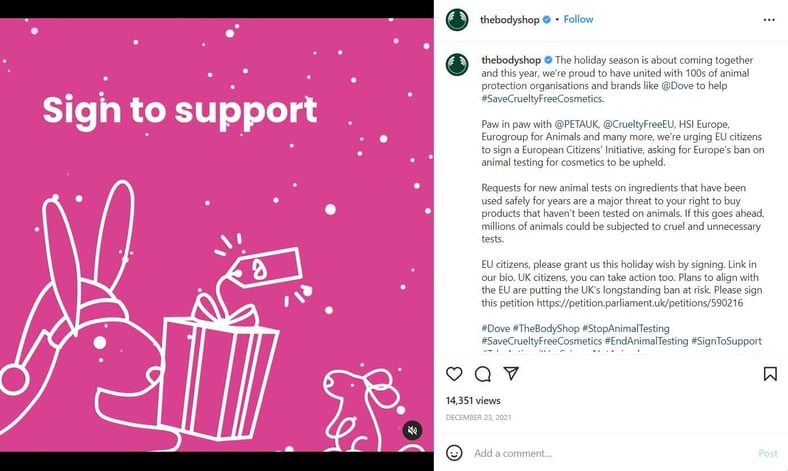 Source: @thebodyshop
It's always good to thank others for the good they do and reinforce the values your company stands for.
8. Give advice - free of charge
This works best if you mainly deal with businesses day to day, as most of your services, even advice, are normally provided at a significant cost.
Share actionable and educational advice in relation to the holiday, especially if you can't run a big-price promotion. You can also create a whitepaper or other types of useful, downloadable content to help your prospects with the problems they want to solve.
9. Send an email newsletter
Social media is a powerful medium, but like any marketing channel, it gets even more effective when used as part of an omnichannel campaign. One of the simplest ways to empower your social media campaign is to back it up with an email campaign. Inspire your clients for the holiday ahead by sending an email. Avoid being overly promotional and focus on being helpful instead.
Another avenue to take is to send a special promotion to your loyal customers only they have access to. Personalise the message, and if you get it right, you will express your thanks, make them feel special and upsell!
10. Learn from the past and improve for the future
Yes, it's important to monitor your performance to see how this holiday campaign activity has worked for your business. Let's make sure we remember to track the effectiveness of our pre-planned and well-scheduled marketing activity. Monitor your social media and holiday campaigns, and don't forget to ask questions.
How did our promotion do?

How many sales did we make?

Did people join the conversation and take part in our hashtag campaign? And of course, have we removed the theme from the site (and social media networks), and are we getting ready for the next one?
This is vital information that will allow us to tweak (or drastically change) and improve our activities on social media.
23 ways to stand out on each social media platform this holiday season
1. Run a poll or encourage emoji voting
Polls and other voting forms are a great way to tap into people's needs to find out more about themselves or test their knowledge. This is also a clever way to learn more about your target audience and existing customers.
These types of interactive Facebook posts are great because they can be fun and festive whilst also yielding practical, valuable results. You could start by comparing two best sellers against each other or asking your followers for their opinion on something in the works.
There is no limit to how long your poll will stay open, so your holiday options are endless!
2. Create a mix of enchanting visuals and interactive posts
The spirit of the holiday season is often visually represented by a cosy atmosphere, red and green festive decorations, and magical images of a winter wonderland. So make sure to decorate your social media posts accordingly. You want your followers to know your Facebook business page or group is THE place for all things holiday!
But, don't stop there.
Include a very clear call to action in your copy and ask your followers to tag a friend that would like a specific product or movie character from a well know holiday classic or a person that should take them out for a pumpkin spice latte!
Use your social media posts to increase brand awareness to prepare the grounds for sales and special offers.
---
[Useful tip] If you're struggling to find perfect images or GIFs, you might be happy to hear that you can use GIPHY and Pexels directly from your Sendible dashboard!
---
3. Share a sweet story
'Tis the season of joy and thankfulness.
Use this time of year to practice the art of storytelling; tell a heartwarming story that will get readers into the holiday spirit and encourage them to join the experience.
You can story-tell via:
Facebook Live in the format of interviews with your employees or influencers

A series of images or

Brief captions that you can use as a countdown and put them all together as the last post on the day of a big holiday
The key is brand cohesion and a structure that invites your audience in.
4. Utilise key dates
Thanksgiving Day, Christmas, and New Year's aren't the only events surrounding the holiday season. Make sure you're aware of trending dates (such as National Coffee Day, National Cookie Day, and, let's not forget about Black Friday and Cyber Monday) that you can use to drive up engagement on Facebook.
Sendible has a holiday calendar for 2023 that highlights over 300 of the most important events and days for marketers to schedule social media around! And the best part is that it's built into the Sendible App as well. This means that your social media calendar is prepopulated with 300+ posts!
5. Engage with your followers
If you're already engaging with your followers and fans, bring some holiday cheer into the mix. A little personalisation goes a long way. If you're not actively engaging on social media, there's no better time to start!
Use social listening tools, like Sendible, to keep track of people mentioning your brand so that you can come back with outstanding responses quickly!
6. Raise the holiday spirits by working with a local business
There are many ways to share love during the holiday season.
One way is to partner with local businesses in your city to create something magical. This could be an event, a charity sponsorship or even a product.
7. Run a knowledge-sharing holiday social media campaign with a unique hashtag
A unique Twitter hashtag will allow you to find and engage with participants quickly, as well as track your results.
Choose a festive and fun hashtag that represents your brand and/or holiday marketing campaign. And if you're stuck on what you should share, try answering frequently asked questions or research and publish some lesser-known facts about your brand or industry.
8. Test paid ads on Twitter to invite users to visit your site/hidden promo
With Twitter Ads, you can promote your already successful tweets (similar to boosting) to get more engagement in the form of retweets, likes and replies - the perfect fuel to power your knowledge-sharing holiday marketing campaign or any other. You can also advertise a hidden promo or direct people to your site and drive sign-ups for loyalty programs or downloads. If you have some spare budget, it could be worth giving Twitter Ads a try.
9. Hold a photo competition
Nothing says 'Merry Christmas' like a little friendly competition!
There are several things your photo contest should include:
Set measurable goals to track results and success

Make sure the content is related to your niche market and the product/services you offer

Ensure that the contest lasts for a few weeks to keep that engagement coming until the big day

Include a clear call-to-action (CTA) that corresponds to previously set goals

Create a unique hashtag to collect user-generated content (UGC)

Repost user-generated content to Instagram Stories and Feed
The winner can get a prize ranging from a free product or service, or a discount, to recognition on your blog!
---
[Pro tip] Instagram Carousels get double the exposure as the algorithm shows them twice to your followers. You can now schedule multi-image Instagram Carousels directly from Sendible.
---
10. Show off your holiday spirit
Connect with your audience by showing that you, or your brand, are just as in tune with the holidays as they are. You'll get an audience that relates to you and is more apt to engage with this content!
Source: @imdb
11. Maintain a theme
Serve your audience a consistent image throughout the holiday season by sticking to a theme, including colours and content.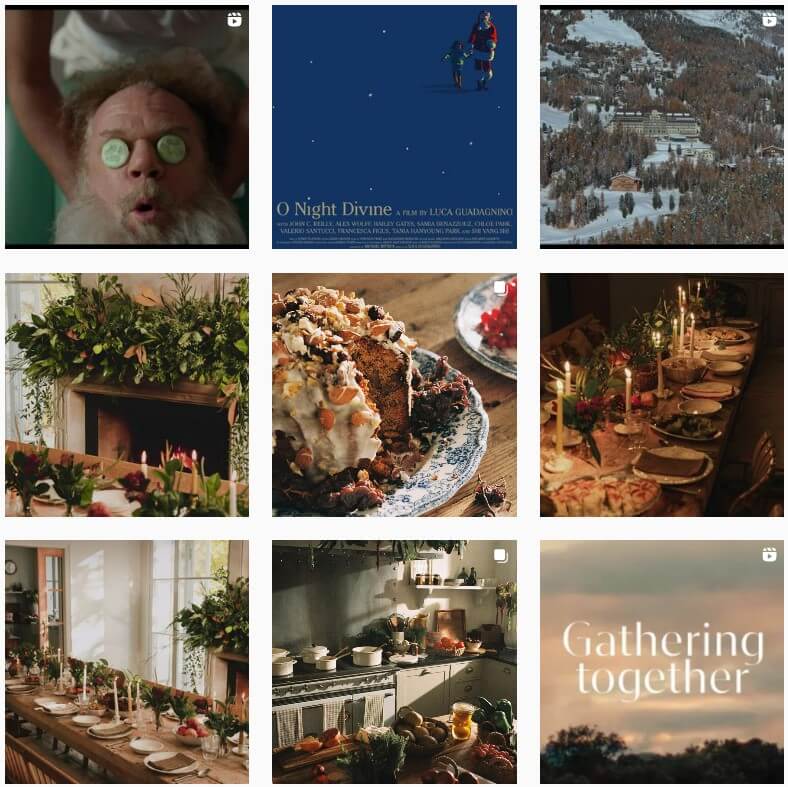 Source: @zarahome
Zara Home always finds a perfect way to stay on brand while hopping on the holiday season spirit and promoting their products.
12. Do a giveaway
Everyone loves a good giveaway, especially around this time of year when people are buying gifts for their loved ones!
Think: What do you want to accomplish by having a giveaway? Are you looking for a brand ambassador to raise brand awareness or to grow an email list? Think about these things when determining what you'll give away and how to set up the parameters.
13. Do a giveaway (Pt. II)
Instagram isn't the only place to host a giveaway!
YouTube is a notoriously popular giveaway platform because of how relational it is.
You can have an in-depth conversation with your viewers about products, tools and services - and then allow them to win them! You can even re-post these YouTube videos on other social media platforms to ensure maximum effectiveness and viewing potential.
14. Show off your favourite holiday products
Don't hesitate to give an extra branding push through the holidays!
Feature your own products (or partner with a YouTube influencer and have them promote it), your clients' products, products you're affiliated with or products that make the holidays a little bit brighter. Show people why they need them by telling a story of where they come into use or by giving a little demo.
[Pro tip]: This is a great opportunity to create tutorials and how-tos - one of the most consumed content formats today! And as a bonus, you can easily transcribe these videos and repurpose them as an article. Just make sure to embed the video, as this will give you an additional boost in search engines.
15. Film a themed video related to your niche
Pick a theme and relate it back to your brand. Be smart here by utilising topics that come into play around this time of year, such as thankfulness, joy and giving.
Just make sure to include a clear call-to-action and invite your viewers to share their thoughts and reasons to be thankful in the comment section to maximise the engagement and reach of your videos.
16. Try your hand at vlogging
Give the gift of insight!
It can be seriously powerful to give people an insightful look into your brand, or one aspect of your organisation, by taking things behind the scenes and allowing viewers to connect with you on a more personal level.
17. Share a bit of wisdom
LinkedIn is a platform built on connections and personal experiences. Share relatable quotes from your company page or a story on your timeline to connect with others and drive engagement.
Equally, you can use this time to highlight the past year and what's to come in the next. Keep it short, relevant and cheerful.
18. Showcase a charity
As mentioned previously, the idea of giving is at the forefront during this time of year. If there's an organisation that you're affiliated with, promote this on LinkedIn to further drive impact and allow your connections to participate as well, or at least gain awareness.
Even if you don't have a long-term affiliation, consider supporting a cause you and your audience care about. You can do this by participating in a service project or charity event as a company over the holidays and bring awareness to them on LinkedIn (and don't forget to tag their company name for additional organic reach).
19. Promote a holiday solution
Do you have something to offer businesses?
LinkedIn is a smart place to promote solutions for busy employees across several fields. Ensure you address a problem or a need your target market will have over the holidays in your marketing campaign.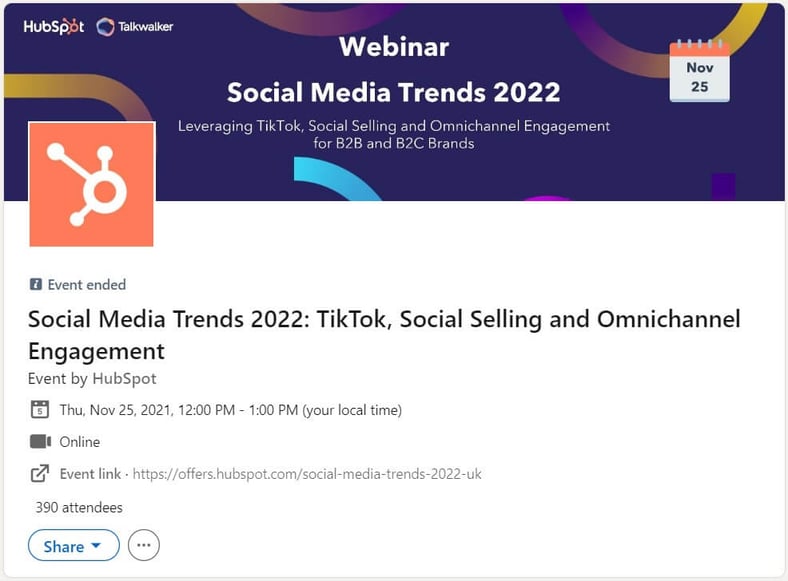 Source: @hubspot
[Pro tip] Focusing on genuinely resolving their pain points is the best way to promote your services and products.
20. Invite connections to a public or online holiday party
Why not? As we mentioned, LinkedIn is a place to connect with industry professionals and build working relationships. If there's an opportunity to co-mingle with new people, old clients or current prospects - put it out there.
21. Create a holiday-themed tutorial
Industry doesn't matter - every type of business can brainstorm a perfect series of holiday tutorials that can benefit their target audience and customers.
Tutorials are the best way to promote your products while offering a lot of value up-front.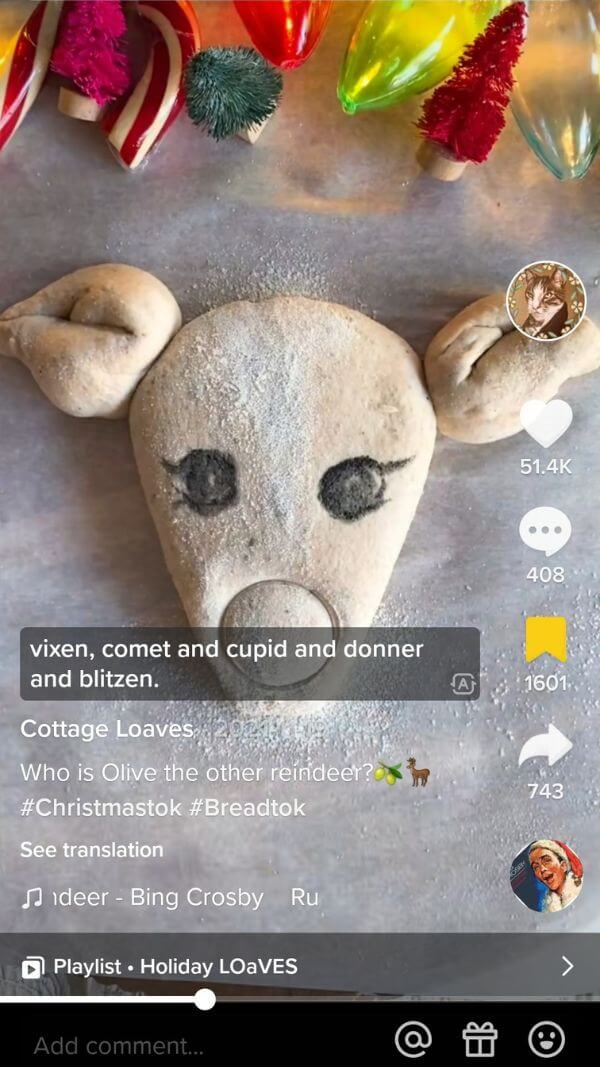 Source: @cottageloaves
If you're in the food industry, use this opportunity to share recipes. Don't worry; nobody will make it as good as you do, and you'll spark the curiosity of your viewers to come and try the original!
Beauty and fashion industry businesses can share not just beauty hack videos that will help them glow during the holiday season, but also lifestyle tutorials to that will help their followers really soak up the magic of this time.
SaaS companies could share tips and tactics that will resolve the most common problems their customers face while promoting their products.
22. Use vlogs and trends to take your audience behind the scene
Learn from the best - TikTok video creators!
Holiday marketing is not just about discounts and limited-time offers. It's also about joining and enriching the general magical feeling we all get from this magical season.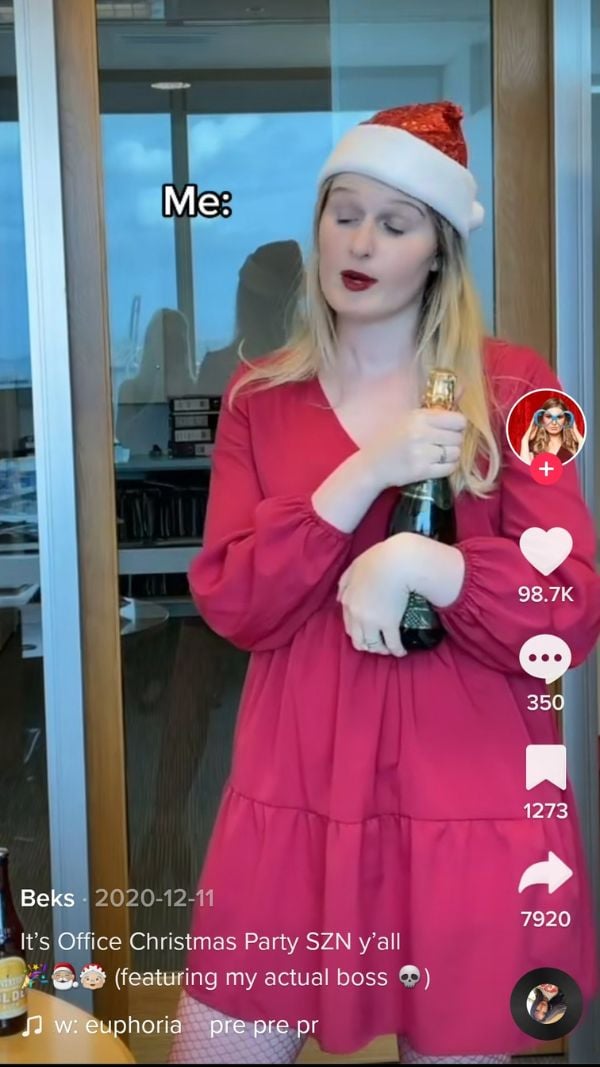 Source: @beksinthecity
It is also a great opportunity to take your audience to your office or store and share with them what you and your team are doing during these days. Are you organising a holiday-themes party or secret Santa? Include your audience and invite them to share the experience! Maybe you can let them vote in the comments? Or maybe you could ask them to share their advice and help you out?
TikTok audience is very clear about wanting to see a two-way conversation between brands and their customers. They want to be included and heard! This is your opportunity to give them exactly what they want.
23. Build trust by responding to requests
TikTok lets you respond to comments with videos! Use this opportunity to build trust, include customers in the video creation process, and get content ideas for free.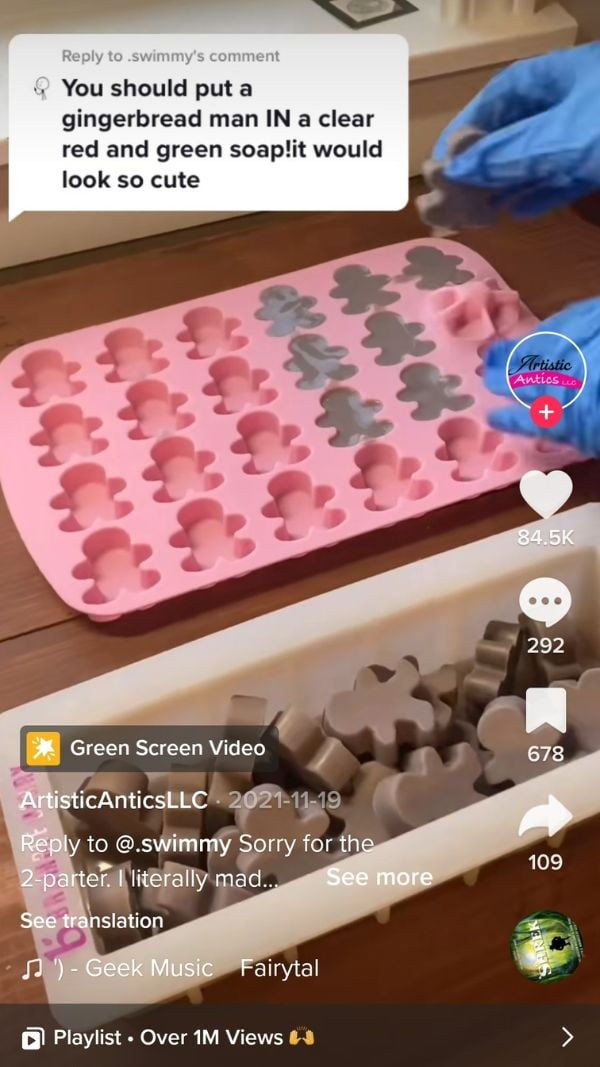 Source: @artisticanticsllc
You can do this by creating products they request, packaging their orders, or sharing in-depth tips as an answer to their question.
[Bonus] Free Social Media Campaign Checklist
The most wonderful time of the year is also a wonderful time to take advantage of growth opportunities on social media.
Although implementing every idea isn't realistic, you could see great results from a well-planned holiday marketing campaign with content that suits each platform.
Keep these examples in mind as creative inspiration and pair it with our free social media campaign checklist to make sure you'll get the maximum return on investment.