Over 30k+ agencies, marketers, and brand managers rely on Sendible to amplify their brand stories.




Seamless YouTube Publishing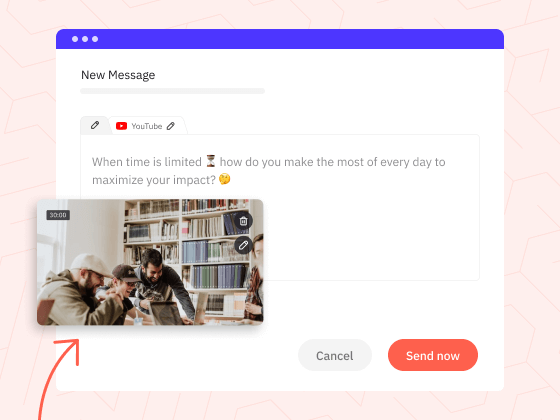 Our YouTube management tools make it simple to schedule and publish videos, ensuring your content hits the platform at the best time for maximum visibility and engagement.
Scale your YouTube marketing.
Advanced Scheduling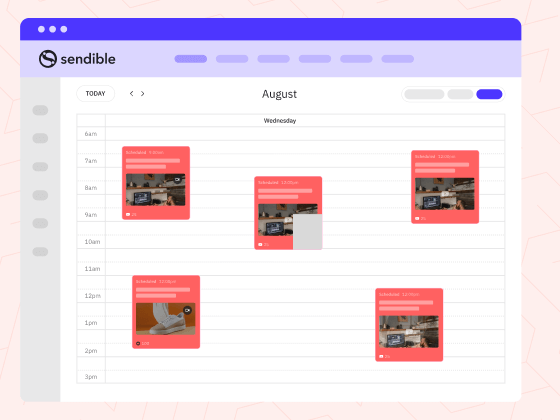 With Sendible's YouTube scheduler, you can plan your video releases to coincide with peak audience activity, driving growth on your channel.
Easily collaborate with clients on brand growth.
Streamlined Content Creation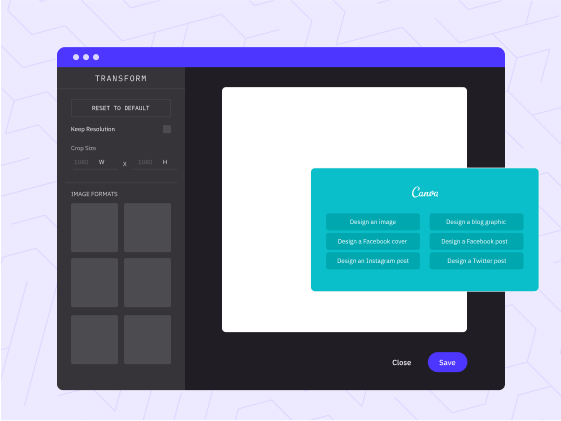 Utilise Sendible's built-in image editor and Canva integration to craft compelling thumbnails that capture attention and increase click-through rates on your videos.
Find out why our customers love Sendible.
Comprehensive Reporting & Insights
Harness Sendible's YouTube analytics tools to gain a comprehensive understanding of your video performance. Use these insights to refine and enhance your YouTube strategy.
Deliver a winning social media strategy.
Optimised Hashtag Use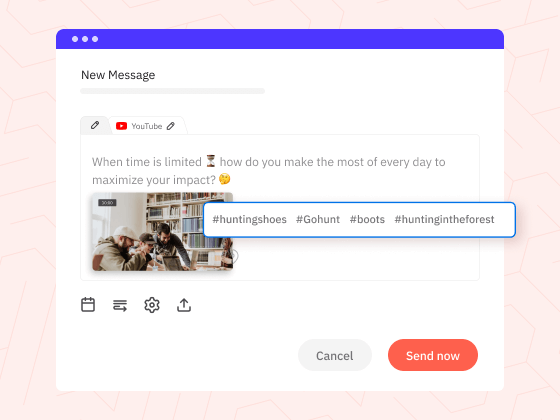 Incorporate powerful hashtags into your YouTube videos with Sendible. Boost your content's discoverability and reach a wider audience.
White label your dashboard to win client trust.
Bespoke Agency Solutions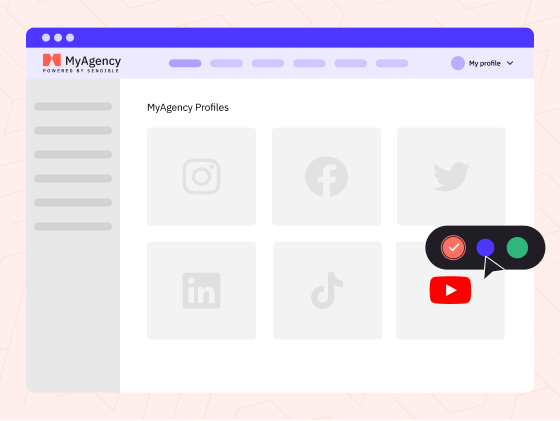 Sendible provides bespoke solutions for agencies, offering client-specific dashboards and custom approval workflows. Reinforce your brand with our white-label dashboard, enhancing your client interactions.
More perks.
14-day free trial
No card required
Cancel anytime
Canva

Create engaging designs for platforms like Instagram within Sendible and access all pre-made visuals with a Canva Pro subscription.
Image Editor

Use our built-in editor to crop and optimise your images to suit each social media platform's ratio requirements.
RSS Feeds

Follow your trusted RSS feeds and publish relevant quality content to social networks at regular intervals throughout the day or as and when new articles are published.
Bulk Importing

It can make more sense to plan your content in bulk. Quickly prepare and import a CSV file or create posts in bulk directly in your dashboard.
Content Suggestions

Browse through fresh content on popular topics and share the most relevant pieces on your client's social media accounts.
Media Integrations

Source fun, royalty-free content with GIPHY and Pexels to engage your audience. Access existing content with our DropBox and Google Drive integrations.
Try Sendible for free.
14-day free trial
No card required
Cancel anytime