The U.S. marks this day with concerts, barbeques, and mesmerising fireworks. In India, the Prime Minister hoists the flag and commemorates the occasion with a traditional ceremony in Delhi, followed by a military parade broadcasted nationally. On the other hand, Malaysia celebrates it with decorated cars, flag raising, recitation of the 'Rukun Negara,' and cultural and patriotic performances.
Some Independence Days are newer, while others have been celebrated for hundreds of years. They are observed in different ways around the world, but all of them have one thing in common - they are a day when pride, power, and patriotism are the essence of brand communication.
So, are you all set up for launching an Independence Day marketing campaign or are you still searching the web for inspiration?
We've compiled a list of the best ideas suitable for businesses of all shapes and sizes if you need a bit of help.
All marketing campaign ideas are simple to implement and should drive successful results taken you give yourself some time to prepare:
What are the key elements of a successful Independence Day digital marketing campaign?
Our three-step process for creating an effective marketing campaign has never failed us:
Planning: Build a strong foundation by setting goals and objectives.

Execution: Organise resources, create content, and assign stakeholders.

Assessment: Measure results and gather feedback to gauge success.
But seasonal campaigns, such as Independence Day, usually require a different approach, as they happen every year, most of the brands launch them, and your audience is expecting it.
So what are some key elements you should include in your Independence Day marketing campaign?
The WOW moment. What will make you stand out amongst the other holiday noise?

Stay on-brand, but with a twist. Think of the ways to mash-up characteristic holiday elements with your brand's messaging.

Think the omnichannel way. Independence Day is too big of a deal to waste your time creating a cute social media post that leads nowhere. Instead, think of a way to support your website and lead nurturing channels with social media marketing and vice versa. Then come up with a clever email campaign to engage your existing leads and customers, and invite them to take action either on your social media, website, or physical location, depending on the goals.

Check the responsiveness. We're sure your audience will be amazed by your creative masterpiece. Just make sure you don't ruin their journey with a bad user experience. Double-check the device responsiveness, CTAs, and general landing page performance. Use this opportunity to take them on a buyer's journey they'll never forget - in the best way possible!
10 digital marketing ideas for celebrating the 4th of July
1. Use red, white, and blue - all the way
These three colours are crucial for everything you're planning to do for Independence Day. Show your patriotism online by emphasising them on your social media posts and email campaigns. Stock up on 4th of July merchandise, decorate your store or office and then showcase it all on social media for your followers to see.
2. Create custom content for your social media channels
Every big holiday is an opportunity to do something different with your marketing. It's also your chance to be less serious and more welcoming - don't waste it.
At the very least, create a custom image for all of your active social media channels to post on the Fourth of July.
You can use your products to wish your followers a happy Independence Day, no matter the industry.
Just take this simple but brilliant solution that Coca-Cola created:
Disney Parks knows how to show some love for the USA, and they did it in style with their Instagram Carousel. They invited their followers to explore five tributes to the nation found in Disneyland Paris: now that's how you celebrate Independence Day!
Planning your social media for the rest of the year? Don't miss any key dates with our free social media calendar to make sure you're on top of the trending events.
3. Create themed boards on Pinterest
The great part about Pinterest is that it's built for bookmarking things from the Internet. It lets users "pin" their favourite images and pages to then create mood boards and wish lists (perfect for e-commerce).
For this holiday social media marketing campaign, make sure to focus on the colours red, white, and blue. Before you start, though, think of how to add your products into the mix. Here are some board ideas to get you going:
Independence Day all the way (American flags, beer, parades, and fireworks)
Themed recipes and foods (BBQ meats, desserts, cocktails)
Patriotic decor and how to DIY it
Family friendly activities (keep children in mind)
Fireworks (or safety tips for them)
Fashion (red, white, blue, and stripes or stars)
Perfect day out (or in)
4. Send a themed email newsletter
Inspire your loyal customers for the celebration ahead by sending an email. Avoid being overly promotional and instead, focus on being helpful - either with a tip, recipe or invitation to an event.
If you have promotions running, ensure the conditions of the offer are clear and it's simple to sign up.
This email by Brit + Co. is exceptionally well designed as it features their products in both a useful and entertaining way.
5. Organise a photo contest on Instagram, Facebook, Twitter or Pinterest
This is one of the best Independence Day social media marketing ideas that's easy to implement.
It's the perfect time to encourage your followers to take photos and share them with you, especially when the 4th of July falls on a long weekend.
Host a contest and brighten up your social media profiles with patriotic selfies from your customers. Choose a hashtag for the campaign and pair it with trending ones for an even bigger impact.
Make sure that it's easy to participate and that all conditions (including the deadline) are crystal clear. Just for this occasion, you might want to create holiday-themed cover photos for your social media networks with the campaign hashtag on them. Offer a great prize for the most popular or creative photo, and let your followers supply great content and drive traffic for you.
Millions of royalty-free photos and GIFs at your fingertips.
You can now use GIPHY and Pexels right from your Sendible dashboard!
6. Use holiday hashtags
Using popular and relevant hashtags extends the reach of your business on social media networks.
If your content is great and if you use them, your business can attract many more followers during and after the holiday. Make sure to use trending hashtags, and if you're hosting a photo contest, use yours too. Here are some examples:
#IndependenceDay

#FourthofJuly

#America

#July4th

#4thofJuly

#starsandstripes

#fireworks

#redwhiteandblue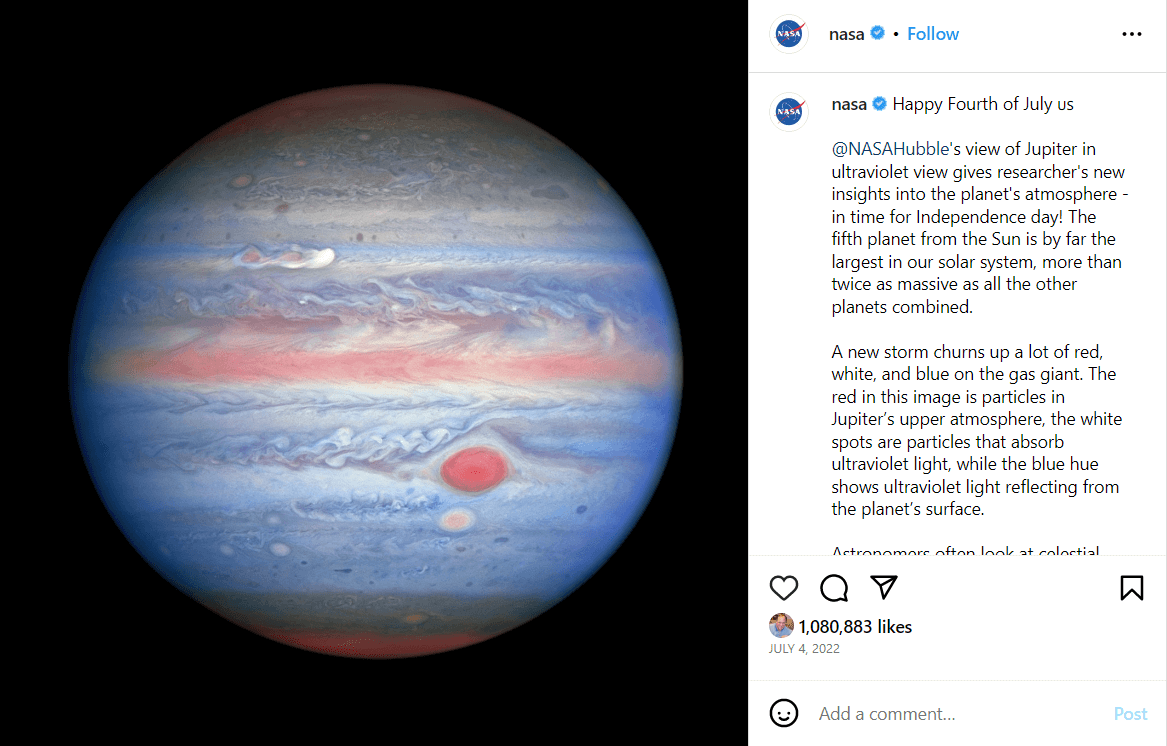 Source: @nasa
7. Offer promotional codes
This is standard practice for any major holiday, and it still works really well. Be encouraged to make it a bit more special than usual, though.
If you have a large product range, colour coding discounts could work for you, e.g. red products get 20% off, blue ones get 15% off. Or, you can simply reach out to your existing customers and remind them of the great referral program you have - a short and sweet email will do.
If you can't afford to bring the price of your services down too much, offer free deliveries instead. Your Independence Day marketing campaign should be bigger than your everyday promo, especially if you mostly deal with U.S. customers.
8. Reward your existing and potential customers with something extra special
Hand out free stuff!
Surprise your store visitors with a freebie or include something special with deliveries. Everything works, from candy to temporary tattoos and glasses, as long as it is in those three patriotic colours.
If you run a business in leisure or entertainment, encourage your visitors to wear red, white and blue to get a complimentary gift, e.g. a drink or a special offer.
9. Use patriotic captions
Include patriotic captions in your Independence Day campaign.
This is a perfect occasion to show off your creative copywriting skills and brand your posts even further. Since it's a day to kick back and relax with friends and family, keep your 4th of July Instagram captions fun and celebratory.
Here's some inspiration to get you started:
Red, white, and bbq.

If you didn't grill on the 4th of July, did it even happen?

Sparkling so hard I could be a firework.

Made in the U.S.A.

Nothin' but freedom and fireworks.

Firework pics or it didn't happen.

Keep calm and barbecue on.

Food, family, fireworks.

Current mood: Sparkling.

We're going to indepen-dance the night away.
Source: @empirestatebldg
10. Get involved with the community
Don't forget that this holiday is also about community.
Attend a parade, a community event or support a good cause - it's all good. You might even want to pair up with other businesses and take part in an event. If you do participate, make sure to give out sweets, coupons and product samples.
Just take the example of Budweiser. In 2021 they joined forces with Bill Pullman in a reprise of his character in the 1996 film Independence Day. The "President" delivers a stirring speech behind a podium – but this time, it's about Americans coming together to fight the pandemic rather than aliens.
This marketing campaign was a part of a joint effort by Budweiser manufacturer Anheuser-Busch and the White House, who teamed up to promote vaccinating the majority of the population by July 4. If the goal is reached, the brand even pledged to buy a round of beer for every American aged 21 and over.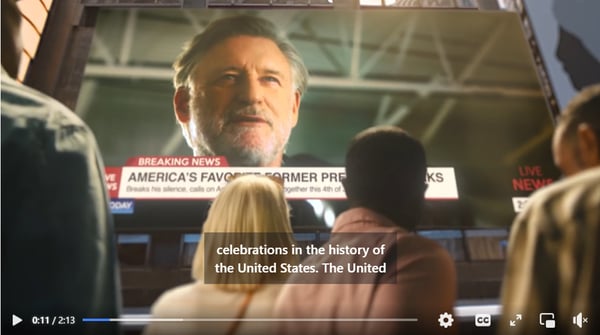 Source: advert.ge
Bonus: Get inspired by some of the best Independence Day marketing campaigns from around the world
U.S. Independence Day might be the most famous one (and it's likely that the above-mentioned Hollywood movie played a huge part), but it most certainly isn't the only one. So let's take a quick trip around the world and take a look at some of the best Independence Day campaigns.
BIC Cello - #AzaadiJoKalamUthaKaiMile
The stationary company Bic Cello collaborated with The Better India, a digital media platform focused on positive stories, to collect anecdotes of courage, persistence, and focus.
The goal of the digital film was to inspire the audience to keep marching ahead in life and to remind them that knowledge is power and education is what brings true freedom.
Havaianas & Oreo collaboration
In 2021, famous Brazilian flip-flop brand Havaianas decided to surprise their customers with something special on Independence Day. Instead of creating yet another patriotic campaign, they launched a new, limited-edition collection!
RHB Merdeka 2020: Berjuang Bersama Demi Kebaikan
In 2020, the main theme of the Malaysian Independence Day was optimism. So instead of exploring traditional topics of patriotism, food, and culture, local brands examined what it means to be Malaysian in a new era.
RHB group, the fourth largest, fully-integrated financial services group in Malaysia, created a captivating short video with a message:
"In these challenging times, a little kindness can change everything. Celebrate goodness and spread positivity for the resurrection of the beloved country."