So, are you all set up for an Independence Day marketing campaign or are you still searching the web for ideas? Fourth of July is just around the corner, and Americans are ready to spend big. They'll expect special deals, freebies and fun content on social media, and it's up to marketers to deliver.
We've compiled the ten best ideas that are suitable for businesses of all shapes and sizes. All campaign ideas are simple to implement and should drive successful results taken you give yourself some time to prepare.
Simple and effective Independence Day campaign ideas
1. Use red, white and blue - all the way
These three colors are crucial for everything you're planning to do for Independence Day. Show your patriotism online by emphasizing them on your social media posts and email campaigns. Stock up on Fourth of July merchandise, decorate your store or office and then showcase it all on social media for your followers to see.
2. Create custom content for your social media channels
Every big holiday is an opportunity to do something different with your marketing. It's also your chance to be less serious and more welcoming - don't waste it. At the very least, create a custom image for all of your active social media channels to post on the Fourth of July.
It's tough if you aren't in the food, drink or leisure business during this holiday, but don't fret. You can always use your products to create a collage of the American flag like Zappos did in their campaign a few years ago.
Another great example oozing with creativity is this Vine video by Lowes from 2013. Hardware products have little connection to this holiday, but Lowes managed to both, greet customers and feature their products.
Happy 4th of July! #Vine #loop https://t.co/1UllbqpjVk

— Lowe's (@Lowes) 3 July 2013
The most patriotic campaign so far? Well, in 2016, Budweiser released a limited-edition label to their 12-oz. cans and bottles, renaming their brand to "America". This campaign was set to go on until the November presidential elections, while the Independence Day celebrations gave them a massive boost in sales.
---
Planning your social media for the rest of the year? Don't miss any key dates with our free social media calendar to make sure you're on top of the trending events.
---
3. Create themed boards on Pinterest
The great part about Pinterest is that it's built for bookmarking things from the Internet. It lets users "pin" their favorite images and pages, to then create mood boards and wish lists (perfect for e-commerce). For this holiday campaign, make sure to focus on the colors red, white and blue. Before you start though, have a think of how to add your products into the mix. Here are some board ideas to get you going:
Independence Day all the way (American flags, beer, parades and fireworks)
Themed recipes and foods (BBQ meats, desserts, cocktails)
Patriotic decor and how to DIY it
Family friendly activities (keep children in mind)
Fireworks (or safety tips for them)
Fashion (red, white, blue and stripes or stars)
Perfect day out (or in)
4. Send an email newsletter
Inspire your clients for the celebration ahead by sending an email. Avoid being overly promotional and instead, focus on being helpful - either with a tip, recipe or invitation to an event. If you have promotions running, ensure the conditions of the offer are clear and it's simple to sign up.
This email by Brit + Co. is exceptionally well designed as it features their products in both a useful and entertaining way.
5. Organize a photo contest on Instagram, Facebook, Twitter or Pinterest
This is one of the best Independence Day marketing ideas that's easy to implement. It's the perfect time to encourage your followers to take photos and share them with you, especially when the Fourth of July falls on a long weekend. Host a contest and brighten up your social media profiles with patriotic selfies from your customers. Choose a hashtag for the campaign and pair it with trending ones for even more success (see below).
Make sure that it's easy to participate and all conditions (including the deadline) are crystal clear. Just for this occasion, you might want to create holiday themed cover photos for your social media networks with the campaign hashtag on it. Offer a great prize for the most popular or most creative photo and simply let your customers supply great content and drive the traffic for you.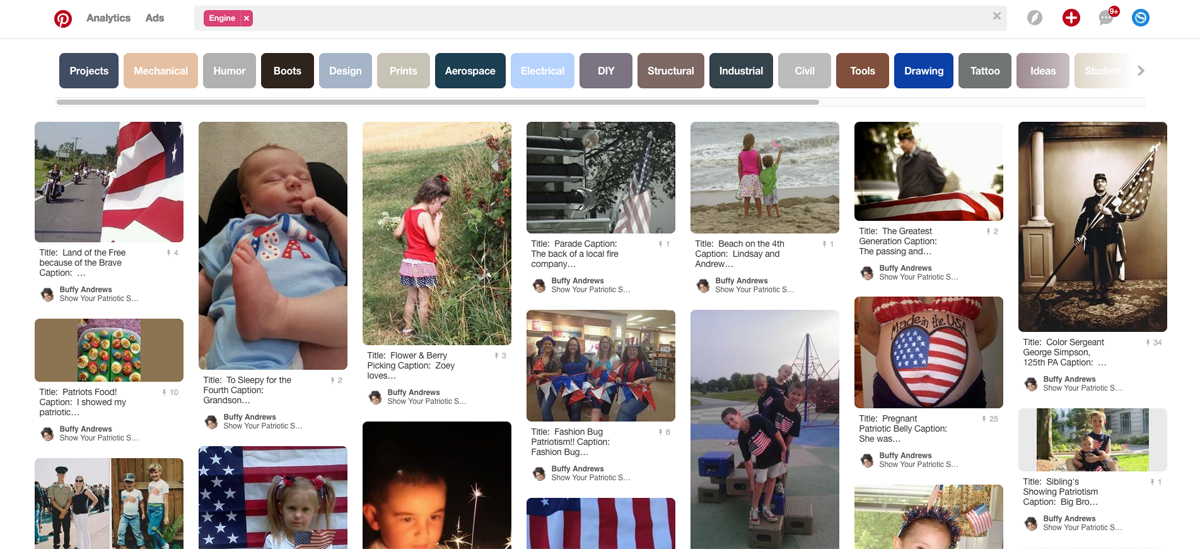 ---
Want to schedule all your social media posts in advance? Check out our new scheduling tools for Instagram to have more time to engage with your audience.
---
6. Use trending hashtags
Using popular and relevant hashtags extends the reach of your business on social media networks. If your content is great and if you use them, your business can attract many more followers during and after the holiday. Make sure to use trending hashtags and if you're hosting a photo contest, use yours too. Here are some examples: #IndependenceDay, #FourtofJuly, #America, #July4th, #4thofJuly, #starsandstripes, #fireworks, #redwhiteandblue.
7. Offer promotional codes
This is standard practice for any major holiday and it still works really well. Be encouraged to make it a bit more special than usual, though.
If you have a large product range, color coding discounts could work for you, e.g. red products get 20% off, blue ones get 15% off. Or, you can simply reach out to your existing customers and remind them of the great referral program you have - a short and sweet email will do.
If you can't afford to bring the price of your services down too much, offer free deliveries instead. Your Independence Day marketing campaign should be bigger than your everyday promo, especially if you mostly deal with U.S. customers.
8. Reward your customers with something extra special
Hand out free stuff! Surprise your store visitors with a freebie or include something special with deliveries. Everything works, from candy to temporary tattoos and glasses as long as it is in those three patriotic colors.
If you run a business in leisure or entertainment, encourage your visitors to wear red, white and blue to get a complimentary gift, e.g. a drink or a special offer.
Showcase your pride for football and America this #FourthofJuly weekend with a mini helmet #giveaway pic.twitter.com/9jboX2FVoO

— Riddell Sports (@RiddellSports) July 1, 2016
9. Give your workplace a red, white and blue makeover
Don't have the budget to hand out free stuff? Then create a photo booth with patriotic props and background to get your customers into the holiday mood. Encourage them to share their photos on social media and kindly ask them to tag your brand or location.
Our break room is all ready for the month of June. We are a little excited for the 4th of July! #July4th #America @PetSmart @PetSmartAE 🇺🇸🐾❤ pic.twitter.com/MDpYLjHgX3

— PetSmart2384 (@PetSmart2384) June 5, 2017
10. Get involved with the community
Don't forget that this holiday is also about community. Attend a parade, community event or support a charitable cause - it's all good. You might even want to pair up with other businesses and take part in an event. If you do participate, make sure to give out sweets, coupons and product samples. And if you can't host your own event, you can always join forces for a local Fourth of July parade by either sponsoring it or simply helping out.
Well, there you have it, ten absolutely great ideas for your Independence Day marketing campaign, no matter how big or small you make it.
Hope you find these tips useful and get the chance to do something special with your marketing this year!