Imagine you just landed the job of Marketing Manager at a new SaaS company. Your primary task is to create exciting and effective content that will attract new prospects and educate and entertain existing customers.
What marketing methods are you going to use?
You'll probably opt for content marketing and perhaps some influencer marketing to build brand awareness. Hopefully, there's some budget for paid advertising campaigns, too.
But how are you going to use social media to achieve your goals?
In this article, you'll discover how three of the most successful SaaS companies use social media to generate leads and delight customers:
What is SaaS
The SaaS (Software as a Service) business model is highly popular with startup software companies. Many use the freemium pricing model to attract new users to their platform and then aim to upgrade them to monthly premium paying subscribers.
It's a tried-and-tested model that's associated with buzzwords like 'growth' and 'hustle'. These companies need growth in subscribers and revenue to satisfy investors.
Why SaaS companies use social media
Despite the rapid rise in the number of SaaS startups, many fail to last longer than five years. Often this comes down to bad planning, including a lack of marketing, as each company tries to establish themselves and grow.
It's hard to ignore that many of the new SaaS offerings on the market are 'slightly' boring. For instance, storing your data online, checking your spelling and grammar, or managing tasks more efficiently are neither exciting nor enticing to most people.
However, SaaS companies can overcome this hurdle by focusing on the 'social' element of social media marketing.
"Social media isn't just for connecting with friends, colleagues or family. It's a powerful tool for SaaS businesses to increase their leads and grow their brand. The key is starting early and consistently building our online presence. And because social media platforms often reward consistent, high-quality content with greater reach and engagement, the compounding effect of this traffic growth can be particularly powerful." Petri Lehtonen, CEO/Founder of Flowtrace
Successful SaaS companies don't focus solely on sharing product information. Instead, they organise their social media content pillars to:
1. Increase trust and credibility
They use social media to reveal more about their company culture; for example, team awards, social events, and community initiatives, etc.
2. Build a community of engaged followers
They use social media to engage with their audience; for example, by empathizing with followers, by sharing motivational messages, injecting humor into posts, and asking questions to start conversations.
3. Retain customers and attract prospects
They use social media to keep their app in front of existing users and impress potential new customers.
Sharing tips, tricks, and hacks can encourage existing customers to continue using the product in new ways.
Sharing case studies of existing customers using their product can save companies from having to explain product features.
Examples of how SaaS companies use social media
Let's examine how well-established SaaS companies have mastered social media to connect with their audience.
They all post different types of content on Facebook, LinkedIn, Twitter, and Instagram that builds their brand image, attracts new clients, and serves existing customers. So let's dive in:
Asana

Asana is a work management app designed to help teams organize and plan workflows, track projects, and keep everything on schedule.
Asana's mission is to help humanity thrive by enabling all teams to work together effortlessly.
They are one of the successful SaaS startups, like Slack and Trello, offering collaboration tools, and have grown steadily to 30,000 paying subscribers since they were founded in 2008.
So, how does Asana use social media to grow its business?
Asana on Twitter
Asana uses Twitter to generate leads, share case studies, and take you behind the scenes at its HQ. Let's have a look at an example of each one:
Lead Gen - Get your Product Launch template and tips:
What's your secret to a productive #productlaunch? Ours is starting with a product launch template. Get the template and tips here: https://t.co/b9KFrbueQO pic.twitter.com/uRdznwh313

— Asana (@asana) August 16, 2018
Case Study - Discover how AdRoll's Head of Product Marketing manages a marketing launch:
#Marketing launches, 1:1 meetings, reports, priorities, cross-functional coordination. Find out how—and why— @AdRoll's Head of Product Marketing manages them all #withAsana: https://t.co/xbFzaiKGJp pic.twitter.com/cBHWqFlrJH

— Asana (@asana) August 15, 2018
Go behind the scenes with members from Asana's Team Rainbow to hear what they did for #PrideMonth2018:
June isn't just for celebrating #Pride. It's also an important chance to remind people they're supported and have a voice. Sit down with members from our Team Rainbow to hear what they did for #PrideMonth2018 https://t.co/mTJPx3DbMG pic.twitter.com/xzhAKkddqk

— Asana (@asana) August 18, 2018
Asana on LinkedIn
Asana uses the same material on LinkedIn as it does on Twitter. But there are some subtle differences, too. Aside from links to case studies and downloadable templates, Asana shares a good mix of customer feedback, feature promotions, and educational materials. For example, there are:
The 'You asked, we delivered!" new feature promotion video: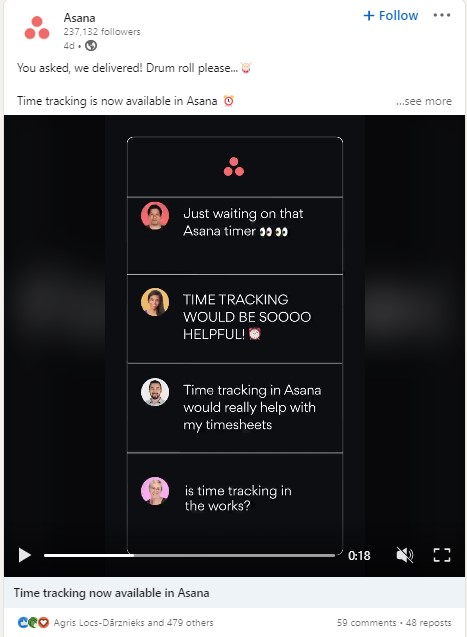 Source: @Asana
Transforming customer reviews into social media posts: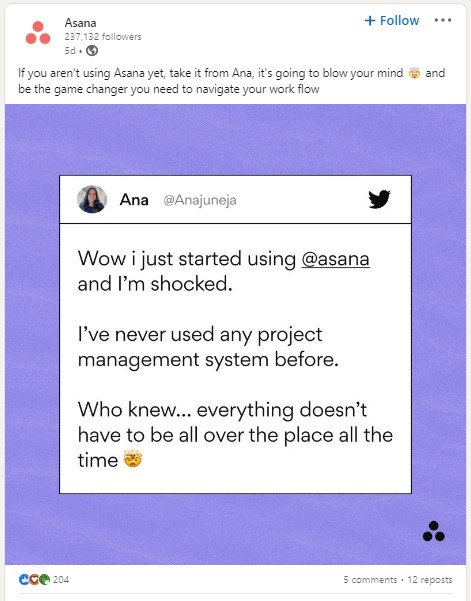 Source: @Asana
Source: @Asana
Asana on Instagram
On Instagram, Asana opts for celebrating new hires and company culture, as well as big wins, like raising $75 million for their company in the summer.
Grammarly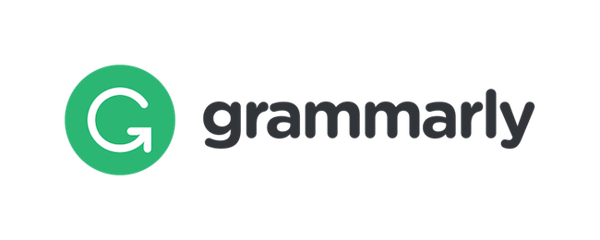 Grammarly is an English-language writing-enhancement app for desktop and mobile that was first released in 2009. Millions of users worldwide trust the writing app to make their writing clear, effective, and mistake-free.
Make your communication clear and effective wherever you write.
But how does a writing app leverage social media to grow its business?
Grammarly on Facebook
Grammarly uses Facebook to build community and conversation. And with a following of over 7 million people, they must be doing something right.
They combine eye-catching images and videos with short copy to ask questions and entertain their followers. For example:
An image with a quote and a caption question to encourage engagement.
A link to a blog post about how to write a CTA, with a (tongue-in-cheek) caption and question:
Grammarly on Twitter
Grammarly posts daily to Twitter and uses the channel to increase brand awareness through humor and education. For example:
A video clip illustrating how you can switch between the four versions of English in their app: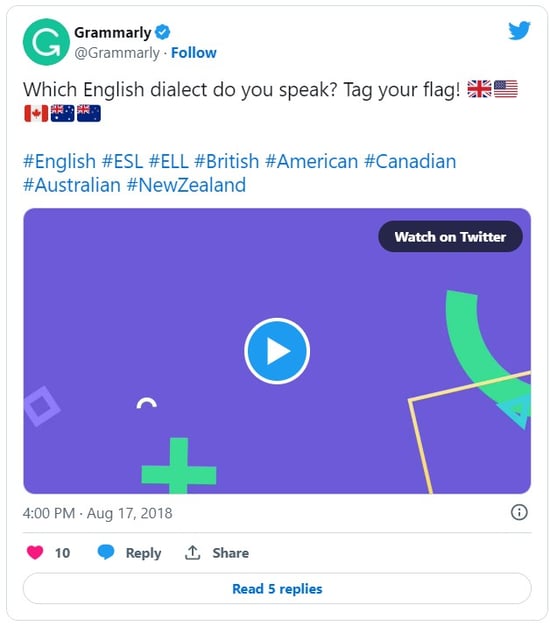 Source: @grammarly
An educational message about paragraph length using their brand hashtag #cleanwriting:
Let's talk about paragraph length.

See how this paragraph break makes this tweet easier to read?

Sometimes, all you need is to hit that "Enter" key a few times to keep your readers engaged. #cleanwriting https://t.co/DrTSndhAtu

— Grammarly (@Grammarly) August 18, 2018
A funny GIF highlighting the AI robots that power their writing software: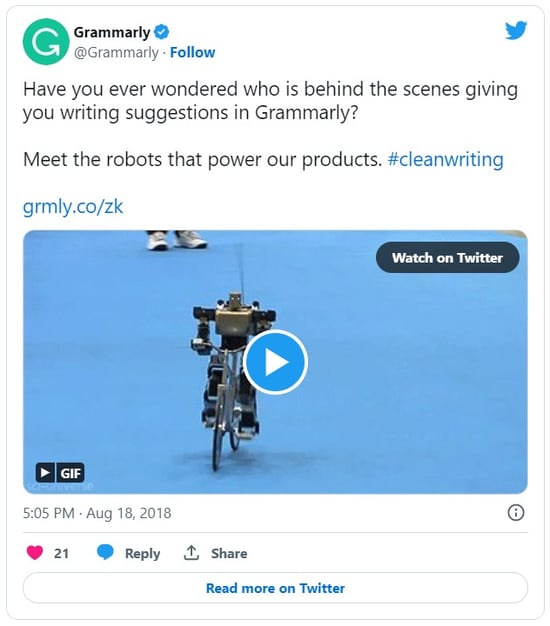 Source: @grammarly
Grammarly on Instagram
Like Twitter, Grammarly uses Instagram to share images with short captions and a few hashtags. Their visual posts contain quotes, memes, and product info to promote their brand message. For example:
Meme: "Great writing is 3% talent and 97% not getting distracted by the Internet."
Caption: What's distracting you today?
Quote: "Reading is to the mind what exercise is to the body" - Joseph Addison
Caption: Well I'm incredibly fit, then.
Image: Product screenshot of language selection
Caption: Cheers! 🇨🇦🇦🇺🇬🇧🇺🇸
HubSpot

HubSpot is an inbound marketing, sales, and customer service platform founded by Brian Halligan and Dharmesh Shah in 2006.
HubSpot is on a mission to make the world more inbound.
Today they have grown to over 48,000 customers in more than 100 countries generating annual revenue of $375.6 million.
Let's take a look at how they're using social media to fuel that growth.
HubSpot on Twitter
A typical HubSpot day on Twitter includes the following types of content aimed at increasing brand awareness and engaging their audience: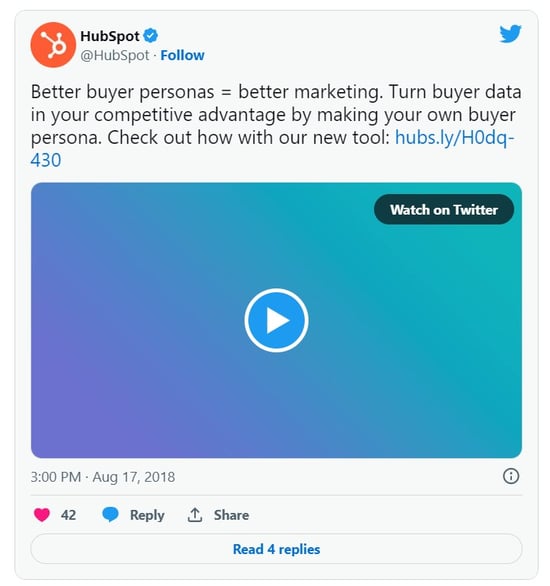 Source: @HubSpot
Questions to engage their audience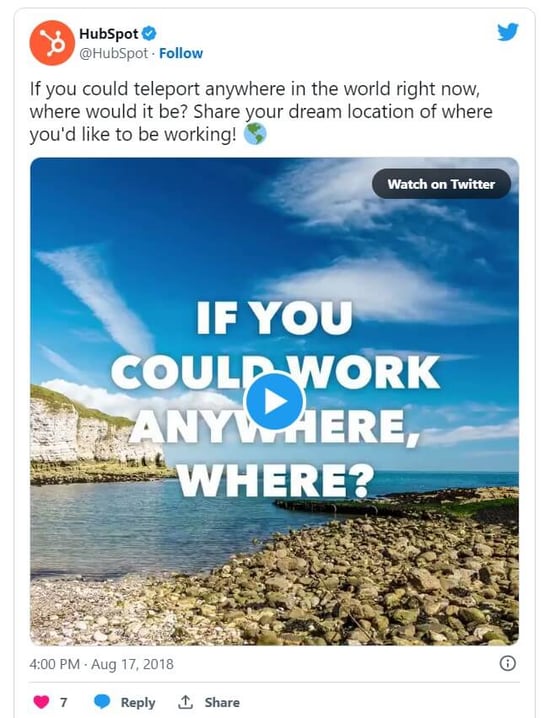 Source: @HubSpot
YouTube is poised to surpass Facebook for the #2 highest-visited website in the U.S. 🤔 Which platform do you visit most frequently? https://t.co/E3kyEsVB5A pic.twitter.com/eBcEwrudYw

— HubSpot (@HubSpot) August 17, 2018
"Don't push people to where you want to be: meet them where they are." - @meghkeaney

— HubSpot (@HubSpot) August 17, 2018
YouTube Video featuring the marketing genius of Oprah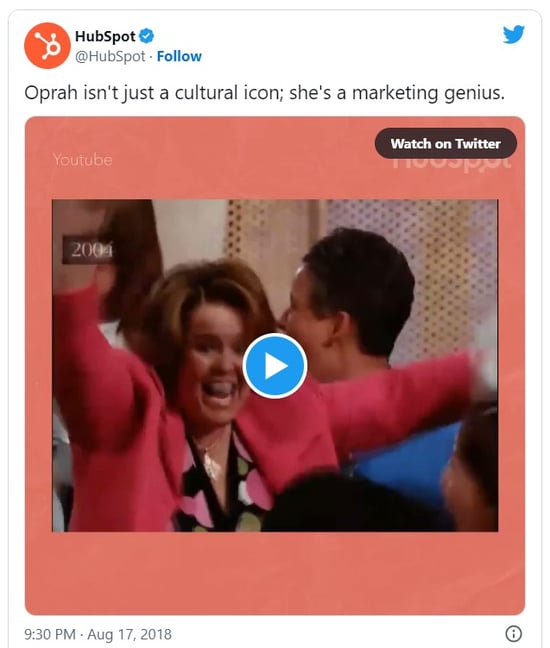 Source: @HubSpot
Note: HubSpot also has additional Twitter accounts to handle product info, support, and education:
HubSpot Product Team - to connect with the engineers, designers, and product leaders building HubSpot.
HubSpot Support- to handle questions or help with HubSpot.
HubSpot Academy - to educate and inspire people with marketing and sales training and certifications.
HubSpot on LinkedIn
HubSpot's LinkedIn page uses some of the same material as seen on Twitter. But overall there's a different slant to their marketing. Posting once a day, they share more posts from their blog that focus on customer success, plus marketing and sales tips to align with their brand.
Here are three examples of how they do that:
Sales tip: What makes a good email subject line?
Marketing tip: Form design best practices
Customer insights: An interview with a long-standing HubSpot client
HubSpot on Instagram
HubSpot posts content to Instagram once a day using a variety of images and videos to capture audience attention. They combine inspirational messages and motivational quotes using images and video with product updates.
Let's take a look:
Motivational video message
Caption: When a good idea hits you out of nowhere. Let's get this week started!
Source: @hubspot
Inspirational video message
Caption: What are you proud that you accomplished for your career today?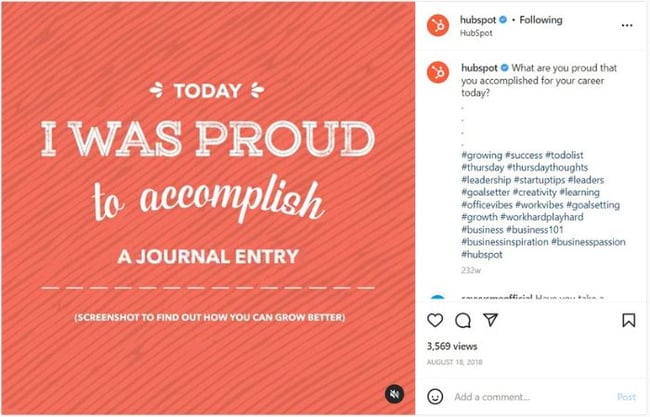 Source: @HubSpot
Funny image + message: You converted how many leads?
Caption: No matter how big or how small, a success is a success!
New product feature video
Caption: It's important for us to help teams communicate. That's why we are coming at you with a new tool that brings together live chat, team email, and an easy-to-use chatbot builder. Coming in hot is, Conversations! Check out our story for more details 💥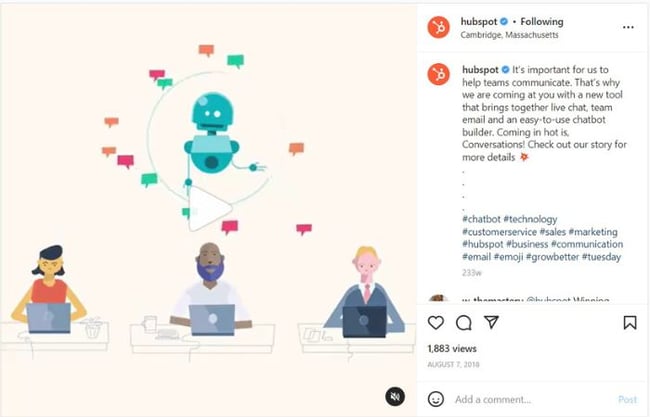 Source: @hubspot
Sendible

Sendible is a social media management platform, geared towards helping teams and digital agencies manage social media more effectively for their clients.
Sendible is an innovative, value-driven technology organization, committed to building a product and culture loved by both our employees and customers.
Named one of the best social media suites in 2018 by G2 Crowd, this SaaS company has gone a long way since it was founded in 2009.
Let's see how they use social media to grow their business further.
Sendible on Twitter
Twitter for Sendible is about educating their audience and connecting with other brands. It's a good place to go if you'd like to get quick insights about social media marketing with the option to click on the tweets of the most interest to learn more.
Condensing blog posts in short bullet-point lists with the help of emojis:
Master posting to #LinkedIn in five steps:
📝 Try text-only posts
📹 Use native video
⏰ Post at optimal times
📚 Add topical content to your feed
👸 Tag influencers in your contenthttps://t.co/IbJzlcnRUA @elisedopson #socialmedia

— Sendible (@Sendible) August 13, 2018
Celebrating customer feedback and sharing customer reviews:
Cheers for that, Erica! 👏 #B2B #socialmediamanagement

For reviews like this, visit our page on @G2Crowd: https://t.co/ncUQc6djL2 pic.twitter.com/DunW0BzzJo

— Sendible (@Sendible) August 21, 2018
Using a special handle for support/product related questions @SendibleSupport and sharing content from that account (this account has a fun weekly comic which breaks up the product/strategy feed):
It's Wednesday: The day new #comics come into the shops. At Sendible, we have our own comic artist @plwoodscomics & he's made another episode of Send-Able and his adventures! #Sendible #NotAllHeroesWearACape #SendHelp pic.twitter.com/xXKcgJAl5d

— Sendible Support (@SendibleSupport) August 22, 2018
Sendible on LinkedIn
For Sendible, LinkedIn is used almost exclusively to promote educational content from their blog and other reputable sources in the industry. They take advantage of tagging Company Pages on LinkedIn and profiles when possible to create more engagement.
Interview with AWeber to highlight the best email marketing practices for social media managers looking to get started:
Asking intriguing questions to support the blogs, in this case, whether it's worth using hashtags on Facebook.
Sendible on Instagram
Similar to Asana, Sendible uses Instagram to promote its company culture and celebrate the successes of the team.
Meme post to celebrate our followers and promote blog post: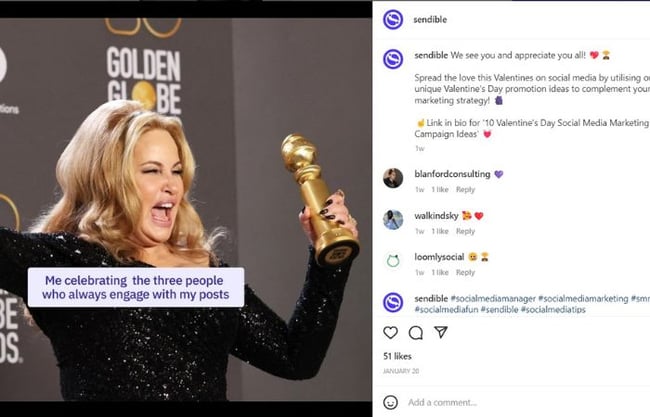 Source: @sendible
Picture post to celebrate one of the perks of working for Sendible like participating in a book club:
Final thoughts
Running and growing a SaaS company is not all about converting leads into sales, although ultimately that's what keeps your business going. Each of these featured software companies uses social media to entertain and educate prospects and customers and sometimes, direct traffic to their websites to capture leads.
People want to buy from people, not companies. So it's no surprise they show you what's happening behind the scenes at their company. And asking questions to start a conversation or injecting emotions like humour all help to build engagement with their audience.
Successful Saas companies emphasize the social side of their business on social media.
Over to you: How will you use social media for your SaaS business?