Every year, we update this blog to bring you excellent Valentine's Day campaign ideas for social media, based on best marketing practices and examples of past successes.
There's something for everyone, no matter if you've just started planning your campaign or are looking to add a little last-minute zing to your content schedule. From running price promotions to sparking engagement with contests and creating interactive experiences - this article is full of unique Valentine's Day ideas to complement your marketing strategy!
Before we dive into tips, however, let's look at data you can use to persuade your clients that running a social media campaign for Valentine's Day is an opportunity to produce tangible return-on-investment (ROI).
What does data tell us about marketing on Valentine's Day?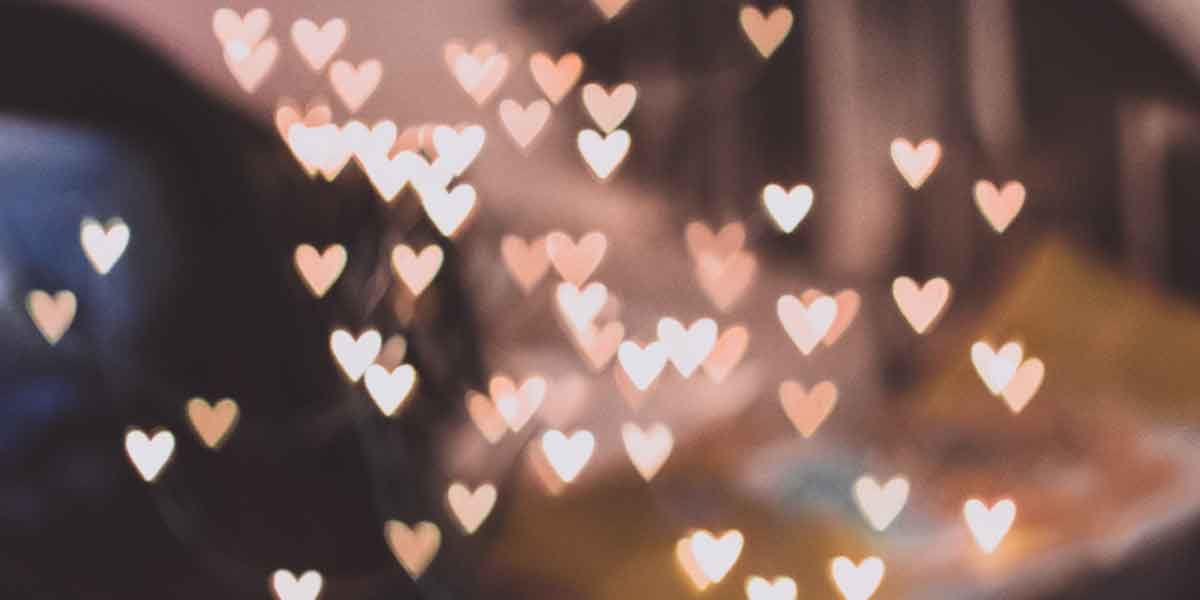 Love it or hate it, Valentine's Day is an annual celebration of love and commercialism. Despite its romantic roots, it's a significant spending holiday for shoppers worldwide.
The National Research Federation (NRF) has reported that Valentine's Day spending is on the up, with the total spend in the USA expected to rise to $27.4 billion in 2020 - that's up 32 percent from last year's record $20.7 billion!
Additionally, on average, over half of the U.S. adults (51%) plan to celebrate Valentine's day, which presents an excellent opportunity for businesses to earn additional revenue during this time of the year.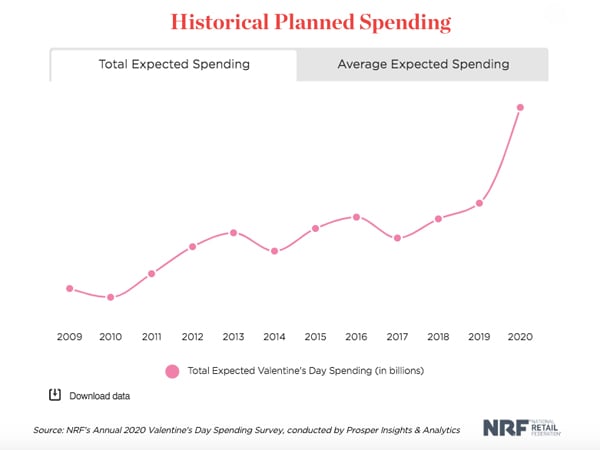 As for the gifting plans, celebrants are looking for traditional gifts and deals on:
Candy
Greeting cards
Evenings out or experiences ️
Flowers
Jewellery
Clothing
Gift certificates or vouchers
Interestingly, there has been a shift in who consumers spend their money on when it comes to Valentine's Day. These days, consumers are buying gifts not only for their partners (husbands and wives) but also for their co-workers, family, friends and pets. This opens doors for businesses who produce and sell products that make great gifts that can be given as small tokens of appreciation.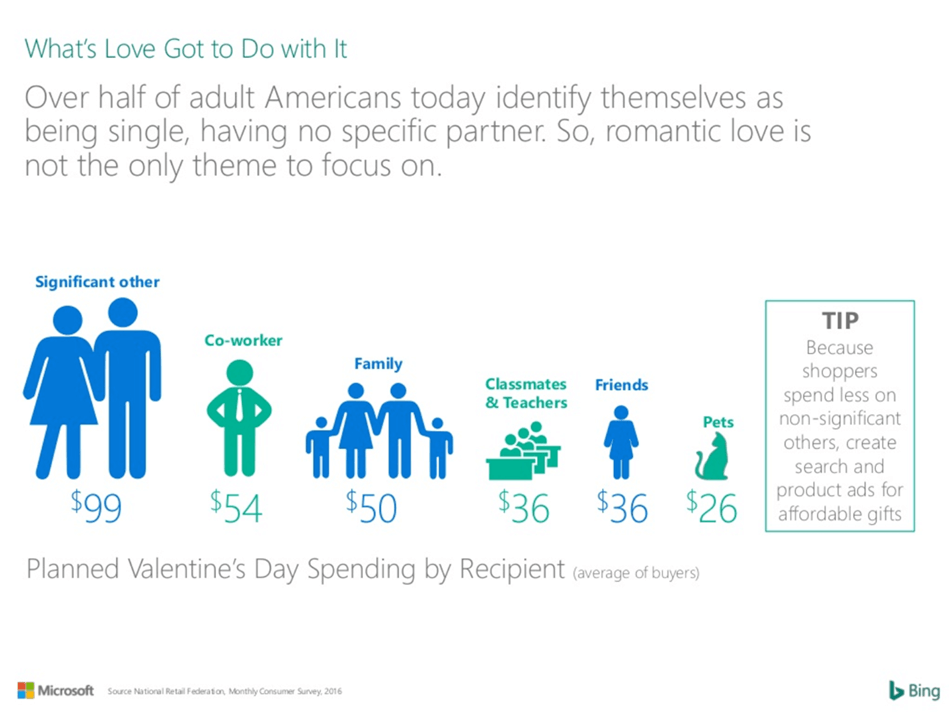 image source: Bing Ads, Search for Love
PWC surveyed over 24,000 shoppers in 29 countries for their 2017 Total Retail Survey and found that while the majority of shoppers still prefer to shop in-store, a significant amount of purchases take place online - on desktops, mobile phones and tablets. Shopping via mobile is climbing steadily, with desktop taking a slight decline.
When asked what shoppers did when they browsed on mobile, 37% globally say they had "paid for purchases," just behind "researched products" at 44% and "compared prices with competitors" at 38%. And so, mobile phones act as a research tool, shopping device, and payment method (source, page 10).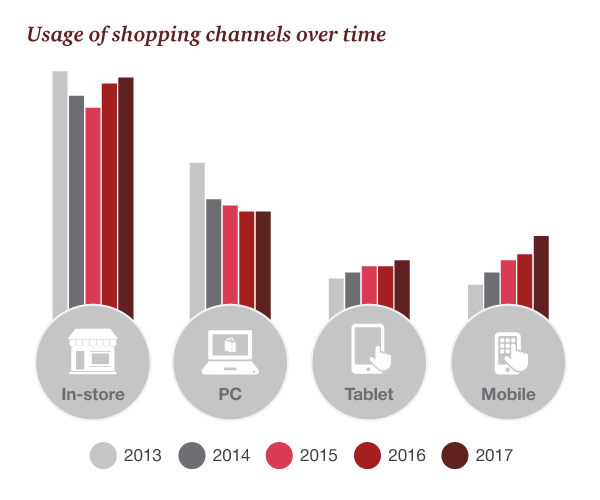 image source: PWC, 2017 Total Retail Survey
Potentially the most important finding in PWC's research was that social networks have a major influence over buying decisions online.
47% shoppers choose either "social networks" or "visual social networks" as their main sources of inspiration. - 2017 Total Retail Survey by PWC (source, page 15)
All in all, we know that a wide variety of businesses can use Valentine's Day to run successful marketing campaigns. We know it's worth the time and effort as it's a widely celebrated holiday. And we know that social media marketing works when it comes to inspiring customers to buy.
Let's now dive into the ten ways you can boost engagement and sales on social media this Valentine's Day.
Valentine's Day ideas for social media
#1 Run a promotion on best-selling products
If your business sells chocolates, flowers or jewellery, Valentine's Day is potentially one of the biggest sales opportunities of the year. Running a promotion on items that can be purchased as gifts is a traditional move. One might argue that it's even anticipated by customers.
However, creative social media managers have found a way to link Valentine's Day with less romantic products with great success. Soak in some inspiration from a book publisher and an inexpensive hotel chain. Penguin India's #LoveInOtherWords campaign and Oyo Rooms #NoRoomForHate campaign both celebrate the concept of love and promote togetherness.
Our love is hard-bound!#LoveInOtherWords#PunnyValentines#ValentinesDay pic.twitter.com/gEdgqBLIwt

— Penguin India (@PenguinIndia) February 13, 2016
Dear haters, this one's for you.#NoRoomForHate #ValentinesDay pic.twitter.com/GpU1c4YMd5

— OYO (@oyorooms) February 10, 2016
#2 Share the love
This may sound cheesy, but everyone has something to share that could help another person. So if your product is a hard-sell on Valentine's Day or your company isn't up for celebrating this holiday, why not consider sharing some of your expertise instead?
This could be in the form of useful content about the holiday (that's what we're doing!). For a beauty business, it could be a string of posts with tips on great skin care regimes or guidance on how to apply makeup for a date night.
Equally, as far as Pinterest Valentine ideas go, you can create lists for inspiration on Pinterest – from unusual gift ideas, romantic restaurants or the best deals on local leisure activities, and share it with your readers.
Just remember to always keep your social media posts relevant to the brand you manage and its niche.
If your business is food related, you could opt to share a useful recipe video, like Woolworths South Africa. It's simple, yet really engaging, and shareable, as well has has the ability to produce lots of copy-cat User Generated Content.
#3 Use Valentine's Day hashtags
Hashtags are a great way to promote any business on social media. You can easily track how many people are sharing your campaign based on who's using the hashtag. You can use a combination of hashtags, one that's singular to your company and popular ones that are used by others.
Don't just throw the hashtags out there haphazardly, though and use them in combination with questions. On Twitter, you could ask for a short description of the best Valentine's Day a person has ever experienced. Or on Instagram, you might ask followers to post images of a great Valentine's Day dessert with your hashtag to take part in a contest (see more tips on contests below).
You can even use hashtags on LinkedIn to further your reach and spread the love this Valentine's Day!
BodyShop's #SendingAKiss campaign shows that you don't need to overthink it - a visually engaging image and a question can drive awareness and give you the engagement boost you need.
#4 Organise a contest or a poll
2019 was all about driving organic engagement and meaningful conversations on social media. 2020 is beyond is all about authenticity and original content, so why not try your hand at a user-generated content (UGC) campaign? You can go all-out and organise a contest or simply run a series of polls to test how engaged your audiences are.
Dunkin Donuts is famous for their fun and colourful social media presence, fuelled by photos taken by their customers. In 2017, they did a heart-shaped donut campaign and last year they focussed on love stories:
If you're a business-to-consumer (B2C) company, consider hosting a giveaway as part of the contest on social media. It can be as simple as adding a small box of chocolates with every purchase or a mystery gift for every 10th shopper worth $5 dollars.
Tip: Tools like Sendible can help you monitor keywords on social media, allowing you to easily track your contest submissions as well as other relevant conversations, like brand mentions or even your competitors.
#5 Advertise on social media
Organic reach isn't what it used to be, and with recent changes to Facebook's News Feed algorithm, businesses are looking for alternative ways to ensure their posts are seen by their followers.
Advertising on key social media networks like Facebook, Twitter, Instagram or LinkedIn extends your reach to those who are yet to follow you. Always think what you want to achieve with each campaign:
Number of visits to the site or landing page
Number of times a promo code is used
An increase in engagement rates
New followers or email submissions
You can also choose to run ads to test the impact you get versus organic posts to prove the argument that if more people saw your creative social media posts, more people would engage with them. Focus on products and services that are in high demand on Valentine's Day and keep it consistent with your social media strategy.
Create irresistible offers to blow your competition out of the water. That additional discount or free gift with the purchase could be enough to help you make the sale!
Pro tip: Instagram Shoppable can be a great way to improve your e-commerce sales around holidays like Valentine's Day. Learn how to expertly leverage this feature with our guide!
#6 Organise a Valentine's Day themed event
Online matchmaking events are a popular practice in February – it's a match and off-they-go kind of event to land a date on Valentine's Day. But that's not the type of event we suggest you run (unless you really want to).
Video is becoming increasingly more popular and successful on social media. Why not stream live on Instagram or go live on Facebook? It's harder to organise and schedule than a simple post but can prove to be effective if the brand you manage wants to bring their followers a bit closer and show them what happens behind-the-scenes.
#7 Create interactive apps or experiences
Interactive apps enhance the customer experience and can help you skyrocket your engagement on social media. Back in 2012, Heineken created a Facebook app with Wieden+Kennedy Amsterdam called 'The Serenade'. The app allowed customers to create a personalised serenade for their partner from a total of 640 different choices.
Apps like the above take time to develop, but you could achieve a similar effect by creating a tool that shoppers can use to create something themselves. One such example is Tiffany's Valentine's Day Tattoo Shop.
The idea is simple - create your own unique sticker with a transparent background, add it to your photo and share it on Instagram with the relevant hashtag (#BelieveInLove).
That, paired with a promotion from influencers does wonders for brand awareness, even for a luxury jewellery brand that not many people can afford.
#8 Create a microsite or landing page
So your social media posts are creating awesome engagement but where do your followers go when they click on the links? Shoppers don't always know what they want, so give them a hand and make it easy to filter through the products you have in your online shop.
It's common practice to create a dedicated category on an online shop for special occasions like Valentine's Day, just like the online retailer, Not On The High Street does: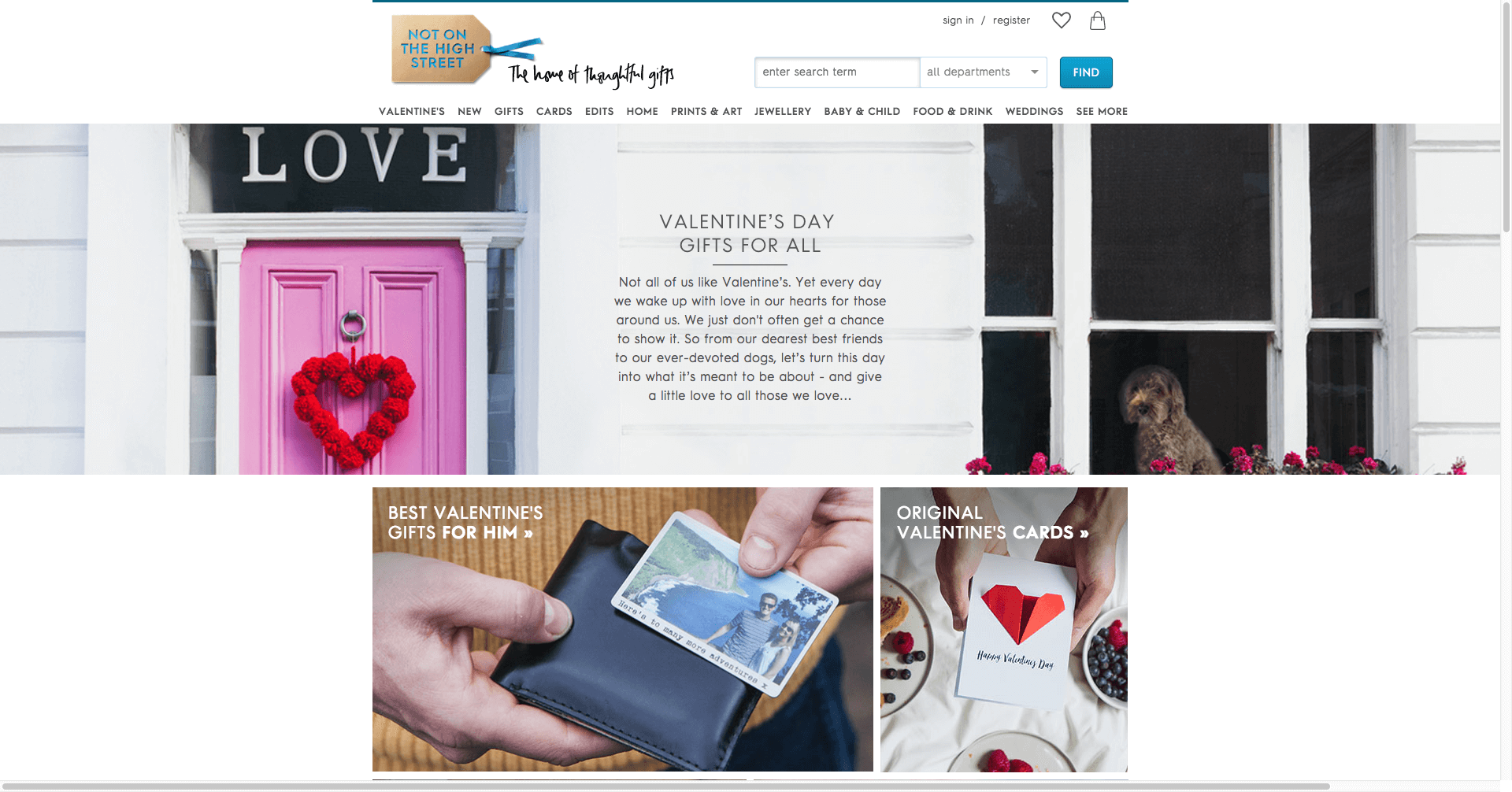 If you are in B2B and budget allows, create a landing page for this Valentine's Day as the pinnacle of your holiday campaign.
It's all well and good to spread awareness and improve a brand's image, but your client will want you to prove the return on investment (ROI) of your social media activities. With a unique page, you can track visitors who visit and convert easier than a regular website link. Add content you created for the campaign to the page and attach a special offer for your product or service to encourage sales and sign-ups. Alternatively, use UTM codes and tracking on existing pages to do have better visibility over what works and doesn't.
#9 Celebrate small if stretched for time
If you are stretched for time, you may opt for a simple greeting for your followers on Valentine's Day. You can brew up some romance on your social media profiles by creating a sweet image or video to post on the day.
#10 Don't forget about the singles!
Not everyone has a partner on Valentine's Day, and just because someone is single on Valentine's Day, doesn't mean they can't celebrate - so it's a smart move to market to this audience instead.
As ReFUEL 4 mentions in their article, "single men and women are a lucrative market to tap into. For one, they usually have more money to splurge." You can also tap into the anger of singledom like Hooters do with their annual #ShredYourEx campaign.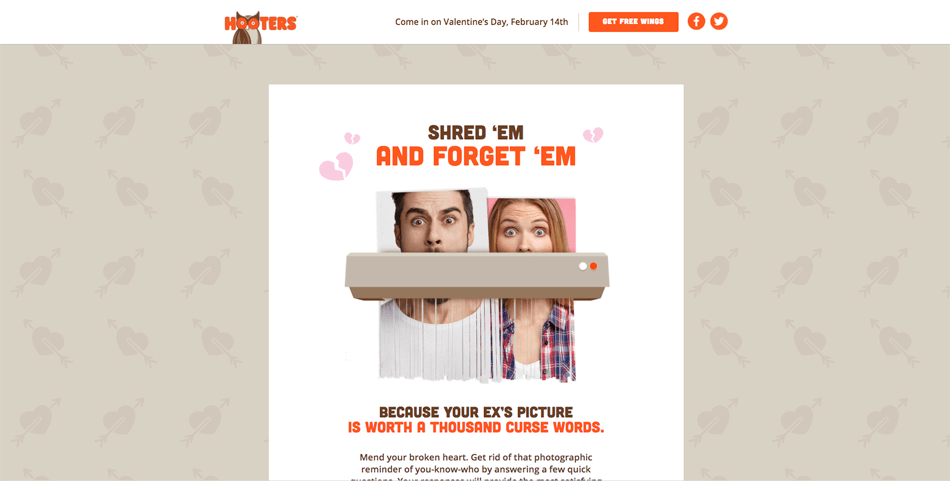 This assumption is backed by the NRF and their recent data on Valentine's Day spending we referenced earlier in the article. According to the survey results, 3 in 10 adults indicated they are not celebrating this year [but] still have some type of "celebration" plans.
Among the activities were treating yourself to something special (11.8%), plan a get-together with family/friends (9.85%) and interestingly, a small portion of respondents said they would purchase and "anti" Valentine's Day gift (3.3%).
Experiment with taglines like "Treat yourself this Valentine's Day" or "Delicious meals for you and your friends" when selling regular products desired by single adults.
Pro tip: If you're thinking about targeting young singles for an alternative Valentine's Day campaign, Instagram is a great place to start. Make sure you create posts with engaging captions full of Valentine's Day puns and plenty of hashtags.
Some examples of lucrative Instagram hashtags related to celebrating Valentine's Day as a single person include:

#single - 17.9m posts
#galentinesday - 537k posts
#antivalentinesday

- 59.2k posts

#singlesawarenessday - 49k posts
#whoneedsavalentine - 11.8k posts
Over to you
Celebrating special events and holidays on social media is a great way to loosen up a little and show the fun side of a brand. While you need to be results-driven to justify spending your time on this, we'd recommend to most of all, keep things fun and avoid being boring on Valentine's Day (Contently has quite a few good tips and examples on this).
We would love to hear how your campaign went and which tip you found most useful. We wonder which brands will steal the show this year and have the best social media campaigns ever.
By the way, if you like planning your content calendar around trending dates like #ValentinesDay, then you'll love our free and fully interactive social media holidays calendar. ❤️
Veronika Vebere
Resident marketer at Sendible. Into social media and blogging for more than 7 years and well-versed in all digital marketing channels. My biggest daily driver is creating useful content that helps others grow and saves their time, so if it does for you, let me know on Twitter or Linkedin!
Level-up your social media.
Subscribe to our blog to get valuable insights so you can maximise your results.