Did you know that social commerce was an $89.4 billion market in 2020 and that it's projected to grow to $604.5 billion by 2027?
According to Shopify e-commerce Market Credibility Study, as a result of this prediction, almost half of brands plan to increase their investment in social commerce in 2022. But, what does this mean for you as a fashion brand?
The fashion e-commerce industry market was always a crowded and competitive place. And consequently, it has been one of the leading industries in being creative on social media. The most successful brands found a way to keep pace with their customer's desires, as well as with technology and social media trends.
The biggest challenge was always to hop on the right trends or find a way to start a new one while boosting their online sales.
To make sure you don't get lost in between choices and get overwhelmed with all new social media trends, we decided to create this guide to help you scale your fashion e-commerce business with the help of social commerce:
What is social commerce
Social commerce is the process of selling products directly through social media platforms.
The most significant difference between e-commerce and social commerce is that the entire experience, from product discovery to the purchase process, takes place on a social media platform.
This means that the shopping experience becomes part of social media, creating a less disruptive buyer journey.
Simply put, your target audience scrolls through their feed, sees your product, checks out the comments, buys it, and continues scrolling without ever having to leave the app.
But, if your goal is to improve your online store sales, you can still use social commerce to scale your fashion e-commerce store's sales.
We will talk about that in a bit.
Why should fashion brands care about social commerce
One thing is clear - social commerce is on the rise.
According to Statista, there were 80 million social buyers in the U.S. alone in 2020, representing a 30% increase compared to 2019. Experts believe that the social commerce trend would have continued to grow without the pandemic but that COVID-19 accelerated its growth.
These consumers spent approximately $27 billion throughout 2020. In 2021, retail experts forecasted social commerce sales to increase by more than 35%, meaning consumers would spend more than $36 billion.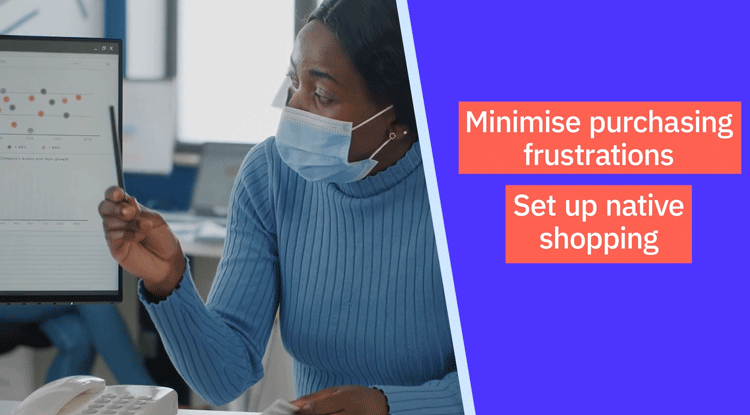 Looking further ahead to US social commerce sales projections for 2025, the industry space is set to grow to nearly $80 billion.
The reason why these numbers sky-rocketed during the pandemic was because of the significant change in consumer behaviour:
Consumers have become more digital.

According to PWC's research, more than 50% of surveyed consumers said they've become more digital.

Smartphone shopping keeps climbing steeply

. Since March 2021, it's been gaining

two percentage points on in-store shopping

.

A solid social media presence means more sales.

Stores with at least one social account

have 32% more sales on average

than stores that don't use social media.

Social media is the go-to place for reviews.

84% of US online buyers take a look at a social media platform

to check out product reviews before adding an item to a cart.

Gen Z uses Instagram to discover new brands.

Gen Z is a mobile-first generation, and Instagram is their prime channel for discovery. A recent report from digital and creative agency Composed found that 60% of U.S. Gen Z shoppers use the platform to

discover new brands and products

.
And while it's clear you need to hop on this social media trend to grow your e-commerce fashion brand, you need to know where to start.
What are the best social commerce platforms for fashion brands
It's evident that social commerce is the future of online shopping, but where do you start? What's the best social media platform for your fashion brand?
Since fashion is all about visual identity, we'll focus on social media platforms your target audience uses to discover fashion products, read/watch reviews, and, hopefully, make a purchase decision:
Meta (Facebook and Instagram)
They may have started as teen apps to keep in touch with friends and post cute pictures, but both Facebook and Instagram now represent powerful full-scale commercial engines.
Both platforms offer you an opportunity to set up a shop that you can either connect to your existing online shop (Shopify, BigCommerce or another partner platform) or create from zero by importing products.

Image credit: @asos
Think of it as your storefront where users can browse, explore, and purchase products directly on Facebook and Instagram. Once you're set up, your products will be eligible to appear on popular shopping destinations like Facebook Shop, Instagram Shop, and Marketplace.
A feature that might interest you the most is the possibility to set up customisable collections with the products you want to showcase.
Pro tip: Use eye-catching imagery and design elements that highlight your brand identity.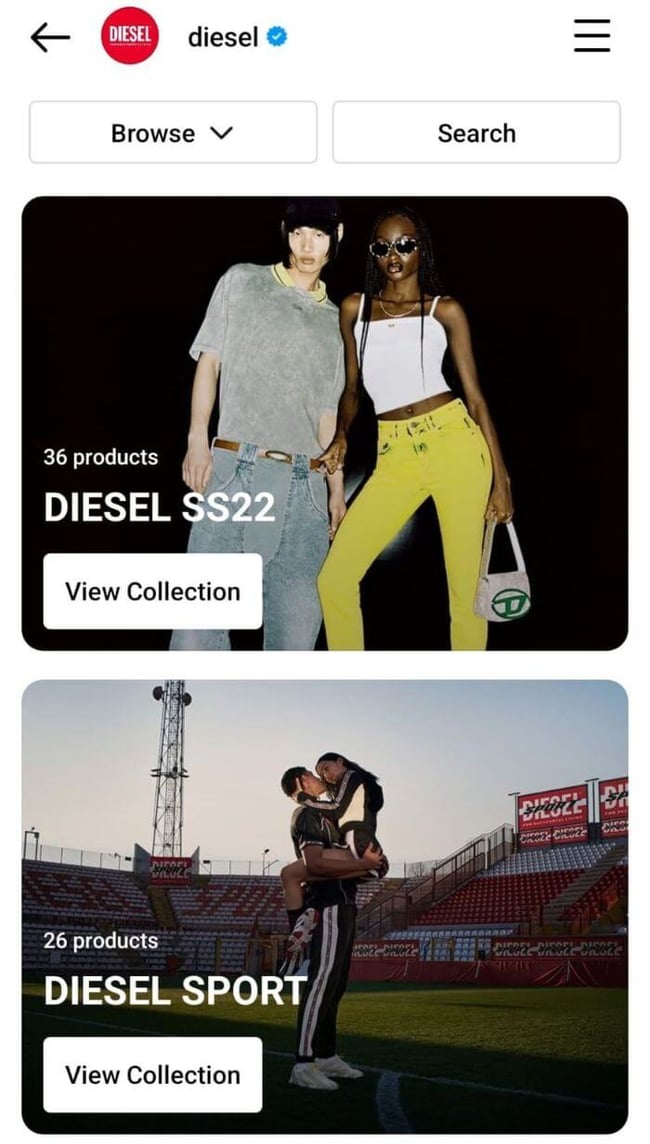 Image credit: @diesel
Though the combination of creating collections with stunning images that present the best your fashion brand has to offer and creating a seamless shopping experience will boost your sales, there are some other key features to help you grow your business:
You can add

shopping engagement custom audiences

to your ad campaigns to reach people who are browsing and buying at your shop.

In Commerce Manager, you can

get insights on

your sales performance, your products' popularity and more. You can then use this data to optimise your shop.

Your shop can be

accessed in multiple ways

. In fact, users can access your shop from your Facebook Page, Instagram profile, Instagram ads with product tags, or shoppable content in the Feed, Stories, Live, and Reels.

Shops let

customers easily contact you

through Messenger, Instagram Direct, and soon WhatsApp.
Note: Shops are free to create but charge a fee when Facebook's native checkout is used.
If you're a fashion e-commerce seller who is just starting out on Instagram, you may find it tricky to determine which strategies will drive sales - and which ones will lose them. One of the most effective strategies you should implement to improve your sales is Instagram Shoppable.
TikTok
In September 2021, TikTok announced the expansion of its shopping capabilities which includes live shopping, product tagging, storefronts, and more.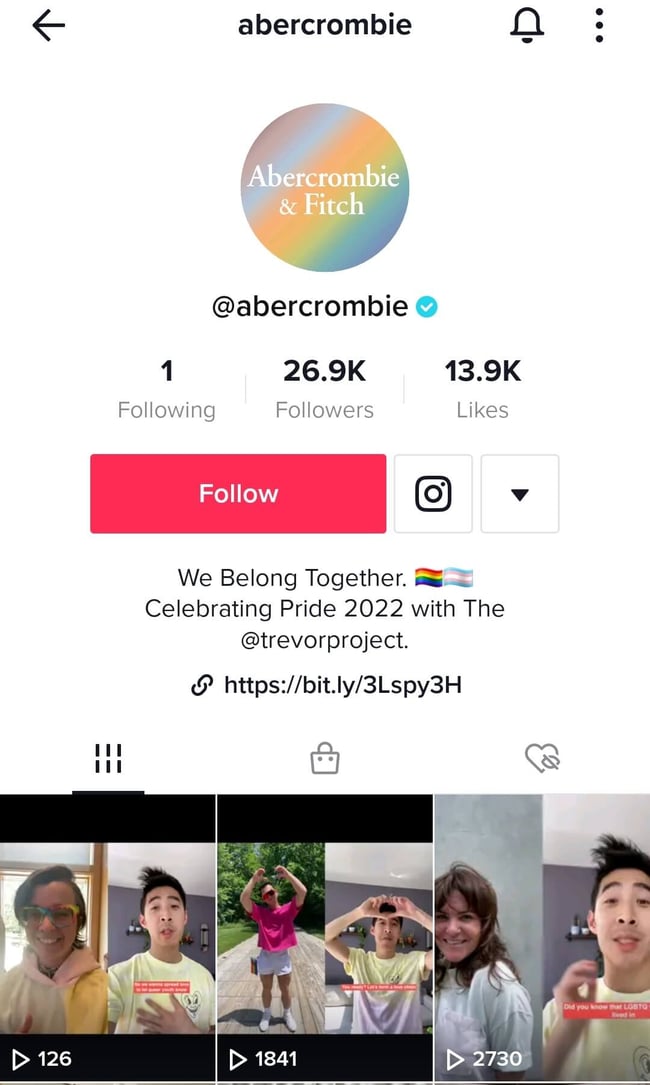 Image credit: @abercrombie
According to TikTok, this social commerce experience represents a suite of solutions, features, and advertising tools that empowers brands and merchants to meaningfully engage with their customers:
Direct Integration:

Merchants can tap into a full commerce experience with the capability to upload products and manage everything from shipping to fulfilment and point of purchase.

Partner Integration:

For merchants who enjoy working with their preferred third-party commerce partner, we're excited to have Shopify, Square, Ecwid, PrestaShop now available on the platform. We expect Wix, SHOPLINE, OpenCart, and BASE to be available soon.

Product Links:

Brands can highlight one or multiple products directly from an organic TikTok video, leading users to instantly-loaded product detail pages.

LIVE Shopping:

Brands can connect directly with their community in real-time and share dynamic links to products and services at the same time.

Collection Ads:

Brands can include custom, swipeable product cards in their In-Feed video ads.

Dynamic Showcase Ads:

Brands can serve users personalized, targeted ads based on the users' interests.
Pinterest
In a survey by Cowen and Company, 47% of social media users revealed that Pinterest was their main platform for discovering and shopping for products. This percentage is three times higher than Facebook and Instagram.
Pinterest users have a high purchase intent - more so than those aimlessly scrolling through random content on other channels. They are keen online shoppers, which is why the number of product pins has doubled in 2020, with traffic to retailer sites increasing by 230%. To compete, fashion e-commerce brands need to join the bandwagon if they want a slice of the Pinterest action.
And Pinterest is delivering.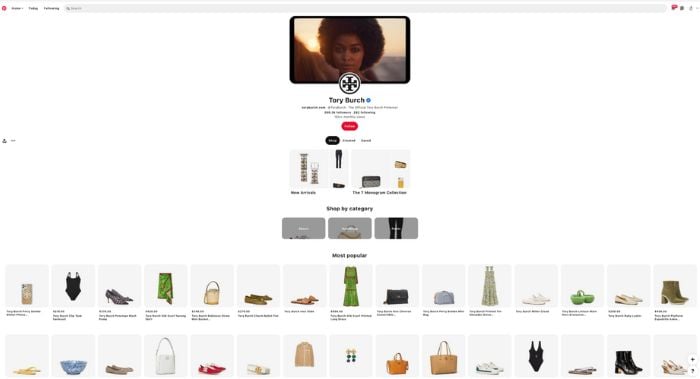 Image credit: Tory Burch
It's easier than ever to create an enjoyable shopping experience on the platform thanks to the suite of shopping-focused features. And though it doesn't offer a full social commerce experience yet, you might want to start getting ready for it with:
Product Pins

feature products that are available to buy from the merchants listed in the Pins. Some product Pins direct users to the retailer's online store and others allow them to purchase products from retailers without leaving Pinterest. Another handy thing is that when a user saves a product Pin to any board, it will automatically be added to their shopping list!

Product catalogues

let you upload your entire product range to Pinterest and turn each one into a dynamic Product Pin. You can organise your catalogue so that shoppers can browse product lines and ranges quickly and easily.

Video Pins

showcase video reels rather than static images. They're great for grabbing attention and keeping shoppers engaged with your products.

Shop Tab

lets users filter their searches to only include Product Pins. This helps buy-ready shoppers take action quickly without having to scroll through endless other Pins.
Pro tip: Pins with prices attached to them get 36% more saves than those without.
Bonus: Fashion e-commerce marketing tips to boost social media presence
Setting up a social media store is only one piece of the puzzle. If you're serious about scaling your fashion business, you'll need to work on strengthening your social media presence.
1. Use holidays as an inspiration
Seasonal campaigns are always a great idea!
You already know when they'll happen, so you'll have time to prepare for them. They are also an excellent way to support a cause you care about.
Just take an example of the Canadian brand Vessi. This year they partnered with New York-based LGBTQIA+ artist Zipeng Zhu, who designed a custom Pride pin inspired by the flow of water and fluidity of self-expression, gender, and love.
This pin was sent as a gift to all those that placed an order of Vessi's Pride limited edition shoes.
2. Collaborate with influencers
Some of the best ways to promote your fashion products include:
YouTube video reviews
While the short-form vertical video is dominating, the second most visited website in the world, YouTube, is vying for that number one spot with an average watch time of 22.5 hours a month. Another benefit is that this video-first platform draws all demographics, including one in three baby boomers.
YouTube's audience is used to long-form videos, so an influential fashionista could create a presentation of your entire new collection!
Instagram Collabs feature
Instagram's new Collabs feature allows you to collaborate with other Instagram users on both Feed posts and Reels, crediting both accounts with the post in the Instagram timeline and in Reels, making it appear on both accounts with likes and comments shared among the two.
This will save you from posting identical content as the influencer you're partnering with, increase reach, and help you reap all the benefits from this partnership!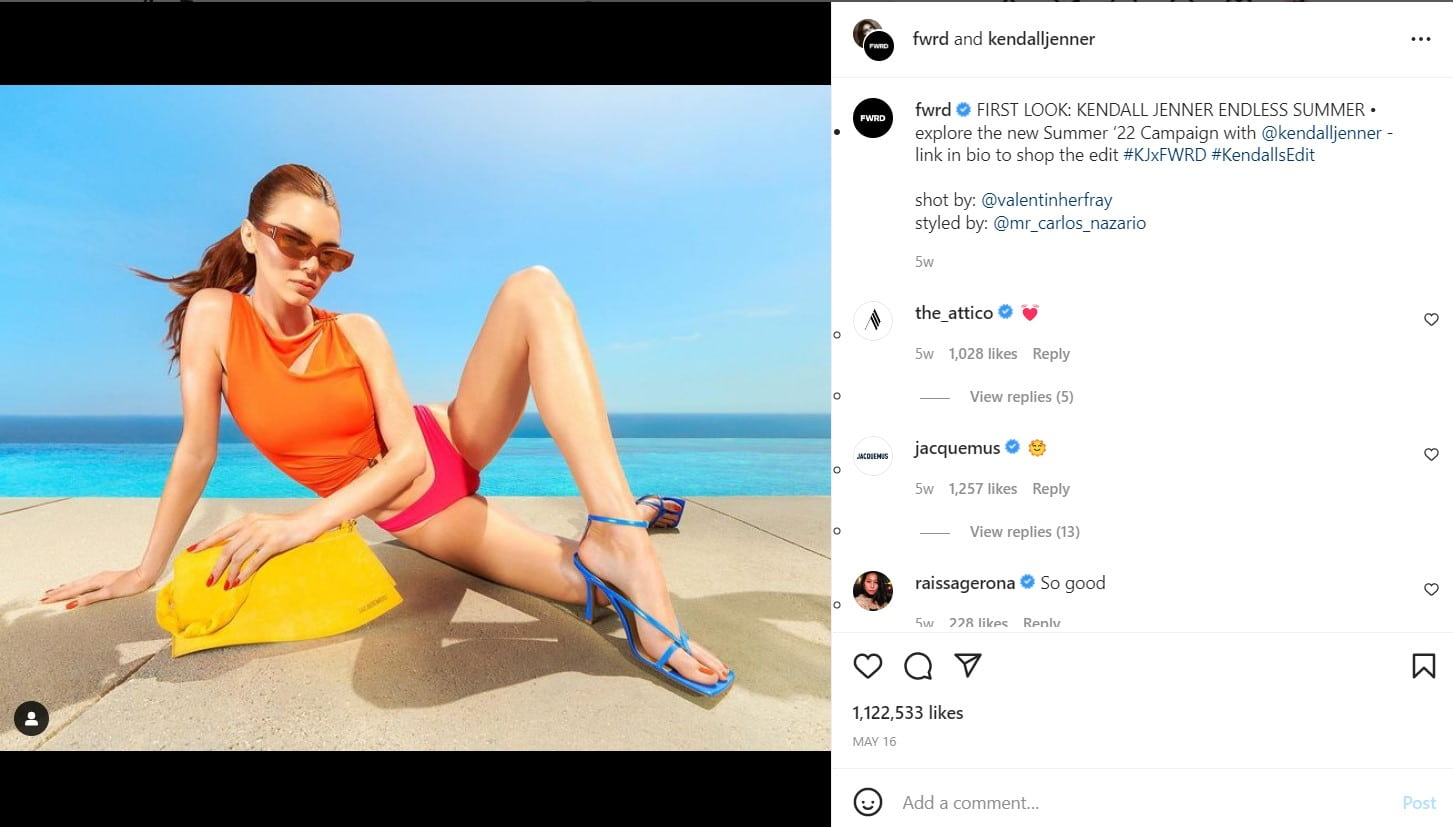 Partnership with TikTok content creators
The way TikTok's content creators approach to marketing products is a bit different than the one on Instagram. It's less "staged" and more "storytelling" oriented.
And the audience loves it!
If you're open to experimenting and reaching a younger audience, partner with one of the influential TikTok creators.
On the other hand, you could opt for a less "hidden" message and tap into the world of TikTok reviews. Just keep in mind that honesty is deeply appreciated on the platform. So you might not get a pumped-up review like on YouTube and Instagram, but this doesn't mean it will be any less effective.
3. Make improvements to the e-commerce experience
Let's face it, you have to invest in creating a seamless shopping experience. Whether you'll connect your online shop to the one on social media, or dedicate all your resources to developing social commerce, your users need to have the best possible user experience.
And it all starts with the right social media content.
Create a content calendar that includes various formats. For example:
Short-form videos

are perfect for quick tips on how to accessories a particular outfit from your store.

Highlight stories

are a great place to repost user-generated content and user reviews.

Instagram carousel

or a

Facebook Album

is your chance to showcase top picks.

Instagram Story Reposts

are a great way to share user-generated content.
Wrapping Up
There are many ways how you can promote your fashion e-commerce store. But the most important thing is to not be afraid to experiment.
Set up measurable goals, collect data, and do social media audits regularly to determine where should you focus your efforts.