Likes, comments, and shares are typically considered vanity metrics, but we love them because they show us that our audience likes what we're posting. They can also help us collect some cool data that we can use to optimize our social media strategy in the future but, above all else, the more engagement you get, the more it impacts your exposure (a.k.a. reach).
With Facebook prioritising personal profiles so that brands invest in advertising, it's becoming increasingly crucial to post interactive and engaging content.
What is an interactive post on Facebook
An interactive Facebook post is a post that encourages a user to like, comment, share, or click through (a.k.a. interact with the post). There are a variety of posts that fall under this category, including:
Quizzes, surveys, or polls: tap into people's need to find out more about themselves or to test their knowledge

360 videos: allow followers to directly move around a real-life scene

Product tags on photos: give shoppers the chance to click through to a landing page for a specific product they're interested in–not having to search for links in the copy improves the overall user experience

"Tag a friend" posts: encourage followers to mention their friends in a comment to spread your reach

"This or that" posts: gain more information about your followers by asking them to decide between two relevant things (e.g. "summer or winter" or "tea or coffee")

AMA threads: share your knowledge with your followers by encouraging them to submit questions for you, a team member, or an influencer to answer on a Facebook Live
How do interactive posts work on Facebook
Facebook is an inherently social platform where people tend to engage and interact with friends, family, and brands they like. They're used to interacting with posts, either through tagging a friend, sharing, liking, reacting, or commenting in some way.

Interactive posts are designed to stand out and drive action.
Remember, there are more than 60 million business pages on Facebook, and standing out is crucial if you want to continue to engage followers and stay front of mind. Interactive posts help you do this. And, by generating engagement, the Facebook algorithm is likely to push your posts to the top of user feeds.
Note: interactive posts can be difficult to schedule on Facebook due to API limitations, but it's worth testing them out to see what works for you and your audience.
Why are interactive posts valuable for engagement
Aside from creating a conversation with your followers, interactive posts come with a suite of other engagement benefits, including:
Wider reach: the more interactions you have, the more you'll appeal to Facebook's algorithm which will reward you by showing your posts to more people

Generate leads: a wider reach means more opportunities to generate leads and increase conversions from your Facebook Page

Increase retention rates: stay front of mind and remain relevant to your existing followings by staying at the top of their Facebook Feeds

Drive traffic: encourage users to click through to your website or landing pages to increase visitor numbers

Stand out: differentiate your brand from competitors by creating a highly-engaged Facebook Page and creating an open dialogue with your followers

Personalise interactions: use the information collected from your interactive Facebook posts to personalise future interactions you have with your audience
8 types of interactive Facebook posts that work (with examples)
The best interactive posts aren't just there for the sake of it; instead, they have a purpose or a goal. This might be finding out more about your audience, promoting a new product with a giveaway, or creating deeper connections with a quiz, survey, or Q&A.
Here are some real-life interactive Facebook posts that work particularly well.
Host an AMA
Eskwelabs partners with a group of scientists to run an Ask Me Anything session. Users are invited to submit their questions upfront or live on the call. Follow suit by collaborating with a member of your team or an influencer and use the answers or recording to create content based on the questions submitted.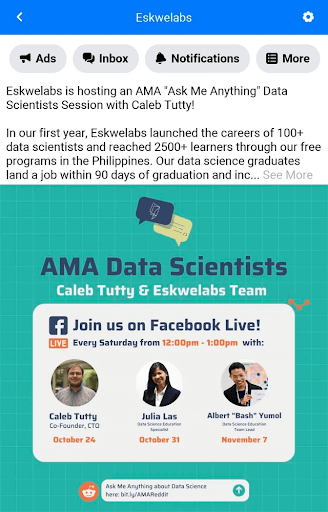 You can also utilise the Questions feature in Facebook Stories to invite your followers to ask you any questions or answer your own. To access this feature, simply tap on Stickers and then select Questions.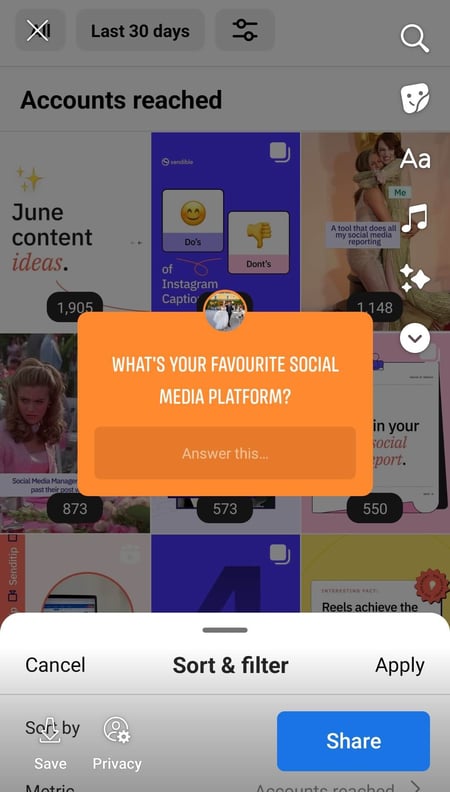 Create a poll
Unfortunately, it is currently only possible to post Polls on your Facebook Page during a LIVE session or through a Facebook Story.
To add a poll to your Facebook story, simply tap on Stickers, choose Poll, and ask your question.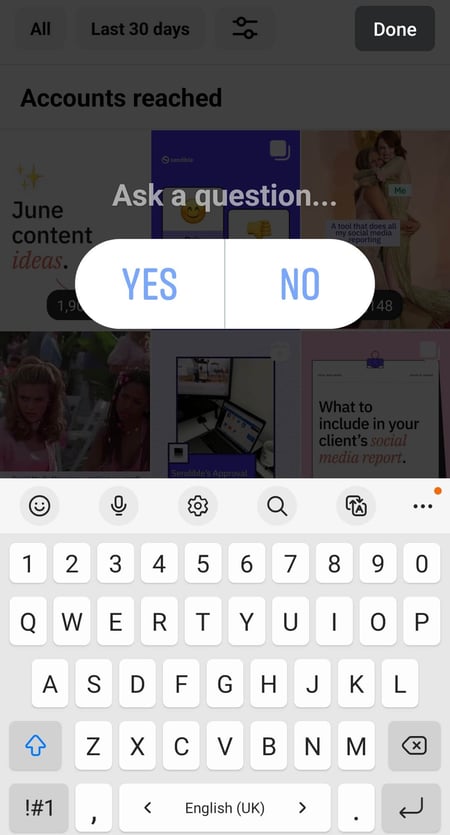 However, if you have a Facebook Group (and if you don't, now might be the perfect time to start one), you can easily post traditional polls to gauge interest, learn more about your members' preferences, or boost engagement rates.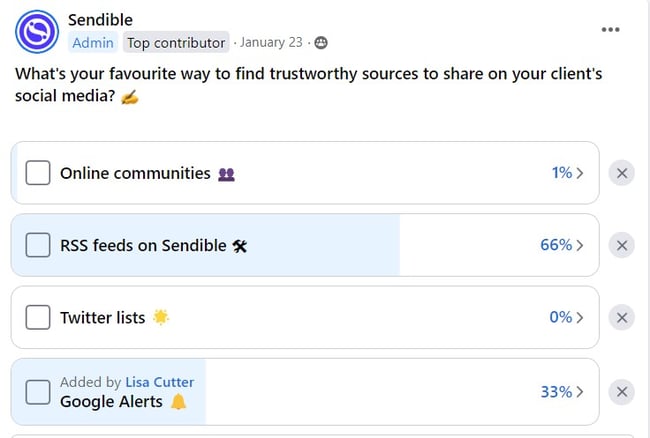 Host a quiz
Typeform serves a couple of different quizzes for its audience to take depending on what they're interested in. This not only drives click-throughs, but it's a great way to capture contact information too. You can do a similar thing by testing your followers on a brand-related topic or asking them to find out something silly like what house plant they are (there's a reason Buzzfeed quizzes are so popular!).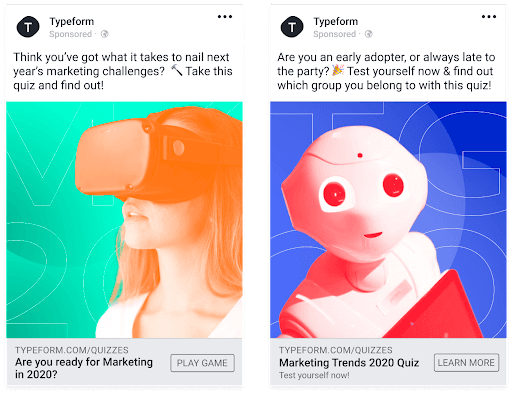 Alternatively, you can ask riddles or test followers' knowledge by posting challenges that spark discussion directly on your Facebook Page, just like Haribo does:
Post a 360-degree video
The Laughing Cow USA takes its followers on a trip down memory lane by using Facebook's 360-degree video feature to recreate a branded version of Where's Wally. This encourages people to interact with the post directly and can be great for showcasing a hotel or a destination for people who haven't visited yet, as well as for real estate pages.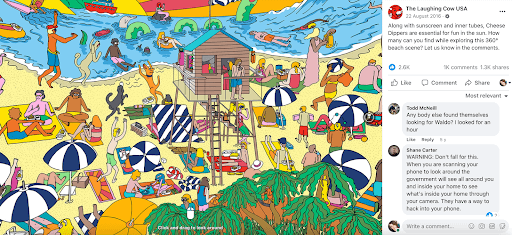 Add product tags to photos
Mallet adds product tags to its outfit photos that followers can click on to find out more. This keeps followers on Facebook while reducing the steps in the buying cycle–the perfect way to drive both click-throughs and sales.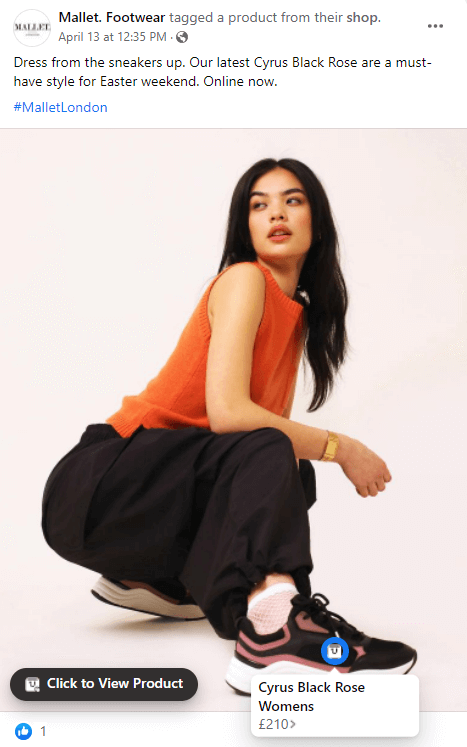 Ask followers to tag a friend
Primark asks its audience to tag a friend who is obsessed with Bambi to promote their latest Bambi-related product. This increases reach by using a digital form of word-of-mouth marketing (which is still incredibly powerful–if someone has been recommended or tagged by a friend, they're more likely to follow you).
Run a contest or giveaway
Grove Collaborative adds an incentive to their quest for engagement by giving away a prize to a lucky follower–all they have to do to enter is like and comment on the post (a.k.a. interact with it in some way).
Encourage emojis
Colorado State University asks its followers to share their favorite season via emoji, lining up spring, summer, autumn, and winter with a different reaction. Do the same by either encouraging your audience to vote with a specific reaction or by dropping an emoji into the comments section.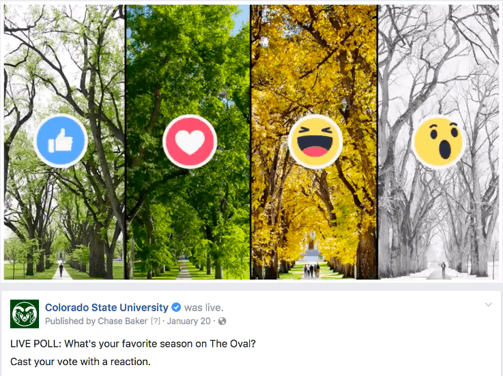 Seasonal interactive Facebook posts
The holidays are a great time to reach new people and give your Facebook engagement levels a quick boost.
Before checking out examples of seasonal interactive posts, make sure to watch our video with Desiree Martinez, agency owner and Sendible's loyal customer, to learn more about holiday social media marketing:
Halloween interactive Facebook posts
Follow Boohoo's example and share some interactive goodness during the spooky season. The popular clothing brand uses a top list of Halloween movies and invites followers to share their thoughts in the comments.
Interactive Facebook Posts for Valentine's Day
Valentine's Day is all about spreading the love, and it's the perfect holiday to encourage followers to tag a friend as Sephora does:
Here are some more ways you can use social media on Valentine's Day to engage your followers and promote your business.
Engaging Christmas interactive Facebook posts
Christmas is the time for giving and receiving, which makes it the ideal time of year to share interactive posts and create a buzz of engagement.
Bronner's uses a poll to get input from its followers and gain an insight into their unique preferences.
Increase engagement levels with interactive Facebook posts
Interactive Facebook posts increase engagement levels by encouraging followers to like, comment, and share your posts. Not only does this spread your reach, but it also tells Facebook's algorithm that people like what you're sharing, which in turn will mean it'll show your posts more. On top of this, you can use responses (particularly to polls, surveys, and Q&As) to find out more about your audience and their interests.
Try adding some interactive posts to your content calendar, but make sure it's content your audience would be interested in and is related to your brand so you stay front of mind and relevant.
Check out our social media holiday calendar and start planning your posts.