We live in turbulent times when people want to believe in something greater than themselves. This growing need also affects the business world and how consumers perceive the brands they do business with. Companies around the world are starting to pick up on that need. As a result, they are vocal about the causes they support, showing prospects they want to drive change.

International Women's Day, celebrated on March 8th, is one of these causes, with most brands supporting women's rights and honouring their contribution, both in daily lives and the professional arena. It's a fantastic opportunity for marketers and business owners to showcase where they stand in women's fight for equity while increasing sales with dedicated digital marketing promotions. With just days left to the holiday, this is the time to create and schedule your social media campaigns to ensure you don't miss the momentum.
Marketing campaigns have the power to celebrate and uplift women and break down barriers. International Women's Day is the perfect opportunity to create meaningful campaigns that highlight the achievements and contributions of women. Mysha Didi, Product Marketing Manager at Sendible
This year's IWD theme is #EmbraceEquity. Everyone in the business world should take a step back and consider how to lead the way toward embracing equity. Trust us when we say that 2024's audiences demand this type of initiative to know you celebrate diversity and inclusion: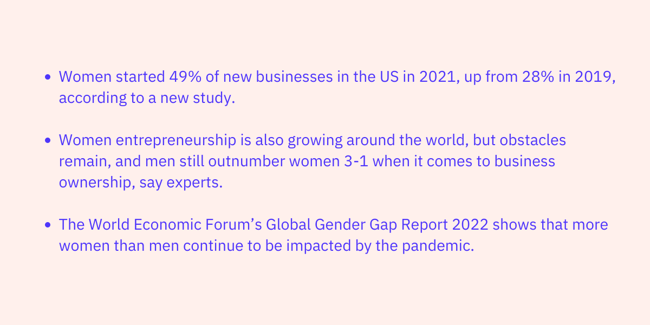 Source: World Economic Forum
6 Ways to Create and Arrange the Perfect International Women's Day Digital Marketing Campaign
Building International Women's Day digital marketing campaigns allows your audience to recognise you as a business that shares the same values as them. In this guide, we handpicked the most effective ways to create an engaging and meaningful International Women's Day digital marketing campaign:
1. Build a dedicated landing page
Before diving into product promotions, special discounts, or empowering events, we should go through building a dedicated landing page for International Women's Day. It's a page on your website which is meant to drive traffic right when people use relevant keywords to search for products, services, or events related to the occasion.
Seasonal landing pages are streamlined to promote specific products or events within a limited time frame. Therefore, you have to design them to minimise distractions that could lead to visitors leaving your website. It's not as hard as it sounds with the plethora of landing page builders that facilitate the process. These tools provide you with ready-made and visually appealing landing page templates that you can tweak to match your branding and objective.
Make sure to hook them from the start by showcasing how you support women's causes. Your IWD landing page should include optimised content centered around search phrases that will bring the right visitors to your website. Carefully selecting the right products to create a special Women's Day product feed is of utmost importance, whether it's featuring limited-edition items or packaged sets as purchasing incentives.
But even more importantly, such a page results in generating email subscribers since people will have to fill in their contact information to enjoy your offers. An IWD landing page is also a great place to direct your social media audience for exclusive promotions or events.
On their virtual lunch landing page, the Women's Foundation featured every necessary event information and the benefits of participating. Also, the organisation included an easy option for the users to add the event to their calendars and share it on different social media channels.
Source: The Women's Foundation
2. Partner with a cause
Partnering with a cause is key to getting the right message across and showing leads you are a brand that cares for more than selling. By partnering with a women-related charity organisation, prospective customers know you aren't all talk - and they highly appreciate it. Opt for an organisation whose mission is aligned with your audience's values and donate part of your earnings to express your support actively.
Your donation will help organisations that cater to women's needs worldwide and make a difference in their lives. As a result, you enable them to keep providing resources to improve circumstances for women in need. If your business operates locally, donating to a local event to support the community while raising brand awareness is a good practice.
Google is known for being a pioneer. In 2021, responding to the rising search intent volume for "the first woman", the company launched its "First of Many" campaign to celebrate the contribution of important women throughout history. Google's dedicated campaign also announced a fund to help women's economic prosperity globally.
3. Host a giveaway
From a marketing perspective, a giveaway brings in results and constitutes a more personalised way to connect with your audience. IWD is an excellent occasion to run a giveaway contest on your social media or your website for charity or business purposes. Ask your followers or visitors to honor special women in their lives by nominating them for recognition or ask them to tag friends. For example, it could be a photo contest of them using your products. Then, you have to select the winners randomly and send them their prizes.
Ensure that the prizes you give away match your audience's preferences and overall branding. Also, encourage them to share their contest entries with their friends on social media to increase your website traffic. To gain extra points and enhance customer loyalty, ensure you dispatch a thank you email after the giveaway to show appreciation for their participation.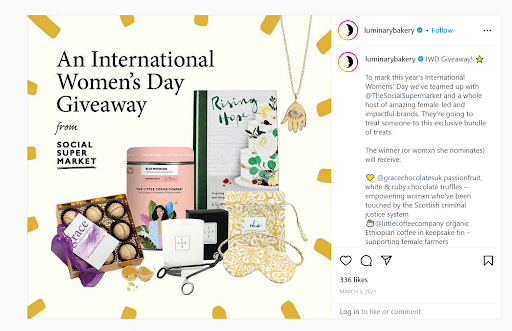 Source: @luminarybakery
Luminary Bakery does an excellent job in its IWD giveaway, offering an exclusive bundle of treats. The brand isn't limited to running the contest, though. The bundle itself contains products made by female-led brands, thus celebrating their contribution to turning the market into an equal space.
4. Offer discounts or limited-time offers
Your International Women's Day digital marketing campaign could focus on a new product or service that you plan to launch around this time of year. Especially if you think it would appeal to women, it's the perfect time to do so. There are numerous ways to go about it. For instance, you could offer a discount on every order placed on March 8th, whether you own a physical or e-commerce store.
You could offer free shipping on every order over a certain amount spent as an alternative option. Free shipping is an effective incentive for consumers who wouldn't make it to the finish line due to the shipping costs. You could limit free shipping to the actual day or make it a limited-time offer to attract more customers. Or you could even send out special coupon codes to all female customers to increase the chances of them moving to a purchase.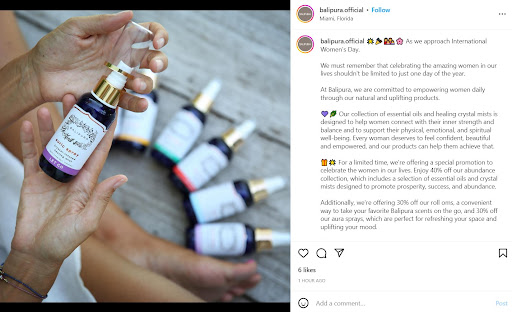 Source: @balipura.official
In its limited-time promotion, Balipura provides followers with a 40% discount for their essential oils and crystal mists selection to honour the special ladies in their lives. Regardless of the occasion, the brand's mission is to empower women and support their well-being throughout the year with its products, and the post content highlights this commitment.
5. Create a special product or product bundle
Marketing during International Women's Day is all about making the day special and showing you have put in some extra effort compared to regular marketing efforts. Your consumers will highly appreciate special products or product bundles that you design with the day in mind.
Leverage the occasion to launch an alternative product you were pensive about to check how your audience will respond. Instead of just creating the product, add value by donating part of the revenue to a women-related cause, like an organisation fighting domestic violence. If you think you don't want to invest much effort into it, consider customising your packaging design for limited-edition products. Custom packaging design shows your customers you value everything this day stands for.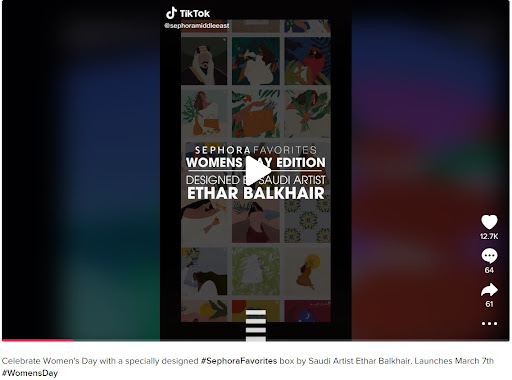 Source: @sephoramiddleeast
Sephora Middle East chose TikTok to launch an International Women's Day digital marketing campaign and promote its specially designed product collection. The packaging of this women's day special collection was designed by a Saudi artist, thus offering women a piece of art that they could hold on to remember the day.
6. Spotlight the women in your brand - or inspiring female leaders
This last marketing tip is meant to build morale. By sharing successful women's stories from your brand, industry, or community, you show what is possible and inspire women in similar situations. The women you choose to present will serve as role models for every woman experiencing discrimination and inequity. Let them share their stories to encourage women to take on activities that help them reach their full potential.
On International Women's day, introduce customers to the powerful women working in different departments of your business. Not only do you help prospects put faces to your brand, but you recognise the hard work of your female employees and make them feel valued. Conduct interviews with them where they can speak of their achievements, social issues, or any matter you think interests your audience. And remember that representation is a powerful tool, so choose videos to communicate your message, as nothing beats the engagement it brings.
In its 2019 IWD campaign, PayPal featured female business leaders who presented their journey as entrepreneurs and discussed how we could make gender balance in the workplace real. PayPal took it as far as donating to charity organisations that support women when consumers used their service to buy from specific female-led businesses.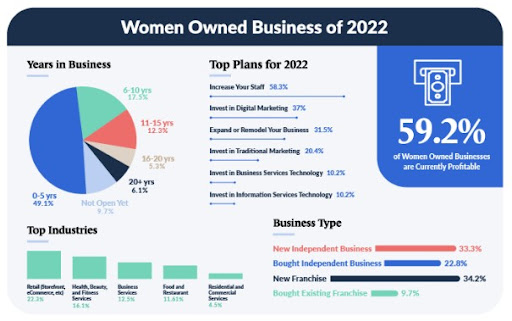 Source: Guidant Financial
Bonus Tips on International Women's Day Promotions
To further help you build your International Women's Day marketing strategy, we gathered some extra tips to implement and make the most out of this amazing day:
Craft a Women's Day theme
Apart from a themed landing page, craft a Women's Day theme on your website, social media posts, or app. Consider revamping some of your brand identity elements to demonstrate to your female leads that you care to represent them. And we don't mean turning everything pink; it is considered outdated and annoying by most women. Take the extra effort to find what best resonates with your target audience so that they know you are serious about tweaking your branding for this day. But if we have to pick colours, add some purple to your theme. It's the official colour of Women's Day, representing gender equality and dignity.
Send a dedicated newsletter
As effective as social media are as an IWD marketing tool, neglecting your email marketing is like leaving money on the table. Newsletters allow you to reach your leads' most personal digital space: their inbox. You can use email marketing to show your support to women-related organisations, introduce your female employees, promote a social media giveaway, or offer gift cards or discount codes to recipients who have already interacted with your brand. This will urge them to revisit your website and perhaps move to a purchase - even more so if they know that they support a specific cause by doing so.
What's great about email marketing is that you can divide your customers into different segments and send them personalized email content based on their demographics, preferences, and behavioral data. And it doesn't take too much time or effort with the segmentation and personalization options most ESPs like Sendinblue, and popular Sendinblue alternatives provide.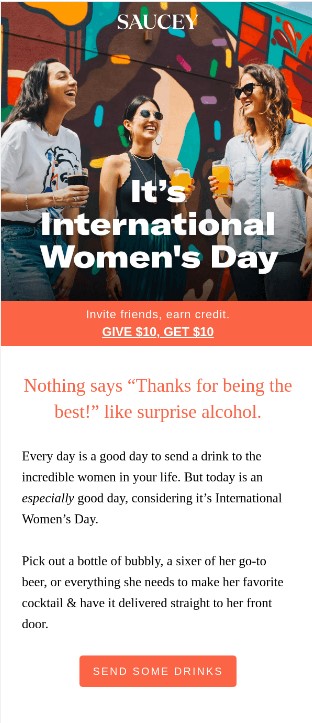 Source: Really Good Emails [open to see the entire newsletter]
Saucey leverages the occasion to motivate subscribers to send an appreciation drink to the special women in their lives. The brand also uses its IWD email campaign to promote its referral program, urging recipients to invite friends and earn a $10 credit for doing so.
Make the messaging empowering and alternative
The whole point of creating an International Women's Day digital marketing campaign is to motivate your customers to drive positive change in society and the business world, whether you share stories from women who escaped discriminating environments or paved the way for gender equality. Your content should be focused on celebrating the progress made so far and inspiring people to accelerate it even more.

Even if your target audience is mostly men, you should think about tweaking your messaging for IWD. Regardless of your niche, you can find creative ways to mark the occasion with tailored content while staying relevant to your main buyer personas. For instance, there's the option of highlighting a women-related cause or educating your audience on the fight for equity and women's rights.
Final words and a free social media campaign checklist
Moving toward this year's IWD, there are many ways to celebrate and honour women. Some brands optimise their holiday content marketing efforts with inclusive content, while others share stories to promote workplace equity or organize events to raise awareness. All in all, there are countless ways to celebrate women's rights and market your business.
IWD is your opportunity to offer value to customers rather than being another day in your calendar or another social media trend. It can also be profitable for every business willing to shape the conversation and be part of the solution. So, get inspired by the above detailed best practices to create an outstanding International Women's Day digital marketing campaign and make your audience remember it for years to come.
Maria Fintanidou
Maria Fintanidou works as a Copywriter for email marketing automation software Moosend, having created the Help Articles (FAQs) and overseen the platform's translations in Greek and Spanish. She loves exploring new cultures and ways of thinking through traveling, reading, and language learning.