Come October and brands plunge right into marketing their products and services for Halloween. According to the National Retail Federation, Halloween spending peaked at $9.1 billion in 2017 and it's expected to reach up to $9 billion this year. Shoppers spend their money on decorations, candy, costumes and even the odd visit to a haunted house.
The best Halloween campaigns in 2017 featured clever storytelling with a heavy focus on video. This year - still unclear. So, here are just a few tricks (as well as treats) you can put in your bag to create a great social media campaign for your brand.
---
Halloween is just one of many key dates which you should celebrate on social media to boost your engagement! Download our free social media calendar and keep on top of all the trending events for the year.
---
Awesome (and easy) ideas for your Halloween social media campaign
1. Decorate your store and social media profiles
We all remember the thrill of seeing storefronts all decked out for Halloween (just like Christmas and other holidays). It's a spooky and fun atmosphere to experience, no matter what product you are buying. People love it and a well-decorated store can be just enough of a nudge to encourage your customers to make a purchase.
You can spruce up your social media profiles in a similar way. Add a splash of Halloween by changing the color scheme of your cover photos or adding some spider webs and pumpkins. If you have a developer at hand, add the same graphics to your website or app for extra impact (just remember to take them off when the season ends). Google's doodles are a great example of how to celebrate Halloween and other special occasions.
2. Get creative with "spooktastic" images
Visual content like images, GIFs and videos grab the attention of social media audiences much better than plain text and link previews. Special occasions like Halloween allow businesses of all sectors and sizes to loosen up a little bit and have some fun. So it's obvious we should take advantage of this opportunity, right? Creating visual content isn't too difficult when you have the right tools and some time to spend. Get inspired and get right down to it!
There are several ways to approach this on social media, here are some fun and easy ideas for your Halloween-themed content:
Go wild with Halloween puns on Twitter
Pick a color or theme (monsters, carnival, kid-friendly) and run with it
Create spooky images and post one every day
Add fun illustrations to existing shots of your products
Take pictures of your team in their costumes
Email campaigns can help you boost the reach of your social messages by miles! The approach is similar to social, but the format, of course, will be different. Get inspired by great, but simple Halloween email tips on Digital Doughnut.
3. Offer a great seasonal discount
It's Halloween and your customers (existing and potential) may expect special offers. These can be an all-out sale, a small discount on the next order or a holiday-themed freebie with every purchase over a certain amount.
As with any holiday campaign, you can attract more engagement for your offers by using social media. Try doing a Halloween-themed giveaway on Facebook or polls on Twitter. Ask questions about autumn or the holiday and reward all participants with content along the way. Once you establish the winners, make sure that you send them their unique promotional codes and gifts.
4. Add the spook factor to your customer's experience
Want to take it one step further than decorating your social media profiles and offering a discount? How about making your product or service spooky? This technique can work for virtually any B2C business but is best suited to those that provide services and experiences.
For example, if you host outdoor activities, you can turn the night of Halloween (or the weekend closest to it) into a special event. Depending on the theme you choose, you can invite people to dress up and then share it all on social media. If your target audience isn't Halloween friendly, you could still host an event with an autumnal twist like seasonal treats and drinks instead.
In 2017, Starbucks took their Halloween celebrations to the next level by creating a limited edition 'Zombie Frappuccino.' The drink was surrounded by social media buzz, with many fans posting pictures of the creation to their Instagram and Twitter accounts. The unique and shareable nature of these posts drove momentum for the brand - with many chains selling out of the Frappuccino on the first day of the promotion.
Last year also saw the launch of Fanta's '13th Floor' VR experience, which aimed to engage 16-19 year old's with the soft drink brand. Those who took part in the scary, four minute lift ride were encouraged to share the experience via Snapchat, with the help of an exclusive Snapchat filter created just for the event. The result? Sales of Fanta have risen 14.5% in the time following the campaign.
Both of these campaigns show a great level of creativity and lead by example of how businesses can add a touch of Halloween to the customer experience.
5. Host a photo contest
It might be cliché, but it never gets tiresome. Halloween gives everyone the chance to wear silly costumes. Embrace it and host a photo contest on social media - it's a fun way to engage with your followers.
In addition to costumes, you can also opt for food creations, decorated rooms or spookiest things and places. Remember, every social media campaign must link back to your brand, mission or product - so the type of the contest must be relevant. Set a campaign specific hashtag and offer fun rewards throughout the competition with the main prize being announced on the morning after Halloween.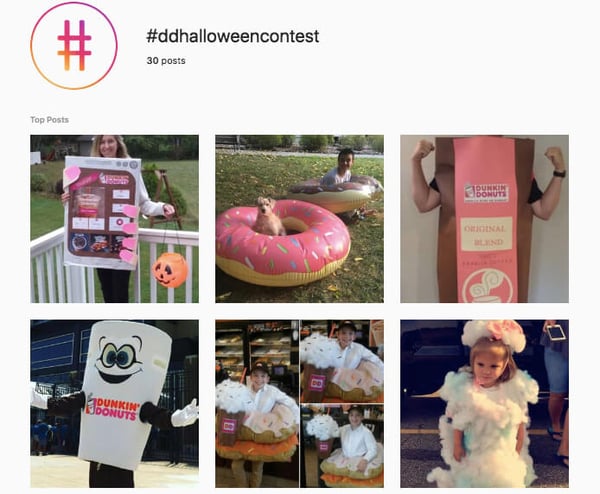 Image source: Instagram - Dunkin' Doughnuts Halloween Costume Contest 2017
You can also host the contest on a smaller scale in your own office. Ask the team to dress up, then create a poll on Twitter to find out which costume your followers like the most. Similarly, you can hold a bake-off, play fun games and document it on your Instagram - all in the effort to humanize your brand in a fun way!
6. Be helpful and give advice
Now, if you are not big on discounts, dressing up (or down) and you are not planning on scaring your clients, well, you just might go with the safe choice of some other treats, like providing some relevant advice.
The type of advice you share heavily depends on your business and opportunities are virtually endless.
For example, you can give actionable tips or talk about safety and health in relation to Halloween and/or autumn. If you are a digital agency, you can give tips on the area of your expertise in relation to the holiday. If you sell security systems, talk about the dark autumn evenings and the need to take good care of your home and possessions.
If you are in the food industry, you can create recipes and share them on social media to take advantage of the extra traffic. Each year, Delish makes a series of Halloween themed videos for YouTube that are easily digestible and accompanied by fully detailed recipes. The list really does go on and on!
Main takeaways
Decorate your store and social media profiles
Get creative with "spooktastic" images
Offer a great seasonal discount
Add the spook factor to your customer's experience
Host a photo contest
Be helpful and give advice
So there you have it - six spookily effective and simple campaign ideas for your social media on Halloween. We hope that you get to employ at least one this year and get that extra boost in engagement and sales that you are looking for!
Keep content repurposing in mind before creating new content - there may be a way you can add a twist to an already existing piece instead of creating everything from scratch.