Halloween 2022 saw Americans splurge a whopping $10.6 billion, with online shopping accounting for over 60% of that total. And brace yourselves because Halloween e-commerce spending is expected to soar to a spine-chilling $8.4 billion in 2023, surpassing last year's $6.9 billion and reaching an all-time high, according to the National Retail Federation's annual study.
So, what does this mean for you as a social media manager?
Well, it means it's time to get ready to embrace the spookiness and boost those profits this Halloween!
The most successful Halloween marketing campaigns are all about clever storytelling and captivating videos. So, I've got a few tricks (and treats) up my sleeve to help you create a killer social media campaign for your brand.
Let's dive in and make this Halloween one to remember!
But before you dive into our spooktastic tactics, check out our video by Desiree Martinez to learn more about the particularities of holiday social media marketing:
Awesome (and easy) ideas for your Halloween social media campaign
1. Decorate your social media profiles
We all know the thrill of seeing storefronts all decked out for Halloween (just like Christmas and other holidays). It's a spooky and fun atmosphere to experience, no matter what product you are buying. People love it, and a well-decorated store can be just enough of a nudge to encourage your customers to make a purchase.
You can spruce up your social media profiles in a similar way. Add a splash of Halloween by changing the colour scheme of your cover photos or adding some spider webs and pumpkins. If you have a developer at hand, add the same graphics to your website or app for extra impact (just remember to take them off when the season ends).
Decorating your social media profiles the same way as your physical or e-store will result in consistent branding and a constant yet not in-your-face reminder to your existing and new customers that your Halloween offer is active.
Starbucks always sets a high standard when it comes to celebrating Halloween and other special occasions: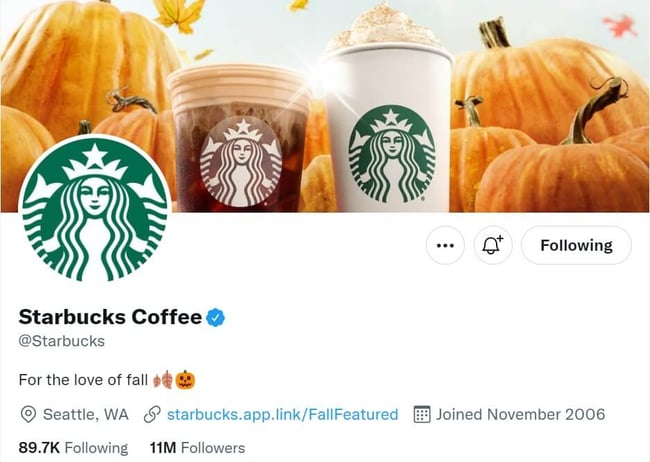 Source: @Starbucks
2. Get creative with "spooktastic" images and copy
Visual content like images, GIFs, and videos have a way of captivating social media audiences unlike plain text and link previews. But hey, if your brand is already killing it on Twitter (or Instagram Threads), then it's time to get a little spooky with your copies.

Source: @canva
Special occasions like Halloween allow businesses of all sectors and sizes to loosen up a little bit and have some fun.
So it's obvious we should take advantage of this opportunity, right? Creating visual content for your Halloween marketing campaign isn't too difficult when you have the right tools and some time to spend. Get inspired and get right down to it!
There are several ways to approach creating Halloween posts on social media to promote your offer. Here are some fun and easy ideas for your Halloween-themed content:
Go wild with Halloween puns on Instagram, Facebook or Twitter
Pick a colour or theme (monsters, carnival, kid-friendly) and run with it
Create spooky images and post one every day
Add fun illustrations to existing shots of your products
Take pictures of your team in their costumes
Email campaigns can help you boost the reach of your social messages by miles! The approach is similar to social, but the format, of course, will be different. These simple tips will help you optimise your Halloween email marketing campaign:
Do a quick analysis and determine the best and worst sending times

Adjust your email design to match the Halloween theme of your social profiles and stores/website

Highlight Halloween-themed products

Use Halloween language in your subject line and copy

Target specific audience segments and tailor the offer according to their buyer journey stage

Create an omnichannel experience by coordinating your email marketing campaign with your social media and website one
3. Offer a great seasonal discount
It's Halloween and your customers (existing and potential) may expect special offers. These can be:
An all-out sale
A small discount on the next order
A holiday-themed freebie with every purchase over a certain amount
As with any holiday campaign, you can attract more engagement for your offers by using social media. Try doing a Halloween-themed giveaway on Facebook or polls on Twitter. Ask questions about autumn or the holiday and reward all participants with content along the way. Once you establish the winners, make sure that you send them their unique promotional codes and gifts.
---
Note: Great news for your Halloween campaigns - you can now use GIPHY and Pexels right from your Sendible dashboard!
---
In terms of Halloween marketing ideas, running competitions in exchange for freebies may seem like a relatively old-school tactic, but with the help of social media, it can be brought into the 21st century and used to generate brand awareness.
Fast food chain Chipotle has demonstrated this perfectly with their #Boorito 2019 TikTok campaign. The idea was that TikTok users who recorded videos of themselves and their Halloween costumes morphing also had a chance to win a buy-one-get-one-free burrito coupon. If you're wondering how successful it was, we'll just tell you that even Zach King hopped on this challenge: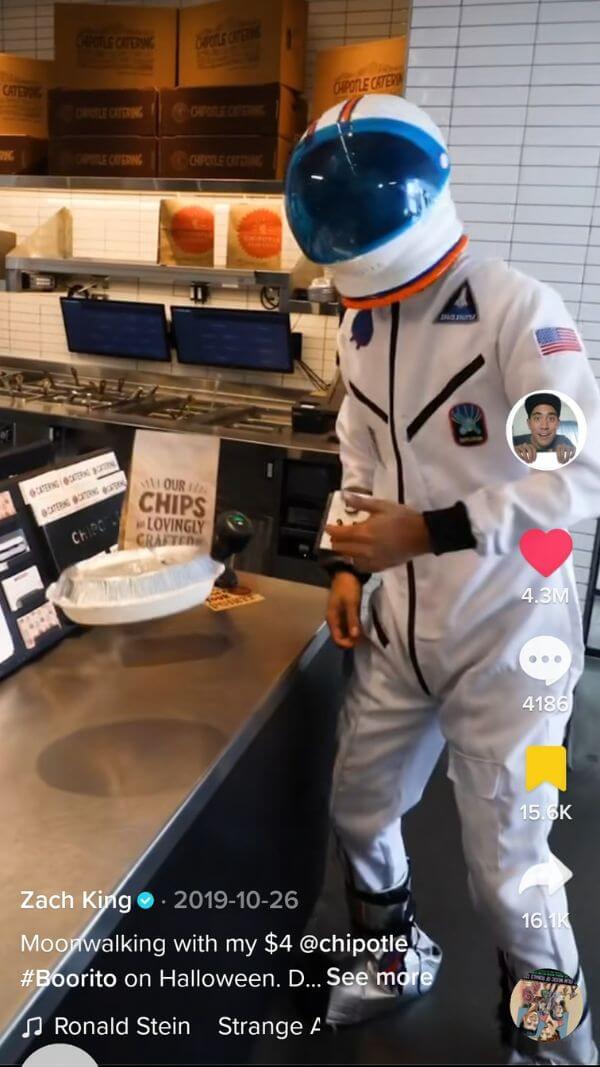 Source: @zachking
The challenge encouraged Tik Tok users to create Halloween posts on the short video platform featuring their before and after Halloween transformations. And following the success of their previous Halloween marketing campaigns, we're looking forward to seeing how they spice things up in 2022.
Talk about scarily smart Halloween marketing!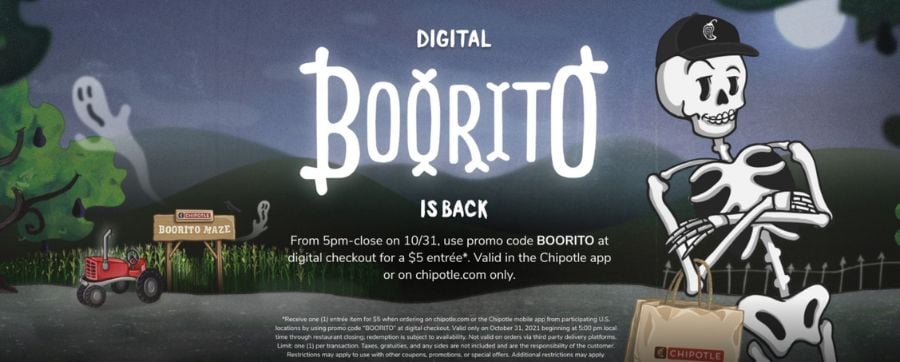 Image source: Chipotle
4. Add the spook factor to your customer's experience
Want to take it one step further than decorating your social media profiles and offering a discount? How about making your product or service spooky? This technique can work for virtually any B2C business but is best suited to those that provide services and experiences.
For example, if you host outdoor activities, you can turn the night of Halloween (or the weekend closest to it) into a special event. Depending on your chosen theme, you can invite people to dress up and then share it on social media. If your target audience isn't Halloween-friendly, you could still host an event with an autumnal twist, like seasonal treats and drinks instead.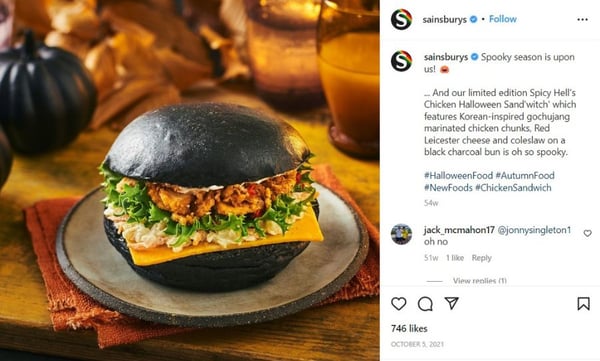 Source: @sainsburys
The bottom line is that it's all about creating noise with your Halloween posts, boosting your social media presence, and increasing brand awareness. This is why in 2021, PizzaHut joined its forces with Shudder, a premium streaming service with the best selection of horror, thriller and supernatural movies, to reward the first 200.000 users: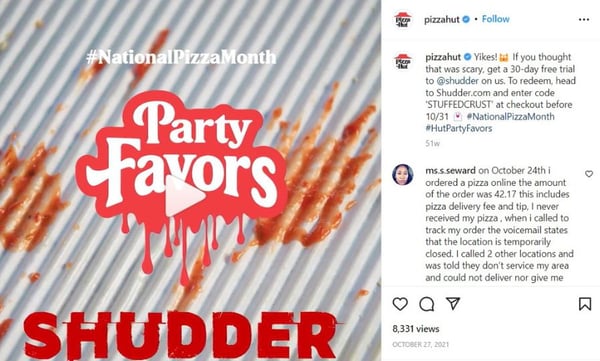 Source: @pizzahut
In 2018 Reese's took the Halloween marketing campaign to the next level! Their Halloween Candy Converter, a vending machine that allowed trick-or-treaters to swap their unwanted candy for Reese's Peanut Butter Cups. This machine popped up at various Halloween events around America, gaining worldwide attention for the brand and earning them the title of the ' Greatest Of All Time of Halloween' in the process.
Reese's then repurposed the Halloween marketing content they created at these events to engage their audience on social. They used video footage of the Candy Converter in action to create social media content, which was shared across Twitter, Instagram Stories, YouTube and Facebook - with amazing results.
Through just 12 posts, Reese's generated 536,000 engagements. That included 352,500 video views on Twitter, 70,500 video views on YouTube, 5,500 likes on Instagram, 1,300 shares on Facebook, and 5,600 retweets - what a treat!
Delighting your customers and giving them a fun Halloween experience takes thought, planning and creativity, but the results speak for themselves.
But, you can also use this opportunity for the greater good and help a cause you believe in.
Ferrero U.S.A., Inc. uses the Halloween season to help families celebrate this spooky holiday while raising money for Children's Miracle Network Hospitals. Through September 15, consumers who visit FerreroHalloween.com and make a $31 donation will receive the limited edition countdown calendar, which features an assortment of Ferrero's confections and cookies, such as Butterfinger, Crunch, Baby Ruth, Kinder Bueno, and Mother's Cookies.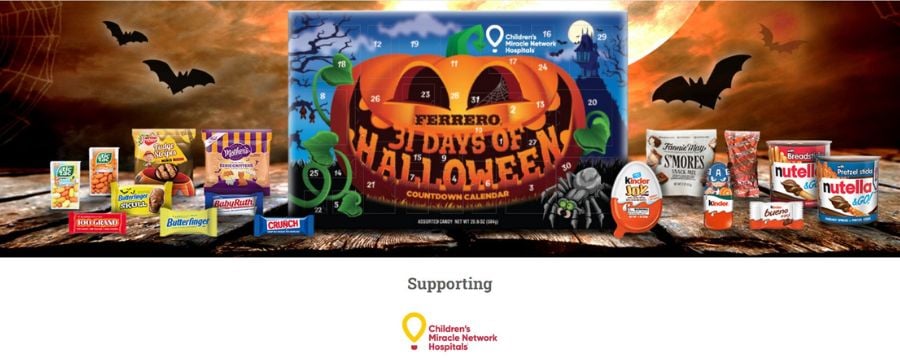 Source: Ferrero Halloween
5. Host a photo contest
It might be cliché, but it never gets tiresome. Halloween gives everyone the chance to wear silly costumes. Embrace it and host a photo contest on social media - it's a fun way to engage with your followers.
In addition to costumes, you can also opt for food creations, decorated rooms or spooky things and places. Remember, every social media campaign must link back to your brand, mission or product - so the type of the contest must be relevant.
Set a campaign specific hashtag and offer fun rewards throughout the competition with the main prize being announced on the morning after Halloween.
Mehron Makeup kickstarted their 31 Days of Mehron Halloween contest on September 1st. They've invited their audience to submit their most terrifying makeup looks by tagging them in their posts with #31DaysofMehronHalloween, #MehronMakeup, and @MehronMakeup. As they'll choose a finalist each day until 25th of October, their campaign will result in 31 user-generated, high-quality content pieces and numerous mentions that will boost their brand awareness: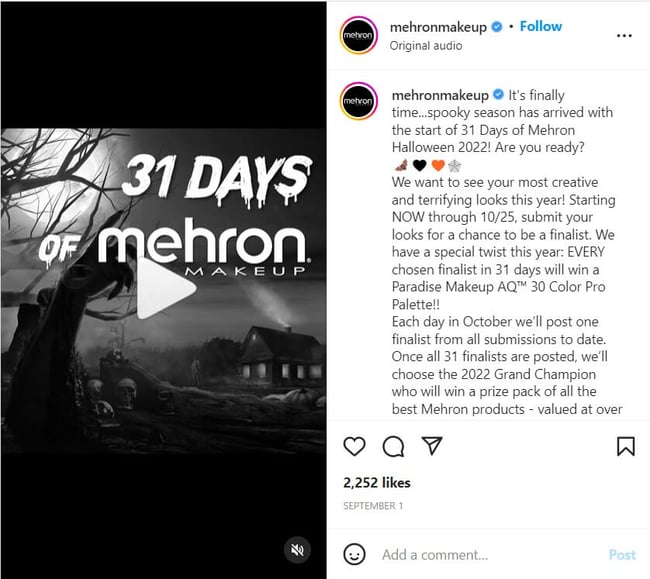 Source: @mehronmakeup
As you see, Halloween photo contest is a clever social media marketing tactic because it inspires tonnes of user-generated content, which helps to fill their content calendar for the rest of the year and does wonders for their authenticity on social.
You can also host a contest on a smaller scale in your own office. Ask your team to dress up, then create a poll on Twitter to find out which costume your followers like the most. Similarly, you can hold a bake-off, play fun games and document it on your Instagram - all in the effort to humanise your brand in a fun way!
6. Be helpful and give advice
Now, if you aren't big on discounts or dressing up and you aren't planning on scaring your clients, then you can creep it real and provide them with some relevant advice instead.
The type of advice you share heavily depends on your business and opportunities are virtually endless.
For example, you can give actionable tips or talk about safety and health in relation to Halloween and/or autumn. If you're a digital agency, you can give tips on the area of your expertise in relation to the holiday. If you sell security systems, talk about the dark autumn evenings and the need to take good care of your home and possessions.
If you are in the food industry, you can create recipes and share them on social media to take advantage of the extra traffic, just like Delish do. Each year they create a series of Halloween themed videos for YouTube that are easily digestible and encourage viewers to visit their website for the full recipe details - spooktactular!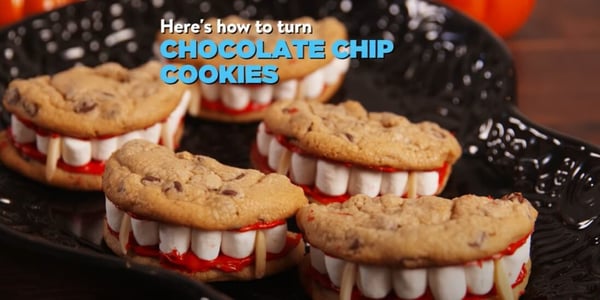 Source: Delish
A list of Halloween season hashtags
If you want to get all the best treats from your Halloween hashtag strategy, you need to create a mix of viral hashtags (such as the ones in the lists below) and those that explain the content you're posting. Don't forget that hashtags act as keywords on social media networks.
Instagram hashtags
#halloweenvibes

#spookyseason👻

#halloweengifts

#halloweengiveaway

#halloween2023

#halloweensale
Optimise your strategy with our guide: How to Use Instagram Hashtags to Grow Your Business
TikTok hashtags
#🎃halloween

#halloweendiy

#halloweenvibes

#halloweenspecial

#halloweenready

#halloweenseason
Learn more about best practices with our detailed guide to How to Use Hashtags on TikTok in Different Niches: 109 Industry Hashtags Included
LinkedIn hashtags
#halloween

#halloweendecorations

#halloween2022

#halloweenparty

#halloweencostume
Tailor your LinkedIn hashtag strategy to fit yours and your audience's needs with our guide: How to Use Hashtags on LinkedIn to Grow Your Client Base: 85 Industry Hashtags Included
Facebook hashtags
#halloweentime

#halloweengift

#halloweensale

#halloweenideas

#halloween2022

#halloweengiveaway
Wondering if hashtags on Facebook work? Check out this handy guide: Should you use Hashtags on Facebook? Here's What you Need to Know
Twitter hashtags
#halloween2022

#horrorcommunity

#happyhalloween

#spookyseason

#thisishalloween
Using Twitter for business can be overwhelming sometimes. But this guide will help you get the most out of your hashtags: Twitter Hashtags: A Guide to Finding and Using the Right Ones
Main takeaways
So there you have it - six spookily effective and simple campaign ideas for your social media on Halloween. We hope that you get to employ at least one this year and get that extra boost in engagement and sales that you're looking for!
Keep content repurposing in mind before creating new content - there may be a way you can add a twist to an already existing piece instead of creating everything from scratch. Plan your social media content calendar in advance, schedule posts, and ensure to track results and mentions to get the most treats out of these tricks.