Social media isn't a new phenomenon by any stretch of the imagination, but when it first launched, it created a whole new way to reach potential customers.
Platforms like Facebook, Instagram, Twitter, and TikTok provide a 24/7 way for people to connect with brands, and it has meant that agencies need to hire professionals dedicated to managing these new online communities.
It's great to recognise the importance of community managers in bringing people together. While many believe that social media managers are solely responsible for this, community managers also play a key role in bridging gaps.
Community managers can be hugely beneficial to agencies since they cover both social media and customer engagement (and can do so for the agency itself as well as clients):
What is a community manager
A community manager bridges the gap between social media and customer support in an agency setting. They're the go-to person for customer engagement and are on hand to answer any questions members of the brand's online community might have.
The main focus for a community manager is creating and fostering a community around an agency and its clients, whether that's on social media platforms, via email, on the blog, or other marketing and comms channels. They are expected to be well-versed in all manner of marketing materials and fluent in social channels.
Being a community manager is not an easy task. And while knowing good practices is valuable, learning about bad social media customer service practices is priceless.
The difference between a social media manager and a community manager
Social media managers are focused solely on social media efforts.
They tend to be in charge of mapping out a social strategy for each active channel and monitoring the results of organic campaigns and ads.
A community manager's first and primary task is interacting with the community - be it through DMs, in blog comment sections, or in social media comments. And, on some days, when required, they share the insights they gather with the rest of the team and act based on their findings.
Perhaps the biggest difference is that social media managers act and post as the brand, and community managers act and post as individuals.
The focus of community management is bypassing customer service on social media and offering customers help right then and there in DMs and in comment sections, getting the most out of those one-on-ones they have with customers, and simply creating more intimate relationships with them.
| | |
| --- | --- |
| Social Media Manager | Community Manager |
| Posts as the brand | Posts as an individual |
| Create social media content | Respond to social media content |
| Build and execute a social media strategy | Build and execute a community strategy |
| Focus on monitoring results | Focus on engagement and interaction |
How a community manager fits into an agency's social team
Community managers (CMs) are the only team members that have direct insight into real people, not just metrics, averages, and buyer personas. They act as consultants in the meetings and help social media managers develop a good strategy, plan, or tactics based on the insights gathered from their interactions with online community members.
With millennials completely taking over digital marketing and Gen Z getting more and more power, the concept of community management has changed at its core. Those who perceive it as a "junior role" are now living in the past, since the position has become one of the most important for building connections because the new generation (and the culture we live in) requires real people, not brands, and that's exactly what community managers do. In fact, building an online community has is still one of the leading social media trends in 2023.
Because community managers have a broad knowledge of every department from product dev to social and customer support, they slot in nicely as a bridge between teams. They provide extensive knowledge and insights into the overall agency goals and message, including making sure the social, ads, and content teams are all aligned and are sending out the right messages with the right brand voice.
They are also responsible for the community engagement part of social media and ensuring the agency's client-facing departments are interacting with leads correctly.
Key community manager tasks
Replying to comments on social media
Ensuring leads and clients are getting the right information and keeping the brand's voice consistent across all platforms. Community managers are also tasked with identifying new followers and growing an agency's social channels through conversations with high-profile accounts and potential leads.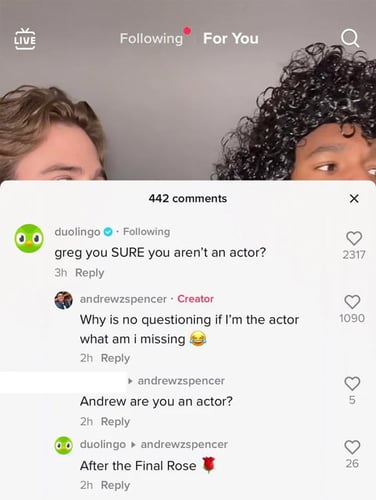 But community managers don't just reply to comments, they initiate conversations on other people's posts, too. Just take a look at Duolingo killing it on TikTok. You can barely open up a comment section without seeing a Duolingo comment, and this tactic increased their brand awareness massively! On another note, doing this has paved the way for other brands to be more casual (and even provocative) when communicating with the audience.
Interacting with customers internally
This can include responding to current client queries and helping formulate key client-facing documents, like onboarding packs and proposals. Community managers might also be point-of-contact for clients and will be the go-to person for planning and holding kick-off meetings for projects and milestone feedback.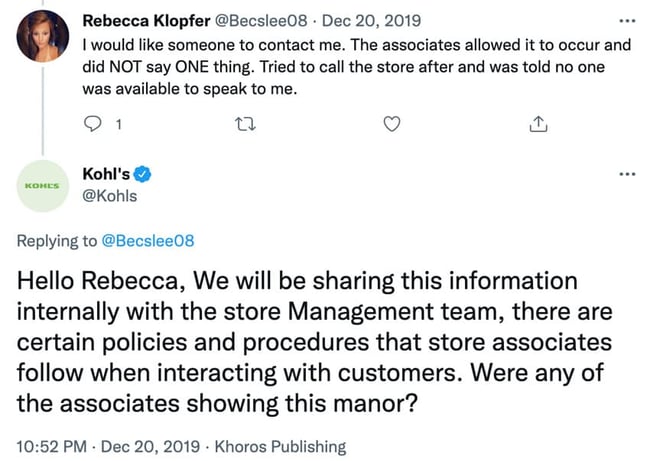 Sharing resources to answer customer questions
A significant part of the community manager job description is sharing helpful content directly with consumers. The goal is to do everything they can to avoid referring a customer to customer support, which might include sending guides on how to do something or (in the case of eCommerce) suggesting similar products if the original is out of stock.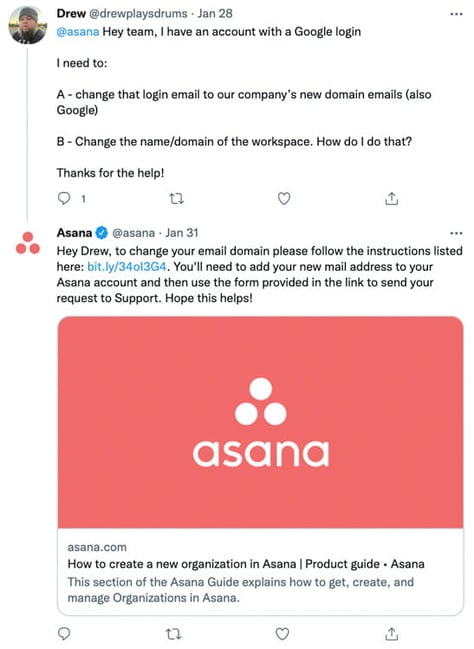 For example, Asana responds to queries with value-packed resources on Twitter.
Gathering target audience feedback
Community managers work on the front line with customers. They get first-hand insights into customer wants and needs through DMs and comment sections and therefore have the intel on customer pain points and problems. As well as passing this information on to internal teams to utilize, they can make decisions based on the data and insights they've gathered.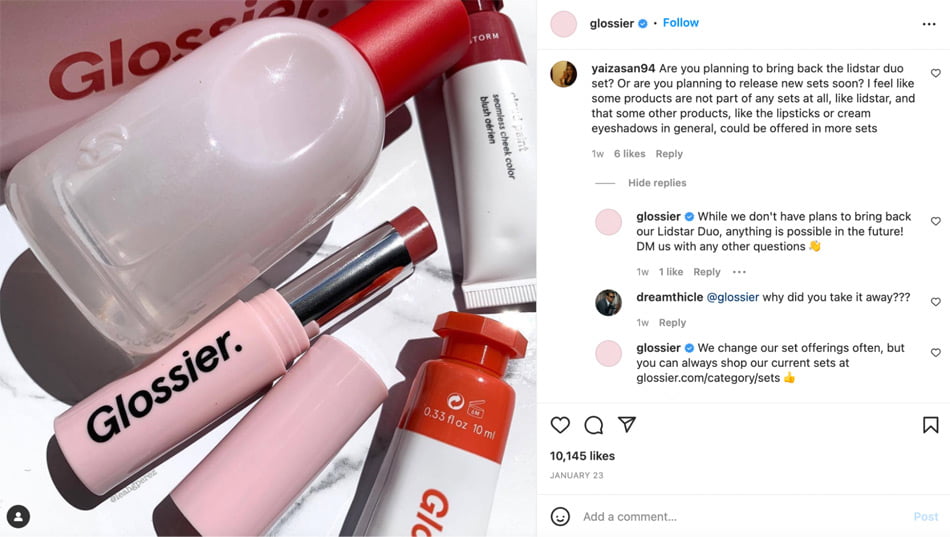 Glossier responds to comments from users who share their thoughts and wants.
Helping tailor content to audience needs
Community managers can take their deep knowledge of community members and help create powerful social proof content. For example, individual customer reviews and feedback can be made into engaging posts.
While creating content is not usually a part of community management, these managers help social media managers tailor content to the audience's needs since they know what the hidden, hot topics are.
Tracking performance
Monitoring and measuring engagement levels across all channels - not just social media. This includes email marketing campaigns, ad campaigns, and on-site content. Community managers should regularly take note of key metrics and identify any emerging trends and patterns.
While both social media managers and community managers track metrics, they look for different data points. CMs track insights like mentions, number of comments, DMs, burning questions, and hot topics, while SMs track CTR, reach, engagement rate, likes, and shares. They both track "engagement", but in different ways.
Tip: Learn how to make sense of social media data and show ROI with different metrics available on native and 3rd-party platforms.
Planning events
Coming up with ideas for online events that promote the client's message and will reach the target audience is the new "must-have" tactic.
During the pandemic, community managers had to become comfortable planning and hosting live events, which often meant they needed a firm grasp of the most popular tech platforms and master the more difficult task of keeping attendees engaged while sitting in front of a screen.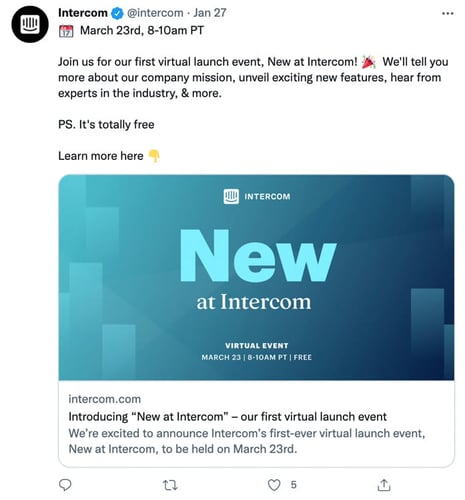 Intercom promotes its first virtual launch event on Twitter - probably planned and executed by the CM.
Building relationships with influencers
Identifying and reaching out to relevant influencers and bloggers, introducing partnerships, and generally making themselves heard by the right people in the right industries. This also extends to forming partnerships with similar brands for collaboration and to raise awareness of the agency and its clients. Their most important task is to engage with the influencer's audience and attract new customers.
Trestique responds to influencer Clara Wang including them in a post.
Managing community during times of crises
The pandemic showed that community managers had to be flexible in the wake of potential crises. But it's not just global pandemics that they have to tackle-it's smaller events that can quickly give a brand a bad rep.
Take Chanel's 2021 advent calendar mishap as an example. The brand received a lot of hate for staying silent about its seemingly overpriced calendar on social. In doing this, they directly helped their main competitors (who swooped into the comment section to add fuel to the fire).

The main sticking point was that their community managers didn't say anything and didn't respond to comments, and eventually, they deleted their TikTok account so they wouldn't have to deal with it. However, users took the fight to Instagram, where Chanel's community management strategy remained the same. They continued to pretend that nothing had happened. The brand thought the storm would pass in a day or two (spoiler: it didn't), which is precisely what enraged the audience. Even people who weren't into fashion were irritated because these days, it's considered disrespectful to stay silent.
It's crucial for community managers to be on the ball with what people are saying about clients online. Using Sendible's monitoring features allows brands to manage their comments and direct messages on social media platforms like Facebook and Instagram and respond to potential crises before they escalate.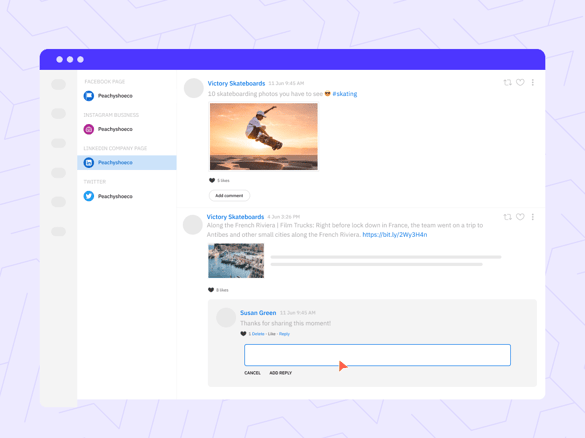 Skills that come in handy for community managers
Community managers have a finger in pretty much every pie at an agency, which means they also need a hefty suite of skills to succeed.
Communication skills: community managers engage with leads and clients both offline and online.
Organisational skills: planning events and mapping out strategies that run in tandem on multiple channels is no easy feat.
Creativity: coming up with brand-relevant campaigns requires a certain amount of creativity.
Curiosity: knowing what competitors are up to and how the industry is faring is important information for a community manager to have.
Ability to drive conversations: engagement is crucial for community managers, and being comfortable starting discussions is a key skill.
Analytical: measuring results and deriving potential improvements from them is important for growing an agency and its client accounts.
People person: community managers interact with everyone from the internal dev and marketing teams to external stakeholders and clients.
Marketing savvy: community managers must understand a broad range of marketing activities and how they can affect engagement for a brand.
Writing skills: community managers are often tasked with writing emails, content, and client-facing documents, making written communication vital.
Where to find agency community manager roles
Looking for a community manager role within an agency? Or maybe you're wondering where to post your ad for a community manager?
Here are some places you can start your search:
Job sites: aggregate platforms like Indeed and Monster (both UK-based) bring together a wealth of roles in one easy-to-access place
Social media: search Twitter using phrases like "looking for a community manager"


LinkedIn: search "community manager" in the search bar and filter by jobs


Community manager job description template
Community manager roles will vary depending on the agency and its clients. Some roles might be social-heavy, while others might be more about planning and hosting online events. Look out for the key responsibilities in any job ads you come across to determine where the emphasis might be in an agency.
Here's a sample template including:
Overview
Responsibilities
Requirements
Become a community manager in an agency setting
Community managers are an integral part of an agency's marketing and social team (as well as the client's!). They make all messaging cohesive across different platforms and have an understanding of all the moving parts of the agency and its client contracts.
Becoming a community manager means creating and nurturing an online community, and providing an excellent experience for the target audience, leads, new customers, and existing ones.