As the online world keeps changing, so do the opportunities for brands to connect with their customers. One opportunity lies in the celebration of social media holidays. These unique, fun and often quirky holidays allow brands to infuse creativity into their online presence, promote a sense of community, and, most importantly, create meaningful connections with their target audience.
This blog will explore the art of celebrating social media holidays as a brand by unlocking:
So, let's dive in and discover how to make these social media holidays an integral part of your brand's online strategy.
What are social media holidays?
Social media holidays are events that offer marketers the opportunity to create engaging content around memorable calendar dates. They can be fun or charitable, local or global, but they must resonate with your or your client's target audience.
Benefits of using a social media holiday calendar
Builds Brand Personality: Social media holidays allow brands to showcase their personality and values by participating in or recognising relevant holidays such as #IndependanceDay. This can help humanise your brand and build stronger connections with your audience.
Taps into Marketing Opportunities: Many holidays and events provide brands with marketing opportunities. You can run special promotions, discounts, or campaigns that coincide with specific dates like #BlackFriday, helping attract more customers or followers.
Increases Engagement: Sharing content related to holidays and special events like #InternationalWomensDay can boost engagement with your audience. People are more likely to interact with and share posts that align with their interests or the current season on social media.
How to participate in social media holiday celebrations
It's no secret that social media can be a noisy place. Marketers sometimes need help to get their messages heard above one another, and using social media holidays creates an opportunity for this. Let's check out ways to celebrate social media holidays:
1. Be Authentic
It's simple - originality is key to great social media holiday content.
You could showcase members of your team in holiday-themed photos or videos to humanise your brand. Team members can participate in various ways, such as dressing up in holiday attire, sharing personal holiday stories, or demonstrating the use of your products or services in a holiday context. This allows your audience to see the faces behind the company and build a stronger emotional connection.
2. Encourage audience participation
Social media marketing is all about connecting with others, and celebrating social media holidays is a great way to open up a dialogue between your brand and its followers.
You could create holiday polls, which are interactive and easy for followers to participate in. You can then reshare their responses to polls or questions and even feature follower stories or testimonials related to the holiday. This reinforces your brand's connection with its audience, encourages participation and generates authentic content you can feature on your social media profiles.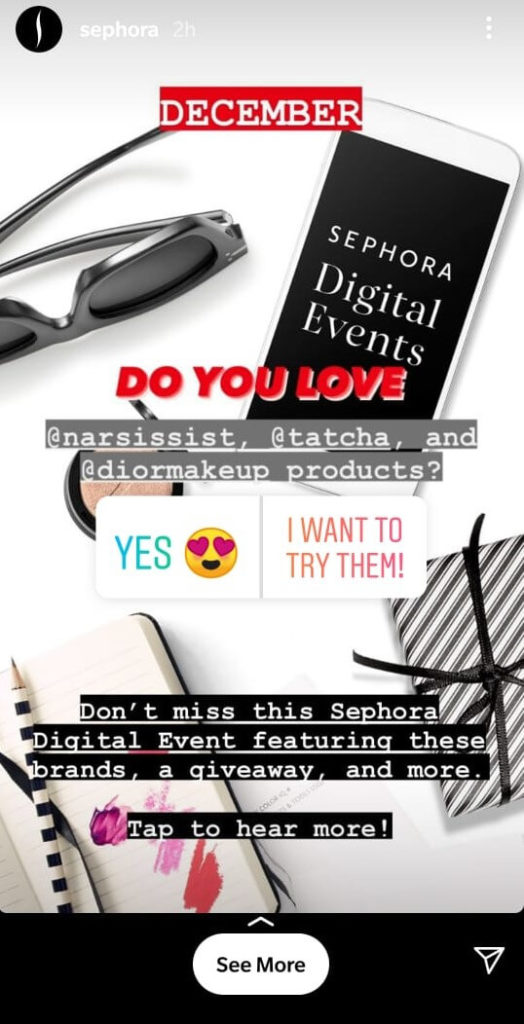 Source: sephora
3. Create special offers in your niche
Offering special promotions or discounts within your niche when celebrating social media holidays as a brand can be an effective strategy to attract attention, engage your audience, and drive sales or conversions.
Special offers or promotions are attention grabbers. When you tie these promotions to a relevant social media holiday, it creates a sense of urgency and excitement among your followers. People are more likely to take notice of your brand and engage with your content when there's a clear benefit involved.
How Sendible makes social media holidays easy to celebrate
From national holidays to food-related celebrations, social media holidays are filled with numerous opportunities for marketers. However, it can be a real challenge to keep tabs on all of them. But don't worry, Sendible's social media calendar is here to the rescue, serving as a handy place for all the important dates you plan to celebrate.
Since generating engagement and being authentic are huge priorities for marketers, our calendar contains events that are not only widely celebrated but also socially significant, like #LGBTQMonth, #MentalHealthMonth and #ValentinesDay and the best part is that it comes as a go-to website page that's easy to use and share!
Top tip: bookmark our holiday calendar website to access it quickly!
What's even better is that now our social media holiday calendar is seamlessly integrated right into your Sendible dashboard. This serves as a helpful reminder of upcoming holidays and makes celebrating them a breeze. You'll never miss a chance to connect with your audience during these special moments.
Check out how easy it is to schedule a social media holiday on Sendible👇
Social media holiday favourites to celebrate
January
New years day 🎉 (1st Jan 2024)

National Trivia Day 🤡 (4th Jan 2024)

Opposite day

🔃 (25th Jan 2024)
February
World Cancer Day🎗 (4th Feb 2024)

Valentines Day 💞 (14th Feb 2024)

Pancake Day 🥞 (21st Feb 2024)
March
International Women's Day 👩(8th Mar 2024)

St. Patrick's Day ☘️ (17th Mar 2024)

World Water Day 💦(22th Mar 2024)
April
April fools Day 🤪 (1st Apr 2024)

World Health Day 🩺 (7th Apr 2024)

Earth Day 🌏 (22th Apr 2024)



May
National Fitness Day 💪 (6th May 2024)

Parents' Day 👨‍👩‍👧 (8th May 2024)

Memorial Day 🇺🇸(27th May 2024)
June
World Environment Day 🗺 (5th Jun 2024)

National Selfie Day in 📷 (21st Jun 2024)

World Social Media Day 🤳(30th Jun 2024)
July
Independence Day 🇺🇸(4th Jul 2024)




World Chocolate Day 🍫(7th Jul 2024)

National Joke Day 😂 (24th Jul 2024)
August
International Cat Day 🐈‍⬛(8th Aug 2024)

Relaxation Day 😌 (15th Aug 2024)

World Photography Day 📸(19th Aug 2024)
September
Friendship Month 🙌 (1st Sept 2024)

Social Media Managers Day 🧑‍💻 (17th Sept 2024)

World Tourism Day 🗽(27th Sept 2024)
October
International Coffee Day ☕️(1st Oct 2024)

World Smile Day 😀 (4th Oct 2024)

Instagram's Birthday 📱(6th Oct 2024)
November
World Vegan Day 🥦(1st Nov 2024)

National Candy Day🍬 (4th Nov 2024)

World Kindness Day☺️ (13th Nov 2024)
December
Make a Plan for Next Year 📝 (5th Dec 2024)

Christmas Jumper Day 🇬🇧 🎄 (9th Dec 2024)

Christmas Day 🎅 (25th Dec 2024)
And don't forget, you can effortlessly schedule these holidays directly from Sendible in seconds!
Wrapping it up
Taking part in social media holidays opens many fantastic benefits for marketers as they can celebrate social media holidays and provide plenty of meaningful causes to throw their weight behind.

With Sendible's holiday calendar integration and user-friendly platform integrating holiday campaigns into your strategy is made a breeze.
So, why not? Start your Sendible journey today with a 14-day free trial.