Planning content for your clients is perhaps not the most glamorous of tasks, but it's an essential one. And if you don't have a good system in place, it can quickly turn into your worst nightmare.
- The one where you're running around the office like a headless chicken.
So how do you keep everything organized? The best way is to use a social media editorial calendar. It'll help you and your team plan, create, execute, and review each client's content in an orderly fashion.
-

No more 'last minute dot com' scrambling for something to post.
In this article, you'll discover how to create a balanced social media calendar that you can oversee and plan with your team. We've also included some tools and apps that will help you create a compelling content mix for your clients.
What is a social media editorial calendar?
A social media editorial calendar is an app or a spreadsheet that's used to plan your social media content in advance. It helps identify who's responsible for creating the content, plus when and where the content will be published.
For instance, you could use a spreadsheet like Excel or Google Sheets with shared team access. Alternatively, you could use a visual app like Asana or Airtable, or opt for a purpose-built social media management tool that includes planning and scheduling.
Why use a social media calendar?
When you're planning content for your clients, a calendar is essential for you and your team.
Unity - with one calendar you have a central focal point that everyone uses. No more docs and post-it notes scattered around computers and desks.
Accountability - comes with the dates and times you assign team members. No more second guessing who is responsible for each piece of content.
Efficiency - planning rather than dashing around last-minute means your team is working efficiently.
Effectiveness - publishing the right content at the right time increases your chances of success. Measuring and evaluating content means you can refine your plan for the following months.
Tip: If you'd like to discover how to run your social media marketing agency more effectively, make sure to check out our free guide!
How to create a social media calendar
Now we know the 'what' and the 'why', it's time to create a balanced editorial calendar step-by-step.
Step 1 - Start with an audit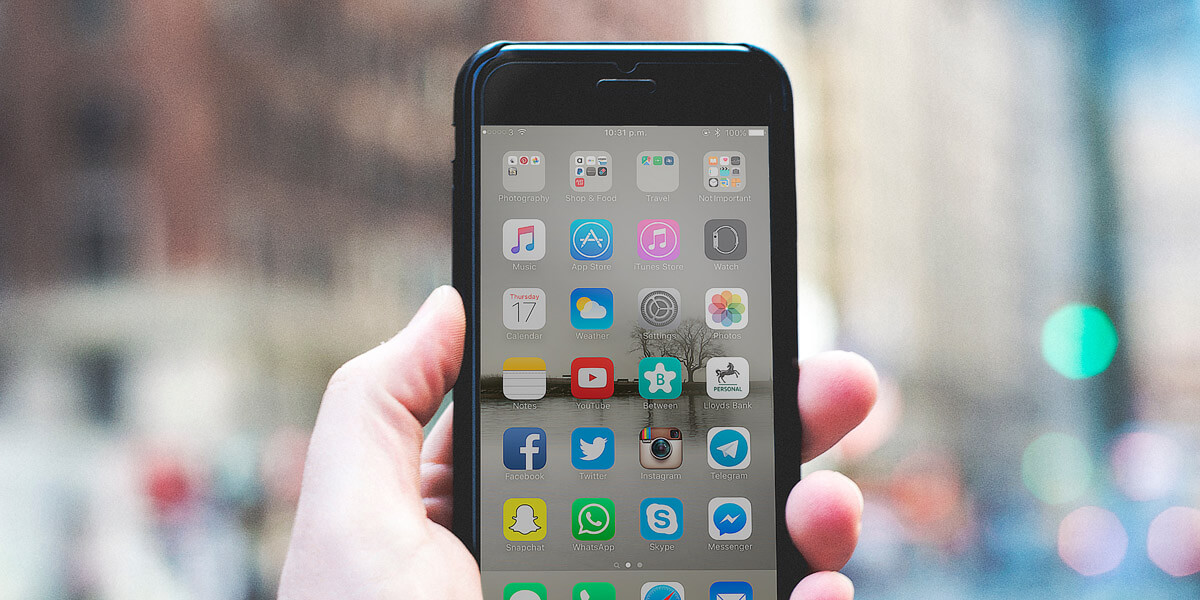 Before you start filling your calendar with new content, it's a good idea to know what worked (and failed) previously. That's great if you're working with an existing client, but what do you do for new clients?
Let's take a look at each scenario.
Scenario A - Existing client
If you have an existing client, you can tap into the available analytics and insights to see what networks and content types work best. How you evaluate the data depends on what goals you set for your social media plan:
Brand awareness – have mentions of your client's brand increased compared to past results?
Reach – do your client's analytics show an increase in reach from the previous month?
Engagement – what is engagement like on current posts vs. previous posts? Is your client's engagement rate increasing?
Sales – how many sales did your client get? How does that compare to past results?
Lead generation – how many leads did you generate? How many new subscribers were added to your client's sales funnel?
Referral traffic – how many visitors went to your client's blog or website thanks to your social media posts?
If you need more help, try our guide on measuring and proving your social media ROI.
Each social media platform provides useful insights and analytics. Here's where to find them:
To view insights for your client's Facebook Page:
Go to their Facebook Page or Facebook Business Manager.
Click the Insights tab at the top of the Page.
Click the sections on the left - Reach, Views, Actions, etc. - for more information.

Image source: Facebook
To view your client's Twitter analytics:
Log into their account.
Select the Tweets and Audience tabs to see the different data.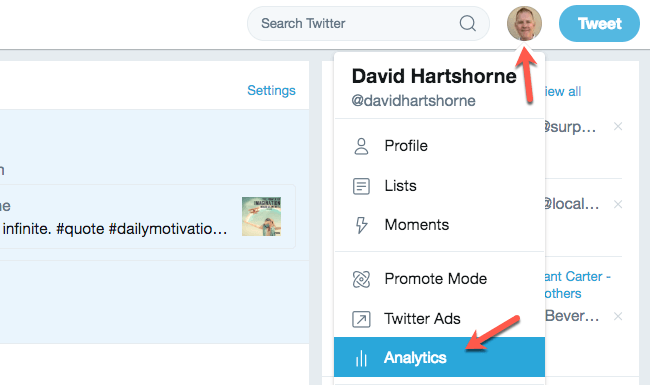 To view insights for an Instagram business profile:
Go to your business profile.
Tap the icon at the top right corner of your profile.
Select specific posts, stories or promotions you'd like to view insights on.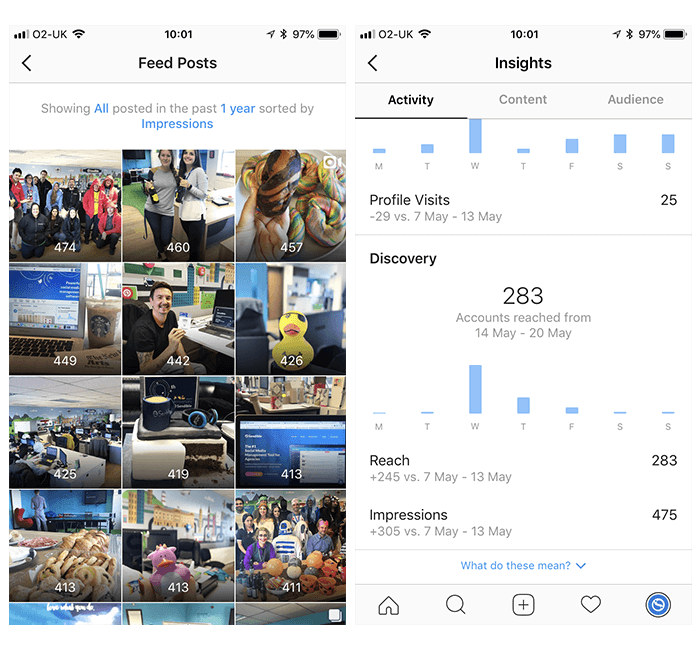 To view analytics for a LinkedIn Company Page:
Click the Me icon/photo at the top of the LinkedIn homepage.
Below Manage, select the Company Page.

To view analytics on Pinterest:
Go to the profile.
Click the gear menu or click on Analytics.
There are three types of analytics, with metrics about your Profile, People you reach, and your Website.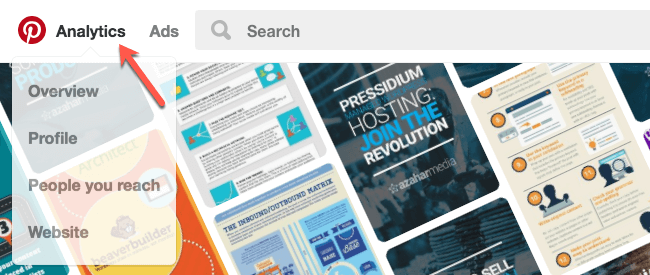 Scenario B - New client
If you're working with a new client, then things are a little different. They may have historical data that you can research as above. But if they've never used social media before, then you'll need to establish a few ground rules.
a) Understand their brand and tone of voice
Hopefully, your client will have a Brand Identity document. If not, then you'll have to create one with them. Consider the following:
Who are their target personas/ideal customers?
How formal/informal does your client want to be?
What words do they use frequently?
What words would they never use?
Do they use slang?
What about acronyms or hashtags?
b) See what works for their competitors
Check similar brands to see what type of content they're publishing on social media. Take the time to evaluate what content gets the best engagement. Use a listening tool to monitor competitors on social media to see what they're doing and how successful they are.
c) Create a plan
It's important to establish what your client's goals are when it comes to social media marketing. If you don't have an objective, how can you measure your success? Do they want engagement, leads, sales or brand awareness? Try this social media questionnaire for new clients to make sure you get off to the best possible start.
Step 2 - Plan your content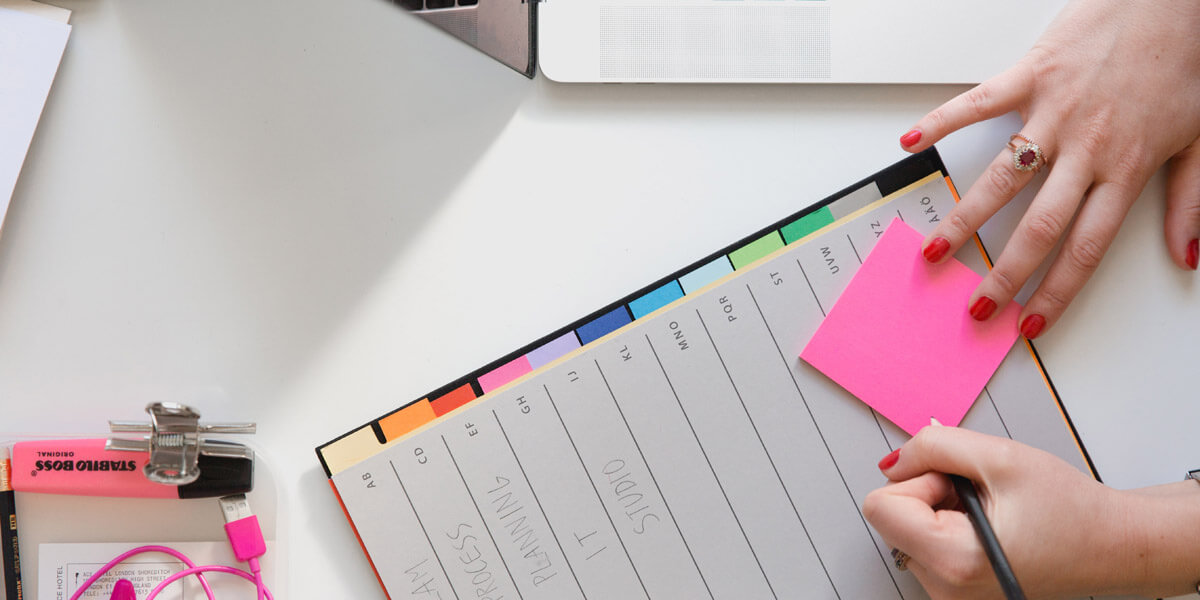 The second step is to start planning your content. Here's what you need to consider.
Decide on a publishing frequency
You'll need to decide how often you're going to post on each of your chosen platforms. There's no right or wrong answer here. What's more important is publishing quality content on a consistent basis. It helps to establish your client's goals first and then work backwards from there. For example, if your client wants to get 10 contact enquiries from Facebook every month, you will spend more time on creating exciting content on this network rather than pinning inspirational content on Pinterest.
Develop the right mix of content
Next, you'll need to consider your content mix. You need a balance of your client's content plus curated content from other reliable and relevant sources. And you'll need to decide what type of content you require for each network. Let's take a look at some of the inputs:
a) Client content
What sales dates do you need to plan? For example, there are annual and seasonal sales like Black Friday, Cyber Monday, and Christmas that may be applicable. Check the National Day Calendar for a list of holidays.
Does your client write blog posts and if so, do you need to factor these in?
Are they launching a new product or releasing a product update?
Are there any company, local, or national events to add to the mix? If you'd like some help, then download our Social Media Holiday Calendar that includes 190+ events with trending #hashtags to increase the reach of your content on social media.
Pro Tip: Color-code content for different campaigns, events or promotions in your planning. Here's an example from Social Media Examiner: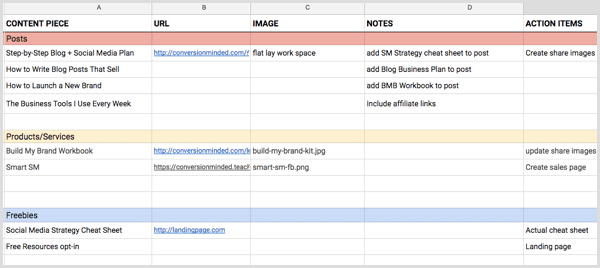 b) Curated content
Here are a few tools to help source curated content:
Buzzsumo lets you search for the most socially shared content on a chosen topic. Here's an example of the term 'DSLR photography':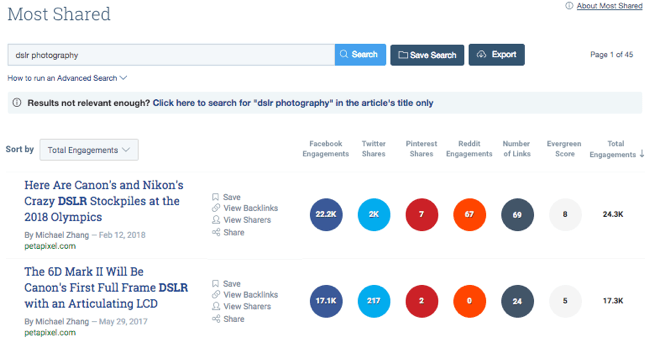 Feedly aggregates content from selected websites into one collection. Enter a topic and Feedly will suggest the top publications: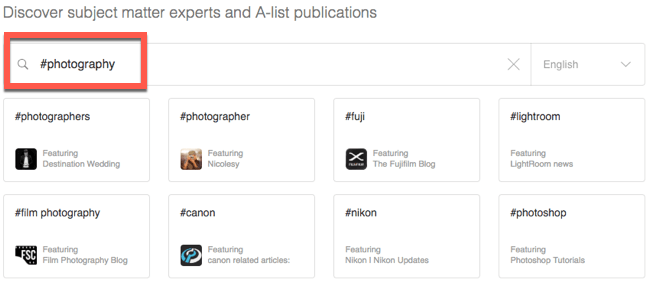 From there you can select articles you want to share:

Sendible includes a useful Content Suggestions feature that analyzes posts already shared on social media and suggests content most likely to generate high follower engagement: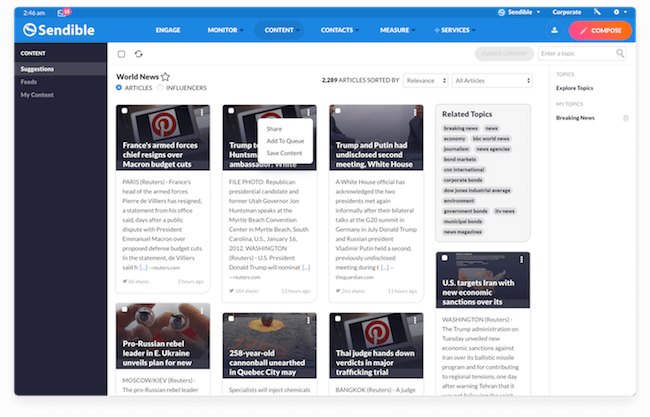 There's also an RSS Auto Posting feature to publish content from your selected websites. Both options provide an excellent source of curated content.
c) Content types
One final consideration for the content mix is choosing what type of content you're going to publish to each social network. Will it be text, images or videos, and will it include links to other sources?
Furthermore, each platform favors certain content types, so one topic might need various kinds of content pieces. For example, a blog post could be shared as a link on Facebook and Twitter, but would require a more engaging photo or video on Instagram.
Create your client's content
Now you have an idea of what content you're going to create, you need to decide who will create it. Depending on the type of content, you might need several people with different skills. For example, you may need a graphic designer and a copywriter to ensure both the image and text are created to a high standard.
You'll also need to factor in deadlines for creating the content. Your editorial process may involve management approval and most likely client approval, so lead times become extended. Consider using a project management tool like Asana so you can manage the editorial workflow: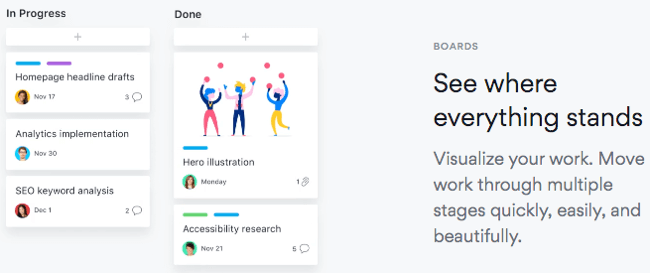 Step 3 - Populate and manage your calendar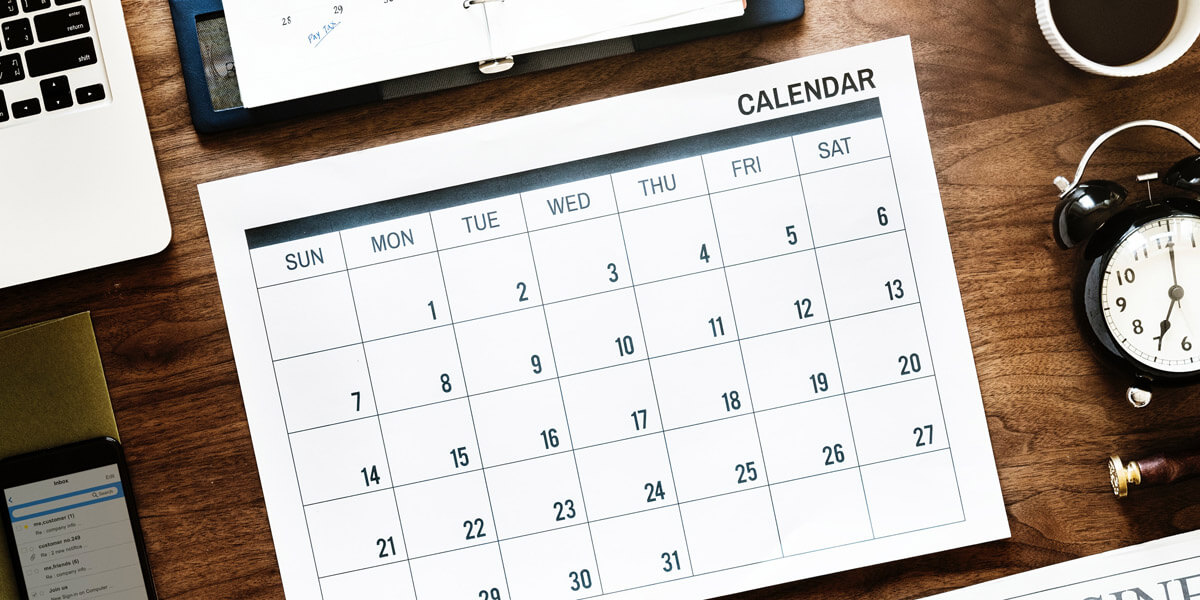 The final step involves adding your content to your chosen calendar. Let's take a look at a few options.
Google Sheets
If you want to use Google Sheets, then you could download this social media calendar template or create it manually following the steps in this article on Social Media Examiner. The final result looks like this: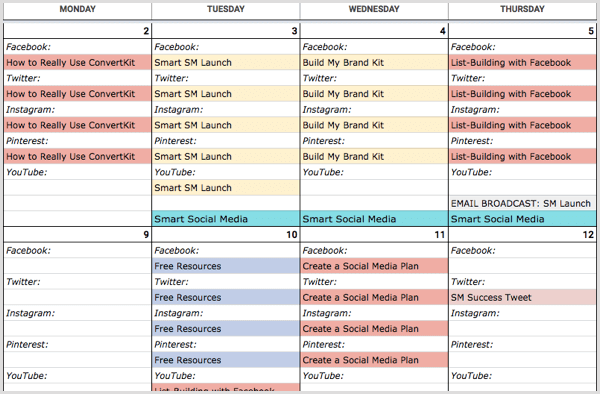 Airtable
Airtable is like a spreadsheet, but bigger and better. You can manipulate data as you would in a database with groupings and filters, plus you also get different views of the data including calendar, kanban, and lists.
Try this content calendar template to see deadlines, promotions, and other important dates: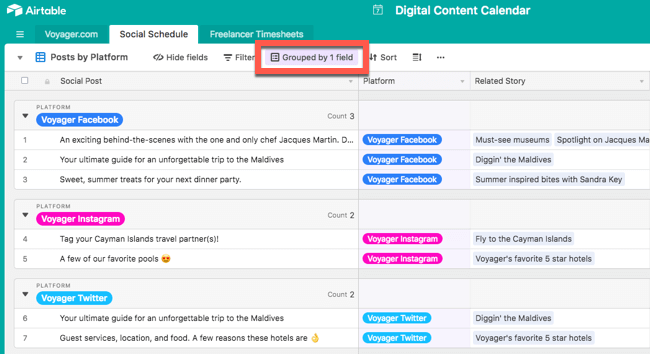 Switch views to check the status of different content ideas:

Or use the calendar view for an overview by Month, 2-Week, Week, 3-Day or Day:

Sendible
When you're managing multiple clients, then you'll benefit from a dedicated social media management tool. Sendible's visual calendar lets you filter your content by client account as well as scheduling social media posts and sending them for approval. And by setting individual permission levels, you can make sure only the right people see the right parts of the dashboard: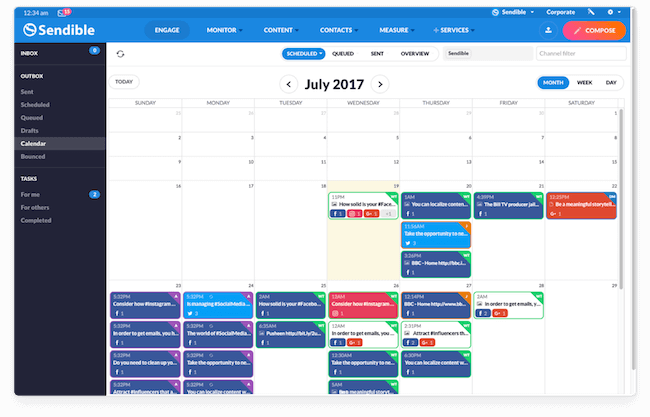 Step 4 - Review your performance and plan again
This is a reminder to go back to Step 1 because having published your content, you'll need to review it and make any necessary adjustments. Ask yourself: What worked and what didn't? How can we improve? Is there something new we should try?
Final thoughts
Using a social media editorial calendar is the most sensible way for you to plan the content for your clients without losing your sanity. For best results use a visual calendar and remember to review and adjust your plans accordingly.
We would love to know more about you! What tool are you using for your social media editorial calendar?
Level-up your social media.
Subscribe to our blog to get valuable insights so you can maximise your results.