Should marketers be using TikTok for business?
It's a big question, but the short answer is yes.
But wait, didn't the U.S. congress just have a hearing with TikTok's CEO Shou Zi Chew? Yes, and it backfired.
It's truly heartwarming to see the power of community on TikTok. After Chew's interview with The New York Times, where he humbly asked for more followers, he was met with an overwhelming response. With over 2,000,000 new followers and counting, this illustrates the essence of this social media platform and why it's adored by so many creators and businesses alike.
In 2018, TikTok first became available worldwide, primarily used by the younger audience for entertainment. However, as time passed, the demographics changed, new opportunities arose, and in 2021, TikTok reached over 1 billion monthly active users, making it a powerful social media platform.
And nowadays, we keep seeing this social media platform adjust features to capitalise on its key opportunity - social and e-commerce.
But even though we've witnessed numerous success stories and watched it transform into a powerful social media marketing asset, many brands still have reservations about including it in their strategy.
So, to help you decide whether you should use TikTok for business or not, we've created this mega-guide that covers:
Before we dive in, make sure to snag our free TikTok account management checklist. Trust us, ticking off those boxes will be so satisfying, you'll forget you're actually working! Plus, it'll help boost your engagement and make your marketing efforts even more effective.
What is TikTok, and why should you be present on it
TikTok is a video-making app and social media platform where you can create short-form videos.
The TikTok video length can be anywhere between 6 seconds and 10 minutes!
From a marketers standpoint, some of the biggest worries are whether the target audience is on this platform and the ROI they can get from promoting their business on this social media platform.
So here are some important stats you need to take into consideration before deciding if you should include TikTok in your social media strategy: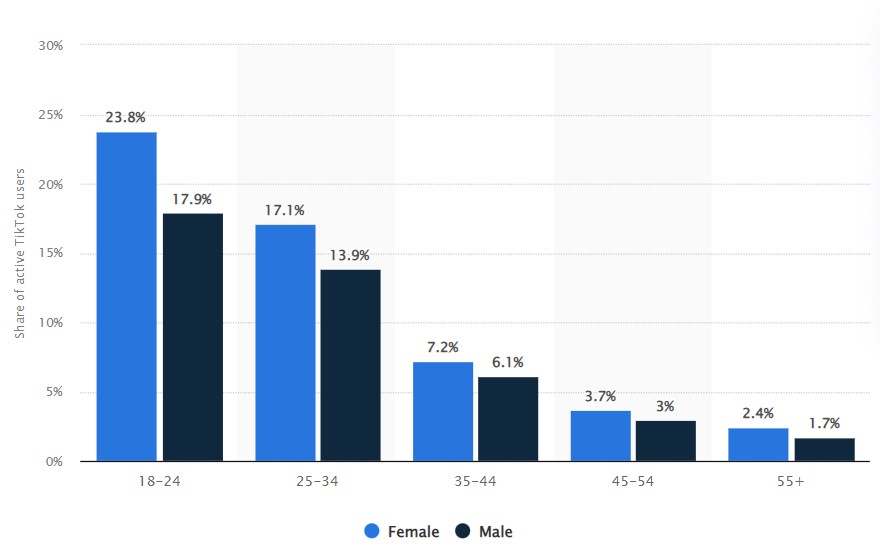 Source: Statista
The percentage of U.S.-based TikTok users by age: 10-19 - 32.5%, 20-29 - 29.5%, 30-39 - 16.4%, 40-49 - 13.9%, 50+ - 7.1%. This means that the

TikTok userbase is ageing up

.

As of September 2022, users had paid $914.4 million on TikTok globally, making it the highest-grossing non-gaming app in the world. It also estimates that lifetime customer spending on the app has hit $6.3 billion.
Aside from the great social commerce potential, the fact that the userbase is ageing up, and an incredible watch time, TikTok content is easy to share and repurpose, which explains why you frequently see these videos on other social media channels.
---
How to share a TikTok video?
To share a TikTok video, all you have to do is choose the 'share' button on the bottom right when you play videos. You can:
Directly share the video to other social channels from the app

Download TikTok videos

Get their links to share them elsewhere

Embed them in articles



---
The easy share option makes one thing crystal clear: you can easily cross-promote the content you create here on other channels.
TikTok also offers an extensive library of filters, effects, and pre-licensed music that's ready to use. And all of these represent excellent opportunities to hop on trends and grow brand awareness. But, we'll talk about this in a minute.
If you've added music to your marketing videos before, you'll know how challenging it can be to find the right tune you're allowed to use. TikTok offers a commercial music library for businesses to sort this issue, so you get a vast range of music to pick from without worrying about permits and licenses.
Another plus point of TikTok for business? You can reap a lot from this social media channel both organically and by partnering with influential content creators, as this platform has the highest social media engagement rates per post:
Upfluence found micro-influencers had engagement rates of 17.96% on TikTok, 3.86% on Instagram, and 1.63% on YouTube. At the other extreme, mega-influencers had engagement rates of 4.96% on TikTok, 1.21% on Instagram, and 0.37% on YouTube.
Sounds too good to be true?
Well, here's the thing: your TikTok videos need to be super creative to catch your viewers' attention. How so? Let's look at that next.
What sort of content performs best on TikTok
Broadly, your focus should be on either of the two content types:
Educational content
Short videos educating the audience perform really well. Especially if you use these videos to answer actual questions from your audience, share actionable tips, take them behind the scenes, and offer them an opportunity to get to know a different side of your brand.
And if you ever start doubting whether the TikTok audience is really interested in such "boring" topics, remember that @sheetgeek, a channel dedicated solely to posting Google Sheets tutorials has 2.2 million followers and counting:
Entertaining content
Duolingo, an American educational technology company is a great example of a business doing well on TikTok. Their TikTok marketing focuses on making funny videos that feature their mascot, and they produce tonnes of entertaining, viral content:
To sum things up, the content you create for TikTok should be light-hearted and fun. This stands true even if you're a serious brand. Hard to swallow? Watch this TikTok video from The Washington Post:
How to get started with TikTok for business
As with any social media platform, it's best to get started with a plan on TikTok.
Step 1: Create a TikTok account
Download and open the TikTok app.

Create a new personal account. You can use your email, phone number, or log in with your Google, Facebook or Apple ID.

Tap

Me

in the lower right corner, then tap

Edit Profile

. This is where you can add a profile picture (or profile video), bio, and links to your Instagram and YouTube profile. Make sure to use the bio section to tell your audience exactly who you are and what you do.

To switch to a Business Account, tap the three dots in the upper right corner, then

Manage Account

.

Tap

Switch To Pro Account

and choose between

Business

or

Creator

.

Now, pick the category that best describes your brand and tap

Next

.

Add a link (this can be your website, e-commerce store, or even a linktr.ee or lnk.bio) and an email address.
Step 2: Do the research
Once you've created the account, make sure to do thorough research of the existing content. Search for relevant hashtags and influential content creators from your niche. This will not only give you an idea of the type of videos you need to create, but it will also help you curate your feed.
Make sure to engage with relevant videos. Otherwise, TikTok's algorithm will spam you with all sorts of irrelevant content. The sooner you "teach" the algorithm what content is relevant for your brand, the faster you'll develop a content creation strategy.
Step 3: Create a marketing plan
When creating a TikTok marketing plan, the best thing to do is:
Keep an open mind

Experiment
Get to know your target audience's behaviour and needs on this particular social media platform, as they might differ from those on Instagram, LinkedIn, and Facebook.
Yes, most of the audience joins this platform to relax and take their mind off everyday stress. Still, they also come here to express their opinion, learn more about brands they care about, support causes, and find out about new exciting things.
TikTok is your chance to show a different side of your brand. The one you haven't explored on other social media platforms. And who knows, you might just uncover some hidden potentials that will help you grow your business!
How to create your first TikTok video
Option 1: Record a
video
directly with the app
Get started with creating your first video by clicking the "+" option in the centre of your screen: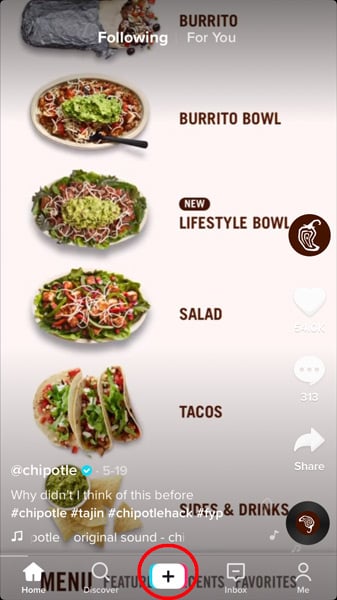 Choose your video duration and press the red button to start recording. From there, you can add sound, effects, text and stickers from the options laid out for you at the bottom of the recorded video clip: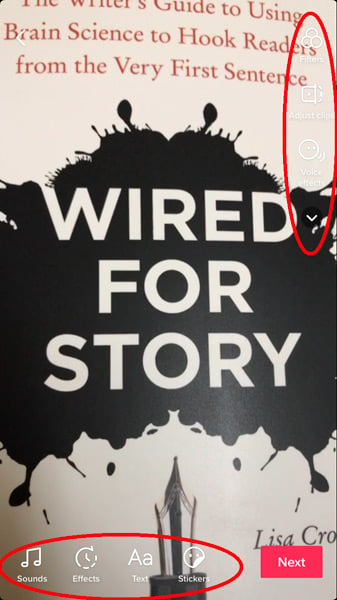 You can also change the filters and apply voice effects to your original audio and recordings where you aren't using sounds.
Save your videos with a tick mark on the bottom right and press ' Next' when you're done editing them.
This will give you the option to tag other accounts, write copy, and add hashtags.
As you type out your hashtag, you'll get a view of other hashtags, and their volume. This way, you will be able to select and combine trending hashtags with niched ones, increasing your odds of being found by the right people.
Click ' Post' when you're ready to publish your video.
Option 2: Upload previously recorded videos
TikTok offers you an option to upload multiple video clips from your phone. Once you've clicked the "+" button, click on the "upload" option to the right of the recording button. Here you can select up to 35 clips.
Once you've uploaded them, you can select to auto-sync them with the desired sound from the music library or edit the duration of each clip manually to match the beat.
Important news: TikTok recently improved its video editor by adding separate lines for video clips, sound, and text, which speeds up the editing process and increases the overall quality of the video.
Another significant update is that you can now split each video clip to select various sequences, match them with the sound, and add transitions.
How to make the most of TikTok
You have two options moving forward: growing your TikTok organically or pairing your organic efforts with ads. Let's look at the organic and ad-based options you have at your disposal:
Duet or stitch TikTok videos
There are two differences between a Duet and a Stitch feature. One is the layout, and the other is the purpose.
Duet
The duet format is a great way to add more faces to your videos that aren't from your brand or agency and offer your two cents on a trending topic. You can access this feature by clicking the "share" button.
There are several layouts you can choose from:
Position two videos next to one another

Use the original video as a background

Add the original video in the box on top of your video

Position two videos, one under the other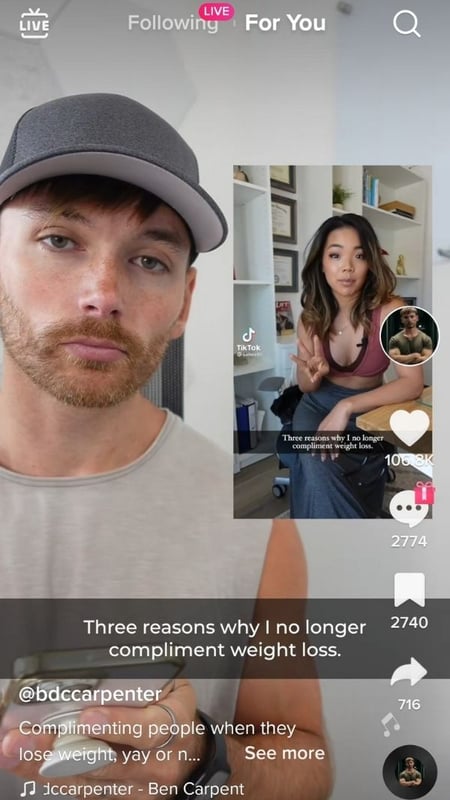 Source: @bdccarpenter
There are many ways you can use duets! For example, you can utilise this feature to:
Educate further your audience on a particular topic

Confirm or challenge what the original video claims

Give a shoutout to the user complimenting your brand
Stitch
You can access this feature just like duets - by clicking the "share" button and opting for "Stitch".
Stitches are great for capturing attention with trending videos, as this will be the first thing the viewer sees. So make sure to stitch viral content.
The way Stitch works is simple:
Choose the video you want to stitch

Trim it

Record a new ending

Share your creation
This is another excellent feature that allows you to educate your audience or get creative by offering an alternative ending to a viral video.
Go Live
Like many other social media platforms, TikTok gives you an option to go live. The only catch is that you need at least 1000 followers to unlock this feature.
This format is excellent for:
Hosting live Q&A session

Taking your audience to your workspace or event

Hosting a workshop
Create content based on trends
Start off with creating content around trends on TikTok.
It could be either a sound-based trend or a challenge-based trend. Either way, making TikTok videos based on trends is a "great way to jump on to something that's already getting a lot of viewership," in TikTok influencer Lauren Pope's words.
Find these trends from the Discover option at the bottom of your screen, or follow accounts that create reports on what's currently trending on TikTok.

Join or create a hashtag challenge
A hashtag challenge gives video-making challenges to users - they make their version of the challenge (the more creative, the better) and tag it with the specific hashtag. This way, the video is discoverable.
Here's an example of the user-generated content (UGC) from the #SpeakYourMind challenge hosted by mental health charity, Mind: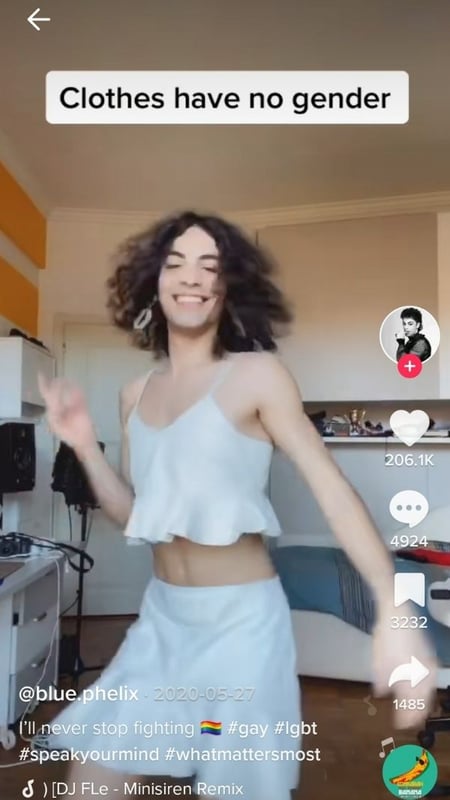 Source: @blue.phelix
As you jump start your TikTok marketing efforts, it's a good idea to get involved in the hashtag challenges that others create. However, as you grow and your account gains traction, you could think about starting your own hashtag challenge too.
One thing's for sure, getting involved in hashtag challenges brings engagement. Mercedes-Benz introduced the #MBStarChallenge, asking its audience to re-envision their logo. The challenge got 1.64 million page views in the UK alone, resulting in lots of new user generated content and 30,000 new followers for Mercedes-Benz.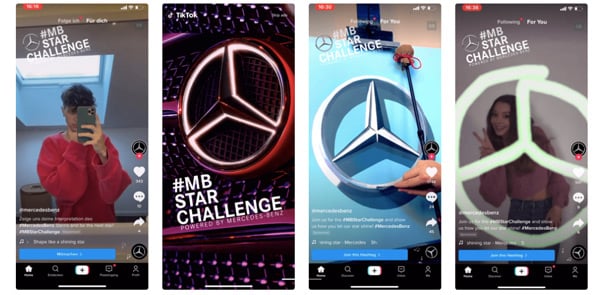 Collaborate with influencers
This works pretty much in the same way as influencer marketing on other social channels.
As a rule of thumb, aim to work with influencers who are relevant to your target demographic and who have a consistently engaged presence on TikTok, just like RedBull did with everyone's favourite @kallmekris to help her celebrate 10 million followers milestone: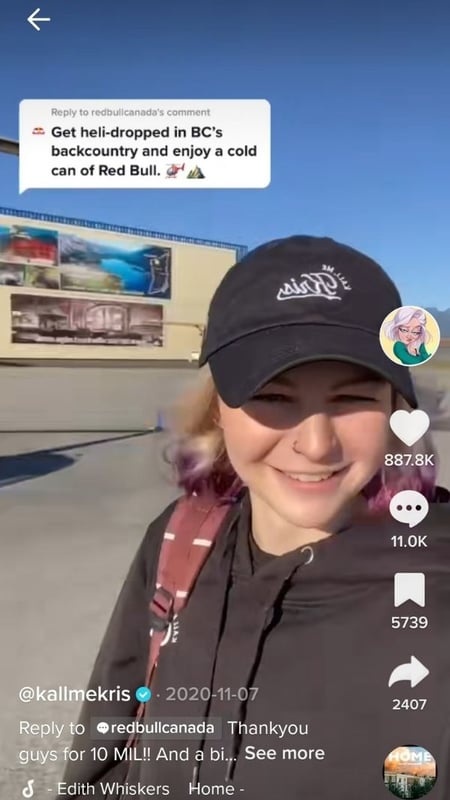 Source: @kallmekris
Run ads on TikTok
If you're looking to accelerate your TikTok marketing, you can explore this with the following advertising types:
Native videos ads or in-feed videos
These ads run between 9-15 seconds and support multiple CTAs. As the name suggests, TikTok shows in-feed videos in between user videos. Users are free to skip these video ads.
For inspiration, look to French dessert company Danette, who used in-feed ads with other ad types to drive traffic to their hashtag challenge page: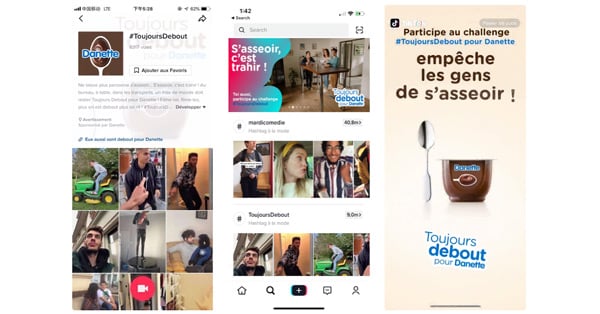 Brand takeovers
These ads can be in the form of still images, GIFs as well as videos. They appear in users' feeds before any UGC appears. The ad links to the business's landing page or hashtag challenge within the app.
A good example of brand takeover ads is their use by makeup brand Too Faced for driving awareness and direct sales: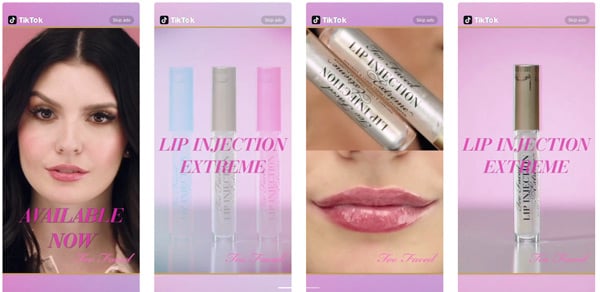 TopView ads
Unlike native videos, TopView ads fill the entire screen space. However, like brand takeover ad types, these launch first thing in a user's feed before any other content displays.
A case in point here is Balenciaga, who used TopView ads in combination with brand takeovers to raise awareness of their brand: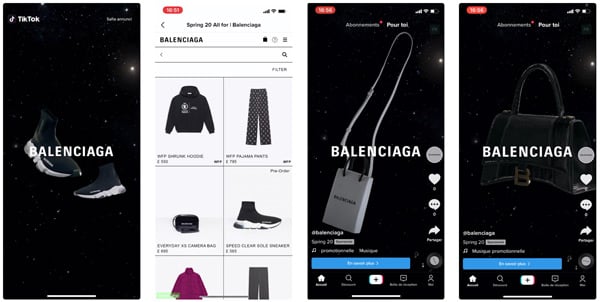 Branded lenses
Lastly, you have the option to create your own filter to promote your brand. Colgate ran this ad type by creating an effect with exploding hearts:
Interested in trying any of these ads on TikTok? Here's a quick look at the pricing for each ad type - keep in mind that advertising on TikTok is expensive, and might not be suitable for smaller businesses: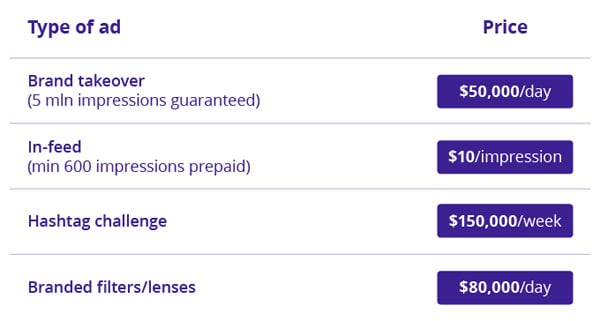 Source
How to create a community on TikTok
Creating a strong community is essential for every brand that uses social media marketing to promote its business.
Since 2020, we have witnessed numerous examples of community management done right and wrong on TikTok, and you can use those as a starting point for creating your community.
Here are some things your TikTok marketing strategy should include if you're serious about building a strong community:
Reply to comments

Encourage users to tag you in other creators' videos if they want to hear your opinion

Address the negative feedback

Create relationships with influential content creators by showing them some love
Want to dive deep into TikTok community management tips and tricks? Then head to our article Game changer: How TikTok Reshaped Community Management.
[Bonus] Ideas for TikTok video content
If you're already creating video content for other social channels, this won't be challenging. You only need to add your brand's unique spin to what's trending on TikTok.
Here are some ideas to get your creative gears moving:
Duets and stitches
Duets and stitches are a great way to offer your opinion on a particular topic.
These two features allow you to show off your expertise, educate your audience, support a cause, and position yourself as a thought leader.
You can search niche hashtags to find videos you can duet or stitch, or you can ask your followers to tag you in videos if they want to hear your personal opinion on them.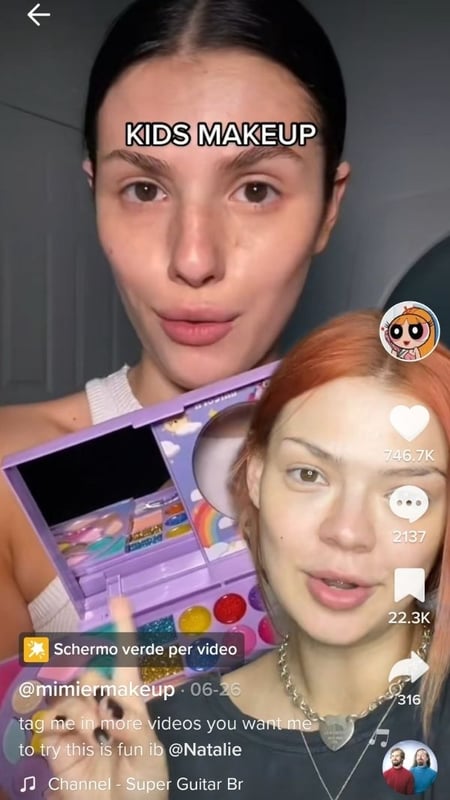 Source: @mimiermakeup
Behind-the-scenes (BTS) content
This kind of content shows your audience how your brand works or how your team does something.
If you own an e-commerce business, you can create a video of how you package orders and give an anonymous shoutout to the buyer by including their order number. This can inspire others to ask you to make a video of their order, which will result in even more engagement and brand awareness.
On the other hand, you can show your audience the process of making your products.
Q&A
TikTok allows you to reply to comments with a video. So, once you have an established audience, you can try asking your viewers questions to engage them or encourage them to ask you questions in the comments section.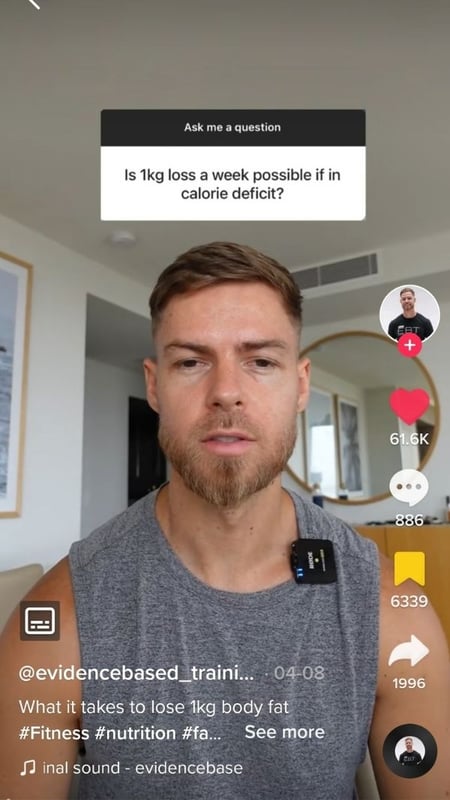 Source: @evidencebased_training
How-to tutorials
Finally, you can educate your target audience - step by step.
Food, beauty, fashion, and home decoration-oriented TikTok accounts have been thriving on this tactic!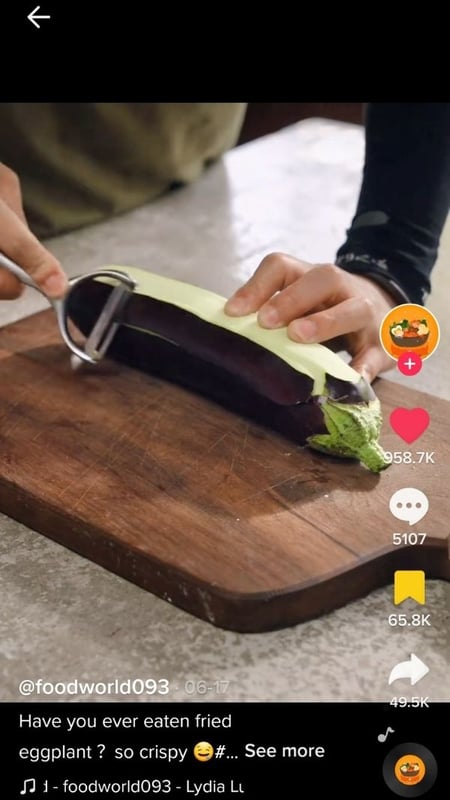 Source: @foodworld093
Pro Tip: You can take any approach you'd like to create TikTok content, but try to incorporate authentic brand storytelling.
Wrapping things up
However you decide to experiment with your TikTok marketing strategy, you need to make you're consistent.
This is the universal rule for success on any social network, not just TikTok. Your TikTok videos will pick up steam only if you show up daily.
Finding it hard to dedicate daily time to video shooting?
Then make sure to:
Jot down ideas in a note app

Utilise TikTok Save categories where you'll keep all the inspirational, user-generated, trending videos

Create a content calendar where you'll map up all the content