We can all agree that social media marketing is not for the faint-hearted.

A couple of years ago, our worst nightmare was the unannounced algorithm updates. Today, we face a complete change in user behaviour, consumer habits, and a brand new generation of social media users and spenders with particular needs.

This is why our 2024 social media trends report should become your go-to guide to facing all the challenges out there. One of which is making sure your clients are on board with optimising their social media strategy.

We know change can be tricky, so we supported all prominent social media marketing trends with precious data and research.
What are the top social media trends for 2024?
1. Short-form video is still the king
TikTok, the pioneer of the short-form video content movement, TikTok has a massive 1.677 billion global users in 2023, with an average of 1.1 billion monthly active users. And there's a good reason for it. Users are hungry for bite-size, engaging, entertaining content.
Your job is to adjust it to your business goals and provide as much value as possible.
Wyzowl's video marketing statistics report for 2023 clearly shows that video marketing is the way forward as:
91% of businesses use video as a marketing tool in 2023
96% of video marketers say video marketing has increased user understanding of their product or service.
91% say video marketing has helped them increase traffic.
89% of people say watching a video has convinced them to buy a product or service.
79% of people say watching a video has convinced them to buy a software or app.
Research also tells us that users in the US spend an average of 45.8 minutes per day on TikTok, and that Instagram users watch a total of 17.6 Million hours of Reels per day!
Another interesting finding is that 90% of vertical videos (Instagram Reel, Instagram Story, Facebook Reels, TikTok videos, YouTube Shorts) have a higher watch completion rate compared to horizontal ones.
Data and reports aside, if you looked at your own social media networks, we are sure you would notice that you personally consume more and more short-form videos when you are scrolling.
Short-form isn't just unavoidable at this point, it is the number one consumed content on the internet.
If your clients want to be successful on social networks and reach the desired results, engaging social media videos are the way to go in 2024. This is why it's vital to have a serious conversation with them and see what would be the best way to approach and utilise this trend.
When planning your short-form video strategy, it is essential to ensure that you are not blindly participating in trends and experimenting with unique sound clips just to be trendy. So, there are two things to remember:
While the format of the videos has changed, providing value to the viewer is still the root of high-quality content.
Creating content without a purpose is still a big "NO!". A clear CTA is necessary to get the viewer into the client funnel. You need to keep the goal of these videos as the central focus. Because, as we all know, you can't take views and likes to the bank.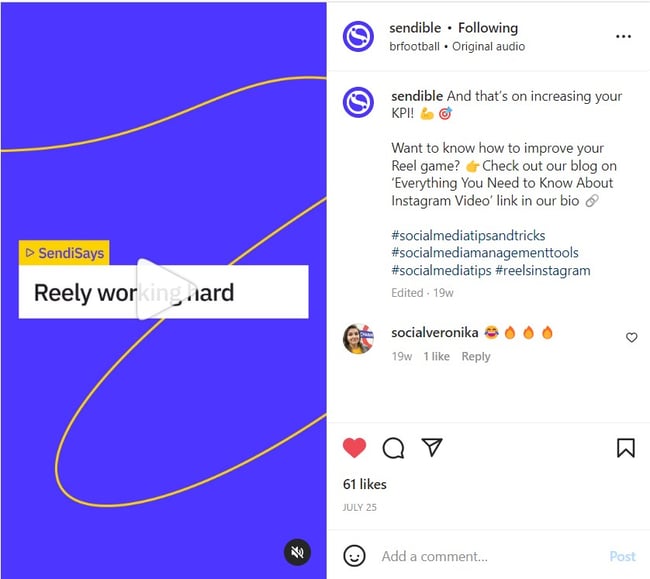 Source: @sendible
Exploring TikTok trends is a great place to start! But when creating your content plan, make sure to keep in mind:
Who is the target audience?
What is the goal of the video? Will you use it for brand awareness, connecting with your existing audience on a more personal level, or utilise it as engaging social ads?
Where will you post it?
How will you repurpose it?
The possibilities of the short-form videos are endless! And this is precisely why social media trend remains the leading one.
2. YouTube is alive and kicking; sort off
While the short-form vertical video dominates, the world's second most visited website, YouTube, is nowhere near getting out of the fight.
ÝouTube still has the has the highest average visit duration (00:20:04) and one of the lowest bounce rates (21.65%).
When we are talking about demographics, TikTok and vertical video lean towards a younger and more tech-savvy demographic. On the other hand, YouTube draws all demographics, including one in three baby boomers.
YouTube has numerous benefits:
It allows brands to plan a long-form video strategy that has longevity.
You can create search-based content that is evergreen. This means rather than relying on individual algorithms to put your content in front of a viewer, commonly known as FYP or "For You Page", you can use Google to drive your traffic.
Great repurposing possibilities. You can cut it into smaller videos and use them on social media, repost them as IGTV, or embed them in your blog (which is an excellent SEO hack).
The best way to start is to have your clients answer their most frequently asked questions. Chances are, if their customers are asking them, others are probably busy Googling them.
You want to ensure each video provides value, is accessible (uses subtitles, captions, and descriptions), has a powerful keyword-driven title, and eye-catching thumbnail. Use a tool like VidIQ to figure out how people search for answers on YouTube and then study thumbnails that immediately grab your attention.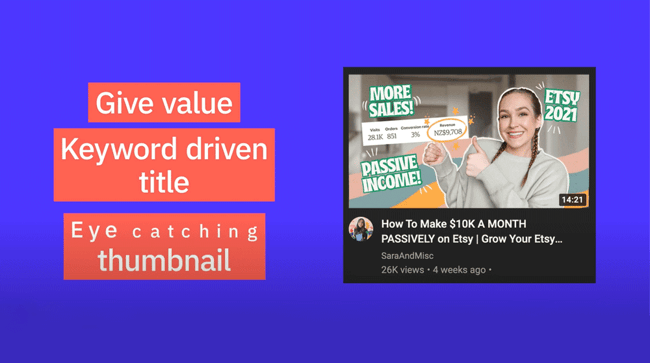 3. Social commerce will continue to rise
Social commerce is one of the social media trends that has been on our radar for a long time. Both brands and social media platforms have been working hard to find the right way to convert social media networks into sales platforms.
Consumers' buying habits were heavily influenced by social media long before the COVID-19 pandemic. Back in 2018, 30% of consumers said they would make purchases through Pinterest, Instagram, Twitter, or Snapchat.
And while these numbers sky-rocketed during the pandemic, consumer expectations are shifting as inflation, supply chain issues, ESG awareness and activism, and a possible recession affect availability, competition and values. So before we get into how this influences your 2024 social media strategy, let's take a look at some social media eCommerce statistics.
1. Supply chain issues directly affect consumer behaviours
PWC polled consumers in June 2023 and found that half of those polled intend to boost their online spending over the next six months.
In fact, they are now more prone to switching between channels to find what they want. This means that your company has the possibility to continue growing if it's ready to manage multiple channels.
While search engines (55%) and retailer websites (34%) are widely recognised as the primary sources of pre-purchase information, it is crucial not to underestimate the significance of social media for Gen Z.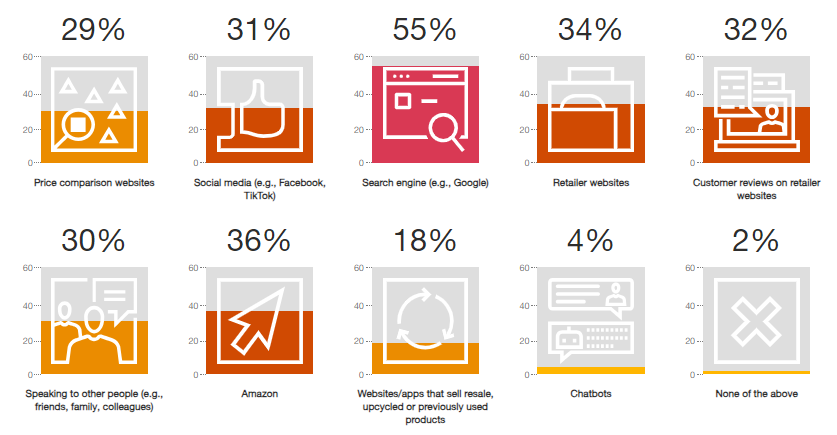 2. Smartphone shopping is reaching its historic high
Mobile commerce volume is expected to hit $620.97 billion by 2024. This means nearly half (42.9%) of all eCommerce purchases will be made via a mobile device.
As app usage continues to grow, it will be a major contributor to sales growth, especially with Millennials and Gen Zers holding massive spending power. These tech-savvy users have the ability to boost volume, as they're more likely to do a wider share of shopping on their smartphones.

And that's the reason why almost every social platform now has a "shop now" button.
3. Social media presence equals more sales
Most online businesses today understand the importance of having a social presence. But if you have trouble convincing your clients of how important it is to invest in their presence, here's a neat number that could help persuade them.
Stores that have at least one social account have 32% more sales on average than stores that don't use social media.
4. Social media is the go-to place for reviews
It isn't a surprise that 71% of consumers prefer online shopping. As we are still living in a pandemic culture, more and more consumers prefer to shop online.
But before they add to the cart, 84% of US online buyers take a look at a social media platform before purchasing. This is why it's of utmost importance that you upgrade the way you collect and share customer reviews on social media.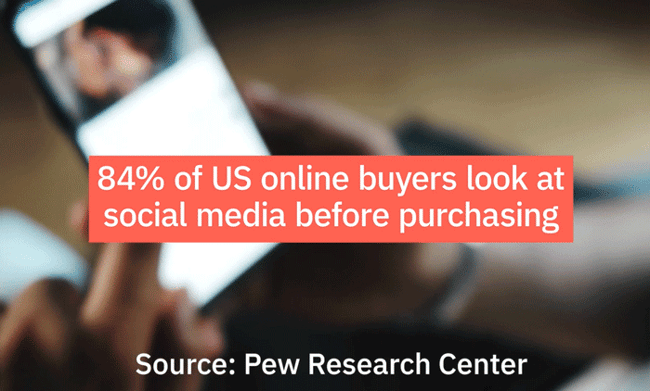 5. Gen Z uses Instagram to discover new brands
Gen Z is a mobile-first generation, and Instagram is their prime channel for discovery. A recent report from digital and creative agency Composed found that 60% of U.S. Gen Z shoppers use the platform to discover new brands and products.
Additionally, a report from Piper Jaffray found that 73% of Gen-Z shoppers in the U.S. want brands and retailers to connect with them about new products and promotions through Instagram.
6. Social selling is booming
According to Statista, there were 80 million social buyers in the U.S. in 2020, representing a 30% increase compared to 2019. Experts believe that the social commerce trend would have continued to grow without the pandemic but that COVID -19 accelerated its growth.
These consumers spent approximately $27 billion throughout 2020 in the U.S., which grew to nearly $51.8 billion in 2022 despite the potential recession.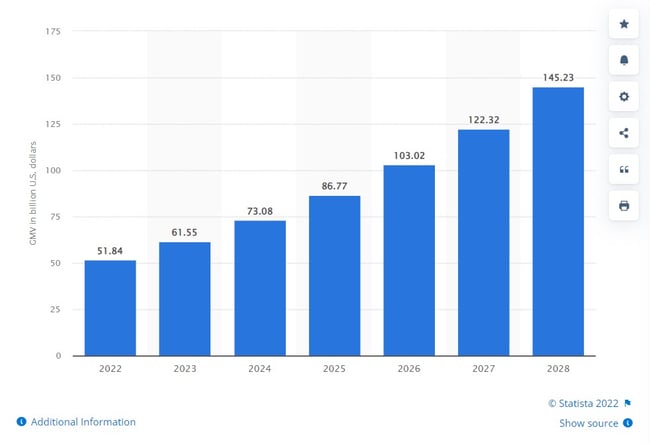 Source: Statista
Looking further ahead to social commerce sales projections for 2028, U.S. social commerce is projected to reach $145.2 billion.
So, what does all of this mean for you?
As buying online is becoming more and more common, and consumers are using social media to either buy products or review them, your clients must have easy ways for customers to buy from them.

You want to work with them to minimise any potential purchasing frustration and set them up with native shopping experiences and opportunities available through social media apps like Facebook, Instagram, and TikTok. This will result in a higher ROI and a better user experience.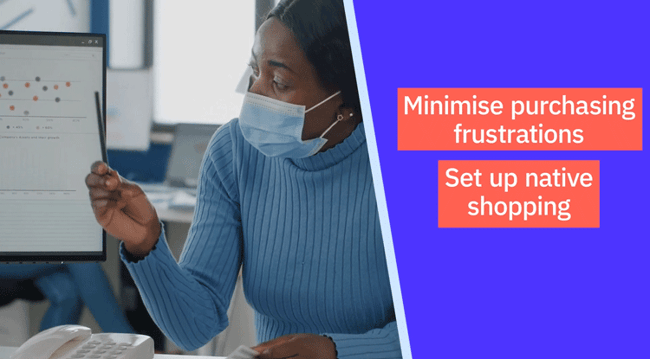 When it comes to social selling, the social media content strategy is a little different from what you might be using for a service-based business.
When selling on social media, you want to be posting more and consistently. This strategy requires producing content with shoppable links posted in more places. For example, if your client is a fashion or jewellery brand, they will want to take advantage of having an Instagram Shop. This way, they'll be able to:
List products on their shop.
Create posts with shoppable links.
Post Instagram stories with clickable links that lead to the purchase page.
In this case, you should post up to three times per day and increase the number of Instagram Stories.
When doing this, it is important to track the data to measure success, sales, and areas for improvement.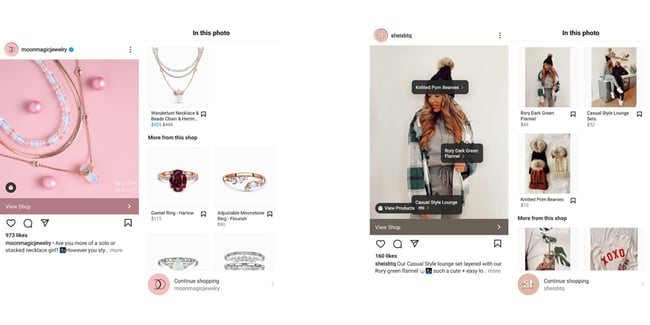 4. The content creators hold the power
Let that sink in for a minute.
Social media marketers spend so much time curating beautiful content and messaging; most likely, potential clients scroll right past it.
Why?
Because it is the brand talking about their product or service, and brands are biased.
But someone who has used their product or service is going to be more trusted because they are unbiased. Or they at least appear impartial since it's not the obvious case of paid partnerships and sponsorships.
When information like 86% of women uses social media for shopping advice comes about, it is hard to ignore the potential of working with influencers to get user-generated content.
But how do you go about this?
We suggest you start with these three steps:
Look at the existing user-generated content. Make sure to review tagged photos, posts or reviews. You can use these as posts for the client's social media quoting their customers.
Work with the client to find happy and satisfied customers. Once you've made a list, simply coordinate with them to share their experience on their social media.
Research nano and micro-influencers in your client's niche. Having massive followings is a thing of the past. Having a strong community is the future. So make sure to start nurturing collaborations with relevant nano and micro-influencers.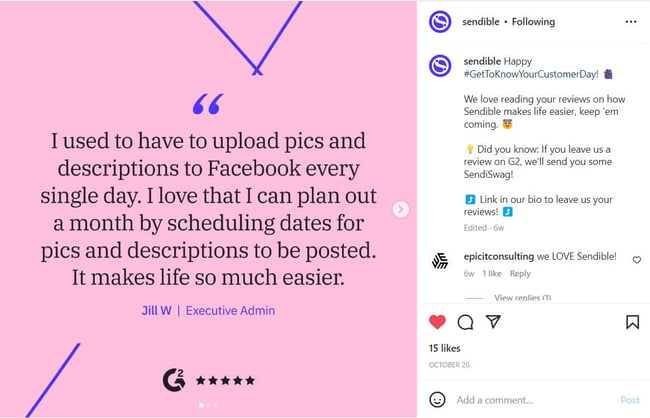 Source: @sendible
It is important to remember that while necessary, partnership and influencer marketing don't need to be complicated. Find a way to add a couple of posts per month to your content calendar to highlight user-generated content. This will provide you with additional resources, help you build trust with your existing audience, and attract new ones.
5. Community over followers
One of the ongoing messages we see on social media is that you need to build a community.
This might sound vague or idealistic, but the fact is that 66% of branded communities say that the community has had an impact on customer retention. And according to the Global Web Index, 76% of internet users are participants of online communities.
The amazing thing about a focused and mighty community is that this is where the brands' most loyal and dedicated customers are. These are those ride-or-dies, forever customers, first to purchase and support.
Learn how TikTok has reshaped community management.
With all this in mind, it's no wonder that some social media platforms, like TikTok and Instagram (Reels), now have handy features that allow you to respond to comments with videos and provide even more value.
Here are some tips to get you started with building a strong community:
Reply to comments
Encourage users to tag you in other creators' videos if they want to hear your opinion
Create relationships with influential content creators by showing them some love
Community managers have become an essential role of every marketing team.
6. Narrow-targeted social media ads
According to a study conducted by PWC, targeted advertising and promotions have caught the attention of 31% of respondents, with Gen Z showing a higher interest at 43%. When asked about the types of ads that influence their pre-purchase decisions, 37% of respondents prefer ads that directly link them to offers and promotions for their favourite brand or product. Additionally, about a third (34%) are attracted to sponsored ads on social media platforms.
This is great to know if you need extra ammo to nudge your clients in the right way, but that doesn't mean social media advertising has stopped being a challenge of its own kind. With so many restrictions and changes, it is going to be harder to develop a good paid advertising strategy in 2024.
The most important factor for running successful social media ads in 2024 is to make sure your targeting is very specific.
This is important because 54% of customers get annoyed when targeted with an ad for something they've already bought. While broad targeting is good for brand awareness, you need to be wary of your client's budget, oversaturated market, and current economic situation. This is why a good start would be to focus your efforts on retargeting prospects and uncovering a lookalike audience.
While social media advertising may be difficult, it still plays a big role in your clients' online sales success. As of January 2019, roughly 80% of online consumers have made a purchase from social media ads, and the latest research shows that 84% of consumers purchased a product because they watched a marketing video.
Make sure to cover these questions with your client:
What is their core, crème de la crème audience?
What are their most important KPIs?
Is there a possibility to create new (or repurpose old) engaging videos?
How do they feel about using user-generated content in social ads?
Once you've ensured you're on the same page with your client's and audience's needs, you can proceed to the finer details. And these have everything to do with the fact that the consumers' mindset has changed drastically in the past two years.
PWC did extensive research on the permanent change that occurred in consumers' habits and values and found that these five things have a direct impact on their purchase decisions:
Excellent omnichannel experience
Commitment to ESG (environmental, social, and corporate governance)
Online security and privacy protection
Local supply chains
Pricing considerations
While becoming more digital makes your life somewhat easier, it also means you need to perfect the overall user experience. And ensure you're considerate of the current climate.
7. Digital trust is crumbling and reshaping LinkedIn
Digital trust is the confidence people have that a platform will protect their information and provide a safe environment for them to create and engage with content. And the 2022 report by Insider Intelligence shows that it's seen a decline.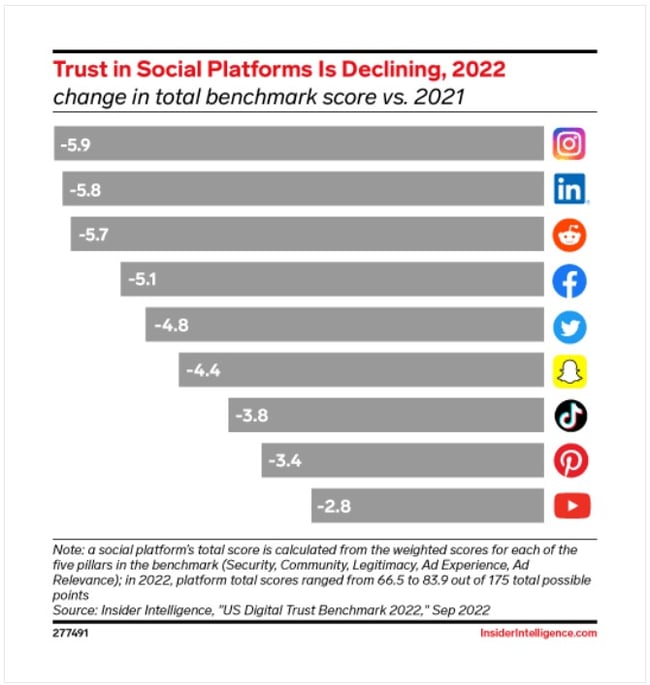 Source: Insider Intelligence
This is probably why LinkedIn posts changed massively in the previous two years and why we keep seeing more and more personal posts - without links. Furthermore, LinkedIn invested $25 million in a Creator Fund, paying 100 creators $15,000 each to "share content, spark conversations, and build community."
Some things you could do to step up your LinkedIn social media marketing game are:
Include linkless posts in your content calendar
Crosspost content you created for other social media platforms and track performance
Don't overdo it with personal content, this is still a professional platform
Use LinkedIn's version of carousels to share valuable tips and advice
Experiment with videos
8. Social SEO is not something you wish to ignore
New York Times said that TikTok is the new search engine for Gen Z, and Senior Vice President Prabhakar Raghavan, who runs Google's Knowledge & Information organization, said:
"In our studies, something like almost 40% of young people, when they're looking for a place for lunch, they don't go to Google Maps or Search. They go to TikTok or Instagram."
When you pair this with the factors that affect the TikTok algorithm (that's influencing changes in all the others), you'll realise that hashtags alone don't cut it anymore.
So here's how you can optimise your social media strategy and introduce SEO to it:
Do keyword research to find out what format you should use and what topics you should cover.
Use keywords in the social media post caption.
Start adding alt text to your social media images to improve accessibility.
Do not forget to natively add keyword-optimised captions to your videos.
Subtitles are an absolute must when it comes to any video format.
9. The rise of AI-generated content
AI-generated content refers to content that is created using artificial intelligence tools such as natural language processing, machine learning, and computer vision. With the rise of social media platforms, there is a growing demand for high-quality, engaging, and personalized content. This is where AI-generated content comes in, enabling marketers to create content quickly and efficiently, saving time and resources.
Several AI tools have emerged that can help marketers create content for social media. Here's just a quick breakdown of the most famous ones:
Chat GPT is a natural language processing tool that can be used to generate social media copy.
Synthesia is a video creation tool that uses AI to create personalized videos at scale.
Lexica is a tool that can be used to generate images using natural language descriptions.
While there are benefits to using AI-generated content, such as faster content creation, increased personalization, and cost savings, there are also some drawbacks.
One of the biggest concerns is the lack of creativity and authenticity in AI-generated content. There is also the potential for errors, biases, and ethical concerns around using AI-generated content.
For social media marketers, it is important to understand the benefits and drawbacks of AI-generated content, and to use these tools effectively and ethically. By leveraging AI-generated content, marketers can achieve their goals more efficiently while maintaining their content's authenticity and creativity.
In conclusion, AI-generated content is a growing trend in social media marketing. While there are some concerns about using these tools, the benefits of faster content creation, increased personalisation, and cost savings cannot be ignored. As AI tools continue to improve, we will likely see even more creative and innovative uses of AI-generated content in social media marketing.
10. Instagram Threads are here to stay
Within less than 24 hours, Meta CEO Mark Zuckerberg announced that Threads had reached 30 million users.
Now, this number is over 150 million users and 23.6 million daily active users.
Threads, created by the Instagram team as a major competitor to X (formerly Twitter), enhances your experience of sharing texts and engaging in public discussions. Or so they say.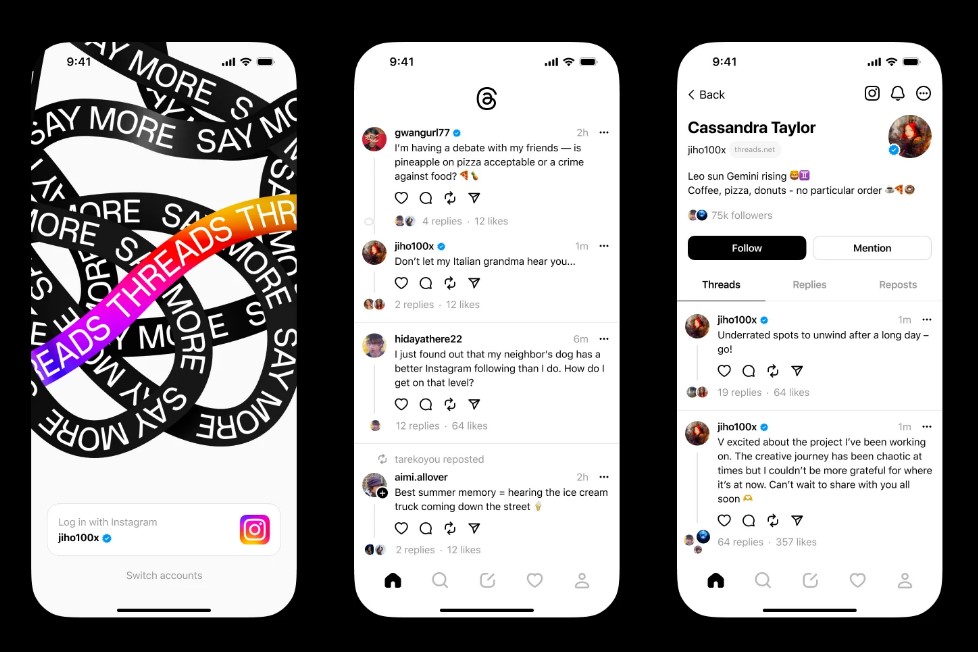 Source
It provides a dedicated space for self-expression, meaningful conversations, and connecting with like-minded individuals. You can easily log in with your trusted Instagram account, personalise your profile, and immerse yourself in a vibrant community.
Take control of who mentions and replies to you, fostering positive interactions. Filter out specific replies by hiding certain words. Explore posts from accounts you follow and discover recommended content. Seamlessly share your thoughts to Instagram and other platforms. With Threads, there are no limits to your creativity.
I know what you're thinking, building an engaged and respectful community takes some extra time. And it might not even work! But, we would definitely encourage you try it, especially if you and your clients have an Instagram account.
You see, you can easily link the two to promote them and share the same bio and profile images. This means you'll be able to create a new profile in a few clicks! And if you're not in the mood for coming up with an entirely new strategy, here's what we suggest (as a start):
Repost Tweets.
Share quotes from your articles and add a link to increase traffic.
Celebrate social media holidays.
Trends to keep an eye on
To be more precise, social media networks to keep an eye on.
They may not be a product for 2023, but these social media networks are generating a lot of buzz right now. Keep an eye on:
BeReal
BeReal, a social media app from France, made its debut in 2020 with a unique feature that prompts users to share raw and unpolished photos of themselves and their surroundings within a randomly selected two-minute window every day. Critics have applauded the app's emphasis on authenticity, though some feel that the unfiltered and unedited content may become monotonous.
BeReal's Apple App Store description encourages users to remove filters and staging opportunities from their photos and "show their friends who they really are, for once."
After an initial surge in popularity in 2022, BeReal's usage declined in 2023: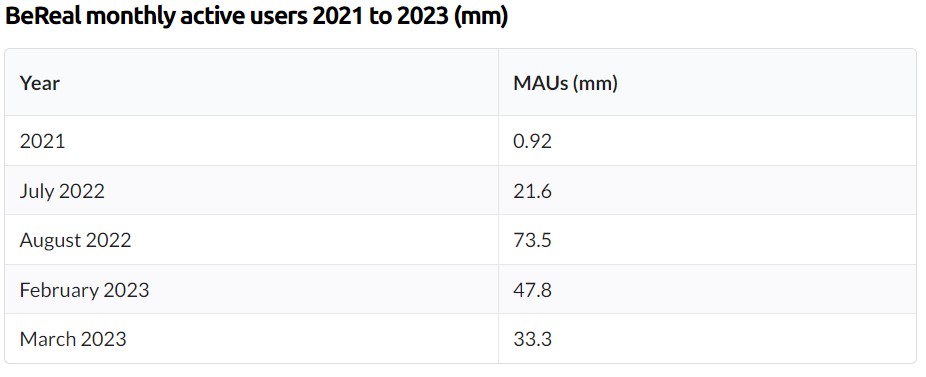 Source: Business of Apps
Mastodon Social
Mastodon Social is a unique social media platform that operates on a decentralized system. Here, servers are categorized based on specific themes, topics, or interests. Users can easily connect with each other, follow their interests, and participate in discussions.
Despite being established in March 2016, it only gained popularity in late 2022, thanks to a particular individual's acquisition of a specific social media platform. This resulted in a lot of Twitter users expressing their interest in Mastodon and potentially leaving the platform for good.
Here are some stats by ThinkImpact to take into consideration:
Out of the 4.5 million accounts (as of November 2022) on Mastodon Social, only a million are actively using the platform.
The platform features two types of fees (federated and local).
Twitter is responsible for over 90% of all website traffic to Mastodon.
There are almost twice as many male users as female users on Mastodon.
Lemon8
Lemon8 is ByteDance's answer to Instagram, with social media influencers likening it to a cross between Instagram and Pinterest.
Lemon8 is not a new app; it's just new to US social media users.
Unlike TikTok, Lemon8 doesn't support vertical video scrolling but focuses on curated video and photo content centred around specific topics.
Fashion, beauty, food, wellness, and travel are the top trending topics on Lemon8, with each topic featuring recommendations, get-ready-with-me videos, and aesthetically pleasing content.
Let's take a look at some interesting stats by Insider Intelligence:
Lemon8 was installed close to 1 million times in the US between March 27 and April 10, per Apptopia.
Global downloads have hit 17.3 million since Lemon8's debut in 2020. Nearly one-quarter (4.1 million) took place in 2023.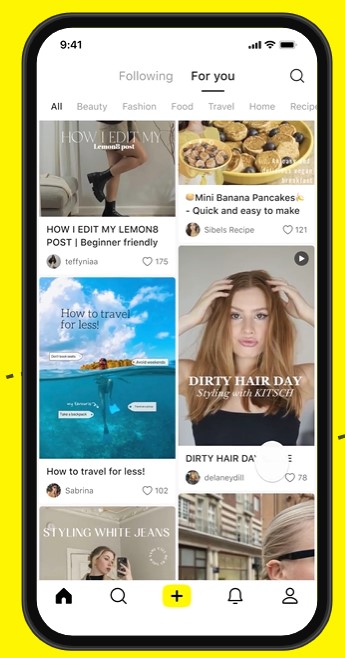 Some final thoughts
There are numerous trends you could hop on to. But be careful, as it is too easy to get lost in them. This is why we carefully picked these eight trends that could potentially make the biggest difference for your clients.
And now that you're familiar with everything there is to know about the latest social media trends, it's time to work on your strategy! So, read our handy guide on content pillars and start planning social media content calendars for your clients.