We can all agree that social media marketing is not for the faint-hearted.
A couple of years ago, our worst nightmare was the unannounced algorithm updates. Today, we face a complete change in user behaviour, consumer habits, and a brand new generation of social media users and spenders with particular needs.
This is why our 2022 social media trends report should become your go-to guide to facing all the challenges out there. One of which is making sure your clients are on-board with switching up their social media strategy.
We know change can be tricky, so we supported all prominent social media marketing trends with precious data and research.
What are the top social media trends for 2022?
#1 Short-form video is the king
According to The Social Shepherd, 75% of all video views are accrued from mobile devices. And app analytics firm App Annie says that as of June 2021, users on average watch over 24 hours of content per month on TikTok. Another interesting finding is that 90% of vertical videos (Instagram Reel, Instagram Story, IGTV, TikTok video) have a higher watch completion rate compared to horizontal ones.
Data and reports aside, if you looked at your own social media networks, we are sure you would notice that you personally consume more and more short-form videos when you are scrolling.
Short-form isn't just unavoidable at this point, it is the number one consumed content on the internet.
If your clients want to be successful on social networks and reach the desired results, engaging social media videos are the way to go in 2022. This is why it's vital to have a serious conversation with them and see what would be the best way to approach and utilize this trend.
When planning this strategy, it is essential to make sure that you are not blindly participating in trends and experimenting with unique sound clips just for the sake of being trendy. So, there are two things to remember:
While the format of the videos has changed, providing value to the viewer is still the root of high-quality content.
Creating content without a purpose is still a big "NO!". Having a clear CTA to get the viewer into the client funnel is a must. You need to keep the goal of these videos at the central focus. Because, as we all know, you can't take views and likes to the bank.
Exploring TikTok trends is a great place to start! But when creating your content plan, make sure to keep in mind:
Who is the target audience?
What is the goal of the video? Will you use it for brand awareness, connecting with your existing audience on a more personal level, or utilize it as engaging social ads?
Where will you post it?
How will you repurpose it?
The possibilities of short-form videos are endless! And this is precisely why this latest social media trend is vital to explore.
#2 YouTube is alive and kicking
While the short-form vertical video is dominating, the second most visited website in the world, YouTube, is vying for that number one spot.
TikTok's average watch time is over 24 hours per month, but YouTube's is 22.5 hours per month.
When we are talking about demographics, TikTok and vertical video lean towards a younger and more tech-savvy demographic. YouTube, on the other hand, draws all demographics, including one in three baby boomers.
YouTube has numerous benefits:
It allows brands to plan a long-form video strategy that has longevity.
You can create search-based content that is evergreen. This means rather than relying on individual algorithms to put your content in front of a viewer, commonly known as FYP or "For You Page", you can use Google to drive your traffic.
Great repurposing possibilities. You can cut it into smaller videos and use them on social media, repost them as IGTV, embed them in your blog (which is an excellent SEO hack).
The best way to start is to have your clients answer their most frequently asked questions. Chances are if their customers are asking them, others are probably busy Googling them.
Learn how to create a YouTube channel as a brand.
You want to make sure each video is not only giving value but has a powerful keyword-driven title and eye-catching thumbnail. Use a tool like VidIQ to figure out how people are searching for answers on YouTube and then study thumbnails that grab your attention right away.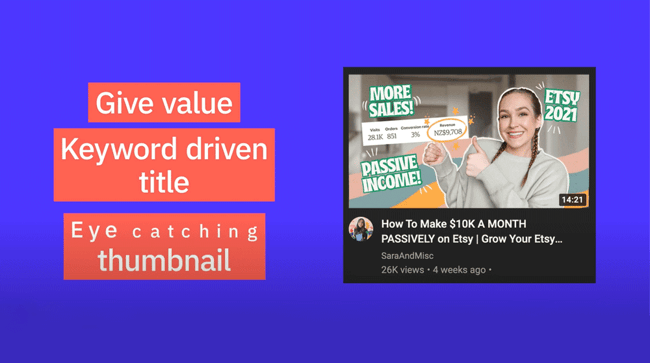 #3 Social commerce is on the rise
Social commerce is a social media trend that's been on our radar for a long time. Both brands and social media platforms have been working hard to find the right way to convert social media networks into sales platforms.
Consumers' buying habits were heavily influenced by social media long before the COVID-19 pandemic. Back in 2018, 30% of consumers said they would make purchases through Pinterest, Instagram, Twitter, or Snapchat.
And these numbers sky-rocketed during the pandemic. So before we get into how does this influence your 2022 social media strategy, let's take a look at some social media eCommerce statistics.
1. Consumers have become more digital
PWC polled consumers in June 2021 and found that the COVID-19 pandemic had spurred many respondents to become more digital. To be precise - more than 50% of surveyed consumers said they've become more digital.
2. Smartphone shopping is reaching its historic high
Even though in-store shopping has recovered somewhat, online shopping continues to grow. And, to make things more interesting, the amount of consumption that is happening on mobile phones is increasing rapidly.
Shopping via smartphone keeps climbing steeply, gaining two percentage points on in-store shopping since March 2021.
In December 2021, 41% of respondents said they shop daily or weekly via mobile or smartphone compared to 39% at the beginning of 2021, 24% in 2019 and 12% five years ago.
3. Social media presence equals more sales
Most online businesses today understand the importance of having a social presence. But if you have trouble convincing your clients of just how important it is to invest in their presence, here's a neat number that could help you persuade them.
Stores that have at least one social account have 32% more sales on average than stores that don't use social media.
4. Social media is the go-to place for reviews
It isn't a surprise that 71% of consumers prefer online shopping. As we are still living in a pandemic culture, more and more consumers prefer to shop online. But before they add to the cart, 84% of US online buyers take a look at a social media platform before purchasing.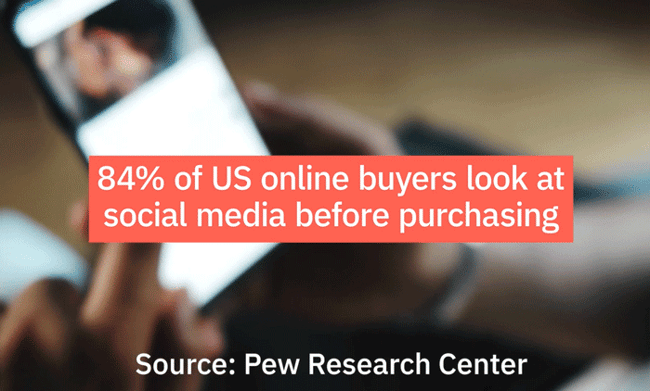 5. Gen Z uses Instagram to discover new brands
Gen Z is a mobile-first generation, and Instagram is their prime channel for discovery. A recent report from digital and creative agency Composed found that 60% of U.S. Gen Z shoppers use the platform to discover new brands and products.
Additionally, a report from Piper Jaffray found that 73% of Gen-Z shoppers in the U.S. want brands and retailers to connect with them about new products and promotions through Instagram.
6. Social selling is booming
According to Statista, there were 80 million social buyers in the U.S. in 2020, representing a 30% increase compared to 2019. Experts believe that the social commerce trend would have continued to grow without the pandemic but that COVID-19 accelerated its growth.
These consumers spent approximately $27 billion throughout 2020. In 2021, retail experts forecasted social commerce sales to increase by more than 35%, meaning consumers would spend more than $36 billion.
Looking further ahead to US social commerce sales projections for 2025, the industry/space is set to grow to nearly $80 billion.
So, what does all of this mean for you?
As buying online is becoming more and more common, and consumers are using social media to either buy products or review them, your clients must have easy ways for customers to buy from them.
You want to work with them to minimise any potential purchasing frustration and set them up with the native shopping experiences and opportunities available through social media apps like Facebook and Instagram. This will result in a higher ROI and a better user experience.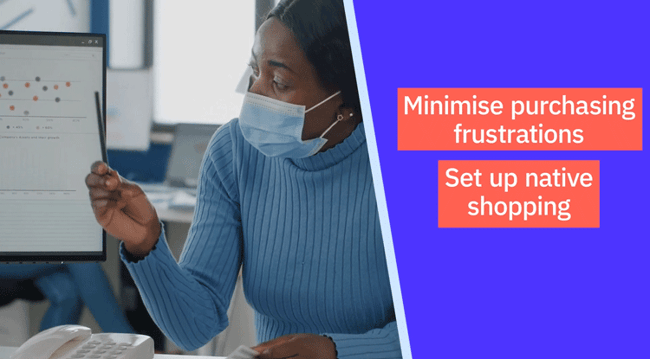 When it comes to social selling, the social media content strategy is a little different from what you might be using for a service-based business.
When selling on social media, you want to be posting more and consistently. This strategy requires producing content with shoppable links posted in more places. For example, if your client is a fashion or jewellery brand, they will want to take advantage of having an Instagram Shop. This way, they'll be able to:
List products on their shop.
Create posts with shoppable links.
Post Instagram stories with clickable links that lead to the purchase page.
In this case, you should post up to three times per day and increase the number of Instagram Stories.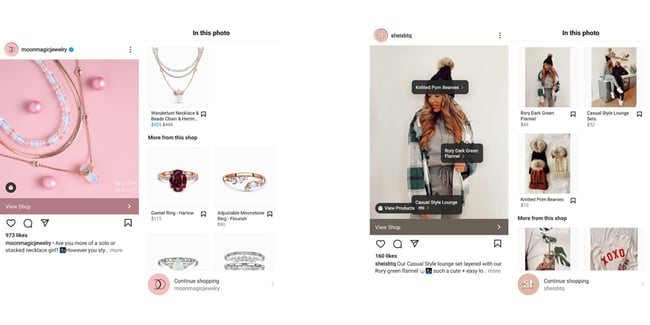 When doing this it is important to track the data to measure success, sales, and areas for improvement.
#4 The creators hold the power
According to the latest research, 55% of consumers trust user-generated images more than any other form of advertising or marketing.
Let that sink in for a minute.
You, as a social media practitioner, spend so much time curating beautiful content and messaging, and most likely potential clients are going to scroll right past it.
Why?
Because it is the brand talking about their product or service, and brands are biased.
But someone who has used their product or service is going to be more trusted because they are unbiased. Or they at least appear impartial since it's not the obvious case of paid partnerships and sponsorships.
When information like 86% of women uses social media for shopping advice comes about, it is hard to ignore the potential of working with influencers to get user-generated content.
But how do you go about this?
We suggest you start with these three steps:
Look at the existing user-generated content. Make sure to review tagged photos, posts or reviews. You can use these as posts for the client's social media quoting their customers.
Work with the client to find happy and satisfied customers. Once you've made a list, simply coordinate with them to share their experience on their social media.
Research nano and micro-influencers in your client's niche. Having massive followings is a thing of the past. Having a strong community is the future. So make sure to start nurturing collaborations with relevant nano and micro-influencers.
It is important to remember that while necessary, influencer marketing doesn't need to be complicated. Find a way to add a couple of posts per month to your content calendar to highlight user-generated content. This will provide you with additional resources and help you build trust with your existing audience, as well as attract new ones.
#5 Community over followers
One of the ongoing messages we see on social media is that you need to build a community.
This might sound vague or idealistic, but the fact is that 66% of branded communities say that the community has had an impact on customer retention. And according to the Global Web Index, 76% of internet users are participants of online communities.
The amazing thing about a focused and mighty community is that this is where the brands' most loyal and dedicated customers are. These are those ride-or-dies, forever customers, first to purchase and support.
Bonus tip: Communities are a great source of user-generated content.
Ask your client:
What would an online community look like for their brand?
Who would manage it?
How would they like to promote it?
Spending time figuring out how your clients can build a community and manage it would be incredibly advantageous for their future social media growth and sales.
#6 Narrow-targeted social media ads
Social media advertising was always a challenge on its own. But with so many restrictions and changes, it is going to be harder to develop a good paid advertising strategy in 2022.
The most important factor for running successful social media ads in 2022 is to make sure your targeting is very specific.
This is important because 54% of customers get annoyed when targeted with an ad for something they've already bought. And while broad targeting is good for brand awareness, you need to be wary of your client's budget and the oversaturated market. This is why a good start would be to focus your efforts on retargeting prospects and uncovering a lookalike audience.
While social media advertising may be difficult, it still plays a big role in your clients' online sales success. As of January 2019, roughly 80% of online consumers have made a purchase from social media ads, and the latest research shows that 84% of consumers purchased a product because they watched a marketing video.
Make sure to cover these questions with your client:
What is their core, crème de la crème audience?
What are their most important KPIs?
Is there a possibility to create new (or repurpose old) engaging videos?
How do they feel about using user-generated content in social ads?
Once you've made sure you're on the same page with both your client's and audience's needs, you can proceed to the finer details. And these have everything to do with the fact that the consumers' mindset has changed drastically in the past two years.
PWC did extensive research on the permanent change that occurred in consumers' habits and values, and found that they have become more:
Health-conscious
Eco friendly
Price-sensitive
Local
Digital
While them becoming more digital makes your life somewhat easier, it also means you need to perfect the overall user experience. The other four values, however, are a good indicator of what should you focus on in communication.
#7 Bonus: Social media trends to keep an eye on
Now we wouldn't be talking about trends if we didn't give some honourable mentions or rather some latest social media marketing trends to keep an eye on.
1. Facebook Augmented Reality
The first is Facebook VR/AR. The big migration from Facebook to Meta shows that the future of Facebook, and possibly marketing, will be in virtual reality and augmented reality.
The global AR and VR market is expected to grow to $296.9 billion by 2024, and 78% of Americans are already familiar with VR technology. It is important to keep an eye on how your clients might be able to use VR/AR as a marketing or communication tool for their brand.
2. Discord
Our second suggestion is to check out Discord - an instant messaging and digital distribution platform.
Discord has 150 million monthly users with the average U.S. Discord user spending 280.6 minutes per month on the platform. This community-focused platform is worth paying attention to because younger demographics and niche industries spend a lot of time and focus there.
Make sure to explore it and brainstorm a way for your clients to be present on it.
Some final thoughts
There are numerous trends you could hop on to. But be careful, as it is too easy to get lost in them. This is why we carefully picked these six trends that could potentially make the biggest difference for your clients.
And now that you're familiar with everything there is to know about the latest social media trends, it's time to work on your strategy! So make sure to read our handy guide on content pillars, the true magic behind social media success.