At Sendible, we believe that the key to generating significant success via social media comes down to implementing and executing a successful content strategy.
For a truly successful social media campaign, we believe that you need to be writing your own, fresh content that's published to your website.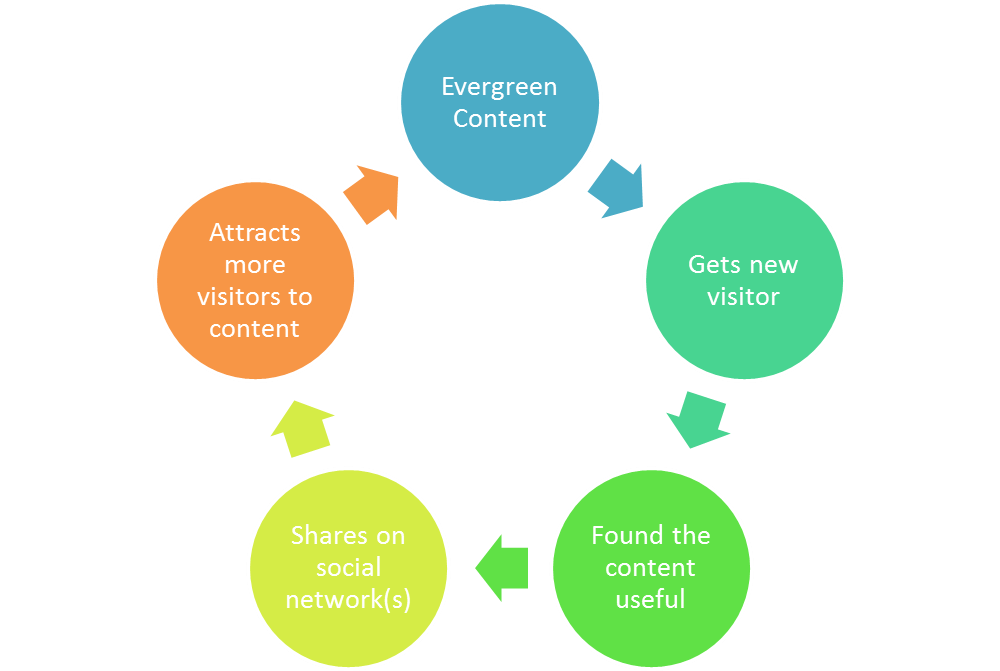 Why do I need to publish my own content, you ask? Here are 3 reasons:
1. It drives traffic to your website (forever)
There are essentially, 3 ways you could drive traffic to your website:
Your audience could reach your website by typing your name directly into the browser. This type of person already knows who you are and doesn't necessarily help you get more traffic.
By buying traffic through an email list you've purchased. You could send an unsolicited email to this list hoping that some percentage of recipients open the email and click through to your site. Not only is this expensive, but it's also illegal. Not to mention, the recipient of the email is most likely to already have a negative feeling towards your organization before you've even tried to sell them anything.
By paying for traffic by placing paid ads on sites like Google and Facebook. This can prove expensive depending on the keywords you're bidding on. Also, the second you run out of money, your traffic stops coming in.
We understand that budgets may be tight and you want to attract traffic for as low a cost as possible. So, how can you drive traffic to your website without needing to spend any money on ads or search traffic?
The answer is simple: blogging, social media, and appearing high up on Google search results.
How many pages are there on your company website? Probably, not very many, right? How often do you update these pages? Not very often, I assume?
There's one of your problems... Google rewards websites who consistently update their site with fresh content by placing them higher up on search rankings. By blogging frequently, you can ensure that your website appears above your competitors on search results.
Every time you publish a blog post, that's one more indexed page on your website. It's also one more signal to Google that your website is active and they should be checking in frequently to see what content you've published that they should be showing in search results.
This is why blogging is essential to a successful social media strategy. The blog posts you publish help you get discovered on social media. Every time you write a blog post, you're creating content that people can share on Twitter, Facebook, LinkedIn, Pinterest, Google+ and others, exposing your company to a new audience that doesn't know you yet.
By having fresh content to share, your social media accounts can be kept active since your blog can serve as a content repository for other members of your marketing team to use. You can utilize Sendible's RSS Auto Poster to share your blog posts at regular intervals throughout the day without the need for any human intervention. With very little effort, you're strengthening your social reach with your own, unique blog content and driving new website visitors to your blog via your social channels, creating an immensely effective social media/content system.
Every blog post you write is indexed by search engines. This means, that any post you've written that answers someone's specific question has the chance of being discovered by other people with similar needs for months and years to come. You've made an investment up front by writing the content and now you have a constant stream of targeted traffic coming to your website that could turn into a potential customer.
2. It helps to convert visitors into leads
As soon as you have traffic flowing to your website through your blog, you have created an opportunity to convert that traffic into leads.
Every blog post you write is another page that's indexed by Google and this means that each post becomes a new opportunity to generate leads for your business. Converting blog post views into leads is simple: just add a call-to-action button or anchor tag to every blog post, directing the reader to another landing page on your website where they can download an item of content in exchange for their contact details. This content could be a free ebook, whitepaper, webinar registration form, free trial or any other asset that someone in your industry may find useful.
To summarize, the process is as simple as this:
Bob visits your website after searching Google for an answer to a question he has.
Bob reads a blog post you've written that helps solve his problem.
By the end of the post, Bob now trusts your company and sees a call-to-action button with a free offer behind it that may help him even further.
Bob clicks the call-to-action button and arrives on a landing page with a form for him to fill in his contact details.
Bob fills out form, submits information, and receives his free offer.
Bob now becomes a lead for your sales team to follow up with.
3. It helps establish authority
The most successful business blogs are the ones that are able to answer common questions their prospects and customers have. By consistently creating content that's useful to your target customer, it helps to establish you as an authority in their minds. This means, they'll keep coming back to you for helpful information, building trust in your company.
Just think of how effective it would be to send a confused customer a link to a helpful blog post you've written or how a potential customer would feel if a sales person shared a non-intrusive blog post that would help solve a problem the lead may be experiencing in their own business.