Everyone seems to be on social media today, particularly prospective college and university students. In fact, 18-29-year-olds are the largest demographic on social media, with 70% using Facebook, 71% using Instagram, and 65% using Snapchat.
The young user base makes social media a must-have for higher education institutions.
Going where your audience is already hanging out, puts your institution right in their eye line. And, improving your social media presence can attract more students, help fundraising efforts, and build awareness around alumni achievements.
Why higher education institutions should be on social media
Besides the fact that the key demographic groups on social media match the target audience of most higher education institutions, there are plenty of other pros to having a social presence.
Social media can help your institution:
Recruit new students
Increase student engagement
Increase fundraising efforts
Share alumni and college achievements
Get global exposure
Provide important information quickly
Create a community
How can universities use social media platforms to engage students and alumni
Social media platforms have become a crucial part of our daily lives, and universities have not been left behind in utilising these platforms. Here's how universities can use different social media platforms, including
LinkedIn
Facebook
Instagram
TikTok
Twitter
LinkedIn
LinkedIn is the most popular professional social media platform, with over 700 million users worldwide.
Universities can use LinkedIn to showcase their academic programs, faculty members, and alumni. By creating a university page on LinkedIn, universities can share job opportunities, publish articles related to their academic programs, and create connections with other universities and industry leaders.
Facebook
Facebook is the most widely used social media platform, with over 2.8 billion active users. Universities can use Facebook to reach a large audience and promote their academic programs, events, and activities. They can create a Facebook page to share updates, photos, videos, and live streams of campus life. Facebook groups can also be created for specific programs, clubs, or activities, allowing students to connect and share resources.

Instagram
Instagram is a visual social media platform with over 1 billion active users. Universities can use Instagram to showcase the campus, student life, and academic programs. By creating an Instagram account, universities can share photos and videos of campus life, events, and academic achievements. Instagram Stories and Reels can also be used to engage with followers and share behind-the-scenes content.

TikTok
TikTok is a short-form video-sharing social media platform with over 1 billion active users. Although it may not seem like an obvious choice for universities, TikTok can be an effective platform for reaching a younger audience.
Universities can create short videos to showcase campus life, student experiences, and academic programs. By using popular TikTok trends and challenges, universities can engage with a wider audience and promote their brand.
Twitter
Twitter is a microblogging social media platform with over 330 million active users. Universities can use Twitter to share news, updates, and research findings. By creating a university Twitter account, universities can engage with their followers, industry leaders, and other universities. Twitter chats can also be used to connect with students and alumni, answer their questions, and share resources.

In conclusion, social media platforms are powerful tools that universities can use to promote their academic programs, engage with students and alumni, and connect with industry leaders. By using a variety of social media platforms, universities can reach a wider audience and create a strong brand presence.

Top tips for universities looking to bolster their social presence
With so many fancy features and talked-about tactics, knowing where to start with social media can be difficult - especially if you're new to marketing and managing social media.
Here are some ways colleges and universities from around the world leverage their social accounts to increase engagement and attract new students.
1. Virtual tours
A recent study by TargetX found that 58% of aspiring students use social media to look up schools they're considering. This provides an excellent opportunity to get your institution on their radar and show them what you have to offer.
Hope College in Michigan is well represented on pretty much every social media platform you can think of: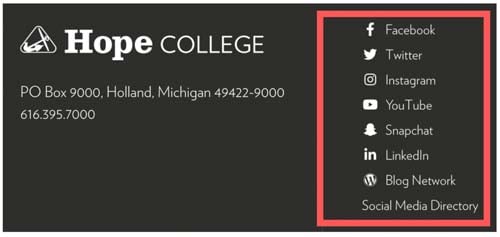 One of the more interesting tactics this college uses is offering virtual campus tours on Instagram. Prospective students can click "Campus" and be treated to an online look around the buildings and grounds.
Current students provide commentary on campus landmarks, different courses, and the extracurricular activities available at the college.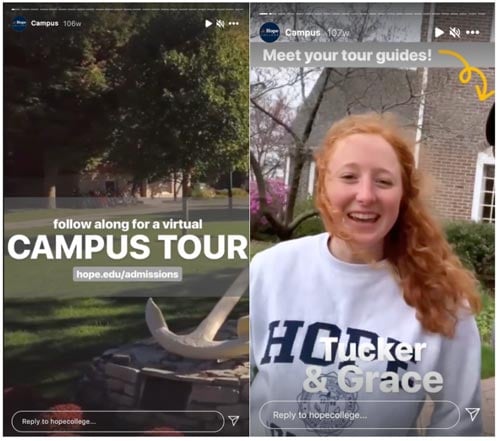 How to share virtual tours:
Go live: use social media features like IGTV and Facebook Live to give real-time tours to prospective students
Get students involved: ask current students to provide their insights on their favourite campus spots
Make it interactive: ask questions and encourage viewers to engage with the tour
Make it easy to find: pin your virtual tour to the top of your institution's profile, as Hope College does with its Instagram Highlights


2. Student takeovers
Prospective students want to know they're going to fit in at your college or university. Introducing them to existing students is a great way to do this, but it's also helpful for sharing important information about the institution.
Brandeis University has an entire Instagram Highlight dedicated to student takeovers: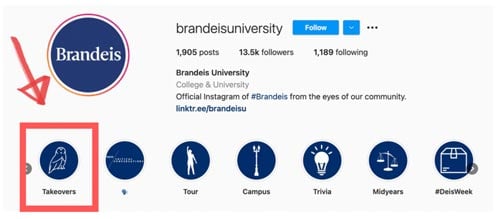 When a prospective student clicks through, they're greeted by multiple stories introducing different students, their courses, and their interests around campus.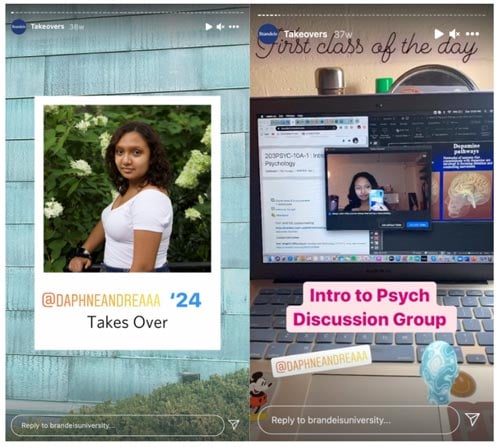 How to share student takeovers:
Choose a mixture of students: try and get a wide range of existing students to participate to reach a broader spectrum of prospective new recruits
Give access: let students take control of your social media accounts for the day to share their stories in real-time
A day in the life: day in the life videos show prospective students what their time at your college could be like
Course information: get existing students to share information about their courses, including their workload and lecture schedule
Community walkthrough: share information about campus clubs or popular communities


3. Share your institution's missions and values
Students expect more from higher education institutions than ever before. 79% prioritise student satisfaction over league table rankings, with many looking for campuses that share the same values as them.
Social media is the perfect springboard for sharing your institution's value propositions and any missions that align with your student's wants and needs.
UNSW Sydney is a prime example of a university doing all it can to share its values with students. On Twitter, they post pictures and commentary about key events in the college calendar: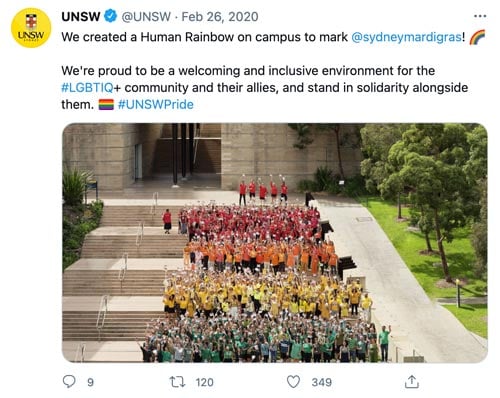 And their Instagram is dedicated to showcasing iconic vantage points of the campus alongside pressing political topics and world news: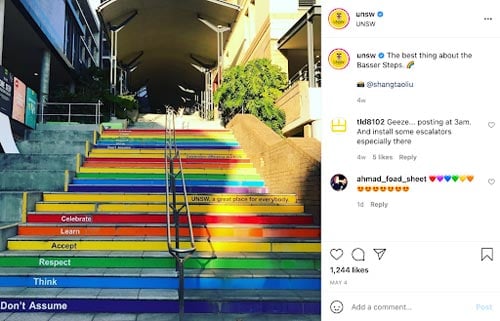 How to share your missions and values:
Be authentic: don't just post things for the sake of it - your institution's values and missions should be integral to everything you do (and that will come across on social media)
Add commentary: join conversations happening around the world and share your own thoughts and commentary
Celebrate social media holidays: check your calendar and mark down important dates in your social media calendar and share relevant content (for example, Black History Month and International Women's Day).

4. Utilise user-generated content
Social campaigns that incorporate UGC see a 50% lift in engagement. And, by 2023, Gen-Z (a.k.a. your target audience) believe that UGC will have more credibility than traditional content created by a company.
Allegheny College uses the hashtag #acgatorgram to gather photos from students on Instagram. The hashtag page shows a mixture of student selfies, campus shots, and college information.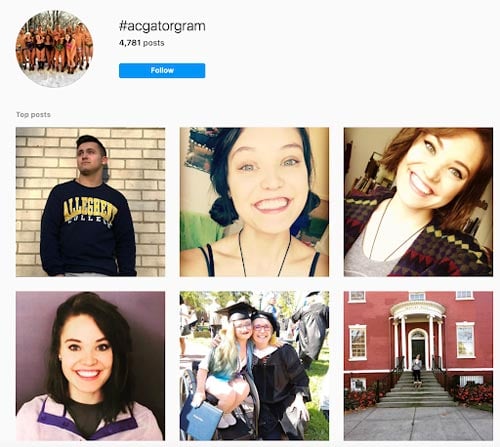 In a similar fashion, Glasgow University's dedicated #TeamUofG hashtag on Twitter is regularly used by students, staff, and even the Vice-Chancellor.

How to share UGC:
Dedicated hashtag: create a unique, college-relevant hashtag where you can collect UGC in one place
Provide incentives: offer rewards to students that share content via the hashtag or run a simple hashtag contest
Re-share UGC: re-post the best UGC examples from your students across social media channels and in other marketing materials
5. Fundraising
One of the biggest benefits of social media is its reach.
Universities used to be limited to advertising in their local area (or, at the very most, their country), but they can now spread the word across borders and into all four corners of the globe.
Purdue University uses this to its advantage to raise awareness of its annual Day of Giving. During the event, social media competitions take place under the #IGave hashtag, raising awareness of the day and Purdue University itself.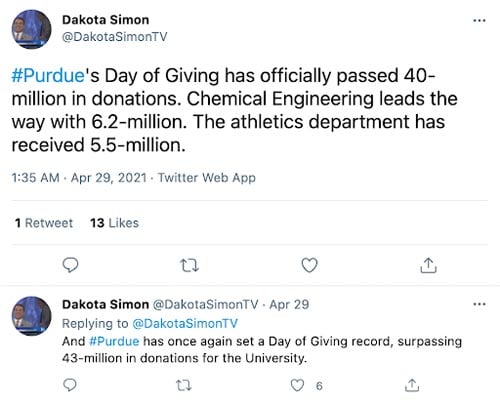 How to use social media for fundraising:
Create a hashtag: hashtags are the easiest way to spread the word quickly about your fundraising event
Get students involved: encourage students, alumni, and staff to share information about the event
Make it interactive: run mini-contests, ask questions and mix up content formats to keep the event engaging
6. Bring it all together in one place
Trying to keep track of all your different social channels can be tricky. MIT makes it easier on themselves with their dedicated "social media hub".
Here, they bring content from all their social channels together in one place. Students can browse images, text, and videos from various different platforms to get an overview of the institution.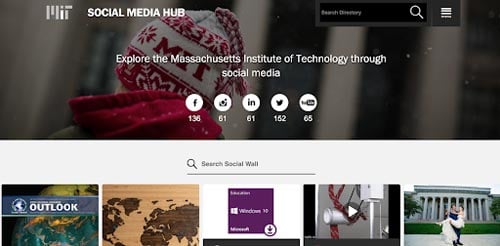 How to bring it all together:
Create a dedicated page: create a page on your website where you can pull all your social media posts together
Use a Tool: specialist software can help you automatically sync your social media content in one place
7. Live stream events
Events are a major part of any university's calendar, and they can be a great way for prospective students to get an insight into what your institution offers. Live-streaming events also helps to include existing students that aren't able to make them in person, which can increase engagement and loyalty.
Lansing Community College does exactly this. They live stream key events like student graduations and seminars via their Facebook page to reach a wider audience.
The key events you can live stream:
Graduations: watching existing students graduate is a great incentive for prospective students and those studying with you at the moment
Q&As: interview alumni, bring in guest speakers, and interview staff about relevant and interesting topics
Lectures and seminars: show prospective students what your seminars and lectures are like by live-streaming them on social media
Sporting events:

show off your sports teams and their successes by live-streaming key events
8. Run a competition
Everyone loves the chance to win something, but there are benefits for you, too. Instagram accounts that hold contests grow their followers 70% faster than accounts that don't, while 62% of participants are likely to share a contest with a friend.
Leeds Beckett University recently ran a giveaway on Instagram to coincide with one of their live events. They offered participants the chance to win a £50 voucher if they shared the event with their friends and followers.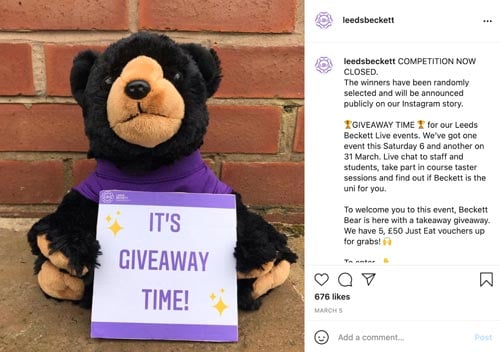 How to run a contest:
Choose a relevant prize: think about what students would love to receive (your prize doesn't have to be huge, though - it could be as simple as a voucher)
Encourage shares: make sure sharing the contest is a prerequisite for entering so you can quickly spread the word
Designate a hashtag: use a hashtag to increase reach and engagement
9. Celebrate successes
The majority of colleges and universities are doing amazing things outside of teaching students. Alumni are participating in world-changing projects, professors are undergoing fascinating research, and existing students are doing great things outside of class.
Do what the University of Sheffield does and share these successes on social media. It gives a deeper insight into what students and staff are capable of and increases your credibility as an institution.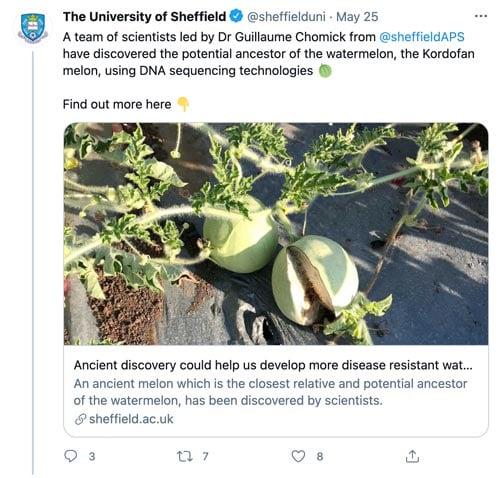 How to share successes:
Share research: promote research and projects alumni and staff are working on
Celebrate students: share the successes of students outside of their classroom achievements
Keep followers updated: continue to update your audience on ongoing projects
Creating a social media strategy for your college or university
Now that you've got some real-life inspiration under your belt, here's how you can create a social media strategy for your college or university.
Choose the right social media platforms: you don't have to be everywhere at once. In fact, a

recent study

found that Snapchat and Instagram are the most prominent channels for young adults
Choose your goals: what do you want to achieve with your social media efforts? More students? Increased engagement?
Create and schedule posts: map out your publishing schedule and team up with relevant creatives to bring your posts to life with a tool like

Sendible

Track and measure results: keep an eye on your social stats to see how your campaigns are doing. Look closely at follower count, engagement rates, and click-throughs
What about agencies managing higher education clients?
If you're an agency managing clients like colleges and universities, you'll need to be creative with how you manage each account.
Here's a quick rundown of how you can get started:
Discover the goal of each university
Identify what their students want and need
Explore which platforms the institution is performing best on (or which ones their audience favour) by running a social media health check
Juggling social media accounts for multiple higher education institutions can be hard. Therefore, it's crucial that you schedule content and have social media calendars and strategies for each university.
Higher education institutions need to get social
Social media is crucial for universities and colleges. Reaching new students and engaging with existing ones means meeting them where they're already hanging out.
Take inspiration from the institutions we've highlighted here, then sit down to create your own strategy. Don't forget to schedule posts and consistently manage your accounts to grow your social media presence.