Healthcare social media marketing can be highly beneficial both for healthcare professionals and their target audience.
When used correctly, healthcare and social media are a powerful combination that can help raise awareness, combat misinformation, expand the reach of resources, answer questions in real-time, and collect valuable data.
But, this doesn't mean that it's all sunshine and unicorns on this side of social media marketing. When handling healthcare social accounts, you must be mindful of some traps you can easily fall into.
To help you come up with the best possible social media strategy for your healthcare practice or client, we've created this guide that covers:
How is social media used in healthcare
According to the 2021 survey study Health Information Seeking Behaviors on Social Media During the COVID-19 Pandemic Among American Social Networking Site Users, 76% of respondents said they used social media "at least a little" to learn about COVID-19. However, 63.6% said they were unlikely to check the information they found on social media with a health professional.
This tells us that social media plays a significant role in sharing helpful information, combating misinformation, and much more. So, let's break this down and see how social media is predominantly used in healthcare:
Raise awareness
Pink ribbon.
Did you immediately think of breast cancer? That's the power of marketing.
The mission of the Estée Lauder Breast Cancer campaign was to create a cancer-free world - a vision that Evelyn H. Lauder set in 1992. Since then, many healthcare and global brands have adopted the cause and supported worldwide efforts.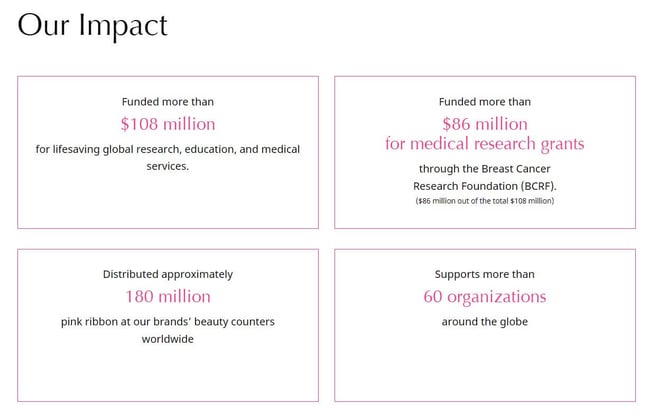 Source: The Breast Cancer Campaign
As a part of their 2021 Breast Cancer Campaign, they launched a new social media call-to-action using the hashtags #TimeToEndBreastCancer and #ELCdonates. These easy-to-implement hashtags encouraged supporters worldwide to raise awareness and funds for the Breast Cancer Research Foundation (BCRF).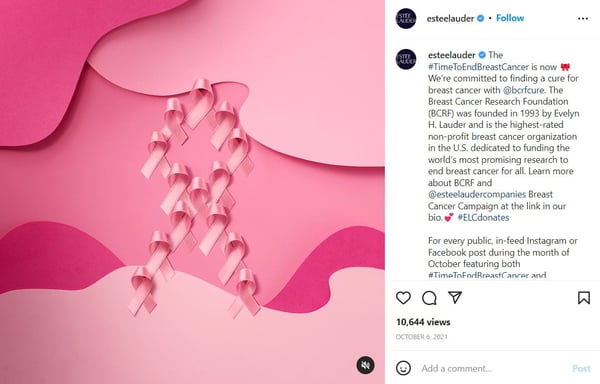 Source: @esteelauder
Even though Estée Lauder is not a healthcare organisation, and BCFR is a non-profit breast cancer organisation, this is an excellent example of how to spread health awareness.
And if you're wondering if it had any genuine impact, aside from collecting funds for lifesaving research, education, and medical services, here's an impressive fact for you:
"Although we have already made great strides against this disease, as breast cancer mortality rates have decreased in the U.S. by 40% among women since 1989 because of earlier detection and improved treatment, our work is not yet done." Estée Lauder Companies
Educate your audience
It's no secret that health and wellness have taken on a new level of importance in people's lives. At the start of 2020, there was a 54% increase in conversation on Twitter around these topics, and brands like CVS Health that were looking for unique and authentic ways to reach their customers took note.
CVS Health partnered with @WebMD, a go-to place for Twitter users looking for health-related videos and tips. As a part of their marketing campaign strategy, CVS sponsored WebMD content through a custom Twitter Amplify partnership that brought in 30 million pre-roll video ad views. This way, they managed to achieve several campaign objectives:
Educate and help the audience
Reach new target audience
Establish trust by partnering with a trusted publisher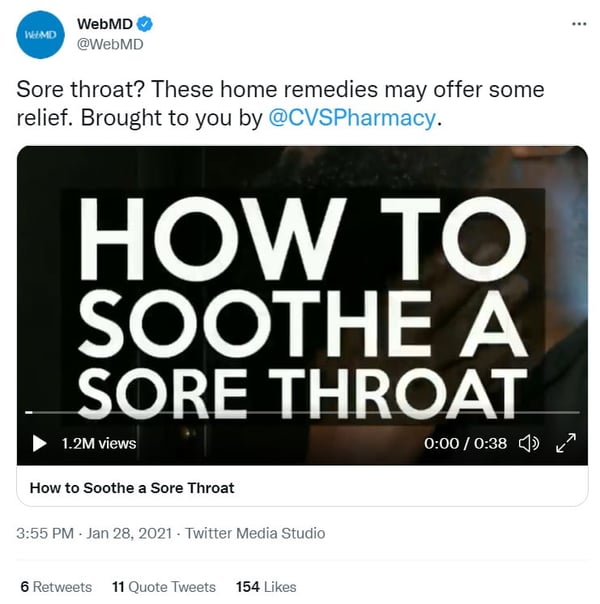 Source: @WebMD
On the other hand, when it comes to long-term educational content creation, we immediately think of the Mayo Clinic.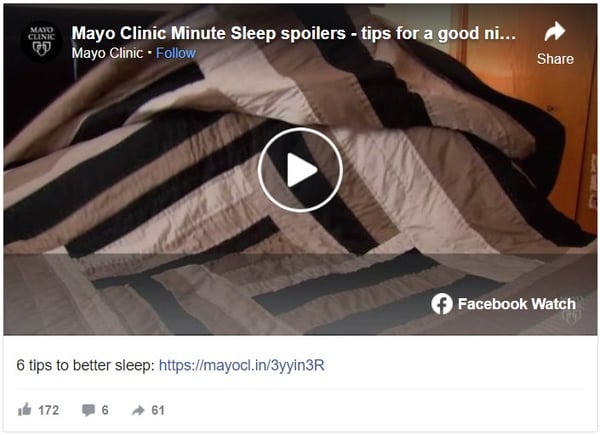 Source: @MayoClinic
They have created a series called "Mayo Clinic Minutes", in which they partner with various medical professionals to share actionable tips that resolve numerous problems - such as sleep deprivation.
Keep in mind that short-form videos are one of the most consumed formats on social media.
Combat misinformation
Social media is a great way to reach a broad audience quickly and cost-effectively. And this is amazing if the information is accurate and fact-checked.
But unfortunately, this is not always the case.
Combating misinformation has become particularly challenging on TikTok, where various users use pre-downloaded videos of healthcare professionals to "support" false claims and health tips.
So, what can you do to help?
Well, depending on how strong your social presence is, there are a couple of things you can do:
1. Ask your followers to tag you in questionable social media posts. Once they do, you can stitch them on TikTok or repost them on any other social media platform to confirm, disprove, or add in-depth insight to the original content.
But it doesn't quite work that way: If there are significant pockets of unvaccinated individuals in the South or WY ID then delta variant virus transmission accelerates, making schools unsafe, other indoor gatherings. Also allows additional variants to emerge. Everyone suffers. https://t.co/KmaxXIo8TH

— Prof Peter Hotez MD PhD (@PeterHotez) June 24, 2021
2. Set up keyword alerts in your social media management tool. This is a great way to keep track of industry buzzwords, names of thought-leaders, competitors, relevant hashtags, and keywords.
Offer patient support
In case you didn't know - creating strong and healthy communities on social media has become much more important than accumulating followers.
And this rings especially true for the healthcare industry.
A recent survey showed that nearly 40% of young people (ages 14 to 22) use various online tools to connect with others with similar health challenges.
No matter which social network you choose to focus on, you need to ensure that your community management strategy includes tactics that create a safe place for your existing and potential patients.
There are many ways you can do this, such as:
Debunking unhealthy myths
Responding publicly to "bullies"
Creating "Ask me anything" threads or LIVEs
Encouraging conversation and support amongst group members or followers
Setting up strict rules for your groups and explaining what will not be tolerated
If you're unsure what would benefit your patients most, simply set up a poll and let them vote. Allow them to tell you how you could best support them.
What are some healthcare social media marketing challenges and how to tackle them
We've mentioned the most prominent ways social media can benefit you as a healthcare organisation or professional and your audience.
But, we've also warned you that you need to be extra mindful when it comes to sharing posts, as we're sure you don't want any surprise lawsuits and difficulties.
Suppose you're a social media agency handling a healthcare client or a healthcare professional who hired a social media manager. In that case, you need to cover these two things - compliance and security. And there are a few ways you can make sure everything's in order all the time:
Create clear and strict guidelines
Guidelines typically include information on the brand's mission, content pillars, visual identity, copywriting, target audience, etc. But healthcare social media guidelines must ensure everyone's on the same page regarding HIPAA compliance and disclaimers. And this goes both for your organisation and external collaborators.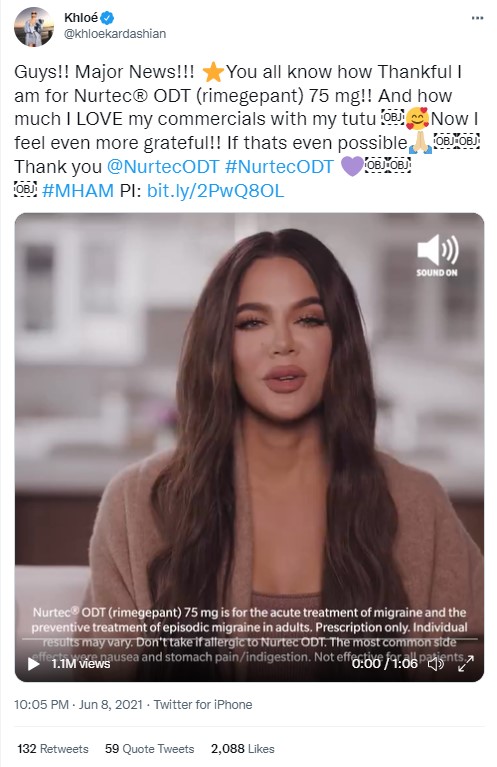 Source: @khloekardashian
Set up an approval process
Limiting content creation only to those who fully understand compliance rules is not the solution.
Instead, you can invest in a social media management tool, like Sendible, that allows you to assign tasks, collaborate on posts, and finally approve posts for publishing.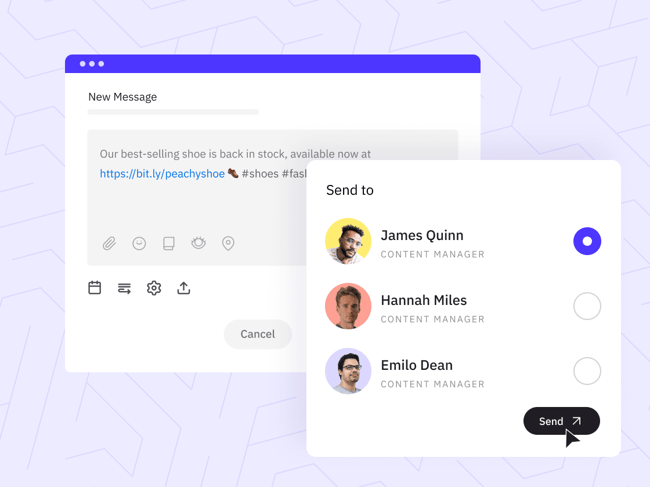 By assigning roles and creating workflows, you'll ensure that all posts are reviewed, compliant, and approved before they reach the social media audience.
This way, everybody from your organisation or agency can add value and speed up the creation process. At the same time, only those thoroughly familiar with guidelines and compliance rules can approve posts.
Monitor comments
You might be 100% sure that your social media posts are compliant and bulletproof. But what about comments left by your audience?
Yes, while they're an essential engagement factor, they might create unwanted headaches when it comes to HIPAA compliance.
Your community managers could altogether remove or hide comments that raise privacy concerns but take the opportunity to educate users who leave misinformative comments.
Sendible has a handy collaboration feature that allows you to assign questionable conversations to other team members.
Take security seriously
Who has access to your social media accounts, and what is their permission level?
Sendible's custom user hierarchies and permission groups allow you to decide who gets access to what. Remember - not every team member needs access to everything!
If you're an agency, pay extra attention when choosing your social media management tool. Check if it allows you to securely request social logins from your healthcare clients.
Finally, you'd also want to ensure you can easily and instantly remove people who no longer work for your organisation from the platform.
What social media channels should you consider as a healthcare professional
When it comes to social media and content - quality always beats quantity. So, choosing the right social media channel/s to promote your healthcare business is crucial.
While we can't tell you which one is the best platform for you, we can tell you that covering these will help you get started with making the right choice:
Set up measurable goals
Find out where your target audience is
Determine the budget
Research your competition
Be honest about the available resources
And finally, ask yourself: are you willing to experiment?
You might be reserved about using TikTok or Instagram Reels, but I suggest you go through the examples below before completely writing them off. They're probably not how you imagined them.
Social media post examples from different healthcare branches you can use as inspiration
If you're not sure how to get started with promoting your healthcare services and educating your audience, check out some of these social media posts from various healthcare professionals:
Dentists
Since social media marketing is about building close relationships with your patient, creating relatable content is necessary. As a dentist, you have a vast pool of options to do this.
Depending on your branding, you can opt-in for a classical approach: before and after photos, Q&A LIVE sessions, and videos explaining various techniques and processes.
Or, you can try experimenting with more creative posts to appeal to the younger audience - Gen Z and millennials. Social media's favourite dentist Dr Milad Shadrooh, better known as Singing Dentist, has accumulated over 625k loyal followers on Facebook. With his unique and fun approach, he has managed to promote his services and educate his audience by hopping on viral trends, and altering popular songs.
Plastic Surgeons
Plastic surgery has been booming over the past decade. Pop culture and social media helped to influence a new generation of people to be proud and transparent about cosmetic enhancements.
However, as a plastic surgeon, you shouldn't use social media to convince potential patients that they need a surgery. This is why most of these healthcare professionals opt for sprinkling some of these content topics throughout their content calendar:
1. Educational content
Doctor Faisal Ameer, Consultant Plastic Surgeon, made a viral TikTok explaining what to do when a finger gets chopped off.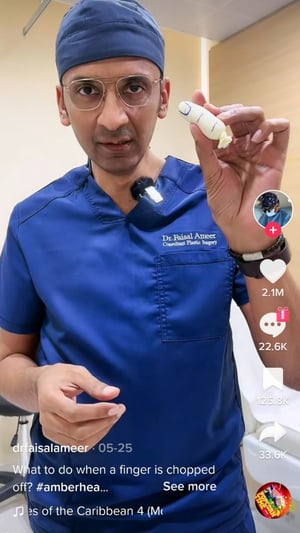 Source: @drfaisalameer
2. Promoting non-invasive procedures
In addition to reconstructive transformations and before/after content, you might wish to consider including the promotion of non-invasive procedures, as Dr Jason Diamond does. Instead of creating a post where he discusses the procedures, he collaborates with his patients on the video creation:
3. Fun commentary
One of the best-performing content categories on social media is the one related to entertainment. So, how do you do this with plastic surgery? Well, Holistic Plastic Surgeon Anthony Youn created a series of videos, Real or Sus, in which he gives his opinion on whether a celebrity has done a plastic surgery intervention or not.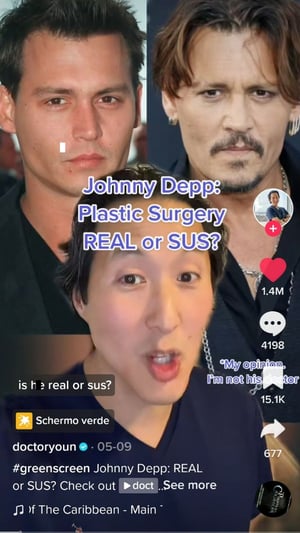 Source: @doctoryoun
Physical therapists
As a physical therapist, you can include some of these topics in your social media calendar:
Nutrition tips (even reposted from other sources)
Tips on exercises to do to get rid of the pain
Information on what to look for with common orthopaedic problems
Examples of when and why people suffer from common aches and pains
The @prehabguys have accumulated almost 1M followers on Instagram thanks to the well-balanced social media strategy.
First of all, they have included all the right information in their biography.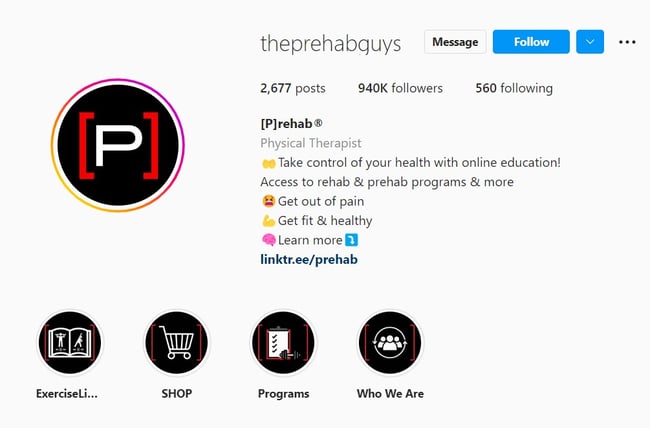 Second of all, they share highly educational, problem-solving content mixed with behind-the-scenes videos.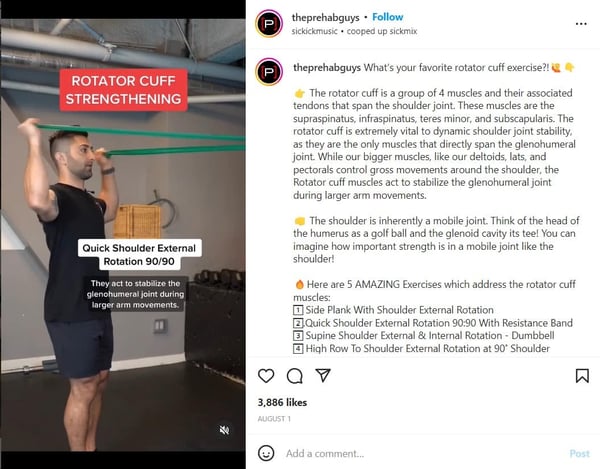 Source: @theprehabguys
Dietitians
"Social media gives dietitians visibility and recognition as nutrition experts. Many individuals without nutrition education or credentials actively provide nutrition advice on social media, so we need to be in this space to balance the conversation and provide evidence-based information." Leah McGrath, RDN, corporate dietitian for Ingles Markets in Asheville
This means that you, as a dietitian professional, have the power to educate your audience on the dos and don'ts and give them actionable tips on how to improve their health and establish a healthy diet.
No worries, sharing such precious content doesn't mean losing your potential patients. On the contrary! The more value you share with them, the more trust you'll build. And trust equals loyal customers.
Jess, Stacie, and Jessie, better known as @therealfooddietitians use their Instagram profile to share easy-to-prep recipes, all while promoting their The Real Food Table cookbook.
Eat Right, Academy of Nutrition and Dietetics, uses its social media channels to educate the audience by sharing articles that cover everything from farmer markets and food safety to dads' role in breastfeeding.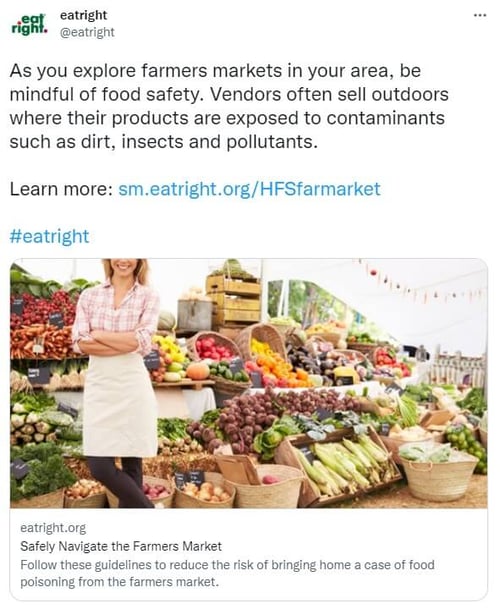 Source: @eatright
Bonus content tip: there are numerous food holidays throughout the year. You can use them to educate your audience on how to make particular food healthier, debunk myths, or share nutritious recipes.