This blog in a nutshell: the nine social media trends for 2019 you should keep an eye on as an agency, backed by insights from Social Media Week London—and the hard-earned experience of marketing practitioners working for global agencies and big brands.
Plus, you will have something practical to take away on each trend, with only 15 minutes spent in total on reading. So, let's get to it.
2018 has been a year of massive change in the social media marketing industry, ranging from algorithm changes to platforms limiting access to third-party tools and a plethora of new features for us to explore.
And with so many items on your and your client's radars, it's going to be harder than ever to know what to put your efforts in and prioritize in 2019 and beyond.
To understand the newest trends in social media, we went to Social Media Week London, a worldwide conference happening at multiple locations every year, hosting carefully selected speakers and marketers from all over the world. These are the nine social media trends for 2019 we picked up:
#1 Authenticity and transparency will prevail
In a world that's increasingly superficial, people want to have a slice of something that's real. Avid social media users are now well-accustomed to the idealistic, non-attainable lifestyles of famous Instagrammers, and with that, these same people crave more authenticity and transparency.
Showing the human side of your client's brand and the people behind it can do wonders for brand awareness and affinity.
Toby Gunton (Ln: tobygunton), General Manager at Edelman UK highlighted: "Social media is the most likely channel where you will develop a relationship with a brand - be it negative or positive." At a time when a large portion of people quit social media because of distrust due to misuse of data, hate speech and fake news, we have to ask - how can brands regain that trust? According to Edelman's findings from their Trust Barometer 2018 report, content should be created by credible authors with quality writing and visuals.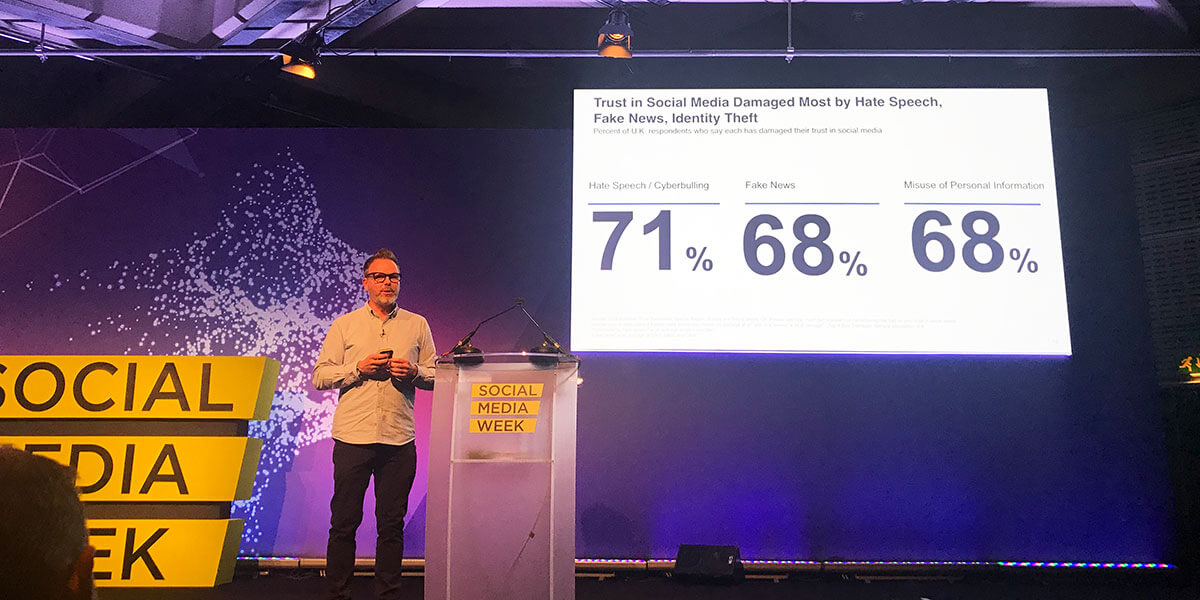 Another way to increase trust is to simply do more good. This comes naturally to nonprofits and charities using social media, but even the most financially minded companies can take part by improving old processes and being more environmentally-minded.
As outlined by Harvey Cossell (@Le_harv), Head of Strategy at the global digital agency, We Are Social, "People have reasonable expectations, they want: honesty, proper representation and innovation balanced with responsibility."
How to apply this at your agency
Determine if authenticity and transparency are what your client is interested in. Explain the potential benefits which include creating more trust and appearing more accessible to their audiences.
Ask your client about all of the "stuff" they do for their customers and use it as an idea bank for your content. Is there a cause your clients care deeply for or are their products sourced and created in a mindful way? Put it out there.
#2 The younger generation (Gen Z) will dictate what kind of content we should create
While we were spending all that time talking about Millennials and what makes them tick, Gen Zs have grown up and are now in the position to buy products and services.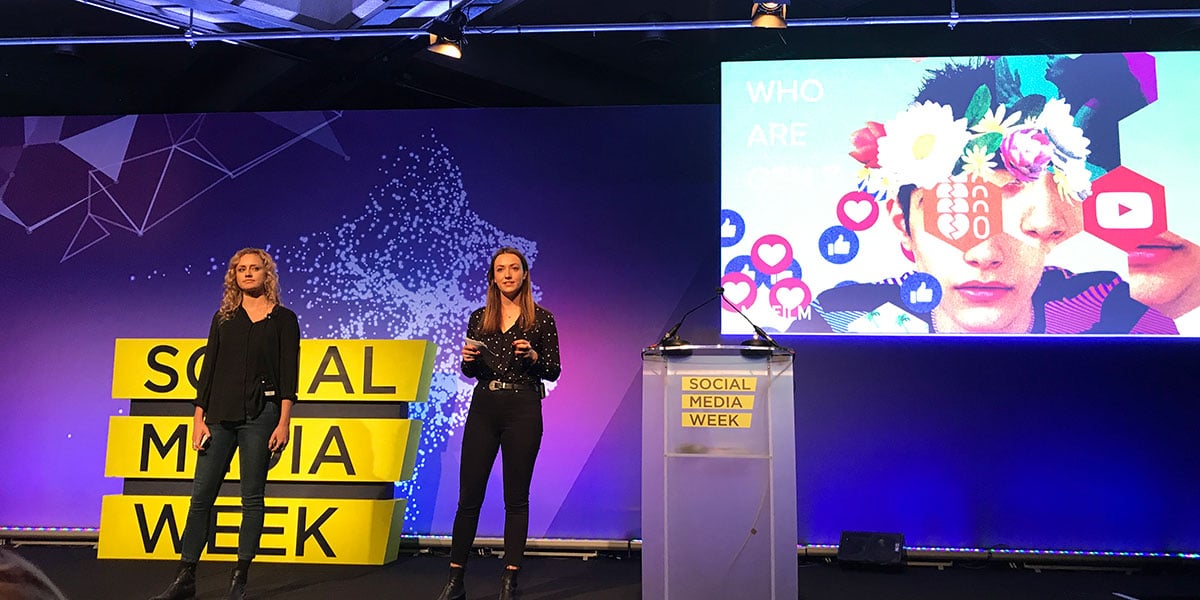 Shannon Maclean (Ln: shannonmacleanarnott) and Charlotte Dixon Arnott (Ln: charlotte-dixon) from MOFILM, a content-sourcing agency, gave a wonderful presentation about the Gen Z generation, and their case study of what these young content creators like and dislike about social media. "They grew up in the digital world and do everything on their phones while being more selective about what they consume."
In content, Gen Zs look to: learn something new, explore, build a platform, connect with other people, be inspired and be themselves.
The Gen Z generation doesn't want to see the highlights anymore, they want to see what's beneath the surface, and be part of the positive change. Genuine interactions and authenticity are highly prized.
How to apply this at your agency?
Evaluate if any of your clients have Gen Zs (people born between 1995 and 2012) as a target audience. If so, this is what you can do according to Shannon and Charlotte's findings:
Put more focus on platforms like Instagram and YouTube. Twitter is still a great place to reach an audience while Facebook is what the "older people" use, and Snapchat has fallen behind.
Experiment with more digestible content formats like short videos (15 - 45 seconds) instead of text posts and stock images which are not seen as genuine.
Consider working with micro-influencers to gain their trust and don't pick them at random.
#3 Influencer marketing is growing up
Influencer marketing is becoming more personal. "Focus on building relationships, not one-night stands," said Amy Luca (@amyluca), the CEO of theAmplify, a creative influencer service.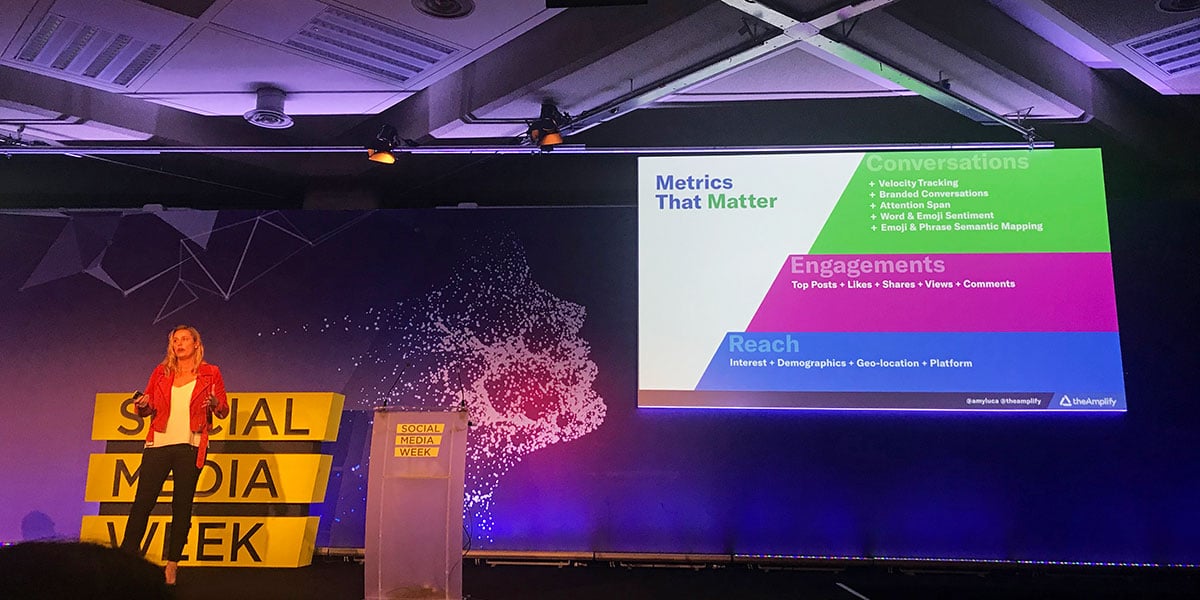 Fake news, fake followers and engagement have caused a real panic in the industry. To add to that, agencies have limited access to data and there has been a sharp decline in organic reach. It was clear Amy has worked with a lot of influencers as she gave brilliant advice to both agencies and brands wishing to succeed with influencer marketing in 2019.
How to apply this at your agency?
Integrate. Take an integrated approach — look at what influencers and your client's brands are doing across all marketing channels.
Build relationships, not obligations. The days of sending $100 for an influencer post and having no creative control are quickly coming to an end. Create relationships with influencers and think long-term.
Create relevant, compelling content. Stop to think if you are providing value or simply creating celebrity shots when working with influencers.
Value performance over CPM (cost-per-impression). If you base success only on CPM, you encourage the wrong kind of behavior. Focus on the metrics that matter:
1. Reach (interest, demographics + geo-location + platform),
2. Engagements (top posts + likes + shares + views + comments),
3. Conversations (conversations related to the brand, emojis and phrases)
Boost it — you need a paid boosting plan. At best of times, you will have a 15% engagement rate organically, so it's wise to invest in paid promotion.
Experiment! Platforms are evolving quickly - so find a partner who wants to experiment. Work with people who want to work with your client's brand.
#4 Create amazing content - nothing else will work
Our attention spans are shrinking, that's what we have all heard, right? The following fact kept popping up at the Social Media Week conference: "The average human attention span is 8 seconds which is shorter than a goldfish." But is this really the true reason for declining engagement rates?
We don't have short attention spans, we hate crap ads! - Dom Whitehurst, Head of Digital Engagement, Wavemaker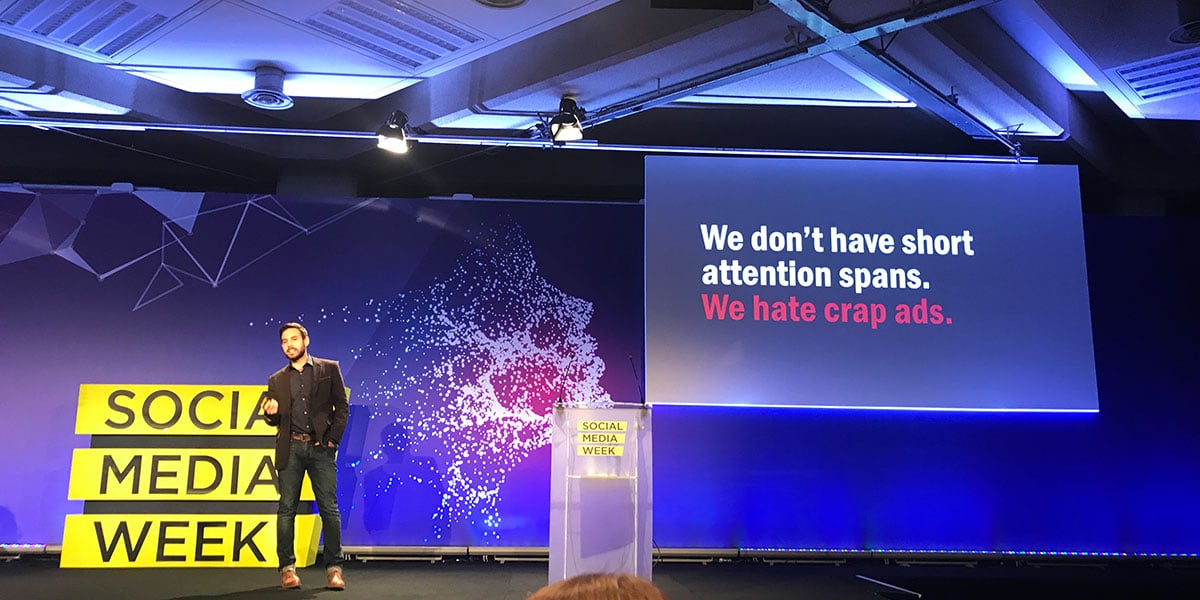 Personally, I couldn't agree more with Dom. Sure, we have to cater for the changes on the platforms and take less time to get to the point to keep up with the times, but people will spend time on watching and learning what they care about. It's plain and simple - we hate being marketed to, and will avoid ads like the plague.
Think about it: Hollywood films are increasing in length instead of shortening and 'binge-watching' shows on Netflix is a thing. Dom Whitehurst (@domw) narrowed it down for marketers: "To win, you need the best stories, the most engaging content. We need to tell our brand message as well as entertain."
How to apply this at your agency?
And when it comes to creating engaging content, we could all learn a little from BuzzFeed. In the words of Antonia Bonello (@antoniabonello) who is the Associate Creative Director at Buzzfeed UK, they are all about "building human connections and being agile on all platforms." Some of her advice is to:
Be the content that people love (not interrupt the content they love). Disruptive advertising doesn't work anymore. You need to create content that can teach your audience about something, so they can look clever in front of their friends!
Don't put all your eggs in one basket (and definitely don't cook them the same way). This struck a chord with me: "Buzzfeed meets people where they go instead of dragging them to their website. If one platform starts to dip, they create content on a different platform and optimize it."
Antonia also recommended to be data-driven and always analyze what content works and where - and that means looking at your client's apps, web content and all platforms they are currently present on.
#5 Video marketing should no longer be ignored
Creating videos for social media has become so accessible, you and I can't possibly ignore it any longer. You don't have to be a videographer/director/editor to create engaging videos - there are a number of tools to help you out. Plus, there is great functionality available on native platforms, including Facebook, Instagram and now even on LinkedIn!
The Creative Directors of That Lot, David Schneider (@davidschneider) and David Levin (@davidlevin123), highlighted that "Whatever you make, you need to make eye-catching." For your agency to make the most of video in 2019, follow these platform-specific tips:
Instagram

Play around with video carousels. Start with a still image and use video for other items in the carousel.
Create Stories - lower quality video Instagram Stories perform better because they come across as more authentic.
Facebook

Strong opening and early branding.
Test with the sound off versus on.
Consider length and relatable content.
Twitter

Short, thumb-stopping content.
Consider trending events and national holidays and what people are likely to do during those days, e.g. a lot of people work on their house on a long weekend.
How to apply this at your agency
Start with the content your clients already have. One of the easiest videos to create is slideshow videos - these are basically a compilation of different static photos together. Simply add some music and text, and you've got yourself an engaging video!

> Explore tools to help you create social media graphics.
Create videos as a hook to pique their interest. Create shorter videos as hooks to catch the audience's attention, pointing to a page or platform where the full video is available. Some brands have seen success with using Instagram as the "hook platform" and publishing the full version of the video on Facebook.
Have courage - you know more than you may think. Chances are you already have the skills to make your first video - be it a slideshow, a compilation or putting together clips of other videos. What you may not know is that you can create videos even from text-based content like blogs or website pages, too.

> Check out our tutorial on how to create your first social media video

.
#6 Think storytelling first, format second
Optimizing your content for the right platforms and trying new formats is important, but the essence of your message shouldn't be compromised by focusing on new formats.
Another brilliant speaker at Social Media Week London was Nadine Heggie (Ln: nadine-heggie), Vice President of Global Partnerships at National Geographic Partners. National Geographic regularly collect prestigious awards for their campaigns and are one of the most celebrated brands on social media.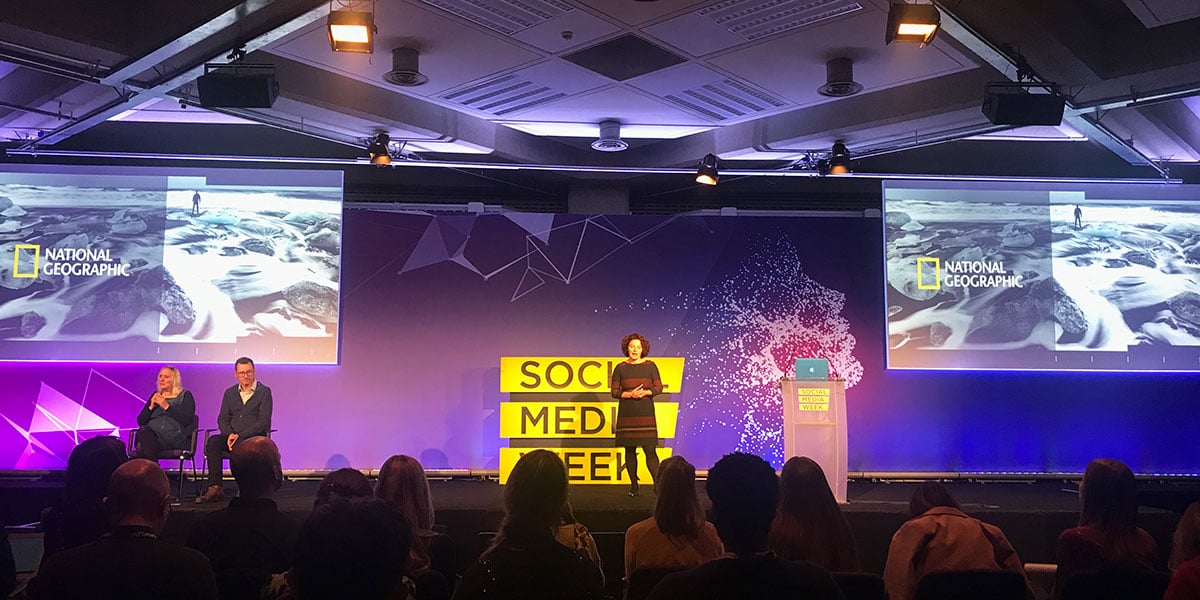 And while hardly any business owner has the type of resources they have—photographers, journalists and explorers—we can learn a lot from their approach to storytelling. Nadine highlighted that they believe "great stories have the power to transform the way we live and see the world", and that has helped them combat content overload.
How to apply this at your agency?
Stay true to your and your client's brand. People expect world-class visual storytelling of National Geographic, so they deliver it.
Lean into purpose. Use social media as a force for good. Consumers believe they have the power to change the world - empower them and believe in them.
Focus on "the moment" - focus on events that matter to your client's brand. For them, it's events like World Ocean Day, World Water Day and Earth Day.
Deliver content that's relevant to their audience. Switch from monologue to dialogue, find ways how to interact with people on the other side of the screen.
Don't be afraid to innovate — something brilliant can come of it.
Push the boundaries with tech and innovation. Explore new ways of storytelling with the help of new technology, like the Will Smith's Q&A with NASA astronaut Drew Feustel via Instagram Live.
#7 Experiment without forgetting who you are marketing to
With so many new content formats available, you may think you have to try each one, but that's not necessarily true. You can run experiments by optimizing what you are already doing as well as trying new formats when the time is right.
But how do you know what to experiment with and when? Go with what already works and build on it! If you know that Facebook is the best referral channel to your client's website, then experiment on this platform rather than hosting a live video on YouTube that you know hasn't been performing that well.
Jason Miller (@JasonMillerCA), former Global Content Marketing Leader for LinkedIn, ran a small marketing team with the job to advertise LinkedIn's Marketing Solutions package. They achieved over 150K views and 25K downloads on their guides thanks to two reasons. First, the bold experiment with the cover page of the guides with clever and quite honest copy rather than visuals, e.g., Read me if you want to drive more leads using LinkedIn.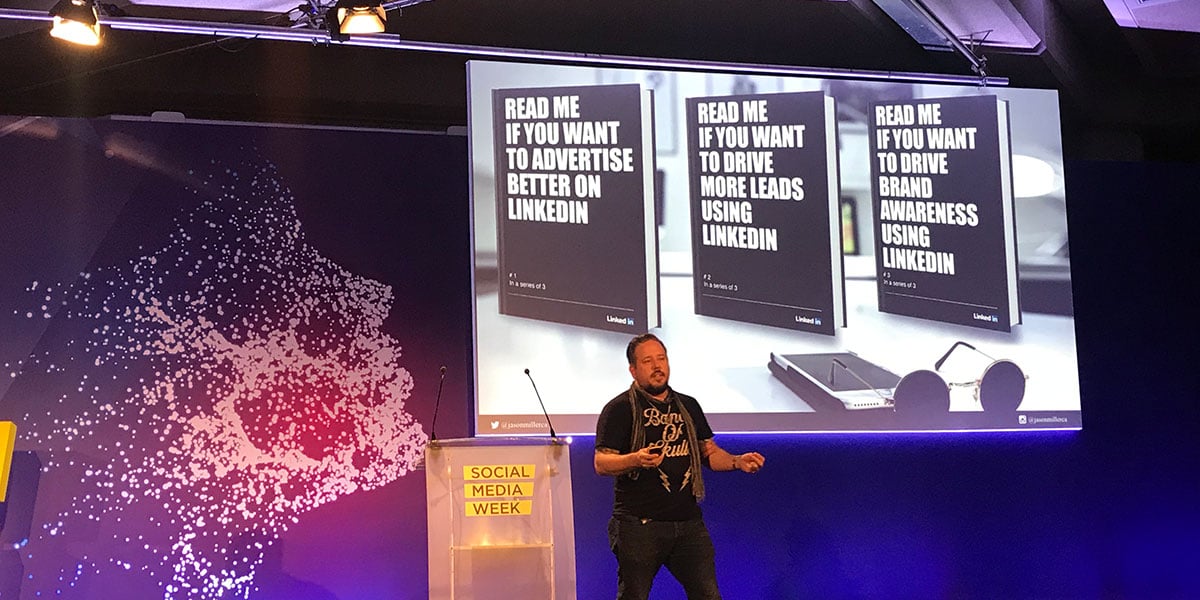 Secondly, they ran dozens of small tests on their ads (type, placement, copy, colors, stock images) to improve click-through-rates (CTR), resulting in better ad spend and lower acquisition costs. My favorite test has to be the one below - they simply matched the direction of the model looking at the CTA button, and achieved +89% in CTR. What a simple, impactful test!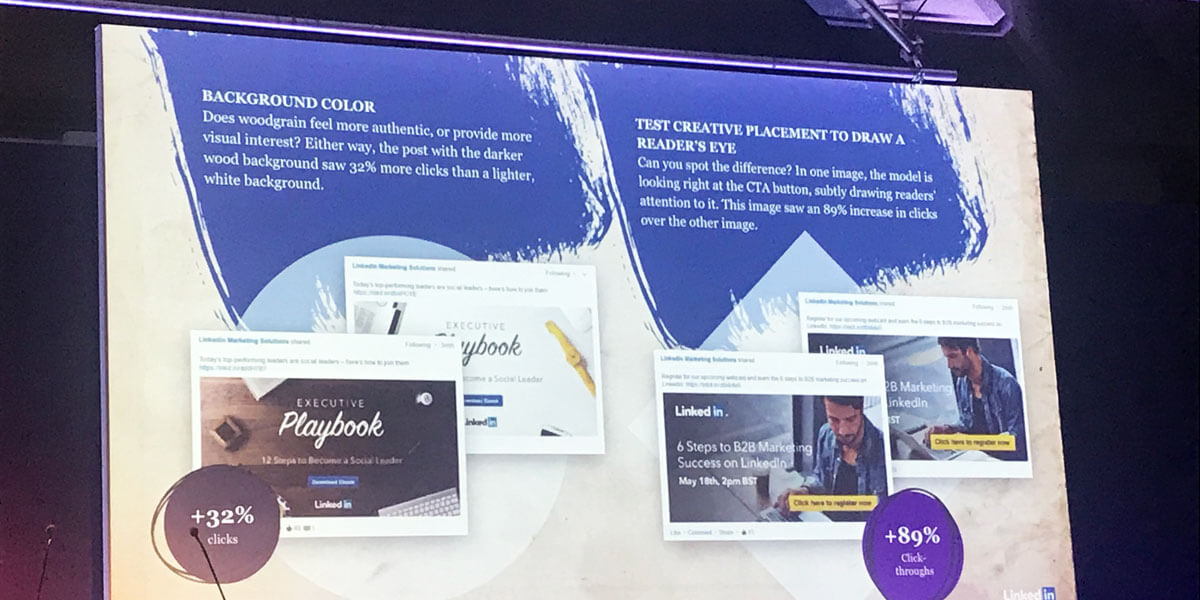 How to apply this at your agency?
Get to know your client's audience, their pain points and challenges. The more you know about these, the more relatable content you can create.
Continuously test variables on your organic content and ads, but don't test more than one thing at a time.
Run controlled experiments regularly. Set a goal to run one once a month or more if the resources allow, and take a scientific approach when you do.

> Try these 11 social media experiments and growth hacks.
#8 Emerging content formats like AI, MEMEs and audio
Once you've established what kind of story you want to tell for your client's brand, you will need to pick the right medium and format to tell it.
There are more content formats becoming available to us: AI-scripted ads, Virtual Reality, MEMEs and even audio content (not counting the podcasts, of course). Because these are new, it's hard to measure their return-on-investment (ROI), but it's definitely worth keeping these in mind and potentially, using them for running your experiments.
Lexus's new ad for the ES model was entirely written by AI and directed by Kevin MacDonald who didn't make any changes to the script. The ad premiered at Social Media Week London in November. The panel talked about how creativity can be programmed in some ways because a lot of it is research that's done beforehand.
I knew Reddit as the forum where people post random stuff, but Joe Federer (@joefederer), their Head of Brand Strategy, turned it around. He emphasized that "It's all about community - it doesn't matter how many followers you have or what your profile picture looks like, everyone on Reddit gets the same view, only altered by the selection of the topics they choose to follow."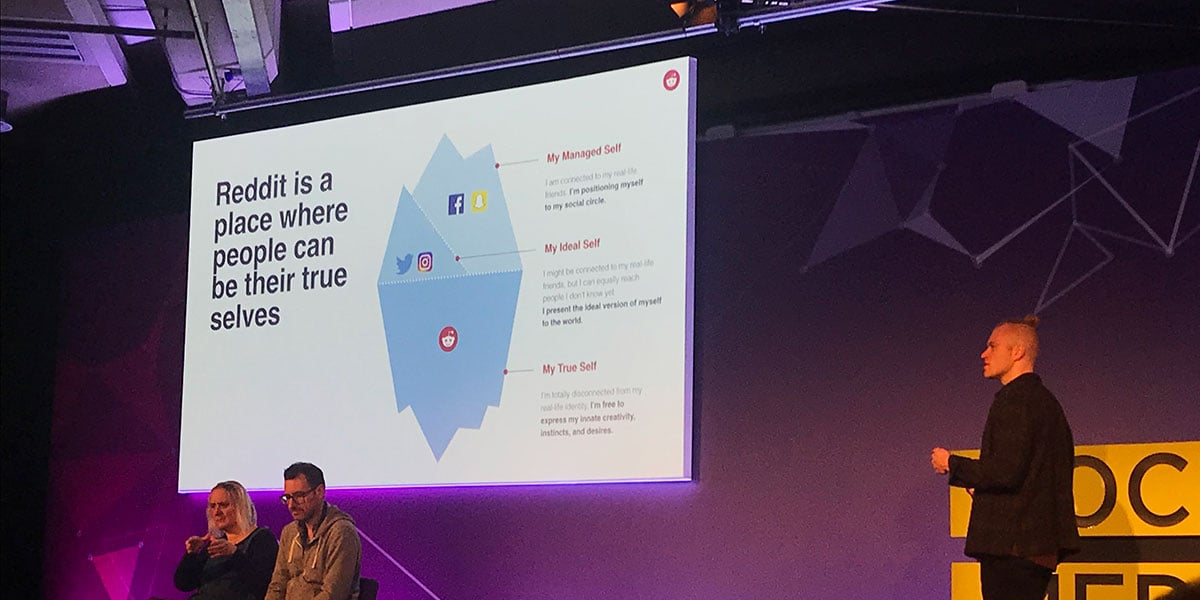 Facebook+Snapchat = My Managed Self. I am connected to my real-life friends. I'm positioning to my social circle.
Twitter + Instagram = My Ideal Self. I might be connected to my real life but I can equally reach people I don't know yet. I present the ideal version of myself to the world.
Reddit = My True Self. I'm totally disconnected from my real-life identity. I'm free to express my innate creativity, instincts, and desires.
MEMEs are quite an old concept in the history of the Internet and are currently endangered by the Article 13, but there is definitely space for brands to use single images with clever text overlays to stir emotion and meaning.
And finally, could audio be the next big thing on social media? This was a question poised by the BBC panel, featuring Rowan Collinson (@rowanc), Anna Doble (@annadoble) and Shaun Keaveny (@shaunwkeaveny). The BBC Radio stations have been using audio excerpts from radio shows and creating social media posts by using an image, subtitles and a moving graphic like the wavelength to make it feel like a video.
When a Fart Machine met the Royal Shakespeare Company... 💨😂 pic.twitter.com/Fx9f3sEnzS

— BBC Radio 2 🎄 (@BBCRadio2) December 7, 2018
#9 Take an integrated approach - it will pay off
Even if your sole responsibility is managing your client's social media, it's highly likely that they are using other marketing channels to achieve their marketing objectives and broader business goals. And you can't measure the success of how well your agency is performing if you view social media in a silo.
Similarly, don't view paid advertising on social media separately from organic posts. Followers see ads as content, so you should explore how to amplify content via paid ads that's performing well organically.
Here's a little humor from the days when there were no paid ads on social media, delivered by Creative Directors at That Lot, a platform-first social media agency we mentioned before: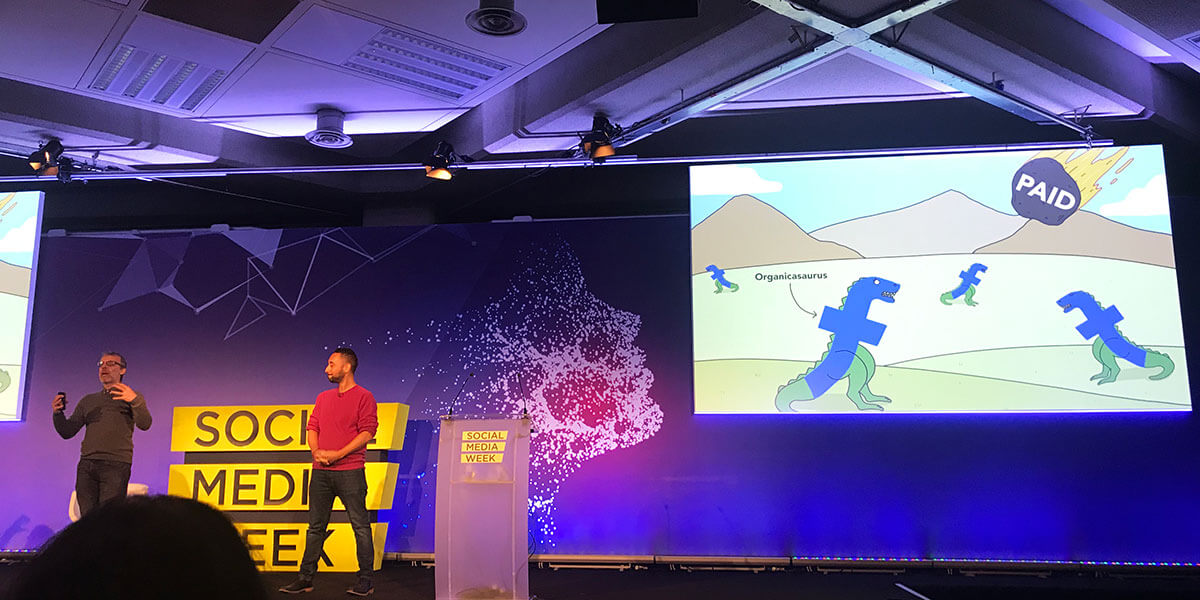 You can't always trust the data you get with paid ads like Facebook, so that's another good reason to look beyond one said platform. Anthony Macro (Ln: anthonymacro), the Head of Social Advertising at the global digital marketing agency, Croud, stressed the importance of taking an integrated approach, especially when measuring paid advertising results on social media. "You will only get true results when you use Facebook and Google Analytics together." His talk was quite technical, but also inspiring, this was his advice:
Focus on KPIs and eliminate looking at metrics only.
Limitations will always exist but you can develop techniques to work within these constraints.
There is no magic formula. Work on what you can while you can - there is no magic bullet and it's unlikely to come soon.
Anthony also gave a nifty trick to agencies when working with Facebook Ads. He recommended adding a bit of code to delay the pixel fire by 3 seconds on landing pages, so that the immediate bounces don't get attributed to the conversions on the page or marked as a successful action. Useful!
How to apply this at your agency?
Start with reporting and access. Do you have access to Google Analytics, native social media platforms for your client, and also the data in your social media tool of choice? Looking at data like referral traffic and understanding the type, and timing of your client's most successful posts can pave the path to future success.

> Learn how to make sense of social media data and show ROI for your time.


Reconfirm what success looks like to your clients to guide your future strategy and posting. If you know their broader marketing goals, you can better cater to their requirements. You may find out that building an engaged community is more valuable than actual visits to their e-commerce site, or that they desperately need more video content to show the human side of their business.

> Learn more about your new clients by asking questions from our social media questionnaire.


Consider if there are any other services you could offer to clients. If you are at a stage where you are looking to grow your agency, offering a new service could be the right way to go. For example, do you have enough experience to offer paid ads, design social media graphics, or maybe you know a lot about email? The benefit here is that campaigns can be run in unison, with less overlap and last-minute scrambles on what promotion should go up next on social media.

> Learn how to get started with email marketing: 12 questions answered by AWeber.
Summing it all up
That's it for the main insights which should help you make smarter choices in 2019! Hopefully, you enjoyed this condensed version of the social media trends we picked up from the fantastic speakers at Social Media Week London and our own research.
We too will be revamping our social media presence and sharing our learnings with you (including the failures) in the near future, so do subscribe to our blog if you haven't already!
I'll leave you with a quote from Ian Edwards (Ln: ian-edwards), the Planning Director for Northern Europe, Facebook: "Social media is a massive force that can be used to connect the world and it can be used for good". The idea of connecting real people, giving them a voice, and helping them find their community is one of the big ideas of our time."
So think beyond the product you advertise for your clients if you can. Is there a broader community that is using their product or service? Can it in any way have a positive effect on their life or the life of their friends and family?
I think if we tap into that, we will no longer be creating campaigns that feel like marketing but will be genuinely making the world that bit brighter in the end.