Community over followers is a big social media trend for 2022. Consumers are craving deeper connections with the brands they buy from–and who can blame them? After two years of minimal human contact and relentless lockdowns, it's no wonder people are looking to be more sociable.
As a result, communities have become incredibly important, with social platforms like Facebook becoming the perfect places to grow and foster a community. They are so popular in fact, that you can offer Facebook group creation as a separate service package for your clients.
The difference between a Facebook Page and a Facebook group
Facebook Pages are like a digital storefront for your client's brand.
Only the client can create posts and updates and share information. Their followers can see what's being posted, but they can only respond in the comments–i.e. they can't create their own posts on your Page.
Facebook groups, on the other hand, are focused on a community where all members can share posts and interact with each other. Another key difference is that Facebook groups have members and Facebook Pages have followers or fans.
Here's an example in action. This is Instant Pot's Facebook Page: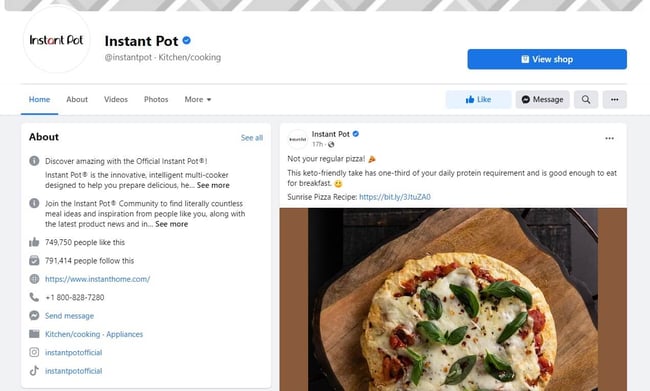 And here is Instant Pot's Facebook group: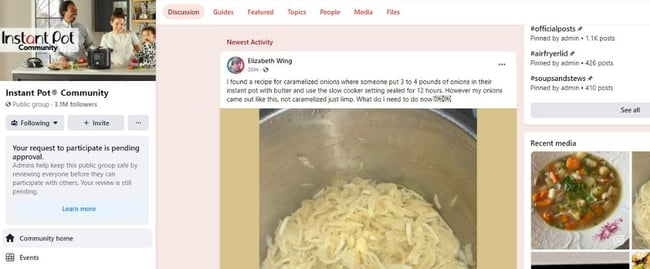 What types of Facebook groups are there
There are three types of Facebook groups that have differing levels of privacy and exclusivity.
Public: anyone can view what's going on in the group, even if they're not a member. The group will show up in searches and everyone has full access.
Closed: members have to request to join the group–sometimes they have to answer a series of questions before they're admitted. The group will show up in searches but people who aren't members won't be able to see group content.
Secret:

only people with a link to the group or those who have been invited to the group can see it and its content. The group won't show up in searches at all.

Our Facebook group is an example of a private group (but feel free to join, as we would love to welcome you to our community). Bonus tip: note how we don't include our brand name in the title and instead have a clickable tag that says "Group by Sendible" and links directly to our Facebook Page.
The benefits of brands having a Facebook group
Facebook groups are a great place to build a community of people who know who your client is and are interested in what they have to say. So obviously, they come with a ton of benefits:
Build and nurture long-lasting relationships with customers
Increase organic reach
Gain deeper insights
Create an engaged community
Get feedback from your customers
Drive traffic to your website
Build and nurture long-lasting relationships with customers
Regularly showing up in members' feeds keeps you front of mind and the casual nature of a group allows you to form deeper relationships with customers.
Increase organic reach
Facebook has notoriously slashed the reach of brands, but this is limited to Pages. Groups are still very much visible in member feeds and, if people interact with group posts regularly, it will continue to show up high in people's feeds. Ultimately, this will increase organic reach, especially with a public group since the friends of members are able to see their posts and comments.
Gain deeper insights
Creating a space for customers offers an insider look into their likes, dislikes, and interests which will help you build out and perfect marketing personas for your clients. You can easily collect customer preferences and data that you can use to level up ad campaigns, messaging, and product development.
Create an engaged community
Knowing what customers think about a brand's products and services is crucial to the growth of any business. Facebook groups are the ideal place to generate feedback and get an insight into how customers feel about your client's brand.
Jasper.ai's Facebook group allows customers to share their wishlists for the product.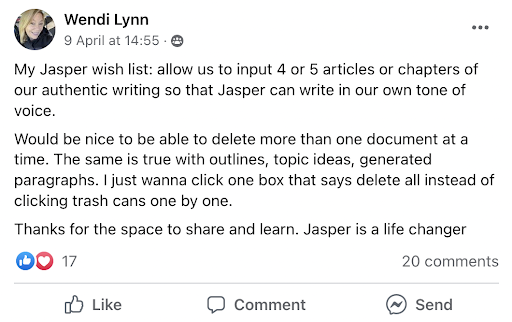 Drive traffic to your website
The organic reach of Facebook groups means you can leverage them to drive traffic to your client's website. Consider linking out to freebies, blog content, deals, or your other social channels to grow email lists, website traffic, and other accounts.
A quick guide to setting up a Facebook group
Navigate to the "Groups" tab on your Facebook homepage
Click "Create New Group" in the sidebar
Enter your group name
Choose the privacy setting of your group
Invite friends and customers
Click "Create"

Bonus:

Don't forget to

link your Facebook group to your Facebook Page

to drive traffic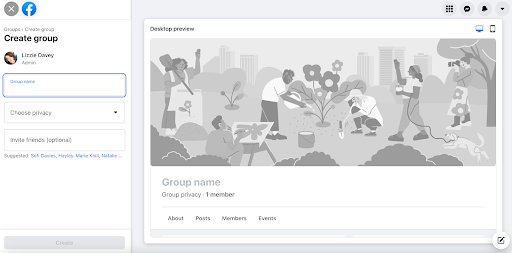 Key things to consider when creating a Facebook group
Consider the purpose of the group
Facebook Pages are a prime place to promote your client's brand, but a group should lean more towards fostering a community. And, while you can do soft advertising in the group, it should ideally have a purpose that aligns with customer wants and needs.
For example, you might use it as a space for customers to share their ideas on how to use a product or a place where they can ask questions to other product users.
Canva's Design Circle group has a distinct purpose:
"Learn how to make the most out of Canva, and get the latest updates, tips, and insights straight from the Canva team! This community is also a place for you to discuss anything design-related, so feel free to share your Canva tips and tricks, or share your designs for feedback!"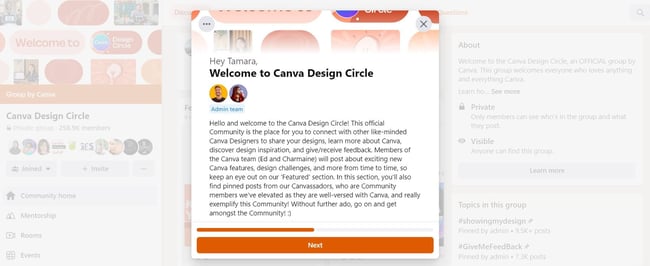 Choose the group name wisely
The group name will influence whether it will show up in searches and what people will expect from it. Think about whether it should include your client's brand name, like Canva and Instant Pot, so that people searching those terms will be able to find it, or whether you want to use other actionable search terms that people who don't know the brand might be looking for.
Take StoryChief's group, for example. It's called Growth Through Content but gives a hat tip to the brand at the end of its name (Powered by StoryChief).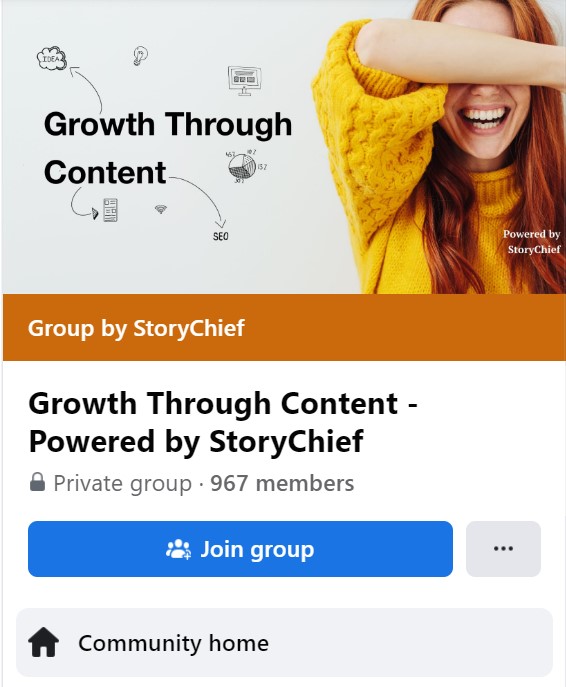 Choose if you want a public or closed group
The privacy level of the group will determine how many people can see it and, ultimately, the organic reach on Facebook. Consider whether you want to allow non-members to see the content or whether you want to give the group a more exclusive feel by making it closed. Doing the latter also means you can select who gets to be a part of the group to create a more streamlined and relevant community.
Bubble Tea Club's group is closed, which means Facebook users have to request to join (and get approved by an admin) before they can see the content.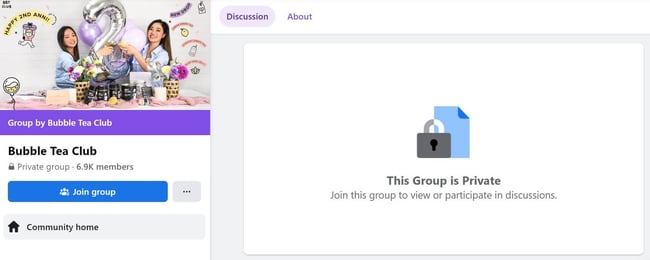 Set rules and expectations
To get the most out of a Facebook group, it's worth setting some rules and guidelines so that members know what to expect–and know what they can and can't do. For example, you might want to ban people from promoting their own products and encourage them to be nice to other members.
Krisp's Facebook group, Productivity Tips, has a list of group rules, including no hate speech or spam.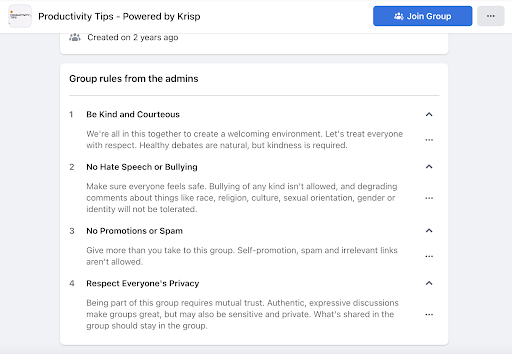 Avoid direct promotion
Facebook Pages are for promotion. Facebook groups are a space to foster engagement and discussion. If you post too many ads, you run the risk of losing the trust and engagement of members. Instead, keep promotion to a minimum and instead ask questions, share behind-the-scenes content, and interact with customers.
Encourage discussion
Facebook groups work best when there are lots of active members who participate in discussions. Use prompts to get people talking, respond to comments, tag people, and encourage conversations.
The Copywriter Cafe Facebook group consistently asks members questions and follows up to spark discussions and engagement.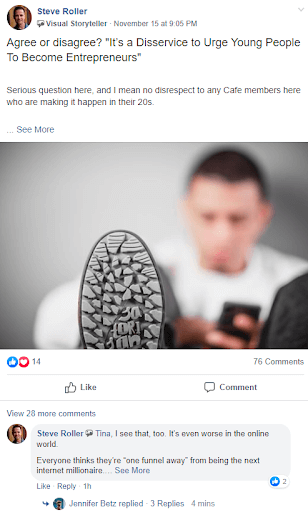 Best practices for posting in a Facebook group
A Facebook Group is the perfect place to encourage discussion and engagement among members, but you can prompt conversations by posting on a semi-regular basis. Of course, you don't want to bombard the group with admin posts and drown out other organic conversations, but scheduling 3-4 posts a week that ask questions, share a tip, or welcome new members ensures your group stays relevant and front-of-mind.
Make Facebook groups work for your client's brand
Community is crucial for brands today. It secures long-term loyalty, creates deeper connections with customers, and gives focused insights into their wants and needs so that you can create even more aligned experiences for them moving forward.
Setting up a Facebook group is a great way to build a community for your clients, but there are some things you should do first before going all in. Consider the purpose of the group, what kind of space you want to create, and the technical aspects, like whether it should be public or closed, what it will be called, and the guidelines you'll put in place for members.