Video content is key to a great social media strategy. In fact, video generates 12x more shares than text and images combined.
But video content only works if it's optimised properly for your social media platforms.

Many marketers forget to add one crucial element before they post their videos: captions. Without them, you could miss out on 80%-85% of your target audience:
Why are captions crucial for your social media videos
85% of Facebook users and 80% of LinkedIn users scroll on their social media feeds with the sound off.
Whether they're secretly scrolling through Facebook videos at work or trying not to disturb their partner at home, the vast majority of people live their social media lives on mute.
Because of that, your informative, valuable content becomes just another talking head on their feed to scroll past - particularly if you haven't optimised the video properly.
Every video you post on your brand's social media platforms needs to have captions (aka subtitles). Utilising captions has several great benefits:
Captions help communicate your message
With words to run alongside the talking head, captions provide context, so silent scrollers won't miss out on the valuable information you provide within your content.
Captions make your content accessible to everyone
Beyond users who scroll on silent, there are also many users that are hearing impaired who benefit from the use of captions.
Captions make your video content more engaging
Moving captions provide an additional interactive element to your content, which encourages consumers to pay attention.
What does a captioned video look like
When you caption your social media videos, they need to be burned onto the video itself. As the video plays, the captions will populate the screen and match the words being spoken.
Here's an example of a video that we optimised for social media with captions (and a few other tips!)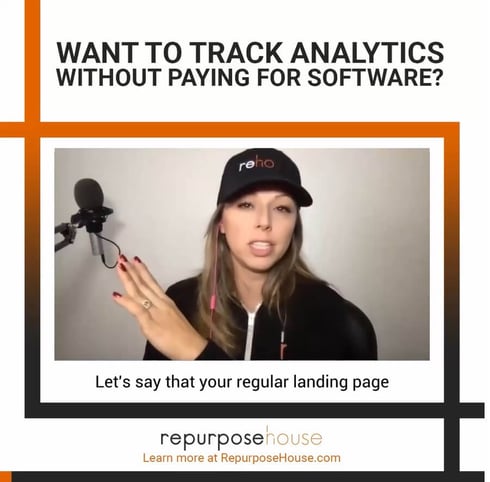 Watch full video
How do you add captions to your social media videos
Depending on your time allowance and your budget, there are a few options that you can choose from to caption your video content.
1. AI-Generated captions
If you're strapped for both time and money, you can use Google or Facebook to generate captions for you. However, this method doesn't always produce the most reliable and accurate transcriptions, so you'll still want to go through and make changes before you add them to your video.
This option is built into Facebook's platform, for instance. After you upload your video and before posting, it allows you to review auto-generated captions: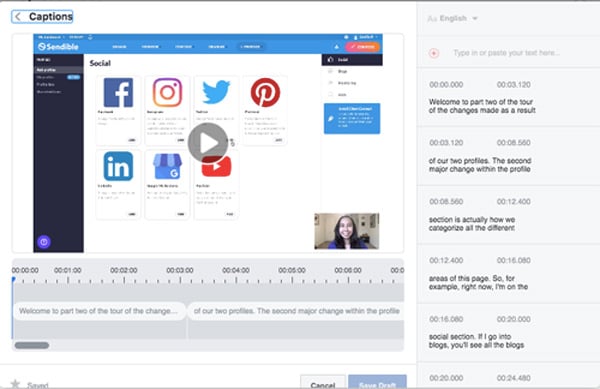 Alternatively, a free video editing tool like Kapwing could be a good fit. Their specialised 'Subtitler' tool allows you to add editable, AI-generated captions from within the video creation studio, all on a free plan.
2. Use a paid transcription service
Rev.com is a transcription service that hires real people to caption your videos for you. They charge $1.25 per video minute, but the captions are far more accurate than the Google or Facebook AI transcriptions.

Rev also owns a company called Temi, which is a speech recognition software that will automatically generate captions for you. This service is cheaper than Rev (it's $0.25 per minute), but it's also less accurate because it's computer generated. Still, it's a great option to expedite the process if you're okay scrubbing through them afterwards.
3. Utilise a member of your team
Depending on your budget and time priorities, you could designate the job to someone on your marketing or social media team. This will help create accurate, reliable captions without the need to outsource the work, but it will take up that person's valuable time.
The decision ultimately boils down to what your team's time is worth and how much you want to invest in your video content for social media.
4. Outsource to a specialist content repurposing agency
If you're pushed for time and have a slightly bigger budget to play with, you could explore the option of outsourcing any caption work to a trusted agency, like Repurpose House. They'll do all of the heavy lifting.
The team take long-form content and repurpose it into shorter clips that are optimised and ready to be posted across your social media feeds - including adding captions to every single video asset that they repurpose for you.
What else can you do to optimise your social media videos
I'm glad you asked! I've got a couple of other tricks up my sleeve to help you increase your brand's engagement and bring in new leads using organic social media posts.
1. Follow video length best practices
Wistia, a video hosting platform, carried out a study on engagement compared to video length. It turns out that 2 minutes is the sweet spot. After the 2 minute mark, video engagement started to decline significantly.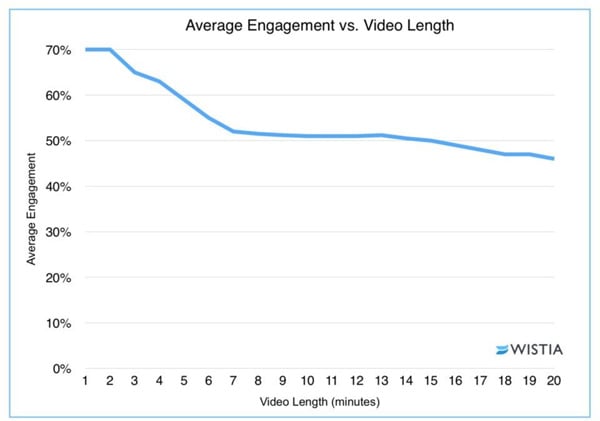 The fact is, users typically want to watch short, impactful content that answers their questions and targets their pain points. So to be safe, keep your social media feed videos at 2 minutes or less.
2. Choose the right video shape and size
While it would be ideal if there were a one-size-fits-all solution to social media video size, every platform has its own set of rules. That means that your assets need to be formatted accordingly to accommodate the different social media platforms.
Here's a brief breakdown of what you need to know:
Vertical for Facebook Video and Instagram Video
Vertical (1080px by 1920px) videos are perfect for Facebook and Instagram feeds. Most people scroll through their feed on their phone, and vertical videos take up the most real estate on a phone screen.
By maximising the space that your content takes up, you can minimise distractions and increase your engagement.
In an ad study by Facebook, 70% of their tests showed an increase in brand awareness and ad recall because advertisers used vertical video.
Vertical video is also perfect for all of Instagram's features, including IGTV, Instagram Stories, and Reels. When you post a vertical IGTV video, just be mindful of the way Instagram will crop your thumbnails.
When you preview your video to your feed, Instagram will crop the image once into a slightly smaller vertical shape. Then, on your profile, they'll crop the thumbnail again into a square.
Square for LinkedIn Video and Twitter Video
For now, square videos are still best practice for the feeds of both LinkedIn and Twitter. In fact, you can post vertical videos on LinkedIn, but the platform will actually crop them down into squares on the feed.
Square videos still take up quite a bit of real estate on a user's feed - 78% more than a landscape video!
3. Write an engaging video headline
Strong video headlines work really well on platforms like Instagram, where there are a variety of customisable, in-feed video options to choose from. With Instagram Reels for example, it's easy to create eye-catching headlines by adding text boxes and experimenting with fonts and colours.
Design-wise, your video headline should be bold, big, and easy to read by someone scrolling through their feed. Copy-wise, your headline should be intriguing enough to make a scroller stop and watch: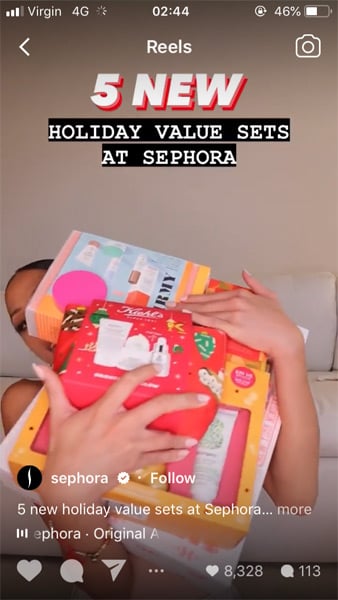 Here are a few headline-writing tips for your video headlines:
Questions are a great format to use
They create a natural intrigue, but you need to ask the right questions. Make sure that the question you ask isn't easily answered without watching the video.
Numbers are key, specifically odd numbers. Headlines with odd numbers see a

20% higher click-through rate

than ones with even numbers.
Incorporate proven phrases into your headlines


Buzzsumo did a study

of 100 million headlines and found that headlines that contained the phrase "will make you" received the most engagement on Facebook. "This is why" and "can you guess" are other top phrases.
Don't clickbait your audience
It may sound obvious, but if your headline makes a promise to your audience, you need to follow through on that promise in your content. Nothing turns a person off your brands content faster than feeling hoodwinked.


4. Turn any content into social media video content
As I mentioned earlier, video outperforms every type of content on social media in terms of engagement. But that doesn't mean you shouldn't create written and audio content too. These both serve as great long-form content types, which can also be repurposed and shared on social media in a video format later on.
How do you turn audio and written content into video? By applying all of the best practices that we've talked about in this article.
Audio content can become an audiogram, a video that features a moving waveform synced with the speaker's voice, a headline, and captions (of course!). An audiogram looks like this: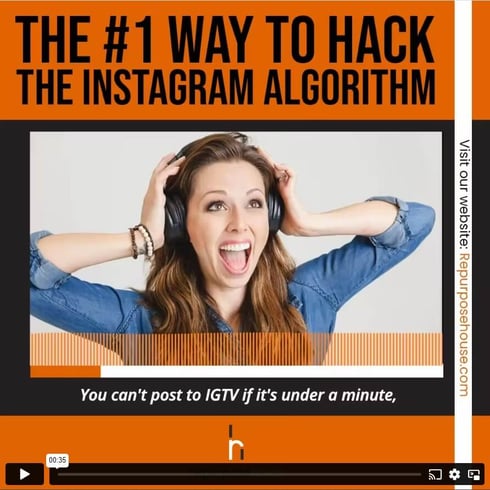 Source: RepurposeHouse.com
Text content like blog posts or e-books can become text-motion videos. These videos feature your text content displayed over stock video and imagery and set to music. A text-motion video looks like this: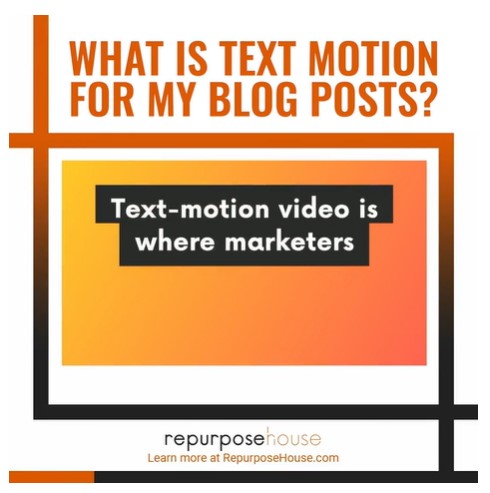 Source: RepurposeHouse.com
Ultimately, it's about making the absolute best content with what you have by being smart when it comes to content repurposing.
Combine these tips to create awesome, engaging social media video content
When sized properly, captioned, and paired with great headline copy, your video content will attract more eyes, ears, and thumbs from your target audience.
And the best part is, you can do all of this with the content you've already created. If you take a long-form video, break it apart into lots of up to 2-minute clips, and format them all properly, you can fill your content calendar for weeks with just one piece of content.
Not sure you have the time or resources to repurpose and format all of your video content?
As we've explored in this article, there are tonnes of options to explore. So, whether you choose to use free caption creation tools for your social media videos or outsource the work to the experts at an agency like Repurpose House, you'll be prepped for success!
If you'd like to get social-media-ready assets delivered to you every morning, connect with Repurpose House. They'd love to show you the untapped potential of your existing content!
Shaina Weisinger
Shaina Weisinger is the Founder and CEO of Repurpose House, which repurposes long-form content into optimised videos and images for high engagement social media strategies. Shaina has a background in video production for digital marketing and is on a mission to show content creators the untapped potential and repurposing power of the content that they already have.