TikTok, an international version of the Chinese social media platform Douyin, became available worldwide in August 2018.
Shou Chew, TikTok's CEO, recently shared a video where he stated that:
There are more than 150 million monthly active users in the U.S.
5 million U.S. businesses use TikTok, and the majority of these are small and medium businesses.
Outside of the U.S., TikTok has over 1 billion monthly active users, and they spend 95 minutes per day on the app.
So if you were one of those that perceived it as a Gen Z dancing app, the time has come to find a way to include the TikTok platform in your strategy.
Some of the biggest worries are whether the target audience is on it, how to adjust the content to fit the needs of TikTok users, as well as how to create a strong community and use it to grow the business.
This is why today, we'll focus on community management, as TikTok-savvy social media managers have reshaped this digital marketing branch for good:
Oh, hold on a sec! Don't proceed without grabbing our free TikTok account management checklist. It's got a whole section dedicated to community development, and you don't want to miss out on that!
How did TikTok reshape community management
While Instagram is the place to publish polished, cleverly crafted posts, and LinkedIn is a platform to talk about business, TikTok is where individuals are encouraged to show their unfiltered and genuine selves.
And while that is far from what's actually happening, TikTok users expect brands to show them their true colours, connect with them on a more personal level, and show them that they care about their customers.
Quick note: LinkedIn has a TikTok account, and it represents a great example of how businesses can use feedback from other marketing channels and create valuable and entertaining content for the TikTok audience.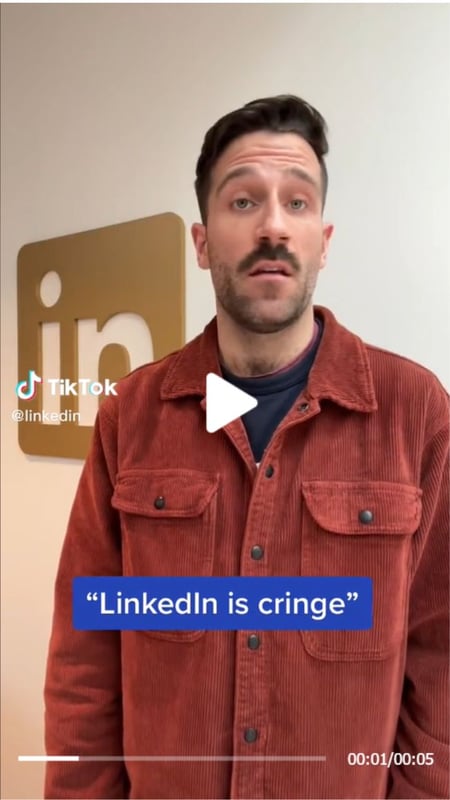 Source: @linkedin
In other words, brands need to focus on building a community by upgrading not only their social media management strategy but the community management one as well.
Some of the brands have already taken this approach and used it to grow their business immensely. Let's go over a few examples and see what we can learn from them:
Duolingo
Could you ever imagine that a platform for learning foreign languages can accumulate 4.5 million followers and over 85 million likes?
Duolingo's social media marketing team took a bold move and introduced the brand mascot, Duo the Owl (obsessed with Dua Lipa), to the TikTok audience.
And the success was immediate. As one of their numerous viral videos stated: When you keep ignoring my notifications, but I'm everywhere on TikTok.
Mission accomplished!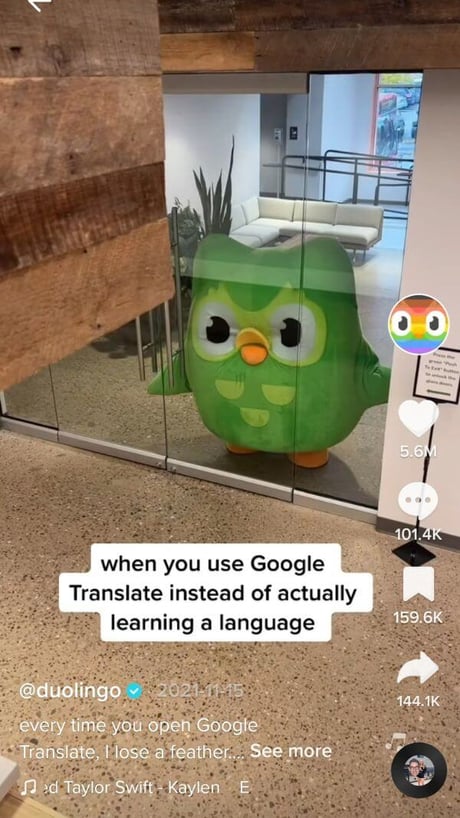 Source: @duolingo
But how did they do this?
The cute owl on its own wasn't enough to win over the hearts, but the amazing Zaria Parvez, together with other brains behind Duolingo's TikTok account, were. Their TikTok marketing strategy includes:
Responding to comments with witty and often provocative content (such as: "Spanish or vanish")
Source: @duolingo
Commenting on other trending brands' videos

Hopping on viral trends and adjusting them to their own brand

Showing the audience the fun side of their business

Including other teams in videos (such as everyone's favourite legal team) or mentioning colleagues in the comments or relevant videos

Breaking out from all the formalities that other social media platforms impose
Ryanair
Like Duolingo, Ryanair revamped its social media strategy to win over the hearts of TikTok users. But instead of dressing up one of their social media managers in a costume, they used a filter to help their aeroplanes come to life.
Not only did they take a similar approach to TikTok, but they're often seen commenting on each other's videos and even stitching them.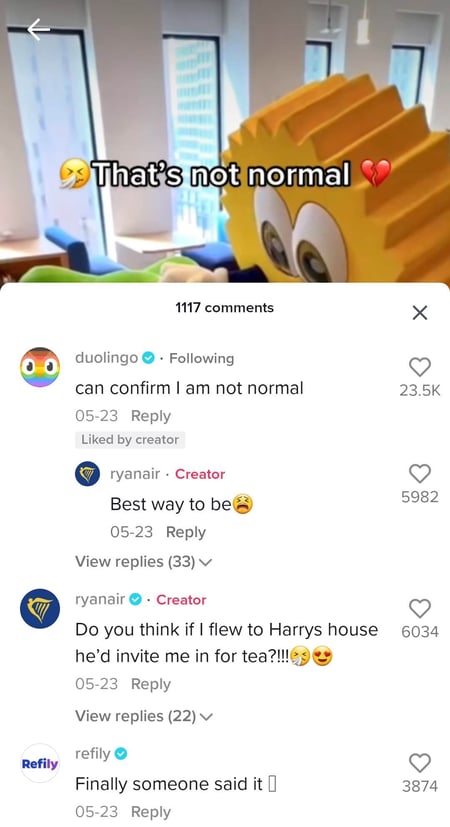 Source: @ryanair
Here are some of my favourite Ryanair community management tactics:
Their team responds to as many comments as possible.

But instead of generic answers, they adjusted their communication to the TikTok audience! Similar to Duolingo, their replies are creative, trendy, and provocative. As a result - they often spark additional conversation and get a lot of engagement.

They use negative feedback and reviews to create new content.

Community managers typically collect positive feedback and forward it to the team to create content that highlights their best qualities. Ryanair's marketing team does the opposite - and the audience loves it!
They challenge other brands on TikTok to comment on their videos.

For no reason. Their first video with this challenge got over 1.7 million likes and over 50 thousand comments! Brands like Duolingo, Lionsgate, Airbaltic, Microsoft and many others joined the challenge by adding creative comments that are somehow related to their own brand. Even TikTok replied! This brand awareness campaign was successful because it allowed other brands to get more visibility, reach their target audience organically, and spark conversation.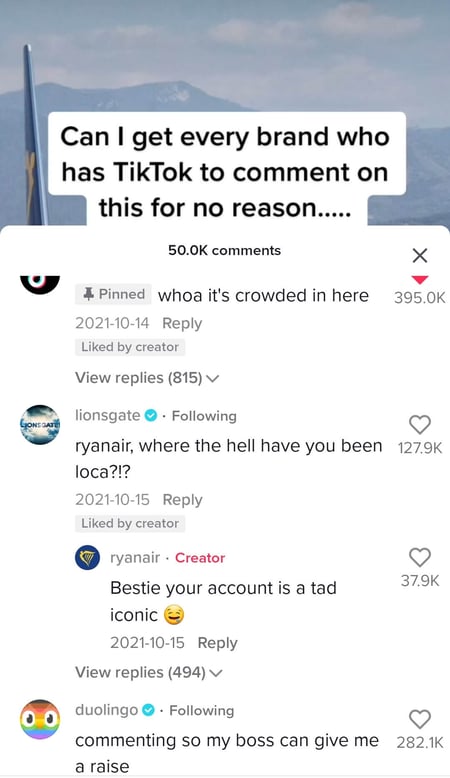 Source: @ryanair
The Weather Channel
Being present on TikTok is not enough. Your community managers need to be both proactive and reactive.
A great example of this is the case of the Weather Channel.
TikTok user @slouise95 posted a video of her dad watching the local weather channel to see if they'll share a cloud photo he sent them. The video got over 3 million likes, but the program didn't include the picture.
What happened next is that the other weather channel meteorologist saw the video and said they would love to include his image in their program. They stitched the original video with their own, showing support for the photo and proof they included it in their program. They then commented on the first video sparking additional conversation and gaining new loyal followers.
This is an excellent example of both how proactive community management works and how instant collaboration with the social media management team can result in a great brand awareness campaign and even better results.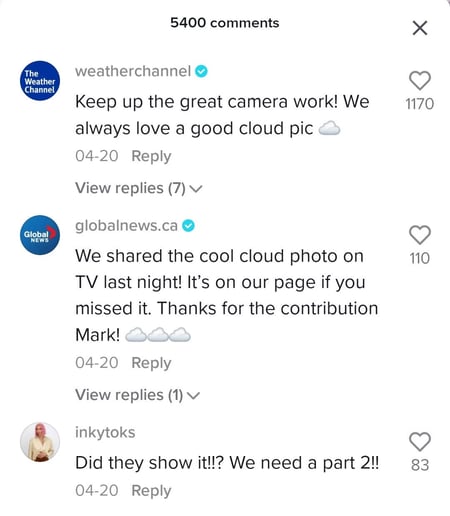 Source:@slouise95
How do you create a community on TikTok
Creating a strong community is essential for every brand that uses social media marketing to promote its business.
Since 2020, we have witnessed numerous examples of community management done right and wrong on TikTok, and you can use those as a starting point for creating your community.
Here are some things your TikTok marketing strategy should include if you're serious about building a strong community:
Reply to comments.

And this doesn't mean you should monitor only the comments under the videos you create. Chances are you won't get any if you've just started your TikTok account. Instead, check your competitors' content, relevant hashtags, and trending videos and see if there's an opportunity to spark a conversation.

Encourage users to tag you in other creators' videos if they want to hear your opinion.

Influential fitness coaches, estheticians, and makeup professionals on TikTok have perfected this tactic! Whenever in doubt about a fitness or beauty hack, users tag their favourite content creator and, in return, get a video response with a review.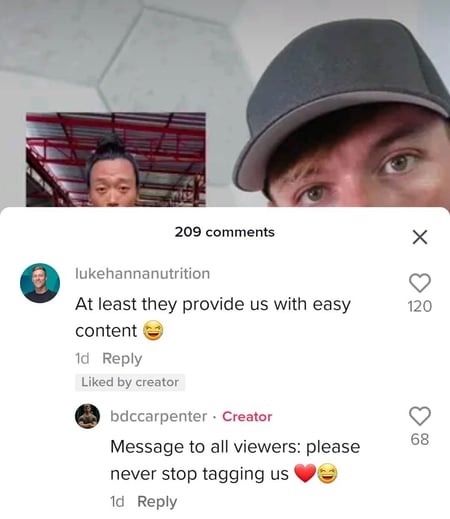 Source: @bdccarpenter
Address the negative feedback.

Instead of hiding or deleting negative comments and reviews, try to find a creative way to reply. TikTok allows you to duet and stitch videos, as well as reply to comments by making a video! This will provide you with additional content and give you an opportunity to educate your audience more about your brand.
Don't make the same mistake Chanel did during their advent calendar campaign.
Create relationships with influential content creators by showing them some love.

Instead of just commenting on the video of influencers that tagged you, you can stitch or duet their video! But don't limit yourself to videos that mention you. TikTok users love to see brands support causes and their favourite content creators. So, instead of texting or emailing an influencer with a request for collaboration, use TikTok's features to your advantage, and kick-start your potential partnership in a more personal and creative way.
How can you use community management to grow brand awareness on TikTok
Nobody really knows (yet) how TikTok works, but one thing is sure - having a big but passive following base won't help you grow brand awareness.
Instead, you need to use community management tactics to create an engaged community, as the reach of your videos is directly related to the number of interactions you get from your followers in the first hours of publishing your video. If you don't pass this "test", the algorithm will likely not show your content to other TikTok users.
TikTok liberates community managers from waiting for the first comment to arrive and encourages them to seek opportunities to engage with their target audience.
The difference between the job of a social media manager and a community manager is especially important when it comes to this social network.
While your social media manager should focus on exploring trends and creating TikTok videos (and this can be overwhelming because of the amount of content they need to post), your community manager should focus on creating relationships and responding to comments efficiently by:
Encouraging conversation

Challenging other brands to respond

Tagging other creators that have created content on a similar topic

Inviting users to duet your video

Responding to comments with actionable tips

Giving thoughtful advice

Directing them to your resources outside of TikTok

Pinning the most relevant comments

Addressing the negative feedback

Asking your followers to tag you in videos if they'd like to hear your two cents on that topic
Learn more about key community manager tasks to upgrade your social media strategy.
Keep in mind that TikTok is yet to be fully explored when it comes to promoting your business and experimenting is highly encouraged. Try to use some of these tips to start building a high-quality community, and don't be afraid to show a different side of your brand or accentuate your uniqueness!
In the meantime, subscribe to our blog to receive similar articles packed with actionable social media tips and let us know in the comments what community management tactic worked best for you.