Some people just aren't sociable. They don't have what it takes to keep talking and interacting with others. And that's okay because every person has different skills.
But business owners can't afford to do that.
They need to promote themselves on multiple channels, including social media, placing themselves up-front and centre in order to engage with their target audience. However, they know that a social media campaign that just doesn't cut it can do considerable harm.
Brands with inadequate expertise or time constraints often find that they cannot internally manage their social media marketing campaigns. The solution - hand the responsibility over to digital marketing agencies. They have the resources, knowledge, and experience to keep social media campaigns on track.
And that's why you're reading this blog. It's useful for anyone offering social media management as a service, including consultants and freelancers.
Should you spend more time promoting your agency on social media?
If you're wondering why your agency's social media management is essential, you're not alone.
Digital marketing is a highly competitive industry. There are literally thousands of agencies available, so your clients have plenty of options for their marketing and advertising needs. But when it comes to social media management, there are plenty more consultants and freelancers to add to the list.
Regardless of that tight competition, you have a lot to gain from the right social media management techniques, especially if you're offering this service to other brands. It not only promotes your clients in the digital landscape but also helps showcase your expertise in social media marketing.
Here are some reasons to help you understand why you need to consider this sooner rather than later.
Social media increases online exposure - this medium has

3.81 billion users

(including your potential customers)


Marketing your agency through your social channels is a great way to generate more awareness, leads, and sales, and it can help you scale your agency.
It's an effective way to stand out in the crowd and better understand your clients' target audience.


The problem is "going social" for a digital agency may not be as simple as it seems. There's a lot that goes into managing a social media marketing presence - much more than just regularly posting on LinkedIn and Twitter.
So, let's get down to business and learn how to promote your agency the best way using the potential of social media. It's time to focus on increasing your social media visibility, making it easier for your potential clients to find your content.
What are the best social media promotion strategies for your agency?


1. Choose the right social media channels
Before we begin coming up with ideas on how to promote your marketing agency, you need to consider the best social media channels for promoting it. You probably already know that you don't need to maintain a presence on every single platform. However, it does help to consider which platforms are the most suitable for the type of content you are creating.
That's why narrowing down your choices to any of the following high-traffic channels could prove useful:
LinkedIn


LinkedIn is a unique, specialised platform mostly utilised by audiences between the ages of 25-34. You'll find a lot of professionals here searching for jobs, recruiting employees, networking, and building their personal brands.




This platform lends itself to showcasing agency-specific content and building credibility in the digital marketing landscape, as well as sharing your client success stories. More importantly, a well-thought-out LinkedIn marketing strategy can be quite useful for B2B lead generation.

For example, UPS shares customer testimonials case studies on LinkedIn, helping to convert more customers and build trust. This post includes a happy customer and the employee who helped create a pleasant experience.

Once you have created your personal profile, you can send personalised messages to prospects as well as your connections, and keep growing your network by connecting with people you meet at events or online. Once you're ready, you can set up a LinkedIn Company Page for your agency and promote it to your network alongside your regular posts.

Though expensive, LinkedIn advertising can also help market your services and reach your ideal customers once you have a good idea of who they are.



Instagram

Instagram is the channel of choice for a younger demographic - 67% of US adults aged 18-29 use the app. So the platform is a great place to showcase your capabilities (especially if you offer visual content creation services).


Instagram keeps innovating in the space and it has come a long way since being acquired by Facebook back in 2012. With the recent addition of shopping tools and Reels, it is leading the way in how audiences can interact with content on social media platforms, making it a great place to stretch your content creation muscles as an agency.

Currently, Instagram Reels allows users to record 15 to 30-second clips set to music that helps brands get discovered by new audiences on a bigger, global stage.



To connect with your audience on Instagram, ensure that your content is entertaining and valuable. Boring, technical, or otherwise ordinary content doesn't seem to do too well on this channel.

If you have a budget, you can launch effective social media ads and attract more interest for your agency. Remember - your own social efforts can show potential clients how well you can do the job, and they may be more inclined to consider and let you run theirs.



Twitter



Twitter is well-known for its short text content. Mentioning links here can help share the content you've created. Moreover, regularly tweeting about marketing trends tells others that you're active and up-to-date with what's going on in the industry.

Deutsch provides an inside look at their agency on social. This post is great because it showcases the company's latest creative talent, thinking, and strategy around bite-sized content.



If you've won some awards or gained recognition from other agencies, mention it in your bio and about sections. Perhaps most importantly, don't underestimate the power of Twitter for networking - almost anyone with a public profile is just one message away, and you can use this to your advantage when collaborating with brands or working with exciting people in your space.
Facebook



Facebook is a versatile platform that allows agencies to post text and video content. With

2.60 billion monthly active users and 1.73 billion daily visitors

, there's a lot of traffic here.



Everyone knows Facebook is still the biggest social media platform. But with everything happening on other networks, many are wondering if it's losing its relevance. However, Facebook remains a powerful place because:

• It's an effective tool for building brand awareness
• It helps businesses establish trust with search engines
• businesses can target their best customers with paid advertising options

However, it's all about positioning yourself in such a way that you show up on potential clients radars and build awareness with attention-grabbing photos and videos. ROLI started crafting meaningful messages for hobby musicians and professionals to match suitable products from their product catalogue with customer profiles:


You can join social media communities or groups to help connect with people who share your interests and improve your agency's online visibility. By creating a group and connecting it to your Facebook Page, you can build awareness and grow a community of fans and supporters.

This feature is available for LinkedIn as well as Facebook, but groups on Facebook tend to be much more active. Some of the best Facebook groups for inbound marketers include: The Daily Carnage, Word Workers, and Social Media Managers Group.
YouTube


YouTube is the de-facto platform for video content. It's ideal for longer videos and if you have the skills and resources, you can create in-depth content showcasing your expertise in various segments of digital marketing.

These videos, often educational in nature, offer digital marketing insights, strategies to grow a business, tips to boost online presence, content creation guides, and much more. Popular digital marketing YouTube channels include Ahrefs, Backlinko and Neil Patel.

If you're smart, you can not only reuse your content on other channels, but quickly repurpose it to other formats, like Instagram's IGTV, Reels, or Stories. That is what many people and social media influencers commonly do.

Neil Patel reuses tweets to create posts on other social media platforms like Instagram:


You can also repurpose your webinar as a Youtube video or make short videos on social media channels to drive new visitors to your Youtube video.


2. Marketing your marketing agency on social media
Now you have an idea of the best social media channels for your agency, we can dive into ideas on how you can promote yourselves on social media.
As you already know, digital marketing is an expansive arena that deals with a vast range of marketing channels and techniques, including but not limited to: pay-per-click advertising (PPC), search engine optimisation (SEO), content marketing, email marketing, video marketing, and, of course, social media marketing. But it's worth remembering that an agency's social media strategy will vary depending on their ideal customers, their industry, and the services they offer.
For example, If your goal is to work exclusively with clients in the healthcare industry, you'd do well to showcase work from that industry. If you, instead, share news about the latest in the fast-food industry, it won't help you create a meaningful connection with your potential buyers. Same goes if you're looking to work with SaaS or e-commerce brands - they won't care as much about the work you've done for a brick-and-mortar shop, but they'll love to hear about the latest technology or trends that work for companies like theirs.
To generate interest in your agency and the services you offer, you'll need to create fresh, up-to-date content. But before you jump to creating that content, it's worth identifying the type of services your customers need the most (or the ones you'd like to offer in the future).
The process of choosing how to package your social media services can take some time. But even if you start with a simple assumption that you'd like to offer complete social media management packages for clients with some form of community management or content creation, it will already be enough to get lots of ideas on what kind of content you could create to promote your agency on your channels.
By the way, if you're just starting and don't have any work examples to share yet - focus on the industries or spaces you'd like to work in and share great work done by others.
To ensure your agency marketing strategy stays on track, you need to use the right tools. Some essential tools for agencies include:
Social Media Scheduling Tools - These tools allow you to create and schedule your content in advance so that you can set a schedule you're happy with and focus on responding to incoming engagements and/or spend more time on client work.
Social Media Listening Tools - These tools show data about social media followers as well as those who are actively discussing your brand and who your most engaged users are. You can also gather additional information such as impression volume, hashtags used around your brand, and general sentiment about your agency.
Social Media Analytics - These tools help measure the success of social media campaigns with data such as audience growth, message volume, response rates, etc.

To keep matters simple, you can opt to use an all-in-one social media management tool (for example, Sendible, among others) that has all of the three solutions in one - scheduling, monitoring, and reporting.
3. Collaborate with other agencies
Your agency simply can't be the perfect option for every client, no matter how good you are at attracting clients. Sometimes you may not have enough resources or industry insights to fulfil what the client needs. Sometimes, the best route is to team up and collaborate with other agency marketers. By referring a lead to another agency, you help build relationships within the competitive landscape.
Search out other freelancers, consultants, and agencies that can be your partners. Start by looking at online directories to find an agency you may be able to collaborate with. Access co-marketing opportunities that can be mutually beneficial to both.
For example, you can co-create content with your partner and then share it with your audiences on social media. This helps promote both organisations at the same time, thereby reaching a wider audience. You could also co-host a knowledge-sharing session with a live video or even a webinar, and then use the recording to create snackable content that's great for both parties.
Or you can celebrate the efforts of others in the industry. For instance, Mike Ramsey, president of Nifty Marketing, appreciates the efforts of several digital marketers in his blog on Moz, including David Mihm and Avalaunch Media.
4. Position yourself as a leader in the industry
Potentially more than working on purely promotional efforts, you need to focus on reinforcing your stance in the digital marketing world. There's a lot you can do to boost your overall image - from creating useful templates and whitepapers to creating informative how-to videos and sharing statistical industry insights, and even, hosting online meet-ups (until physical ones are allowed). Notice how Social Media Examiner promotes its workshop and positions itself in the industry: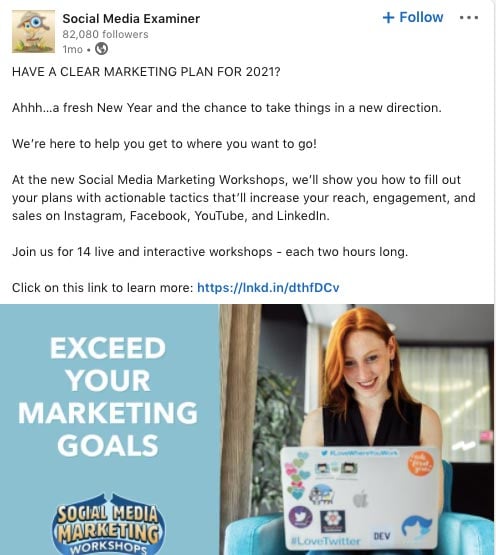 And it's a great way to improve your personal brand through social media, helping with customer acquisition as well as retention. Moreover, it instils confidence in your clients by keeping them in the loop of what's new in the industry - sometimes it's as simple as reposting content from various industry experts! It instantaneously signals that you are aware of the key happenings in the digital marketing world.
What additional promotion channels can you use for your agency?
There are several ways you can promote your digital marketing agency besides social media. Here are a few ideas:
1. Enlist your agency in online directories
As a digital agency, you need to attract clients to your business. Creating a listing in trustworthy directories can place you alongside some of the best digital agencies out there and help your agency get the attention it deserves. For example Digital Agency Network is an all-in-one platform to discover the best digital marketing agencies in the world.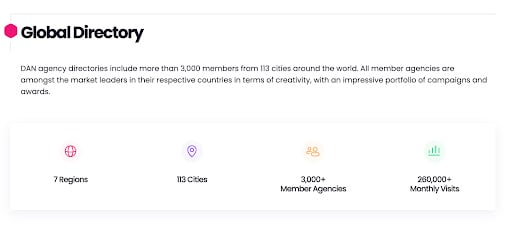 If you're not 100% convinced, here are three good reasons to create an agency directory listing:
A boost in your online presence
Improvement in local visibility
Enhancing reputation
In order to make your agency more visible in search, make sure to use keywords that are relevant to your services and add them to your listing. Some directories will also allow you to showcase your recent work - definitely do add something here as it would be a missed opportunity not to.
2. Develop case studies about your clients
You can present client wins as case studies to promote your agency's capabilities. Make sure to use data where you can but tell the story in a way that's easy to understand, preferably with the use of visual content.
Social media marketing agency Onlinedrea created a series of 'Client Showcases' as a powerful way of showing prospects how strong their social media marketing strategies are: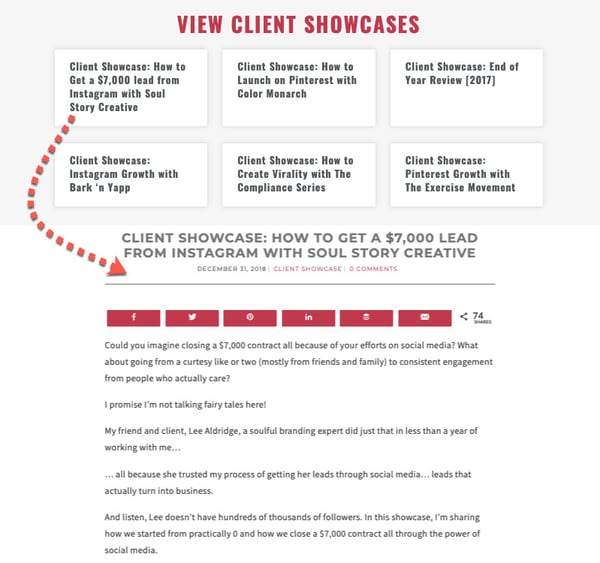 Remember to include the pain points your client had, the strategies you used to resolve them, and data backing the results of your efforts. In fact, pulling data from social media tools can offer supporting evidence of how your strategies improved their social presence month over month.
3. Take on a multi-channel marketing approach
Use all kinds of techniques other than social media management to create brand awareness and attract customers. This includes emails, business cards, print ads, blogs, webinars, seminars, videos, and much more. Like I mentioned earlier, it's all about positioning your digital agency in front of potential clients and with time, you'll know which channels work better.
Try to find the channels that help generate the best clients in the shortest amount of time - that's how you know you're onto something!
4. Specialise in a particular field
Are you a specialist or a generalist, or have you chosen a niche for your marketing agency?
Successful agencies are often those that focus on a single vertical. Instead of trying to do everything and offering half-baked strategies, they settle on providing one service and make sure they do the best job that they can.
This also simplifies the whole process of promoting their business on social media because they no longer need to consider all the potential clients or their pain points - there are one or two clear results they can bring to clients, and they can get creative at showing what's possible.
Over to you
Promoting your digital agency is hard work. But using various promotional channels (including social media) can help you get the word out about your business.
A well-executed social media marketing campaign requires a balance between listening, networking, and selling. However, the best approach is to remain flexible so that you can adjust strategies and harness the best results. The key is to keep evolving and continuously optimise, always finding time to experiment.
Did we miss out on any tips? Let us know about your experience or favourite ways of promoting your agency on social media!
Evie Harrison
Evie Harrison is a blogger by choice. She loves to discover the world around her. She likes to share her discoveries, marketing experiences and express herself through her blogs.
Level-up your social media.
Subscribe to our blog to get valuable insights so you can maximise your results.