Are you looking for more influence when it comes to attracting new clients?
Clients who're looking for a marketing agency need to be convinced that the agencies they're looking to hire are trustworthy and will deliver a return on their investment.
Especially when contracts are often long and there's a lot on the line.
Sensitive company information, passwords, and their entire reputation are at risk. But if you're able to prove that you're trustworthy, there's no reason why potential clients won't consider hiring your agency.
Luckily, there's one thing that can help skyrocket prospective clients' trust in you: A strong marketing portfolio.
In this guide, we're sharing how you can create a winning portfolio for your marketing agency and encourage dream clients who are visiting your website to hit the "contact" button:
What is a digital marketing portfolio?
A digital marketing portfolio is like a virtual stage where you can proudly display your finest work. It's your chance to showcase your unique digital marketing skills and back them up with real-life success stories.
If you're a digital marketing agency, your work often involves collaboration between various departments, strategic planning, connections with social media influencers, and relationships with multiple content creators. And this is something that can be challenging to depict in a single image or writing sample.
That's where the digital marketing portfolio kicks in. It should represent a perfect balance of:
Tangible services you provide
Data that showcases projects you're most proud of
Clients that you've worked with
The team that collaborates on the projects
Your particular digital marketing forte
Why does your agency need an effective marketing portfolio?
Showcasing your marketing work helps you be discovered by potential employers. Plus, it's nice to see how far you've come, how much you've grown, and the different trajectories your work has taken. Francesca Saraco, Shopify Social Media Producer
Every digital marketing agency has something that separates it from all the others:
Measurable successes with brands from a particular industry
Valuable connections with top influencers
Long-lasting collaborations with prominent publishing websites
Specialising in a specific area, e.g. social media marketing
Project-based work like building email marketing flows
Implementing authentic content marketing strategies
Even if you're a full-package agency, a digital marketing portfolio should highlight your unique selling point.



Another reason for showcasing your work is proving you've done similar work in the past (and got fantastic results from it). It is a great way to build relationships and good faith with potential clients.

Combine that with the fact that most clients look at marketing portfolios before they enquire, and you'll understand why making yours powerful gives your agency the chance to land on their shortlist.

But what should your marketing portfolio include?
Six things your portfolio needs to include to be exceptional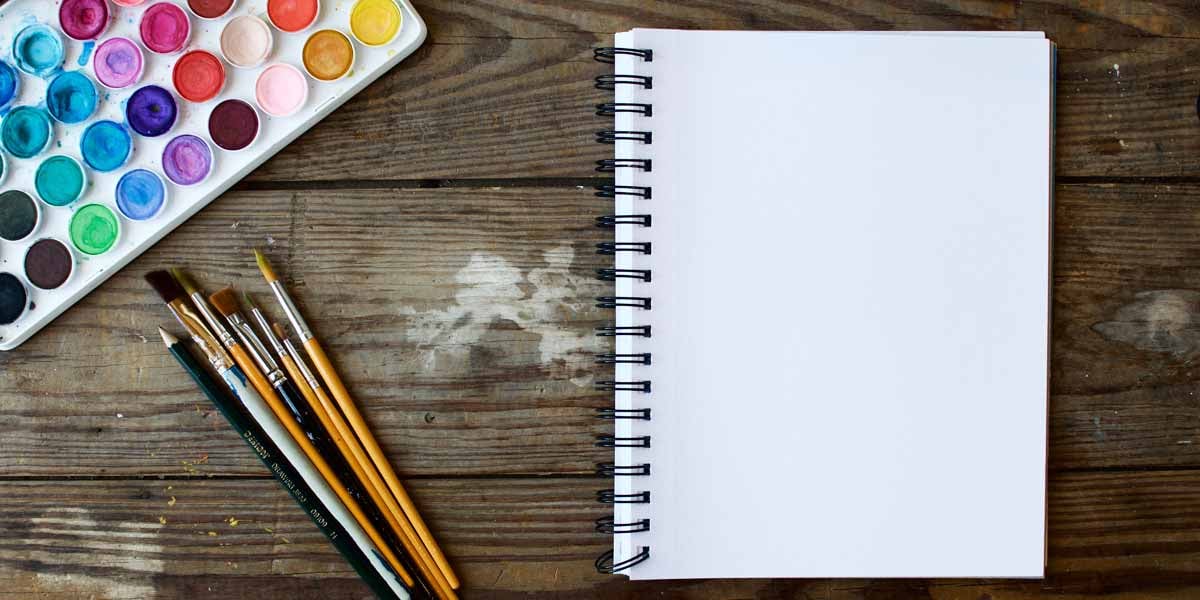 Every digital marketing portfolio needs to have:
An about section
Work samples
Testimonials
Contact information
Bonus: Awards and recognitions
But if you want to create a memorable experience for your potential clients, you need to consider including some other things as well.
Don't worry; we've backed up each one with some of the best examples from agencies and actionable design tips!
1. Make it easy to find and navigate
If someone looking for the services you offer lands on your website, there's a strong chance they'll head to your portfolio before deciding whether to contact you.
It makes sense; they don't want to waste their time inquiring about an agency they're not confident will deliver a good job, right?
(I'd bet you'd feel the same!)
That's why you should always sense-check whether your portfolio is easily accessible.
Make it easy for potential clients to find your marketing portfolio by adding links from key pages on your website that map a usual customer journey, such as:
The homepage
Service pages
About pages
Just take Silver Agency's portfolio, for example.
Their portfolio is easy to find, thanks to the link in their navigation bar:
But they take it a step further by showing website visitors they can click each entry to find out more:

Take a leaf from Silver Agency's book (and make sure the portfolio you're building isn't a waste of time) by making it easy to find.
I'll be the first to say you'll be rewarded for it - likely in the form of a bunch of new enquiries!
2. Consider dividing projects by category
Do you offer a range of different marketing services, from social media to website design?
Following the same concept of making your portfolio easy for your clients to find, consider giving them the option to filter it by category.
That way, if they're only looking for assistance with one service, they don't have to invest time into digging around your portfolio to find relevant work you've done already.
(And we all know how timing is of the essence.)
Splitpixel does this with their marketing portfolio: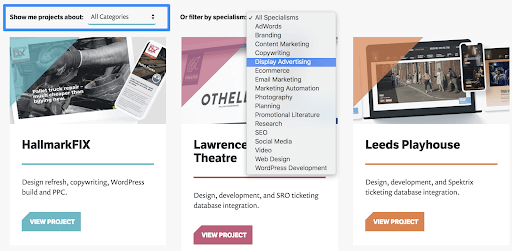 You've got the option to view their full agency portfolio or split their projects up and view by the type of work they've done.
Why wouldn't potential clients be impressed by it?
3. Add interactive content
Think about the aim of your agency's portfolio.
It's likely your answer is "because I want to win new clients!", but let's dive deeper and understand how a portfolio can do that.
The simplest answer?
Because a stellar marketing portfolio sets you apart from your competition.
You're telling potential clients that you're able to deliver better quality work - and showing them the proof!
But it's tricky to set your agency apart from bigger agencies, especially if you're made up of a smaller team or don't have much experience.
Luckily, interactive content can help - especially when 88% of marketers say creating it differentiates them from their competitors.
However, you could also use:
Calculators
Interactive infographics
Polls
Surveys
This is a great way to show off your skills, encourage potential clients to engage with your website and help your agency stand out from the crowd.

Use this opportunity to present your creative work at its finest! An impressive portfolio goes a long way especially when you're up against strong competition.
4. Include a call-to-action
When potential clients have viewed your marketing agency's portfolio (and the awesome case studies you've shared), make it easy for them to get in touch.
You can do this by adding a call-to-action towards the end of your page. Some examples include:
Enquire now
Schedule a free discovery call
Let's do it!
Create my social media strategy
Submit my website for an audit
Give [agency name] a try
Get to know our team in person
Send us your brief
But you could also embed a contact form that'll send their message directly to you.
Whatever option you choose, the goal is to encourage them to reach out when they're already impressed with your work.
Calls-to-action eliminate the waiting games.
Making it difficult for potential clients to find a contact email, or assuming they've got the time to dig around your site, is a roadblock you can prevent - like Core Creative do with their portfolio page:

The words "send us your brief" are direct, to the point, and stand out on their main portfolio page.
Three things you want to replicate!
5. Remember your agency's branding
If you're showcasing the work you've done for your clients, it's easy to fall into the trap of using their branding across your case study page.
But you need to remember: The portfolio is on your agency's website.
That means each new addition to your marketing portfolio should have your agency's branding - right the way through, from using your brand colours to your website's font.
Take a look at how Mightybytes' portfolio uses its brand colours and text: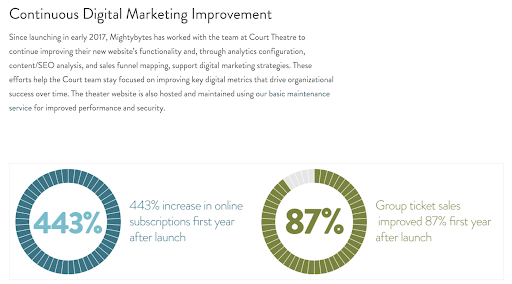 Not only does this show their potential clients that they're good at adapting to different brand styles, but it's instantly recognizable.
Remember what we said about making your agency stand out?
6. Add a section on what separates you from others
Every brand is unique, and that goes for your agency, too! So think about what it is that separates you from the competition.
Are your account managers extremely nice and approachable?

Make sure to share feedback you received from your clients on this.
Is your social media team composed exclusively of Gen Zers who are bold and not afraid to test cutting-edge trends? Ensure to celebrate them, their tips, and stories to introduce them to your prospective clients.
Do you have access to a white-label social media management solution? Then you'll definitely want to showcase this, as it reinforces your own brand.
We're sure there are plenty of things that separate you from competitors and that will help you personalise your agency and create that initial, tailored, super-niched connection with your prospective clients.
Where should your agency's marketing portfolio be?
Your online portfolio is created, and you're ready to tell the world (and your potential clients) about your agency team's incredible work.
Great job!
But where should you put it?
It's a valid question, especially when websites often have hundreds of pages, and some clients still expect content formatted in a PDF so they can easily print and share with their in-house decision-makers.
There's no clear-cut answer because every client has different preferences.
However, it might be easier to host an entire marketing portfolio on a separate URL on your website (such as /portfolio), and pick individual case studies to include elsewhere.
Most often, that's:
Your agency's pitch deck
A blog post or guest post you're writing
A PDF linked from service pages on your website
The bottom line is this: So long as each case study tells your potential clients they can find a full portfolio of work on your website, it's a simple way to cater to several different content format preferences - without turning away dream clients.
A 5-step checklist for every new addition to your marketing portfolio
The most important thing about your marketing portfolio is the content you're putting into it.
The fundamental aim is to communicate how great your agency is at your work, which is why you should only feature your best, most recent work.
Failing to do so and including old projects could make it look like your agency isn't active anymore. It could also make potential clients believe you're unable to keep up-to-date with the ever-changing marketing industry - which isn't a good sign if that's what they're hiring you for.
So, spend a few minutes thinking about the most impressive marketing campaigns you've run.
It could be one that generated 200 new customers from a single blog post or a social media strategy that increased website traffic by 3,000%. But whatever it is, it needs to be impressive.
Gather the details about each campaign you've chosen to include.
For maximum impact and the opportunity to communicate the value you'd bring to their company, each project-related entry in your portfolio needs to have:
The client name (or industry, if you've signed an NDA)

The service you offered

The results you saw

Any assets you created, such as a video or series of tweets

A testimonial from your happy client
Take a look at how SOZO do this with each entry in their marketing portfolio: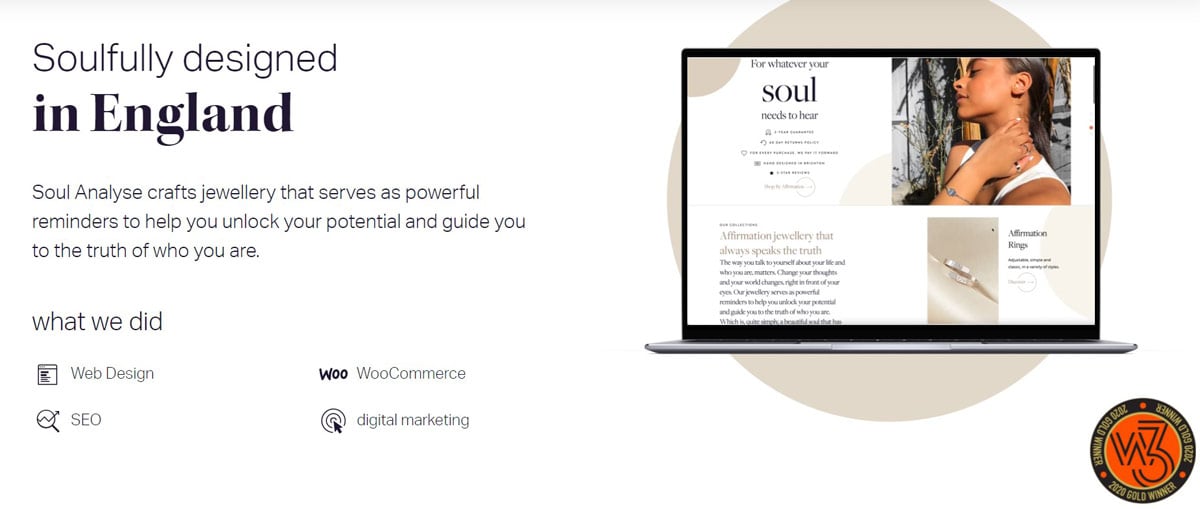 Notice how they've gone into detail about the service they provided - and more importantly, how their approach was tailored to their client?
That's what your potential clients want to see!
Should I include non-client work in my agency's marketing portfolio?
If you're a new agency, you might not have a wealth of incredible client projects to add to your marketing portfolio.
But that's not to say you shouldn't create one at all.
Chances are, you've helped someone with their marketing strategy without considering them to be a "client".
These one-off jobs, passion projects, or work you've completed for free, should form the basis of your agency's portfolio if you're limited with the paid jobs you've done.
Why?
Because 100% of the work in your portfolio doesn't need to be from a client who's paid for it.
Work you're including can be anything you've done, made or created, which will show you're passionate about what you do!
Bonus: Marketing portfolio examples to inspire your own
Design is a massive part of any marketing portfolio.

Regardless of the services you're offering to potential clients, it will help if you make your portfolio look impressive and inviting.

So here are some additional ideas to help you make your portfolio stand out.
AdaptingSocial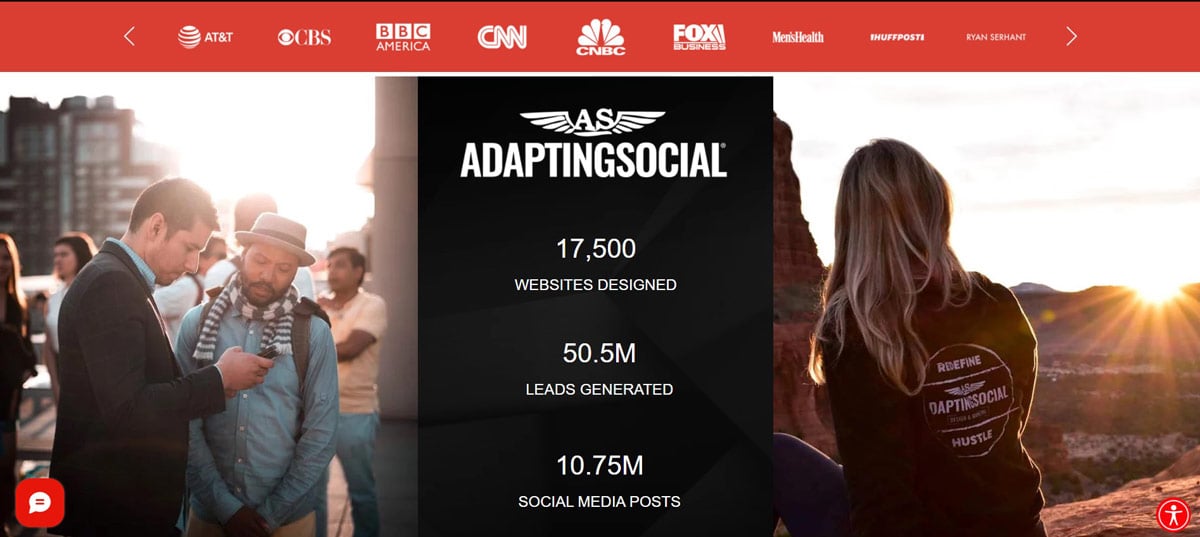 AdaptingSocial's entire home page represents a marketing portfolio:
It starts with an engaging, high-quality video that takes the viewer inside the agency's office.
Immediately after, they spice it up with some social proof by listing names of famous publications they've been featured in.
Mindblowing numbers take you right to the marketing team members.
Instead of including case studies - they present the potential client with numerous testimonials of their existing clients.
Just beneath - you get to meet the founder through a short video and contact them via the form.
Incast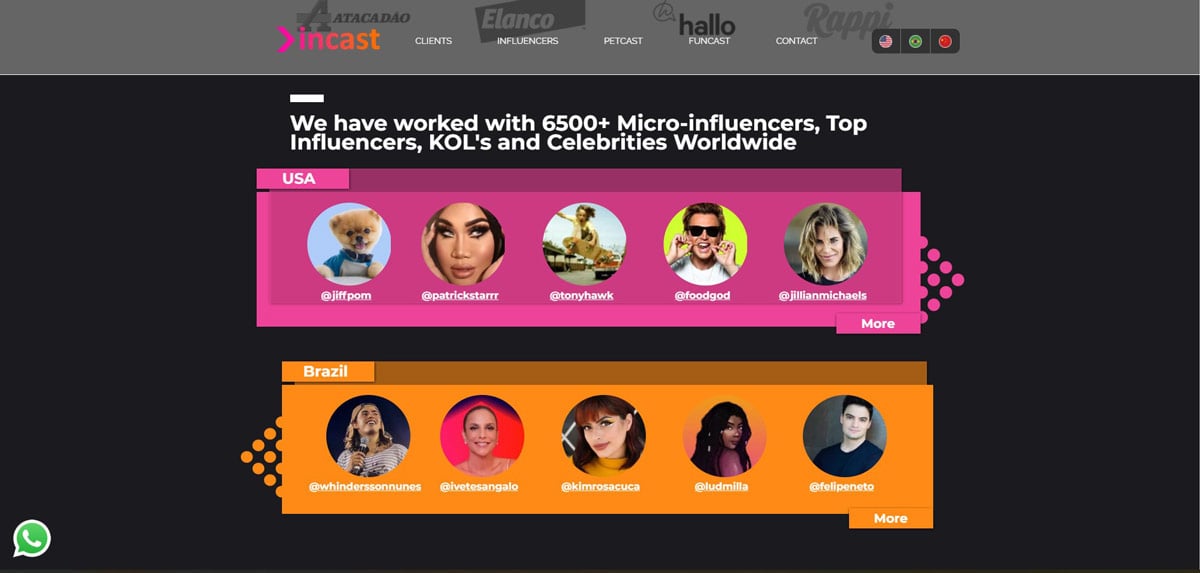 Incast follows a similar approach - their homepage is, in fact, their portfolio:
Instead of hoping a prospective client will reach the end of the page, they include calls to action immediately after a short and sweet about section.
The following section presents you with solutions they're offering and a clever design solution to show all of the social media platforms they cover.
Further below, you can see their services and an impressive list of clients and influencers they've worked with (topped off with an astonishing number of them).
Other sections dive a bit deeper into their particular services - and each one of them has a clear CTA.
Digital Marketing Portfolio Examples - Pinterest Board
If you're looking for some design inspiration, head over to the Digital Marketing Portfolio Examples on Pinterest.
Instead of copy-pasting someone's design, pay attention to:
The overall trend of white space. Notice how these examples look very clean? And even when there are many colours in the game, you'll see much free space between objects and images.
Short copy. Your portfolio is not a place to demonstrate your long-form content writing skills. When you observe these examples, check out how images dominate the text. Even in the "About section", one should write only a few, memorable sentences. You can always link this section to the "About" page. As a matter of fact - you can link each section of your portfolio to the page that covers the topic more in-depth.

Branding. Remember how we told you branding is one of the five essential things you should keep in mind? Well, here's the proof. All of the examples on the board are highly branded. The goal is to present your agency at its finest and make sure your potential client sees how well you respect your own brand while incorporating past projects and collaborations with others.
The power of numbers. People are visual beings. And they love data. Pair those two, and you'll understand why the best portfolio examples include a section dedicated to numbers. With how many brands/influencers have you collaborated? How many social media profiles has your agency managed? What was the highest ROI you've achieved for your clients? Data visualisation translates complex information into memorable maps, graphs, and images. Use it to your advantage!
Final thoughts
Now you've put together an agency portfolio, you've got an incredible tool that's bound to win more clients - and subconsciously push them towards making an enquiry.
There's one final step in your portfolio process: To always keep it updated.
Every time you wrap up a new project (whether it's a "passion project", work you've done for a non-profit, or a successful campaign you've run for a client), ask for permission to write a case study and add it to your website.
It's the simplest way to always show your best, most recent work - not to mention, impress your potential clients and convince them to hire you!