More often than not, digital marketing agencies completely forget about taking care of their own social media presence.
This is quite paradoxical, considering they know better than anyone just how essential it is to use social media marketing to promote their unique marketing portfolio, team, and personality of their brand.
Your potential clients may dig into your social media channels before hiring you. So, instead of vying exclusively for your client's praise, why not put your heads together with your team members and create something even competing agencies and brands haven't thought to do?
Yes, we know you're tight on time, and you'd rather use your creativity to boost your clients' social media presence. But think of the gain in the long term and what your competitors are doing. The number of digital marketing agencies will only continue to grow, and you need to set yourself apart
So without further ado, let's cover some burning questions and take a look at some of the best examples of agencies smashing it on social media:
Should you spend more time promoting your agency on social media?
You're not alone if you're wondering why your agency's social media management is essential.
Digital marketing is a highly competitive industry. Thousands of agencies are available, so your potential clients have plenty of options for their marketing and advertising needs. But when it comes to social media management, there are even more consultants and freelancers to add to the list.
Regardless of that tight competition, you have much to gain from establishing a social media presence, especially if you're a social media marketing agency. It will help you promote your portfolio and showcase your expertise in this field.
Here are some reasons to help you understand why you need to consider this sooner rather than later.
Social media increases online exposure - this medium has 3.81 billion users (including your potential customers)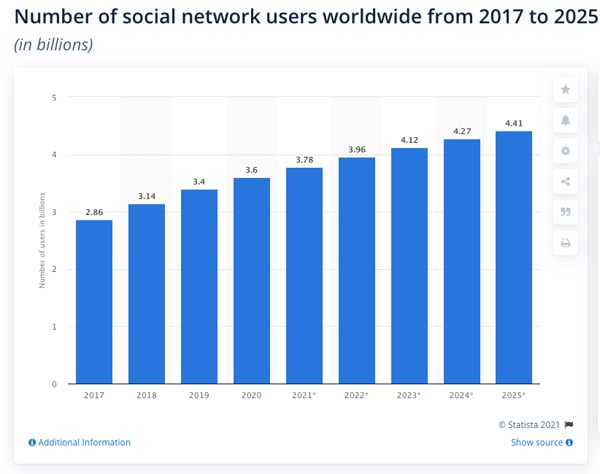 Marketing your agency through your social channels is a great way to generate more awareness, leads, and sales, and it can help you scale your agency.
It's an effective way to stand out in the crowd and better understand your clients' target audience.
The problem is that "going social" for a digital or strictly social media agency may not be as simple as it seems. A lot goes into managing a social media marketing presence - much more than just regularly posting on LinkedIn and Twitter.
So, let's get down to business and learn how to promote your agency the best way using the potential of social media. It's time to focus on increasing your social media visibility, making it easier for your potential clients to find your content.
What are the best social media promotion strategies for your agency?
1. Choose the right social media channels
Before we begin coming up with ideas on how to promote your marketing agency, you need to consider the best social media channels for promoting it. You probably already know that you don't need to maintain a presence on every single platform. However, it does help to consider which platforms are the most suitable for the type of content you are creating.
That's why narrowing down your choices to any of the following high-traffic channels could prove useful:
LinkedIn
LinkedIn is a unique, specialised platform primarily utilised by audiences between the ages of 25-34. You'll find a lot of professionals here searching for jobs, recruiting employees, networking, and building their personal brands.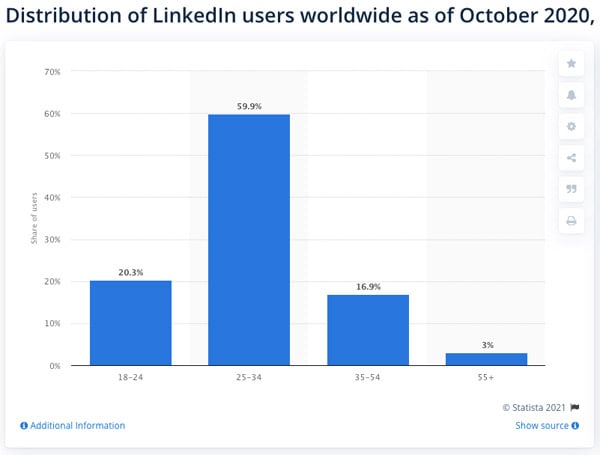 This platform lends itself to showcasing agency-specific content, building credibility in the digital marketing landscape, and sharing your client success stories. More importantly, a well-thought-out LinkedIn marketing strategy can be quite valuable for B2B lead generation.
For example, UPS shares customer testimonials case studies on LinkedIn, helping to convert more customers and build trust. This post includes a happy customer and the employee who helped create a pleasant experience.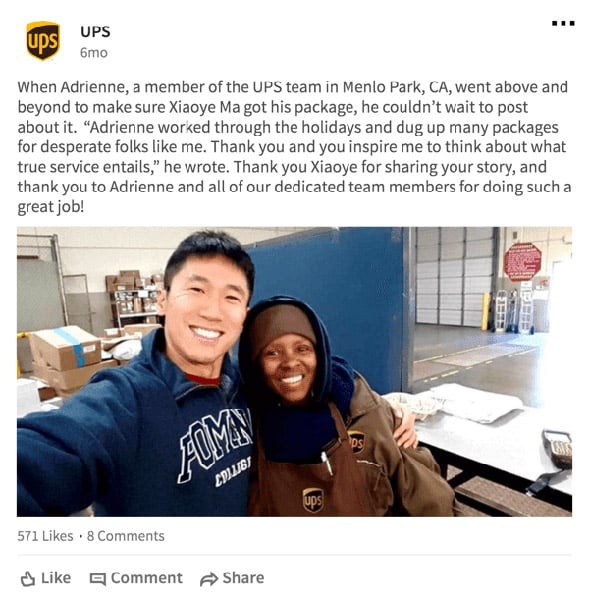 Once you have created your personal profile, you can send personalised messages to prospects as well as your connections and keep growing your network by connecting with people you meet at events or online. Once you're ready, you can set up a LinkedIn Company Page for your agency and promote it to your network alongside your regular posts.
Though expensive, LinkedIn advertising can also help market your services and reach your ideal customers once you have a good idea of who they are.
Instagram
Instagram is the channel of choice for a younger demographic - 67% of US adults aged 18-29 use the app. So the platform is a great place to showcase your capabilities (especially if you offer visual content creation services).
Instagram keeps innovating in the space and has come a long way since being acquired by Facebook in 2012. With the recent addition of shopping tools and Reels and the increasing popularity of Instagram Carousel, it is leading the way in how audiences can interact with content on social media platforms, making it a great place to stretch your content creation muscles as an agency.
Currently, Instagram Reels allows users to record up to 60 seconds clips set to music that helps brands get discovered by new audiences on a bigger, global stage. And Instagram Carousel enables you to upload ten consecutive slides that you can use to tell a story.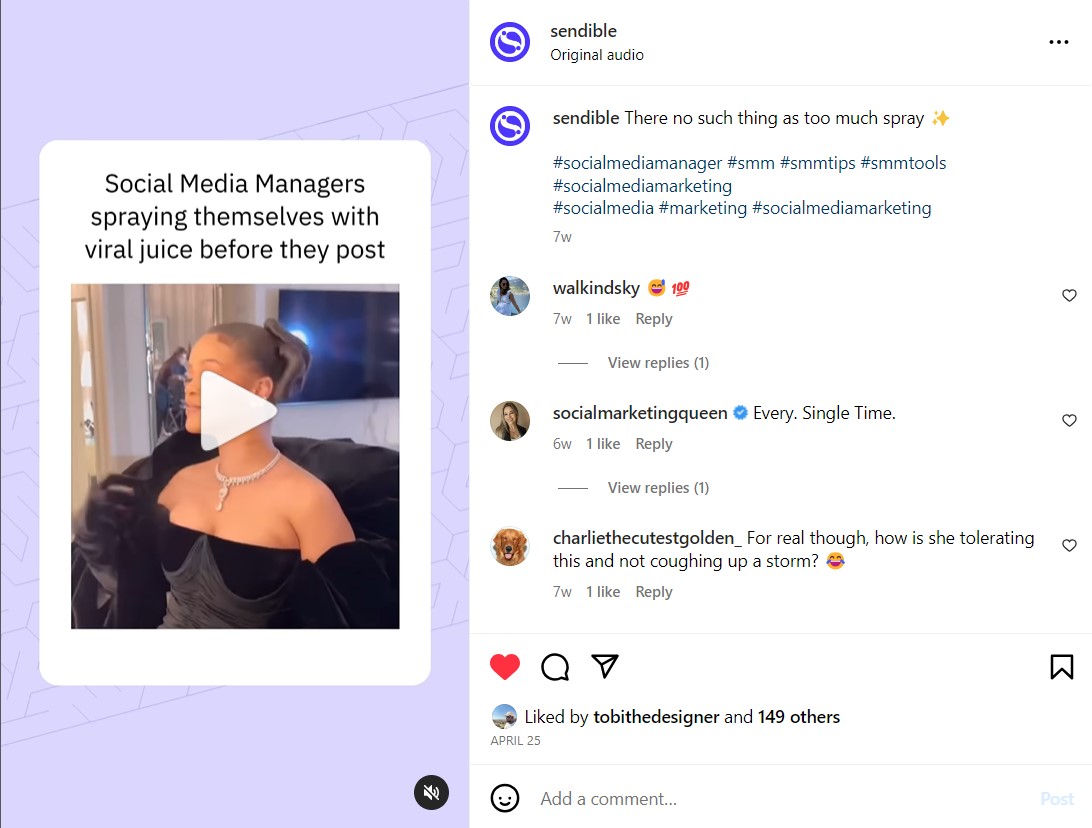 Source: @sendible
To connect with your audience on Instagram, ensure that your content is entertaining and valuable. Boring, technical, or otherwise ordinary content doesn't seem to do too well on this channel. So make sure to include various post formats in your content calendar that will allow you to present different sides of your social media agency.
If you have a budget, you can launch effective social media ads and attract more interest for your agency. Remember - your own social efforts can show potential clients how well you can do the job, and they may be more inclined to consider and let you run theirs.
Twitter
Twitter is well-known for its short text content. Mentioning links here can help share the content you've created. Moreover, regularly tweeting about marketing trends tells others that you're active and up-to-date with what's going on in the industry.
Deutsch provides an inside look at their agency on social. This post is great because it showcases the company's latest creative talent, thinking, and marketing strategy around bite-sized content.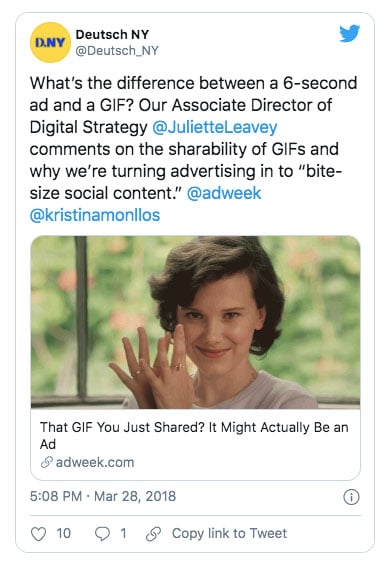 If you've won some awards or gained recognition from other agencies, mention it in your bio and about sections. Perhaps most importantly, don't underestimate the power of Twitter for networking - almost anyone with a public profile is just one message away, and you can use this to your advantage when collaborating with brands or working with exciting people in your space.
Facebook
Facebook is a versatile platform that allows agencies to post text and video content. With 2.60 billion monthly active users and 1.73 billion daily visitors, there's a lot of traffic here.
Everyone knows Facebook is still the biggest social media platform. But with everything happening on other networks, many wonder if it's losing relevance. However, Facebook remains a powerful place because:
It's an effective tool for building brand awareness
It helps businesses establish trust with search engines
Businesses can target their best customers with paid Facebook Ads
However, it's all about positioning yourself in such a way that you show up on potential clients' radars and build awareness with attention-grabbing photos and videos. ROLI started crafting meaningful messages for hobby musicians and professionals to match suitable products from their product catalogue with customer profiles: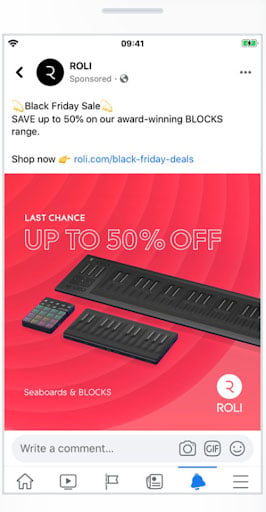 You can join social media communities or groups to help connect with people who share your interests and improve your agency's online visibility. By creating a group and connecting it to your Facebook Page, you can build awareness and grow a community of fans and supporters.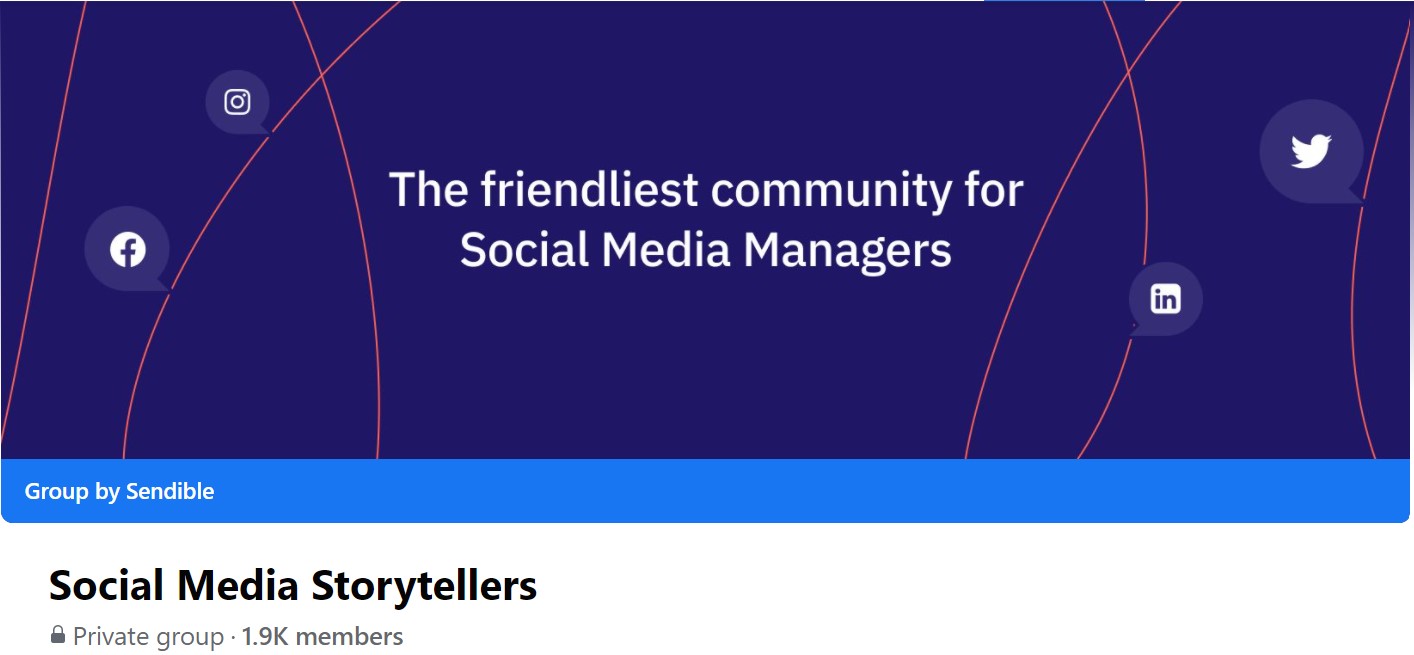 Check out our Facebook group: Social Media Storytellers
This feature is available for LinkedIn and Facebook, but Facebook groups tend to be much more active. Some of the best Facebook groups for inbound marketers include: The Daily Carnage, Word Workers, and Social Media Managers Group.
YouTube
YouTube is the de-facto platform for video content. It's ideal for longer videos, and if you have the skills and resources, you can create in-depth content showcasing your expertise in various segments of digital marketing.
These videos, often educational in nature, offer digital marketing insights, strategies to grow a business, tips to boost online presence, content creation guides, and much more. Popular digital marketing YouTube channels include Ahrefs, Backlinko, and Neil Patel.