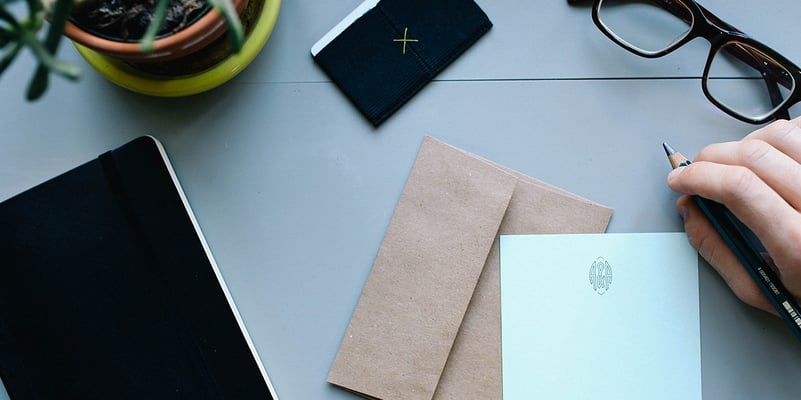 Marketers today are a very busy breed, so every possibility to save time (as well as sanity) helps! While the primary purpose of the Sendible social media management dashboard is to provide a more efficient way of managing social media for your business, it can also simplify your content creation process with a number of useful functions.
Read on to find out how exactly Sendible assists marketers with their content, including their very own content creation service - perfect for whenever you require original blog articles, suffer from writer's block, or have fast approaching deadlines.
Original content is important for your business
Let's just start with the fact that almost everything you create is classified as content - be it images for your social media channels, an email newsletter, a website banner, infographic or even a piece of writing for your blog.
Original content allows to truly show your brand's personality and is especially important for a successful content marketing strategy. This marketing technique allows businesses and individuals alike to build a loyal follower base by engaging with them through non-commercial, educational content on a variety of channels (social included). Blogs are central to this strategy (more on this below) and their greatest advantage is the ability to house your content and extend its longevity (compared to individual tweets on Twitter for example).
Types of content available through Sendible
Social Media
All of your posts on social media networks - Facebook, Twitter, Google+, Instagram or LinkedIn - can all be scheduled in advance and it doesn't stop there, you can also manage your brand presence and engagement directly from the dashboard.
Social media posts, especially those with unique images and videos classified as content, plus various channels, can be used to promote particular areas of your website as well as your blog. Social media is an extension of your content marketing strategy.
Popular Content Curation and Sharing
Content curation, also known as content sharing is especially useful as it increases your credibility as you link to influencers and can show your audience that you are up to date with industry news. Sometimes someone else has said it better than you, and you show your audience that sharing important information is more important to you than simply your own writing.

Situated under Content in the main menu, the Suggested Content feature is perfect for finding influencer articles as well as videos that are already being shared on social media. You can sort the feed either by topic and keywords or by influencer, whichever is more appropriate for your business.
There are lots of resources you can follow in order to be the best you can possible be, so receiving freshly published content should be a breeze. With the RSS feeds service, you can subscribe to all of your favourite blogs, receive them right into your dashboard and share it easily.

Extended reach with Snip.ly
It's possible to extend your reach and brand awareness even further by integrating with Snip.ly. This is a very effective, paid service that allows you to add CTA's to each link that you share.
Once the user clicks on the "snipped" link, a CTA button will appear at the bottom of the user's screen. These pop-ups are extremely powerful, especially when they are relevant to the audience and the shared post, see an example below.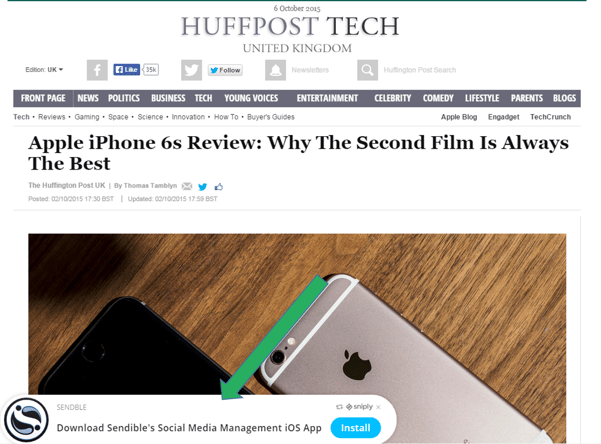 Canva - graphics tool for marketers
Social media networks and blogs are becoming increasingly visual, one of the reasons for this is our ever shortening attention spans - it's much simpler to consume information expressed in visuals than plain text. So even if you aren't a fully qualified designer, you still have to know the basics of design and there are tools to help you do just that!
Sendible has integrated Canva into the dashboard for your convenience, making it really simple to create unique designs for your social media posts or even campaigns. Canva has really handy guides on how to use their tool, so if you are just starting out, we recommend you check it out.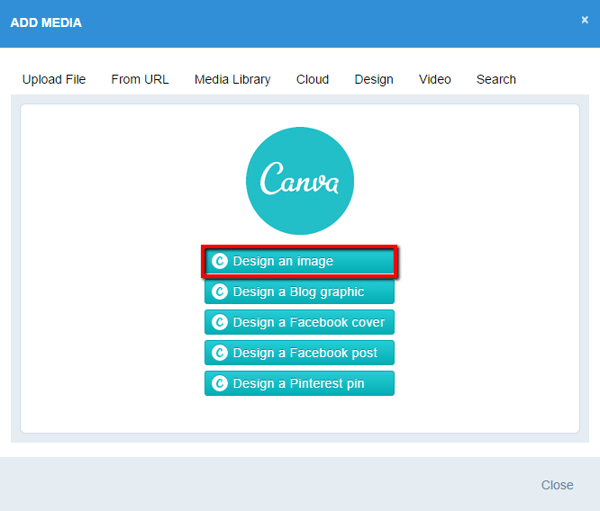 Blogs
If you have the resources to invest in blogging for your business (you really should find them if there are none), be sure to plan it out and prepare to invest time in it. Remember, blogs are essential to your content strategy and can compliment your other marketing efforts (especially on social media). The beauty of a blog is that you obtain a permanent content hub where all of your content can be housed and then found in one place and also, where your content has a much longer lifespan than it would usually have, say an update on social media.
Extra help to create content with Sendible
Once you have a blog and commit to it, there will be a constant requirement for original content to be published on a weekly basis. To help you on your way, to ease the pressure, or to help you keep up with modern content demands, Sendible have a content creation service to do just that.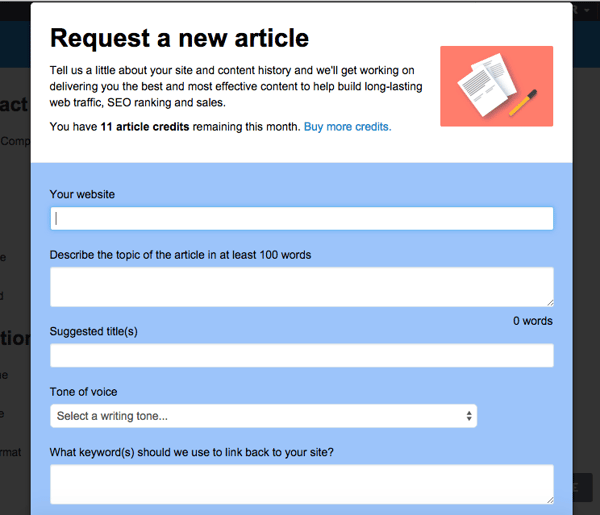 It's really simple. Under Content - My Content and then selecting Add Content, choose a topic and angle (simply fill out a form) and an article will be written for you by one of our expert writers within 48 hours. These blog articles are of course fully SEO optimised and can be delivered to your Priority Inbox. Please mind that this service is currently available to Sendible customers only, but hey, you should really trial the tool if you haven't already!
So, just another way Sendible is helping to simplify content marketing and help you get the results you want on Social Media. Let us know if you didn't know about any of these services or if you have found other ways to save time on Sendible when working with content.