What comes to mind as a social media marketer when you hear the word carousel? Instagram, right? As social media managers, content creators or small business owners, we're so much more concerned about the carousels we swipe on daily than the ones that take us round and round.
That's why we were thrilled when Instagram finally released the Instagram carousel API, which gave Sendible the functionality to auto-post and schedule Instagram carousel posts. It had been a long-awaited request from many of our customers to have an Instagram carousel feature, so we made it happen.
Now it's time to guide you through the ins and outs of Instagram carousels, how to use a scheduling tool like Sendible to boost your carousel strategy (if you already have one) and why carousels are such a game changer!
In this quick guide, we'll uncover:
What is an Instagram carousel post?
An Instagram carousel is a type of post that allows users to share multiple photos or videos in a single, swipeable post. Instead of uploading single images or videos, you can include and post up to 10 slides of content in a single carousel post.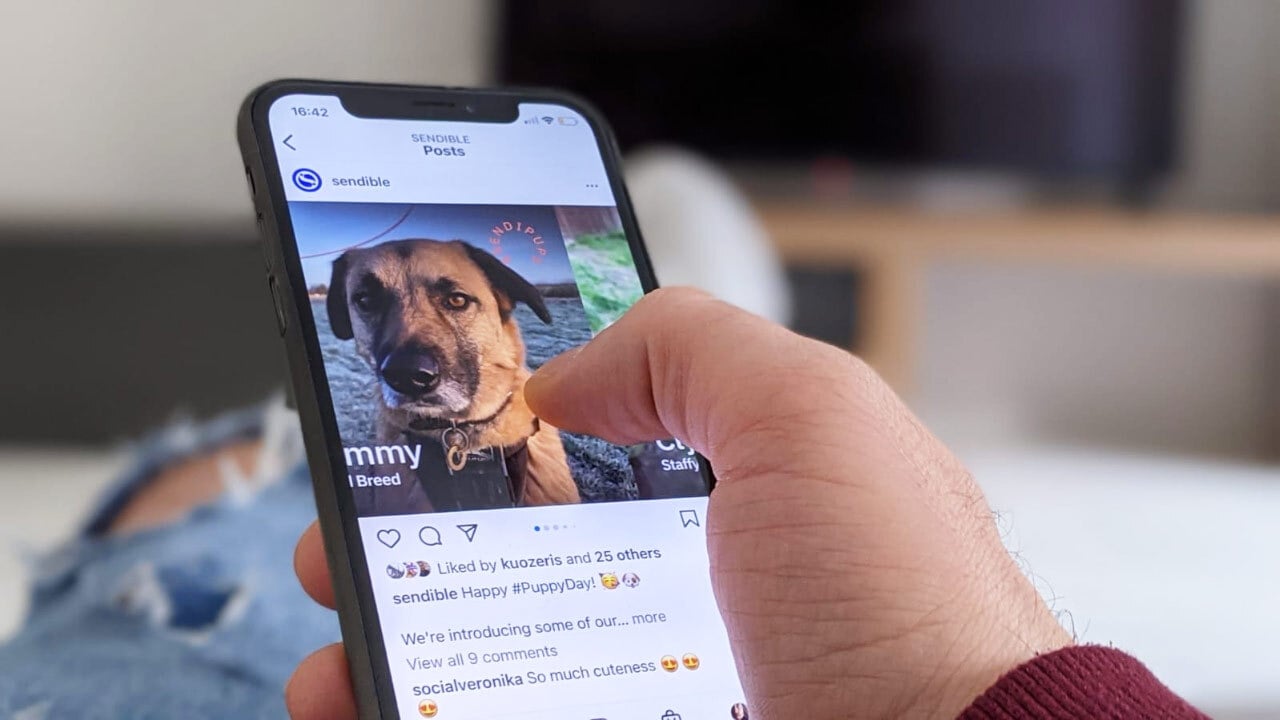 11 Ways to Create Thumb-Stopping Instagram Carousel Posts to Promote Your Business
Why post Instagram carousels?
In the social media world, it's all about reaching and interacting with an audience. Carousels are an important format in helping you create great content to reach this goal. Not only do these types of Instagram posts encourage engagement, but they also drive your profile's reach with higher visibility compared to single image posts. Let's dive into more of the benefits:
Storytelling: Brands and businesses can tell richer stories on social media with a seamless carousel rather than a single post. They're especially handy for showcasing product evolution, spotlighting brand journeys, or unveiling project step-by-step processes.
Increased Engagement

:

Carousel posts tend to attract higher engagement rates than single image posts because Instagram users are more likely to swipe through multiple images, increasing the time they spend interacting with your content.
Showcase User-Generated Content (UGC)

:

Brands can curate UGC in a carousel that features customer reviews, testimonials, or product use cases, as a great way to create social proof without being too salesy.
Educational Content: Social media managers can use carousels to provide valuable information, tips, and insights related to their clients' industry in a creative way. This positions the brand as an expert and builds credibility among the audience.
SendiFact: If someone skips your carousel after only seeing the first slide, it will pop up again on their feed with the second slide, giving your post more views and interactions on the Instagram app.
Why schedule your Instagram carousel posts with Sendible?
We get it – you've probably heard all about the benefits of how third-party scheduling tools save time and centralise content. But let's dig deeper into how Sendible can truly make a difference in scheduling and creating Instagram carousels.
Consistent Posting: Sendible encourages batch content creation, where you can create multiple carousel posts in one sitting and schedule them to be published over time using the bulk upload feature. This allows you to maintain a consistent posting schedule, ensuring a steady stream of engaging content for your audience.
Content Testing: Sendible's advanced analytics can help you test different posting times, captions, and content variations to see what resonates best with your audience. You can then refine your Instagram carousel content strategy based on these results for more social media growth.
Planning Campaigns: Running a social media campaign that involves multiple carousel posts? Sendible lets you plan and schedule the entire campaign in advance, and with its approval workflow, easily collaborate with your team to fast track your work and ensure that your campaign messages are consistent and well-coordinated.
How to schedule Instagram carousels on Sendible
Step 1: Access the Sendible Dashboard
Log in to your Sendible account and navigate to the dashboard.
Step 2: Connect your respective social channels
If you haven't already, connect your Instagram account to Sendible. This will enable you to schedule and publish your Instagram carousel seamlessly.
Step 3: Create Instagram carousel post
In the Compose Box, within the Instagram tab, select the attach icon to choose up to 10 content slides.
Step 4: Edit your carousel
Easily rearrange the carousel sequence by dragging and dropping images. Personalise them to align perfectly with your brand's tone and style using our Canva integration!
Step 5: Schedule your carousel post
After perfecting your carousel, simply select the perfect date and time for its release. Sendible's smart compose box offers the option to select the optimal time for posting for the best engagement from followers.
Step 6: Review and Confirm
Before scheduling, double-check your carousel to ensure everything looks great. Double-check the date, time, and content to avoid any surprises. Then, assign it to the client to get the approval or simply schedule!
Step 7: Sit Back and swipe
Congratulations! You've successfully scheduled your Instagram carousel post using Sendible. Now, sit back and let Sendible take the publishing of your Instagram content from here.
Types of Instagram carousel posts to schedule
How to's: This post style allows users to share a series of slides representing a different step or phase of the process being explained. This could include educational content, DIY projects, tutorials, recipes, craft ideas, and more. It offers a visually engaging and organised way to break down complex instructions into digestible content, like the one below.
A classic dump: This carousel post typically involves sharing a range of images or videos from a specific event or moment in a less structured, lighthearted manner. Instead of focusing on a single cohesive message, which brands often do, a photo dump should showcase a series of candid shots, behind-the-scenes glimpses, funny moments, or a mix of different subjects without a strict narrative.
Do's and Don'ts: These carousels are often used to provide helpful advice, tips and best practices on various topics. By using visual elements like graphics, these Instagram carousel posts aim to convey information in a clear and visually engaging manner, which often prompts engagement from followers.
Before and After: You don't need to fill all 10 slots in a carousel; that's the charm of it. A before and after style is commonly used to showcase changes or improvements, with each slide featuring an "before" image or video followed by an "after" one. This style can be employed to demonstrate to the audience your product or service's impact.
Insta-focused related articles:
Free editable resource:
Other Instagram features features to look at:
Running an Instagram account demands a variety of features, and luckily, Sendible has you covered. Here are some features to explore when managing an Instagram page👇.
Instagram first comment
Instagram tagging
Instagram Reel scheduling
Custom and Quick Reporting
300+ holiday content ideas
Wrapping it up
And there you have it, you're now equipped with the insider knowledge to master the art of scheduling Instagram carousels like a pro! With Sendible as your trusty companion, you're equipped to take your social media strategy to new levels, discover greater engagement and achieve the impactful results you've been aiming for.
Say goodbye to missed opportunities and those frantic last-minute carousel posts that used to keep you on your toes. You're in control now. Curate your content with finesse and nurture meaningful bonds with your audience.
Ready for the next phase of your journey? We'll be your guiding light. Harness Sendible's robust features, insights, and resources to witness your carousels continue to wow your audience.
Start your Sendible 14-day free trial today.