Maybe you're currently working as an employee but want more freedom, maybe you've found yourself jobless and in need of a new direction, or maybe you want to put your social media skills to good use and help other brands.
No matter the situation, one thing is clear - the concept of workspace has undergone a significant transformation. And when it comes to embracing this change, digital marketing takes the lead. So, if you're eager to utilize your social media skills in a fresh and exciting way, then this comprehensive guide is tailored specifically for you.
If the idea of working for yourself fills you with anticipation, then you've come to the right place. This in-depth guide will provide you with all the essential information to kickstart your journey, from the necessary steps to get started to finding clients and ultimately thriving as a successful freelance social media manager.
What are the advantages of going freelance?
If you've ever thought about going freelance, now is the perfect time to do it. In fact, becoming a freelance social media manager is not only a good career move but can also be rewarding and enjoyable. In a recent report, full-time freelancers rated their job satisfaction an average of 4.1 out of five.
Think about it: You can set your own schedule, choose who you work with, and make a difference to companies all around the world.
These aren't the only advantages, though.
Freelance social media managers can also enjoy:
The freedom and flexibility to work when they want, with whom they want
Building their skills by working with a wide range of clients
The ability to pick and choose what kind of projects they work on and which tasks they'd like to be involved with
Showcasing their social media capabilities on a global scale


Source
What is a freelance social media manager?
If you're asking the question, "what is freelancing" or, more specifically, what does a freelance social media manager do, we've got you covered.
Freelance social media managers are most commonly tasked with planning and executing social media strategies for several different clients. Unlike employed social media managers who tend to run the social channels for just one brand, freelancers can be brought on for contract work while campaigns play out and generally work with a handful of brands at any given time.
Can anyone be a freelance social media manager?
Well, obviously, you need to be savvy with social channels and ideally have experience running accounts in the past, but it goes deeper than that.
The best social media managers are adaptable and innovative - these are must-have qualities in a profession where the landscape is constantly changing. A fair amount of creativity is also required, as well as the ability to collaborate and communicate ideas.
Equally, freelancers need a thick skin and certain skills that aren't necessarily crucial for their employed counterparts. We're talking traits like self-motivation, persistence, and self-confidence, not to mention the ability to communicate with people from all walks of life.
How much can I earn as a freelance social media manager?
Freelancer incomes vary wildly. And we mean wildly.
How much you earn depends on how much you work, the kinds of clients you choose, and how you price your services. But, to give you a ballpark figure, UK freelance social media managers earn an average of £26,000-£37,000 per year, while US freelancers tend to bring in around $50,000.
How to become a freelancer: getting set up
Before the fun starts, there are a few things you need to get in place to make sure you're both legal and set up for success.
Register as self-employed
If you're earning money as a freelancer, you have to register as self-employed with the government. How you do this will depend on where you are in the world, but it usually involves filling out a form and filing your taxes when you're required to.
Here's some advice for freelancers in the UK, and here's a guide for registering as self-employed in the US.
Set up a bank account
If you're self-employed, you're often able to use the same personal bank account you use for everyday stuff. However, this can get confusing when it comes to doing your taxes, and it can make things more complicated than they already are.
To avoid headaches in the future, start out strong with a separate bank account for your earnings. This will keep your personal and business expenses separate and will make doing your taxes much easier if you don't have to trawl through endless bank statements to find relevant items.
Get some insurance
Insurance will protect you against unforeseen circumstances, whether that's a long-term illness, a difficult client, or a financial issue.
Here are some helpful guides about freelance insurance in different parts of the world:
If you're in the US, you will have to look into health insurance as well. Here's some information about that.
Set up a simple website
The fun can kind of start now.
Before you start pitching your services and signing up clients, it's a good idea to set up a website that showcases what you can do. This acts as a digital "storefront" for your work and will help you attract prospects.
As well as directing potential clients to your site for more information, it's a good place to show examples of your work, introduce yourself, and create an online presence.
Here's an example from freelance social media manager Elizabeth Harmon: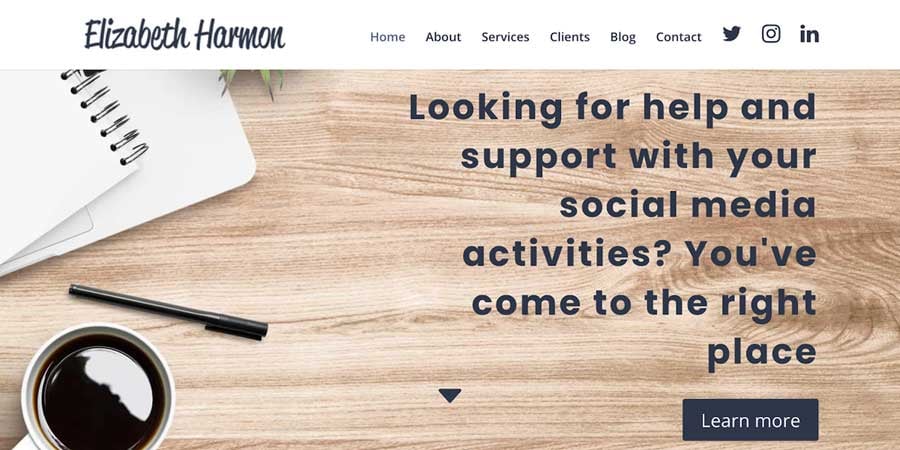 Your site doesn't have to be the fanciest, flashiest thing on the web. It can just be one or two pages if you want it to.
In fact, "keeping your site barebones," says Rob Lora of Namechk, "by creating a 'basic business website' or a simple 'portfolio website' to attract clients can help keep your website costs to a minimum. Often, you can maintain everything from your domain to the design of your page for approximately $300 per year, with little effort required on the creative front when using one of the latest website builders."
We recommend creating the following pages for your site:
An About page - to show clients who you are
A Services page - to show clients what you do
A Portfolio page - to show clients what you've done in the past
A Contact page

- to help clients get in touch with you

If the thought of building a website from scratch terrifies you, don't panic. There are plenty of user-friendly guides to building simple websites, like this one, this one, and this one.
Tools to get started
While many freelancers start out without any tech assistance, it can help to have a couple of business admin tools in your arsenal from the very beginning. This will help you streamline your processes and stay organised.
Think about researching tools like:
Figure out your prices
Now for the hard bit.
No one likes to talk about money, and this is evident in the freelance world, where it's very difficult to find out what's a good rate and what's not.
While there are guides out there that give common rates for certain services, it's worth doing a bit of your own research. Start by looking at other freelancers' websites who are offering similar services to you and see if they publish their prices. Alternatively, you can reach out to fellow freelancers privately to open up a discussion about rates and income.
The best thing you can do is figure out how much you'd be comfortable earning - and this will vary from person to person. The easiest way to do this is by figuring out an hourly rate (this isn't always the best way to charge, but it's a good starting point).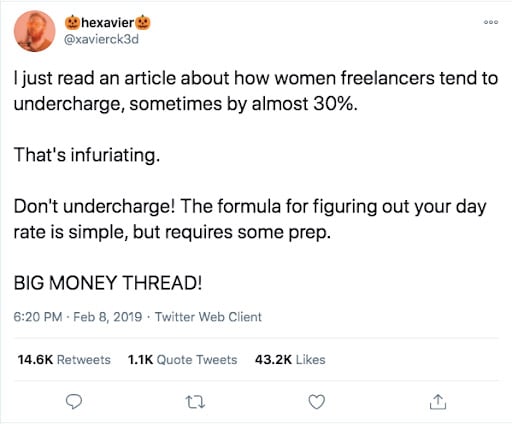 Source
Firstly, work out your monthly expenses - that's your absolute baseline income. Then, think about taxes, insurance, and other business-related expenses you'll need to cough up and add that to your monthly expenses.
From there, work out how many billable hours you want to work each month and use that to divide your monthly expenses by. This will give you a low hourly rate. It's a good idea to add 20-30% extra to account for missing hours, admin tasks, and any other unexpected overheads.


Finding your first client as a freelance social media manager
Once you're set up and ready to go, it's time to find your first client (cue fanfares and sweaty palms). There is no one-size-fits-all way to land clients, but we've put together some of the most effective strategies for freelancers just starting out.
How to network as a freelancer
Building a solid network of other professionals and potential clients is a must-do for any new freelancer. This will get your name out there and forge relationships with people that might help your career in the future.
As well as networking with clients, don't forget to network with fellow freelancers too. These people may end up referring work to you, or they might have a good skill-set match that you can collaborate with.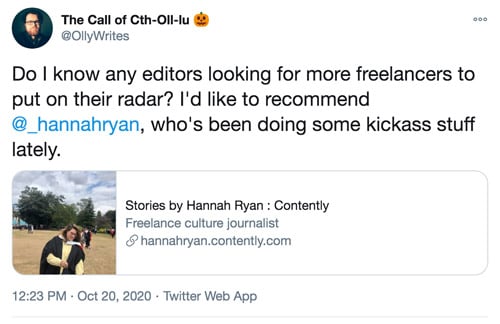 Source
Here are some prime networking activities:
Attend events (in-person where possible, but online events are probably more prominent right now)
Get involved in relevant Facebook and LinkedIn groups like this one
Join a co-working space


Where to find freelance social media manager jobs
Finding clients will be your biggest and most relentless task when you become a freelancer. However, there are some key places that have regular opportunities. It will be up to you to do your own digging, but here are some channels to start with:
Job boards - Job boards regularly advertise freelance jobs, so these can be a good place to start. Simply search "freelance social media manager" on sites like

Indeed

and

Monster






Twitter - As well as being a good place to network, Twitter regularly throws out freelance job opportunities (you just have to know where to look). Start with a simple search for "freelance social media manager" and see what crops up. Don't forget to utilise hashtags like #FreelanceJobs and check back often for fresh opportunities




LinkedIn - Obviously, the professional social networking platform is the perfect place to find freelance jobs. You can use the job search function and filter roles to only show contract opportunities




Google Search - There's nothing quite like a Google search to get your job hunt underway. Try a combination of different search terms such as "freelance social media manager position," to kick things off. Google even has an in-built Job widget:



Pitch your services to relevant prospects
One of the best ways to gain control over who you work with is to cherry-pick brands yourself. This means researching companies that you'd like to work with and writing up a short pitch that tells them how you can help.
It can be a scary prospect reaching out to unknown entities, so you can always boost your confidence first by pitching warm leads (a.k.a. people who are already in your network, like friends, family, acquaintances, and past colleagues).
Here's a quick step-by-step process for pitching yourself to new clients:
Identify relevant brands through Google, social media, and your extended network
Find the contact details for each company and list them out in a spreadsheet
Write a pitch that includes who you are, what services you offer, and how you can add value to the client
Personalise the pitch with the recipient's name and send it via email (or through another channel if you already have a connection with them there)
If you don't receive a reply, follow up in a week or two to give them a nudge
It takes time to start getting traction from your pitches, and it pays to be consistent.
What's next: Becoming a successful freelance social media manager
Once you've landed your first client, it's all systems go! Now you've established your business, it's time to start working out the kinks and building the foundations of a long-lasting career.
Build your brand
Even though you're a one-(wo)man-band, you still need a brand. Think of yourself as a business and consider how you want clients to feel when they work with you.
The brand goes a lot deeper than a logo and colours. It also involves the experience you offer clients and your online presence.
Promote your services
Never stop marketing yourself. Even if work is busy, you want to have a steady flow of leads to fill those inevitable downtimes (and to avoid the dreaded feast-and-famine nature of the freelance world).
Establish a consistent presence on social media and schedule regular posts that promote your services and keep you at the front of prospects' minds.
In terms of the best platforms to use, Twitter, Instagram, Facebook and LinkedIn are all great options.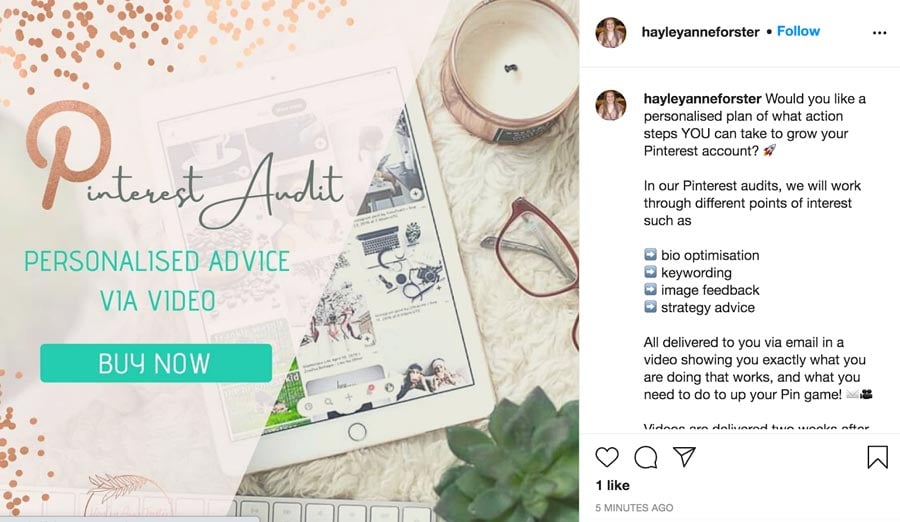 Blog your way onto client radars
Blogging is a great way to get your name out there and attract clients through search engines. The key is to create content that your clients are searching for and that provide unprecedented value and expertise.
You can direct readers to sign up for your email list where you can nurture them until they're ready to invest in your services.
Choose a specialism
At some point, you might find yourself working with clients in a certain industry. It might be beauty brands, fashion companies, restaurants, or real estate.
Whatever it is, there's a high chance you'll get to know the ins and outs of these types of businesses. As a result, you can charge more for working with them and build a presence as one of the top freelance social media managers in that industry.
When you become the go-to social media manager for certain types of companies, it becomes easier to land work (despite it feeling like you're limiting yourself), and you can demand higher rates - it's a win-win situation.
Create a portfolio of work
Every client you work with has the potential to be a stepping stone to the next.
Throughout your career and with each project you complete, you should be collecting your work and results and adding them to your portfolio. This will act as tangible proof to future clients that you can do what you say you can.
It also helps to get your hands on glowing testimonials from past clients and write up case studies for particularly successful projects. These will all provide a helping hand in landing future clients by giving prospects the confidence they need to hire you.
[Bonus] Free social media manager interview questions
Starting a freelance business can be scary but worth it in the long run.
Obviously, it doesn't happen overnight, and you can see from our freelancer guide that there's a lot of prep work involved if you want to be successful.
Start by getting the foundations in place with a dedicated bank account and insurance, and then move on to finding your first client. From there, it's a case of consistently working on your business and putting yourself out there to find bigger and better clients and projects that you love.
We're here to support you every step of the way. If you have any questions about what to expect during a client interview or want to ensure you're fully prepared, take a look at our free social media manager interview questions. We're sure they'll help you feel confident and ready to take on any challenge.