In January 2021, there were 4.2 billion social media users worldwide. That is a big audience no restaurant would want to miss out on.
You walk by people browsing social media daily, on the bus, in stores, and even at work. But simply creating a social media profile for a restaurant won't guarantee it will gain many followers, many likes and comments, or attract new clients.
There is a lot of work to be done to ensure a new restaurant's success online, and it starts well before scheduling the first post. In this article, you will find out how to create a social media strategy for restaurants that will help them increase their business:
1. Define the restaurant persona
Every restaurant should brand its business way before opening it. This way, the owner ensures that no matter what channel they use, they create a unitary image that is easy to recognise. Branding will help the restaurant grow by building trust with clients.
Part of branding the restaurant is defining the restaurant persona. Precisely, what voice should be used in communication, be it in social media posts, website landing pages, or direct messages?
Is it a friendly, outgoing voice? Or a more reserved, professional one? After you establish it, every interaction on social media, be it a post, comment, or message, should comply with the tone.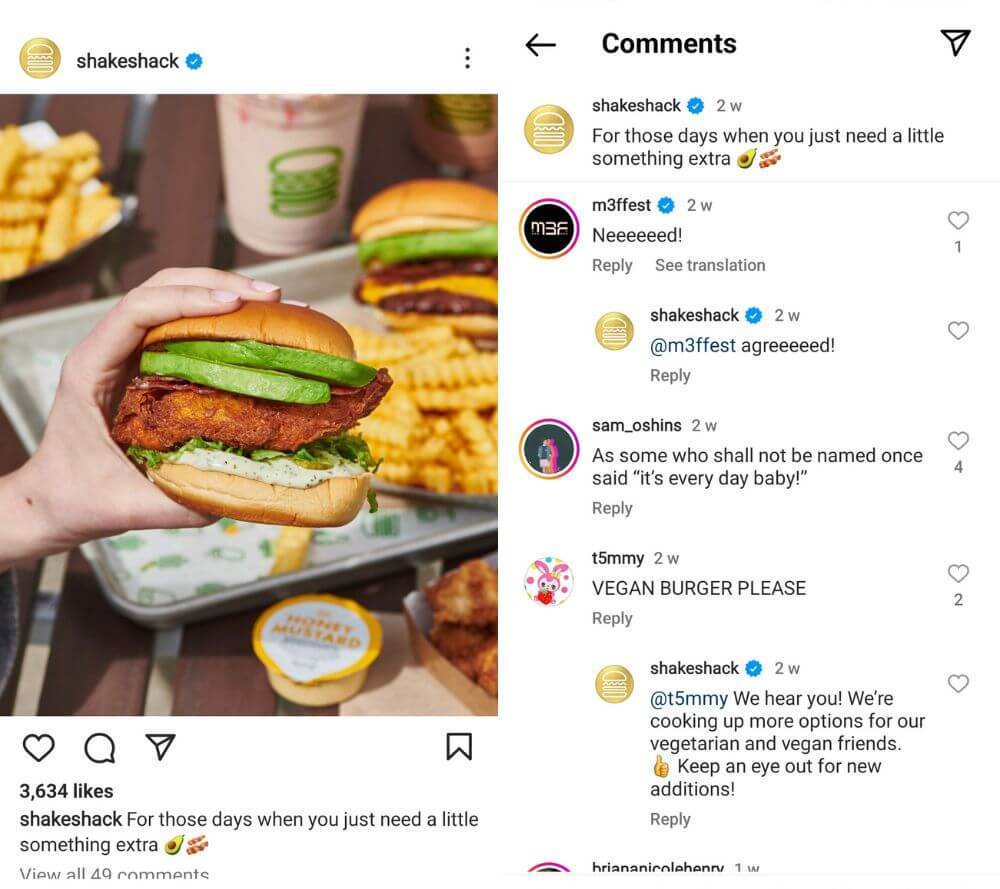 Source: @shakeshack
2. Establish social media goals
Establishing goals will motivate you to achieve them and will help you manage your expectations. You must have both long and short-term ones with set deadlines.
Some of the most common long-term goals for restaurant social media accounts are:
Attract more customers to the restaurant
Increase the online visibility of the restaurant
Increase the number of online orders
Get to 10k followers
Build a community of loyal customers
While long-term goals are more of an idea you wish for, the short term should be achievable. Once you set them, create an action plan and a time frame in which you will reach them. Here are a few examples:
Get to 1k followers: if you invest in sponsored posts, organize contests, and post relevant content constantly, this could be achieved in a short time after launching the account.
Get 10 more online orders per week: start small if you just opened the account, so you don't get discouraged. It usually takes some time to see the results of your work. Go with promotions or posts with strong calls to action that give people a reason to order. For example, free delivery can be a great incentive.
Increase traffic to the website: include a link to the website in the bio and various posts to encourage people to visit the restaurant's website. Bonus points if an online ordering system is integrated so customers can order directly from the website.
Learn more about how to set measurable social media goals with our handy pocket guide.
3. Ensure there is a strong online presence
Social media can be a great help for a restaurant's development, but it can only do so much if there isn't a strong online presence to build on. To get the best results from your social media efforts, ensure the restaurant owner has these three things:
A sales-optimized website: an efficient restaurant website will help clients find information about the business easily. If restaurant owners choose a restaurant website builder with online ordering, they can increase their revenue by accepting online orders. What's more, an SEO-optimised website will help the restaurant rank high in Google searches;
A filled-in Google My Business profile: speaking of Google ranking, a big factor is Google My Business. The profile should be complete with a link to the website, exact address, working hours, contact information, and lots of photos of food and the restaurant;
Active account on all review platforms in the area: reviews aren't just a ranking factor for local SEO, but they are also the first thing most potential clients check before visiting or ordering from a restaurant. Therefore, to create an image of trustworthiness around the restaurant, the owner should encourage reviews and reply to every single one, be it bad or good.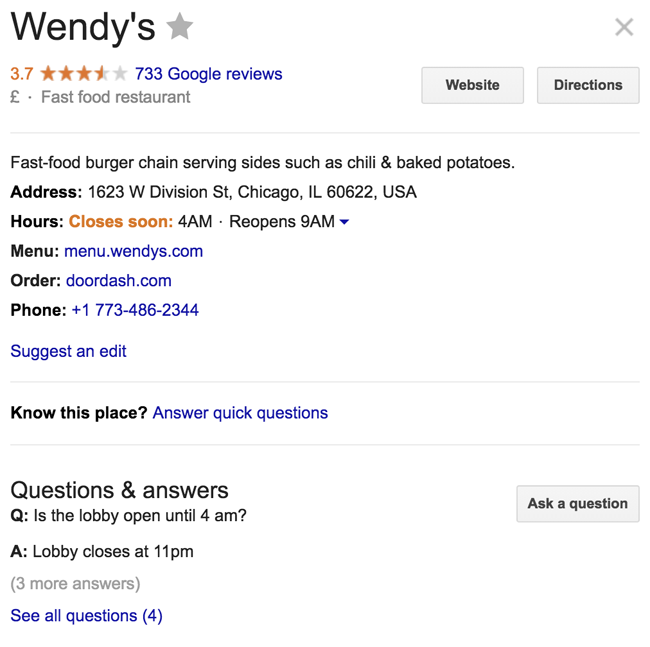 4. Choose the social media platforms
The main thing to consider when choosing a social media platform should be the restaurant's audience. Where do they spend most of their time on? You can create an account on as many platforms as you wish, but ensure they are relevant for the restaurant, so you don't end up wasting time and effort with no results.
Here are the main social media platforms to pick from:
Facebook: it is still the most popular social platform around, but the people still active on it are millennials or the older generation. You can share news, interact with your audience, organize contests, and much more.
Instagram: inherently a visual platform, so it is ideal for sharing photos and videos of food. You can interact with followers through comments, stories, and direct messages.
TikTok: even though it is relatively new, the younger generation has taken to it immediately. The content is all video, so you may have to put in a little more effort to create attractive posts that will attract attention. But if you succeed, you can bring a big number of clients to the restaurant, as the audience on TikTok is always on the lookout for new food places to try out.
5. Complete your account information
Posts and stories are important, but so is your social media bio. One of the first steps in any social media strategy for restaurants is creating an informative and attractive bio. Clients must find the answers they seek at a glance without having to spend minutes searching for them.
Here are a few tips for efficient bios:
NAP information: NAP stands for name, address, and phone number, and it should be added in as many online places as possible to help with local SEO optimization. This includes social media. The name should be in the handle, so you only have to add the exact location and a way to be contacted;
Link to website: If you want social media to convert followers to clients, you must send them to the website, where they can see the menu and order. Even better if you use an online ordering system and include the direct link to the restaurant menu in the bio;
Unique Selling Proposition: bios should be short. People will scan them in seconds and not waste time reading long paragraphs. Thus, a short sentence that features what makes the restaurant special is the ideal introduction;
Working hours: You can add them on Facebook, but on other platforms, you should just add the link to the website and have the hours in a visible place.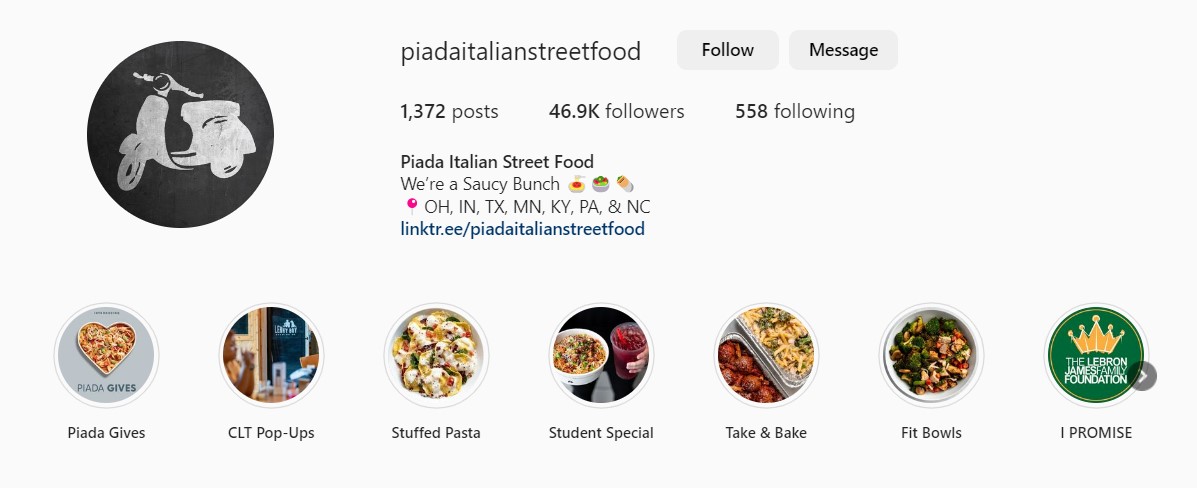 Source: @piadaitalianstreetfood
6. Start creating an image bank
Imagine this scenario: you have a great idea for a post, but you realise you have no image to illustrate it.
Or you have a very busy week, and you find some time to write the captions, but there are no pictures to go with them.
All these situations could be prevented by creating an image bank full of various pictures of:
Food, food, food: well, it's a restaurant, so you can never have enough pictures of the food. A single dish, a spread, a preparation photo, cover all angles;
Restaurant interior (and maybe some exterior): show off the restaurant décor that will attract clients;
Team members: presenting the human side of the business will give clients a reason to empathize with the restaurant;
Candid shots: show how fun and relaxing the working and dining atmosphere is at the restaurant.
7. Always use a restaurant social media content plan
Organisation is the key to a restaurant's success. This also applies to online growth. You can't have an efficient social media strategy for a restaurant without an order.
If you don't post for three days, adding two images on the same day won't help the restaurant reach a bigger audience and get more clients. You have to be consistent.
The solution is to implement a restaurant social media content plan that you generate every two weeks. Start with a spreadsheet with the weekdays as columns and add images/videos, captions, and posting hours.
This way, you can bulk-schedule all your posts in advance and spend the rest of the time interacting with your followers.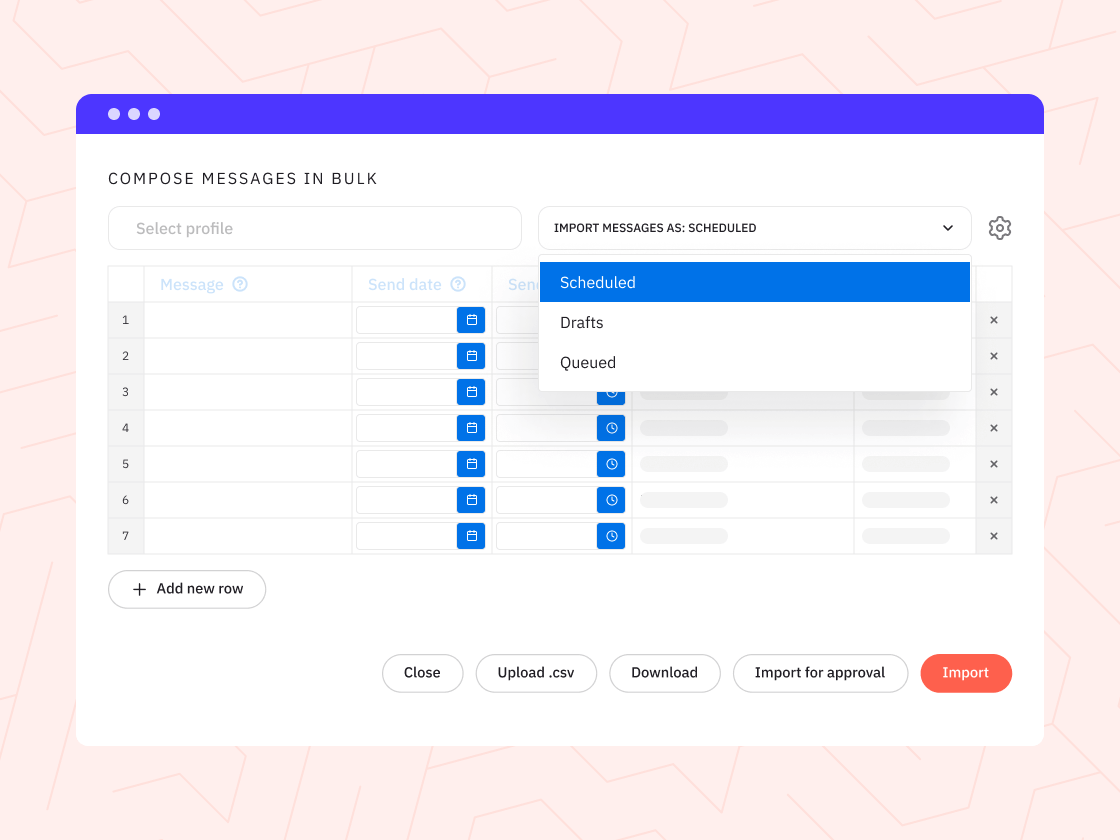 8. Use foolproof content ideas for restaurant posts
When you launch a new restaurant, you don't know the social media audience yet. You didn't have time to learn their sex, age, and preferences, so you will not be able to create catered posts to their liking.
Therefore, it is best to start with classic restaurant social media posts that countless other businesses used before you and were successful. Here are a few foolproof content post ideas:
Menu item presentation: show a mouth-watering picture of a dish and, in the caption, tell people what makes the food special;
Promotions: encourage followers to order by tempting them with a special offer they cannot refuse;
Chef recommendations: post a picture of the chef with the selected dish and have him convince clients why they should try this specific menu item;
Restaurant atmosphere: entice customers to visit the restaurant by showing other customers enjoying the food or glimpses of the fun décor.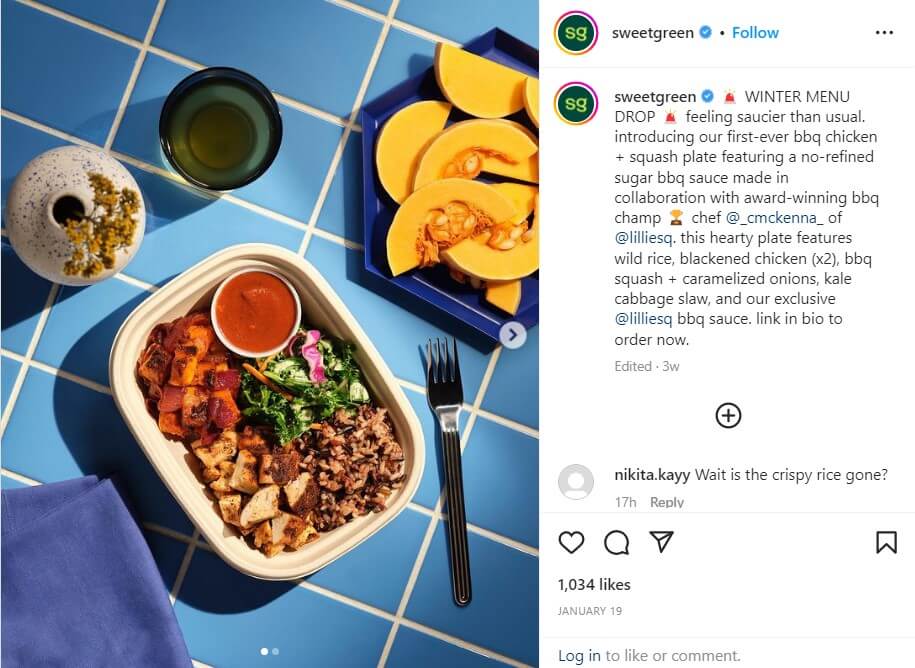 Source: @sweetgreen
9. Don't be afraid to think outside of the box
We've already given you a variety of classic restaurant post ideas you should include in your marketing strategy. But there are so many days in a week, so why not experiment a little? You might just come up with an idea that makes the restaurant go viral.
Here are some pointers:
Participate in challenges: people like to feel like they are a part of the community and participating in social media challenges helps with that. What's more, these types of posts tend to get a higher reach. Check the latest TikTok viral content, find one that fits the restaurant's branding, and let your creativity run loose;
Start a relatable challenge: why not become the trendsetter? For example, you can make a short video teaching people how to prepare one of your delicious menu items easily. Invite followers to try it and film themselves doing it.
Organise an eccentric contest: like-and-share contests are the norm, but you will stand out more if you use a different competition mechanism. For example, a treasure hunt near the restaurant to win a free meal for two.
10. Monitor your results
You have now implemented a social media strategy for restaurants and stuck to your social media content plan for a while. But how do you know if your efforts work? How can you identify what posts reach a bigger audience and encourage engagement?
Easy! By monitoring your results. Every social media platform has an integrated analytics feature that allows you to see your reach, the number of likes, comments, and shares, and much more.
Alternatively, you can use a social media management tool to track mentions, industry trends, keyword alerts, as well as regular metrics.
At the end of every month, take time to analyse your results and highlight the ideas and posts that generated conversions. Furthermore, identify the type of content that people tend to ignore and find ways to improve it.
It may seem like a bit of trial-and-error at first until you find out what the restaurant's audience likes to see and what determines them to take the final step and become clients. Expedite the process by asking followers directly for advice on your content.
Over to you
Creating a social media strategy for restaurants may seem intimidating, especially if we're talking about a new business. But if you break it into small steps and set achievable goals, you will see results in no time.
Don't forget, this is a marathon, not a race. Rely on quality and consistency to increase a restaurant's online visibility and attract more clients to the business.
Otilia Dobos
Otilia Dobos is a skilled content writer for GloriaFood, an online ordering system that helps restaurants increase their revenue and up their marketing game. She devotes her attention to helping restaurant owners have a successful business with well-documented and SEO-optimized articles.