Online review sites have become the de facto way for consumers to share feedback on products and services. And when we're considering a purchase, they're one of the first places we check.
But are you making the most of this valuable data for your clients?
Collecting star ratings and comments is fine, but it's just a start. You can use the feedback to create social media posts that engage your audience and build trust in your clients' products and services.
In this guide, you'll discover:
Why promoting positive customer reviews on social media matters

How reviews work on different platforms

How to promote reviews on social media

How to encourage customers to leave reviews
Let's start ...
Why promoting positive customer reviews on social media matters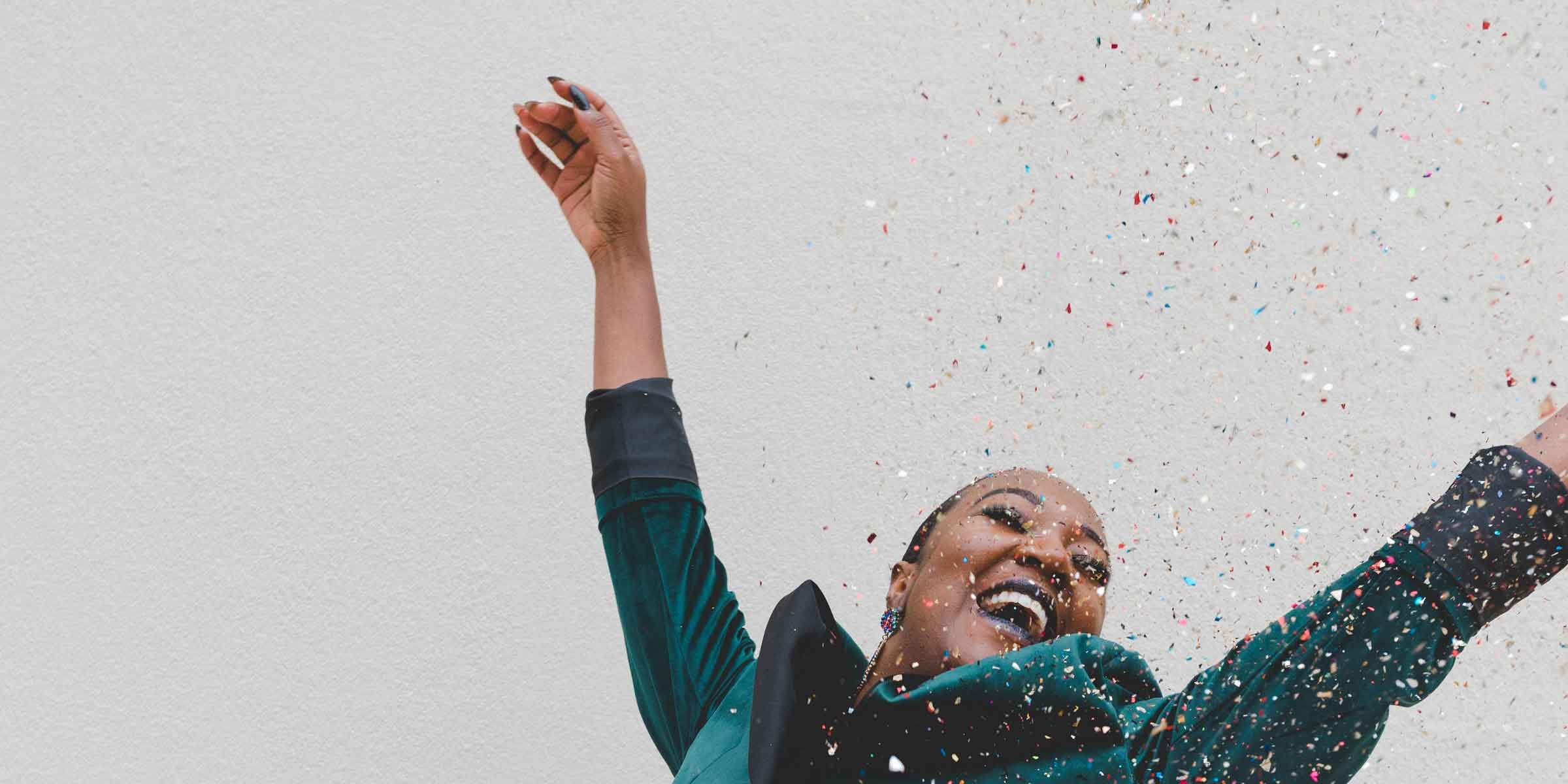 The number of social media users keeps on growing.
According to the latest social media statistics from November 2018:
The number of social media users grew by 121 million between Q2 2017 and Q3 2017, which equates to a new social media user every 15 seconds.

40% of the total population of 7.6 billion – 3.03 billion – are active on social media 116 minutes a day. That's a staggering 42,340 minutes a year.
So it's safe to say that people continue to use social media, despite the bad press surrounding some networks. And one of the reasons they use it is to canvas opinion on products and services.
With such a huge captive audience, it would be a missed opportunity if you failed to share your customer feedback on social media.
BrightLocal's annual local consumer review survey shows that the vast majority of consumers (86%) read reviews for local businesses, especially restaurants and hotels: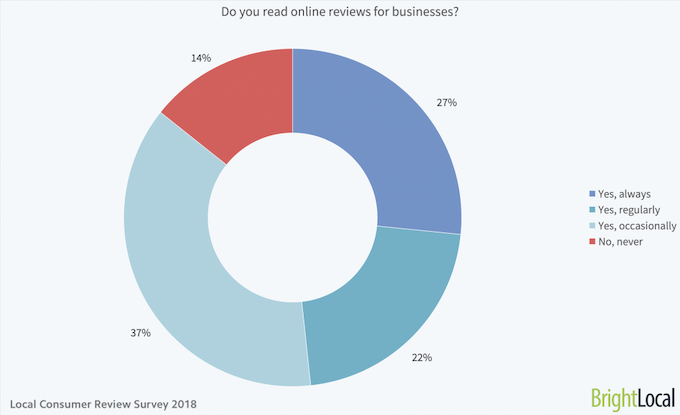 Furthermore, promoting positive customer reviews on social media is an excellent way to build trust with your audience. Survey results revealed that consumers tend to read an average of 10 online reviews before they can trust a business: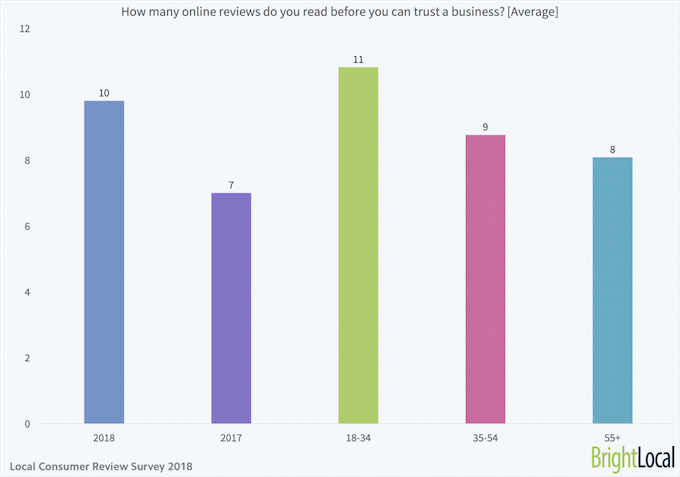 Each time you promote your client's brand by sharing customer reviews on social media you increase their chances of attracting new leads and sales.
How reviews work on different platforms
There are lots of different online review platforms where consumers can leave their feedback, some of which cater to specific industries like travel and restaurants.
Let's take a look at how reviews work on some of the popular platforms.
Google My Business
Google My Business is linked to Google's search engine. When customers search for a business, Google displays a listing alongside the search results called a Knowledge Panel:

It includes details such as location, opening hours, and reviews, plus you can post regular content to your page to keep things fresh.
With Google My Business you get the added bonus of reviews showing in Google Maps. Compare the listings for Manchester-based business Countess Ablaze:
| | |
| --- | --- |
| Google Search | Google Maps |
| | |
Yelp
Yelp is a review site where customers rate businesses on a 5-star scale. Restaurants, bars, doctors, dentists, hair stylists, and mechanics can list their business for free: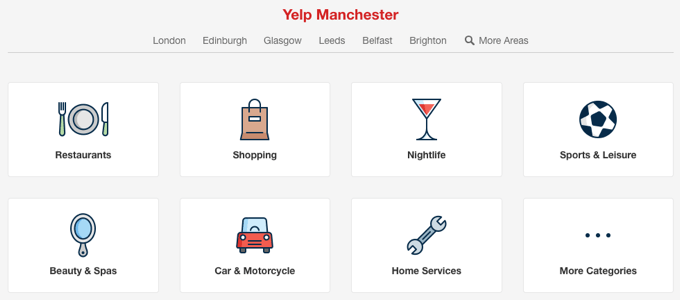 Yelp profiles include information like store hours, location, and reviews: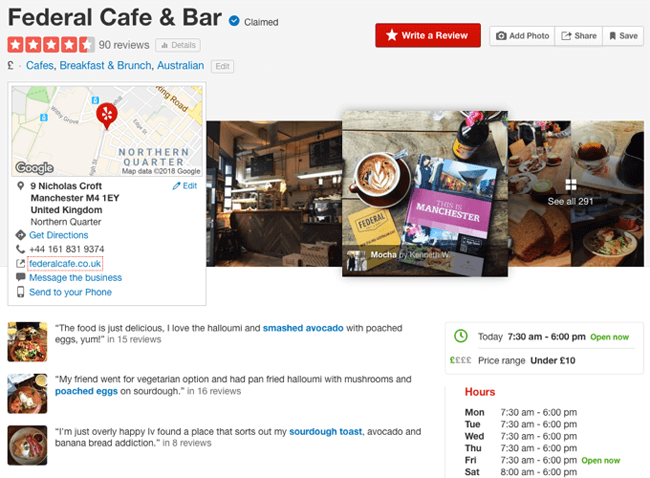 Customers can create their free profile to rate businesses. By the end of Q3 2018, 'Yelpers' (as they're known), had written 171 million reviews:

Yelp gets millions of users searching for legitimate reviews each month. In Q3 2018, it had a monthly average of 34 million unique visitors via the Yelp app and 75 million unique visitors via mobile web.
TripAdvisor
TripAdvisor is the largest travel site in the world with over 700 million unbiased traveler reviews, plus other travel related content. If you or your clients are in the accommodations, airlines, experiences or restaurant industry, then you need to be on there. It's the go-to site for travelers to plan their itinerary.
> Check out our social media management tips for restaurants.
To succeed on TripAdvisor as a business, you need to master their Popularity Ranking:
"The closer you are to the top, the more likely it is that users will see your business."
The algorithm is based on the quality, quantity, and recency of your customer reviews:

Trustpilot
Trustpilot is a review platform where consumers share experiences of products and services they've purchased. Every month, customers post 1.2 million new reviews and check 3 billion reviews: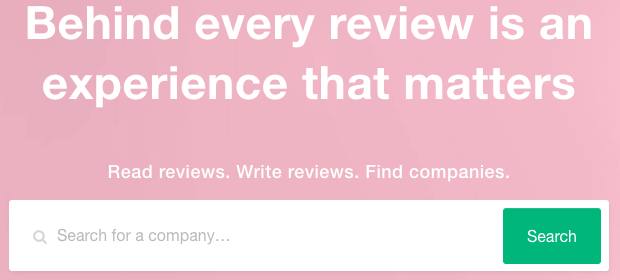 Businesses can use the free basic version to capture and display reviews or use the premium features to create customized review forms, share results on social media, and track analytics.
Facebook
Facebook has its own ratings and reviews system. Any registered Facebook user can leave their feedback on a Facebook Business Page. They can make the recommendation public, visible to friends or private.
Only recommendations that are shared publicly are included in your Page's overall rating. And ratings only appear if your Page has received enough recommendations.
Reviews appear on the left-hand side of your Facebook Page: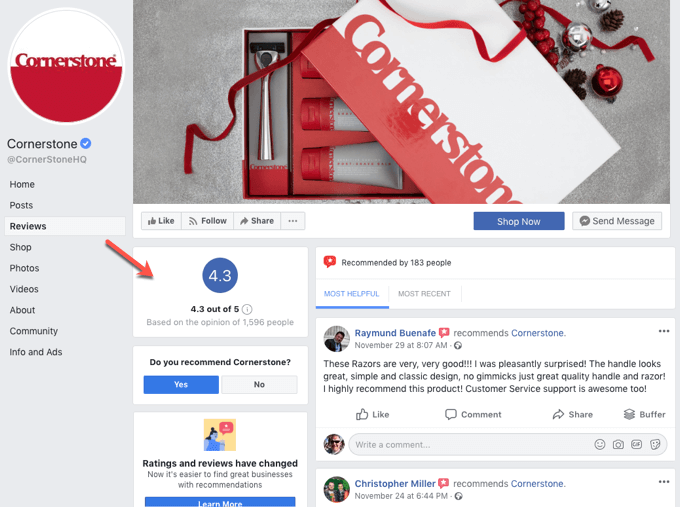 Website
Not everyone uses the online review sites above. For those consumers who don't, you could create a testimonial and review section on your client's website where they could feedback directly.
How to promote reviews on social media
Having collected reviews on various platforms, you need to share the good news with your audience. Here are five tips for promoting your client's customer feedback on social media.
#1 - Keep the message short
Don't fall into the trap of quoting an entire customer review in a social media. It's much better to pick one part and use it as an attention-grabbing headline. Then, if applicable, you can link to the full review in the body of your social media post.
Author Brent Jones shares clips on Twitter that link back to a dedicated page on his website.
Patty Hanson: "Insanely good...I loved it! I couldn't stop listening." https://t.co/AVb0PMar26 via @AuthorBrentJ

— Brent Jones (@AuthorBrentJ) November 21, 2018
#2 - Use visuals (images, photos, and videos)
Words alone are unlikely to capture the attention of social media users. That's why you need to get creative and use visuals to promote customer reviews. That means you have the choice of using photos, images or videos when you create your posts.
WPX Hosting asks customers to create video reviews and then posts them to social media.
For example, this Twitter post includes
A quote from the video:

"I just don't have to worry about all these technical topics..."
A link to the customer and their website:

Brigitte Iten at http://upglobal.co
Followed by a link to the full YouTube video review:
"I just don't have to worry about all these technical topics..."
Brigitte Iten at https://t.co/1rXqGVK0di
She explains more about her experience with us, the WPX Cloud service and why she loves WPX – in the video
⬇️https://t.co/qKTEfeaIuQ

— WPX_Hosting (@WPX_Hosting) November 26, 2018
On Facebook, they follow a similar style:
A quote from the video:

"They just recently installed the Cloud service, that allows my website to go triple its speed, that it was previously..."
A link to the customer and their website:

Sylvia LeRahl the founder of Membership Fix
And then the embedded video so viewers can watch it directly in Facebook:
Images also work well on different networks.
On Twitter, author Matt Drzymala shares his latest Amazon review via an image:
Always lovely to wake up to a new review. This time it's for my novel, The Fantastical Gregory Shortbread! Fancy a humorous read? Then take a look: https://t.co/UStA5syf77 #elevenseshour #ChristmasGiftIdeas #stockingfillers #books #ChristmasPresents pic.twitter.com/WRPUc5a6MN

— Matt Drzymala (@mattdauthor) December 10, 2018
On Instagram, Sbey Clothings shares a customer review in a simple graphic: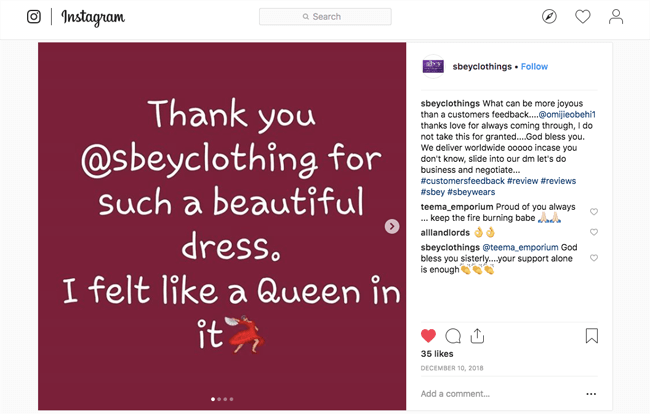 #3 - Thank customers for their reviews
Want to encourage more customers to share the feedback of your client's product or service? The best way is to thank customers for taking the time to share their feedback. A simple 'thank you' demonstrates that you read and appreciate all the feedback you receive.
Here, WPX Hosting thanks some ladies for their podcast review:
We are pleased with the gratitude video from our awesome customers @LeAuraAlderson & @DevaniAnjali at @iCreate_Daily.

You are most welcome, ladies! Thank you! We are lucky to have you with us!
👇https://t.co/D2OMrNhjuV

— WPX_Hosting (@WPX_Hosting) December 5, 2018
And in this post, they thank Gio for his Trustpilot review:
Here's another great feedback from a customer of ours!

🙇

Check out what Gio shares about #WPXHosting on TrustPilot!

Head over to #WPXhosting and learn more about our friendly #WordPress #hosting here ➡ https://t.co/k2oXrXixHU pic.twitter.com/oF7te5kqKz

— WPX_Hosting (@WPX_Hosting) November 5, 2018
#4 - Reshare customer posts (Retweets, Shares, and Stories)
Monitor your social media accounts to discover positive comments that customers post directly on social media. You can reshare their posts on the same platform so that more people see the positive comments. While Twitter is much more relaxed (you can simply use the Retweet button), reposting content as your own, say on the Instagram or Facebook Feed, is a different story. In this case, you need to obtain written permission from the user that it's okay to use their photo or video!
Here's an example of a Retweet from Author Brent Jones: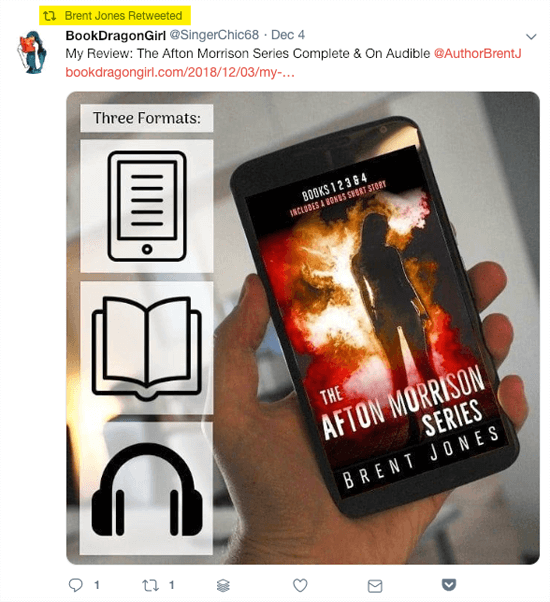 On Instagram, you can take advantage of a the new Stories features to reshare customer feedback.
The Share Feed Posts to Stories feature lets you share user posts as a sticker to your Story that includes the original poster's username and a link back to their post.
Instagram also lets you share @Mentions in Stories. When a user mentions you in their Story, you'll receive a direct message notification. Then you can add it to your Story with a link back to the original user.
#5 - Include reviews in your client's content plan to get the right mix
It's important to get the right balance in your client's social media calendar. Too many customer reviews will make your content look over-indulgent and could drive potential customers away.
When you're planning and scheduling content for the coming months remember to include customer reviews alongside other content. It's an excellent opportunity to reinforce key campaign messages with user feedback.
Combine the planned content with the spontaneous 'Thanks' and 'Reshares' to create the right mix and tone for you and your clients.
How to encourage customers to leave reviews
Now you've seen how to promote reviews on social media, let's take a look at how you can encourage customers to leave their feedback. The good news is that if asked, 86% of consumers would consider leaving reviews for businesses.
#1 - Use different review sites
Not all consumers use the same review sites to leave feedback and reviews, so make sure you provide a few alternative places. Choose the platforms best-suited to your client's business. For a restaurant, this might be Google My Business, TripAdvisor, Yelp, and Facebook.
When you use multiple review platforms there's a significant chance that your Yelp, TripAdvisor, and Facebook reviews will all appear in Google search results, as shown here for Manchester's Federal Cafe & Bar: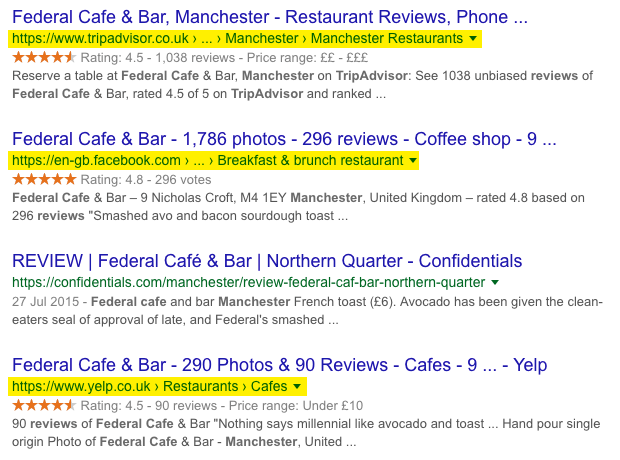 #2 - Direct customers to the review sites
Once you've decided where to gather feedback then make sure you guide customers there. For example, you can invite customers via email or add review forms on your client's website to collect feedback:

Trustpilot has both optimized and customized options:

#3 - Ask for feedback at the right moment
Timing is crucial when asking for customer feedback. Here are a few moments you could choose:
When they first buy your product

When you deliver your service

When they re-order an item

When they tag you on social media

When they open your app again
#4 - Respond to negative and positive feedback
When you respond to negative and positive feedback, you send a clear signal to users that you take time to read and reply to everyone. A study by Harvard Business Review discovered that replying to customer reviews results in better ratings overall:
"When hotels start responding, they receive 12% more reviews and their ratings increase, on average, by 0.12 stars."
Conclusion
Sharing customer feedback via social media is an excellent way to build trust with your audience and promote your client's brand. As more users join the various networks, you'll have a growing audience looking for positive feedback on brands they're researching. Make collecting positive customer reviews mandatory when you're planning your client's social media campaigns.
Level-up your social media.
Subscribe to our blog to get valuable insights so you can maximise your results.