Instagram has over one billion monthly active users, less competition and a more engaged audience than other social media giants like Facebook or Twitter.
This presents businesses with an opportunity to market their products to a more targeted and interested audience without spending an enormous amount of money on paid advertising.
And since Instagram's API allows users to publish photos or videos to an Instagram Business Profile using a third party platform (like Sendible), this makes it even easier for brands to take advantage of all Instagram has to offer.
Whether your strategy needs an update or you're a newcomer to this social media network, you'll find these seven tips on how to use Instagram for business superbly useful.
Seven tips for mastering Instagram for business
1. Show what you do in a creative way
Focus on the solution you provide, not the products you sell. On Instagram, it's essential to add value to your customers and look pretty while you do it. Never underestimate the fact that your most important asset (and downfall) on this social media network is visual content.
If your business is service-oriented, focus on showcasing the process behind providing the service. Show your company culture, share your mission with the world, or simply share some tips and how-to's.
There are lots of different formats you can take advantage of to do this on Instagram - it's possible to upload photos, short videos (similar to GIFs, called Boomerangs) and videos up to one minute in length.
Try Instagram Stories
Instagram Stories have a slideshow format and are only live for 24-hours (though they can be added to your profile as highlights, showing up on your profile even after the original Story disappears). This feature was first created in response to Snapchat's Stories and is continuously being developed by Instagram.
These are some of the benefits of using Instagram Stories for brands:
Stories are prominently displayed at the top of follower timelines just under the Instagram logo.
They can be used to capture behind-the-scenes content that doesn't have to be as high in quality as regular posts.
Stories make it easy to experiment with different content types including filters, stickers, photos, videos, and live video.
Tagging other accounts, e.g. @instagram in Stories is ideal for collaborators and influencer marketing.
Fun additions like face filters, text and stickers help you edit images on-the-go.
Story search for hashtags and locations make them more discoverable.
All photos and videos you add will play in the sequence they were added and you can add as many as you like.
Instagram Stories adverts became available to all businesses globally in March 2017. You can use thesew to target new audiences and add CTAs to your collages which can be especially useful for promotions. Check out Single Grain's ultimate guide to running Instagram Stories Ads for a full step-by-step guide to creating your first one.
Note that Stories can only be created on mobile devices and it's possible to send Instagram Stories as a direct message (DM). The use of social media Stories is definitely picking up and almost any brand can find a fun and engaging way to participate!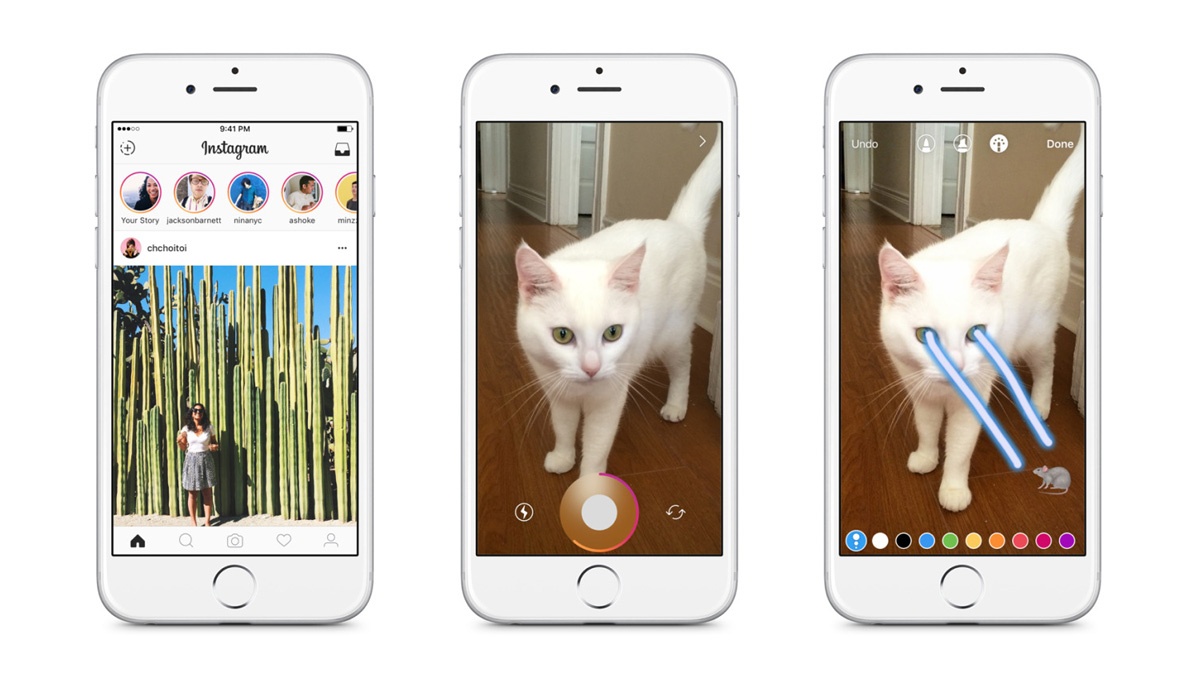 Try IGTV
Instagram IGTV is a feature which allows users to upload long-form videos to the platform. IGTV videos are longer, giving you plenty of opportunities to create fun, fresh and engaging video content for your or your clients brand.
Here are some of the benefits of using Instagram Stories for brands:
IGTV videos can be from 60 seconds up to an hour long, leaving plenty of space for creativity.

The "Following" tab in IGTV, allows your fans easy access to your new content. Followers will also be alerted you post something new.

IGTV acts as an extra platform to showcase your video content, meaning that it's more likely to get seen.

IGTV videos can be incorporated into the newsfeed with one-minute previews, increasing visibility and discoverability.

Instagram users can leave comments on IGTV videos which will be visible to others, as well as like them, providing valuable social proof.
The popularity of long form video is on the rise, so now is a great time to start experimenting!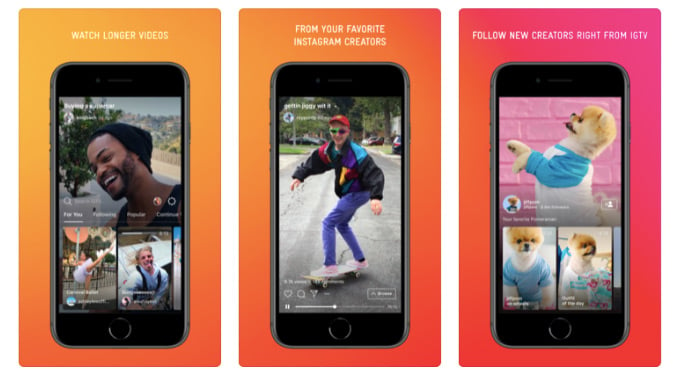 ---
Planning your social media for the year?

Have some fun and check out our free social media holiday calendar to make sure you're on top of trending events!
---
2. Create a winning profile
As a company, you probably do a whole lot of things and offer even more solutions. Don't get too caught up in fitting all of that in 150 or so characters.
Focus on your most important USP or your next big thing - be it an event, promotion or product launch.
Since the only clickable link is in your Bio section (right under your name), make a habit of updating it frequently. It's a shame that most brands use it only to link to their website, as it could do so much more. Think, driving event registrations, app downloads or even purchases.
Instagram has also launched their Instagram Business profiles and paid advertising. The Business profile adds a phone number to your bio and gives access to extensive analytics data that wouldn't be otherwise available unless you're using a social media tool.
Read our blog on how to set up an Instagram account for business where we walk through you the step-by-step instructions and key elements you need to consider when managing Instagram for other businesses.
3. Take them behind-the-scenes
Customers have a natural curiosity about where their products come from, and you can use Instagram to show them their whole lifecycle. This is especially relevant for companies that sell environmentally friendly or FairTrade products. Source images to demonstrate how products are made - from the base material, production and distribution.
If nothing comes to mind, you can share something that everyone has - sketches, notes and filled whiteboards or blackboards. Every business has brainstormed ideas, it's up to you to take a pretty picture and upload it to Instagram. You may find that it's best to try out different post types until you strike gold with the one that will engage the audience.
4. Expand your reach with #hashtags
Use hashtags to expand your reach. These can be campaign specific or general - all that's important is that they're relevant. Make sure to also set up your main company hashtag (#yourbrandname), and use it sparingly across Instagram (Twitter and LinkedIn are good too). This makes it easier for people to find content related to you as well as your main account.
It's best practice to use between three to five hashtags, despite the fact that the maximum you can add is 30 per Instagram post. Use your own, campaign specific hashtags as well as the more popular hashtags to increase the discoverability of your content. You could try your hand at celebrating hashtag holidays on social media. You could start out by adding hashtags like #instagood (used in over one billion posts), or #tbt (Throwback Thursday), and don't forget about industry specific ones. If you are in IT, the hashtag #IT or #tech will do just fine.

You should also consider the placement of the hashtags you add. These can be added at the end of the post, in a comment or worked into the actual post.
Pro tip: With Sendible's 'First Comment' feature, you can schedule Instagram posts to include all of the hashtags you'd like to use in the comment section of the post, without distracting from the caption. 👇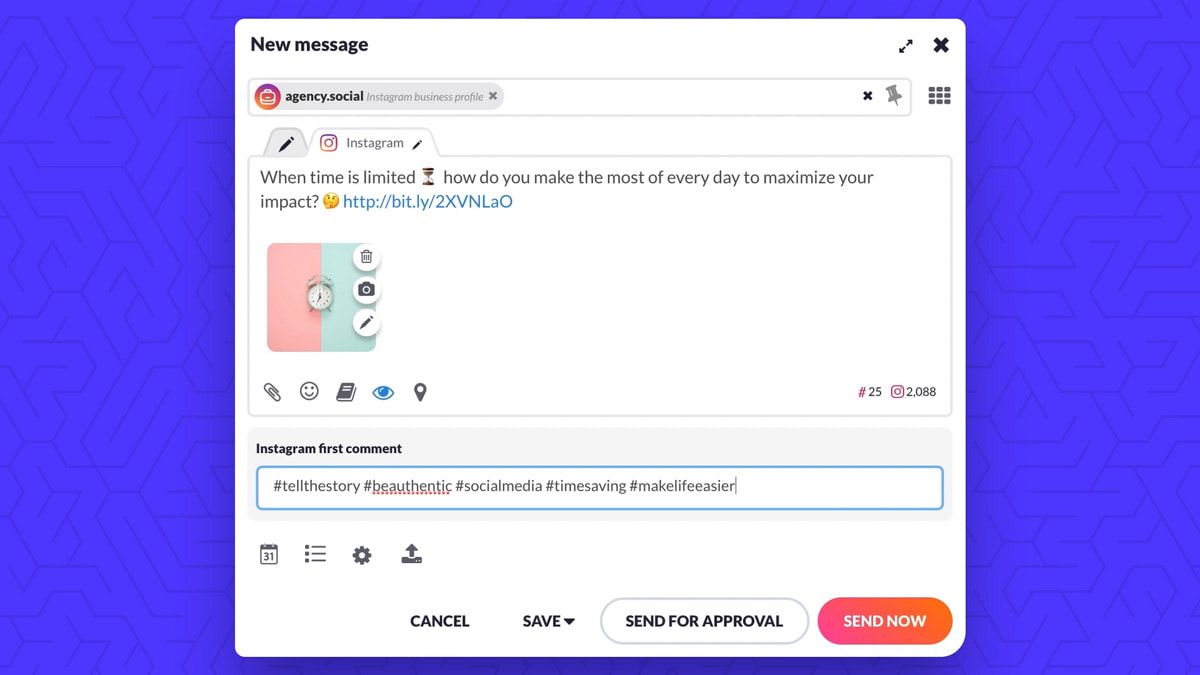 Schedule a week's worth of Instagram posts in minutes
Simplify how you manage Instagram accounts with Sendible.
5. Collaborate and @mention others
Instagram is one of the strongest social media channels for highlighting collaborators and sharing customer success stories. Even if you don't officially partner with a non-profit organisation, you can give to charity or do a fundraiser a couple of times a year. It's all good as long as the cause aligns with your brand values and mission. Take into account that not everyone is monitoring hashtags on social media, so tagging an account is usually a better choice if you want to get noticed.
Another technique involves the use of 'shout-outs'. An unpaid shout-out is when you partner with another brand that has roughly the same number of followers as you to promote each other to your audiences and you both benefit from increased exposure.
The paid shout-out is for those with a bigger budget as it's essentially an influencer campaign. This usually involves paying a brand (or influencer) with a much larger following to promote your product or service. It's a great way to gain a large number of new followers quickly, providing that you create a strong call to action and the influencer's audience is genuine.
6. Build anticipation and offer exclusivity
Keeping your customers interested is an essential part of any effective marketing campaign. Reward your loyal followers with exclusive content. Let them be the first to know about new products, services or events. Create teaser photos that build anticipation or satisfy curiosity for your new releases, office openings or stores. This kind of preview makes your Instagram followers feel special and keeps them coming back for more insider information.
7. Analyse your success and build on it
Without taking a step back and analysing what worked and didn't, marketing becomes a guessing game. The truth is, you can read all the articles in the world about the best practices and publishing times, but you will only find out what works for your clients through testing and measuring results.
Social media management tools can help, though. You can use them not only to schedule your Instagram campaigns in advance but also use social media analytics to measure their success. Make sure to regularly measure your follower count, engagement and clicks, all to refine and improve your strategy. Our social media reports can help you track your performance for Instagram and all other key social media networks.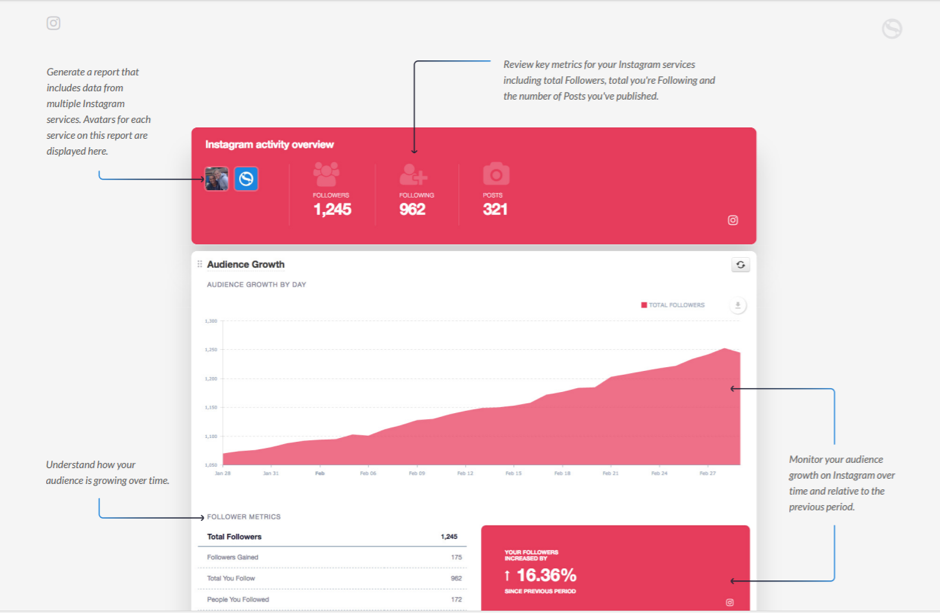 Discover more tips for Instagram in our webinar
If you're still wondering if you should get started on Instagram, watch our webinar. During this session we talk about why your business will win by being on Instagram, Instagram's hidden and handy features, and of course, how to create strategies for your channel and campaigns that work.
We hope that these tips will improve your channel's performance and attract new customers. Let us know which of these tips were most useful to you - we'd also love to hear about any other tactics that have worked for you.
And if you're looking to analyse the performance of a Instagram profile to improve it in the future, don't forget to check out our Instagram Audit Checklist which allows you to audit Instagram profiles in 30 minutes or less!
Level-up your social media.
Subscribe to our blog to get valuable insights so you can maximise your results.