Are you using LinkedIn hashtags?
Don't worry, it's not a trick question.
You've probably used hashtags on TikTok, Twitter, and Instagram because it's the done thing. You may have started using hashtags on Facebook? But you might be caught in two minds about using them on LinkedIn. Are they even allowed on the 'professional' network?
Well, the short answer is, "Yes, they are!"
Especially today when digital trust is crumbling and reshaping LinkedIn.
And if you want to reach a wider audience with your content, then it makes sense to start using them.
But before you dive in, you need to know how to use LinkedIn hashtags correctly so you can create the right impression.
In this guide, you'll learn how to use and optimise your hashtags on LinkedIn so you can get your content discovered by more people outside your immediate network:
In the meantime, don't forget to grab our free LinkedIn Audit Checklist to expedite your hashtag and content analysis.
When did hashtags arrive on LinkedIn
The LinkedIn hashtag had a topsy-turvy ride on this social media platform.
A few years back they were present but LinkedIn "rolled it back due to poor user response."
In 2016, they were available on the mobile app only: "Hashtags included in your posts (or others) are now tappable and lead to search results so that you can discover other posts with the same hashtag."
Then, in 2017, hashtags reappeared on the desktop platform as part of the new user interface. But still, nobody knew what they were supposed to do or how to use them.
By early 2018, reports surfaced of some users being 'forced' to insert hashtags into their posts:
@LinkedInHelp - why am I unable to post on LI w/o using a hashtag? Sidenote, I already looked in the help center and was unable to find a way to contact the support desk. So here I am, reaching out to LI via Twitter.

— Lexy Quad (@lexyquad) April 5, 2018
LinkedIn confirmed they were running a beta test "to better understand the value of using hashtags in posts to help members discover and join relevant conversations."
But now, it's safe to say that LinkedIn hashtags are back and working. So let's take a look at how you can make the most of them.
How do hashtags work on LinkedIn
LinkedIn hashtags work in a similar way to TikTok, Twitter and Instagram – to categorise the content.
Hashtags help users find content on a specific topic. And, if you add hashtags to your content, they'll help you get discovered by other users, including those not connected to you. What's more, you can follow hashtags on LinkedIn, meaning that posts containing your chosen ones will appear on your feed.
From a marketing perspective, that's the winner – making your LinkedIn content available to a broader audience.
Do hashtags work on LinkedIn Profiles and Company Pages
If you've turned on the Content Creation mode on your LinkedIn Profile, you can share the topics (hashtags) you post about the most. This will make it easier for other LinkedIn members to discover your content and follow you.
For example, when I search for #socialmediamarketing in 'People' (rather than the default 'Content') I see these results: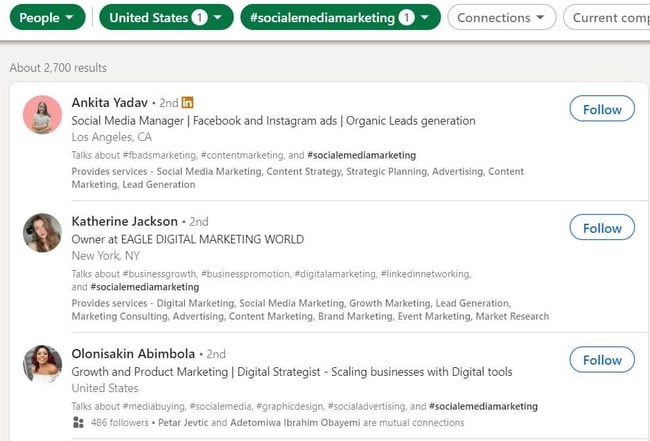 LinkedIn allows you to filter hashtags through various categories such as format (People, Jobs, Posts, etc.), Location, Connections, and Current companies.
You'll notice that the searched hashtag in Profile Headline under the talks about section is bolded. While these hashtags aren't clickable as the ones used in posts, they help you grow your audience and reach.
LinkedIn Pages on the other hand don't have the possibility to add hashtags, but the platform offers you an option to add up to 20 specialities. Company specialities serve as searchable keywords for your Company Page that will help people find your business easier.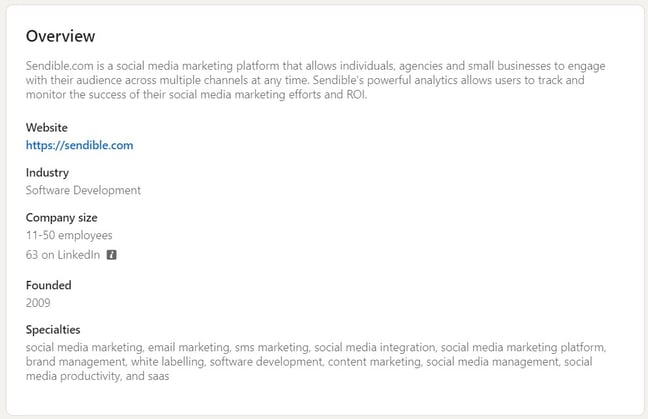 How to use hashtags on LinkedIn
There are two sides to using hashtags on LinkedIn:
Finding relevant hashtags to follow, so you can join a conversation.

Adding relevant hashtags to your content, so more people can discover you.
How to add hashtags to your LinkedIn posts
At the top of the homepage, click into the 'Share an article, photo, video or idea' field to write your post content: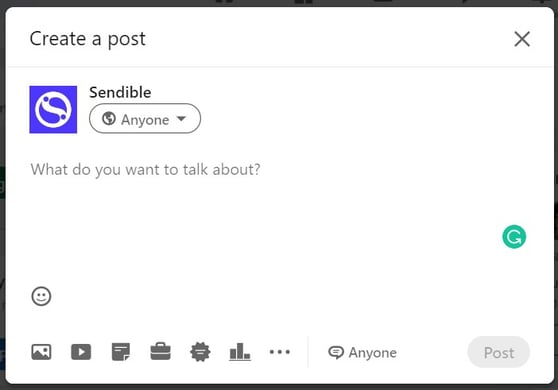 Add hashtag – using the # symbol – in the body of your post or at the end of the message: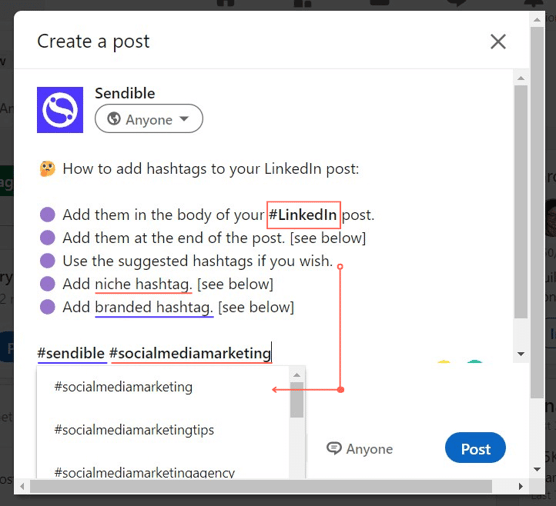 How to add hashtags to your LinkedIn articles
From the homepage, click 'Write article' under the status update field. You can include hashtags in the body or at the end of your article, like the post update above.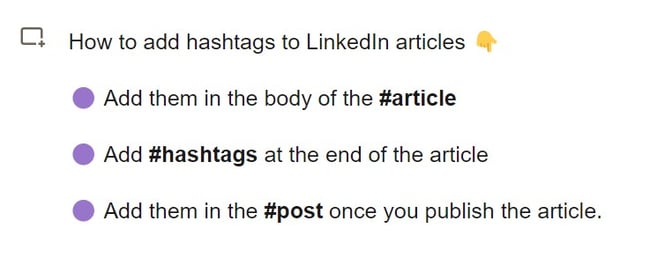 When you've finished writing your article, click 'Publish' in the top right corner. You'll now be presented with the Compose Box where you can add more relevant hashtags to better promote your article.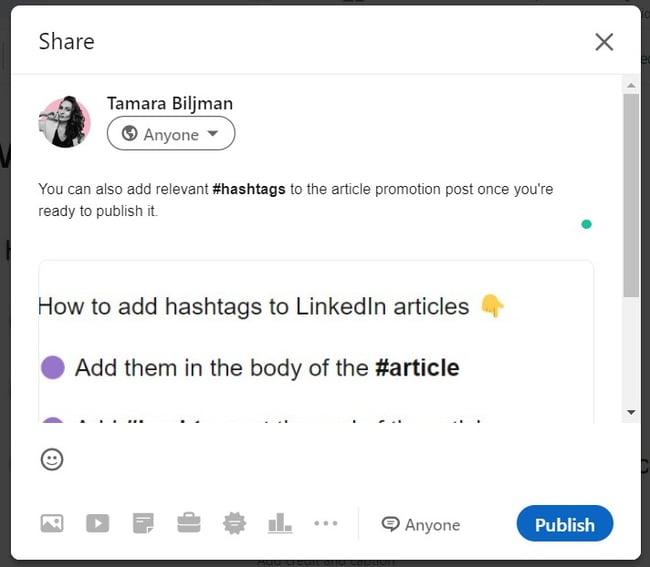 How to add hashtags to your LinkedIn comments
You can also add hashtags when you comment on a post or an article. This is an excellent community management tactic that will help reinforce the searchability of your client's post: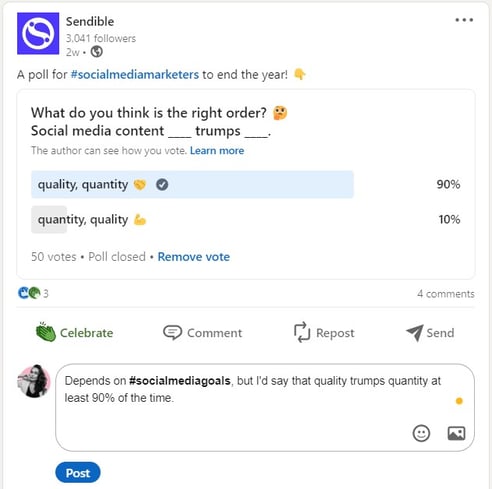 How to find new hashtags on LinkedIn
LinkedIn lets you find and follow hashtags on the topics you're interested in.
Start by entering the topic you'd like to find in the Search bar at the top of the page. For example, when you type #socialmedia you get a list of social media-related hashtags: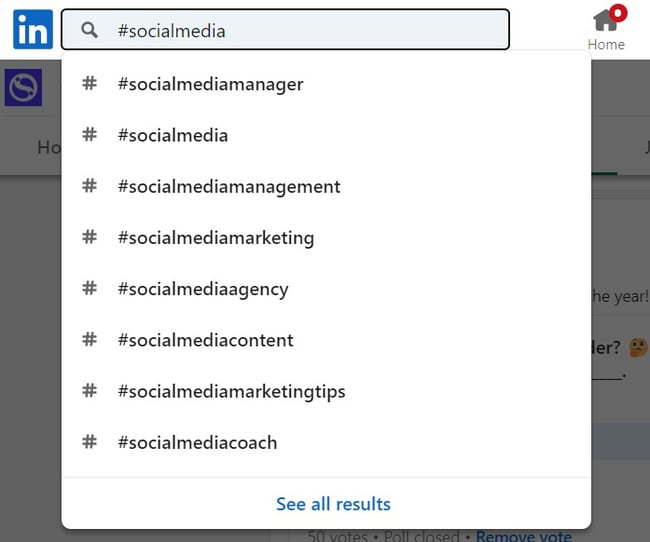 Select a hashtag from the list of suggestions – e.g. #socialmediamarketing – to see content related to the hashtag topic in your feed.
Click the 'Follow' button at the top of the page to add the hashtag topic to your list:

How to manage the hashtags you follow
You can manage the hashtags you follow from your LinkedIn homepage. On the bottom left-hand side is a section where you will find your 'Recent' searches and activity, 'Groups' and 'Followed Hashtags':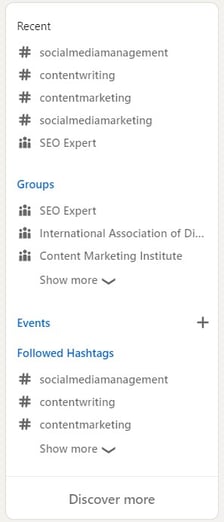 In the 'Groups' and 'Followed' sections, LinkedIn displays up to three results with options to see more:
Click 'Show more' to expand the list and display more of the groups or hashtags you're following.

Click 'Followed Hashtags' to show the full list of hashtags you're currently following (here you can unfollow them or see recent posts using said hashtags).

At the bottom of this

menu, click on the 'Discover more' link to reveal more hashtags that might be of interest.

Click the

'+ Follow' link to start following a new hashtag from the list.
Trending hashtags on LinkedIn 2023
Hashtags on LinkedIn continue to be adopted in 2023, with many having millions of followers. The most popular hashtags on LinkedIn usually consist of one word and are exceptionally broad, making them applicable to many businesses and individuals.
We have curated a list of 30 trending LinkedIn hashtags that are both relevant to marketers and high in follower count (data correct as of January 2023):
#innovation -38,673,144 followers
#management -35,871,964 followers
#digitalmarketing -27,291,348 followers
#technology -26,347,886 followers
#creativity -25,114,957 followers
#futurism - 23,402,629 followers
#startups - 21,168,624

followers

#marketing - 20,304,916 followers
#socialmedia - 19,634,079 followers
#socialnetworking - 18,978,383 followers
#motivation - 15,758,779 followers
#personaldevelopment - 14,656,952 followers
#jobinterviews - 14,289,264 followers
#sustainability - 13,239,284 followers
#personalbranding - 10,430,219 followers
#education - 9,612,448 followers
#productivity - 8,433,018 followers
#travel - 6,970,601 followers
#sales - 5,852,379 followers
#socialentrepreneurship - 5,794,895 followers
#fundraising - 5,728,760 followers
#law - 5,483,959 followers
#strategy - 5,064,006 followers
#culture - 4,728,967 followers
#fashion - 4,215,758 followers
#business - 3,663,739 followers
#networking - 3,566,063 followers
#hiring - 2,443,907 followers
#health - 2,270,357 followers
#inspiration - 1,145,015 followers

However, before you rush off to add any of these hashtags to your posts, remember that with such a high volume of followers and posts trickling in, your posts may go unnoticed by new audiences, and that would defeat the purpose of using hashtags altogether!
Make sure to add a niche hashtag that is suitable for your brand (or is what potential customers may be following), as well as branded hashtags to the mix.
Once you do choose a hashtag - don't stop there, and do an additional check for similar hashtags. LinkedIn hashtags and their followers vary a lot when it comes to variations, even when they have a similar meaning. For example:
#socialmedia -19,594,458 followers

#socialmediamanager -1,423 followers


The same goes for hashtags in other spaces:
#entrepreneurship -22,594,575 followers

#entrepreneur - 544,455 followers
Finally, just because a hashtag doesn't have a lot of followers yet, it doesn't mean it won't grow in the future. For example, the hashtag#entrepreneur has gained 10x more followers between 2019 and 2021!
So if you find a hashtag that makes sense in a specific niche, you have the chance to become an early adopter.
85 industry LinkedIn hashtags and additional tips to boost performance
Not sure where or how to find the right LinkedIn hashtags for your post? We did the research for you and created this mega list of niched hashtags. In case you don't find your industry in it, just let us know in the comments and we'll add it.
Real estate
#realestate
#multifamilyrealestate
#propertymarket
#property
#realestateagent
#realestateconsultant
#housing
#commercialrealestate
#residentialrealestate
An additional tip for real estate posts: Make sure to add a hashtag of a city/town where the estate is located.
Learn more about real estate social media marketing.
Social media and digital marketing agencies
#digitalmarketingagency
#digitalmarketing
#digitalmarketingtips
#socialmediamanagement
#socialmediamarketingtips
#socialmediatips
#socialmediatrends
#datadriven
#communitymanager
#videomarketing
An additional tip for social media and digital marketing agencies: sprinkle the hashtags in your copy as well. This way they'll become a natural part of your story and you'll be able to include other relevant hashtags, such as social media platforms (e.g. #TikTok), particular industries (#ecommerce), and topics (#userexperience, #influencermarketing).
Learn more about how to promote your digital marketing agency on social media.
Legal
#lawfirm
#lawyers
#legal
#legaltips
#law
#lawyerlife
#legalmarketing
#legalmatters
An additional tip for law firms: Experiment with mixing some of these general hashtags with a topic-relevant hashtag, such as #onlinelegaltraining, #techlaw, #intellectualproperty, #disabilityrights.
Learn more about social media marketing for law firms with our practical guide.
Fashion
#fashionstyle
#fashionindustry
#fashionbusiness
#retailnews
#fashionretail
#customerexperience
#sustainablefashion
#recycledmaterials
An additional tip for fashion brands: The new generation of consumers cares deeply about causes you support, so make sure to tag your holiday and cause campaign posts with adequate hashtags such as #ecofirendly, #supportlocal, #prideweek.
Learn how to scale your fashion e-commerce business with the help of social commerce.
SaaS
#b2b
#saasmarketing
#saas
#softwaredevelopment
#newproductdevelopment
#newfeature
#growthhacking
#growthmindset
#cloud
An additional tip for SaaS businesses: Try combining these general hashtags with hashtags that are targeting your audience's pain points or interests. As long as they are relevant to the post, this tactic will help you reach the right people.
Learn more about social media marketing for SaaS.
Hospitality
#foodandbeverage
#foodanddrink
#foodie
#restaurant
#restaurantowners
#italiancuisine
#recipes
#foodingredients
An additional tip for restaurants and bars: If you're sharing a tip, recipe or a new dish/drink on the menu, make sure to use hashtags that describe it, such as #veganproducts, #sauce, #bakedgoods. Additionally, you can add a location hashtag to your post.
Learn more about social media marketing for restaurants.
Beauty
#beautybusiness
#beautyindustry
#personalcare
#beautynews
#skincare
#cleanbeauty
#beautytrends
#cosmeticanatural
#hairstyle
#hairstylist
#beautybrands
An additional tip for beauty industry brands: There is one other thing your audience cares about deeply beside the beauty tips and hacks - causes you support. Make sure to use hashtags that state clearly what your campaign is about and what are the values of your brand: #empoweringwomen, #environmentaljustice, #crueltyfree, #equality.
Fitness
#fitness
#training
#crossfit
#gymlife
#nutrition
#workoutmotivation
#fitnessequipment
#fitlife
#moveyourbody
An additional tip for fitness brands: Enrich your posts with a popular hashtag that explains better the topic you're talking about. Are you sharing a fitness tip to help improve #mentalhealth or #corporatehealth? Maybe you're discussing healthy #weightloss practices or motivating your audience to revisit their #habits? Is your LinkedIn post dedicated to raising awareness on the importance of being physically active to improve overall #wellbeing?
Healthcare
#healthawareness
#healthcare
#healthcaredata
#mentalhealth
#mentalhealthawareness
#dentistry
#cosmeticdentistry
An additional tip for healthcare brands: While you should use some of these hashtags in your posts, you need to keep in mind that a lot of other, non-healthcare brands use some of these hashtags to raise awareness. This is why you should include more precise hashtags to target the right audience. You could experiment with combining location and service hashtags along with the above-mentioned ones (e.g. #blooddonation, #teethwhitening, #dentalsurgery, #periodontist, #cancerprevention).
Learn more about social media for healthcare.
E-commerce
#ecommerce
#ecommercestore
#onlineshopping
#onlineshop
#onlinesale
#onlinestore
An additional tip for e-commerce businesses: Be aware that a lot of marketers use these hashtags in their posts. So, to make sure you're targeting the right audience, you'll have to get a bit more granular with your hashtag strategy. Are you an #entrepreneur sharing a #entrepreneurtip? Or are you offering a special #blackfriday #discount to the first 20 users that sign up for your #newsletter packed with #fashiontips? Are you running a #flashsale campaign or are you #hiringnow new #customerservice agents?
Learn more about how can social commerce help your e-Commerce efforts.
10 tips for optimising hashtags on LinkedIn
Now you know how to manage your hashtags on LinkedIn, follow these tips to make the most of every post you publish.
#1 - Make sure your hashtags are visible
There's no point using a hashtag if you're operating in private mode on LinkedIn. Check your profile settings to make sure it's public to everyone, or else your content (including hashtags) won't get discovered.
#2 - Only use relevant hashtags
Just because a hashtag is popular, doesn't mean that you should use it. For example, if your brand is promoting financial services on LinkedIn, then using the #fitness hashtag as part of your posts isn't going to attract the right clientele. Keep hashtags relevant to those you're trying to reach.
#3 - Don't use too many hashtags
There's no limit to how many hashtags you can add to your content. But if you use too many your post will look spammy. LinkedIn best practice suggests that three to five hashtags are plenty.
Some people fall into the trap of cross-posting content from Instagram that includes multiple hashtags. And then their LinkedIn post looks awful: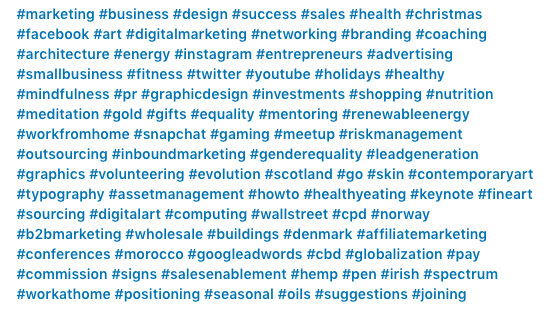 #4 - Format your hashtags
LinkedIn defaults to lowercase when it displays hashtags; e.g. #socialmediamarketing. But it's considered a good practice to use capitals at the start of each word, so it's easier for people to decipher; e.g. #SocialMediaMarketing.
Note: Abbreviated acronym hashtags are not standard on LinkedIn. For example, on Twitter, the common acronym for #SocialMediaMarketing is #SMM, but LinkedIn prefers the full version.
#5 - Combine hashtags with your message
It's always best to add at least one sentence to your post rather than using hashtags exclusively. Even when you post an image or video, add a short sentence along with your hashtags.
A splattering of hashtags with no context looks lazy and spammy. And LinkedIn's algorithm stops irrelevant, low-quality, and spammy content from reaching a user's feed.
#6 - Place hashtags sensibly
You can place hashtags in your message or at the end, but don't hashtag every word. As Nick Diakanastasis commented: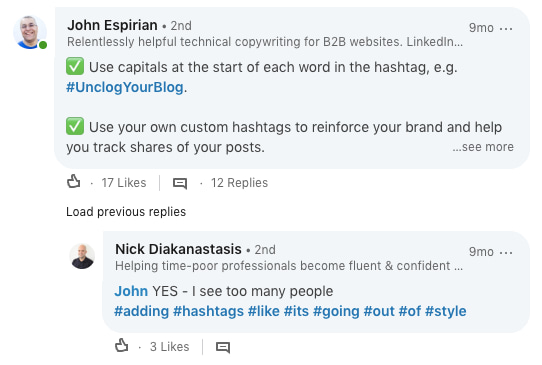 Write your message first and then see if it makes sense to convert a word into a hashtag, or add a hashtag at the end.
Don't tag words that aren't important! Remember to use a hashtag to categorise your post.
#7 - Create your own LinkedIn hashtags
Creating a custom hashtag is an excellent way to build your brand across all social platforms, and it makes it easy for followers to identify and connect with you. Rebecca Whitlocke commented:
"I would suggest that for anyone using their own custom hashtag to keep it short and memorable - I've seen a few recently that are 7 words strung together."
But there's another advantage, too. Custom hashtags help you track shares of your LinkedIn posts. As John Espirian explains:
"Searching for my own hashtags means I can see when people share my posts. Shares aren't always easy to see, especially on LinkedIn desktop, so this is a good way to track them."
#8 - Don't use hashtags for mentions
If you want to reference an individual or a company then use the @mention functionality rather than a hashtag:
#9 - Test your hashtags
Don't test your hashtags like you would spaghetti – throwing a load of hashtags into a post and hoping one of them sticks is not good practice.
Instead, record what hashtags you've used on each post and see which ones bring the most engagement.
#10 - Always check your spelling
Multi-word hashtags can be overlooked in the final proofread for a post, but it's important to make sure you're conveying the correct message. Always double-check spelling to avoid embarrassment, confusion or missing your intended audience.
Wrapping up
Hashtags are alive and kicking on LinkedIn.
Use hashtags to make it easier for other users to discover your content, and help you find and connect with other users who share common interests.
Add relevant hashtags to your content as you write posts and add comments, (or use the LinkedIn suggestions if you're unsure), to make the most of every post you publish for your brand or your clients.

But remember to follow the tips above to ensure your hashtags are a success.