Whether you're a digital agency battling between managing your clients on social and pitching your services to new businesses, or a marketing team handling your brand's social channels in-house, your time is a finite commodity. According to the Pareto Principle, we get 80% of our success from 20% of our input (time).
The core functionality of Sendible has been designed for busy marketers to empower them to get the most effective results on social with the limited time they have available.
Before continuing, make sure to check out our video with Desiree Martinez, agency owner and Sendible's loyal customer:
5 Ways Your Agency Can Save Time With Sendible
1. Advanced posting to 20+ different social media platforms
As a digital agency you'll be managing dozens of social accounts, so being able to plan and schedule posts is an essential piece of functionality for any social media management platform. It's what Sendible offers beyond this that makes us the first choice for agencies.
No more tab switching to access all your clients' social networks - all key platforms (including Instagram and WordPress) are available to you in a single window. There's no need to roll the dice to figure out the best send times for posts either - you can target your audiences at optimal times with the click of a button.
The best part? You can schedule tailored messages for the same link with our Smart Posts feature, which slices the amount of time you'll spend on social media scheduling.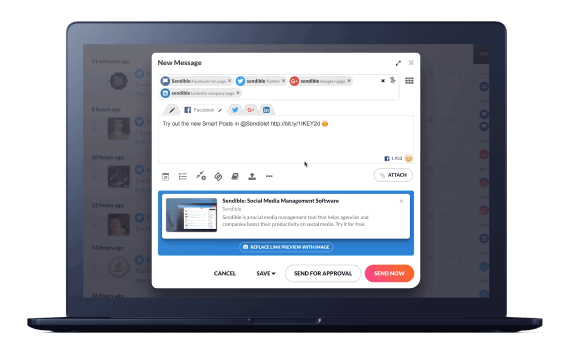 2. Let us do the heavy lifting
Finding enough time to produce engaging content between meetings, pitches and ping pong tournaments is probably the biggest challenge for any agency. Then, you also need to find posts to share and re-promote existing content.
Diversifying your social media posts is an art, and our tool gives you more time to get creative. Here's how Smart Queues work:
Pick your theme (e.g. blogs, webinars, new product launch)
Create a new Smart Queue (think of it as a group for your posts)
Write social media posts, add links and images
Pick specific days when to share posts (e.g. last call for a webinar or offer, and fun posts like #WednesdayWisdom)
Choose a specific time or let our algorithm calculate the most optimal time
Save the queue and you're off to the races
"Streamlining your work is key to saving more time."
If your client has specific messages they want to go out every week or month, this feature will prove to be irreplaceable to you. Oh, and adding new posts to the groups is simple too, isn't that the dream?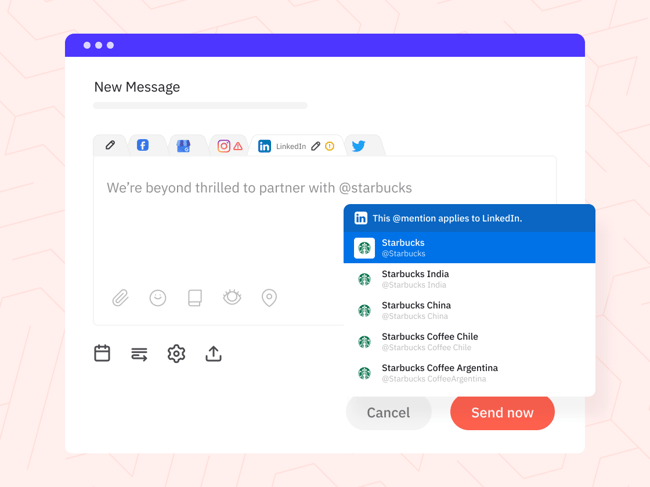 3. Stunning reports that wow your clients
As a digital agency marketer, you need to be on top of things - mentions, competitors and of course, data. Whether a client has asked for a summary of all their social activity for the quarter or your manager wants to know how much engagement your client's Facebook page received last month, there's nothing more satisfying than being able to produce that report in 15 minutes or less.
You've worked hard at creating stand-out campaigns, and you need a quick way to show the fruits of your labor to further reinforce your agency's value to the client.
"The brand new Sendible Reports Hub features nine ready-to-go reports for Facebook, Twitter, LinkedIn, Google Analytics, Instagram and more."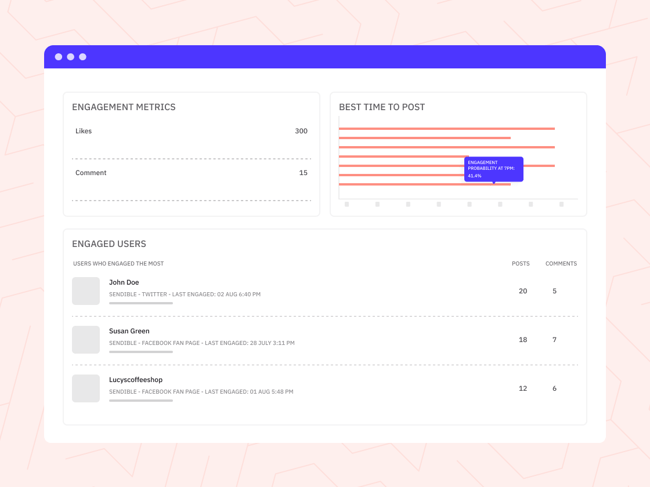 You can also send branded, print-ready PDF reports via email (on a daily, weekly or monthly basis) and even include an optional cover page that introduces the report.
4. Teamwork makes the dream work
Your clients will naturally want to have a lot of involvement in what is being posted under their name. All content needs to align with their brand guidelines, unhappy customers need an immediate response and industry leaders must be approached in the right way. It's a lot of work, but you aren't alone.
With a unified inbox for all social media activities, simple user management and approval workflows, Sendible makes executing a successful social media strategy and keeping everyone on track a piece of the cake.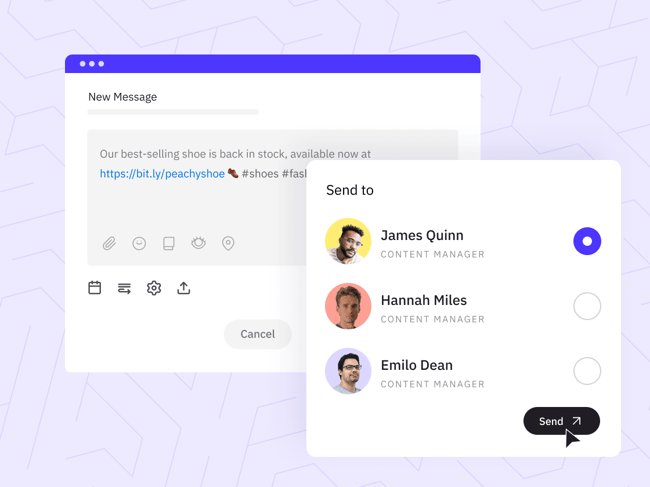 "Being able to get posts sent and approved by the right stakeholders quickly is key for your busy work schedule."

"Create, assign, approve (or reject) and comment on tasks by your team members, managers and even, clients."
It's also possible to manage team member and client user permissions at a granular level within the tool – it's social media collaboration at its best.
5. Use our mobile app so your client isn't left waiting
Your clients won't care if you're at home watching a new episode of Game of Thrones. They will want to be kept up to date no matter what time of day it is. It's not convenient or realistic to always have your laptop on you, but you're likely to have your smartphone to hand.
Our mobile app gives you access to the same powerful features as the Sendible desktop app to help you manage and report on all of your clients' social accounts from any location (so long as you have Internet access). Here are the great three things about the mobile app:
All of your clients' social accounts in the palm of your hand. Monitor social streams for Twitter, Facebook, Instagram, and LinkedIn in real-time.
Post on the go. Schedule and publish posts and photos to Facebook, Twitter, LinkedIn, Wordpress and much more.
Never miss a beat! Whether you are traveling or just left a meeting, receive push notifications and email alerts when people mention the brands you manage or keywords you monitor.
Try Sendible for free
You can try all of these features for free by starting your trial today. Start saving time scheduling, posting and reporting, so your team can spend more time pitching and growing your business!