As with any kind of holiday marketing campaign, it's imperative that you start early and plan ahead. This is especially true for the Christmas season as the holiday spans over a longer period of time and starts as early as Black Friday and Cyber Monday deals hit the shops. And social media provides a simple but effective way to create a buzz around your brand during the festive season.
It is worth having a look at previous campaigns to find out what resonates most with your audience. We've put together some useful tips just in case you need some inspiration, or want to try something new.
Festive holiday marketing tips for Christmas
1. Add tinsel, sparkles and snowflakes to everything
There are lots of things you can to do get going with your holiday marketing campaign. To drum up some holiday spirit you could start dressing up your website, app and social media profiles. You can ask a designer or developer to help with this, but if no one is at hand, you can design social media covers yourself with an online design suite like Canva or buy stock images / graphics from sites like Shutterstock.
2. Create an advent calendar
Everyone is familiar with advent calendars. So instead of chocolate, how about a freebie or small gift every day for a period of 24 days? It can also work with digital goodies and vouchers, but you must make each gift worthwhile. Vitally, you need to promote your calendar every single day on all marketing channels, or it will be quickly forgotten. The offer could be freely available, or you could gamify them to create a more interactive experience.
Santa's come early this year! WIN Annie Gold and Mink for Day 5 of our #AdventCalendar. To enter follow, RT & hashtag #24DaysOfDaisyDixon pic.twitter.com/RjaP6Jx6ZY

— Daisy Dixon Watches (@daisydixonwatch) December 5, 2016
3. Run a 12 days of Christmas campaign with giveaways
Organize a 12 days of Christmas campaign and spread some festive cheer with a giveaway. You can create a themed giveaway (e.g. White Christmas) or simply have a string of special offers lined up for your customers. Encourage your social media followers to visit your profiles every day to get a special link or code to an offer. Or, like us, write a useful, SEO optimized blog post with 12 pieces of advice!
It's Day 3 of our #12giftsofChristmas giveaway! Like, Follow & RT for a chance to win! #12daysofchristmas #RTtoWin #win #noodles #giveaway pic.twitter.com/TFIt0Jfaee

— Kabuto Noodles (@KabutoNoodles) December 7, 2016
4. Piggyback on the festive content of others
"All I want for Christmas… is a new social media management tool!"
Okay, well, it doesn't work for all products, but it definitely can work for any product that can be gifted. This is your chance to loosen up on social media and post fun updates by sharing lyrics from Christmas themed songs, your favorite movies or events. Start conversations and get a little bit more exposure for your brand in December.
5. Create your perfect Christmas themed Pinterest board
Spread some festive cheer on Pinterest by creating your very own, perfect Christmas board. Focus on your industry or think how you can relate a specific theme to add in some of your products or services in the boards you create. Here are some ideas to get you inspired:
Christmas food
DIY presents
Christmas Tree
Home decorations
Office decorations
Gift wrapping
Secret Santa presents
Celebrating Christmas (different regions, locations and venues)
6. Focus on promoting gifts and stocking fillers
There is a vast choice of high-quality but inexpensive gifts that will work extremely well during the holiday season. You can use hashtags and keywords like Secret Santa or stocking fillers for the smallest items to promote them. These traditions have become wildly popular and your audience will thank you for giving them some great gift ideas!
Our Marshmallow Bath Cream is the perfect #stockingfiller…Tell us who you'd give it to to #win a bottle! pic.twitter.com/GZcYkygTWE

— Imperial Leather (@ImperialLeather) November 30, 2016
7. Always consider availability and shipping
Availability, personalization options and delivery dates are all crucial to your potential customers. In this manic gift shopping period, customers need to be reassured that their gifts will arrive on time, especially if they leave their shopping a bit late.
Don't make them guess when they will receive their items, or how long it takes to personalize their order. Instead, win their trust by displaying all delivery information as clearly as possible - if you can display it on the product page, you are in for a win! Companies like notonthehighstreet.com have mastered this on their product pages for personalizable products.
Also, consider if you have any items with a high profit margin and low shipping costs - it might be worth offering free shipping on these items to boost sales.
8. Give a present with each purchase
There is no better time to reward your loyal customers with a little something special than Christmas. Here, you have quite a few options. You can either include the same gift for every shopper up until Christmas Day, or opt for only giving presents to those who shop early.
If you can, try to include a present instead of a voucher or discount code. This can be virtually anything - from candy and chocolate, to a personalized card or a small stocking filler that can be bought from your website. If they love it, they just might buy it for their friends and family!
9. Create a sense of urgency
Limited time offers and countdowns work extremely well when paired with a valuable offer. Make it clear when your discount will end, and make sure to mark low stock items as 'running low'. You can also create urgency by letting shoppers know when the cut-off for Christmas deliveries is (see tip number #7).
10. Dress up and be silly on Christmas Sweater Day
Dress up to celebrate this holiday and share the photos of your team on social media. Be it the Ugly Christmas Sweater Day (US), or Christmas Jumper Day (UK), or even pictures of your office Christmas party - make it that bit more festive and share that cheer on Facebook or Instagram.
Decorating your office? Then, why not share the process with your followers via Instagram Stories - from dressing the tree to giving out the Secret Santa gifts.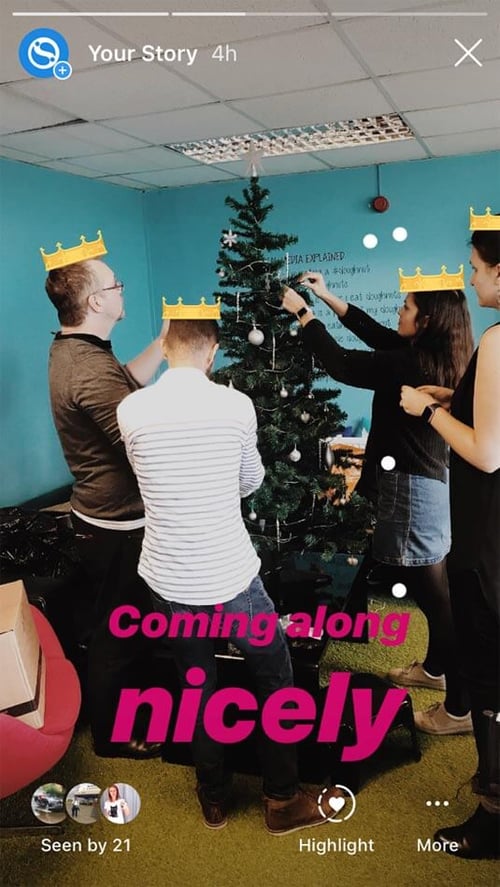 11. Share recipes, traditions and a bit of humor
People love to share their Christmas tips and hints. Get people talking about their festive habits, purchases and activities and start a discussion! Ask questions - What was in your Christmas stocking as a child, what is your favorite Christmas meal, or what's your Christmas morning tipple? Make sure it is set in the context of your industry specific and you are sure to get responses and engagement.
12. Think of those around you
Christmas is all about sharing - be it with your family, friends or even customers and partners. So naturally, this is a great time to say your thanks to your customers, possibly talk about your referral program and of course, thank your partners - the companies you do business with.
If appropriate, you can focus on family values for your holiday marketing campaign. When done right, your prospects may just naturally warm up to your brand when choosing between competitors.
Level-up your social media.
Subscribe to our blog to get valuable insights so you can maximise your results.