Twitter is likely to already play a huge part in your day-to-day role. The platform can be used for networking, b2b lead generation and connecting with industry influencers, but are you really using it to your full advantage?
For many marketers, their answer to that question is "no"... Even if they don't realise it.
Twitter has several lesser-known features you can use to boost your productivity on the platform and generally make your life that little bit easier.
One of those are Lists - a tool that allows marketers to stay on top of the hundreds of accounts they're following, and use the information being published to their advantage.
Here's how you can use Twitter Lists effectively - whether it's for lead generation, influencer marketing or beyond:
What are Twitter Lists
Twitter Lists are a valuable tool for organising and managing your Twitter experience. By creating lists, you can categorise accounts, streamline your feed, and have more control over the content you see. Whether you want to stay updated on specific interests or simply declutter your timeline, Twitter Lists can help enhance your overall Twitter usage.

Here's a quick list of the benefits of using Twitter Lists:
Streamline your Twitter experience by accessing specific groups of accounts.
Avoid the overwhelming nature of your main timeline by using lists.
Easily discover and follow updates from accounts that share common themes or interests.
Create a more focused and tailored experience by curating lists around specific topics.
Stay updated on industries, trends, or events by organizing relevant accounts into lists.
Maintain a degree of privacy and control by making your lists public or private.
Add accounts to lists without notifying the account owners.
Public lists can be seen by others, allowing them to follow your curated collection.
Private lists are visible only to you, enabling you to create a personal collection.
For example: If you've got a Twitter List of readers of your blog, you might spot somebody looking for a product you offer. It's easier to see, respond to the tweet and promote your services because their initial tweet is less crowded in your reader-specific List than it would be in your standard feed.
Get the gist?
How to create Twitter Lists and add people to them
Are you convinced to start using Twitter Lists?
...Great! Let's get cracking.
Create your first List by heading over to your profile, then clicking the Lists tab and pressing "Create a New List":

Next, add a name and description for your list. This should be as accurate as possible - especially if you're planning on creating a few.
Here is also where you set the privacy settings for your List.
Lists should be private if you don't want other people viewing them (like a list of clients that's available for your competitors to poach), or public if you don't mind: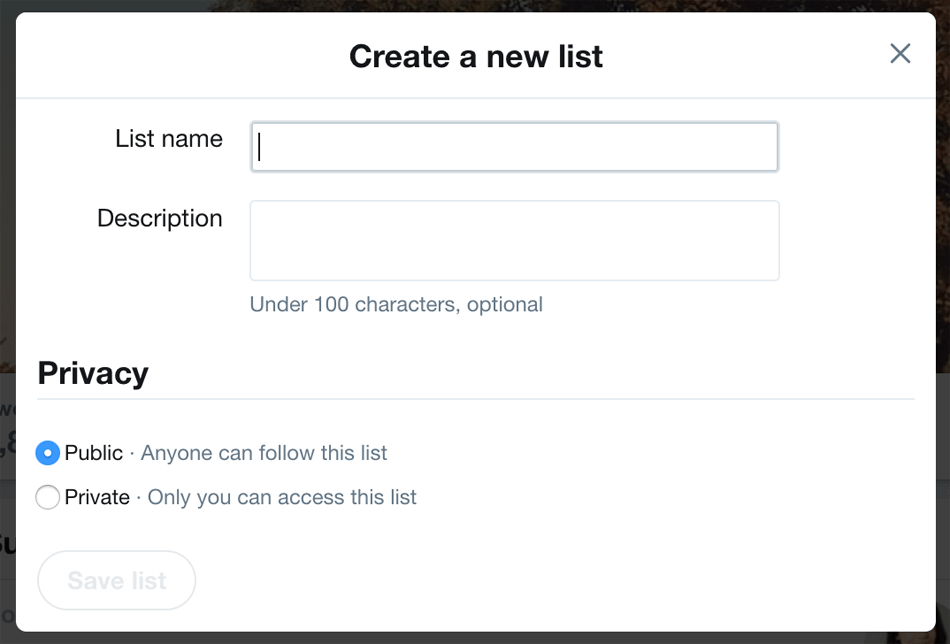 Now it's time to move onto the fun part: Adding people to your List!
To do this, visit the account you want to add. Click the three dots next to the follow button; you should see a button to "Add or remove from Lists":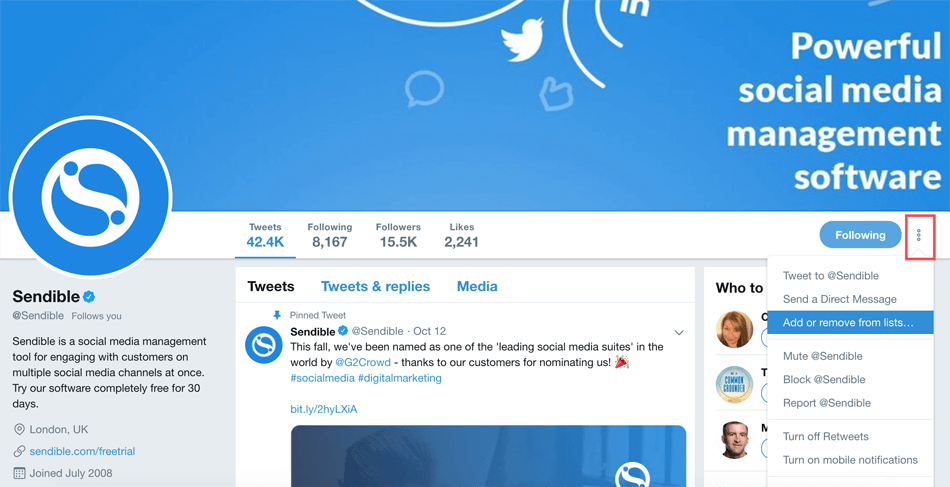 All there's left to do is select the List you want them on, and your work is done!
10 brilliant strategies to use Twitter Lists
So you're fully in the know about how Twitter Lists are made.
But what should you actually use them for?
Before deciding if your want to start experimenting with new content formats, do a Twitter audit and then check out a few of my favourite Twitter List ideas you can use to fuel your social media marketing strategy:
1. A List of your clients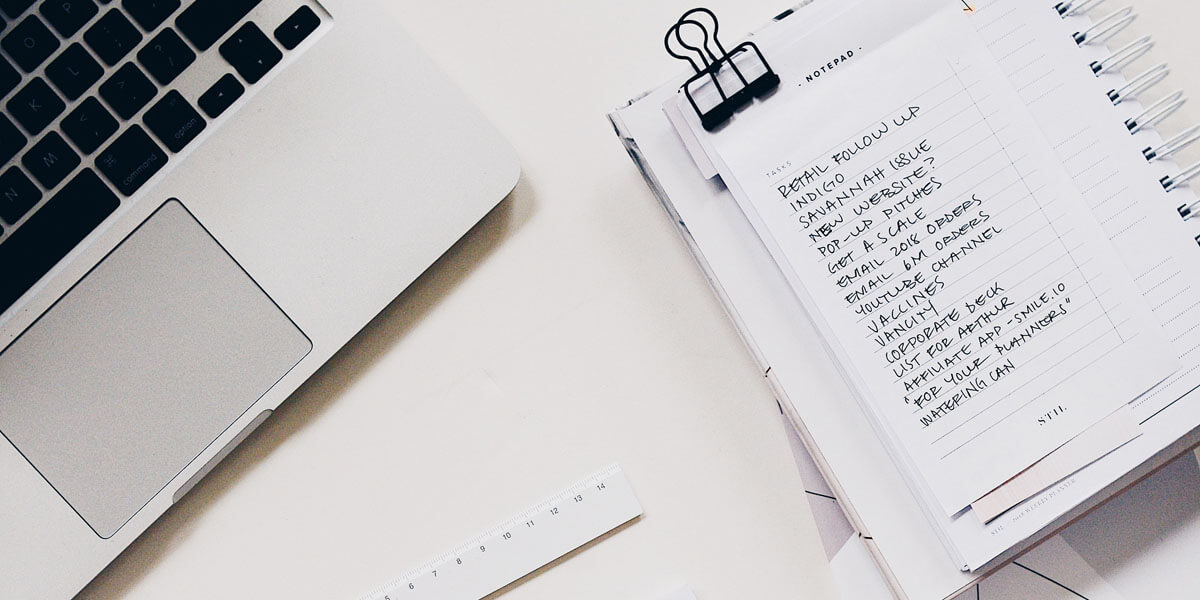 First up, let's chat about using Twitter Lists to keep up-to-date with your clients.
Whether you're a B2B or B2C business, having a List of people who are paying for your service allows you to do several things, including:
Monitoring what they're saying about your brand without tagging your account directly.

Using the content being shared as conversation starters to build genuine relationships.

Looking at who's referring your brand to their friends.

Identifying tools your current clients like to use, and feeding it back to your development team to discover whether it's something you can add to improve your product or service.
Remember what I said about keeping certain Lists private?
That concept applies here.
You don't want competitors poaching them by making your client List public - or even worse, to break the NDAs you've signed with your clients!
2. Location-specific customers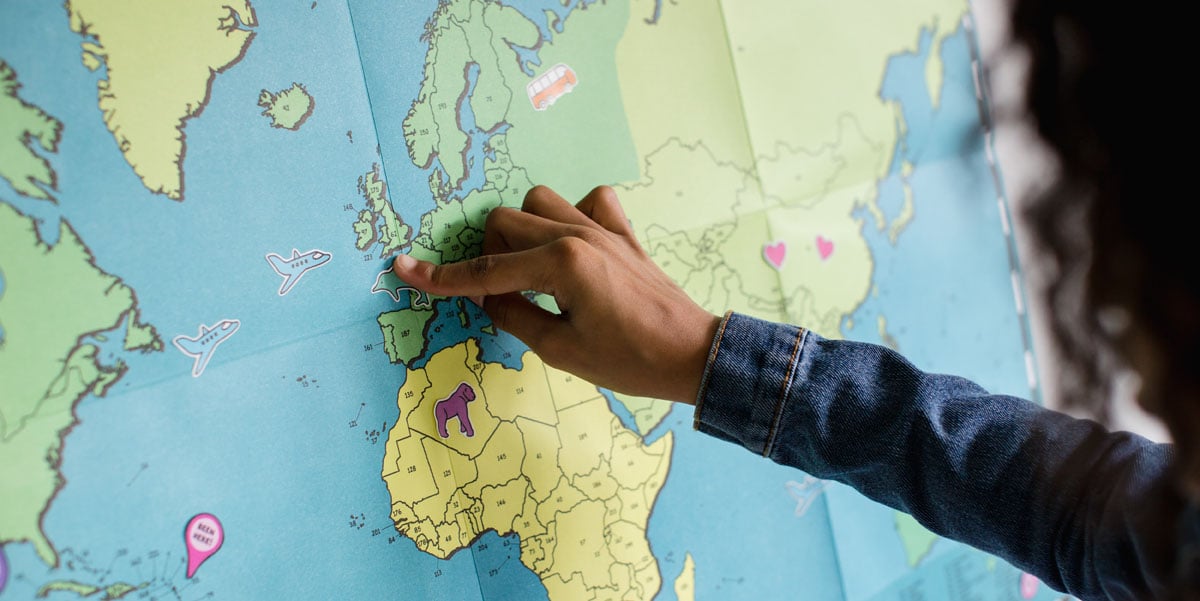 Fancy taking your client monitoring a step further?
Create a List of location-specific customers. That way, you can identify what local people are talking about - something especially helpful for brands with a brick and mortar store.
That's because keeping up with local news (and commenting on it) proves you've got your finger on the pulse.
If you're personalising your Twitter content with news specifically for local people, why wouldn't they engage with it?
Just take @Mashable, for example. They've built a Twitter List of startups in NYC:

Not only does that give them a detailed feed of content they could share to engage local prospects, but they're kept up to speed with what's happening in the New York startup world.
Do the same for your industry!
3. Keep track of leads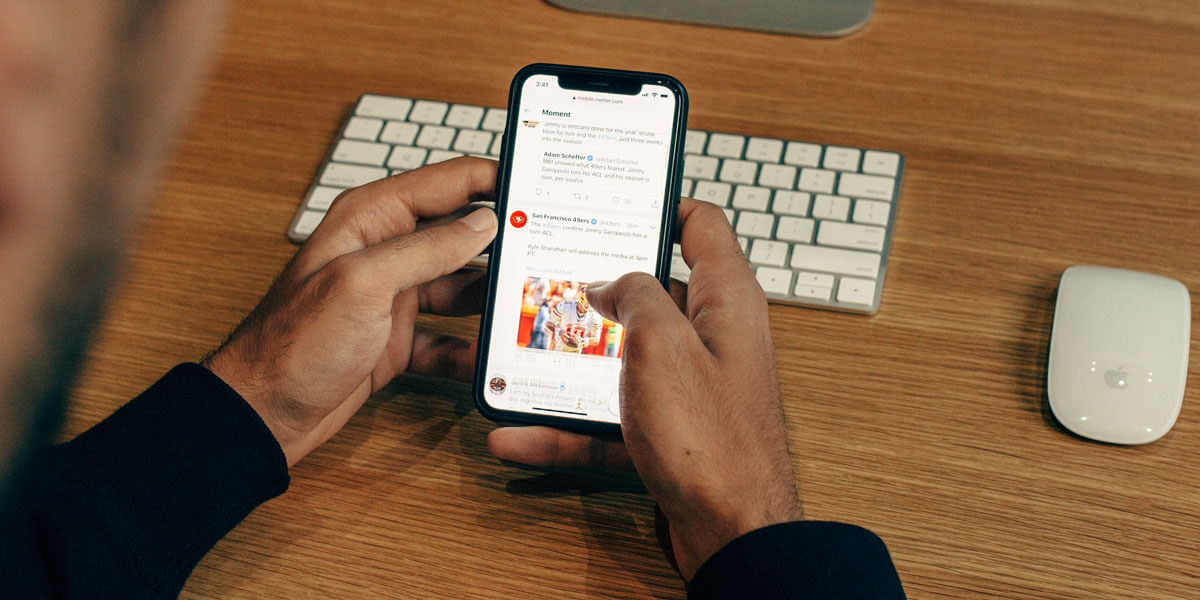 Just as you might have a List of clients, you could use this Twitter feature to keep track of leads who're passing their way through your sales funnels.
A List of people who would like to purchase your product can help with organization.
But if you're also engaging with the content being shared in this feed, you could warm-up your prospect before pitching, and put your brand on their radar.
Find people to add to your List of leads by:
Looking in your CRM

Looking at your private social media messages (or DMs)

Asking sales teams

Browsing people using relevant hashtags

Searching for people in your industry using Twitter's search bar
Don't make the Twitter mistake of making this list public, either.
Accounts who've been added to a public List receive a notification. Your sales prospecting is unlikely to be effective if people know they've been added to your List of leads!
4. Your staff list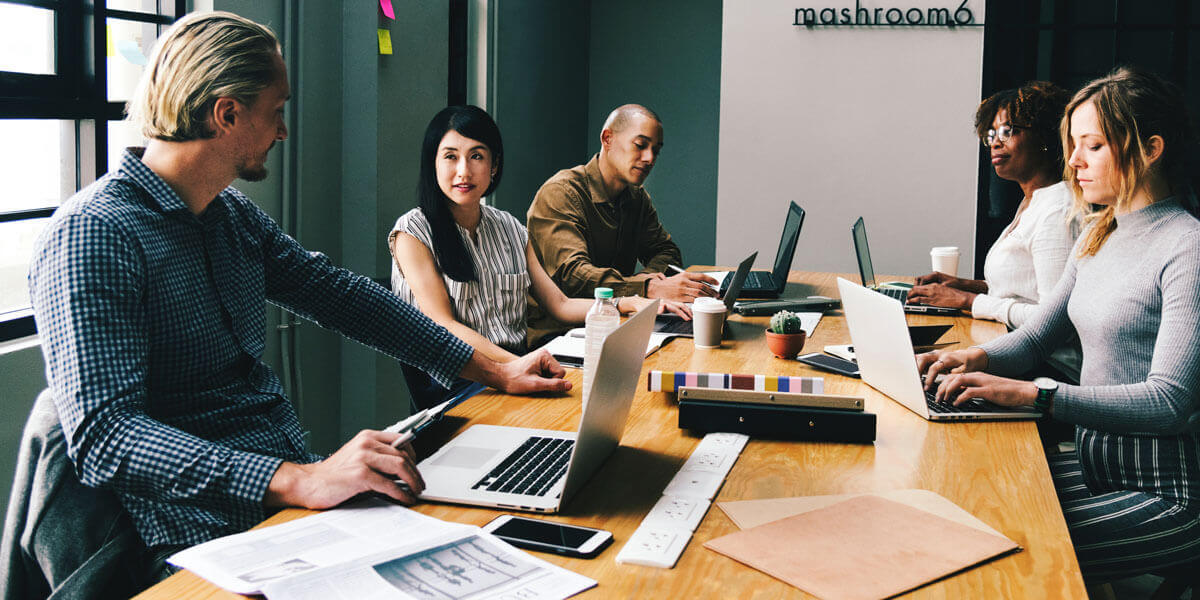 Public Lists are visible to anyone who clicks your profile and hits the "Lists" tab.
Why not create a List of people who work at your company, and make them visible to people browsing your profile? They're obviously interested in your brand; encourage them to engage with your staff on a personal level, too.
Creating Lists of employees also makes it easier for people visiting your profile to identify who works there - pointing them in the direction of someone who could help to bring them on-board.
@Lydiawerks, a Trellist employee, created a List of staff members at the company: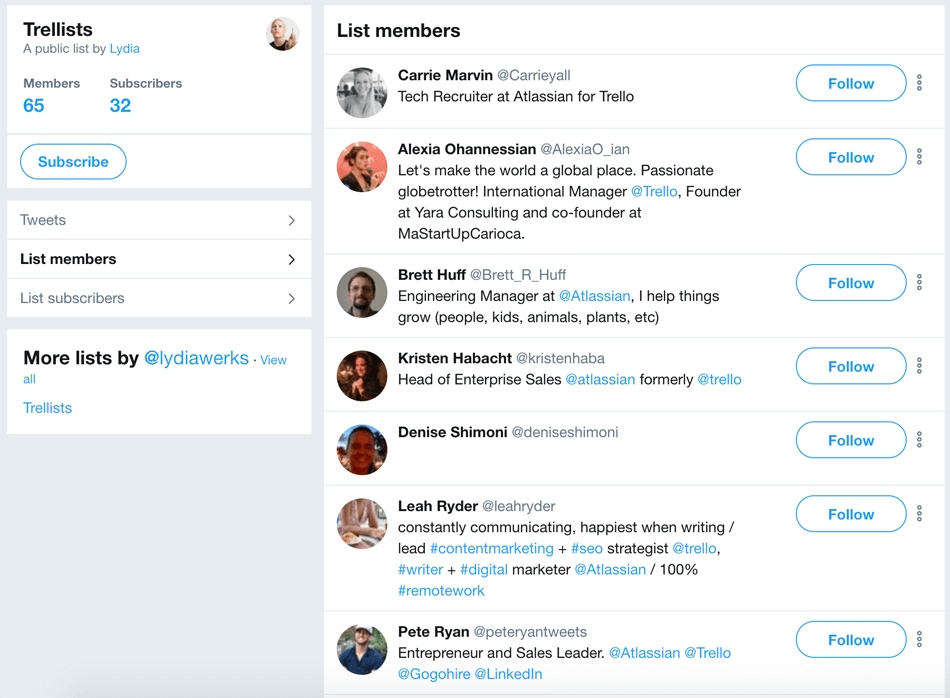 And @Evernote took this a step further by creating a public List of the handles they manage: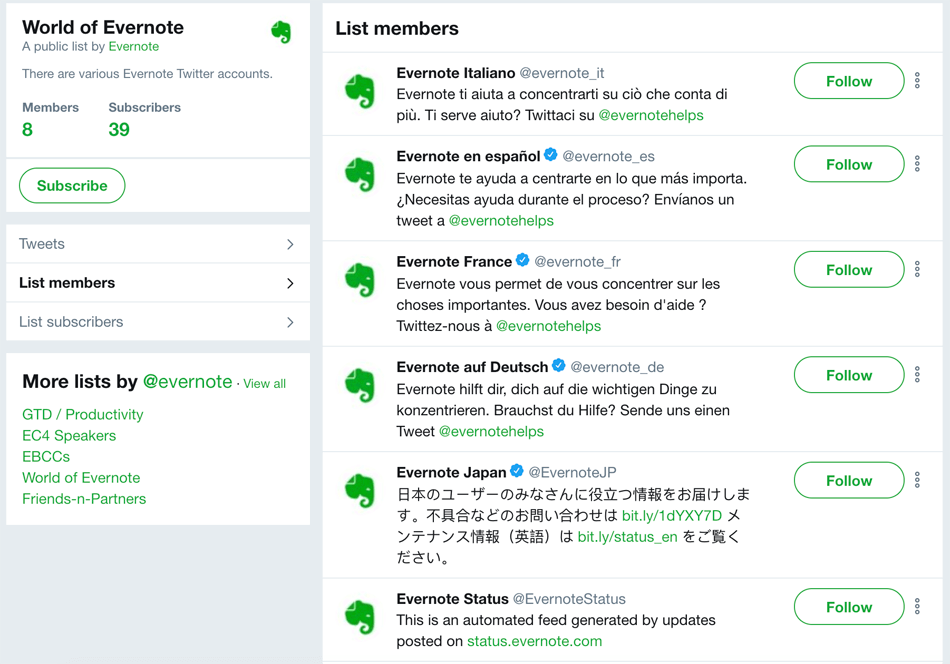 Whichever brand-related List you're building, making this public is a fantastic way to encourage people to learn more (and interact) with your company.
5. Keep up with influencers in your niche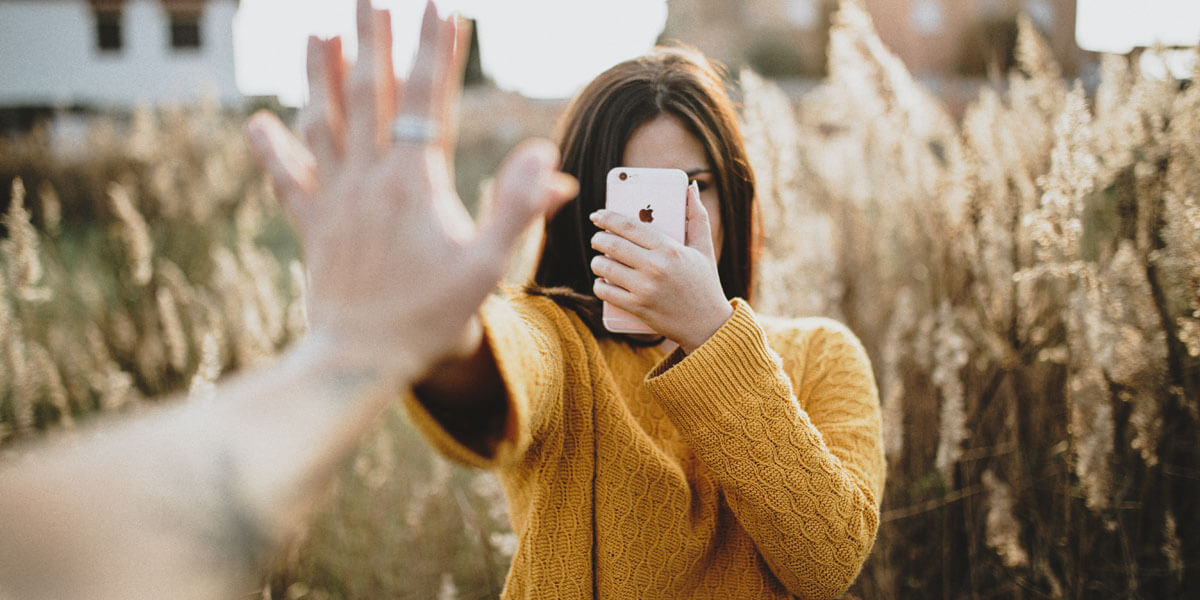 Influencers are taking over the world. And I don't say that lightly.
A report by TapInfluence found the average ROI of influencer marketing is $7.65, and 30% of consumers are likely to buy a product if it's recommended by a non-celebrity influencer.
You'd be mad to miss out.
You can use Twitter like a pro by creating Lists of influencers in your niche that you'd love to get the attention of. That way, you can regularly engage with the content they're posting - whether that's a response to their tweet or sharing their latest blog post.
@ShortStackLab do this with their List of social media influencers: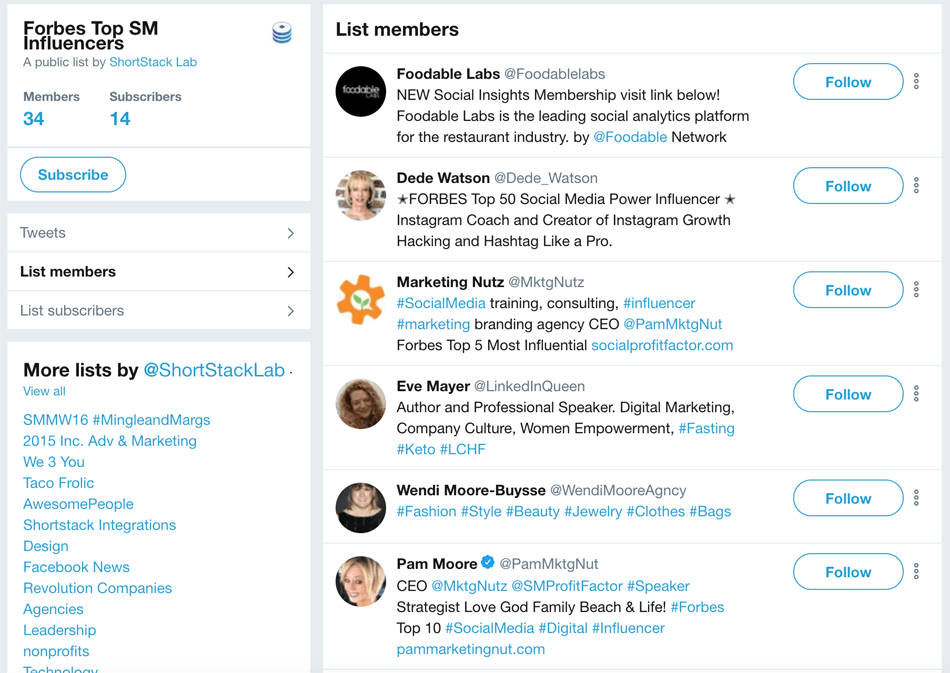 Wondering why Twitter is such a great place to network with influencers?
Almost every influencer has a Twitter account, and the platform gives them an easy way to build relationships with their audience. That's what makes them influential, after all.
Plus, if you get on their radar, you could earn a retweet and be exposed to all of their followers!
6. Build a branding community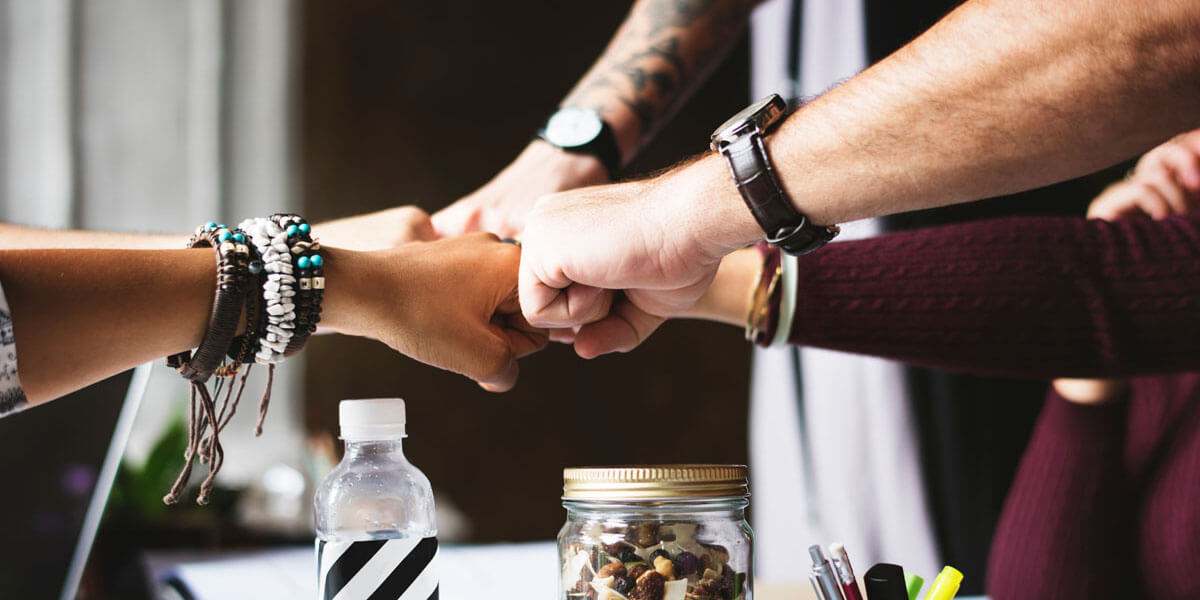 Online communities are invaluable for brands - especially when you're left with a pool of uber-engaged people that can help to promote your content.
Guess what? You can use Twitter Lists to create your own.
To build a List that's focused around your brand rather than a shared interest, you'll need to find people who'd get involved. You can do this by finding people who've:
Commented on your blog posts

Contributed a guest post to your website

Subscribed to your email list
@MarketingProfs do this with their List of Marketing Profs members: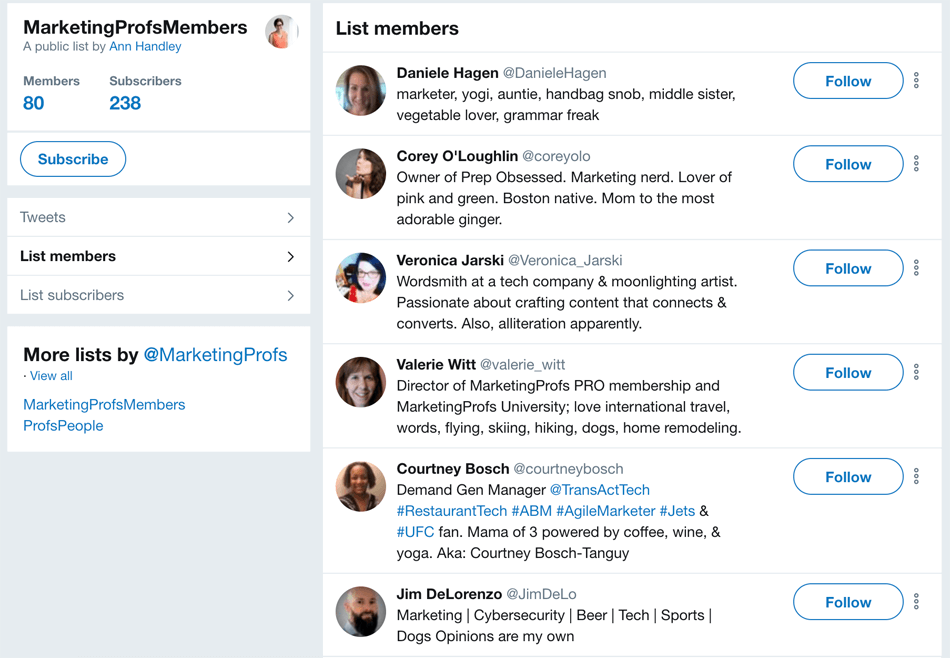 7. Content curation for your feed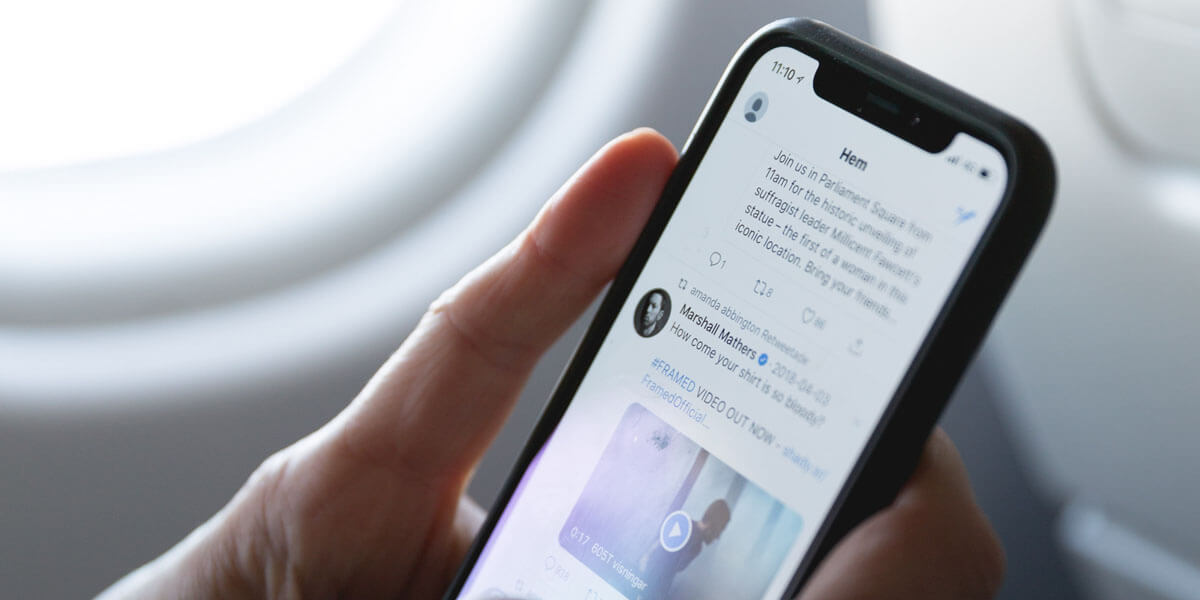 Content curation is tough.
With 1,440 blog posts being published on WordPress every 60 seconds, how can you identify top-notch content that should be reaching your audience via your Twitter account?
That's where Lists come in handy.
You can create a list of publishers in your niche that consistently share relevant, high-quality content.
Here's mine: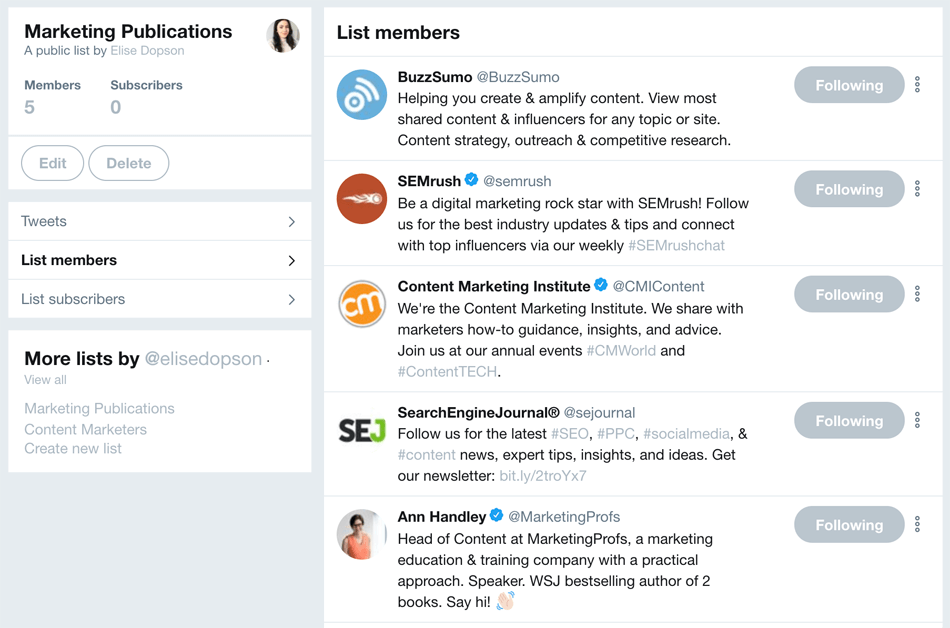 Once you've got this List, sieve through and read the content being shared.
Think your audience will find it useful? Share it with them!
Curating incredible content doesn't only keep your Twitter profile looking fresh, but proving that you're a brand who's always up to speed with industry news does wonders for your online reputation, too.
You could even use this List as a way to secure guest posts at huge industry sites. Use your List to keep an eye on the content they're publishing and engage with the editor to get on their radar.
I'll bet they're 10x more likely to accept a pitch from you if they recognize you as a fan.
8. Your promotion network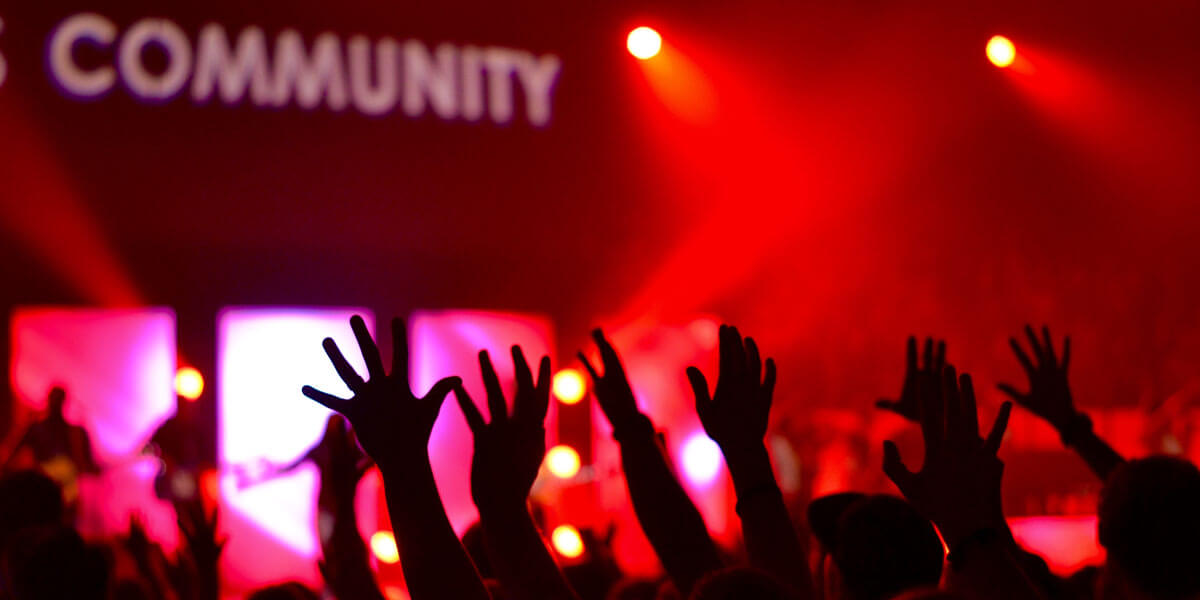 Take note of the people retweeting, liking, sharing or responding to your tweets.
If you can do the same back, those people become your fans - who're more likely to continue supporting you on Twitter, helping you build a promotion network on the platform.
For example: If you publish a new blog post, share the link to your Twitter profile. The promotion network you've built up will contain a bunch of fans who're likely to engage and lend a hand with promotion, meaning you can meet your content marketing goals and boost the number of eyeballs on your new piece of content.
Fellow marketer @AskAaronLee does this with his "super-sidekicks" Twitter list: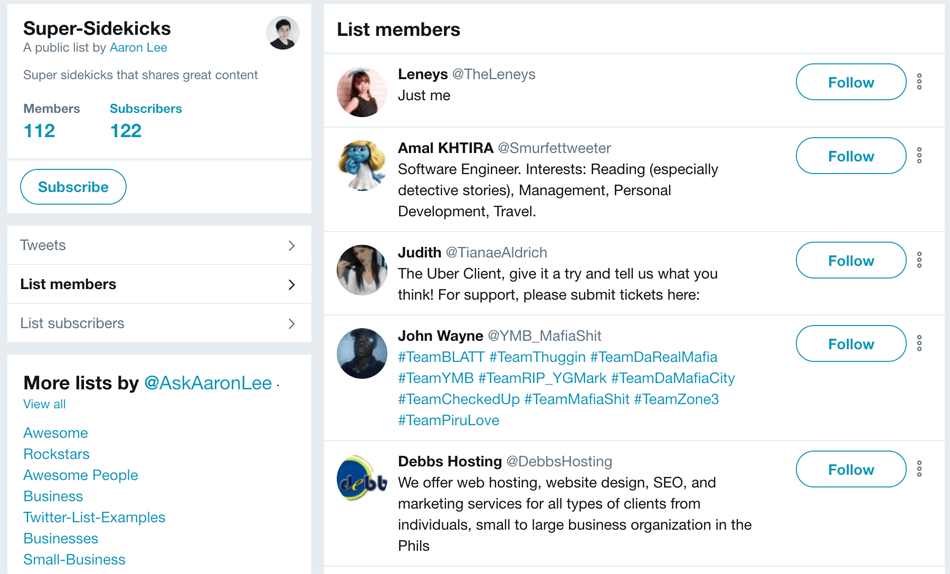 Aaron has built a promotion network of 112 people - all of which are super likely to share new content whenever he posts it, and build a buzz around his site.
You'd be crazy not to build your own!
9. Followers who participate in Twitter chats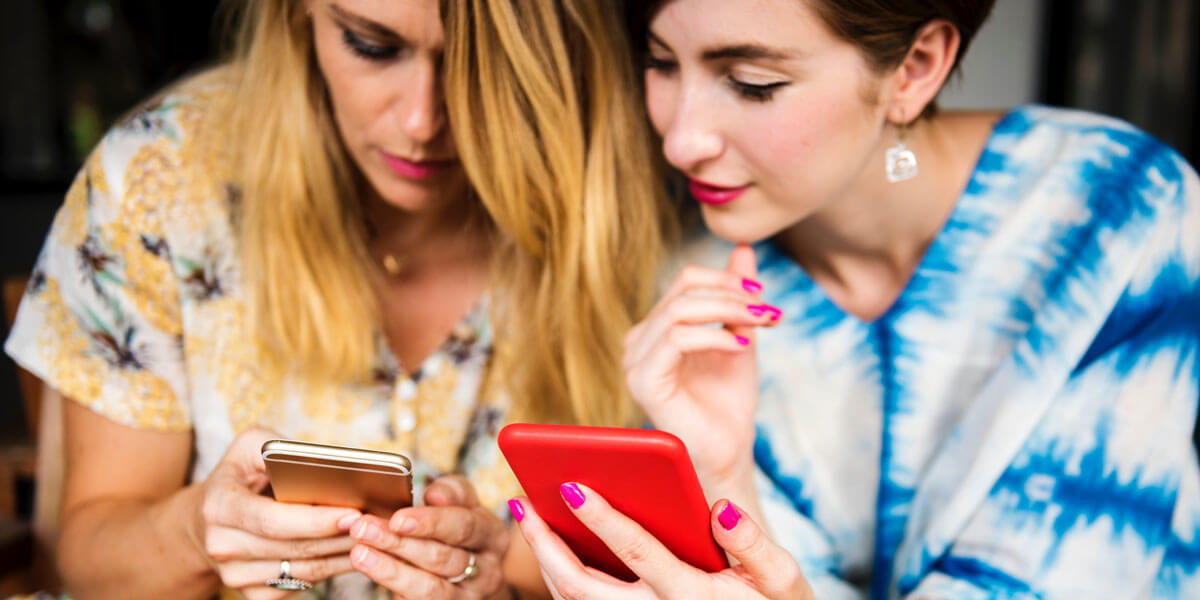 Do you run a Twitter chat?
Whether you're meeting with like-minded users once a week or once a month, you can use Twitter's List feature to create a list of people who engage regularly.
You can use this List to:
Identify future topics

Invite engaged participants to co-host

Bookmark tweets you want to include in a write-up on your blog
A fantastic example of this comes from @CMIContent. They've got a List of people who regularly engage in their #CMWorld Twitter chat: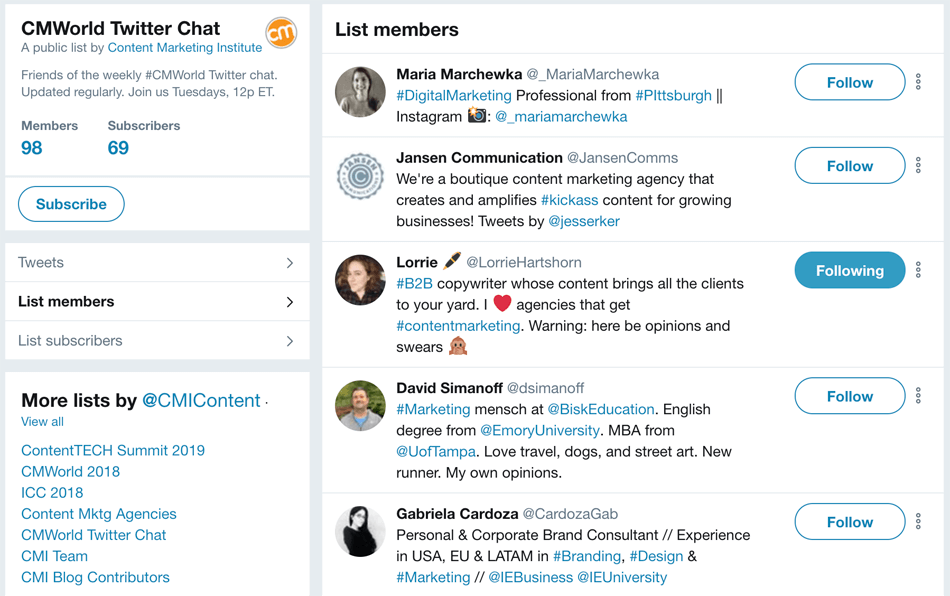 Doing this for a Twitter chat you run?
Don't forget to add the details of your chat - including times, dates and topics -in your List's description to encourage people who're browsing to join in!
10. People who've attended a conference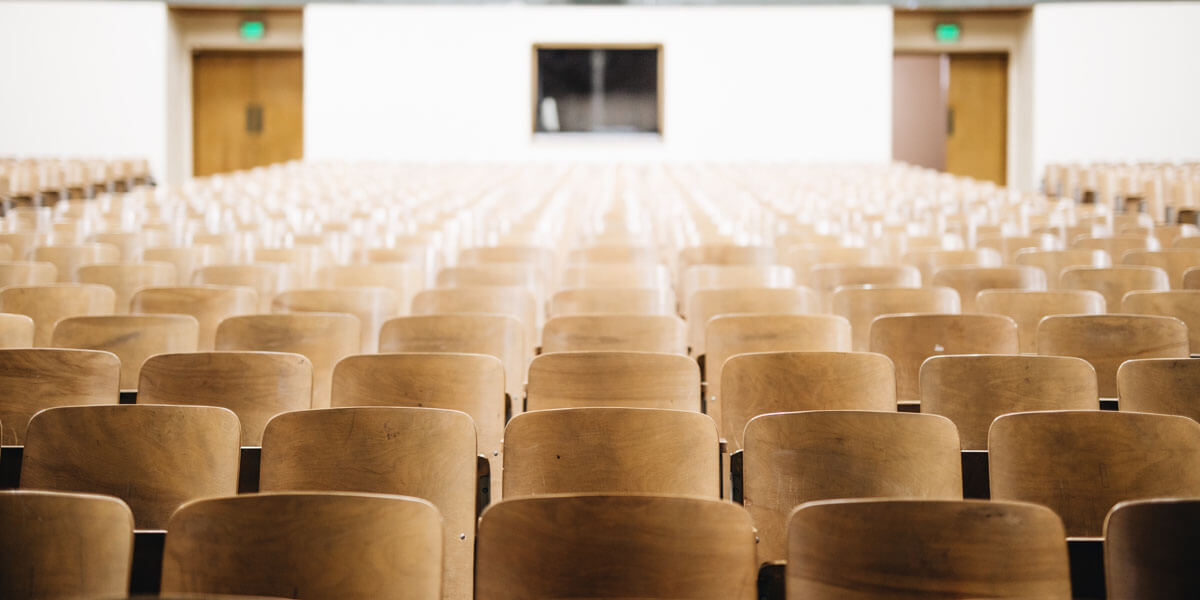 If you've visited a conference, keep in touch with the people you've met by adding them to a Twitter List.
Why?
Well, along with keeping a record of who you've met (and where), browsing the feed for your conference List could help to nurture leads - or people who express an interest in your product.
Let's say the Sendible team went to a social media conference. We add everyone we met on the day to a Twitter List, and spot one of the members expressing their need for a social media management tool. We could jump in there and recommend ourselves.
Because we've already got a connection from the conference, they could be more inclined to take us up on our offer.
Social Media Examiner do this for their own event. Their List of SMMW19 speakers is public for anyone to view: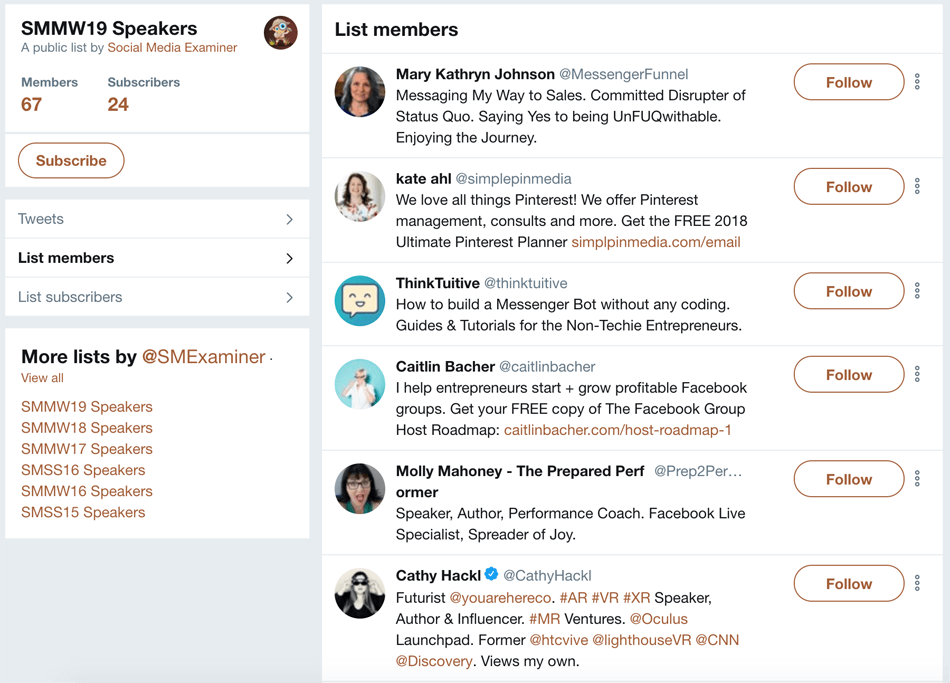 This also helps the speakers at the conference to get more exposure, and provides visitors with a way to stay updated with the SMM World event.
Talk about a win-win.
[Sendible] An alternative way to track mentions, trends, and keywords
In addition to using Twitter Lists to organise and streamline your Twitter experience, another powerful tool that can help you stay ahead of the competition is Sendible.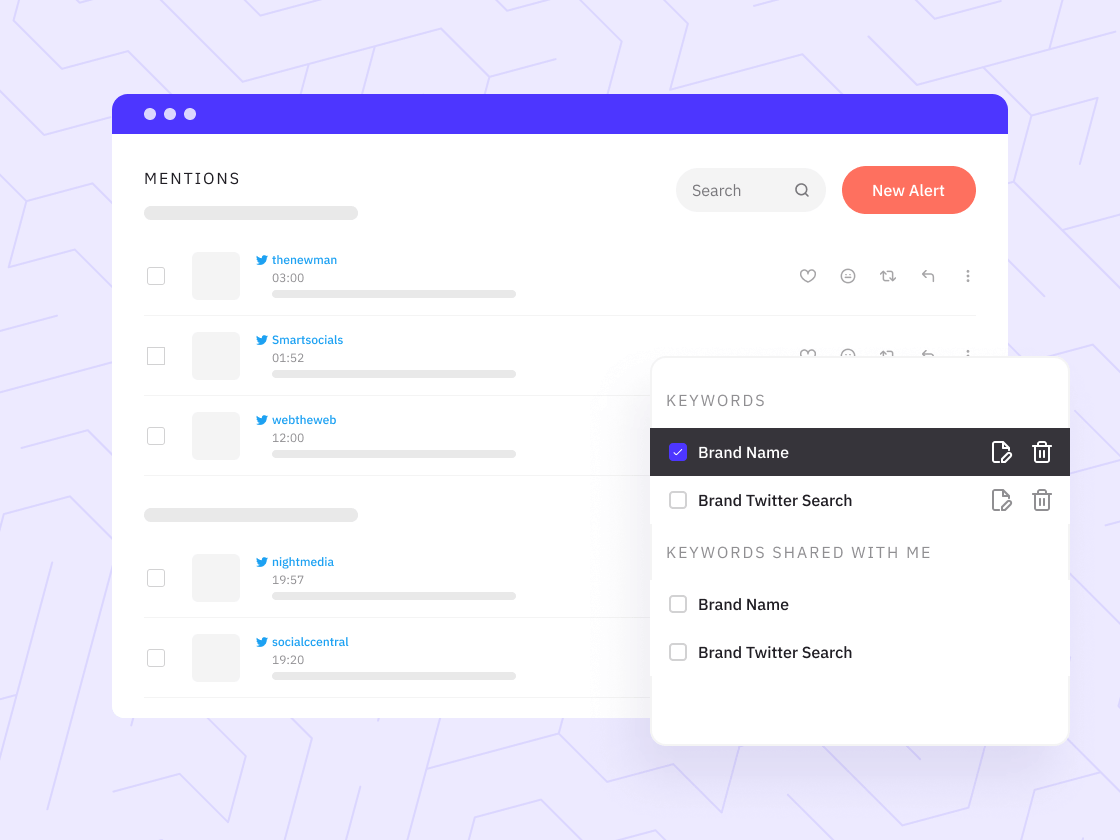 With Sendible, you can take your social media monitoring to the next level by tracking mentions, trends, and keywords more effectively. Here's how it can benefit you:
With Sendible, you can go beyond the basic functionalities of Twitter Lists and dive deeper into social media monitoring. By tracking mentions, trends, and keywords effectively, you can gain a competitive advantage, better understand your clients' industries, and enhance your overall social media strategy.
Final thoughts on using Twitter Lists
Are you ready to start creating Lists to your heart's content?
Whether you're nurturing leads or engaging with influencers, always remember to follow Twitter's best practices when creating your Lists. You don't want to get your account deleted in the process.
Don't forget you can use our Twitter integration to view your List feeds on one central dashboard, too.