It's highly likely that you know a little something about this social media network. Seeing a high number of impressions, mentions and clicks is great. But can you put a hand on your heart and say you've been using Twitter to its fullest extent?
Once you cover the basics, you should dive into the advanced features and use your awesome marketing powers to make this channel perform better.
All it takes is to learn the features and apply them to you and your clients' accounts. From adding polls to posts and creating Twitter moments to using Boolean searches and investing money in ads - there is lots to keep in mind.
First question: Have you got the basics right?
Before advancing to the pro tips, it's important to follow through with the basics. You wouldn't build a house without a strong foundation, so make sure you get the fundamentals right before proceeding with the advice below.
Learn the rules of engagement for brands that use Twitter for business and discover what it takes to succeed on this network:
Broadcast the story of each client in a unique way, as they deserve to be heard.
Delight your audience before and after they become customers, keep peers in mind too.
Find influencers and build relationships that go beyond replies and retweets.
Use hashtags to extend reach because, without them, the content discoverability will drop.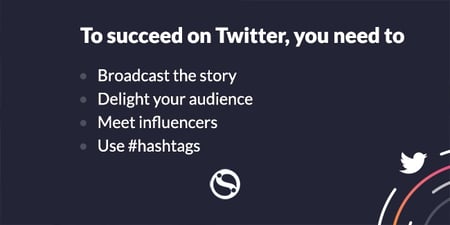 Seven advanced Twitter features and how to use them
1. Add that extra "oomph" to your posts
Use emojis and GIFs sparingly
Thousands of tweets are sent every second so you'll need more than good copy to attract attention. Emojis are outstanding at adding meaning with little character count used, and that's vital on this social network. According to Shutterstock's Creative Trends 2017 report, emojis were searched 328% more on their site last year compared with 2015.
In 2013, 500 million tweets were sent per day, which equals about 6,000 every second (source: Internet Live Stats).

Since 2013, Twitter has gained more than 80 million active monthly users (source: Statista).
If you have a budget, invest in creating GIFs. Animated images are good for boosting engagement and can also be used to extend your content mix on other channels like email.
If there's no one to create these graphics, start by experimenting with the GIFs already available for free in Twitter's library. To access the GIFs simply click the GIF icon when composing your next tweet.
Share your Year of the Rooster celebrations by Tweeting #LunarNewYearhttps://t.co/SyRMak0cZK pic.twitter.com/YlmQCw334Q

— Twitter (@Twitter) January 26, 2017
Quote retweet
It took time for marketers to master manual retweets that started with "RT: @username". Sharing posts involved quite a bit of work, not to mention the message often being cut off due to Twitter's notorious 140 character limit. It was a struggle, but thankfully Twitter changes continuously and we now have 280 characters to play with.
You can now retweet another user with a simple click of a button as well as add your own comment about the original tweet. That's another 280 characters you can use to share your thoughts, tag collaborators and give influencers some love. Use this opportunity wisely.
Thanks for writing about us @dknowlton1 - it's a great mention https://t.co/Cc8ms4dDUf — Sendible (@Sendible) January 27, 2017
Tag users in images
Interviewing an influencer? Featuring a collaboration with another company? Sharing a photo of a successful client meeting? In all cases: tweet with a photo and tag them. You can tag up to 10 people in these images without using any characters. This is sure to get their attention which can translate into extra engagement from their end.
Start a poll
Why not use Twitter polls to find out more about your audience? Ask them what they'd like to see next or what their main challenge is, then write a blog or host a Twitter chat to reflect the results. The poll can have up to four questions and can run between five minutes and seven days. Consider adding an image or a GIF to the poll too.
If you're low on engagements, consider investing money to boost your tweets. If a brand has over 10,000 followers and fewer than 10 respond to the poll, it can have a negative effect on the outlook of the profile.
2. Create Twitter Moments
Moments are curated stories that usually follow the same theme, and those that cover trending topics get a spotlight on Twitter's homepage. There's more to this feature than first meets the eye, though.
pic.twitter.com/boP59z64dH — Twitter (@Twitter) September 27, 2016
Since its public rollout in early autumn 2016, any user has the ability to create their own Moments on any theme or subject. Twitter makes it easy to create Moments as any kind of tweet can be included (your own, or by another account).
What's more, Moments can be edited over time, sorted in a custom order and also shared as a link (without appearing on your main Twitter feed). It's microblogging at its finest. Here are some ideas for your client's content:
Curate news in the industry.
Collect highlights of your campaign, advice or Twitter chat highlights.
Create step-by-step how to's and product demonstrations.
Host takeovers and show "a day in the life" of one of their employees.
Intrigued? Then head over to Twitter's support site to learn everything about creating a Moment via web and mobile.
3. Run keyword searches
Possibly the strongest aspect of Twitter is the access users have to the millions of public conversations happening in real-time all around the world. The second best would have to be the ability to reach out and contact virtually any customer, company or industry leader that has a public Twitter account.
With half a billion tweets sent every day, it can be tough to sift through the ones that are relevant to your client or your own agency.
This is where keyword searches come in. By searching for relevant phrases and user profiles, you can find opportunities to connect with prospects and increase your reach.
What kind of searches should you run?
The keyword types you can look up are virtually endless. These 10 ideas should get you off to a good start:
Brand name (Sendible)
Domain (sendible.com)
Common misspellings of the brand name ("Sensible" "Sendibble")
Profile name on Twitter (@Sendible)
Brand hashtag (#Sendible)
Campaign hashtags (#SendibleCares)
Industry terms (#SocialMediaMarketing, #SMM, "new in social media")
Social listening phrases ("new social media tool", "need help managing social", "looking for #smm tools")
Influencer names (in our case, digital marketing experts)
Competitor names
Don't forget about setting up a few keyword searches for your competitors, especially their profile name, as you'll see how they position themselves in the industry. You'll also be able to judge how often their customers, industry representatives and users engage with them on Twitter. There are more creative ways how to use social media monitoring in your day to day routine.
How and where should I search?
There are three ways to go about monitoring keywords on Twitter.
Run manual searches from a list every day (that's pretty time-consuming).
Set up and save searches with Twitter's advanced search (see below).
Let your social listening tool help you take care of it.
4. Kick it up a notch with Boolean searches
Keyword searches are great - use them wisely and you'll get results. But, if you're keen to get above than average results, you'll need to kick it up a notch.
The term Boolean comes from the name of the man who invented this system, George Boole. The Boolean logic is recognized by many pieces of software as a way of defining a search string.
Boolean logic is a system of showing relationships between sets by using the words AND, OR, and NOT.
By performing Boolean searches, you can get even broader results or quite the opposite - narrow the search down to a particular niche. With the help of this search logic, you can search for exact phrases and exclude words. All the above will help you find and answer messages much more efficiently. Boolean searches are exceptionally useful if you're managing social media for a brand that has a common word in their name.
Introducing: Twitter's advanced search
Twitter's advanced search is a free feature that allows you to set up filters and exclusions for your search to narrow down results - just as you read above about the Boolean logic. It even helps you look for messages with negative or positive intent, e.g. smiley face for positive, sad face for negative. You can save up to 25 searches per profile. Let that sink in for a minute. Just think of the time you'll save by not having to perform these manual searches on a daily or weekly basis! If you haven't set up searches like this before, you'll find these resources useful: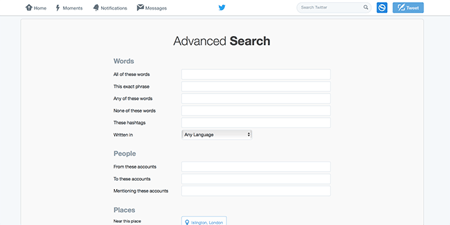 5. Create Twitter lists
When you're managing social media for clients, you can't afford to get distracted. To help avoid information overload, use Twitter lists. Each list is a curated group of Twitter accounts created by a user that can be either public or private. It's possible to subscribe to other users' lists as well. Up to 1,000 lists can be created with a maximum of 5,000 accounts in each list.
The main benefit of this feature is the ability to view a stream of tweets only from the accounts on the list. This helps you get a better, more organized look at the posts by other brands and people according to their relationship to the brand.
Twitter lists allow you to monitor tweets by people without following them like prospects, influencers and competitors.
Here's how you can organize your lists:
Content by topic: find great articles by thought leaders, industry influencers and trustworthy publications.
Networking: converse with bloggers, participate in Twitter chats and stay on trend by following people from events.
Competitor monitoring: see what your client's competition is up to and add their support and customer service profiles to see how they interact with others.
Community building: the most engaged members of your client's community are most likely to share and engage with their content - group them.
Employee advocacy: if your client's employees are happy to share content, make it easy to thank them when they do.
Inspirational work: follow brands and people who do amazing work in your industry or niche, share it to motivate and inspire.
Local community support: build a strong local presence before going global, don't forget about charities too.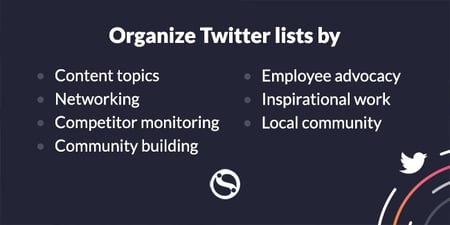 Public vs. private lists
Consider the purpose of the list when picking your privacy settings. If you want to monitor your competitors, influencer activities or key customers, you're better off keeping it private. If its main purpose is to share great content in the industry or encourage engagement in the community, your list should be public.
Add your own profile to public curated lists for your industry - it's a great way to get additional exposure.
6. Participate in Twitter chats
If the social media profiles you manage suffer from low engagement, it might be worth considering community building. Twitter chats (also known as Twitter live chats or parties) are a great way to expand reach, start conversations and build authority. The best part? You don't even have to host one, it's fine to take part at first.
Twitter chats are conversations on specific topics with the goal to connect and share knowledge in the community.
The hashtag is at the heart of a Twitter chat, shortly followed by the topic and its presenters. Some brands have their own hashtag (#SBizHour, #MediaChat, #CMGRHangout) and topics change weekly or monthly. Some companies create unique hashtags for events like trade shows and webinars but talk about a variety of topics instead (#CMWorld, #MarTech, #SMMW17). You can find existing Twitter chats and their schedule by going on sites like TweetReports or Twubs.
Etiquette tips before you chat
Always include your chat's hashtag.
Be positive and contribute when you can.
Share knowledge and connect, don't sell.
Use Twitter handles to avoid confusion: include a "." in front of the @ symbol so that all users can see your replies.
Keep the conversation going by following up with fellow participants after the chat.
Once you feel confident and want to host your own chat, read the ultimate guide for hosting Twitter chats on Social Media Examiner. It explores how these chats work, how to plan, promote and host them and, of course, how to learn from the results. Here are a few chats you could learn from:
If you're looking for more Twitter chats to participate in, Madalyn Sklar has a list of the very best Twitter chats for you.
7. Allocate budget for advertising
It's hard to compete for the attention of users considering the frequency of tweets they receive every day. It's difficult even if you have the best content in the world and ace all the tips above. Why not invest more than just your time and content creation skills, and spend money to increase your reach? Promote your tweets to:
Increase your number of followers
Share your campaign
Drive sign-ups or trials
Encourage downloads
Advertise a course or event
Experiment with Twitter cards and ads, but note that Twitter is cut down on their ad products in the past.
2017 will be about simplifying and differentiating our revenue products. It'll take time for all the results we want to see.
In November 2017, they introduced Twitter Promote Mode which is a subscription ads product, allowing businesses grow their presence by automatically boosting their tweets and profiles. If you have a budget, the flat fee of $99 per month can seem quite agreeable and can help you get that additional engagement you need when building brand awareness for your new client.
Summing it up
It takes time to learn how to use each of Twitter's advanced features effectively. It also will also take lots of effort to implement what you've learned, especially if you're managing social media for multiple clients. Take it one step at a time to see what works and what doesn't.
Add that extra "oomph" to your posts - to boost engagement and discoverability.
Create Twitter Moments - to curate the best of your content, old and new.
Run keyword searches - to monitor competitors and prospects.
Use Twitter's advanced search - to improve your search results with the Boolean logic.
Create Twitter lists - organize them to boost efficiency and save a lot of time.
Participate in Twitter chats - get involved in some before hosting your own.
Allocate budget for advertising - experiment with Twitter ads and cards.
Hope all of this is useful to you! Let us know in the comments if we missed any tips that you found effective when managing Twitter on behalf of your clients.