Background
Arro Insure aims to take the hassle out of the insurance process for businesses and private individuals. Traditionally, securing an insurance policy involved calling a broker, getting a quote and reams of paperwork. Through its secure online portals, Arro helps customers find an insurance policy that fits their needs, purchase it directly, and receive it by email to their inbox in minutes. Arro Insure required a more efficient way to manage social media in order to expand their business.
The Challenge
Arro Insure manages 14 social media pages, but this is expected to increase as they add more products to their offering. Currently, Arro Insure is using Facebook, Twitter and LinkedIn to promote their business. With so many products and multiple websites to manage on a daily basis, Arro needed a social media management tool to streamline their activity within one platform.
As an online-based business, social media is a huge part of Arro Insure's acquisition strategy. Reaching their potential audience cost-effectively can only happen through online advertising or social media (posting and connecting with influencers). Their social media strategy involves sharing blog posts and creating engagement through content curation. The strategy's aim is to acquire followers, educate them about their business, and nurture them to become long-term customers.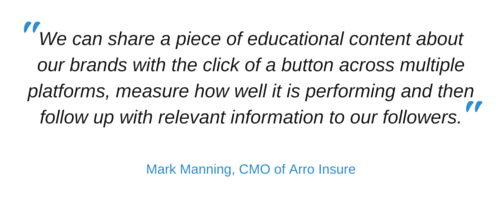 The Solution
Arro Insure chose Sendible because of its "ease of use, intuitive dashboard and the ability to add multiple accounts and team members easily…the content curation tool is second to none, and the functionality allowing easy sharing to our social accounts is invaluable."
The most important factor for Arro Insure was the ability to monitor the performance of their social media strategy. They use Sendible's monitoring tool to measure all of their key metrics from one location and build custom reports whenever they are needed. The tool also allows them to schedule reports to be sent on a daily, weekly or monthly basis, streamlining the process even further.
Results
By using Sendible, Arro Insure now only needs to spend 10 hours per week to consistently meet all of their social media goals. Matt Manning, Chief Marketing Officer finds that Sendible "makes life so much easier for my team when posting to our social profiles." His favourite feature is the integration of the content curation tool with Snip.ly. It means that "if we're promoting curated content we never miss an opportunity to capture email addresses or link to our own content."
Mark also adds: "Our social media presence is just beginning in Arro Insure and growing quickly with the help of Sendible's platform."

Location: Dublin, Ireland
Industry: Insurance
Plan: Startup
Website http://arro.insure/