Short-form videos are one of the dominant social media trends - and there's a good reason for it! Follow this process to get the most out of them.
If you're looking to create engaging and shareable content that resonates with your audience, short-form videos could be the answer. Short-form video platforms like TikTok, Instagram Reels, Facebook Reels, and YouTube Shorts offer your content a unique opportunity to reach a new audience to showcase your products, services, and brand personality in under 60 seconds.
As 72% of customers say they would rather learn about a product or service through video, video marketing in short form is a vital part of any business or brand's social media strategy.
This article will explore why short-form video is important and how to utilise best practices to create engaging short-form videos for your client's brand to connect with their audience and achieve their marketing goals effectively.
What are short-form videos?
Short-form video typically refers to video content less than 60 seconds, even though recent social media updates allow short video content up to 3 minutes. They are designed for quick and easy consumption on social media platforms to keep viewers scrolling for hours.
Why are short-form videos important?
Short-form videos are an excellent way to capture your audience's attention, increase engagement, deliver your message quickly and effectively, and allow you to market your products towards a larger audience without spending enormous money on paid advertising.
Now let's dive into some best short-form video marketing practices you can use to help boost your client's social media game.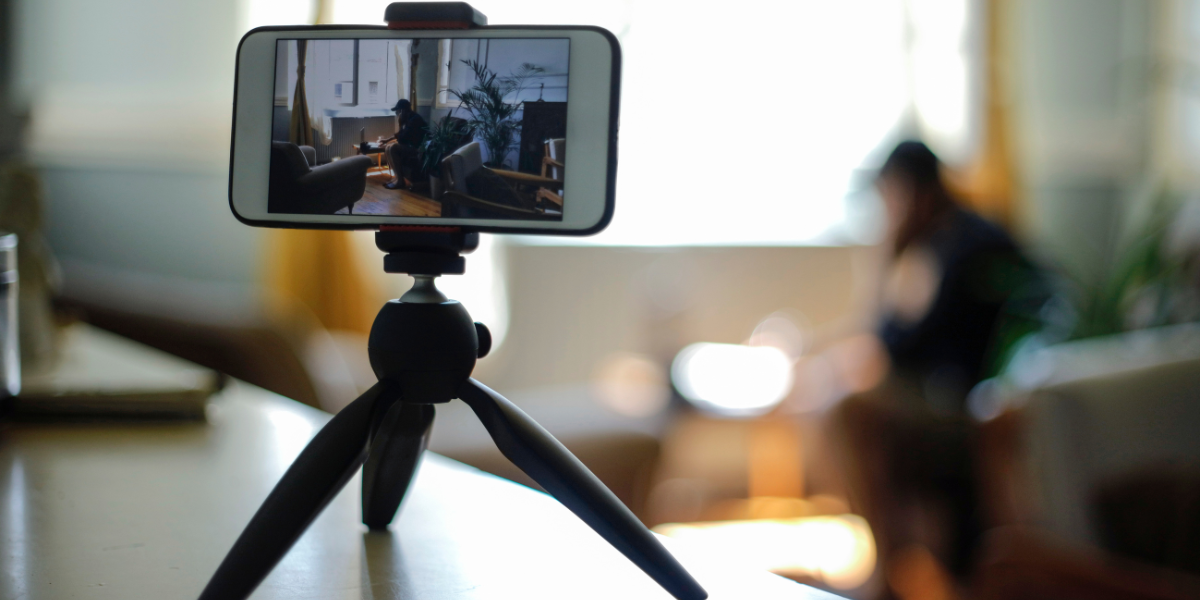 Short-Form Videos: Schedule Reels, TikToks, and YouTube Shorts with Sendible
Short-form video best practices
There are four things you need to do to ensure you're publishing high-quality videos that will help you reach your business goals:
1. Staying on trend
Scrolling through social media is one of the fun parts of being a social media manager. Still, the key is to use this time efficiently and not get distracted by dancing babies or the latest celebrity rivalry.
Stay on track by keeping your brand in mind when scrolling. Your video content should align with your brand voice, personality, and values whilst also using trending content that fits in with what's going on on social media.
For example, the popular ceilings trend where users run on video like they're in the last scenes of a romcom triggered tons of user-generated content on Tik Tok. The Savannah Bananas cleverly created their own version to highlight the brand's personality. It was entertaining and funny, connecting viewers to their brand identity while also being current by following a trend.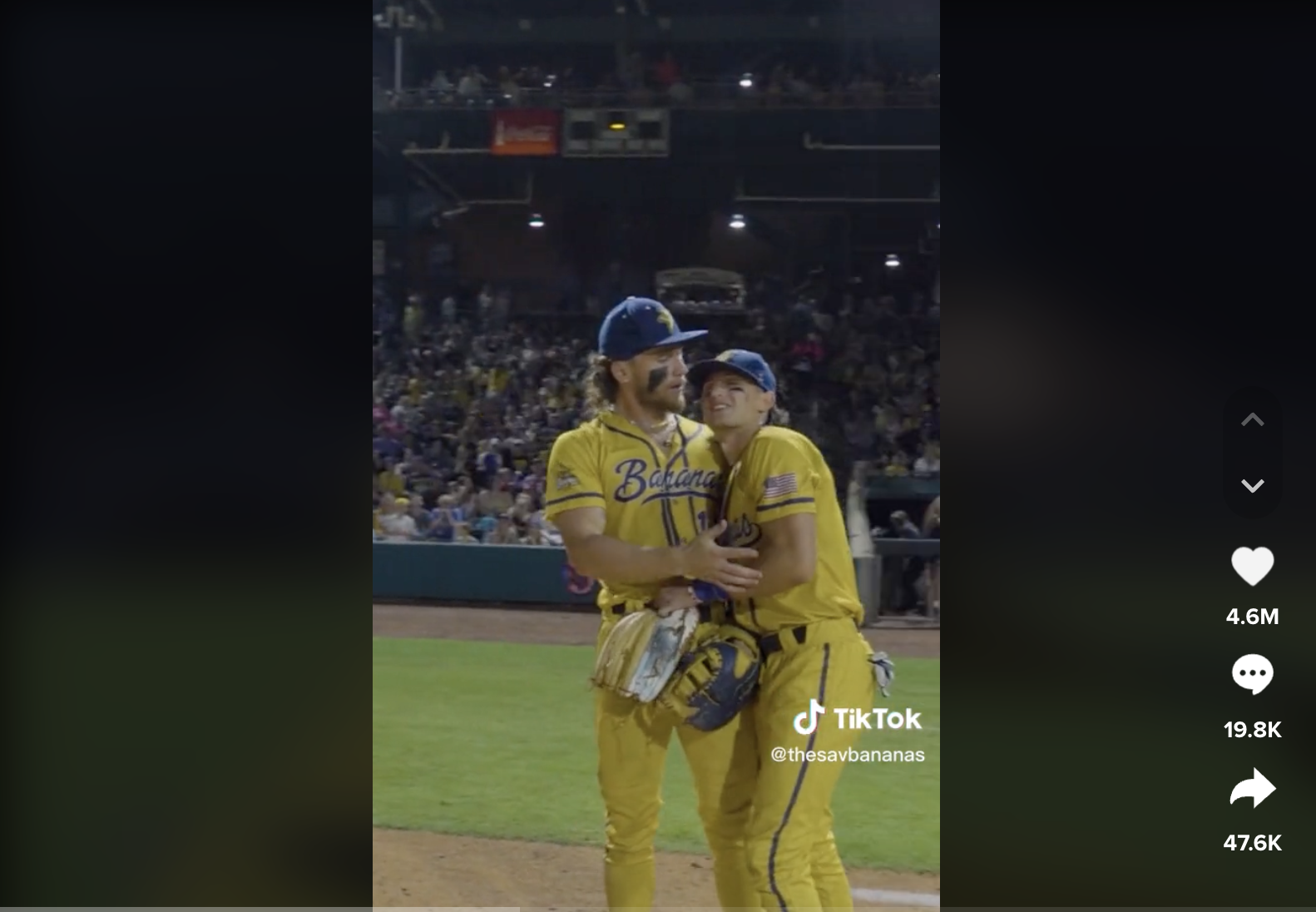 Source: @thesavbananas
Remember, though, don't use a sound just because it's trending. Use a sound that resonates with your brand's message and audience.
How to spot trends?
Tiktok
Listening out for sounds that are on repeat on your for you page (FYP) is a key indicator of a trend on Tik Tok. Typically you'd want to use a sound that everyone's using, but also be on the lookout for sounds which have future potential to grow or go with your brand and content ideas. Alternatively, you can use Tik Tok's creative centre, where you can find the top trending videos, and hashtags filtered by industry and region on the social media platform, this gives you great insights into what's working on Tik Tok so you can incorporate it into your client's brand.

Source: TikTok
For example, this sound has been used over a million times and found on your FYP numerous times. This is an indicator that the sound has been used by users on the platforms several times, and if you think it goes well with your content ideas, it'd be perfect to use to keep your content trendy.
Instagram Reels
On Instagram Reels, the small diagonal arrow in the left-hand corner of the reels page indicates a trending sound. Hoping on this sound as quickly as possible increases your chances of your video reaching a wider audience as trending sounds catch viewers' attention.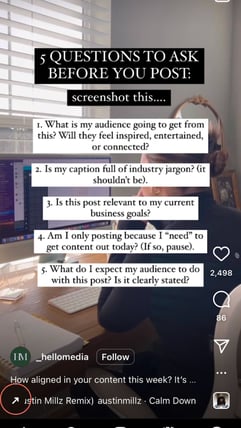 Source: @_hellomedia
2. Keeping it simple
Short-form videos are all about delivering your message quickly and effectively. As the format itself is designed for quick and easy consumption, it's important to keep your content simple and focused on one or two key ideas. As viewers' attention spans are getting shorter and shorter, it's a social media manager's goal to grab their attention in just a few seconds.
For example, you can use eye-catching hooks, sounds or transitions to spark user interest in your videos.
Sendible's post had a message to send about future social media trends, we used a trending sound at the time, our message as a hook and kept it interesting with the message editing pop-ups.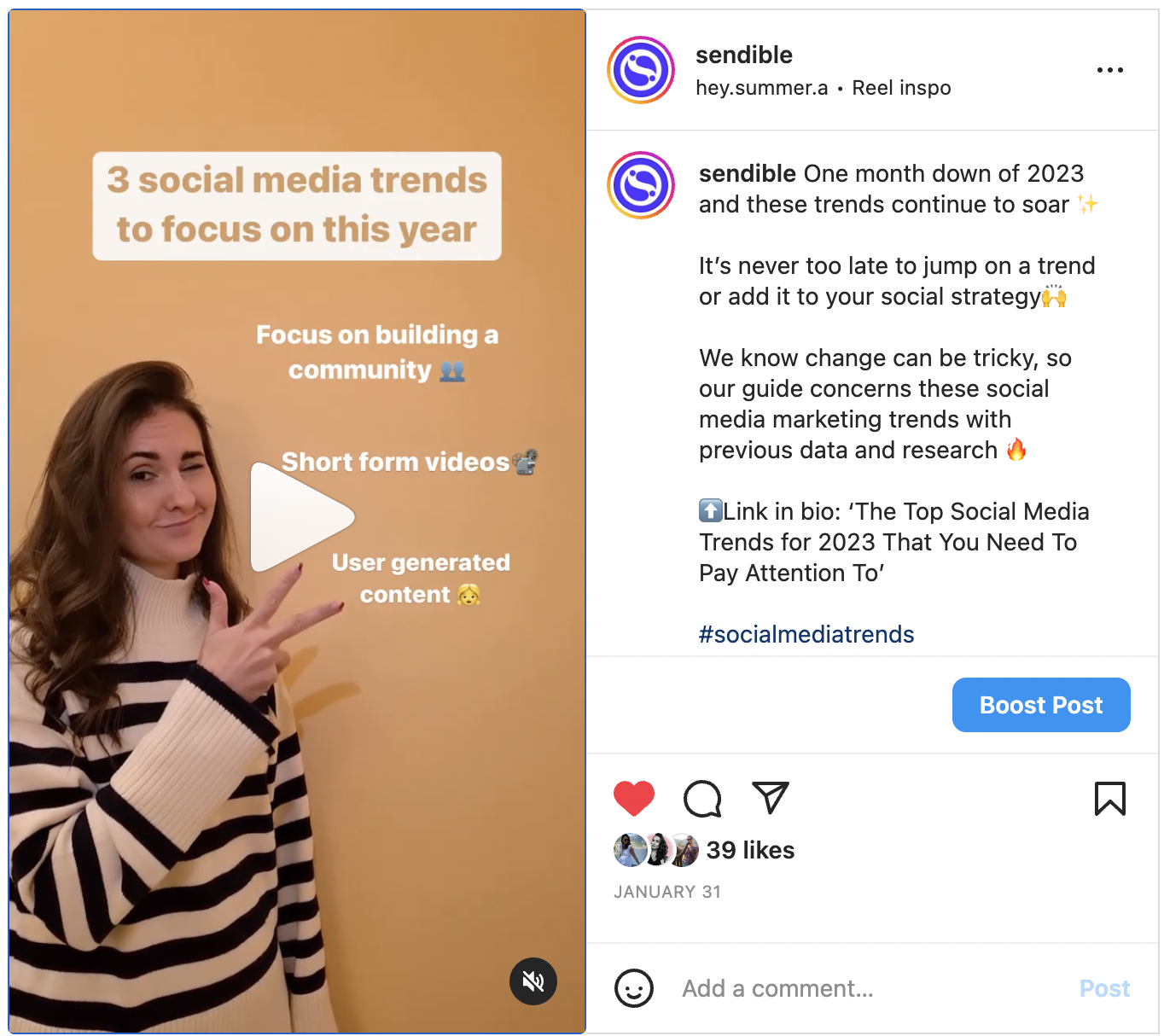 Source: @Sendible
3. Break down long-form content
Repurposing your long-form videos into short form is a great way to do a lot by doing a little. You can turn a long Youtube video into a vertical Tik Tok video or Youtube shorts by chopping and cutting down the video into byte-size consumable content with key focus points like how-tos or an explainer video. This could lead viewers to seek out the longer form video, which means even more engagement, so this is a win-win social media hack.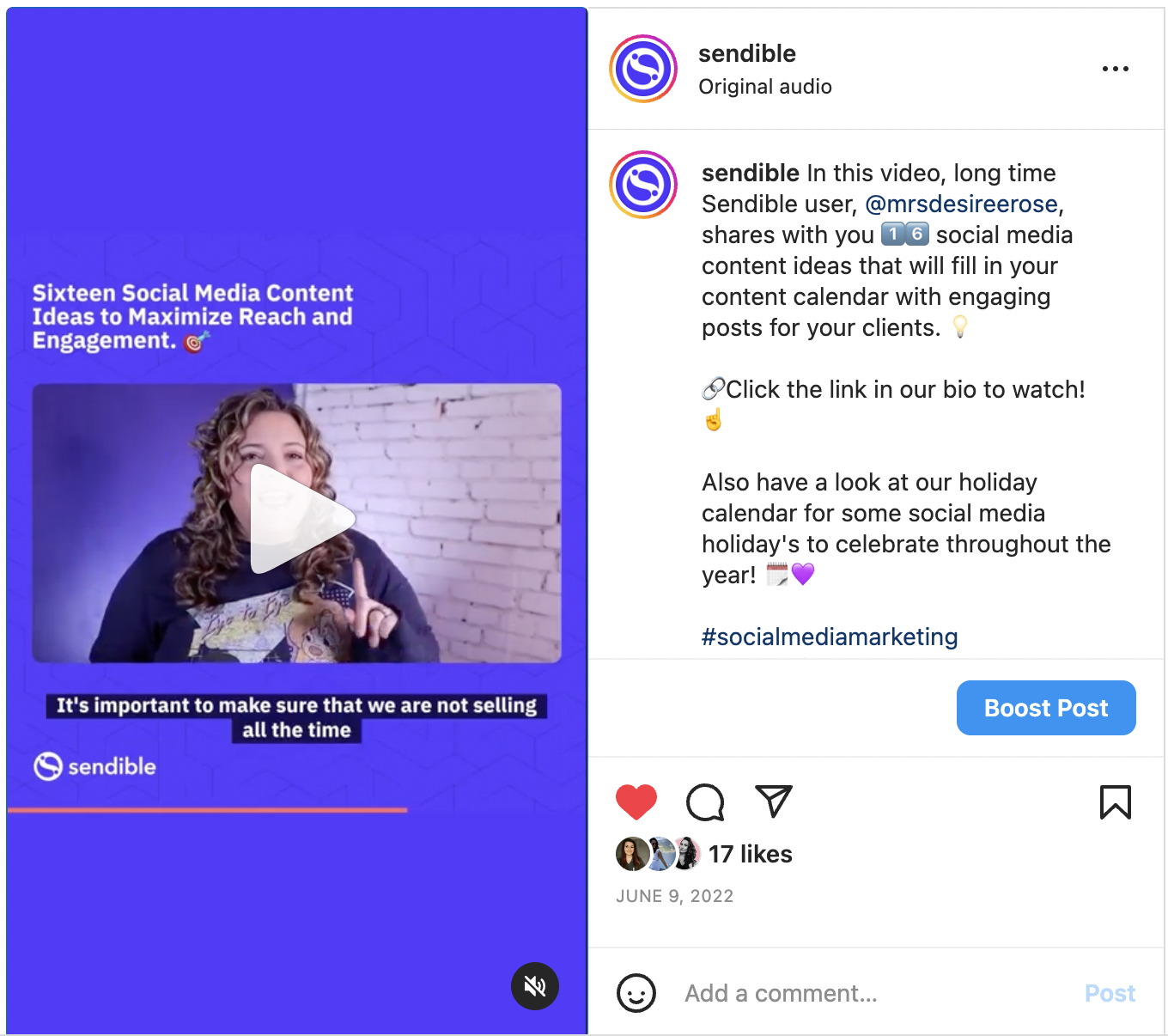 Source: @Sendible
You can also repurpose your short-form video content across different social media platforms. For instance, this TikTok user breaks down the genius of another TikTok user, Jordan, who repurposed his short form Tik Toks to Youtube Shorts and has received tons of engagements without having to create new content.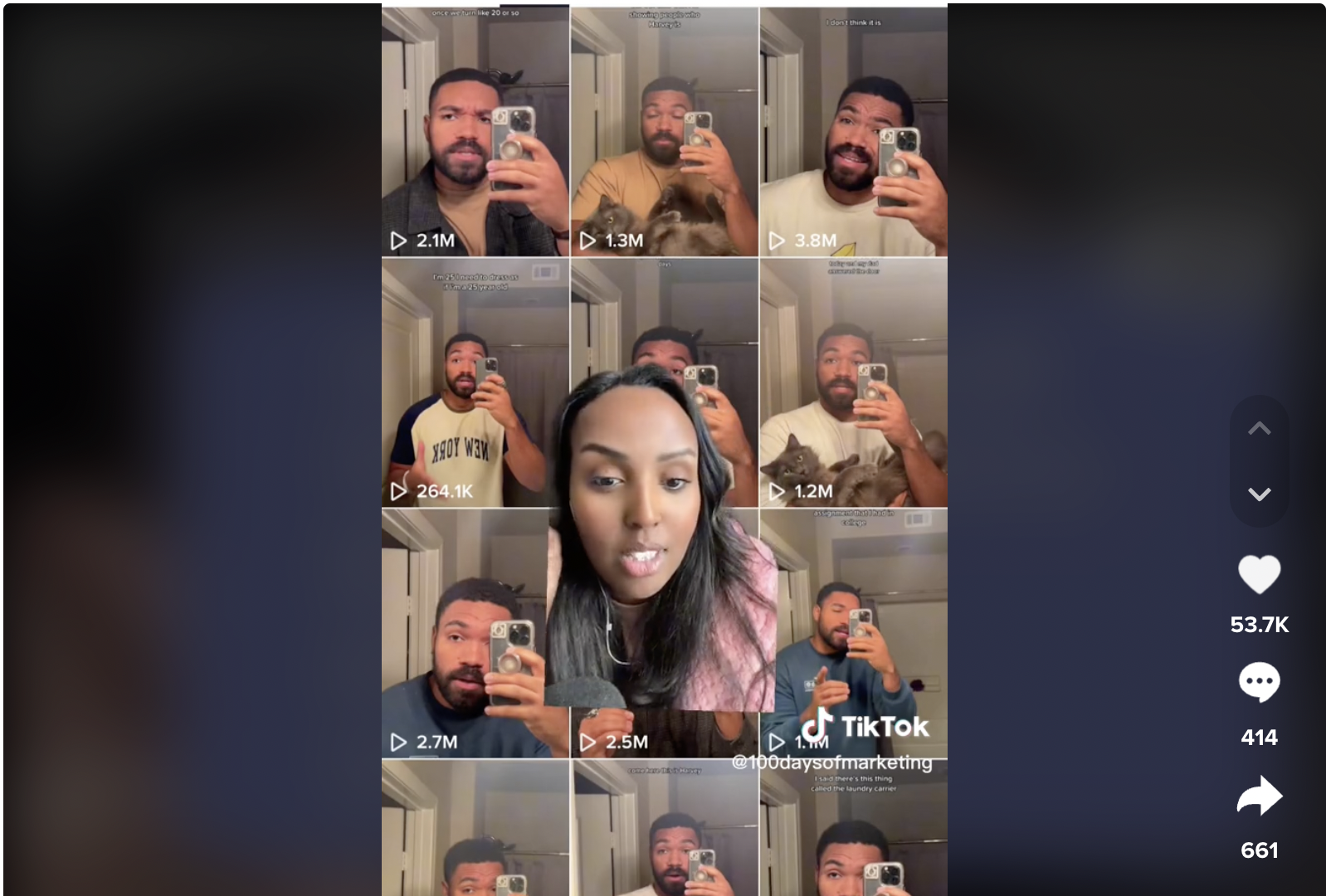 Source: @100daysofmarketing
4. Stick to your content pillars
Using content pillars is an epic way to manage your short-form content. When you consistently share content that aligns with your brand through content pillars, you establish a consistent brand voice and image, even in a short format. This way, you can use quick and snappy videos to meet your marketing initiatives, drive traffic to your website, generate leads, and increase brand awareness.
So, when creating your short-form videos, keep in mind these best practices we listed above and stick to this checklist to create high-quality videos.
9-Step checklist for creating short-form video
Keep in mind the best practices for the short-form videos we listed above, and use this checklist to create stunning, high-quality videos every time:
Define your audience: Before you start creating short-form videos, it's essential to define your target audience. Who are they, what are their interests, and what kind of content do they like to consume? Knowing this information will help you create content that resonates with your audience.
Choose the right platform:

Different platforms have different requirements for short-form videos. TikTok, Instagram Reels, and YouTube Shorts all have different video length limits, aspect ratios, and content guidelines. Make sure you choose the right platform for your content and optimise your videos accordingly.

Find content ideas:

The first step to creating a successful short-form video is finding the right content ideas. Start by researching trending topics, hashtags, and challenges related to your brand or industry. You can also brainstorm ideas with your team or by looking at what your competitors are doing. If you want to dig deep into trending topics, use your social media listening tools or Google trends. Alternatively, give ChatGPT a try.

Pro tip:

Check out the ChatGPT prompts

we use to come up with new video ideas, scripts, and promotion copy.

Use your content pillars to map out content:

It's important to use your content pillars as a guide when planning short-form videos. Focus on the core themes that define your brand and use them to create a library of trending sounds, inspirational videos, keywords, and hashtags. Once you have this in place, start planning your content in advance, as it will save you time and ensure that your videos are engaging and effective.

Create a content calendar

and plan out your video ideas, themes, and captions in advance.

Create content quickly:

Short-form videos are designed to be quick and easy to consume. Therefore, it's essential to create content quickly and efficiently. Plan your shots ahead of time and use a simple storyboard to guide you through the filming process. This will save you time when editing them.

Add trending sound:

We really hope you have created a library of trending sounds in your planning stage. TikTok, Instagram Reels, and YouTube Shorts all rely heavily on music and sound effects to capture viewers' attention and reach the right audience. So ensure to pick and choose the right ones.

SEO proof your videos:

Hashtags are essential for increasing the discoverability of your short-form videos. But relevant hashtags aren't the only thing that will help you reach the right target audience. Include the keywords in the copy, caption, and subtitles as well!

Audit your videos before scheduling them:

Are your videos simple and easy to understand? Double-check if they use clear, concise language and visuals to communicate the message effectively. Short-form videos are not the place for complex concepts or lengthy explanations. Cut out everything that's not essential.

Schedule the videos:

Once your videos are ready, auto-publish them through your social media management tool or directly on the platform.

Repurpose your content across social media platforms:

Once you've created a short-form video, don't let it go to waste. Repurpose it across different social media platforms to reach a wider audience. For example, you can edit your TikTok video into an Instagram Reel or a YouTube Short.
Wrapping up
Short-form videos are here to stay. And this is your chance to hop on this social media trend and get the most out of it.
Follow our 9-step checklist to create effective and engaging videos that will delight your social media audience, and make sure to leave enough time to research and implement the best practices.
And last but not least - remember to be creative and authentic, and have fun with your videos!